If you enjoy a good whodunnit, and can tell the bushy end of a foxer from the beady end, THC regular Nutfield has a couple of recommendations for you.
"Buongiorno fellow Tally Ho'ers (Is that what we call ourselves?), after Tim gave us free rein to write our own content for October, I've decided to recommend you all a couple of games. Are they war games? Nope… Are they simulations games? Nope… 'Then Nutfield, you loon, why are you recommending them here?' I hear you call…
Because I'm seen mostly around here in the Foxer on a friday afternoon and I wanted to recommend some games for my fellow de-Foxers.
The Return of the Obra Dinn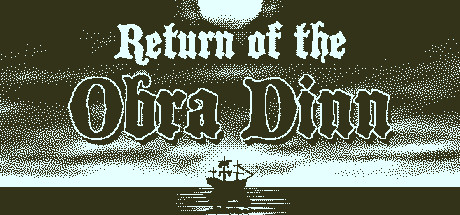 If you were to pop on Steam and look at the Return of the Obra Dinn page, you'd instantly notice two things… Firstly, it has a User score of 96% and secondly, the gameplay video makes it look like the game was made in the 1980's on a Commodore 64, these things initially seem like a contradiction and for the first 5 minutes after you boot the game, it's difficult to work out what the fuss is all about.
(Beware Minor Spoilers ahead!)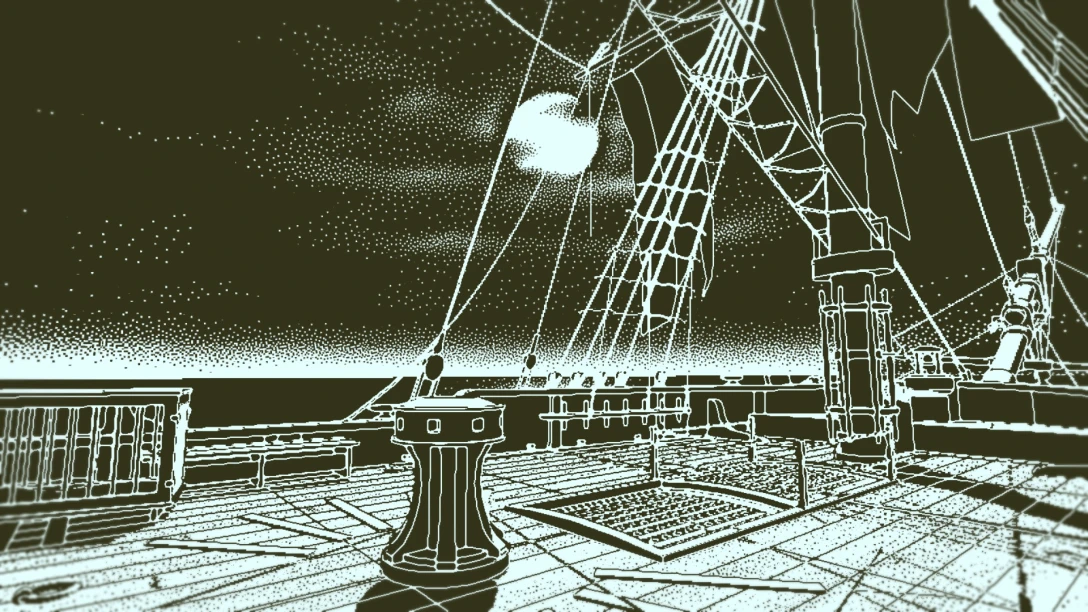 You are dropped onto the Obra Dinn, an abandoned ship with the task of finding out the fate of all those who disappeared. Presented with weird graphics and no idea what you are supposed to do, you womble around aimlessly for a couple of minutes until you are called back to retrieve the items from your chest… a ship's log containing the manifest and a sketch of all of those on board, and a pocket watch.
After looking at the blank pages you are still none the wiser and return to the ship, soon stumbling on a rotting corpse on the ground, the pocket watch starts vibrating and off you go.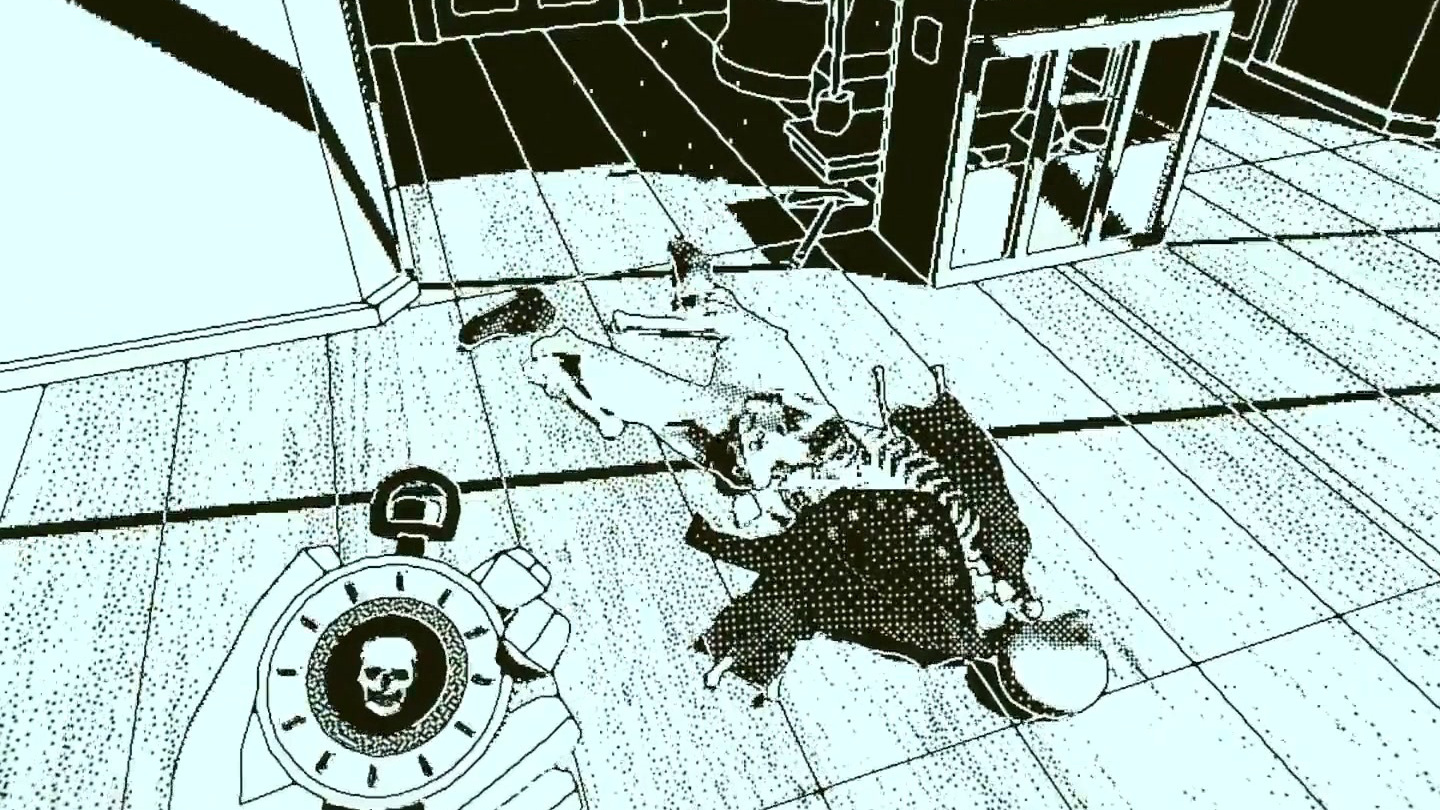 I won't go into any more details of the story, but from here on in, the game is a cross between Cluedo, Guess Who, an Agatha Christie novel and the Foxer. Your magical pocket watch lets you teleport through time to see the moment of death of any corpse you find, and in those scenes you uncover more corpses and reach more scenes and slowly find the fate of all those on board.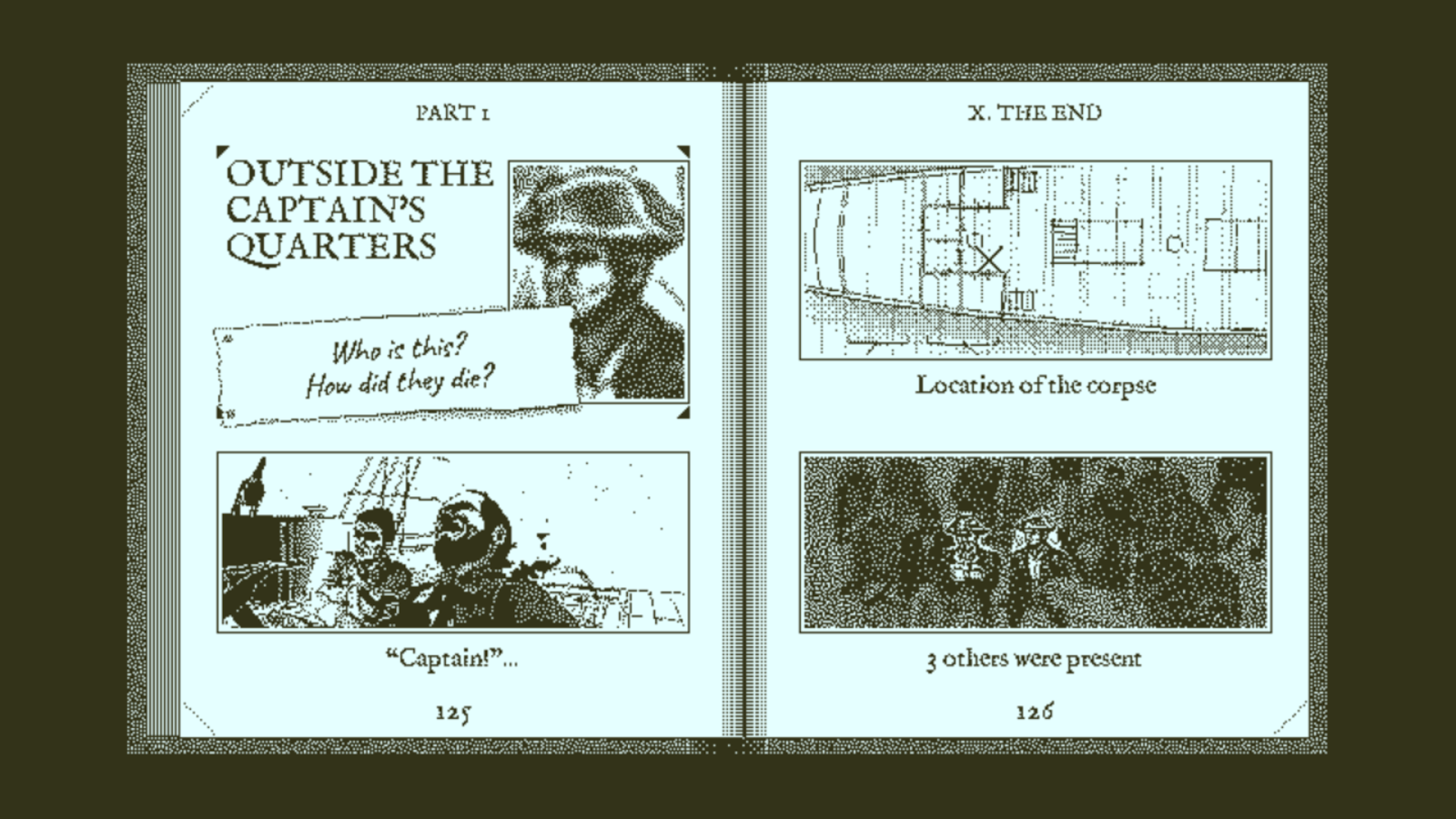 To do this, you must fill in the details of everyone you find, but you'll only succeed when you know their name and their fate, often needing to know not only how they died, but who was the murderer. The game also introduces a smart system for only accepting 3 completely correct answers at a time, so randomly guessing each possible combination of the 60 people on board isn't viable.
What the developer, Lucas Pope, does especially well however, is subtly hint at the various character's identities through the character's visuals in the scene, short very well acted audio before each scene is revealed and other more minor elements. You'll find yourself listening to accents, looking at tattoos or even the numbers on bunk beds to try and work out who the body with the missing head is.
So therefore the core game mechanics are engaging, but Mr Pope doesn't stop here… The Music is fantastic, both slightly maddening and quite catchy, helping to gradually draw the player into the terrible events that occurred on the Obra Dinn. As mentioned, the acting is great, the foley awesome, every death sounding pretty gruesome, and the setting and story that is revealed is also great.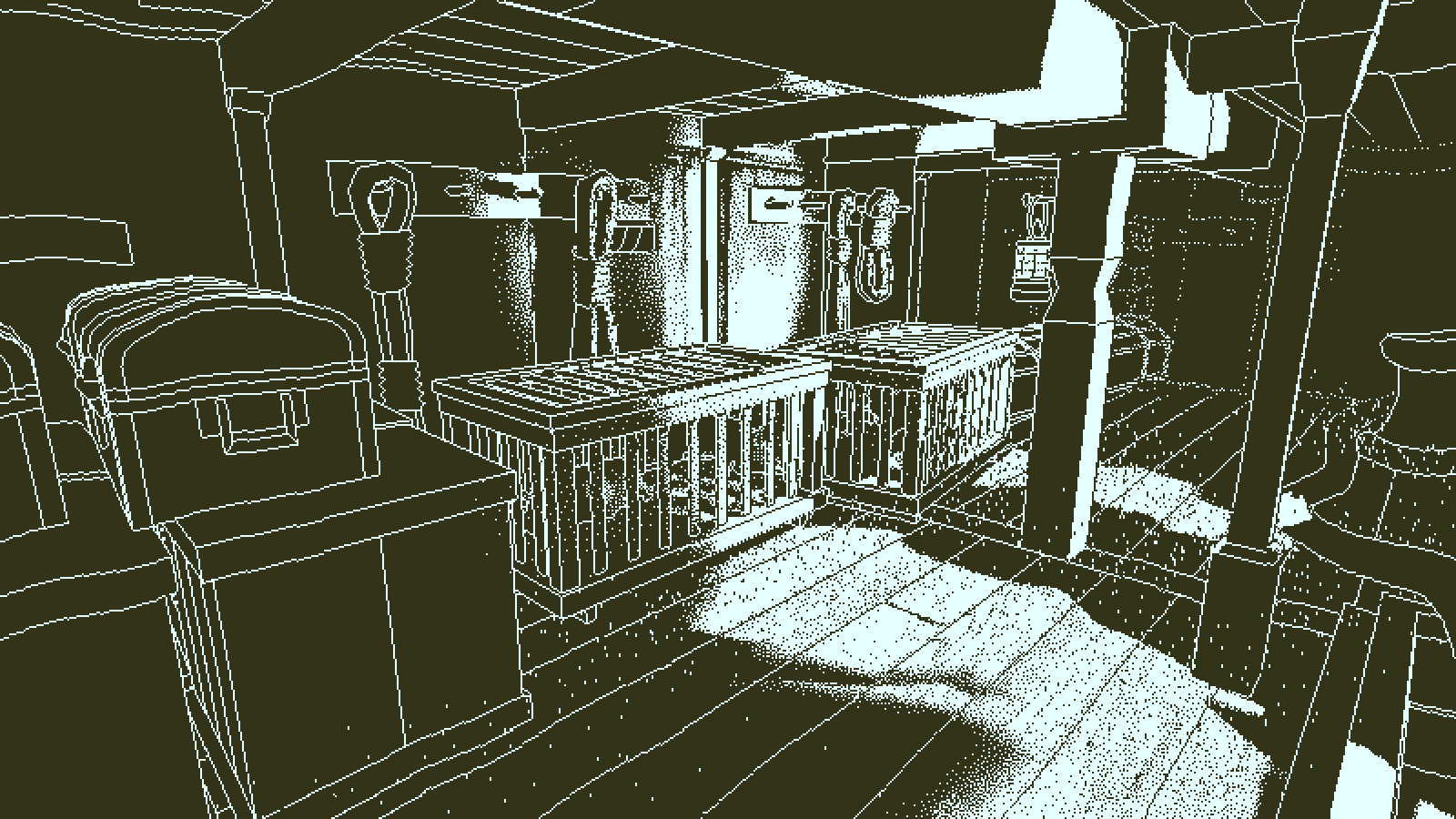 The difficulty also is finely balanced, myself and Mrs Nutfield didn't require any hints, although did get stuck for a short while on our 8h exploration, but I've never played a game that made me feel smarter!
The last thing to bring up, which doesn't actually affect the enjoyment of the game itself, is the mind-blowing fact that Lucas Pope made the whole game on his own. Personally being a game dev of 27+ years on some very well regarded titles, having all the skills to make a full game is seriously impressive, and when that game is my personal favourite game experience of the last 10 years or so, I doff my proverbial cap!
If you love murder mysteries or just want to try something entirely unique, give the half-price-at-present Obra Dinn a go, you won't be disappointed.
The Case of the Golden Idol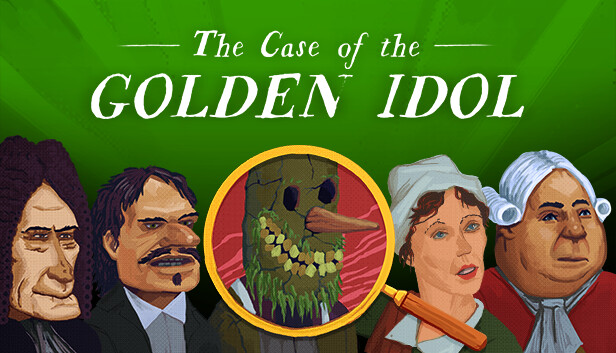 My second recommendation is primarily for those people who have played Obra Dinn and want more of the same. Firstly, you will be disappointed, this genre is seriously under-represented, but last year a new game appeared to challenge the might of Obra Dinn.
Some might say it succeeded, with a barely believable 98% Positive reviews on Steam, but the number of users is much lower, so I'd expect it would end up with a similar score as Obra Dinn when the number of reviews matches it.
Compared to Obra Dinn's monochromatic Commodore 64 visuals, The Golden Idol brings us forward to the world of the Commodore Amiga, reminiscent of a SCUMM game such as Monkey Island. The game itself is less innovative than Obra Dinn in my opinion, but scratches the same itch.
Set in a similar time period or Obra Dinn, this time the Player follows the story of a seemingly magical Golden Idol through a number of various owners, where those around them meet rather untimely ends. The Player is once again given scenes of murders and deaths and must work out who all the characters are, and how they met their demise, but the interactions are more simple than Obra Dinn.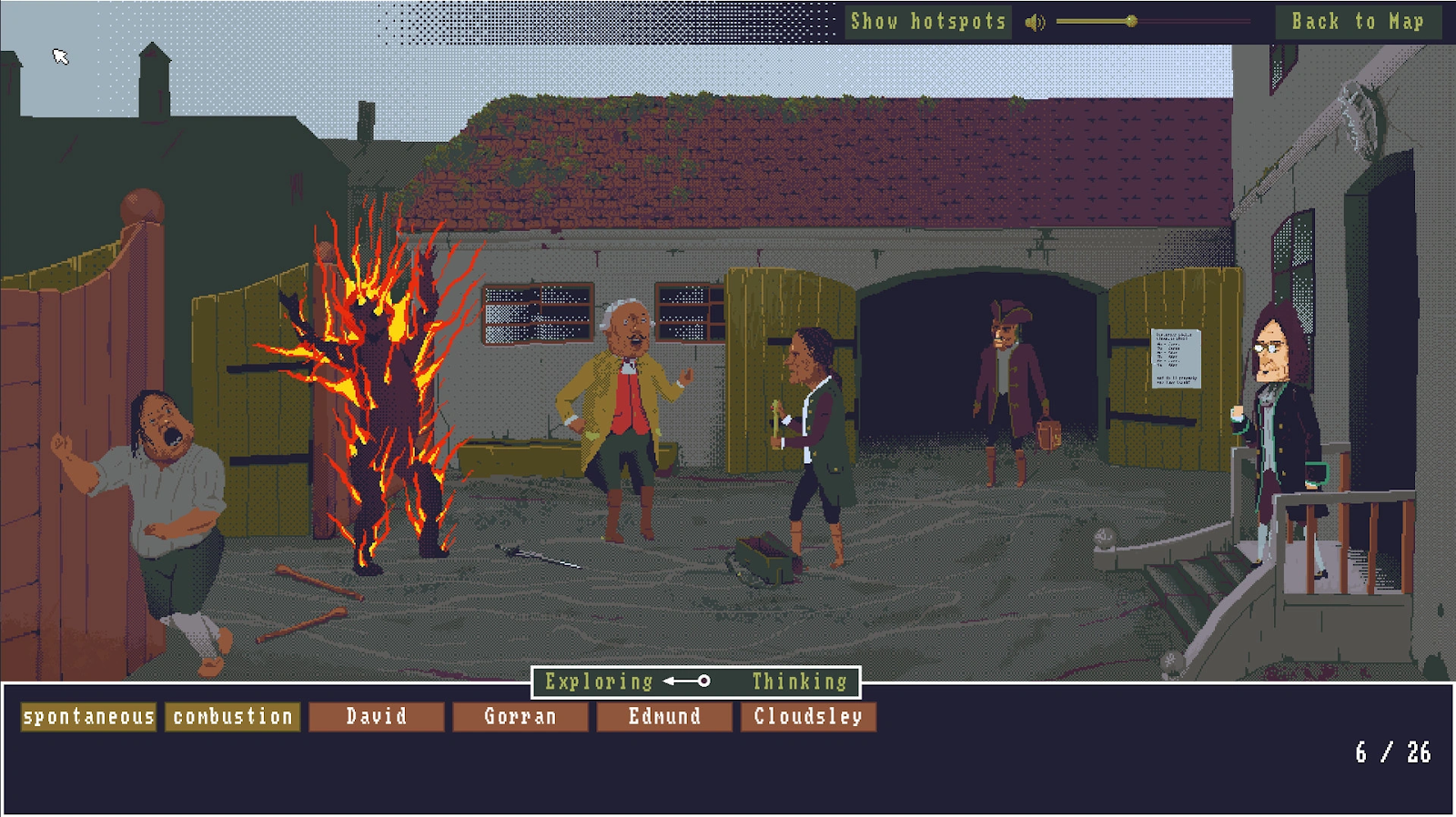 Search the scenes for keywords, and then go to the investigation scene to fill in all the information. This will have the Player working out strange cult hierarchies, laws for political parties, and deciphering ancient runes and almost stolen from Obra Dinn is the 'Get enough elements right and we'll tell you' gameplay.
This doesn't work quite as well, as the game tells you if you are close (Less than 2 mistakes!) it helpfully announces, but that does mean with a process of elimination you can kind of cheat your way through, something Mrs Nutfield and I do admit to doing a couple of times. That said, there are many sections where you need to enter 10+ elements, so getting 2 wrong from a selection of 30 plus options is relatively close to the correct answer!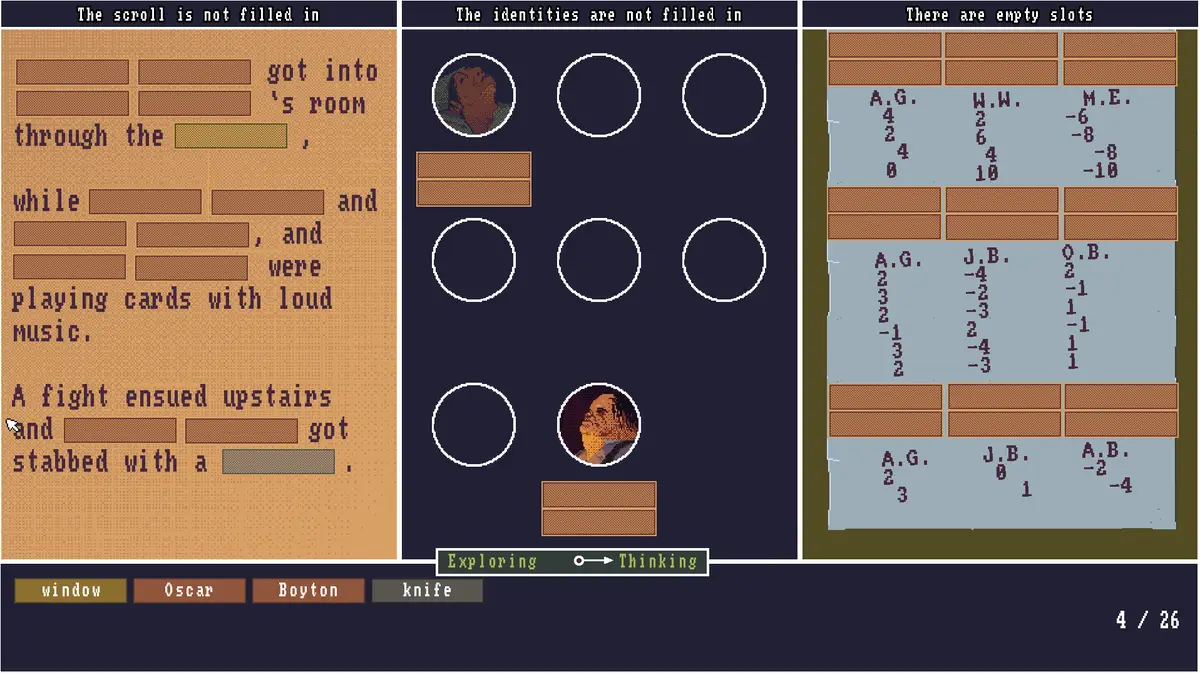 Yet again, the difficulty was about right, if some sections were a little obscure, we didn't need a cheat sheet beyond the hack above. The setting and stories were generally amusing with the same characters popping up in multiple scenes and your opinions of characters changing through the story as you understood their hidden motives. There were also some great twists, and within the 2 DLC's which are both prequels of the main game, you find out more of the history of the Golden Idol (I'd still recommend playing the main game first).
Ultimately this was another 8 hours of high quality entertainment, and the success of the game gives me hope that more games in this genre will be forthcoming.
For anyone who has read this far, my question for you is this, do you have any recommendations yourself for similar games, as i've tried to find more but the following for example, didn't scratch the itch:
I hope you enjoyed these recommendations and give the games a go, now back to Tim!"