Put down those Billhooks, Stanley knives, and Jeremy hammers, readers! This is the 21st Century for Pete's sake. There are better ways to settle "What's the best [insert game genre here] ever made?" disagreements than mano a mano melees. Cornerite-sourced 'Top 50' articles for example.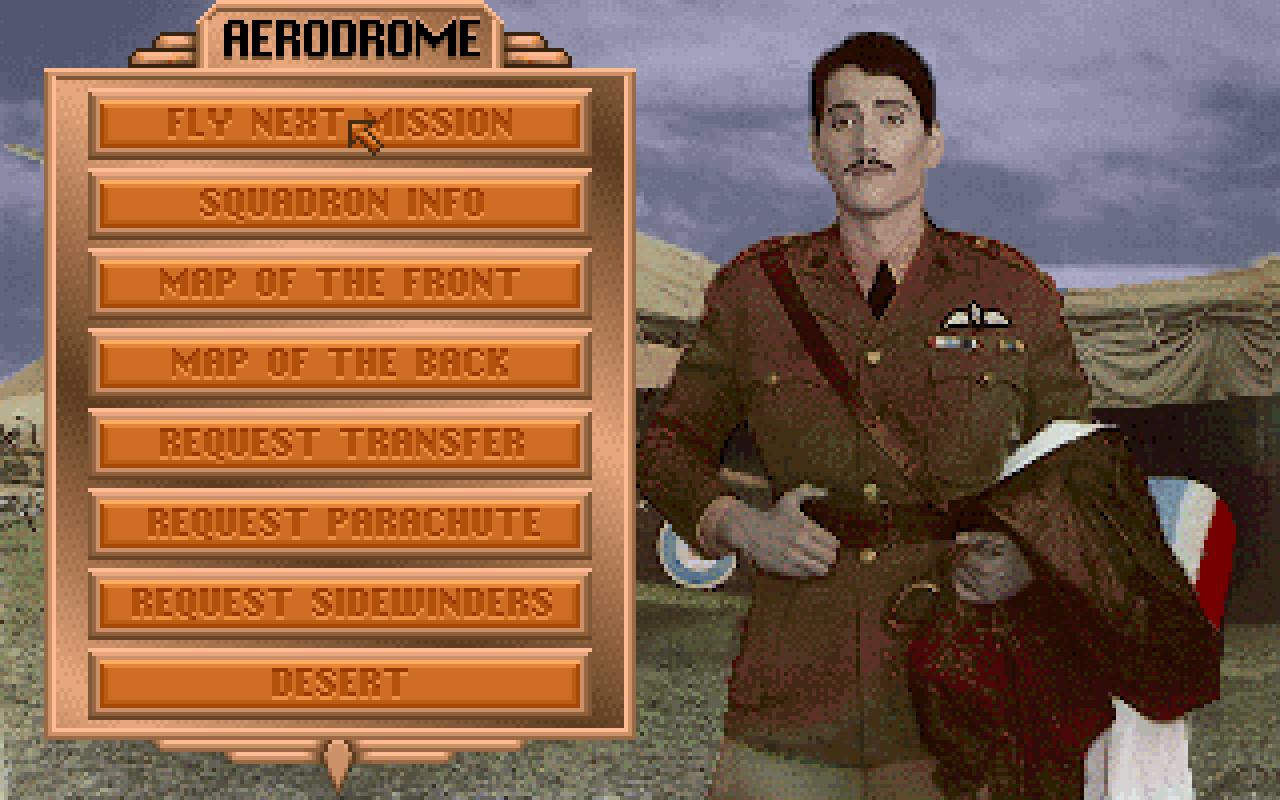 Remember how, last year, we proved, beyond a shadow of a doubt, that Combat Mission was the finest wargame series 3vAr? Well, I think it's high time we established once-and-for-all which combat simulation out-brilliances all others.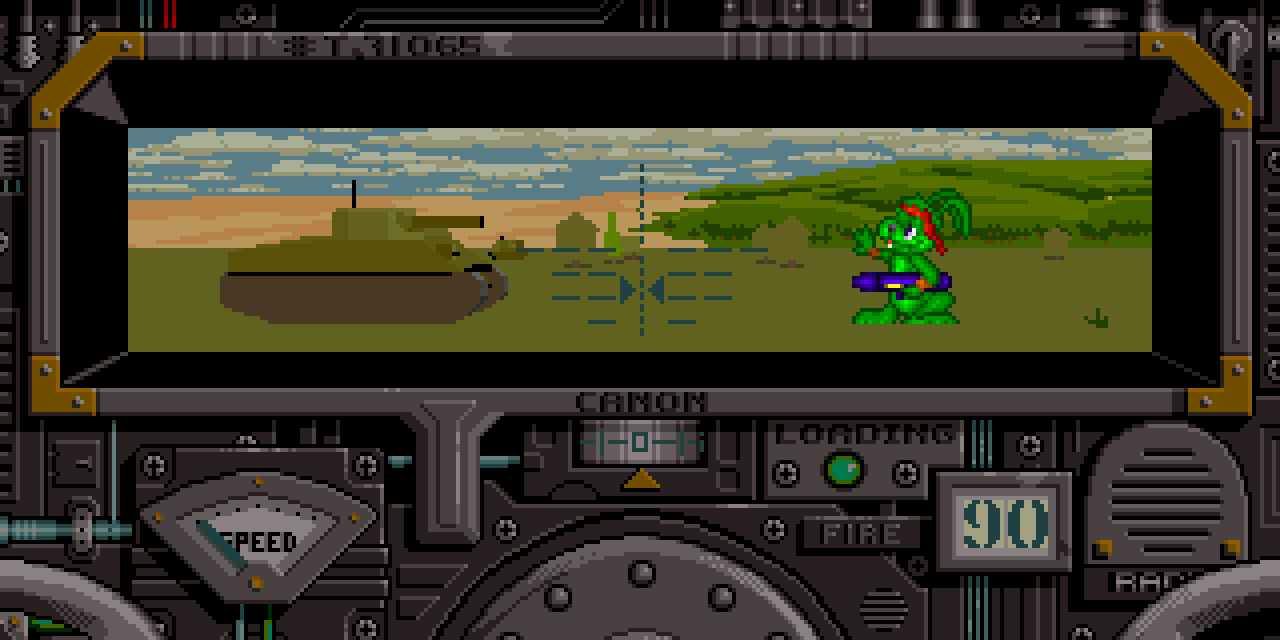 As the voting system seemed to work pretty well last time, I see no reason to alter it. To participate all you need to do is post a comment listing your five favourite combat sims in order of preference. This act will cast the fifteen votes that are at your disposal (Your top choice will get five votes, your second choice four votes, third choice three votes, and so on). It might take me a day or three to process your comment, but rest assured your ballot paper will eventually get counted.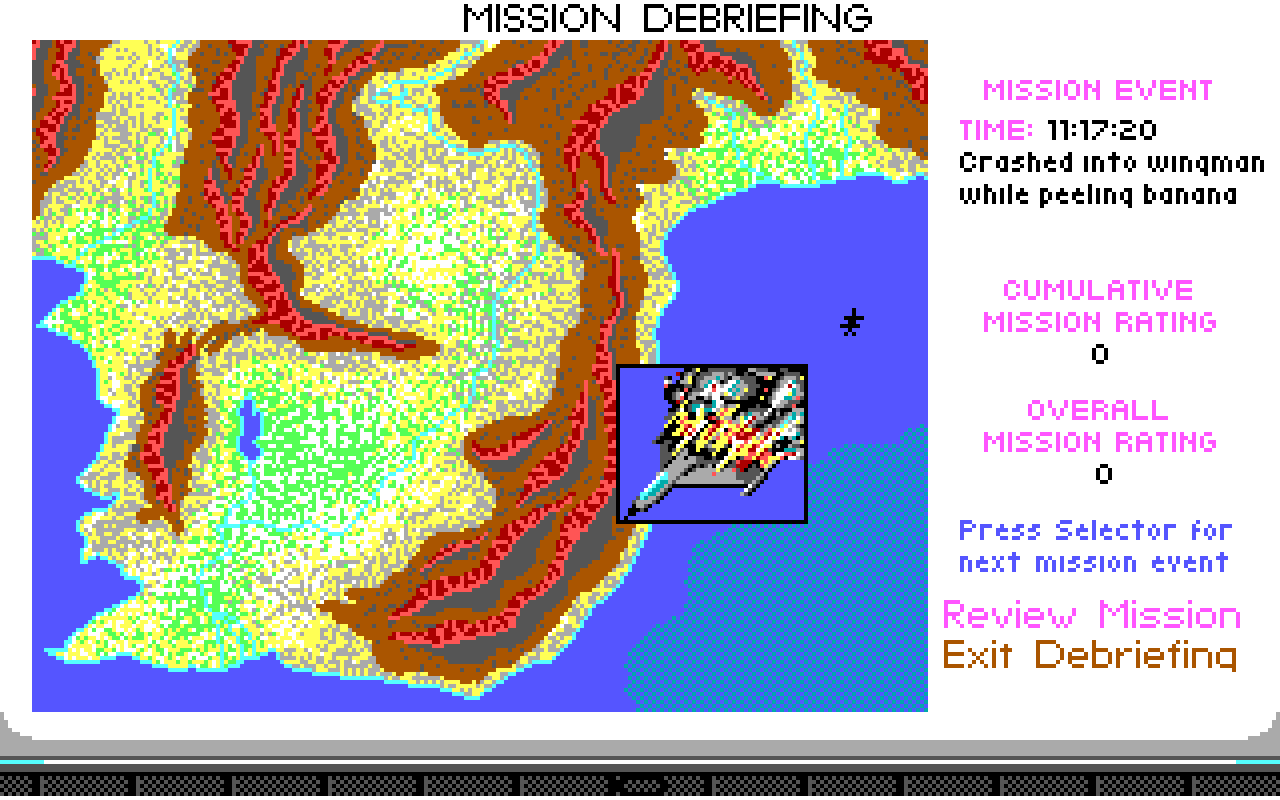 If you'd like to explain or illuminate your choices with a pithy sentence or two, that would be most helpful (screenshots submitted via tim at tallyhocorner dot com would be very welcome too). As there are sure to be numerous titles on the list that I've never played, I'd much prefer to use a quote from a true fan than rely on something desiccated, vague, or silly that I've cooked up myself.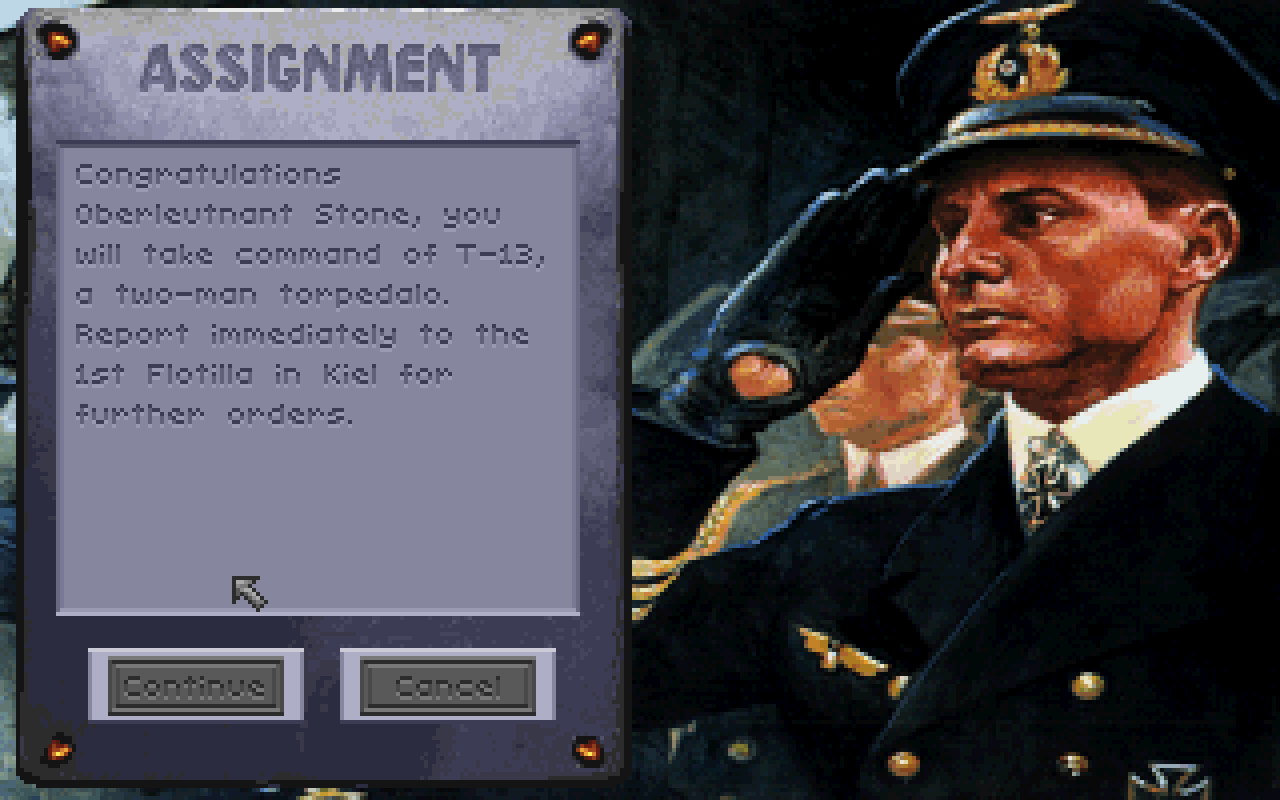 In order to keep the list to a manageable size…
My definition of combat sim is fairly pedantic (see below).
I've clustered games into series and families where possible. Please don't cast separate votes for, say, Silent Hunter 3 and Silent Hunter 4. A single vote for 'Silent Hunter' will cover your deep affection for the series. Clarify your votes with footnotes, by all means.
I'd to re-emphasise that you should cast your votes for the five mil sims that have brought you the most pleasure over the years and not use them to limelight novel/interesting curios. I'm not out to fashion a list of every combat sim, just the cream of the crop.
If you don't see a favourite in the table, that doesn't mean you can't vote for it. I've added 25 potential chart-toppers to get the ball-turret rolling, but expect the list to, at the very least, double in size in the weeks to come.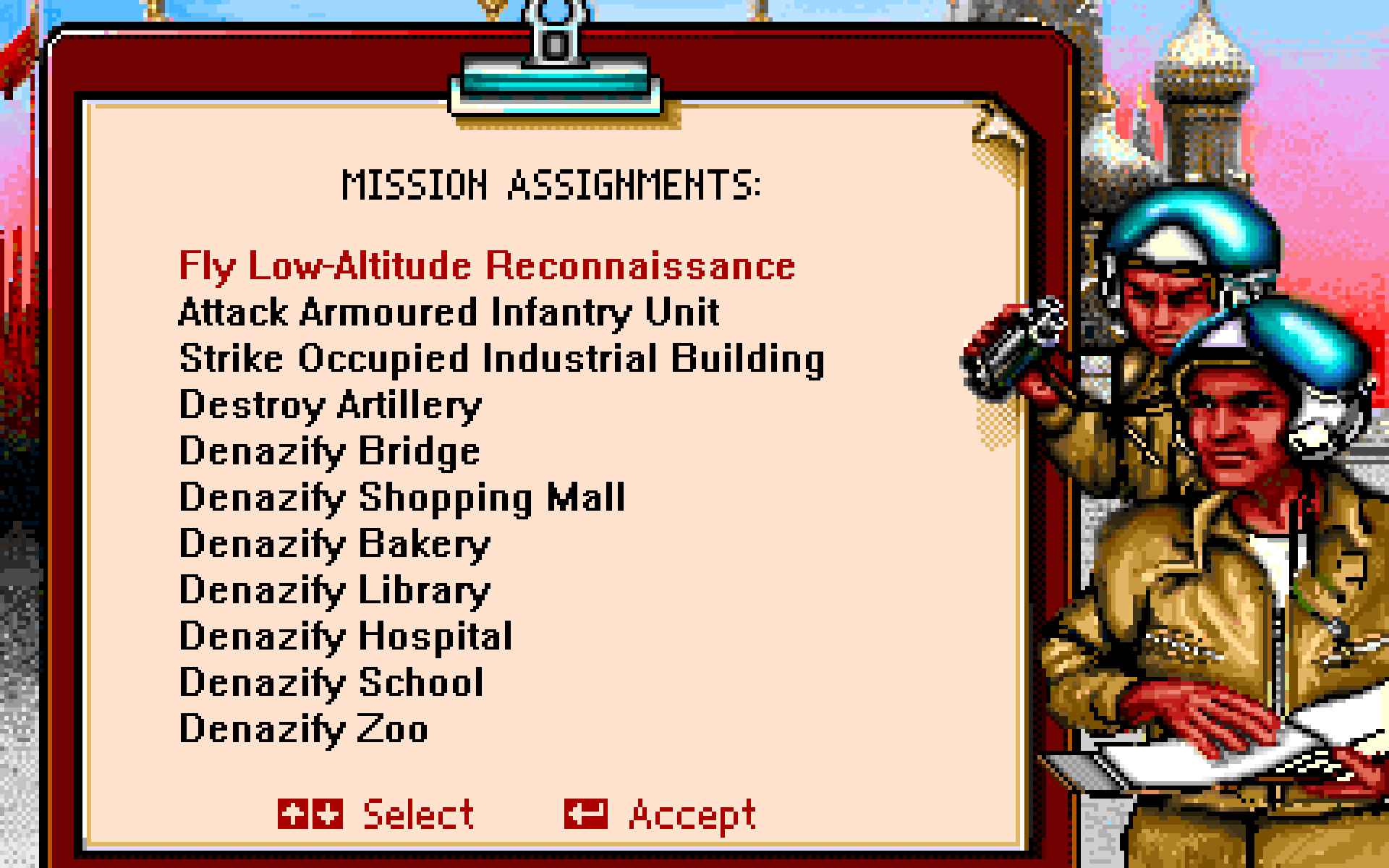 To be eligible for tabulation a sim must…
Have combat at its core.
Be historical or reality-based (Sorry MechWarrior, Crimson Skies, Carrier Command etc).
Offer first-person views.
Fit more naturally in the 'combat sim' genre than any other.*
* As one man's hi-fi military FPS is another man's soldier sim, I've decided I won't exclude a title just because it's not vehicle-focused.
Games can be sorted alphabetically and by popularity. While the table seems to display fine on a standard PC monitor, you may have problems viewing it on a phone or tablet. Sorry about that.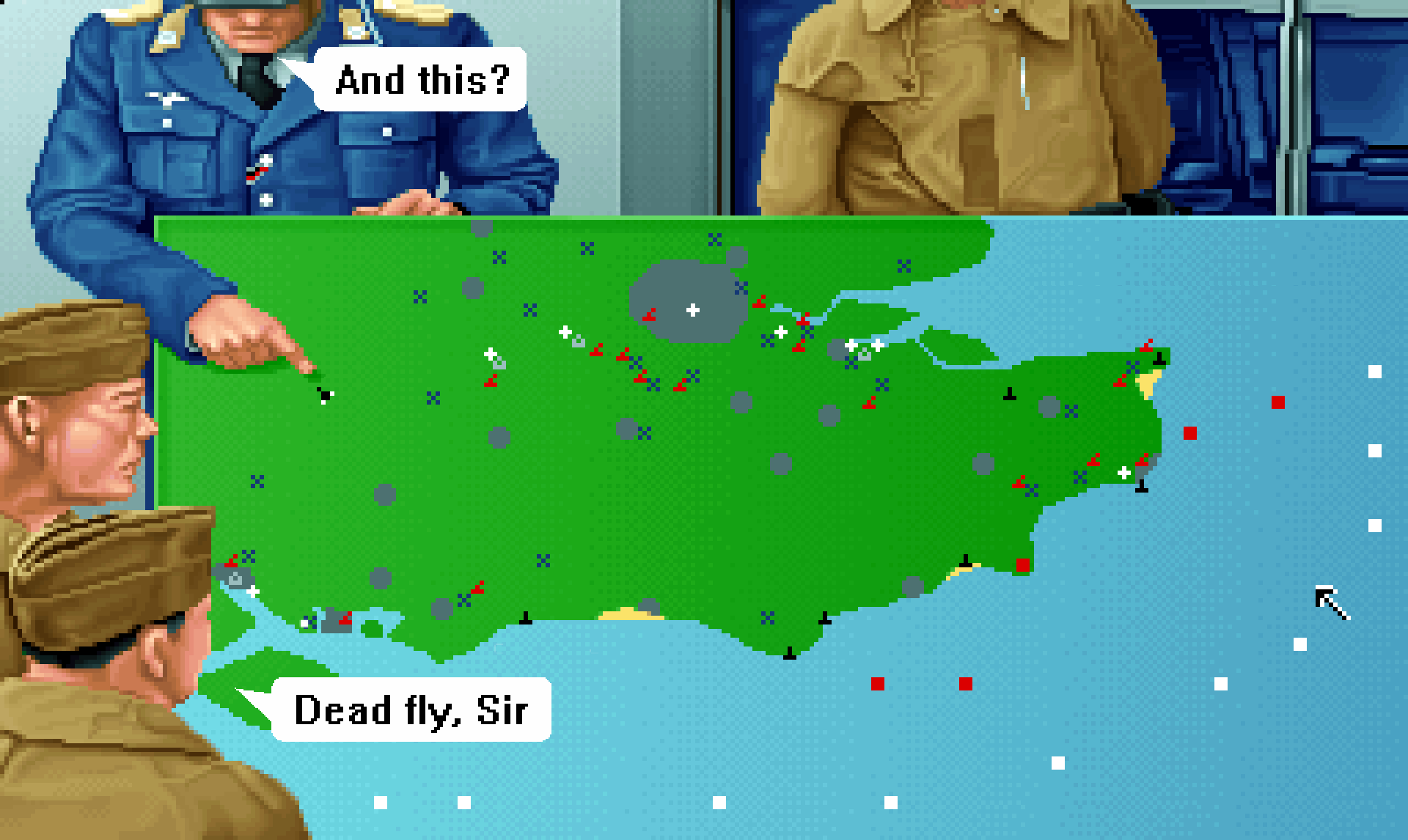 "No headstone marks the resting place of Joachim Gratz and his comrades. A slick of diesel oil indicated the spot for an hour or two, but was quickly dispersed by restless currents and churning destroyer screws. That's how life goes in one of the finest wet warfare sims ever made: one minute you're on top of the world - an infamous ace of the deep - the next you're gone, erased by an ocean as vast as it is merciless." (Tim)




Aces of the Pacific & Aces Over Europe

(AotP) "Many a college 'study hour' was spent learning flap settings, perfecting carrier landings, and sipping a beer after a successful mission. Much like its predecessor Red Baron, the campaign/career mode was gripping and a great way to take a time machine to the past." (OldZenGamer)


(AotP) "The most fun I've ever had with a flight sim, a fantastic feeling of having an impact on the war." (Hydrogene)

"It's janky, glitchy, more prone to kill you by ladder than frag grenade, but it has given me the most intense and memorable experiences I've ever had in my decades of gaming... I get to roleplay as a grunt infantryman under questionably "based" leadership with 100 other grognards. I get to laser/call in CAS from other players in warthogs to shock and awe all of the hearts and minds in Takistan. I also got to creep around queefy zombies and socially manipulate myself into the protected gates of other players while my buddies waited, scoped up, in the hills." (TimePointFive)


"90% of my time was spent in the scenario builder, cobbling together companies and flinging them at each other." (TV-PressPass)




"Brings the memories flooding back." (Major General J. Trajanov)

B-17 Flying Fortress: The Mighty 8th

"Done badly, a WW2 heavy bomber sim could be an excruciatingly tedious affair. Fortunately, Wayward understood this and chose to flesh out the flying with plenty of absorbing crew management decisions and auxiliary tasks... You flit from yoke wrestling to bomb aiming, from crew shuffling to Browning brandishing, from chart scrutinising to fire extinguishing. It's even possible to switch cockpits and pilot your silvery chaperones for a spell." (Tim)

"For reasons I can't begin to fathom, during the last three decades no-one has looked at MicroProse's ground-breaking approach – the gripping in-sortie crew management, the tour-mimicking unscripted campaign – and thought "Let's translate this to the Far East, or use it to tackle the RAF's night bombing campaign". "Maybe this format would work with Gothas… Zeppelins… B-52s!"" (Tim)

Battle of Britain II: Wings of Victory

"BoB2 is a sim that dishes out glory with a teaspoon, and fear, excitement, and failure with a ladle...

If you return from a sortie with one Heinkel, Stuka, or Bf 109 under your belt you feel genuinely elated and, probably, utterly exhausted. Thanks to peerless AI code (massaged post-release by a band of official modders) every dogfight is different. And thanks to a campaign approach similar to Falcon 4.0's, every victory makes Goering that little bit angrier." (Tim)


"The sheer scale of the dogfights, no other attempt to recreate the Battle of Britain has come close, the radio chatter is well put together, and the cherry on the top is the strategy layer of the dynamic campaign." (Electricfox)

(This entry also covers Wings of Prey and Birds of Prey)


(Birds of Steel) "Made by the future creators of War Thunder, this console-only flight sim for the ps3/360 had a FANTASTIC mission generating dynamic campaign and a greatly tweakable flight model. " (TimePointFive)

"Not for Earned in Blood the cinematic setpiece or the periodic theatre switch. By keeping faith in rather drab Norman countryside - a steady stream of fields, farmyards, cobbled streets and back gardens - and resisting the urge to dot landscapes with Tiger tanks, armoured trains and other rarities, Gearbox achieve a documentary feel almost unique in the genre." (Tim)


"Never has a game so effectively taught me the four F's of infantry combat." (TV-PressPass)

Chuck Yeager's Air Combat

"Many combat flight sims let us choose a warbird. Very few also allow us to choose a war." (Tim)

"The GUI might be lightweight compared with Dangerous Waters' but the physics, sonar and environmental modelling are strong enough to bear direct comparison. Subs prowl waters stratified by vari-strength thermoclines and these layers have a profound effect on sound transmission." (Tim)


"Once you learn that you are kind of the king of the seas it doesn't offer a lot a challenge, but 40 hours of fun is plenty for me." (mr.skwid)

"The game we all imagined we were playing as we were squinting at 320×200 sims in the 80s... Only in DCS can you use real flight manuals as truly useful guides in-game. Every switch, every obscure radar mode, every rivet is lovingly modeled. On a powerful PC, it's as close to photorealistic as anything on the market. VR is fluid and beautiful. It is highly moddable with an astoundingly rich database of user-generated missions and other content, including a dynamic campaign generator." (CaptainKoloth)


"There's a lot of problems with DCS and it frustrates me at times but it has some of the finest simulated virtual aeroplanes around with amazing systems depth. Just a shame the development seems so unfocused." (Pollux)

"Large, intricate maps littered with pleasing period detritus encourage both long-range firefights and sharpshooting, and close-range SMG savagery and pistol duels. The lack of crosshairs makes tossing grenades through windows a tad tricky, but, along with mechanisms like leaning, and an optional absence of team identifiers, mean DoI stands higher on the realism ladder than DoD." (Tim)

"Blew my mind when you could go to external view, look in through the canopy, and see your working MFDs." (CaptainBinky)


"Good times with friends marvelling at being able to briefly see through our wings after a too-low bombing run." (SminkyBazzA)

"An approachable whirlybird sim with a dynamic campaign engine to die for. Thanks to community-made updates, the roster of flyables now includes the world's prettiest/daintiest gunship and the most menacing." (Tim)


"Still the best heli sim out there." (DrJester)

"The first time I dived into a B-24 bomber stream with tracers flying all over the place is still the most intense moment I had in any flight sim." (Khare)


"Designed by Tsuyoshi 'Strike Fighters' Kawahito, this MicroProse classic hit Steam earlier this month." (Tim)

F-117A/F-19 Stealth Fighter

"I played more F-19, but the gameplay is oh so similar. Fly inside the envelope of the aircraft and you're invisible while having near-perfect information on everything going on around. Yes, way too much information, but then again it was accessible. Secret missions to pull off while avoiding detection – the concept would definitely still work today." (frostpfote)

"This 1992 Mudhen sim was demanding in every sense of the word." (Tim)

"Ok, this is a nostalgia thing but I spent many happy hours in aerial combat in a copy of this that I acquired when I bought my computer second hand. I can't in honesty recommend it to anybody but it qualifies for my personal list." (cederic)

"The consummate combat flight sim. It has it all - the impressive realism, the avionic detail, the seriously dynamic campaigns, the scaleability, the de-brief tools, the indefatigable modding community..." (Tim)


"Benchmark Sims are doing a great job keeping this classic game up to date and alive even if the terrain does look a bit ass." (Pollux)


"For two decades I have played it. And I still see myself doing so for years to come!" (DrJester)

"You really felt that you were only a small cog in a bigger war machine. Previous titles (even F-15 Strike Eagle 3) had you flying basically as a one-man-army... In F-14 there were plenty of friendly, neutral or even civilian flights present... Even if DCS Tomcat is a dream for button pushers and rivet counters, Fleet Defender as a whole package is still superior IMHO." (damson)

"I return every so often for the thrilling firefights, the tactical freedom, and the melodrama-free narrative." (Tim)


"The well scripted scenarios and believable narrative really elevated the original series. It's a shame to see what monkey business the modern iterations are up to." (TV-PressPass)

(Gunship 2000) "Best flight sim on Amiga platform, period. PC version got Island and Ice Expansion. Flight model was questionable, but the aspect of commanding a flight was novel at the time and was very addictive." (damson)


(Gunship 2000) "It was the first game I played where I had a group of friendly AI named after people I knew in real life that I was trying to keep alive." (Jer Stryker)

"After trying Post Scriptum and bouncing off despite it probably being the better game, HLL hits that sweet spot that RO nailed. Setting up an MG42 in the perfect flanking position for enfilade fire and halting an enemy push in seconds will never get old." (Chezzers)

"Lovingly crafted and astonishingly varied, more often than not levels invite and reward tactical experimentation. Generally, you're roaming naturalistic villages and airfields, factories and forts, schlosses and sub pens… large rambling locales pleasingly free of the sort of clumsy barriers employed as player funnellers in other FPSs." (Tim)


"I've played the first H&D campaign co-op with my Dad and brother multiple times, and it's fantastic fun. Tense and calling for careful planning and good execution, with the occasional moment of chaos that ends in tragedy or 'I can't believe we pulled through that.' Such a shame that the second game did away with the proper co-op campaign (it had individual co-op missions which were fun, but you lost all the inventory management and persistent characters between missions)." (Wilson)

"The sorties I came to enjoy most were the ones where I was asked to ferry fresh troops out to the front or medevac back the wounded. In fact I enjoyed these outings so much I spent days hex-editing the mission files to create new ones. It was a mad Sisyphean task. I'd change a likely-looking number then fly the file (assuming it ran) to see exactly what I'd altered. Lunatic, but the sort of thing you do when you're head-over-heels in love." (Tim)

IL-2 Sturmovik (1st Generation)

"Getting a kill while managing the engine, having limited rounds, etc. gives me a huge dopamine hit because of all of the work involved. I still play IL-2: 1946 and CLoD today, in large part due to the great modding teams that are still improving them. The B.A.T. mod is incredible." (skeletor)




"Number 1, by a mile... the game that got me into sims." (mr.skwid)


"Probably the first flight sim that really gave me the impression of being inside a flying plane, thanks to an amazing flight model, great graphics and amazing sounds." (Hydrogene)


IL-2 Sturmovik: Great Battles

"This justifies my VR headset. Breezy, beautiful, and endlessly fun with the Pat Wilson mission mods. Great physics and visuals can only take you so far, so I'm a sucker for all of the scripted missions you can find/buy - of which there are a ton." (TimePointFive)


(Flying Circus) "The developers keep pushing it forward and it becomes more sophisticated and, dare I say it, beautiful almost by the month. I'm lucky enough to have a VR headset and it is a stupendous feeling in those open cockpits. Even without VR, getting into a massed dogfight at 12000ft in the cumuli is an experience not to be missed." (Father Ted)




"Whilst lacking the breadth of its predecessor, this game makes up for it with depth. Amazing flight models and damage modelling for each of the warbirds give veracity to every dogfight, and it can be a stunner when it wants to especially with the new cloud effects. Skimming treetops in VR with canopy open = perfection." (Chezzers)


"The best online experience of any modern title." (DrJester)

"The spiritual successor to F-15 Strike Eagle 3 from Microprose. Two interesting campaigns... Plenty of diverse and interesting hand-crafted missions... Wide array of A/G weapons to employ. I'll never forget sitting in WSO seat, watching on one MPCD FLIR image of target area and on the other live feed from GBU-15 transmitted through AN/AXQ-14 Data Link Pod." (damson)

"No other game at the time combined luscious 3D, extremely accurate avionics and flight model, and a despearate struggle against the Russian bear in the North Sea. In my opinion the graphics, while no competition for DCS, still hold up well enough today to be playable." (CaptainKoloth)

Jane's Fighters Anthology

"Included US Navy Fighters, Marine Fighters, Advanced Tactical Fighters, NATO Fighters, USNF'97 (Vietnam). Hundreds of aircraft and missions to fly. Easy to grasp, simplified flight model (its roots found in Chuck Yeager's Air Combat) but the overall feel is grounded in reality. Pinnacle of 90s survey flight sim. Even if there is no dynamic campaign the sheer number of missions will give you plenty of fun time." (damson)







"The first of the study flight sims from the Origin Skunkworks team. The Gold version combined the base game and Flashpoint Korea expansion which introduced many new features, such as CP/G position with full-screen view from TADS. Very atmospheric, and had this classic Microprose vibe which wasn't odd since Andy Hollis was the producer." (damson)


"In the late Nineties I was too busy flying Digital Integration's heli sims to bother with Jane's. Looking back, my brand loyalty seems somewhat foolish. The Longbows were loved for good reason." (Tim)

"I consider these to be a series; they were made by the same developer under the Jane's brand (Pixel Multimedia) and have identical gameplay and mechanics. These two games were the perfect balance between arcade and realism in a flight sim; it was pick-up-and-playable, with a wide variety of aircraft and campaigns available in both, but still light years beyond the likes of Ace Combat with regard to realism (radars and all their modes, reasonably realistic flight mechanics, SEAD, EW, etc. all simulated). It's astounding to me that no such game has arisen since." (CaptainKoloth)

"The first flight sim to feature Spanish Civil War action?" (Tim)

"The first real tank simulation and a dire troublemaker when it came to my spare time." (Amiral Crapaud)


"Finally disposed of the 5-1/4″ floppy disks last year. Actually choked me up a little." (KSBearski)

"The time I've spent with M1TP2 this week has helped me understand why so many reviewers were willing to overlook the disappointing state of the release build. Busy missions, obliging/varied targets, extravagant pyrotechnics, surprising atmosphere, simple basics and somewhat flattering depictions of the titular MBT conspire to create a sim that's approachable, ego-kind and action-packed." (Tim)

"Because A2A lost interest in modernising Rowan's back-catalogue after Battle of Britain 2, sadly this Korean War gem never received the refurb it richly deserved." (Tim)

"Whether it's the bare-chested fury of a large-scale combined arms battle, or the owl-hoot-punctuated panic of a nocturnal patrol contact, Operation Flashpoint handles it brilliantly... However many times you play a mission, there's always a new avenue left to try, a new vehicle or weapon to scavenge." (Tim)




"The second mission of the campaign is one of my strongest memories in gaming, when you discover you are facing mechanised soviet troops, and your little M16 is useless against the coming BMPs." (Hydrogene)


"I had so much fun with this, mostly messing around in the map editor. Mods were an eye opener as well. I remember back when we still had very poor internet, downloading a 5MB (!) fire engine mod meant leaving the download running overnight." (Wilson)

Panzer Elite Special Edition

"Getting the various third-party adjuncts working together flawlessly can be a bit of a struggle but persevere and weeks... months of unusually tense and atmospheric horizon scanning, hill cresting, and hull puncturing await." (Tim)

Rainbow Six (1st Generation)

(Rogue Spear: Urban Operations) "The best expansion I've ever played — tactical sim or otherwise." (Raphael Liberatore, CGW, 2000)

"Red Baron 3D is a classic game in its own right. The team did a great job carrying on the legacy of Red Baron, and Red Baron 3D is worthy of the name. Much of the team from the original worked on Red Baron II and Red Baron 3D." (Damon Slye)

"It's amazing - 30 years on, Dynamix's WWI wonder still has the power to surprise and stir. It still provides enough, "Got you, my slippery friend," "Crikey, that was a near thing," and, "Me, a Captain?!" moments to keep even a fussy flier like myself absorbed for hours on end." (Tim)


"I think that many developers today could learn from the career mode. It was exciting in between missions. I would eagerly await medal ceremonies, challenges from aces, new planes, etc. These small details added a lot to the experience." (skeletor)

"After years of playing Counter Strike as a teenager, this was the series that made me realise that sims were for me. The perfect balance of realism and accessibility, pixel hunting helmets with the PTRD on Berezina or bouncing Panzergranate 39 shells off the T-34's sloped armour on Arad, this game had it all." (Chezzers)


"It says plenty about RO's authenticity that you often find yourself using historical tactics not out of a desire to roleplay, but because it's the natural/sensible thing to do." (Tim)




"To this day one of the best moments I've had in gaming is nailing a stressful mid-range shot with my Mosin Nagant saving a team mate. Any game that can make an overall insignificant shot feel that special deserves top marks." (HaraldC)


"Things really got going when the Darkest Hour mod came out, transferring the action to the West. It is superseded now of course by Hell Let Loose in terms of graphics and sophistication, but I feel less compelled to get into HLL because the sophistication means it is less pick-up-and-play." (Father Ted)

"This pulled me inexorably away from IL-2 1946.... Taking up a Pup from Bruay and striking out across No Man's Land into skies which may or may not contain Albatri recalled my early reading of No Parachute like no other game until IL-2: Flying Circus." (Father Ted)

"I was hooked by the idea of arresting criminals rather than simply shooting them. Spent a lot of hours trying to figure the best strategy. Usually, everything went wrong at first contact. Pathfinding issues made things harder, especially in the second half of the game." (a_monk)

Secret Weapons of the Luftwaffe

"The impressively equipped SWOTL is a Flying Fortress sim with player-accessible gunner and bombardier positions. It's an invitation to tear about in Mustangs, Thunderbolts, Bf 109s, Fw 190s, Me 262s, Komets and Go 229s. Above all though, it's a game in which every bomb-blast and crashing plane shockwaves the future." (Tim)


"This was my B-17 sim. I would spend most of the non-combat time looking out the side view at that magnificent wing with its two massive engines. Later in the mission they would usually be failing, on fire, and/or full of holes." (Jer Stryker)

"Uboat and Wolfpack are edging in on the scene, but the gold standard for uboat combat is still Silent Hunter III with the GWX mod." (Electricfox)


"Silent Hunter 3 with the GWX 3 Greywolves mod... so many memorable moments... unbelievably immersive. I can't decide what was the most memorable moment during my last campaign, laying on the bottom of Reykjavik Harbor repairing damage from depth charges, bow shooting a Brit DD trying to end my career, penetrating a convoy and causing major mayhem, realizing at the last moment I was going to ram a merchantman at periscope depth, ordering hard left rudder and scraping the barnacles off the side of the ship and diving to get under her or penetrating the Irish Sea only to get sunk by three British escorts I could not evade, outrun or outgun." (KSBearski)

(SS1) "The feeling when you know the destroyers had you pinned. Or escaping within an inch of disaster and returning to port. Drama! See the Crash Dive series for a near modern equivalent." (OldZenGamer)


(SS2) "Sure, Silent Hunter had better graphics, was a better sim, had more iterations in the series. But Silent Service created the genre and got all of the basics absolutely spot on. Dynamic campaign in 8 bit pixel graphics, ship identification, aggressive destroyers, a tense gamble going for an aircraft carrier.. Everybody else is just imitating and refining games cast from the same mold." (cederic)




(SS2) "Because that was what my dad played most & was the most immersive thing there was when I was 6 years old and hiding under the table during depth charge attacks." (Amiral Crapaud)

(Dangerous Waters) "Still the go to for modern submarine simulation, and comes with multi-station multiplayer which can be a lot of fun." (Electricfox)


(Dangerous Waters) "The Falcon 4.0 of contemporary sub sims." (Tim)

Steel Beasts Pro Personal Edition

"One of the joys of singleplayer SBPPE is the control freedom. You can spend an entire scrap controlling things from low-flying helo height à la Combat Mission. You can play using nothing but the map view, or, if you prefer, you can restrict yourself to one vehicle, or a single station in a particular vehicle. Personally I like to flit about, using all the facilities available." (Tim)

"The only WW2 tank sim I know of that can dig-in next to Panzer Elite without looking deeply inadequate." (Tim)

Stormovik: SU-25 Soviet Attack Fighter

"This was the TIE Fighter of flight sims. It made it fun to be the "bad" guy, and had some great scripted (if outlandish) single-player missions." (Jer Stryker)

(SF2) "For me it was the perfect balance of accessibility and authenticity with a nice range of aircraft and a decent dynamic campaign. Played the original, Vietnam, Europe and Israel maps." (CaptainBinky)


"The mid-2000s answer to all the high-end study sims that I never had time for. No switches to toggle or buttons to push, but the sense that you were in a real air war in the 1950s-1970s and lots of fun action. The mods made it even better." (Hell-fish)

"I was only allowed to play it after completing "Where in the World is Carmen Sandiego?". The tanker pilot drawling over the radio "All major credit cards accepted" is stuck in my head for some reason." (SminkyBazzA)


"The credit card line has stuck in my head too. As have the clouds. The first time I'd really felt like flying in a computer game, so magnificent they were for the time." (spacedyemeerkat)

"The real strength of Team Apache comes in its excellent sense of command. It is as much a team simulation as an aircraft simulation. You are required to build and manage pilot/WSO teams, matching personalities and skills to create a well-honed force. These men grow and change. Sometimes you need to "have a talk" with them to boost morale, and the game even makes you choose between a "hardass" and "soft touch" approach." (Chet Thomas, Gamespot)


"No other sim since has done flying and fighting nap-of-earth so convincingly. Hide below radar and attack a target with a few seconds apart from the rest of the wing, all from different directions. The mission-planner was fantastic, detail of the 3D graphics was great at the time and the Tornado was modeled very convincingly." (frostpfote)

"Silent Hunter meets Nantucket meets Bomber Crew. A remarkably solid and well-equipped unscripted sub sim with a refreshing interest in the human factor." (Tim)


"UBOAT can be played as a 'chart table and periscope' sub sim and does that as well as anything else out there but it goes so much further, modelling the entire submarine, its equipment, its crew and the running of an under water boat. The dynamic campaign is currently perhaps a bit too easy but that doesn't make sinking a carrier any less stressful... Of all my top five, this is the only one I'm still playing." (cederic)

"Surprised this is allowed, but I suppose a plausible ballistics models goes a long way. A great game when you rocket out of spawn with your Italian portee and start putting shells through the front plates of unsuspecting Tigers and Shermans. And an incredible frustrating one when you're one of the holed Tigers, knowing that's a few thousand silver down the drain." (mr.skwid)

Wings Over Flanders Fields

"Buy WOFF and you're getting that incredibly rare thing, a sim that realises that most of us value campaign colour and plausible AI every bit as much as we value faithful flight models." (Tim)

"Dad loved it, so we all played it with him – I had the most fun being his personal artillery service while he zipped around the front lines." (SminkyBazzA)