Ivan, the MT-LB commander, and Yuri, the MT-LB driver, fall out during this sixty second slice of action. Ivan wants an opportunity to riddle a skedaddling TOW Mutt with his turret-mounted 7.62mm Pulemyot Kalashnikova MG. Yuri wants to put a Zendoran highway embankment between himself and possible immolation.
(Operation Oryx is an open-to-all game of Combat Mission: Cold War set in 1981. The commenter-controlled Zendoran forces are attempting to ambush a column of Podrabian vehicles bound for Zečin, the Zendoran capital. Each turn covers one minute of WeGo action. For a scenario outline and summaries of earlier turns, click here).
The argument is short and sweary. When several variations of "Do your duty, man!" fails to convince his wheelman to stay put, Ivan starts casting aspersions about Yuri's parentage. The  driver responds by jamming 'Marushka' into reverse and backing southward.
He really should have listened to his commander.
As the MT-LB reverses over the crossroads, its presents its long left flank to Recon Team Bravo, the only one of our three scout teams yet to fire a shot. Almost simultaneously (sorry, folks – CM's TacAI can be awfully extravagant at times) two anti-tank rockets streak from two tubular lairs. The first flies harmlessly over the target. The second strikes steel plate and detonates, bringing the APC to an abrupt and permanent halt.
Elsewhere this turn…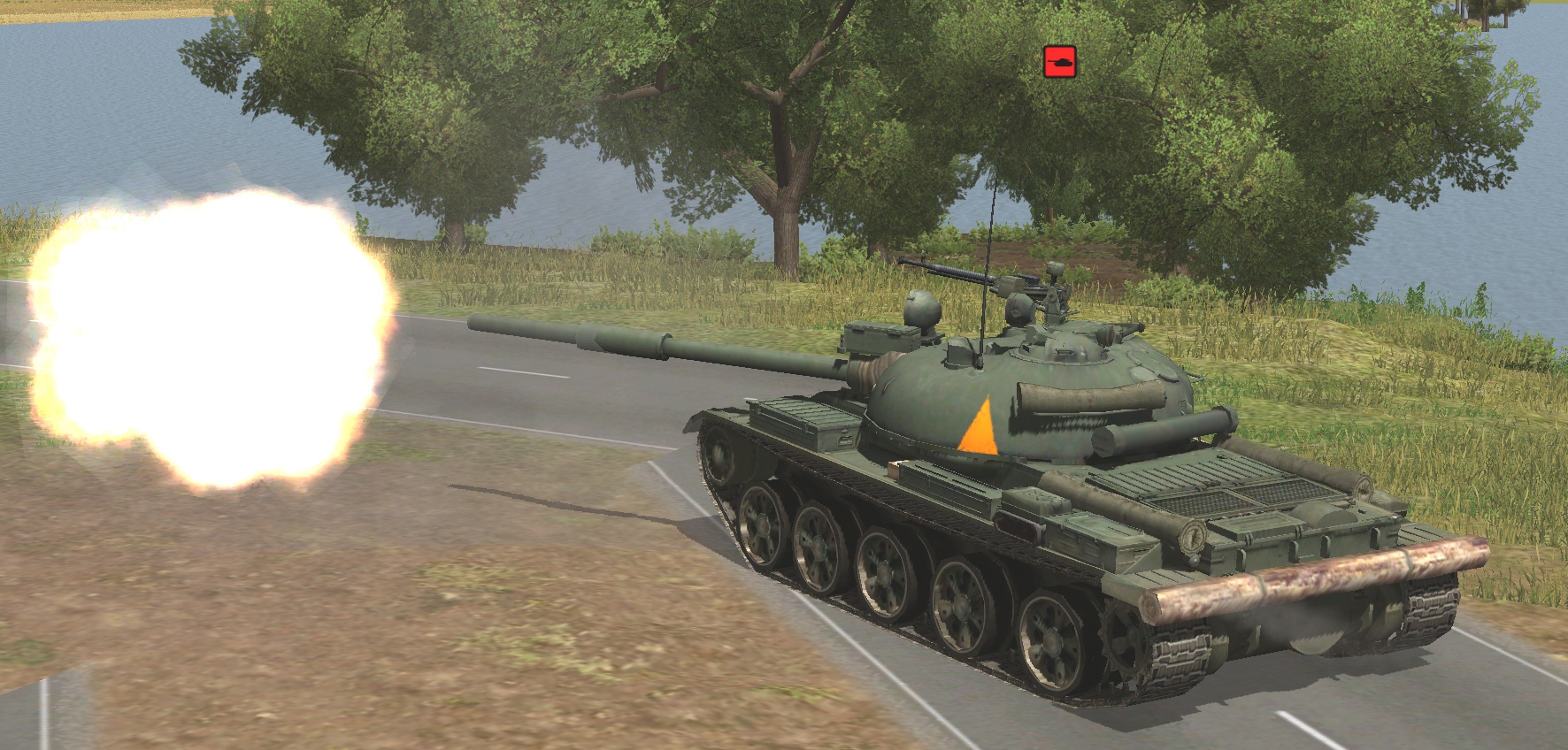 Trundling westward, one of the MBTs at the head of the Pod convoy glimpses enemies on the move (presumably our light mortar team) and, at T+12, sends an HE round whistling towards box 59. The shot lands somewhere beyond the map edge.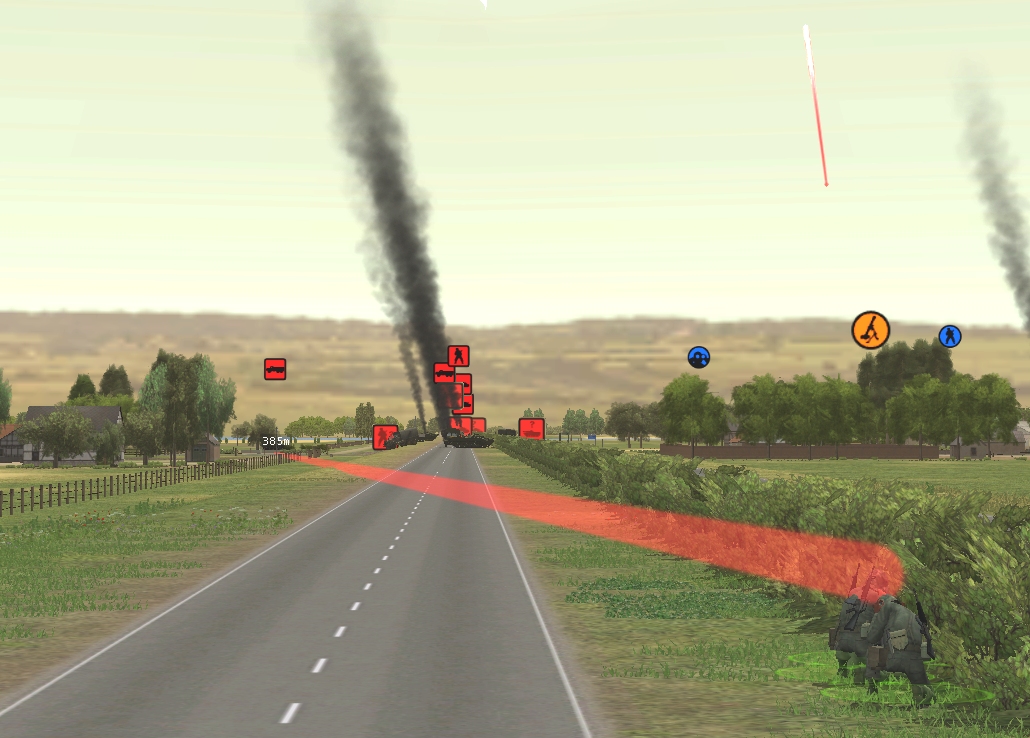 Our mortarmen don't seem overly perturbed by the attention. Darting into the vegetation in the central reservation they deploy their weapon, and commence firing on the Vostok Monument area. Their first two emissions are airborne when the clock stops.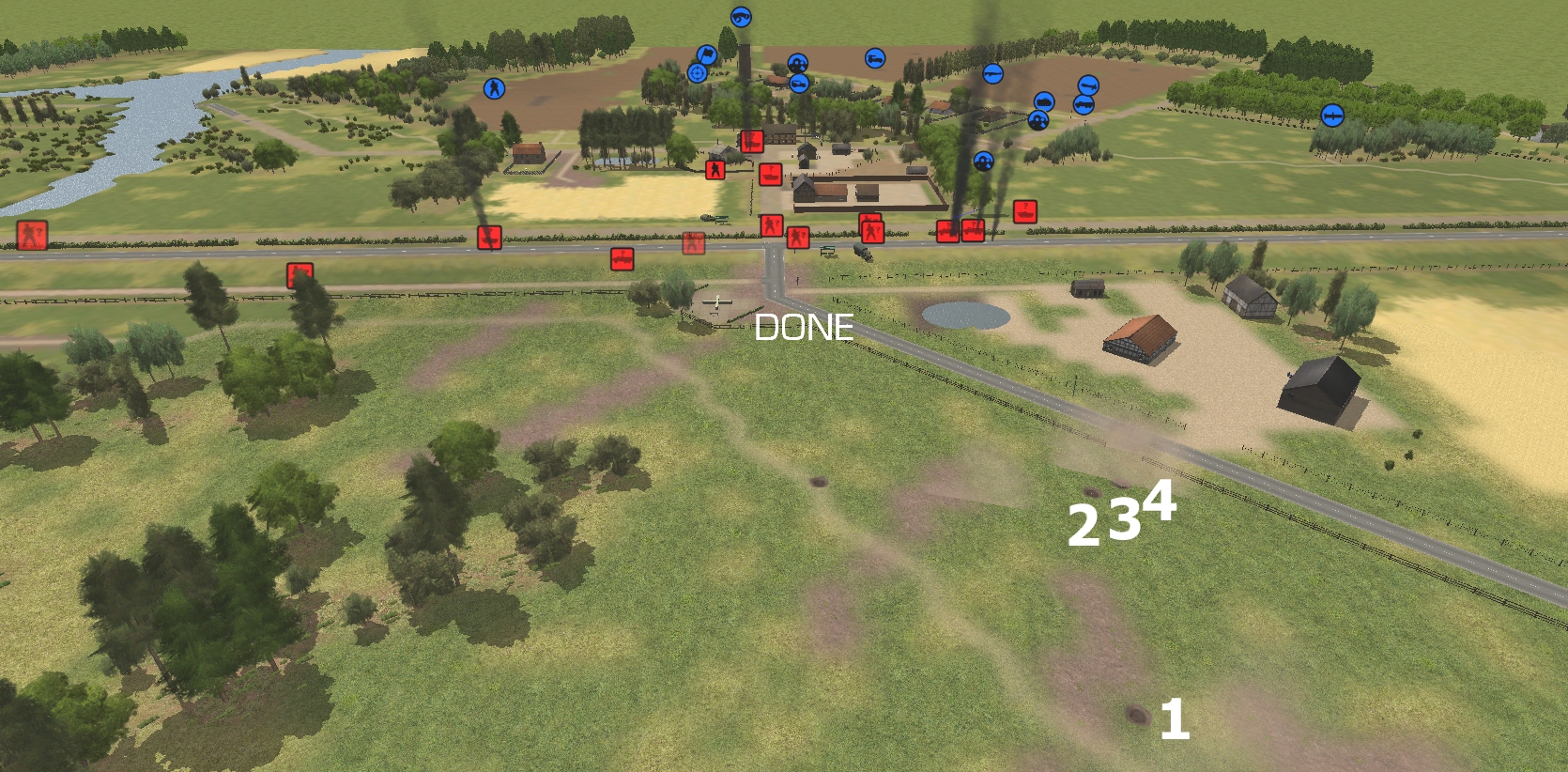 Four 107mm mortar bombs land during the course of the turn. The first is a spotting round, the rest the opening salvo of a stonk aimed at the road running diagonally through boxes 38 and 51.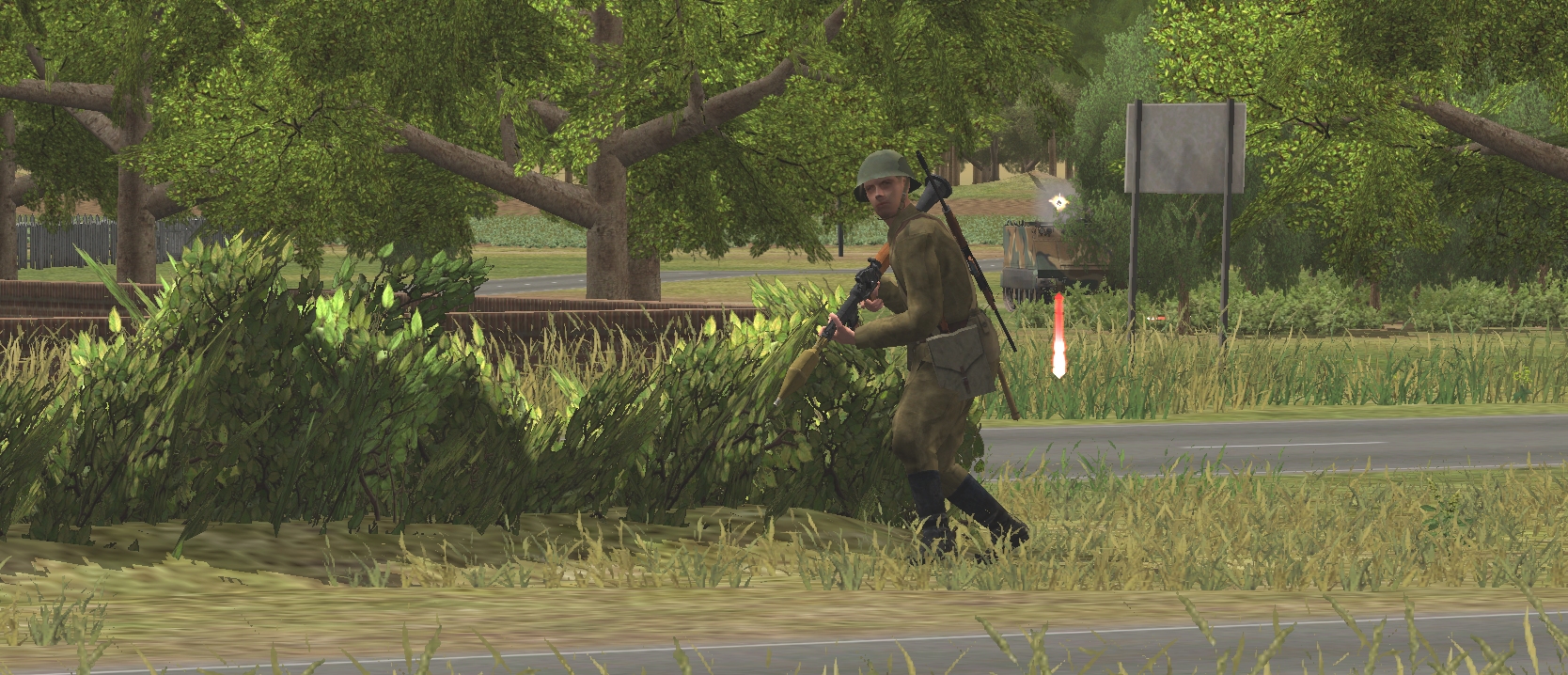 The M113 bags a retreating grenadier.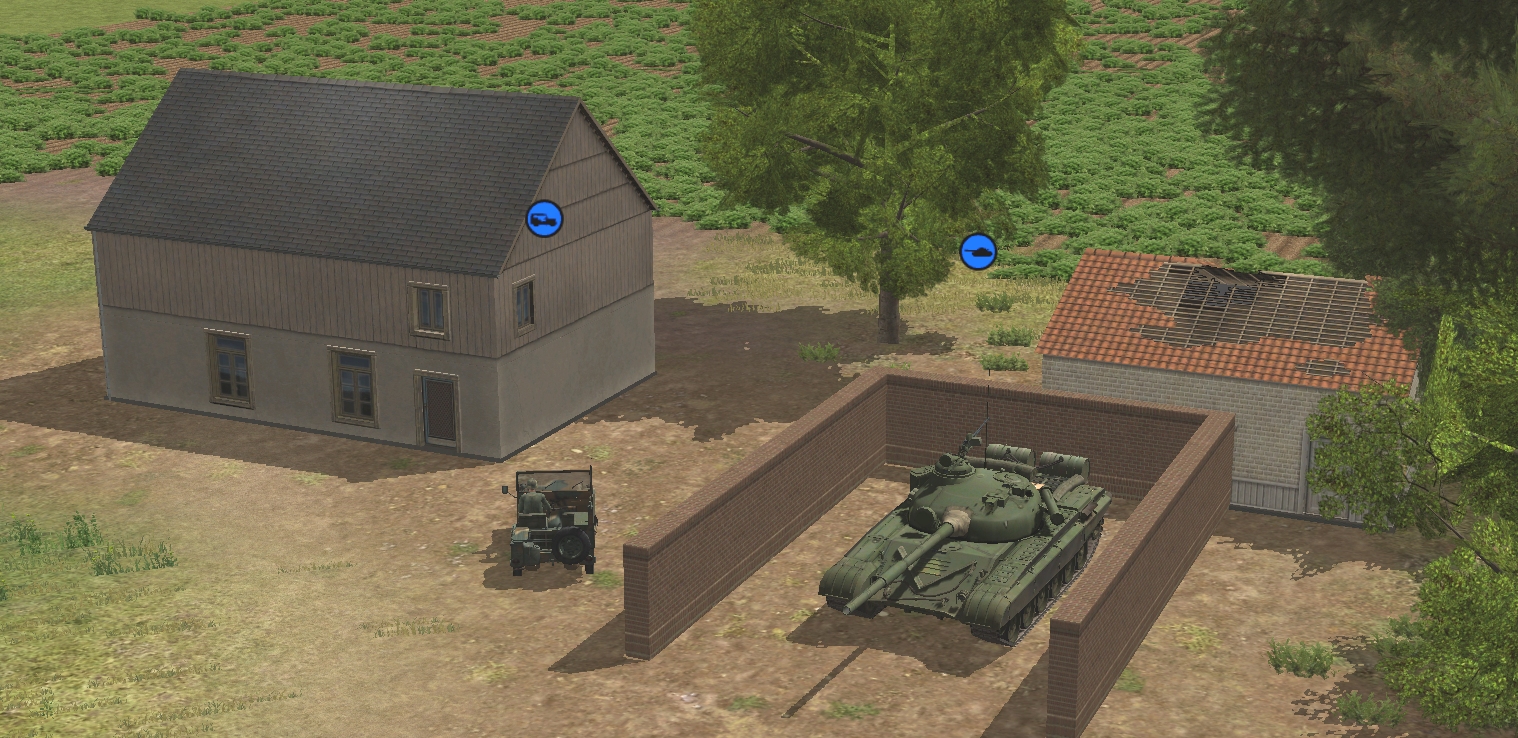 Tereza stirs.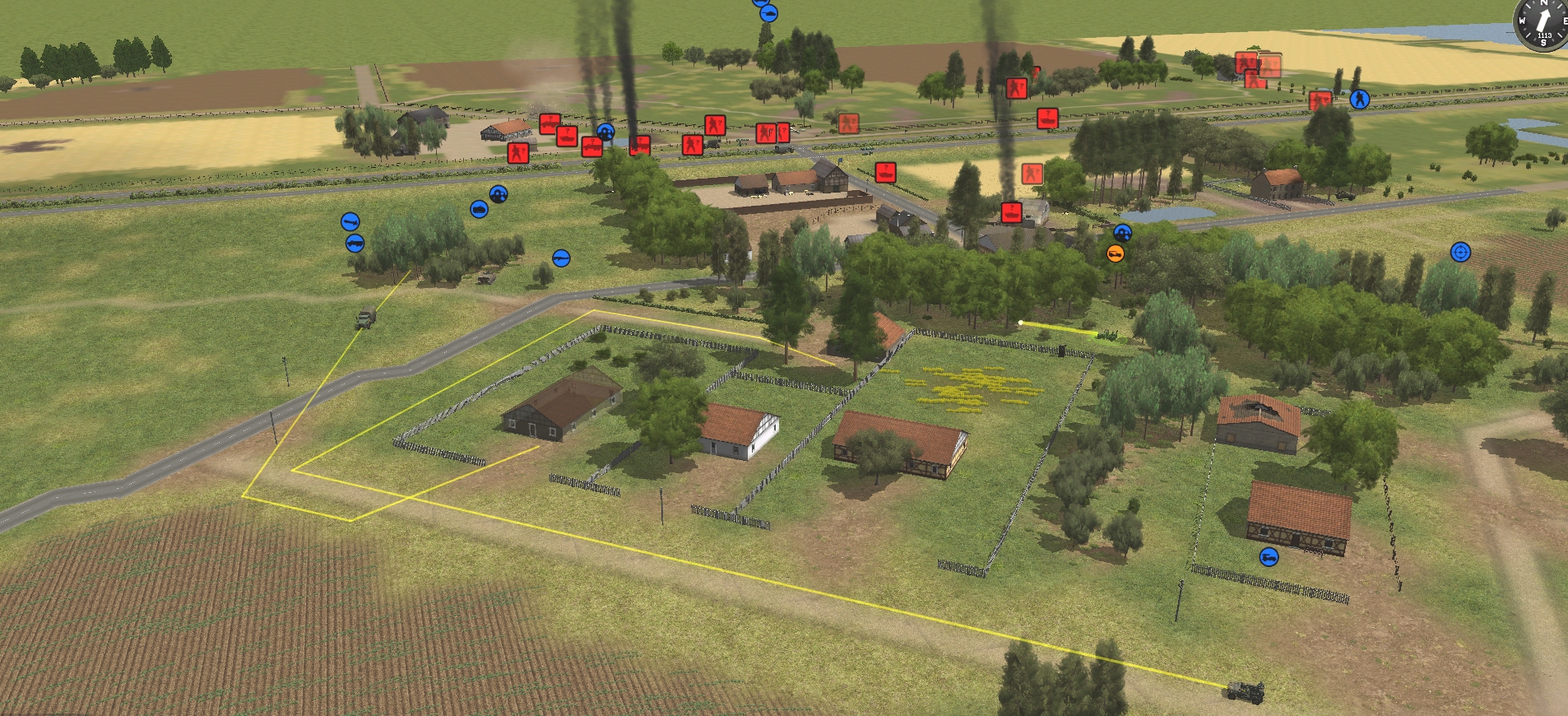 While exiting the truck, Lesov Senior snags his braces on the tailboard? Despite being given ample time to debus, our RPG team somehow contrives to be still aboard their taxi when it departs!