Although the days when PC Gamer dot com was a regular haunt of mine are long gone, earlier this week I found myself wading through the site's welter of New World articles in search of something to read while dunking my afternoon Custard Creams. The article that eventually engendered a click was the 2021 PC Gamer Top 100. I went in expecting to be mildly aggrieved by the position of Personal Favourite 'A' and somewhat disappointed by the absence of Personal Favourite 'B' (That, after all, is the purpose of a Top 100). What I wasn't anticipating was outright dismay.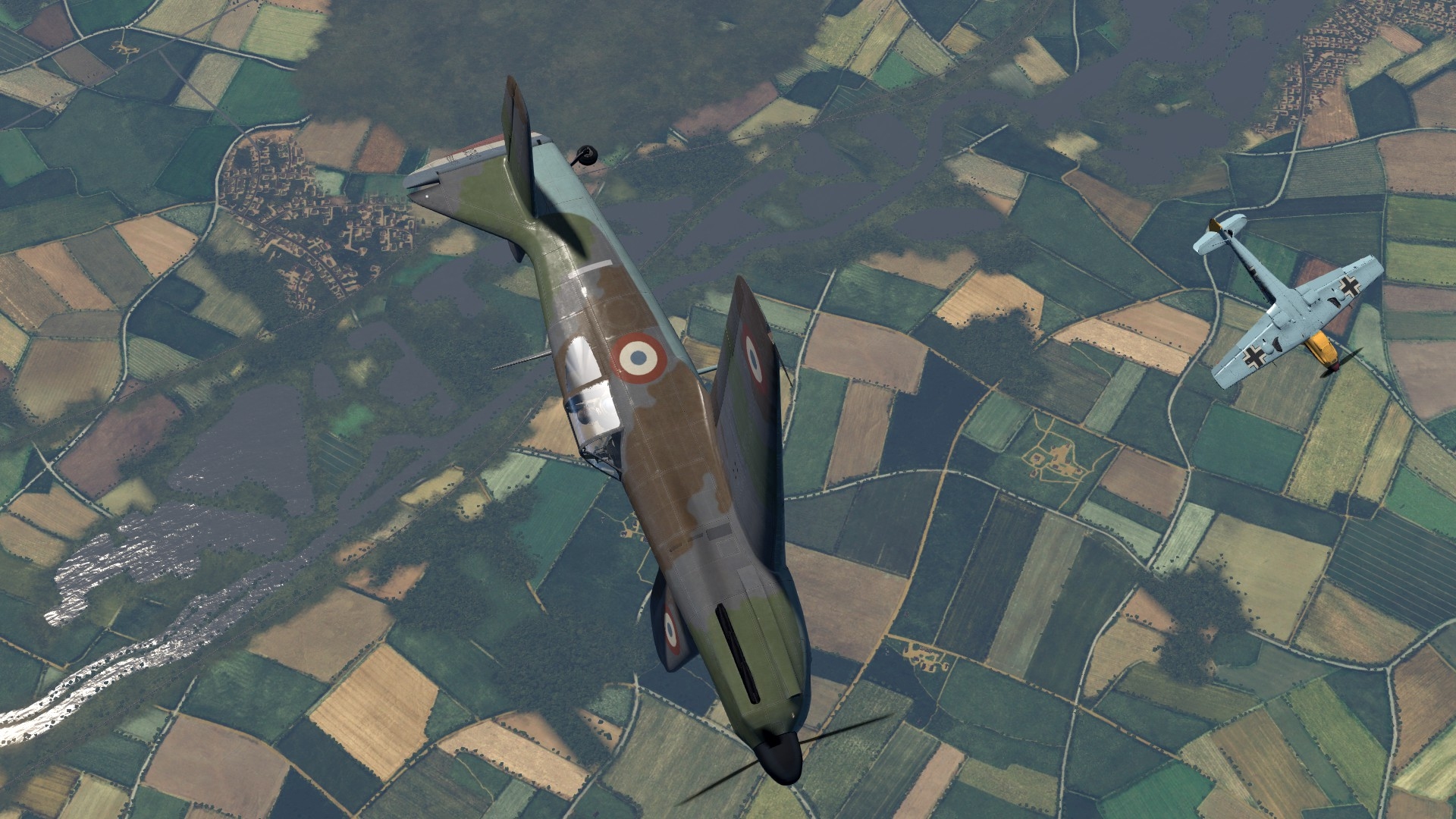 Not only has my alma mater managed to compile a Top 100 completely free of historical wargames (Company of Heroes 2 at #65 is the nearest thing to a grog pleaser), if you discount the diversions lurking at #69 (Arma 3) and #64 (Forza Horizon 4), it has somehow managed to exclude flight and race sims too!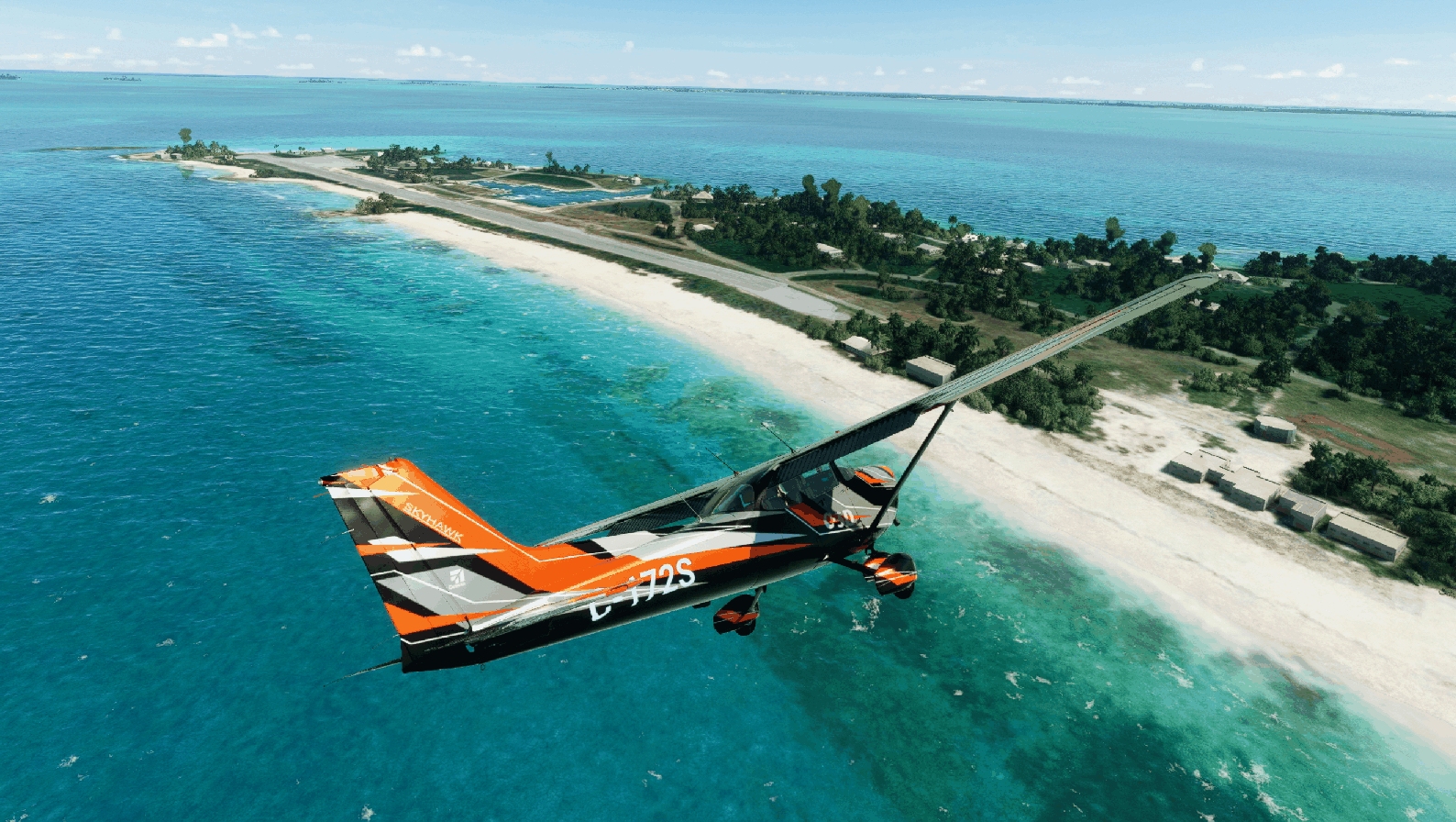 I took the lack of winged wonders in the upper half of the list as a sign that titles such as Flight Simulator 2020, DCS World, and IL-2: Sturmovik: Great Battles had staunch allies in the PCG office. Circa #30, brow furrows were beginning to form. By the time I hit Disco Elysium I was shaking my head like a toupee wearer trying a new brand of wig tape for the first time.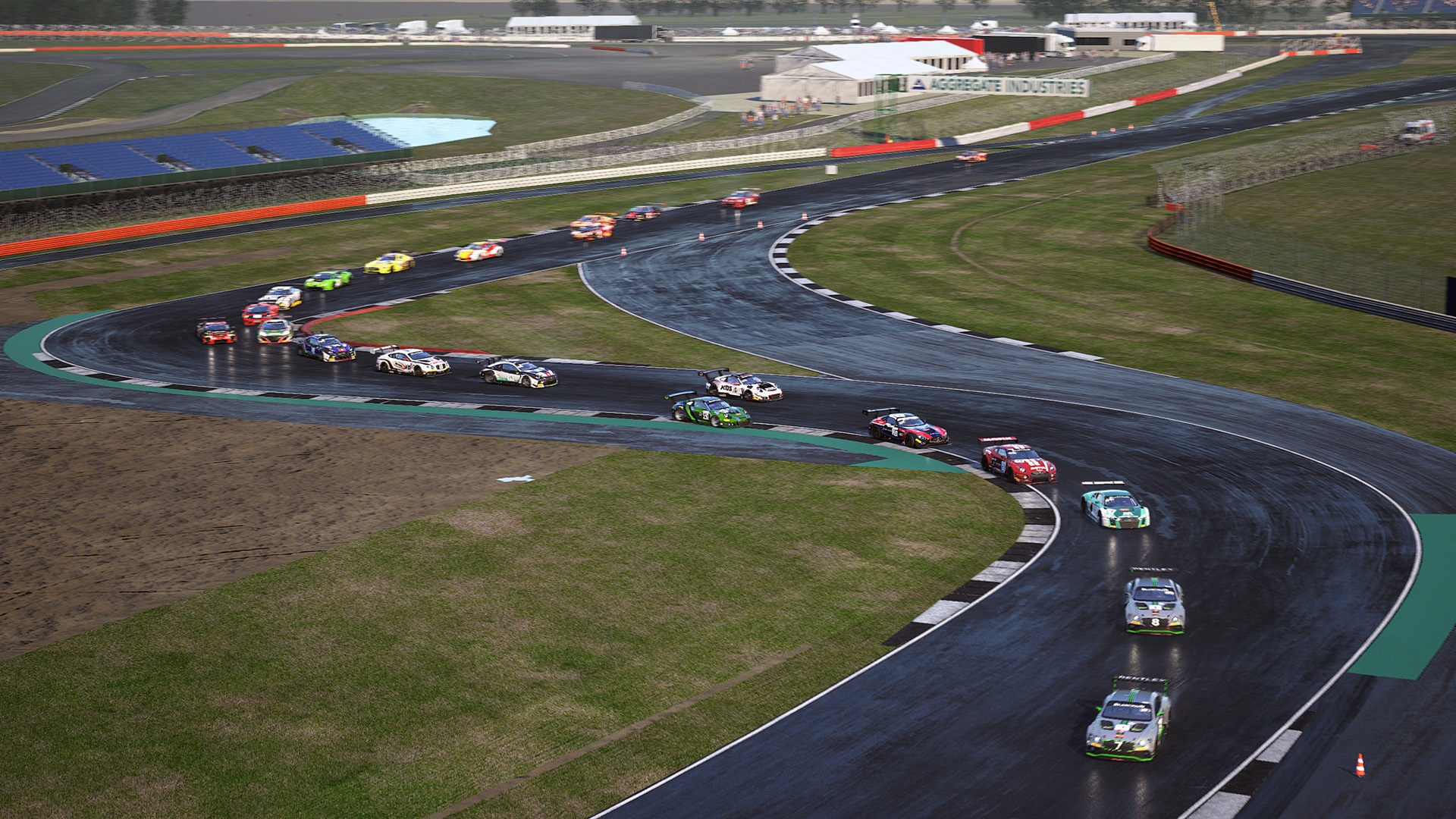 I know what you're thinking. "Who cares if games critics writing for a particular site or magazine have zero interest in DCS World, X-Plane, War Thunder, Assetto Corsa, iRacing, Combat Mission, Unity of Command 2 etc. That's their prerogative and there are numerous other sites, bloggers, and streamers out there banging the drum for realistic fare." My concern is that a Top 100 free of sims* and wargames is a symptom of a wider trend in the mainstream games press – a trend that, if left unchecked, can't fail to damage the genres concerned.
* American Truck Simulator and Snowrunner do appear.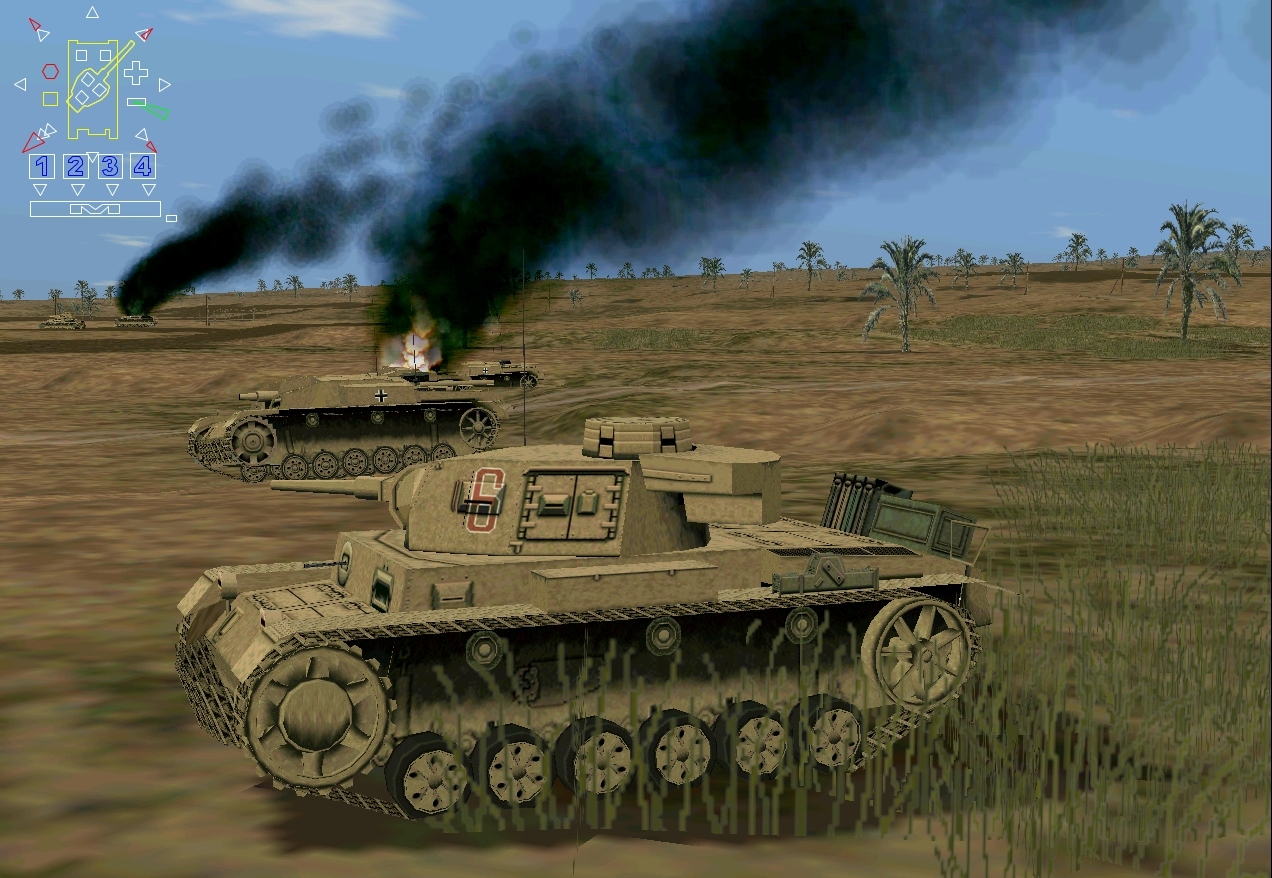 When, at the turn of the century, I started writing for PC Gamer UK, every publication had its on-call aviator, motorist, and hexophile. These individuals didn't just review and preview, often they promulgated their passion in features, news pieces, and tips articles. Once established, they acted as their editor's eyes and ears in their chosen fields… "I'm playing an obscure German bus simulator at the moment and it's wunderbar. Would you be interested in a review?" "There's this SimHQ forumite who's playing Panzer Elite: Monty vs Rommel in a mock Pz III interior he's built inside his airing cupboard – I think we should interview him."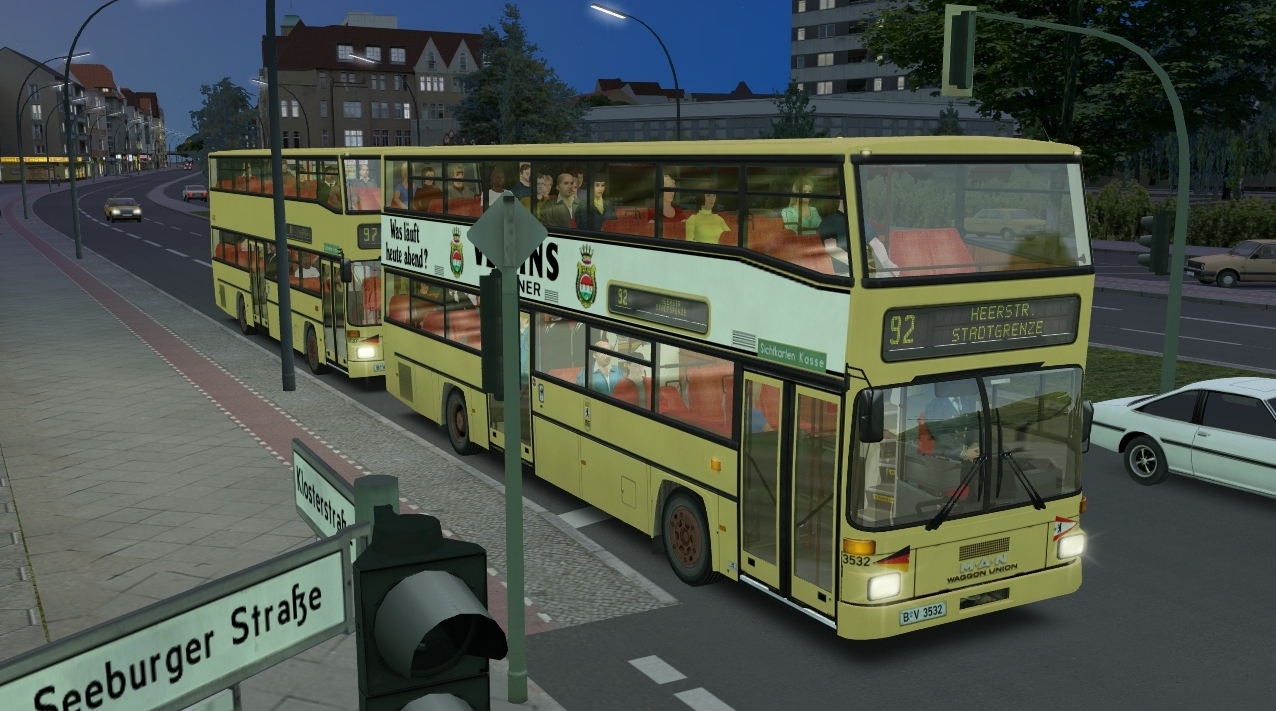 Today, in-house specialists seem both rarer and less influential, and, as a consequence, we get Top 100s with Bismarck-sized blindspots. More significantly, fine games go months, sometimes years, without coverage on high-traffic sites. Some deserving of limelight are completely ignored.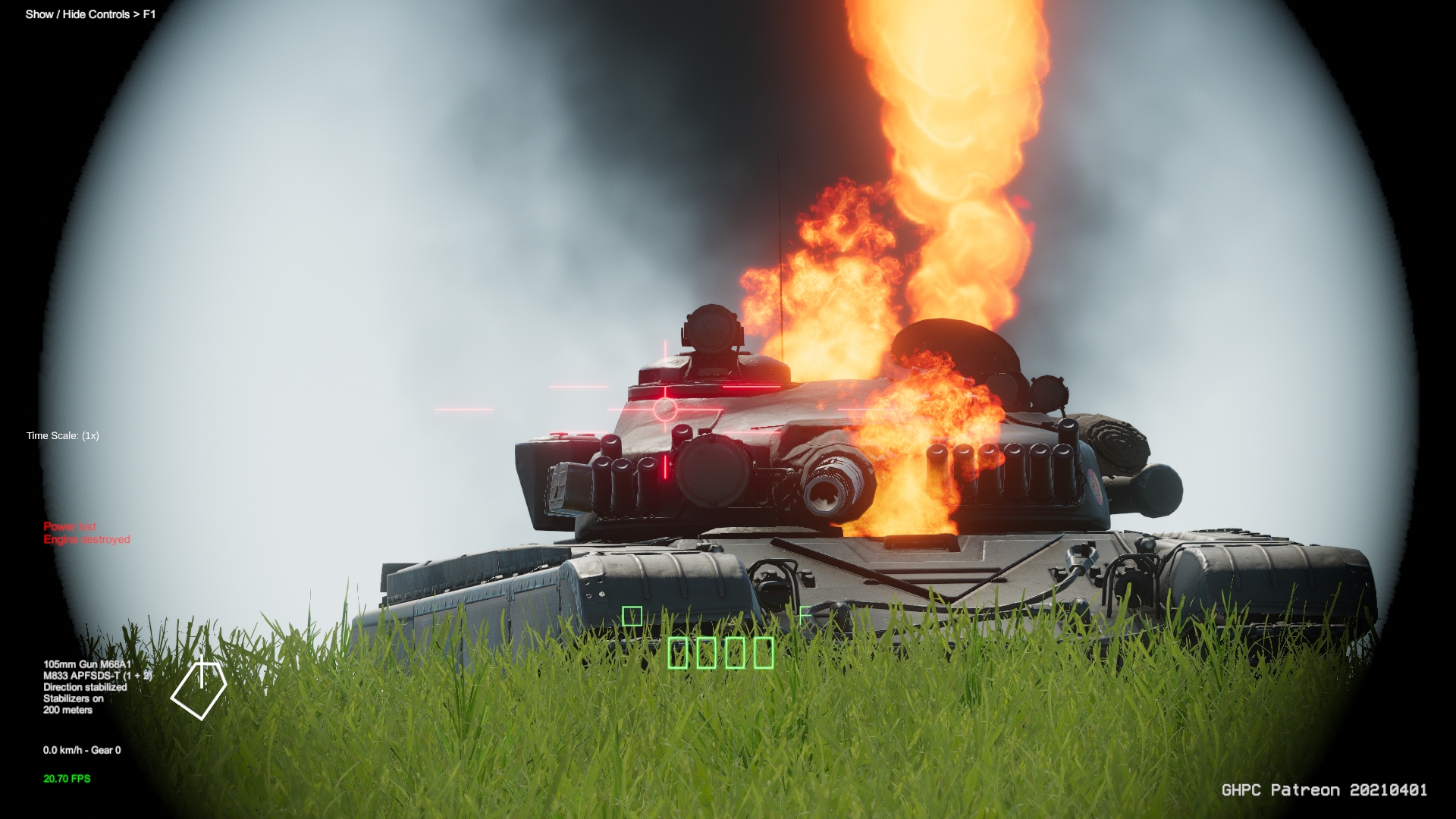 Plying PC Gamer's search box with sim and wargame monikers suggests, for example…
– The Coconut Monkey is unaware Derail Valley and Diesel Railcar Simulator exist.
– Graviteam Tactics: Mius Front and Gunner, HEAT, PC! are figments of my imagination.
– The makers of IL-2 Sturmovik: Great Battles once said something astonishingly rude about PCG's mum.
– American Truck Simulator and Euro Truck Simulator 2 are 73 times more deserving of column inches than the OMSIs.
– Early Access Door Kickers 2 isn't currently going down a storm with Steam customers.
– UBOAT isn't the most interesting thing to happen to naval simulation in years.
And, to be fair, PC Gamer's coverage of things simmy and groggy in 2021 is positively comprehensive when compared to that of its main rival during the same period.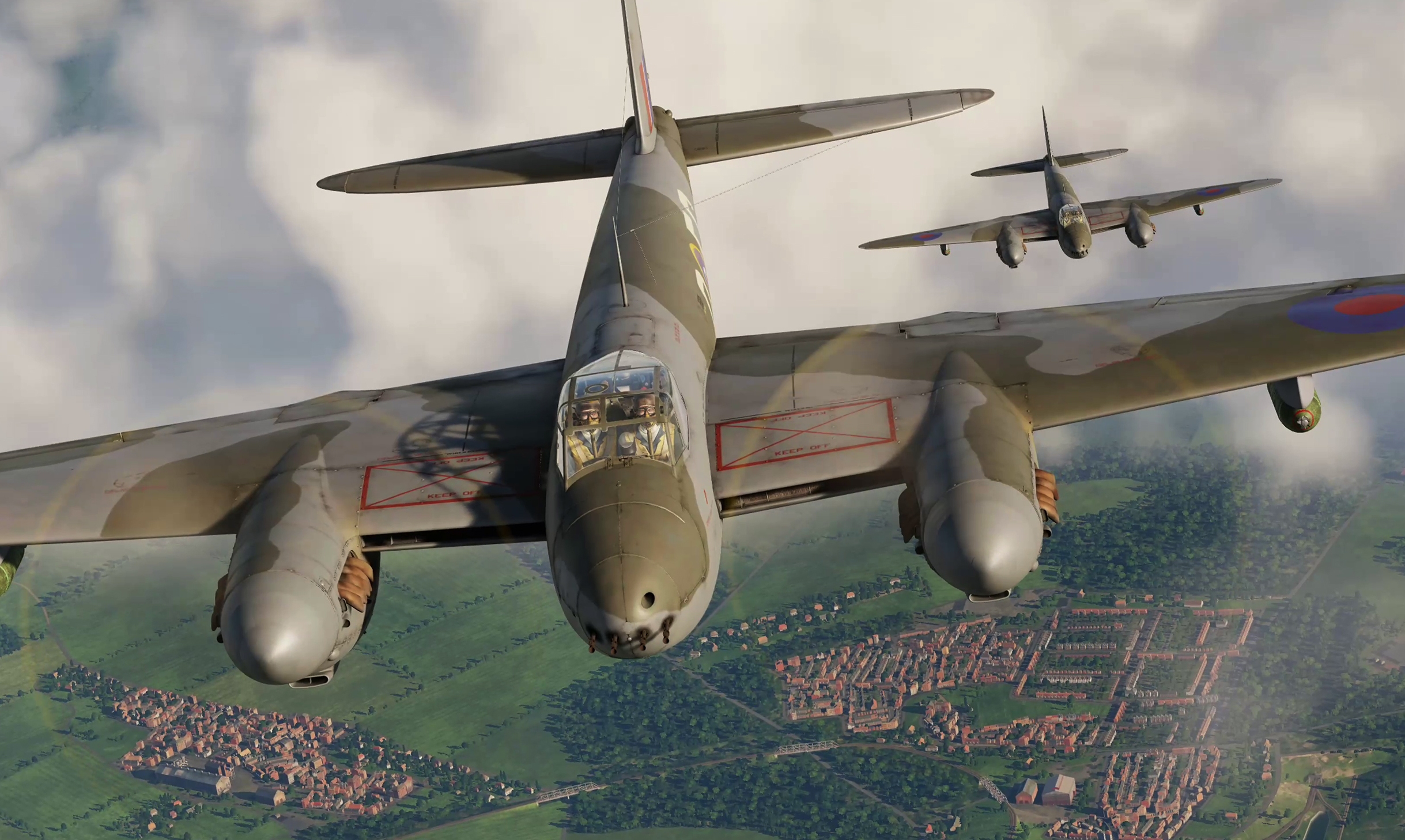 I realise the above reads like thinly-veiled hustling, or the crabby griping of an embittered exile, but, believe me, it's neither. This isn't a job application or a vindictive dig*, it's a plea on behalf of the forsaken – the people who, like me, mouse-wheel through those vast, colourful front pages from time to time in search of references to their current obsessions and find sweet Fanny Adams.
* After an unusually long stint in the Premiership and EFL, the idea of spending the remaining years of my career playing on the cosier, leafier grounds of the Vanarama National League doesn't trouble me.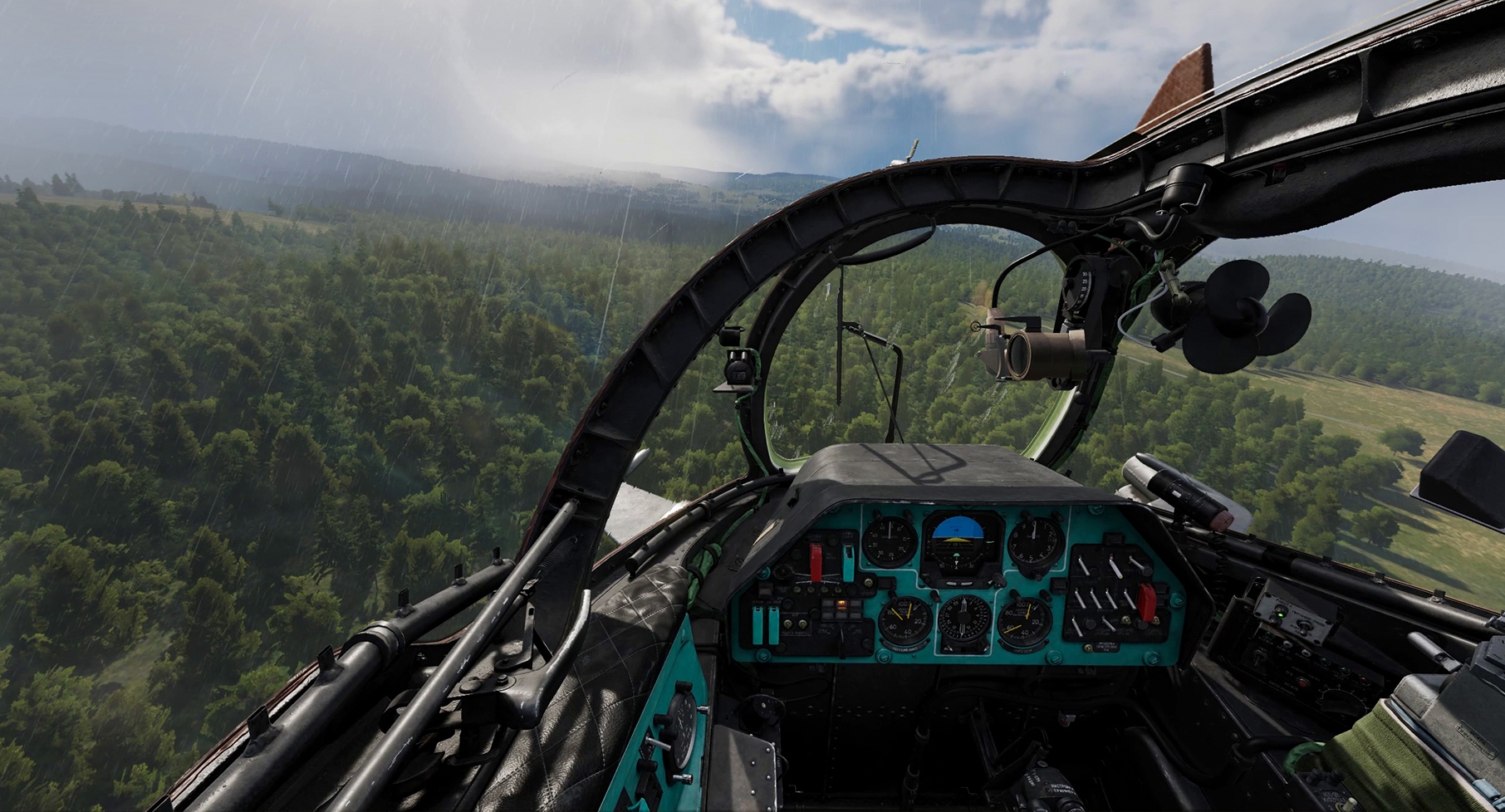 Games media megabeasts, if you're going to put passages like this on your 'About Us' pages…
"[We] aim to cover everything from the latest breaking stories about the biggest releases to esoterica from the format's most obscure peninsulas. Our philosophy is that AAA and indie are just as likely to produce fascinating games worthy of our time and coverage, and give all extremes equal prominence."
If you're going to claim to be…
"THE GLOBAL AUTHORITY ON PC GAMES"
…then surely regular reportage from the lands where truthful tanks trundle, convincing cavalry canter and faithful flying machines flit isn't too much to ask.
* * *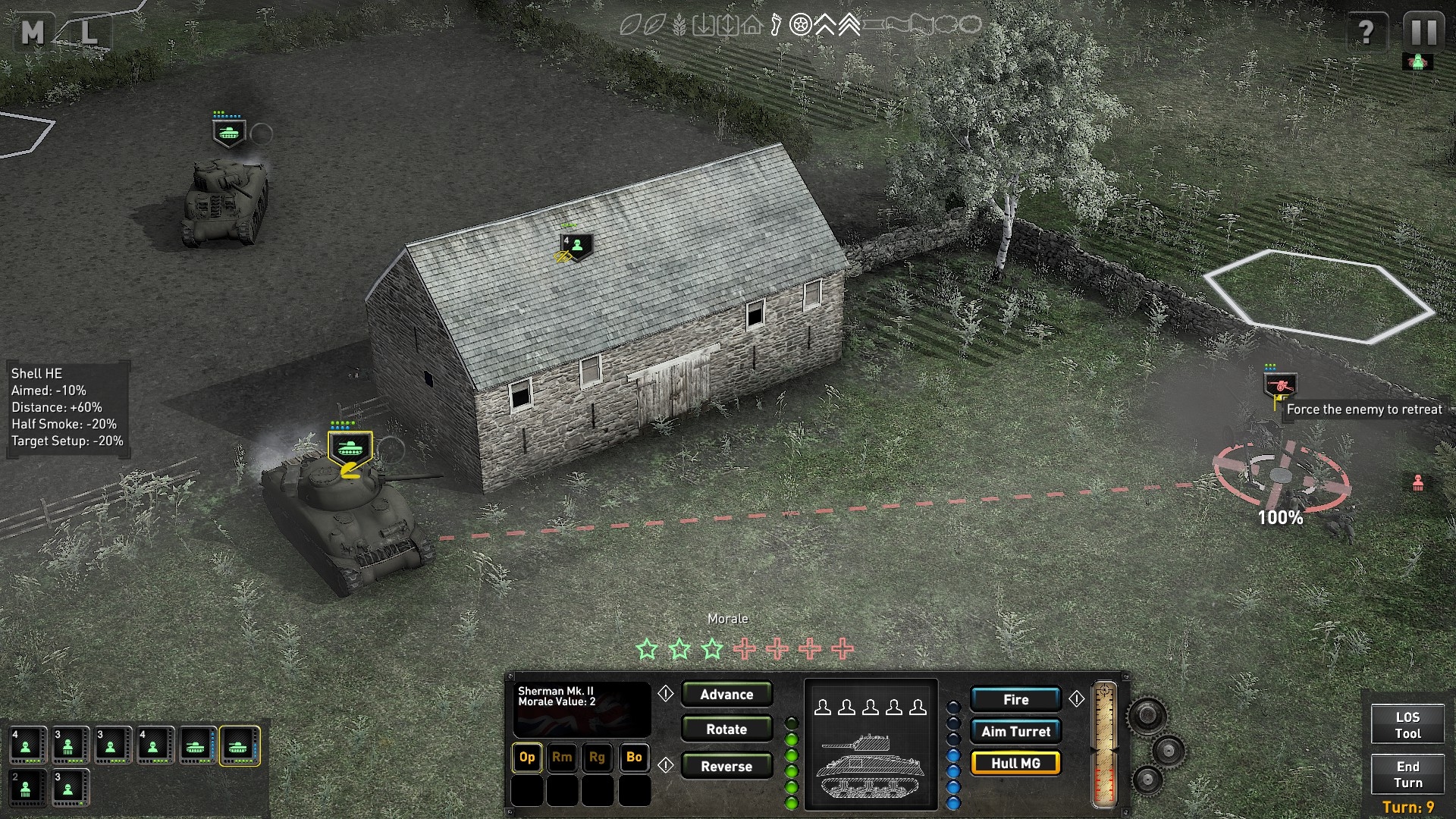 You've heard of the RTS and the TBS – allow me to introduce you to a SFS.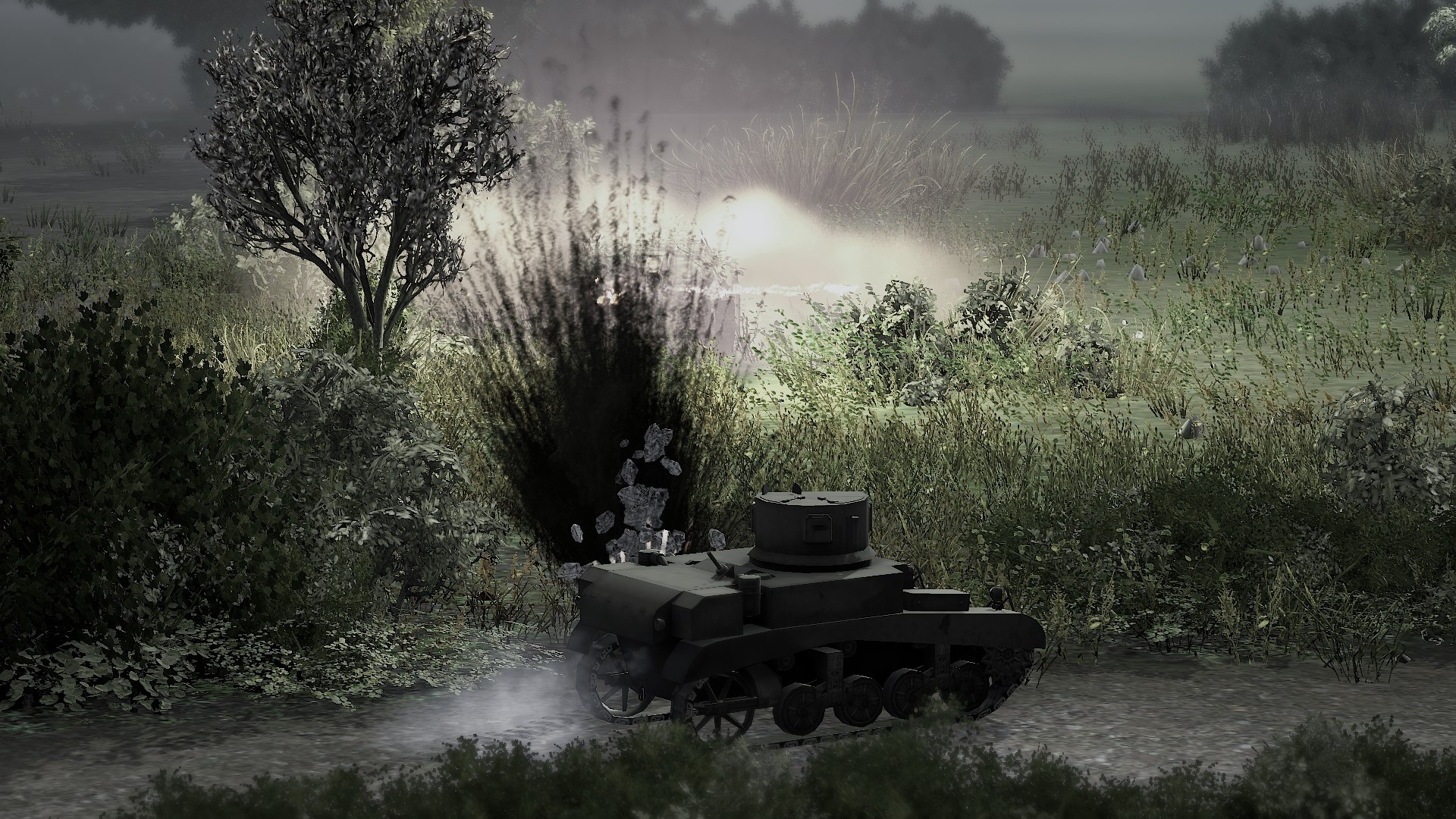 As the name suggests Second Front Stopgaps are the hexy, tactical offerings digital wargamers play while waiting for Jo Bader to press Steam's big green 'PUBLISH' button. Hopefully we won't need too many SFSs. Then again, if they're all as yeomanlike as The Troop appears to be, perhaps it wouldn't be a bad thing if the genre grew.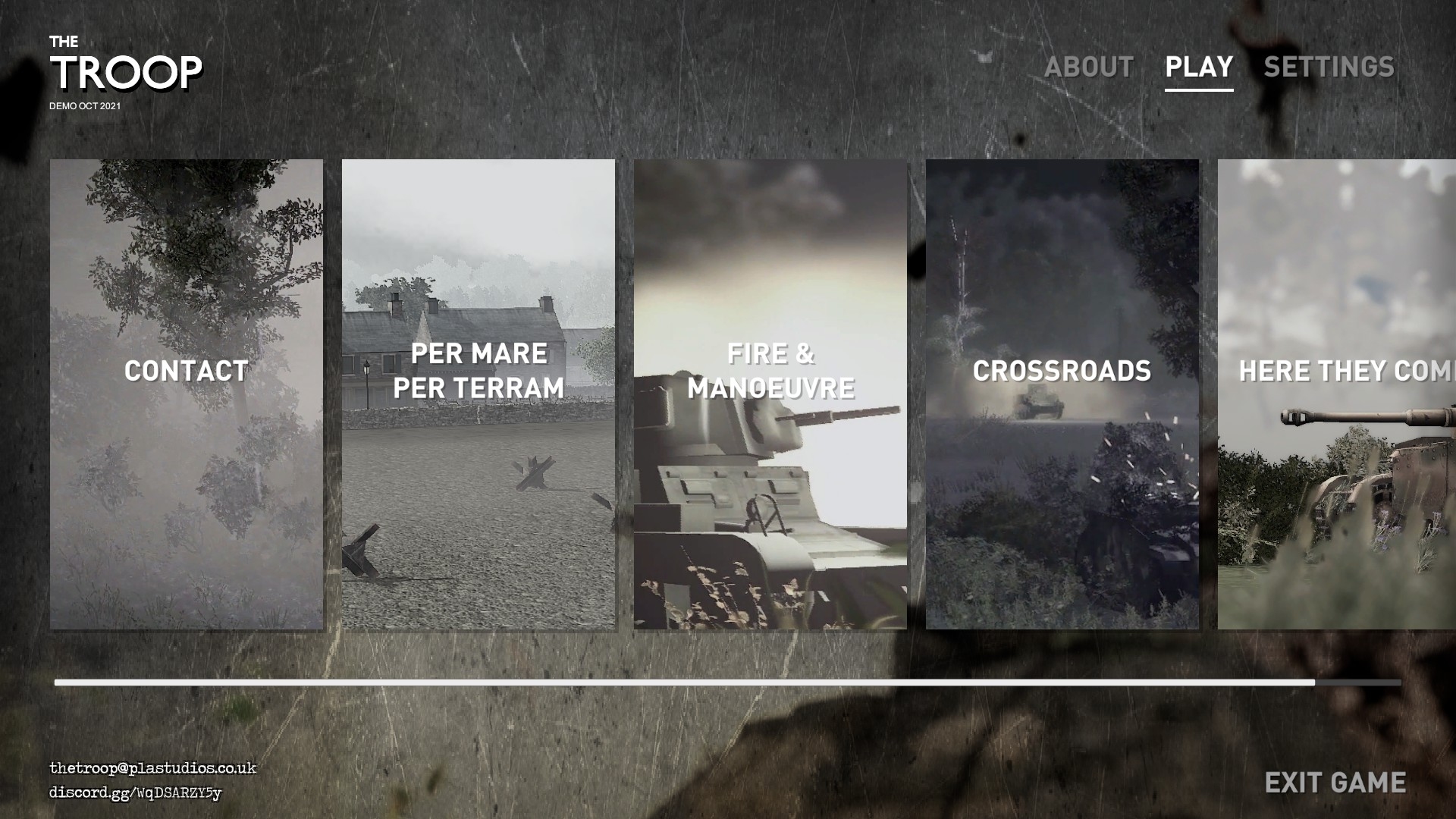 Judging from the five mission sample made available this week, when it releases later this year Giant Flame's debut shouldn't have any trouble winning friends amongst Battlefield Academicians, Close Combatants, and Steel Panthermenschen.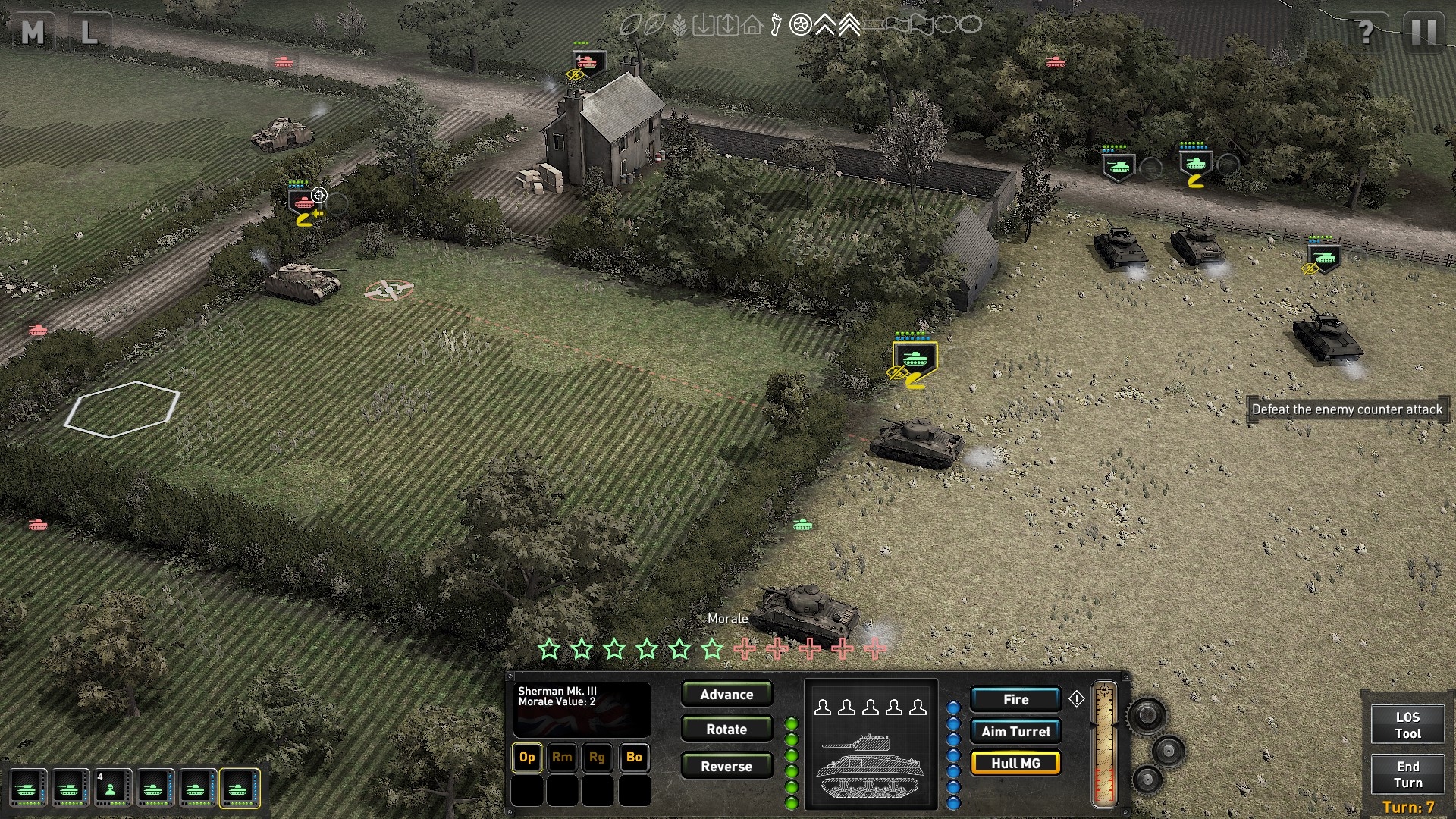 Set in Normandy in the days following the largest amphibious landing in history, and – refreshingly – played exclusively from a British and Canadian perspective (A German campaign is under consideration), The Troop eschews CM-style detail and, mechanics wise, offers nothing you won't have seen before, yet manages to produce credible clashes with a character all of their own.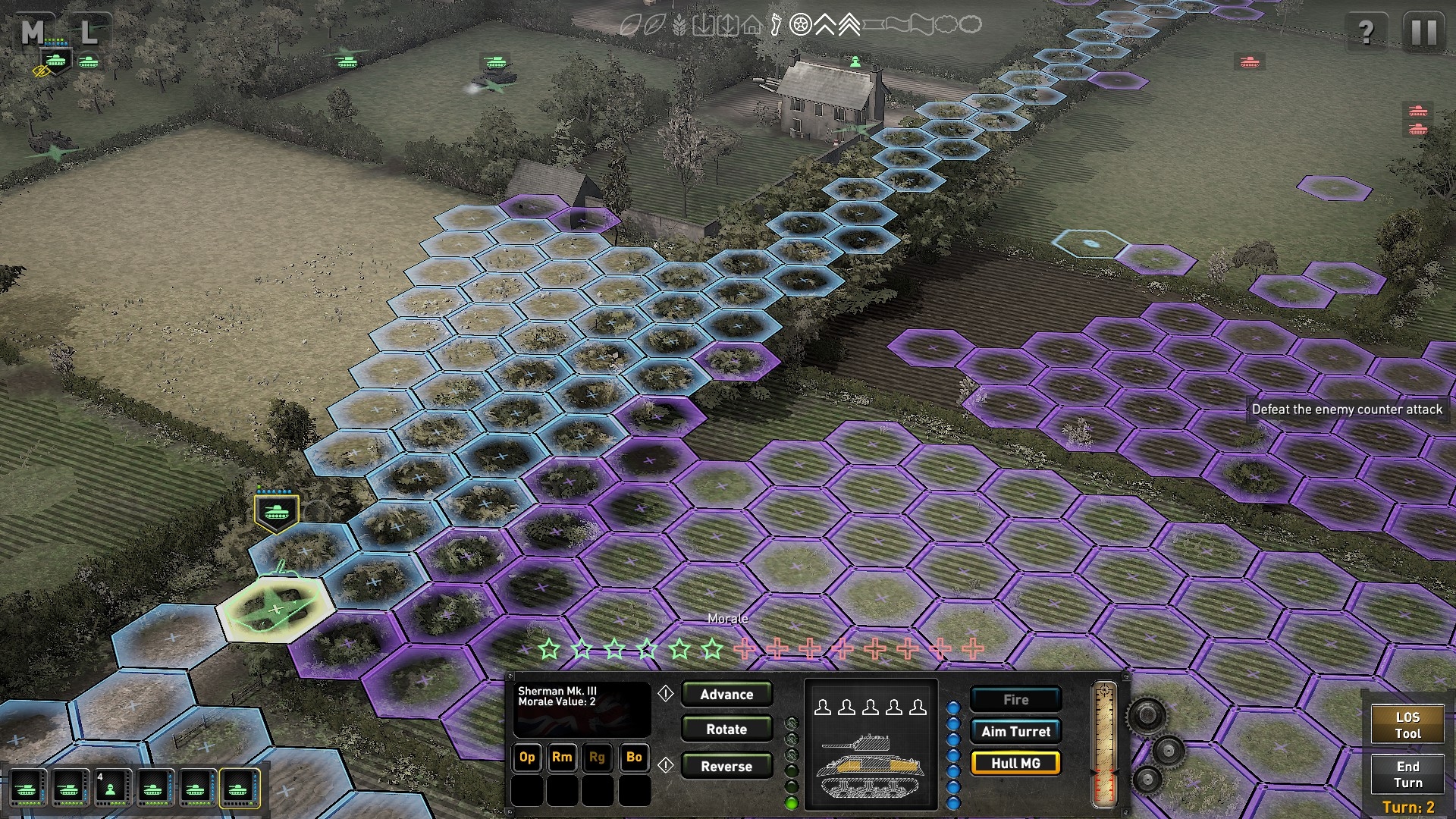 Picture Close Combat with hexagons, action points, and a polite IGOUGO rhythm. Fraught tank duels in fields, lanes, and orchards. AP and HE trading complicated by smoke, vegetation, armour thickness and crew anxiety. Or better still, play the free trial and experience the game's accessible aggro first-hand. The first three scenarios are basically tutorials. You need to tackle missions four ('Crossroads') and five ('Here They Come') to get a glimpse of the game's (hopefully) true colours.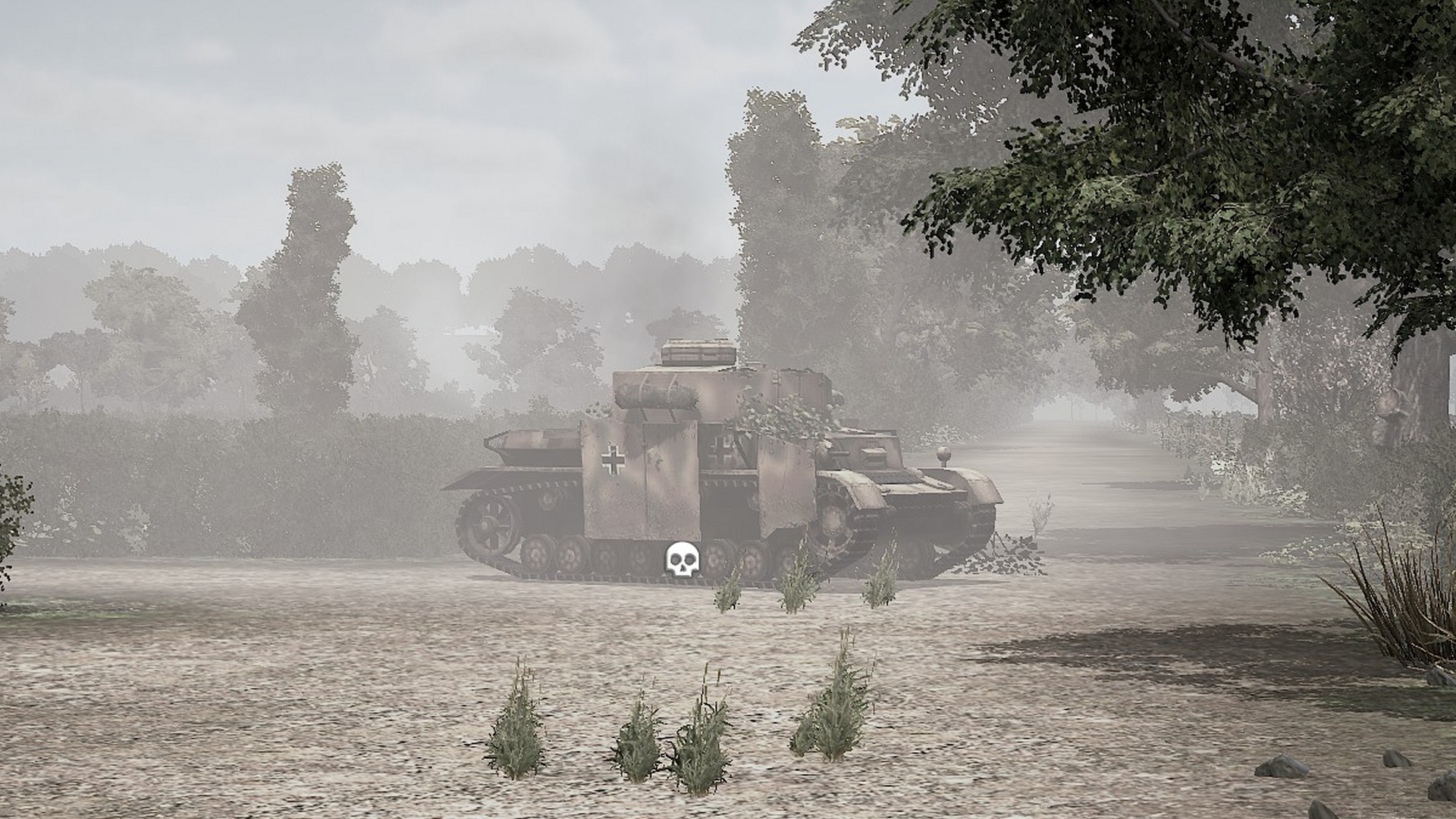 All-in-all I like the way Giant Flame have approached armour. Shermans and their ilk can be slain by single shots. They can wind up immobilised, defenceless, and untenanted (Manual bail-outs are encouraged by optional casualty-sensitive victory conditions). They can taxi infantry about, reverse, and button and unbutton. Yes, it would be nice if turf-rufflers were capable of opportunity fire, if crews and passengers were visible, and the smoke shells carried by the Centaur appeared in the ready racks of other types, but these compromises aren't calamitous.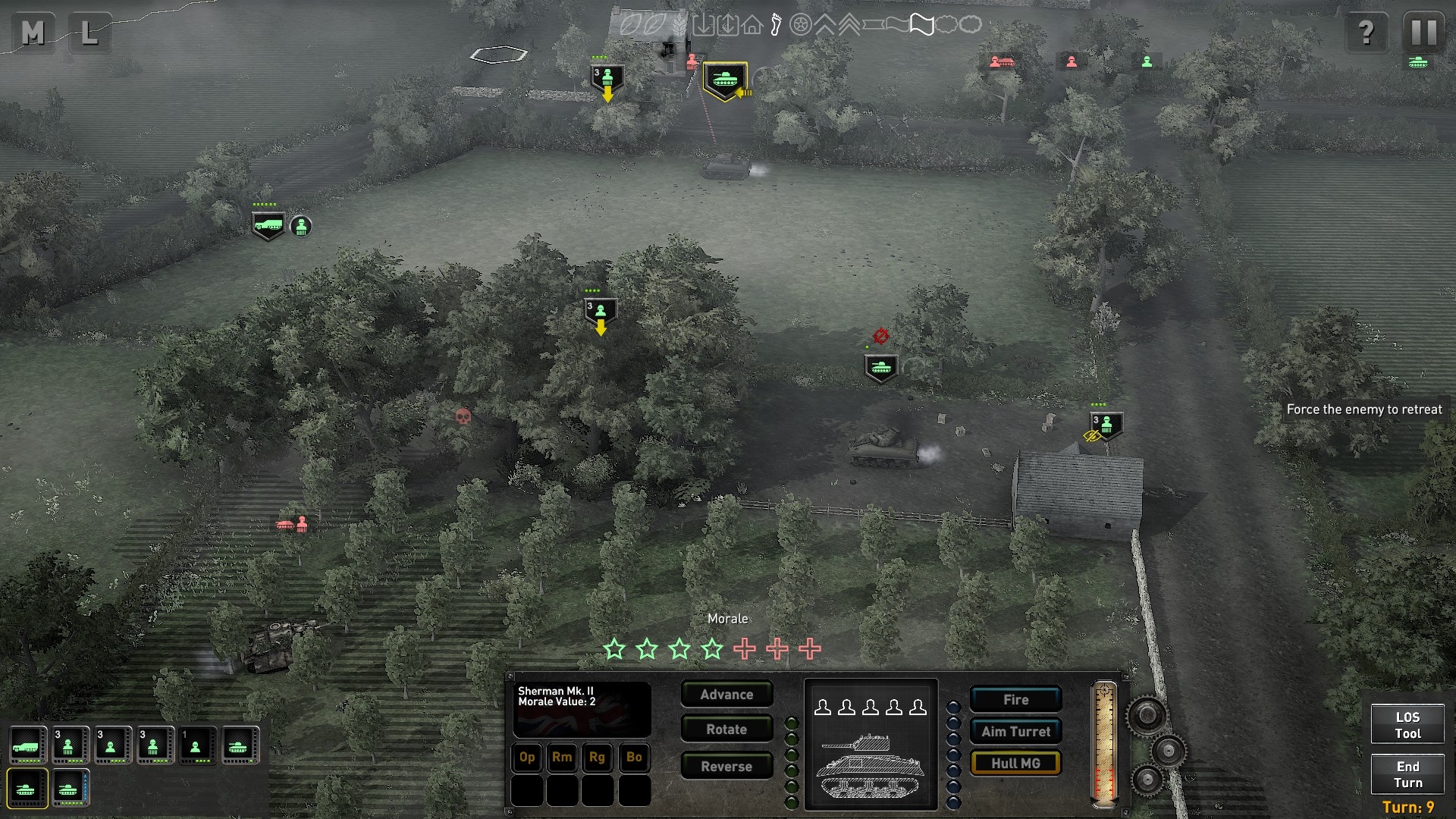 What I've seen of the AI thus far, also meets my approval. Having watched spooked Panzer IVs sever LoS lines by reversing, plucky AT teams dash from cover to close-assault M4s, and StuGs vary their tactics from one playthrough to the next, I'm fairly confident the THC review, when it comes, won't be dominated by behavioural belly-aching.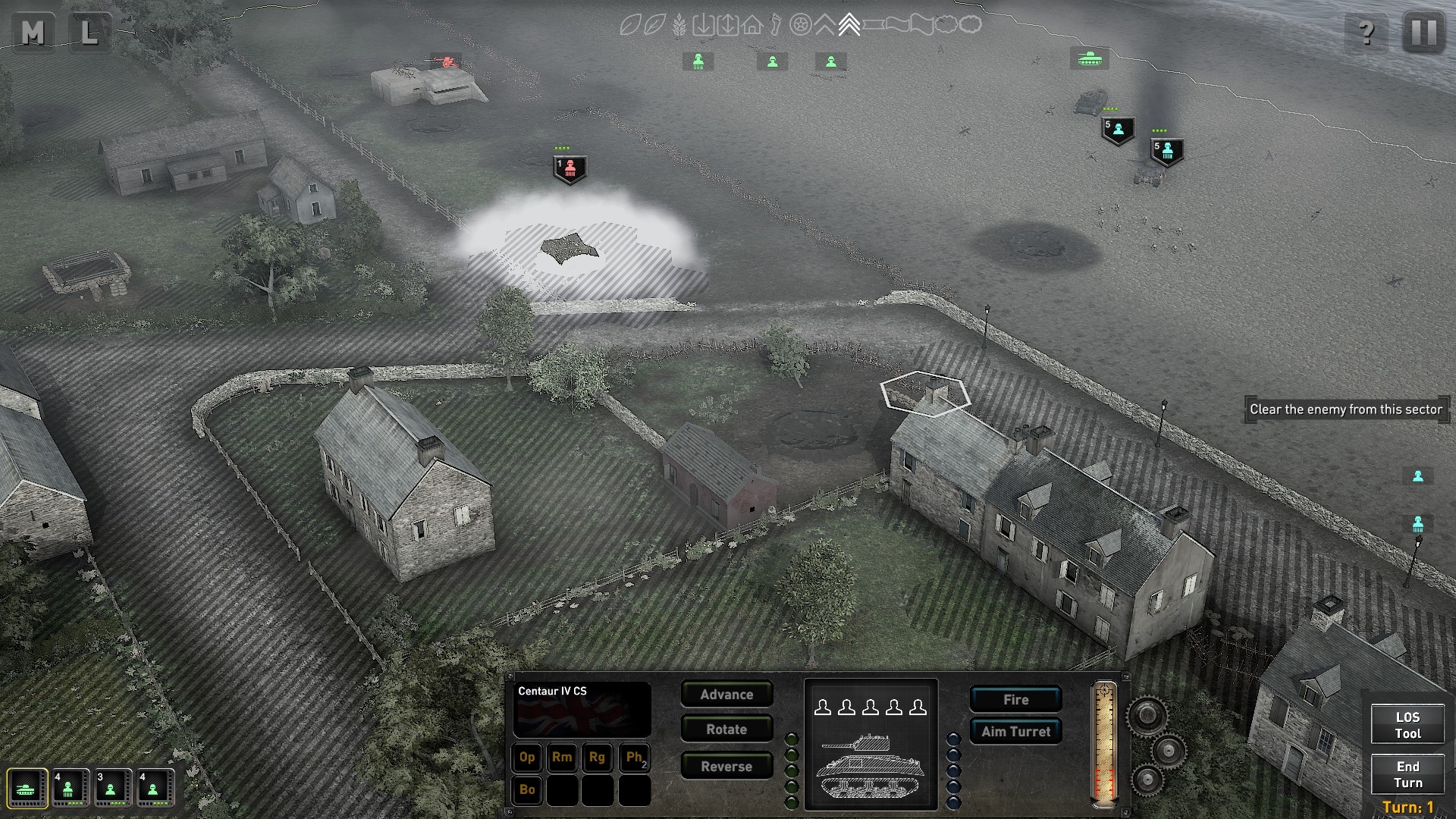 What will end up red biroed if it's not rectified before launch, is the unnecessarily restrictive camera. The cinematic 'action cam' that automatically activates when AFVs use their main guns is great but no substitute for an obliging sky Leica.