Every Friday at 1300 hours, Tally-Ho Corner's cleverest clogs come together to solve a 'foxer' handcrafted by my sadistic chum and colleague, Roman. A complete 'defoxing' sometimes takes several days and usually involves the little grey cells of many readers. Don't be shy. All are welcome to participate.

Word chains are composed of 24 words. A word can be any length and is linked to the next word in the chain by its last two or three letters. For instance 'honeysuckle' might be followed by 'leviathan'. 'Handel' could come next. Then 'delta'. And so on. Clues are provided but beware, six of them – the green italicised ones – have been shuffled. For example "A famous one was composed in the year this man was born" probably doesn't refer to word #8
1. This Buchenwald inmate has a comestible named after them
2. A ship that fired cruise missiles into Syria during the civil war
3. A word that can go before ferret, goat, and rabbit
4. He died while staying in this hotel
5. This village
6. A word that can go before giraffe, foam, and python
7. Aspartame does this
8. A famous one was composed in the year this man was born
9. A trawler that participated in an unusual rescue on the day this woman was executed
10. Almost inevitable in this game
11. Players of this game have access to one
12. The Scandinavian artist responsible for this iconic label
13. The one that played in this year's Ryder Cup was the first to do so
14. A real and a fictional horror flick
15. An item used as a weapon by ne'er-do-wells like these
16. Stopped an arquebus bullet? Pray your surgeon has one of these
17. This tram's home
18. A train that terminates here
19. There'd be no point owning an implement like this if you didn't like them
20. He was awarded his country's highest military decoration in the year this woman died
21. A seafarer executed as a pirate in the year this seafarer was born
22. Standing at the eastern end of this London street, you can see a surgical instrument, a kitchen gadget, and a wolf's head
23. This German schloss was the scene of fierce fighting in the month this tank was KOed
24. Something you might eat during a visit to 5
* * *
SOLUTIONS
Last week's defoxing party exited the chronodungeon with all 142 jewels and 16 HP.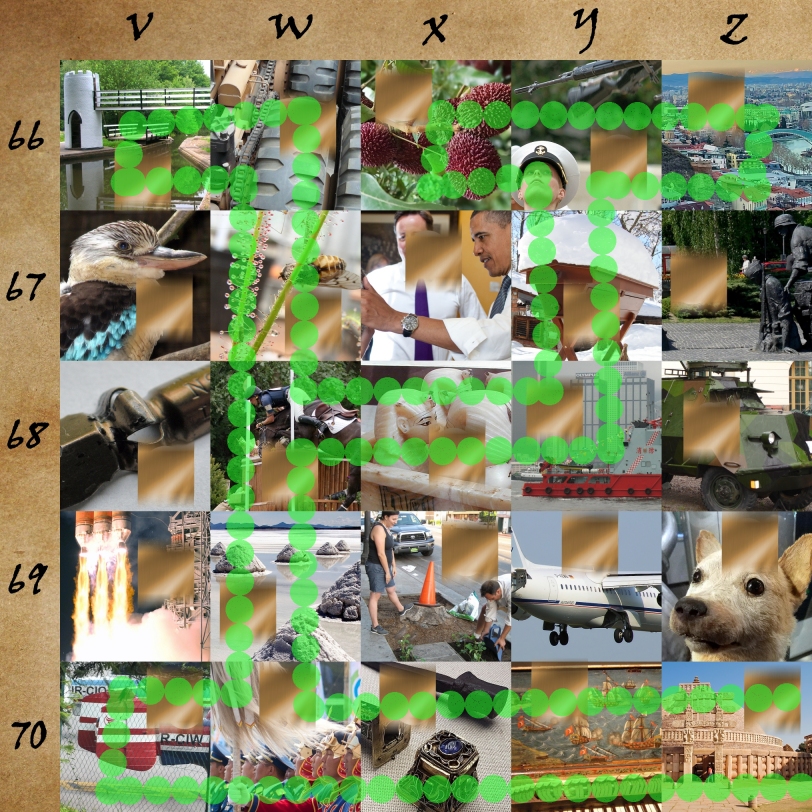 Mapmakers:
v66 Mrs Nutfield
v67 Nutfield
v69 Phlebas
v70 Colonel_K
w66 Phlebas
w67 Colonel_K
w68 Electric Dragon
w69 Colonel_K
w70 Colonel_K
x66 Mrs Nutfield
x67 Colonel_K
x68 Mrs Nutfield
x69 Phlebas
x70 Mrs Nutfield, Nutfield
y66 Colonel_K
y67 Phlebas
y68 Phlebas
y69 Nutfield
y70 Nutfield
z66 Colonel_K
z67 Colonel_K
z69 Nutfield
z70 Colonel_K
Unmapped squares: