For the past twelve years the murmuring box o' tricks under my desk has – apart from one new video card and some extra RAM – remained essentially unchanged. Reluctant to consume Mother Nature's and my own finite resources replacing a rig that still copes well with most new games, I've not wielded a syringe of thermal paste or plugged in a miniature mobo speaker in over a decade.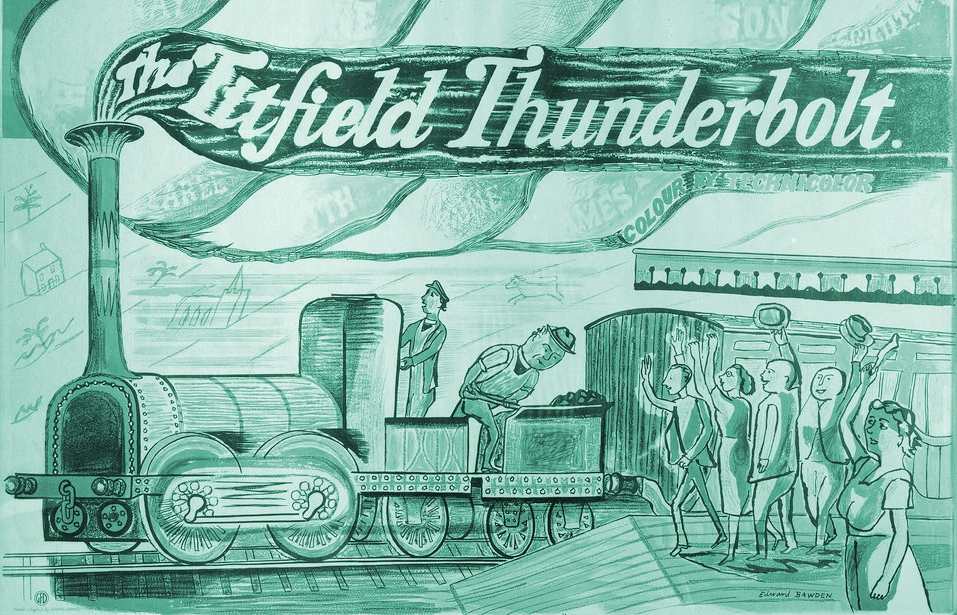 While Carl, my inner ascetic/environmentalist, would happily soldier on until something major malfunctions, Gustaf, my inner aesthete/shutterbug, is threatening to mutiny if I don't replace the THC PC* soon, hence today's appeal. Know a bottleneck from a bottle brush, a benchmark from a park bench, an SSD from an STD? I'd appreciate your help in choosing components for my next pixel plant.
* Quad core i5-2500k (3.30Ghz) CPU, 8GB RAM, GeForce GTX 1050 Ti (4GB) graphics card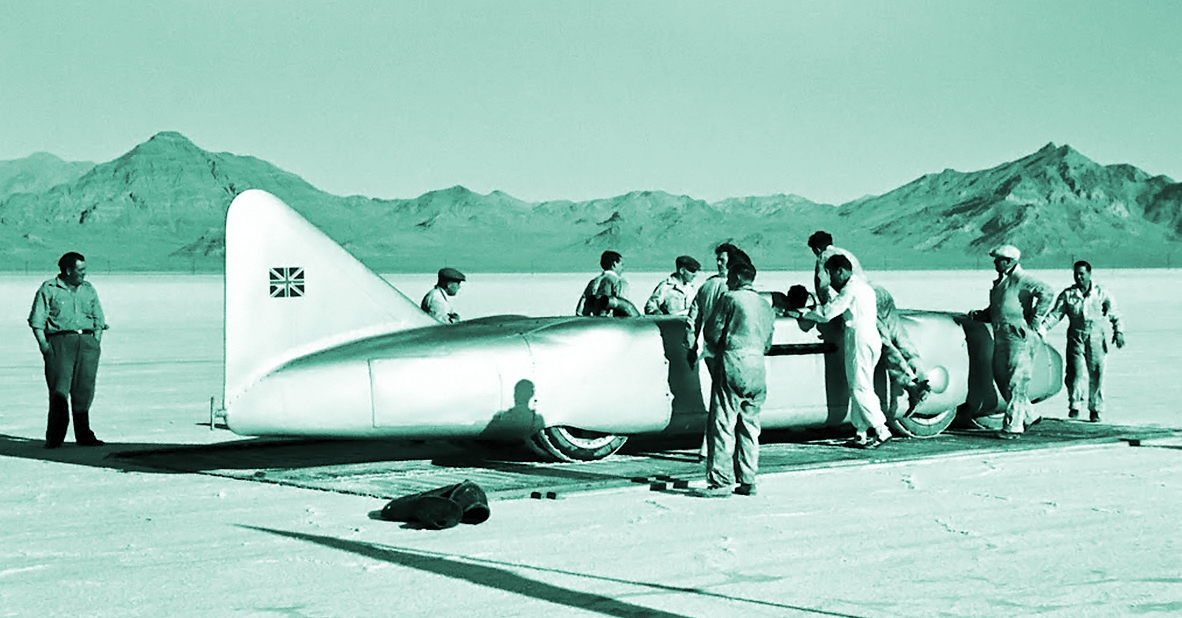 The primary goal of Operation Austere Thunderbolt is to construct, as cheaply as possible, a librarian-quiet Personal Computer capable of running the latest generation of vehicle sims at Respectable Speeds.
Believing it's about time I finally replaced FSX with FSXI…
…experienced the stunning, hesitation-free DCS World I see in all the trailers in person…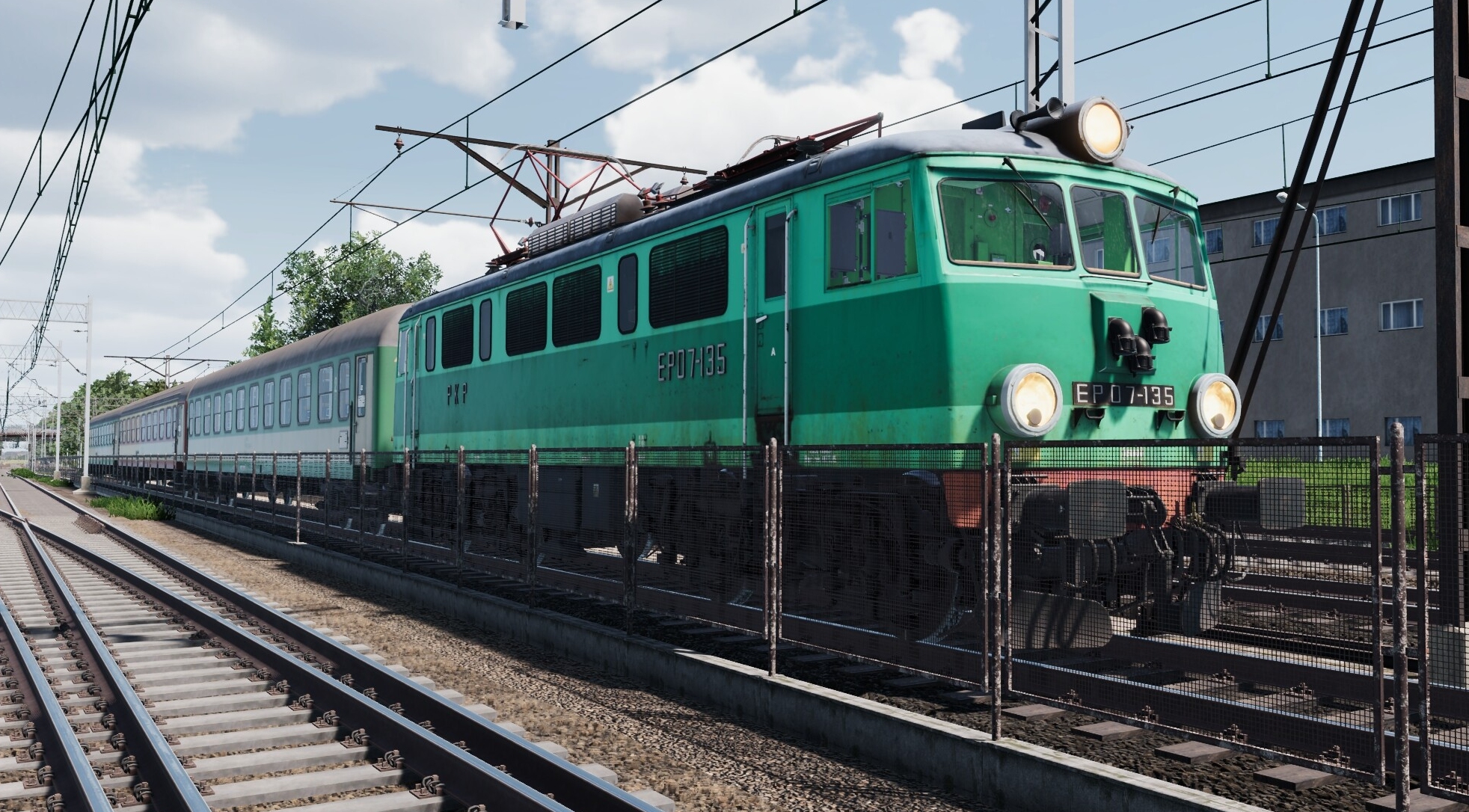 …and gave modern transport sims such as SimRail, TramSim, and NAUTIS Home the frames per second they deserve, I'm looking to build a system around an ASUS STRIX GTX 980 Ti graphics card recently gifted to me by a kind Cornerite (Thanks, VFRHawk!).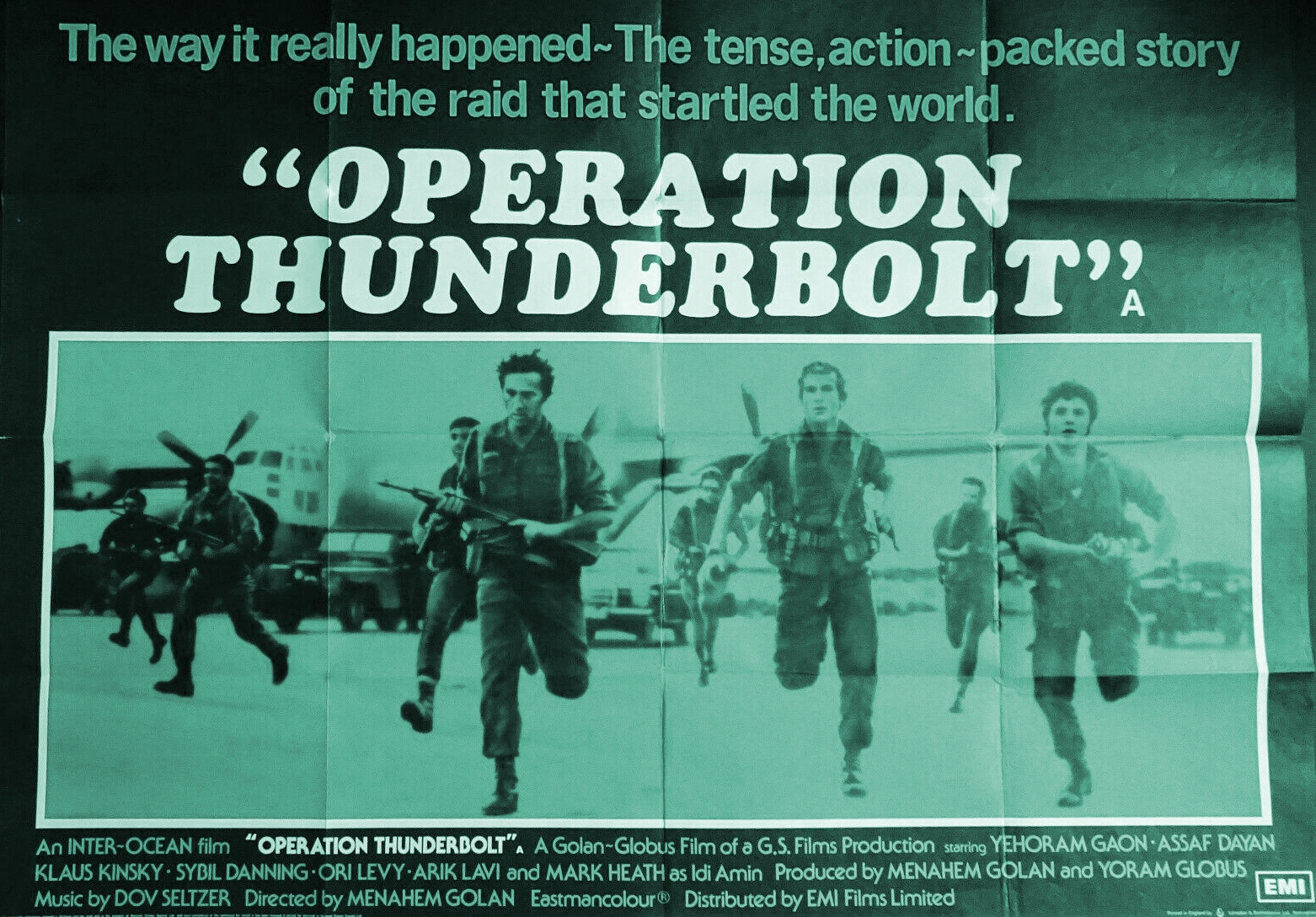 As I don't intend to cannibalise my current workhorse (It will be put out to pasture, and recalled whenever a Dusty But Trusty candidate refuses to run on its replacement) or abandon my perfectly adequate 1920×1080 monitor, I'm in the market for just about everything else. CPU, motherboard, PSU, HD, optical drive, case… if you have recommendations in any of these areas, this perennial late adopter would be interested to hear them.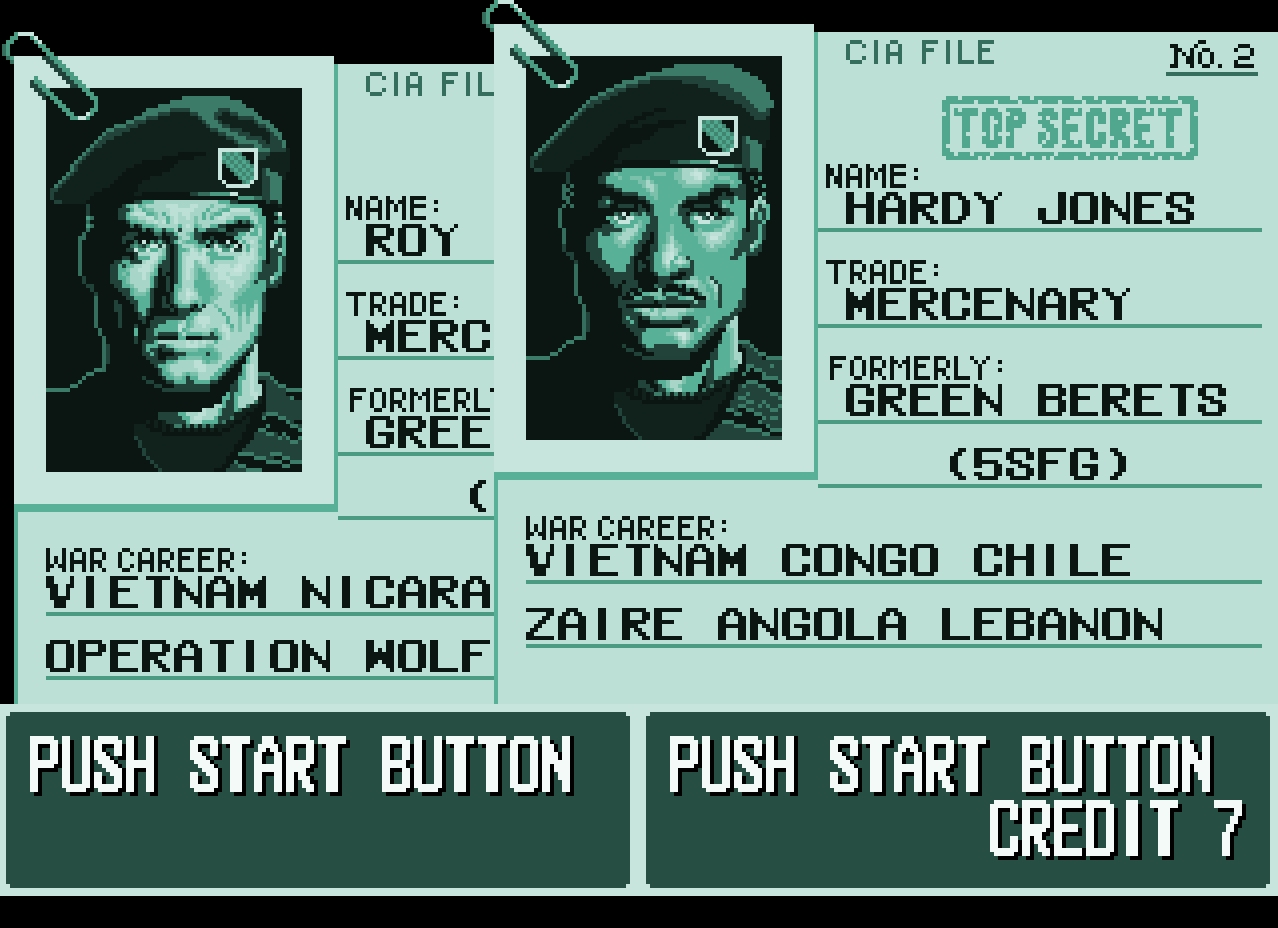 Budget-wise I'm hoping – perhaps naively – I can execute Operation Austere Thunderbolt for a 'mere' £750.
* * *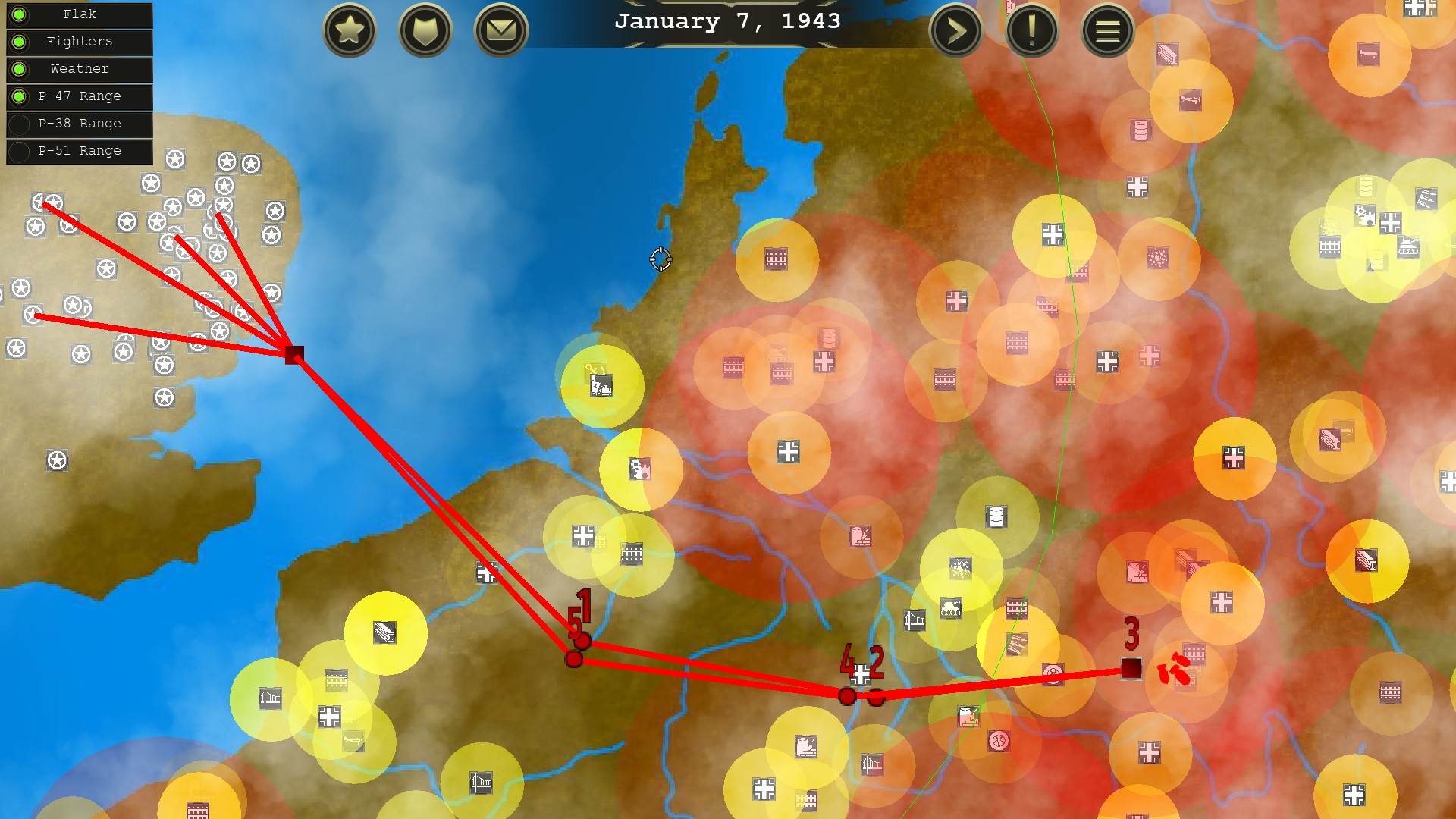 If they gave out prizes for providing PC gaming's most formidable B-17s and fragile P-47s this new £13 Eighth Air Force wargame would win them with ease. Available since last Friday, the WEGO* Bomber Command shows plenty of promise. However, unless Silent S Studios increase the survivability of their 'Jugs' and make their Fortresses a tad less fortress-like, BC will never be able to call itself realistic.
* In essence. After plotting sorties at the start of the day, you look on helplessly as they're executed in massively accelerated 'real time'. From start to finish, a jaunt to faraway Peenemünde takes around three and a half minutes.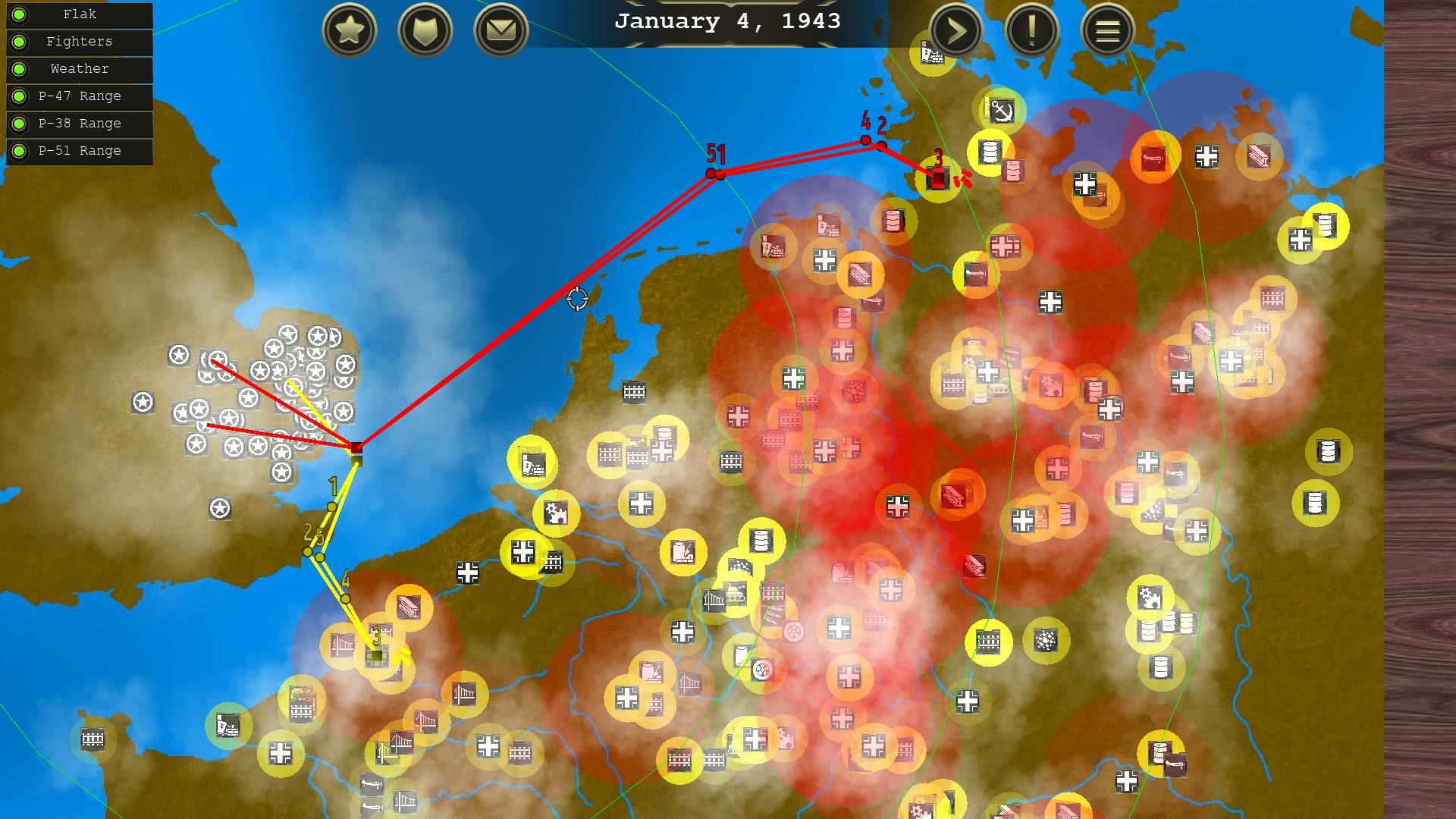 Right now sweeps and escort duties are suicidal for US fighters. You can send a hundred unaccompanied Forts deep into the Ruhr in daylight and only lose two or three of them. Try a similar stunt with fifty P-47s flying top cover and, more often than not, several dozen of your guardian angels will fail to return.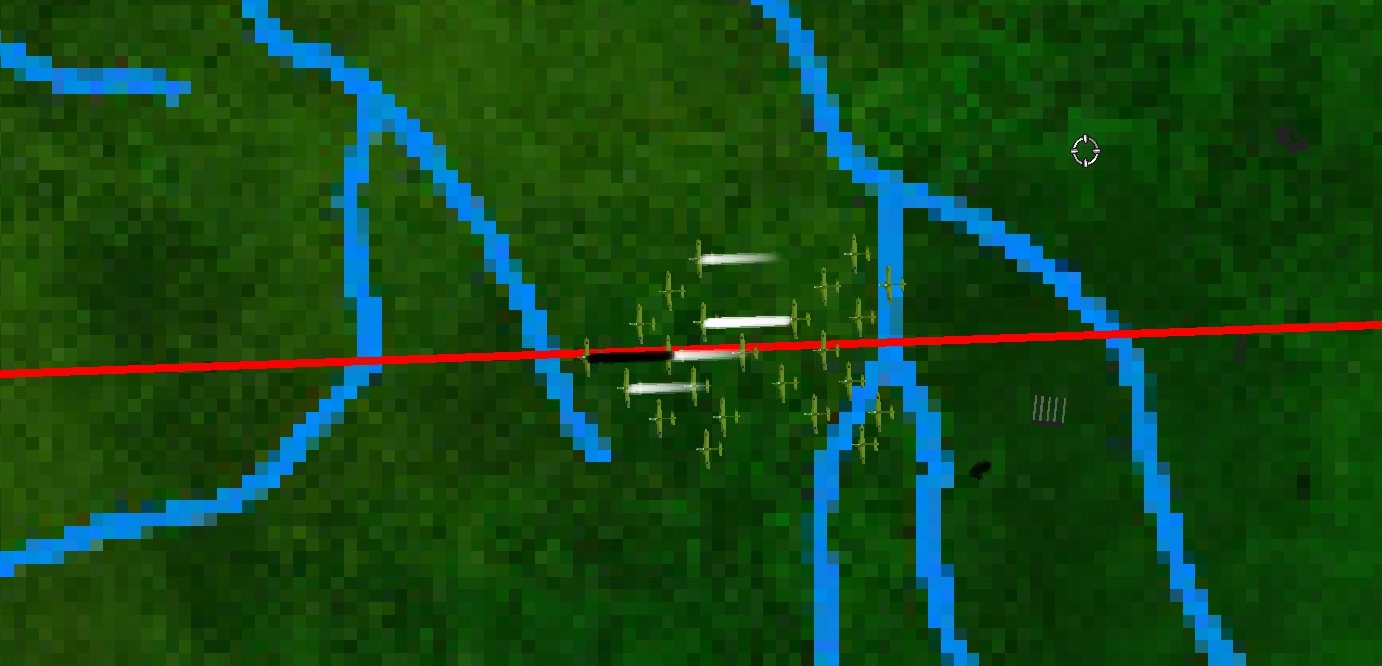 If the patches in the pipeline manage to inject more believability into butcher's bills, and a little more life into the Luftwaffe AI (At present, as Goering's men seem reluctant to stray far from their airfields, plotting relatively safe routes to and from targets is easier than it should be) the future for BC should – assuming bugs are tackled too – be rosy.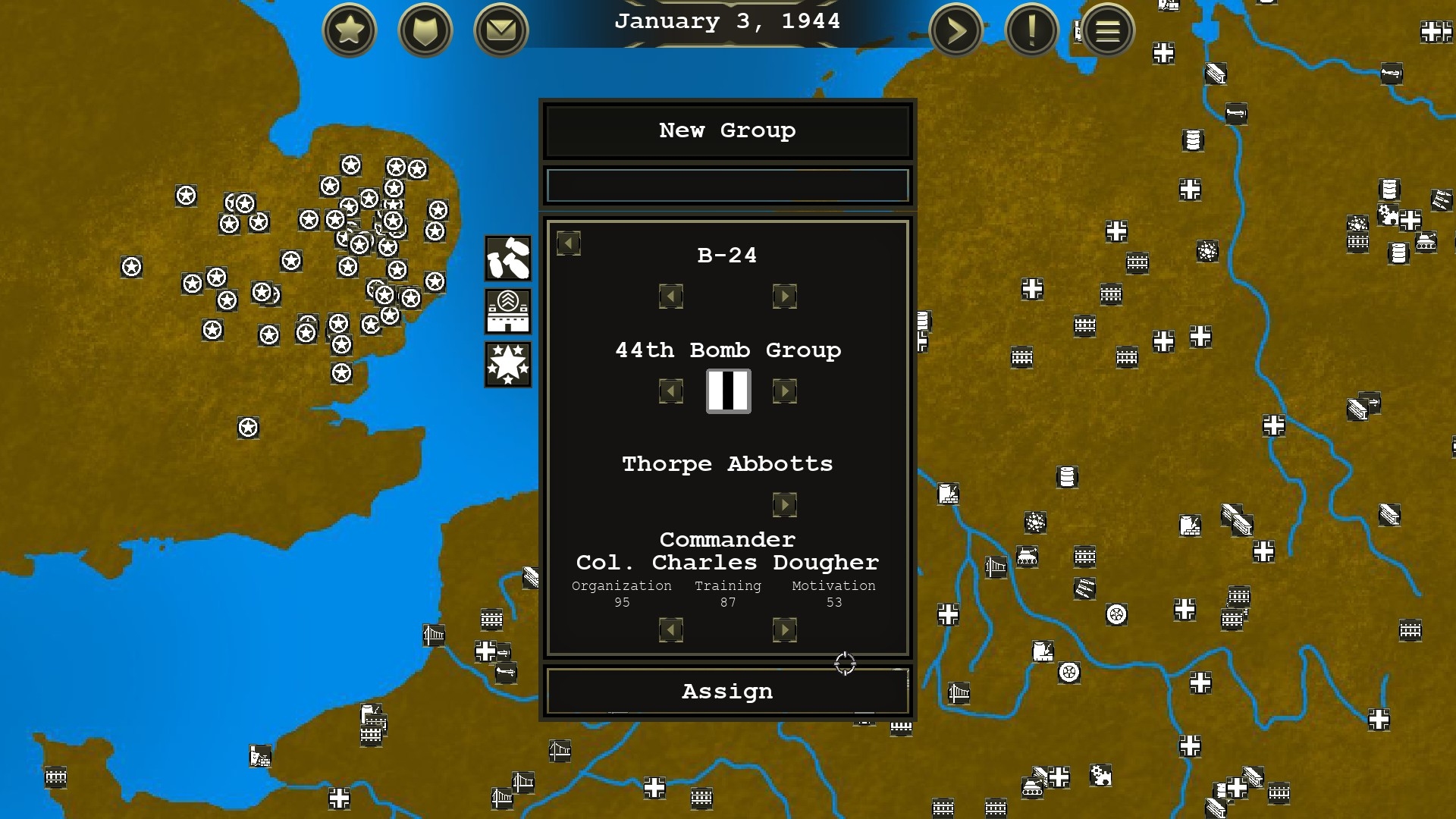 Compared to the last wargame that ludologised WW2 air ops in a serious, standalone way, this one is pretty easy on your mouse hand. Tasking existing squadrons, and creating new ones (fresh personnel and machines flow into England automatically) is dead simple – something that can't be said about manual bomb aiming.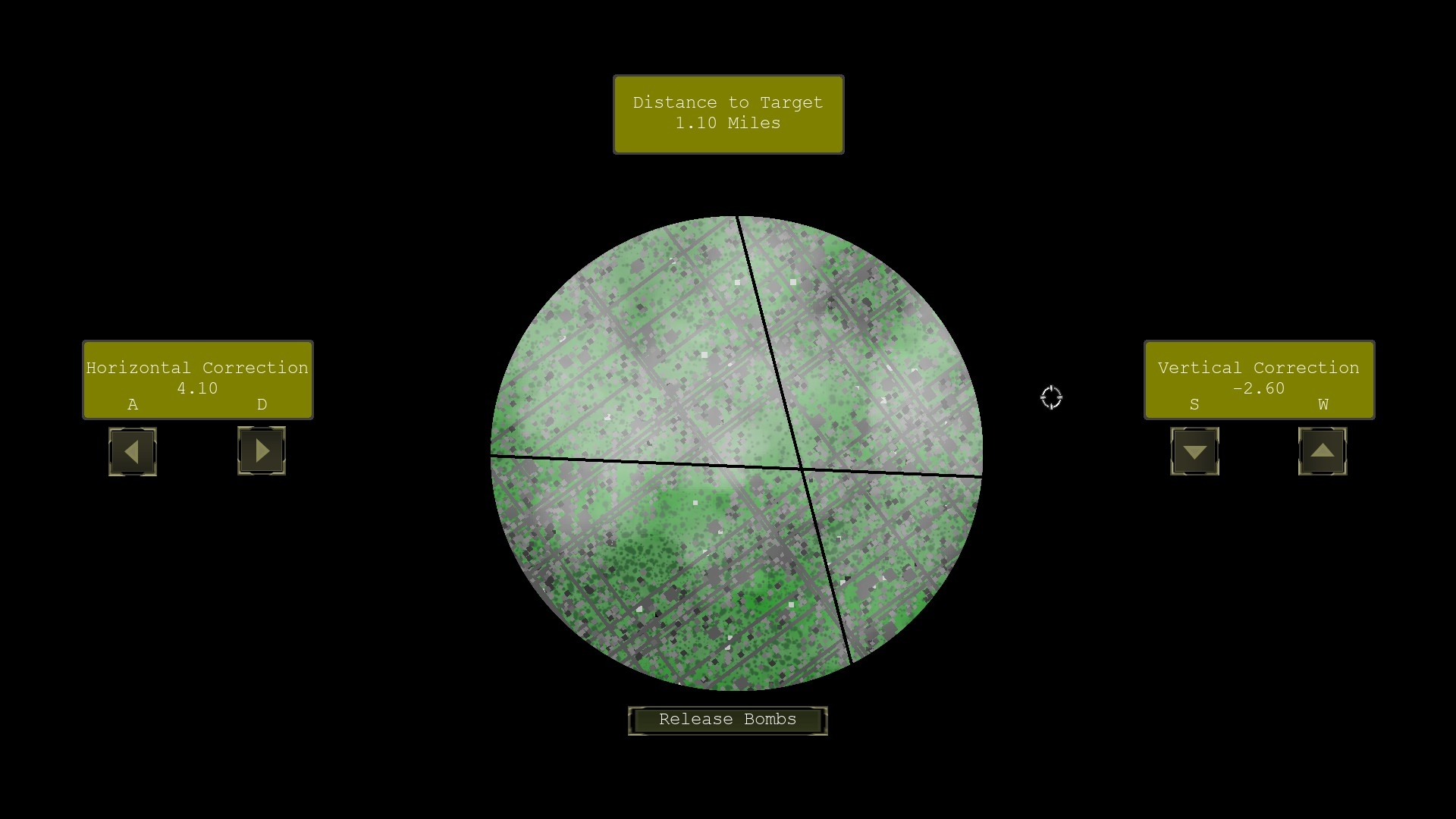 Thankfully optional, the half-baked bombardier mini game involves WASDing weirdly uncooperative Norden crosshairs onto objectives I initially assumed to be elusive, but now know to be invisible. Factories, railyards, oil refineries, docks, airfields… they never actually appear in your scrolling porthole. Centring the crosshairs, then dropping your Reich ravagers when the distance read-out reaches zero, is, I now realise, the poorly communicated idea.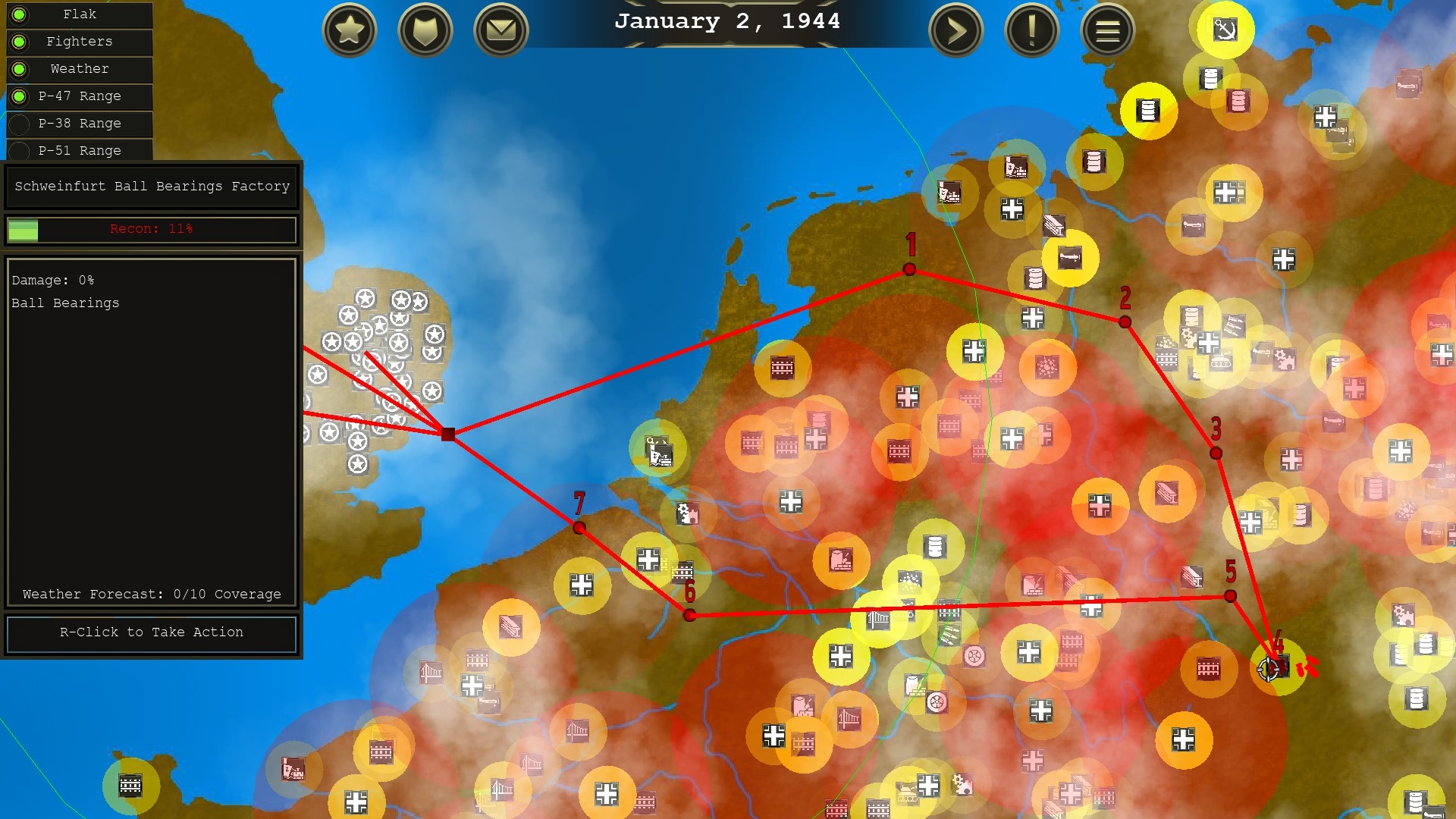 The 200+ Axis sites that dot the amateurish map form an interconnected eighteen-element industrial system, thoughtful vandalism of which wrecks Hitler's war effort. Your choice of targets impacts the economic fortunes of the Allies too. Failure to attend to U-boat-related sites eventually shows in reduced numbers of replacement airframes and aircrew reaching Britain. According to the in-game play tips that function as both tutorials and manual, ignoring facilities linked with 'V' weapon programmes is an even more dangerous mistake.
* * *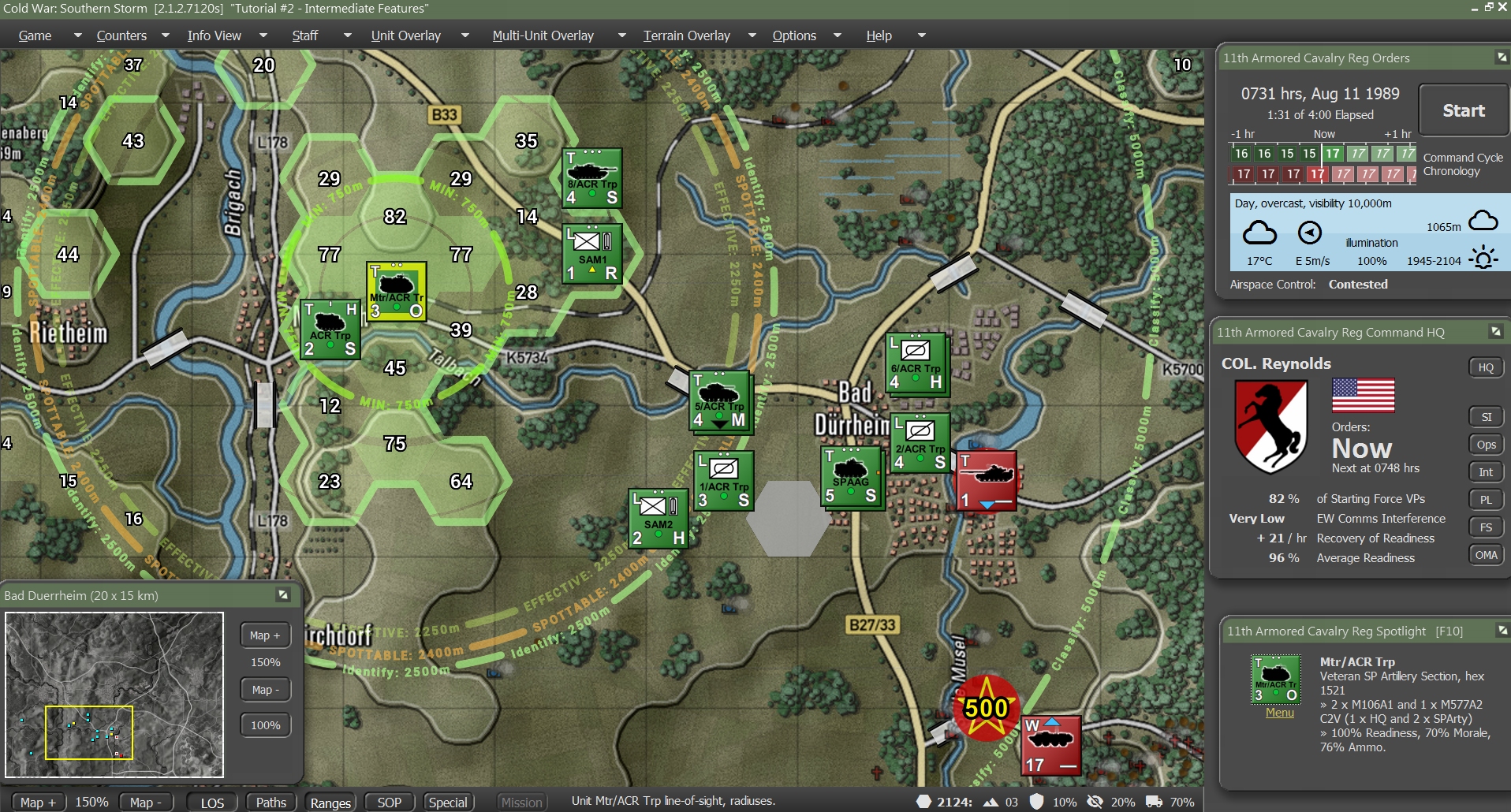 A 300-page manual… pdf-reliant tutorials… extremely deep SOP (Standard Operating Procedures) customisation options… labour-intensive order issuing… just a few of the reasons why I'm not ready to deliver a Flashpoint Campaigns: Southern Storm verdict yet.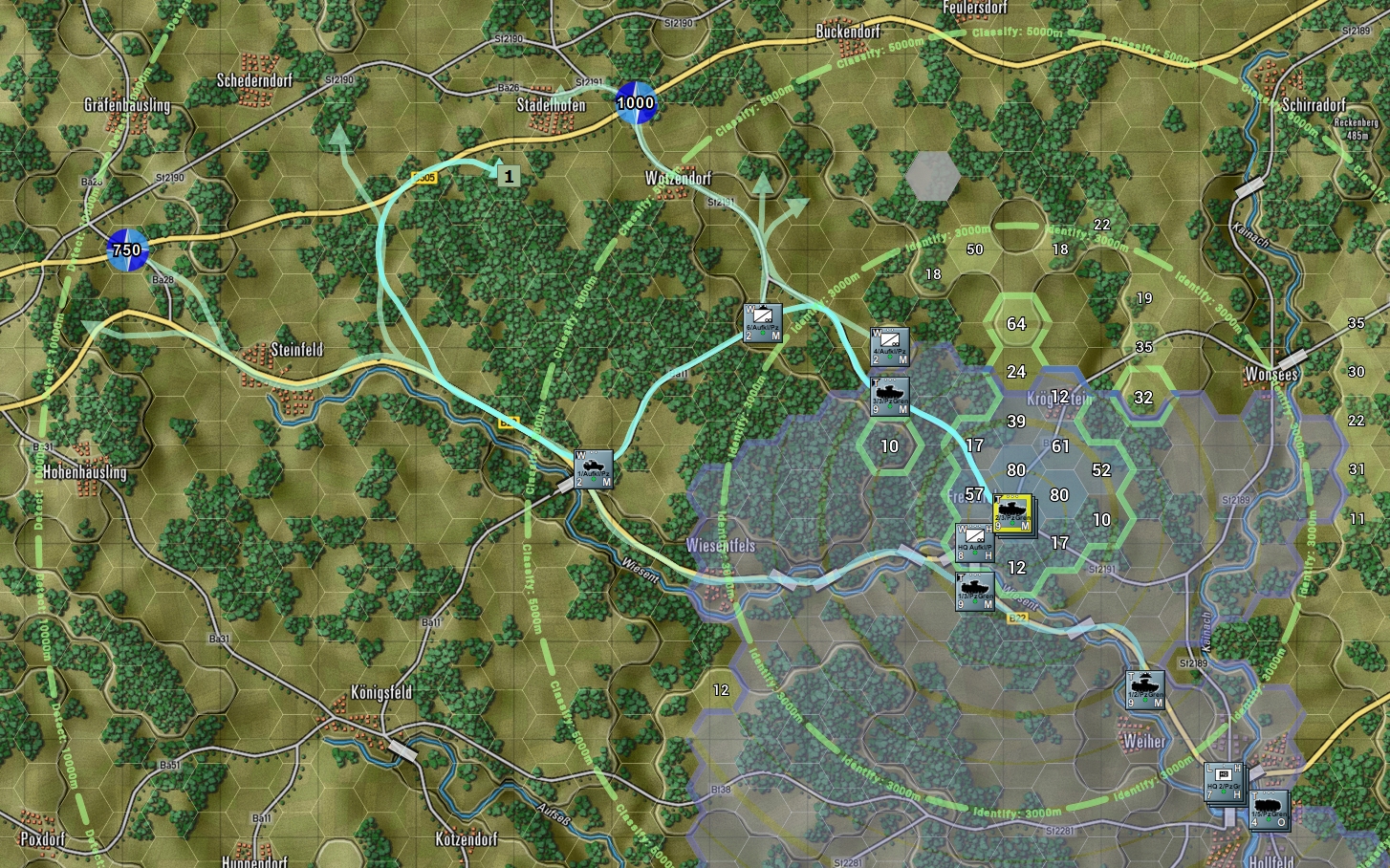 What I can say about FCSS after playing most of its tutorials and smaller scenarios, is that, despite a "new engine" and a host of tempting improvements (much more granular combat calculations… formation movement… up to six movement waypoints… FARPs…) the latest Matrix title to hit Steam feels a lot like its predecessor.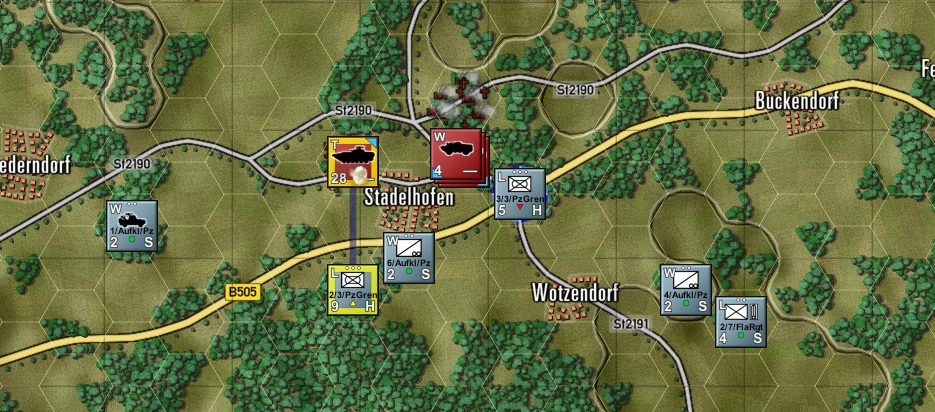 Cold War, "grand tactical"*, and featuring asynchronous WEGO turns that alter in length depending on factors like HQ ability and workload, and electronic warfare levels, this £50 sequel proffers hypothetical Eighties scraps that are almost Combat Mission-like in their intimacy and intensity. Because you see and hear every missile launch, artillery strike, and vehicle kill, and dead vehicles and squads get individual grave markers, envisaging the action unfolding on the handsome South German battlefields isn't hard.
* 500 metre hexagons, and chits representing platoons and sections.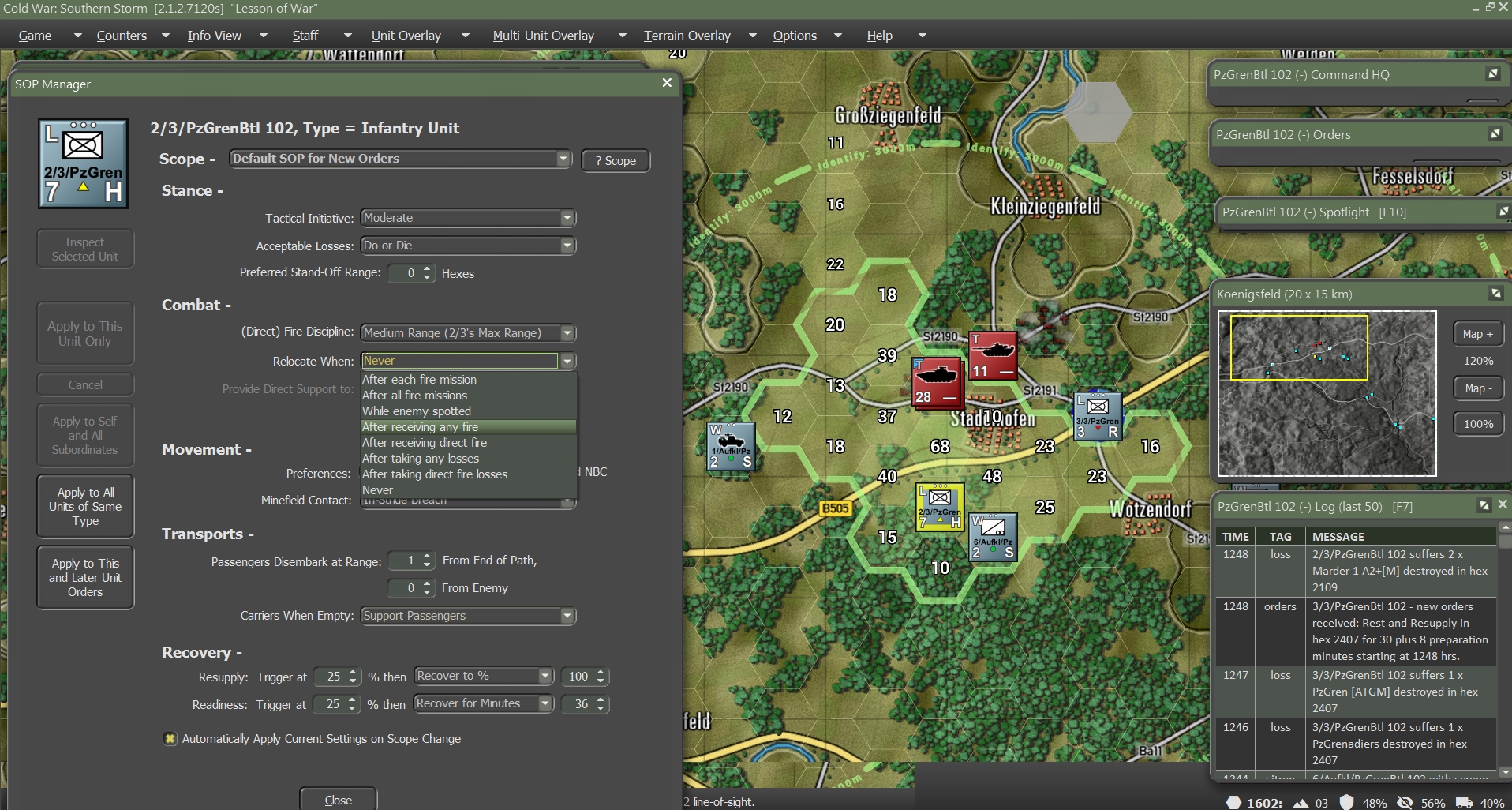 Less positively, not only do the bevy of new tactical tools, and the new UI approach make an already dense diversion denser still, they come without the mechanical improvements that might have helped woo non grogs. Map zooming remains sluggish, and giving a unit a new destination is still a six-click process. On Target Simulations' military customers might like the new DIY floating panel UI – me, I've yet to warm to it.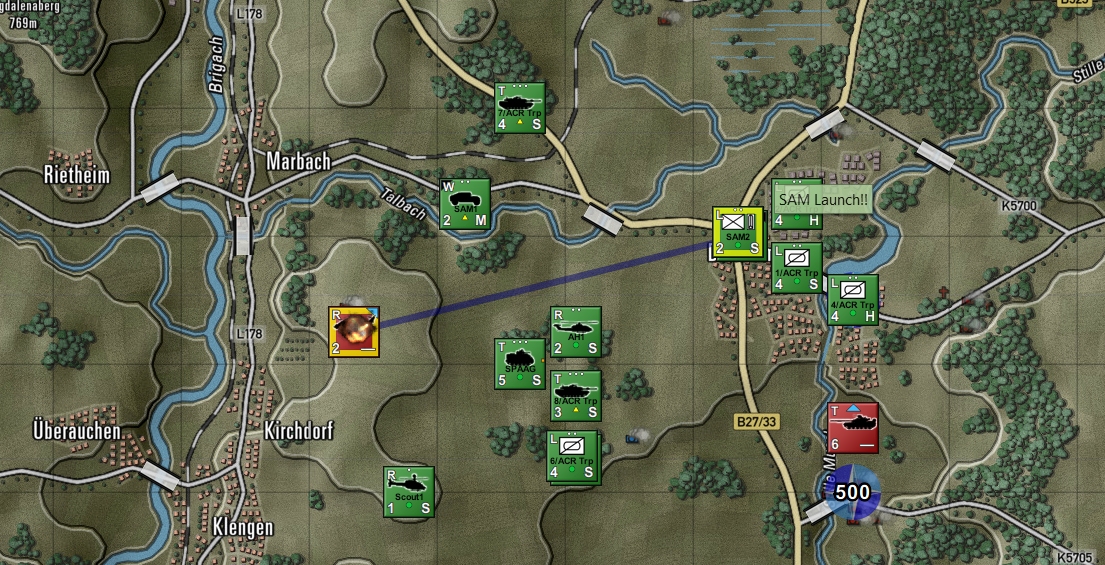 However, my pre-installation enthusiasm has been dented not destroyed by the five or six hours I've put in thus far. It's not, I think, insignificant that I've played one of the tutorial scenarios five times now, and, thanks largely to unpredictable adversaries and sophisticated combat/spotting mechanics, been thoroughly gripped each time. In theory every one of the twenty-eight single scenarios, and four sequential campaigns (US, West German, Canadian, and Czechoslovakian. All with core force carry-over) included in FCSS should be just as mesmerising and ripe for replay as 'Tutorial #2 – Intermediate Features' – a tantalising thought!