Stalingrad, October, 1942. A bullet-dimpled Sd.Kfz. 250 halftrack grinds to a halt beside a vast Tractor Factory assembly hall. Its passengers – two flamethrower operators – hurriedly disembark. Within seconds the pair are directing a stream of blazing napalm through a window into a space where a Russian MMG team works frantically to unjam a misbehaving Maxim.
Restless, the camera tracks left along the ravaged facade of the building revealing as it does an immobilised Panzer IV Ausf. D and a lifeless Sd.Kfz. 222 armoured car surrounded by cowering German infantry. The support tank is busy hurling 75mm HE at the third-storey roost of the Soviet sniper who, last turn, slew Colonel Fischer, one of  the 113th's most capable and charismatic commanders.
After lingering on the stalled assault for a few seconds, the view shifts again. We strafe to the western end of the structure. Here things are going better for the invaders. Half-a-dozen squads have made it across a lead-lashed no mans land and driven the Ivans deep into the smoky, corpse-strewn interior of the plant. The progress allows a German gun crew in possession of an acquired 45mm 'Sorokapyatka', to emerge from cover and push their prize into a more promising position.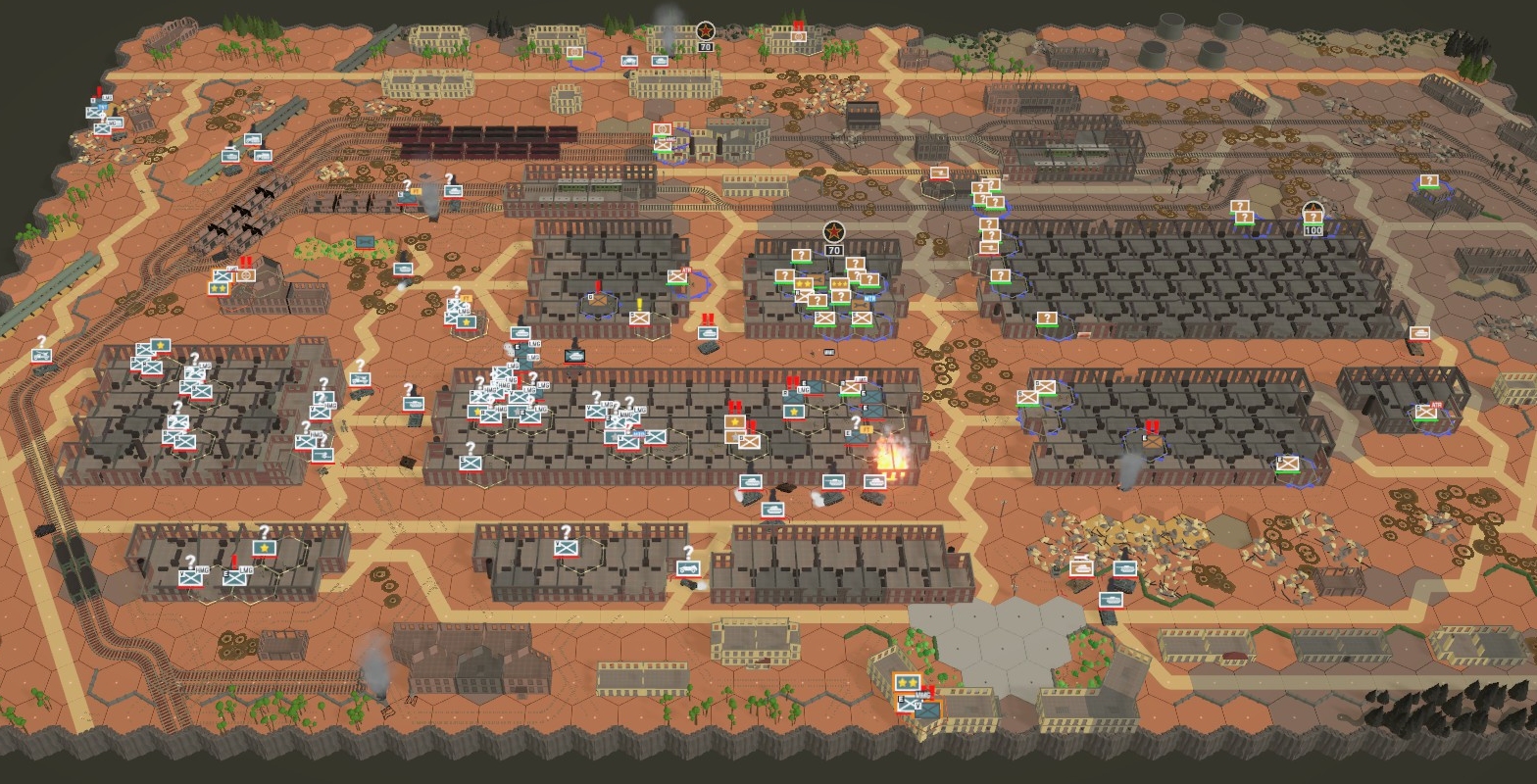 As if keen to find out what the little AT gun is hunting, the camera rises and retreats. Another giant battle-lapped factory building comes into view, then another, and another! Wherever you look there are knots of men advancing, falling back, and trading fire… AFVs moving, engaging, and expiring. Being an experienced wargamer, you've choreographed scraps in Stalingrad numerous times before. However, the scale and intricacy of the martial panorama now spread out before you, takes your breath away. At times like this Second Front's manifold strengths seem far more important than its various shortcomings.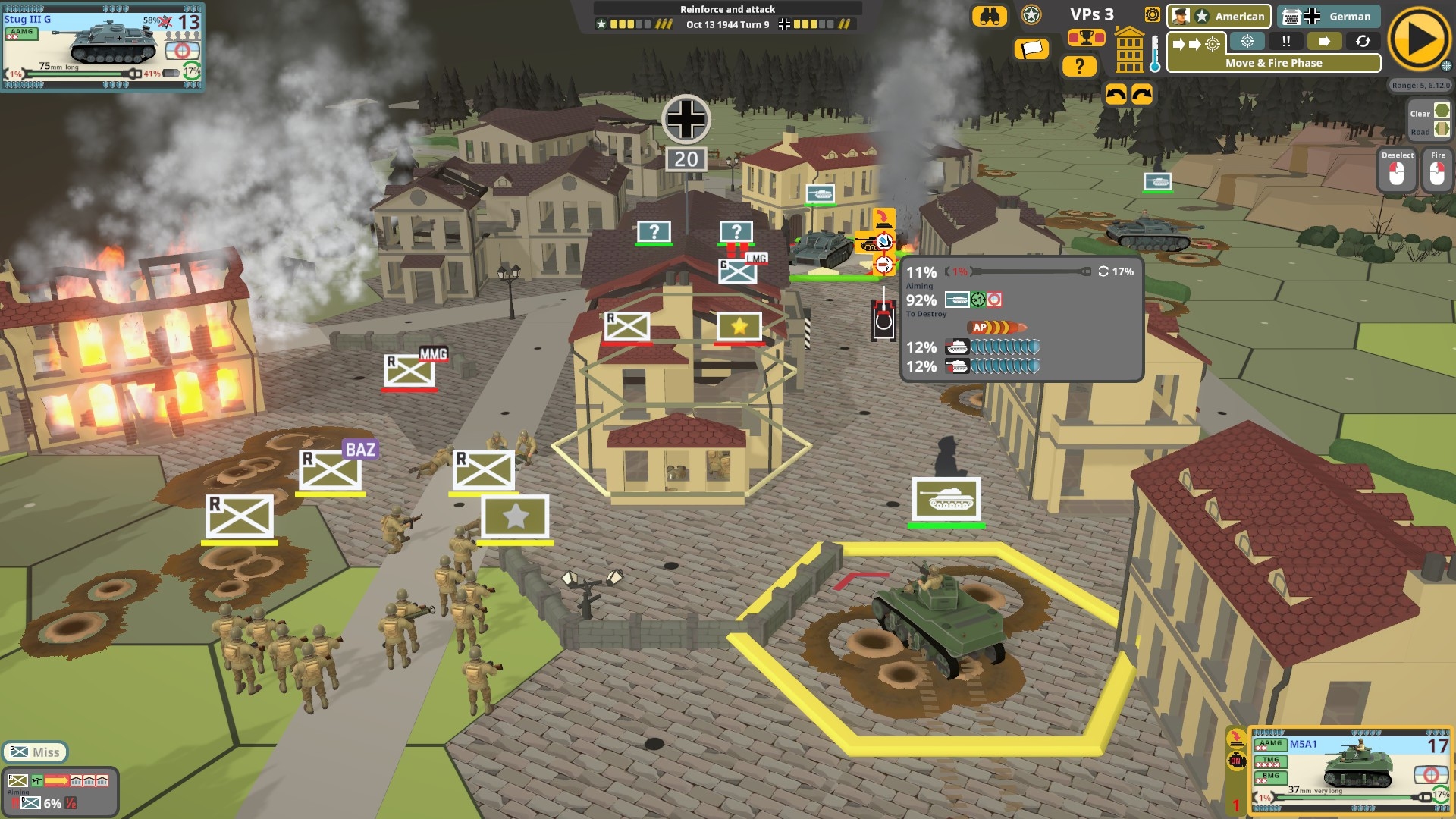 Released last Tuesday, Second Front is a sumptuous, lively, largely believable WW2 tactical wargame that manages to feel simultaneously modern and reactionary. Because the design borrows heavily from classic board wargame Advanced Squad Leader, we get somewhat fussy IGOUGO turn structuring (there are twelve phases in a turn) and a clutch of unnecessary realism compromises.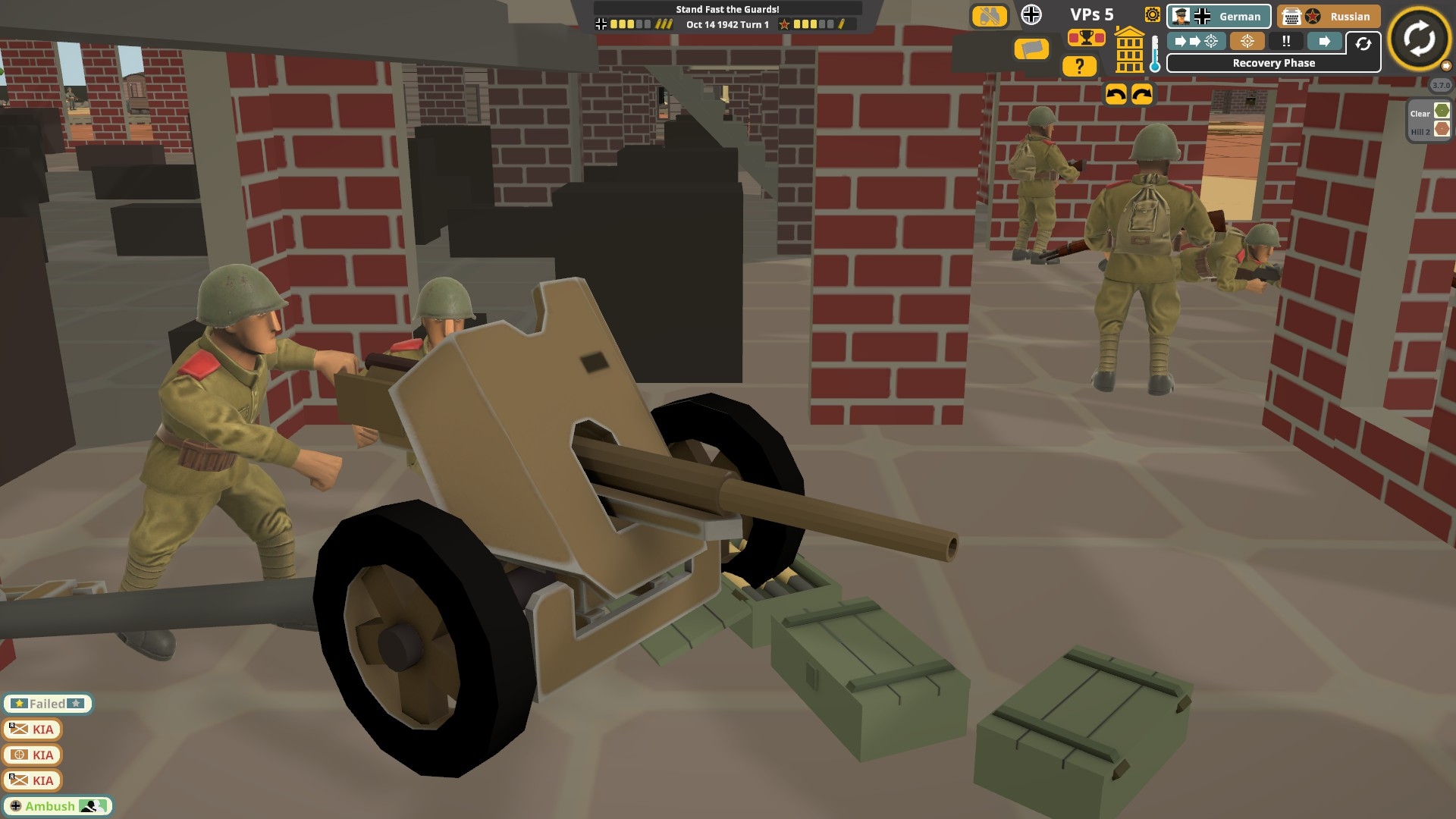 More positively, because Austrian dev, Jo Bader, likes his hexy battle sims rich, legible, ergonomic, and challenging, your £25 (until Feb 7) buys you an impressive roster of German, Soviet, and American units, pleasingly varied venues, unusually practical 3D visuals, an almost faultless UI, and an AI that copes admirably with most situations.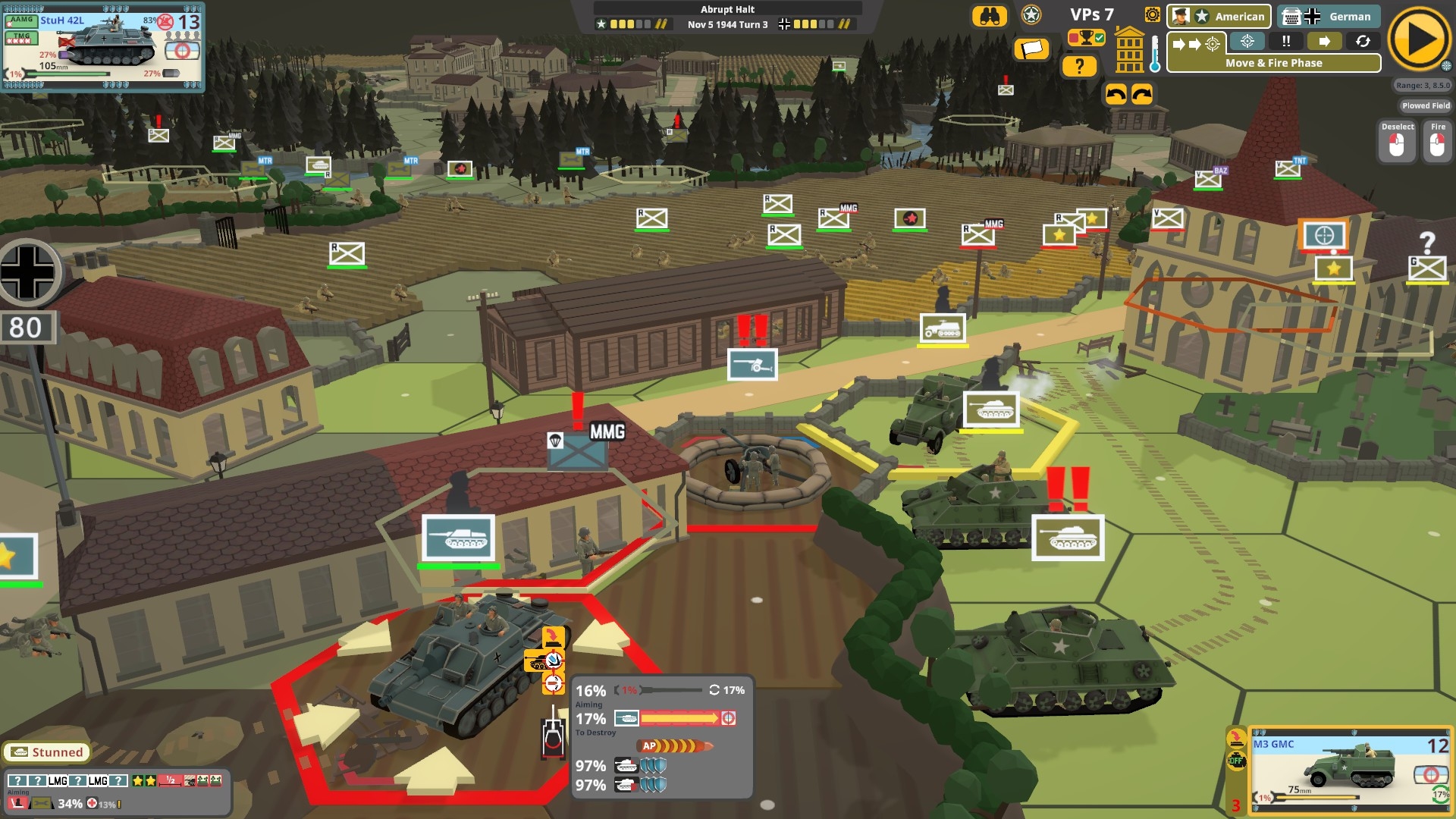 While 'Gretchen' needs maps liberally sprinkled with cover to do her thing (Present her with a challenge like 'Conifer Corridor' and she flounders) and has a few bad habits (These include failing to align AFVs sensibly on occasion, sometimes choosing sub-optimal targets for her tanks, and forgetting that using Bazookas and Panzerschrecks indoors can be dangerous), she generally handles her units with aplomb.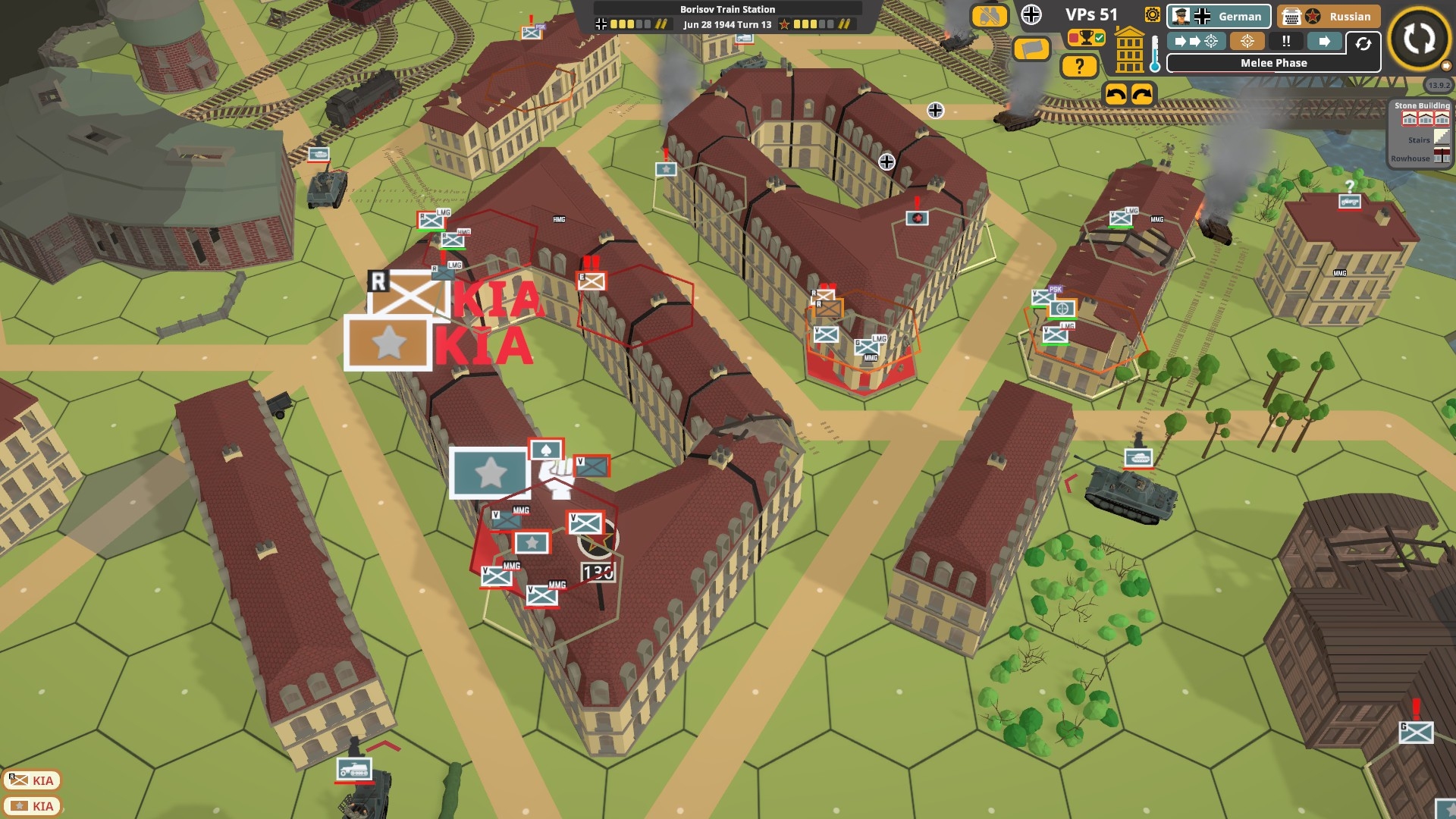 Fidgety by nature, her constant shuffling of infantry, even when defending, can seem aimless, even counter-productive, but seldom is. Unpredictable, confident on both the front and back foot, and good at exploiting cover, scavenging weapons, and rallying broken units, she ensures player victories never come easy.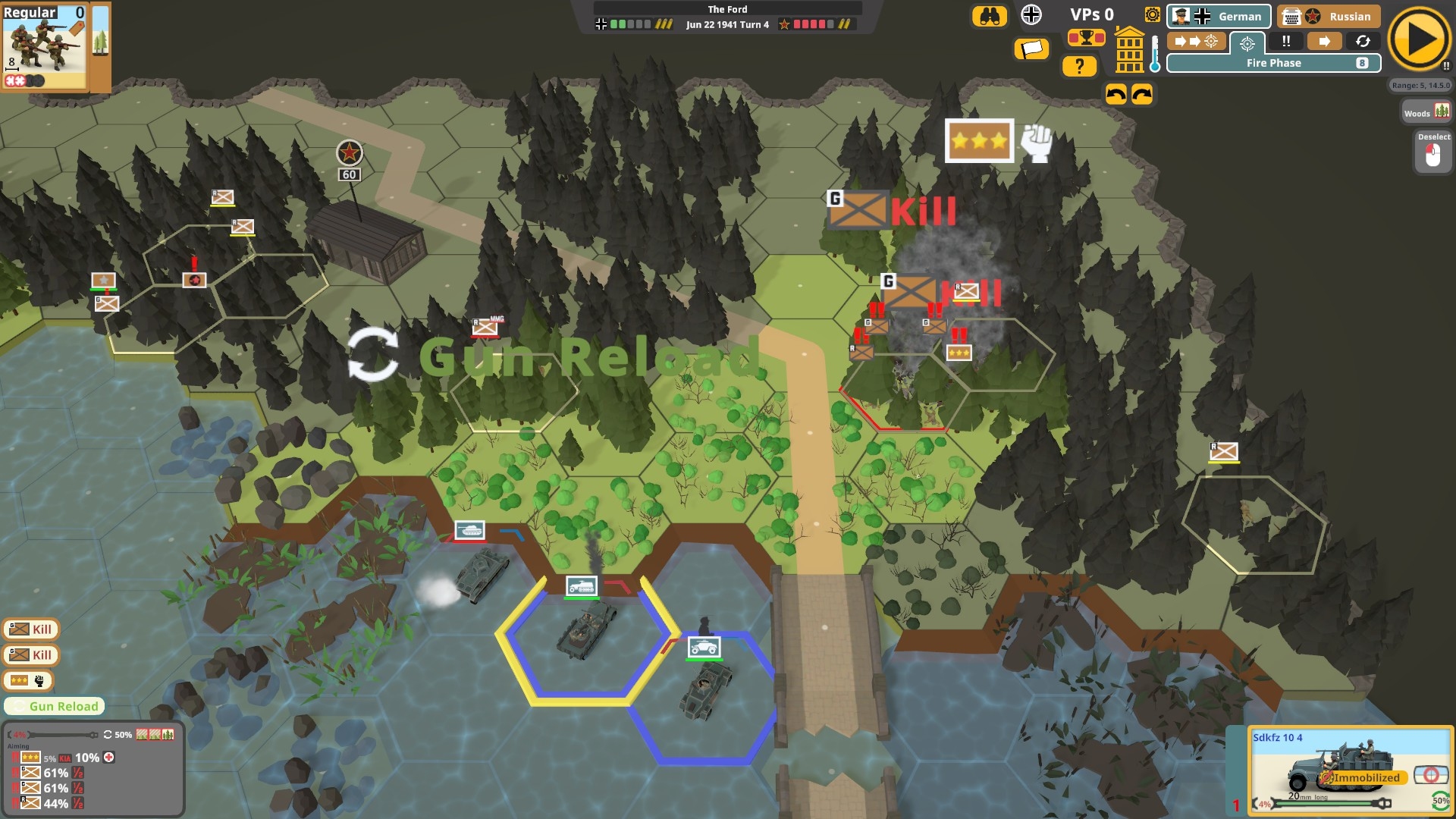 Her skill and restlessness combined with some questionable logic at the heart of the rules (Infantrymen under fire are more likely to break than become pinned or suffer casualties) gives SF's engagements an effervescence that is hard to dislike. Once battle is joined, it's rare for a turn to pass without a few red exclamation marks – indicators that a unit has 'broken' – germinating. Although broken grunts auto-rout, assuming you position leaders sensibly, retreaters usually aren't unnerved/uncontrollable for long. In peer titles advances can sometimes feel grindy… mechanical… inevitable. The turbulent retreat-return cycles in Hexdraw's debut ensures you're constantly adjusting, rethinking, and improvising.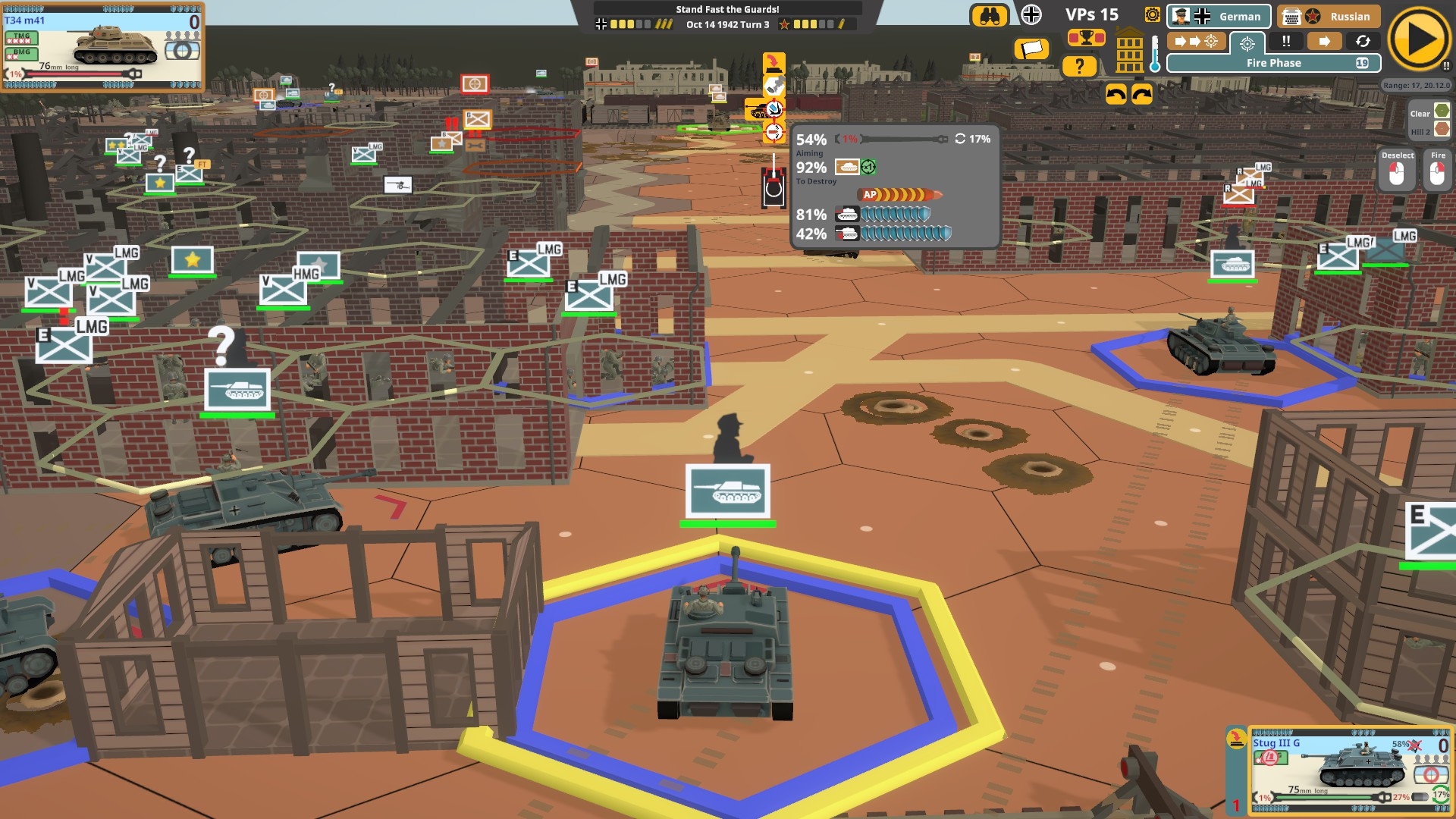 RNG-dependent plan-altering surprises such as weapon malfunctions, fires, 'toughening' and 'weakening'*, and spontaneous hero generation, also enliven the aggro nicely. What a stroke of luck – that MG 42 in the church tower has just jammed! If Captain Kent's band of brothers get their skates on they should be able to cross the field unscathed… Curses! The warehouse blaze started by that mortar bomb a few turns ago, is spreading fast. Looks like my snipers will need to find another vantage point soon… Gosh. I wasn't expecting much from the two green squads I sent along the gully, but Lady Luck seems to adore them. One now has 'veteran' status, and the other has hatched a hero…
* Incoming fire can reduce or increase a unit's 'quality'.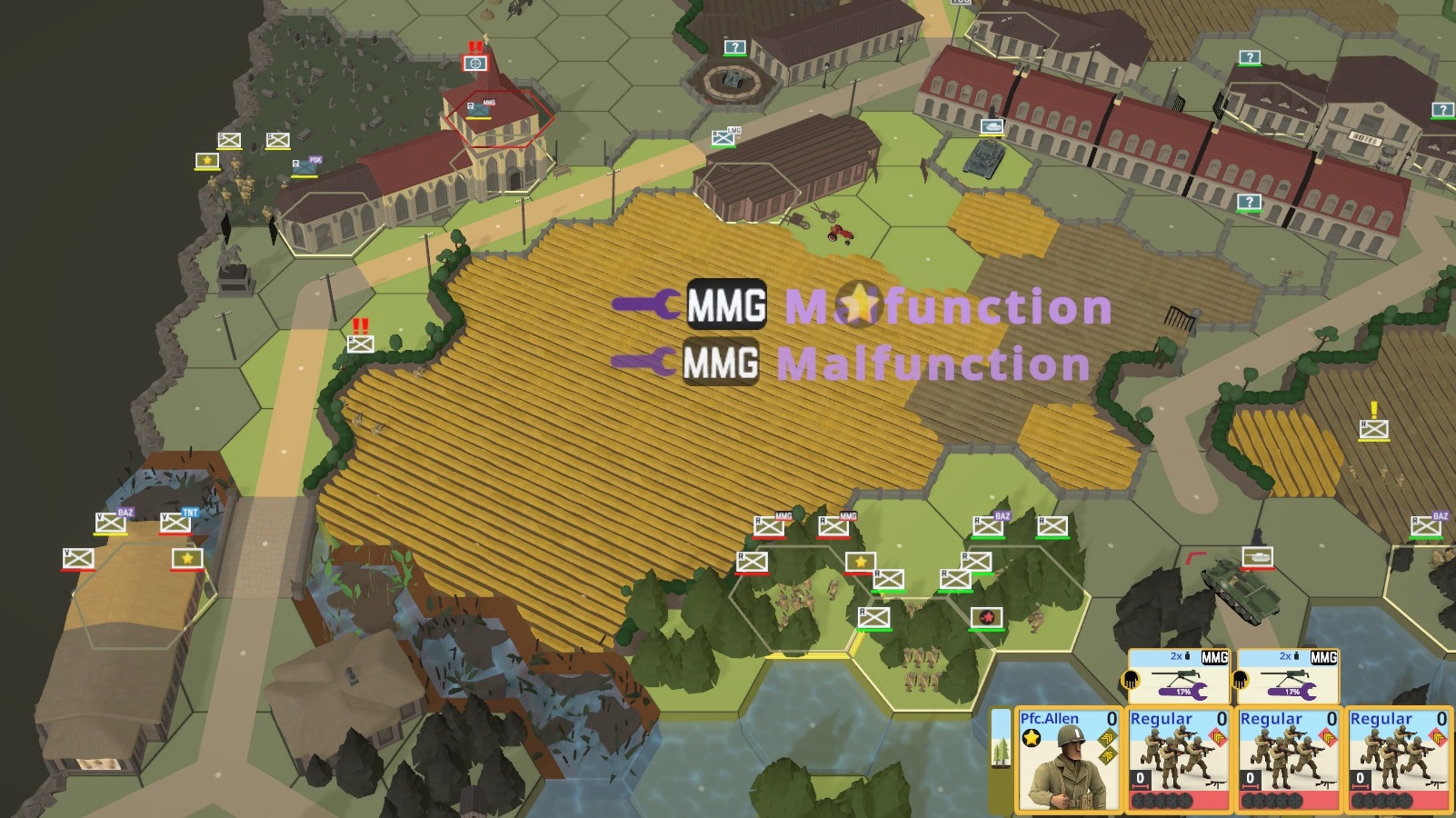 True, at times the enlivening goes too far. While fans of Combat Mission and Graviteam Tactics will be pleased to find SF's tanky side enriched by things like one-shot armour kills, unbuttoning, close assaults, and smoke dischargers, they are likely to be appalled by the fragility of the game's heavy weaponry and dismayed by what my colleague calls "the reload lottery" (see last week's piece). In smaller scenarios, when the main gun of a key AFV packs up irrevocably early in a clash, you'll need to be a stoical soul not to reach for the 'quit' button.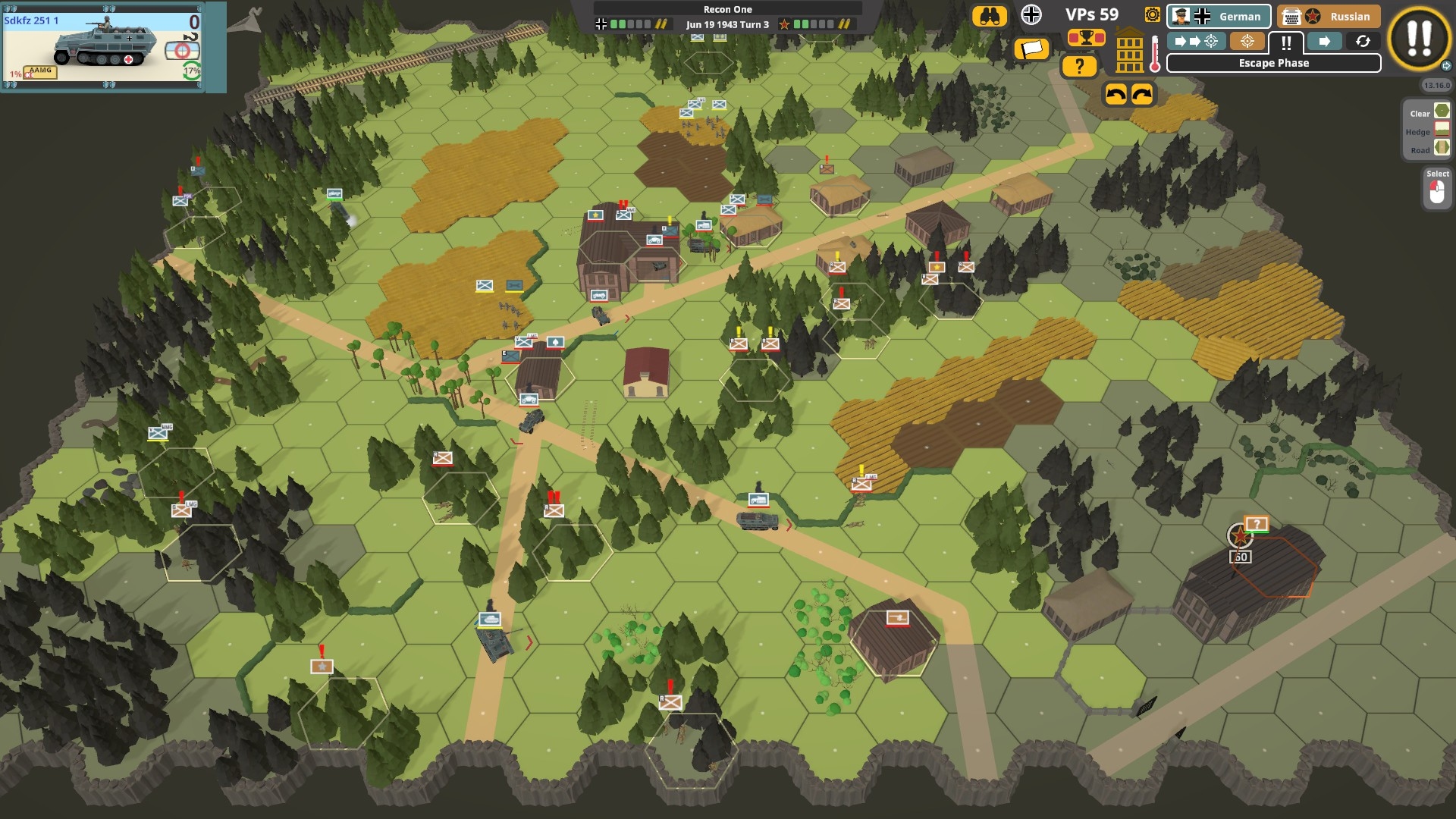 Grognards may also wrinkle their conks at SF's halfhearted approach to Fog of War. Enemies are never mis-identified and, even when technically out-of-LoS, are rarely hidden from view. The LoS-dependent mortar mechanics (there are no spotters, off-map arty, or aircraft in the game) and the lack of friendly and speculative fire aren't likely to impress realism jaegers either.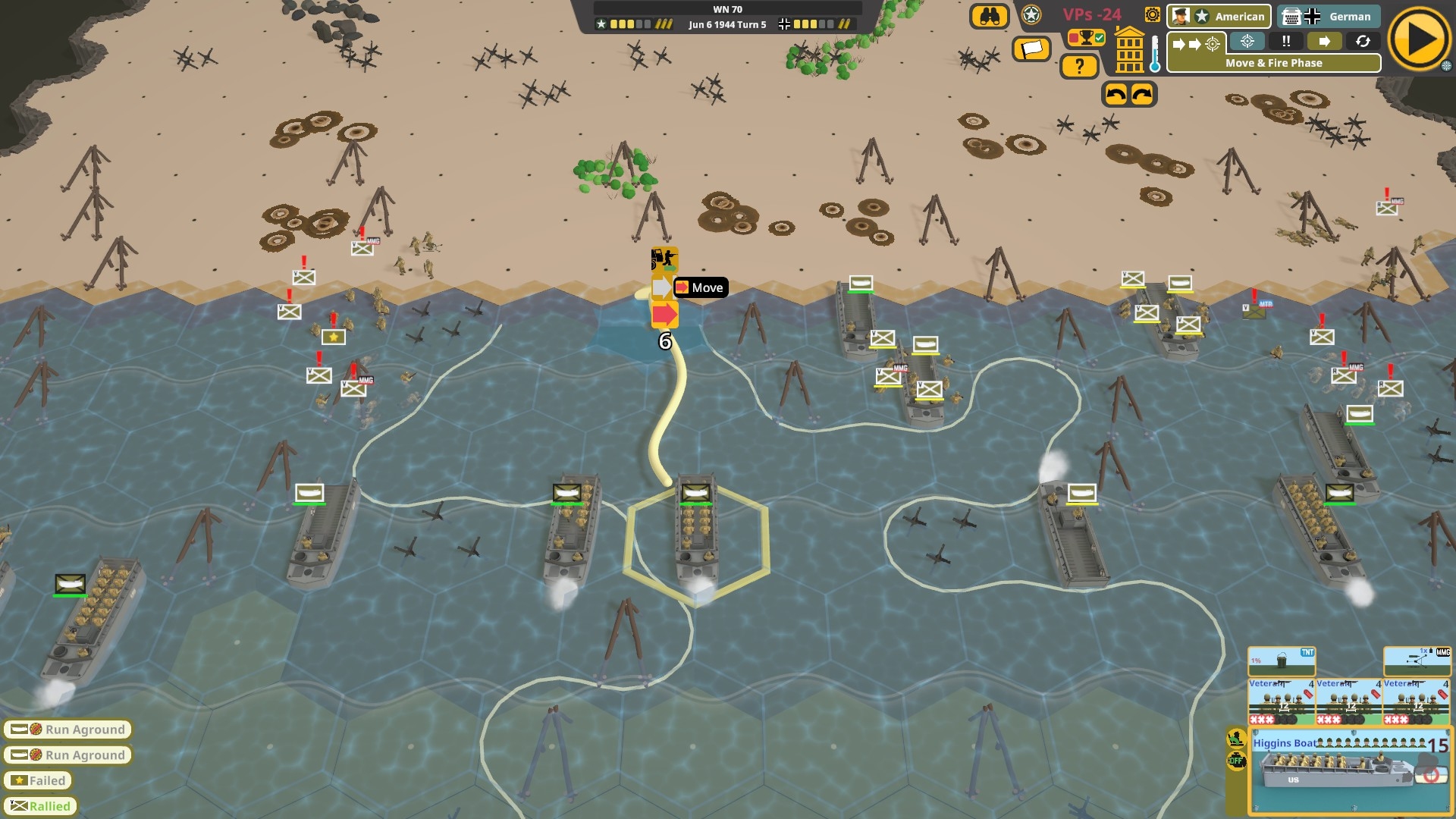 Forty-eight single scenarios, five multi-stage scenarios misleadingly labelled 'campaigns', and very friendly map and scenario editors, have, thus far, done a pretty good job of distracting me from omissions such as multiplayer and a skirmish generator. In short, boredom has been a stranger since the review code arrived. Over the last fortnight I've tussled for villages and valleys, towns and cities, rail yards and airfields. Men doing my bidding have crossed rivers under fire, cleared buildings floor by floor, and perished in droves on bullet-swept beaches. I've attacked and defended, sometimes simultaneously. I've probed, bypassed, relieved, and retreated. Only now, two weeks in, am I finding myself thinking "Why on earth doesn't SF let me fight on random maps with units I've chosen and deployed?".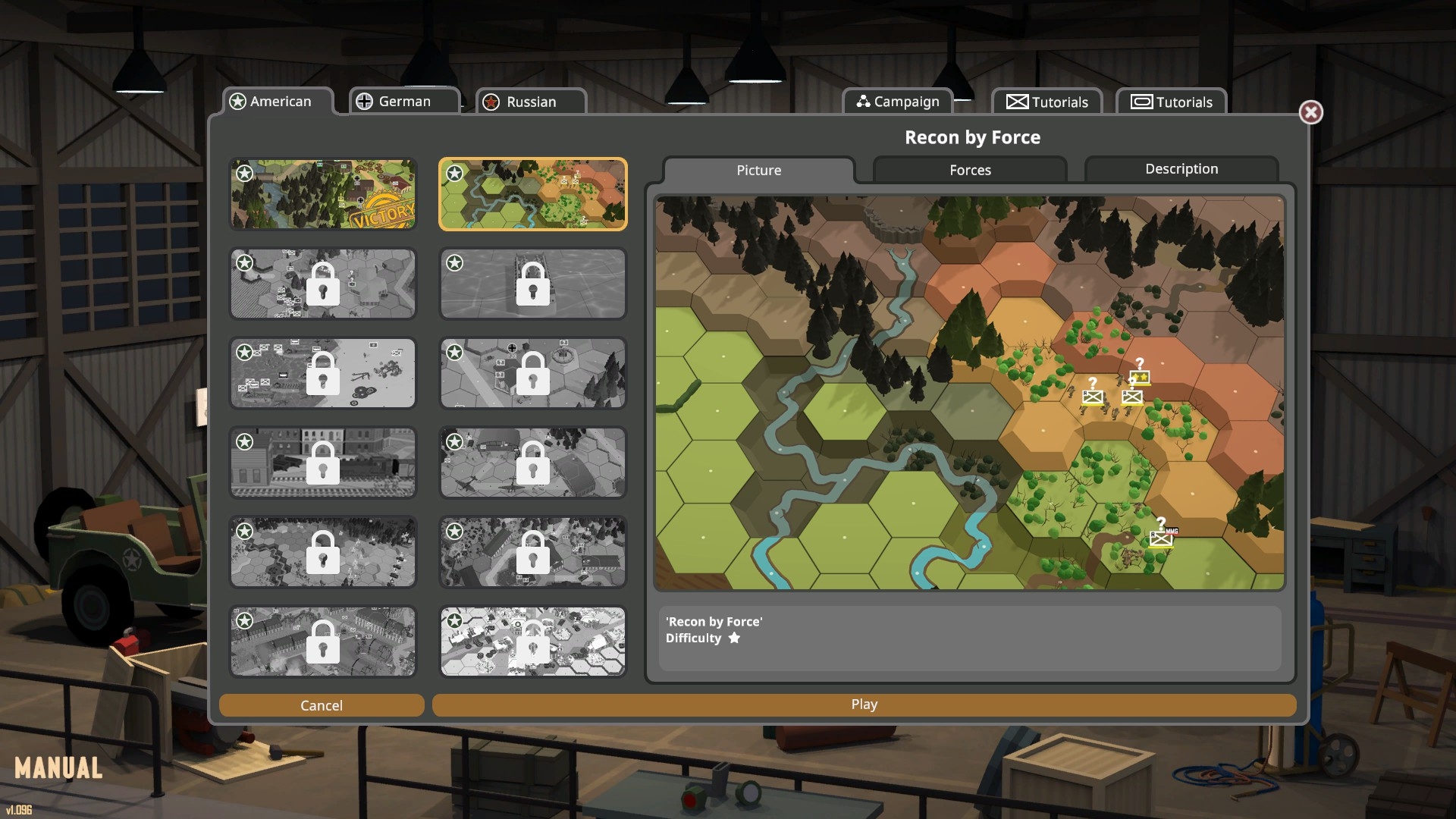 Finding the majority of the official* scenarios and campaigns locked at the start, was a mite irritating especially when I realised that in order to access the roped-off content I'd need to win unlocked battles without any help from the options menu. It's hard to believe SF shipped without player-tweakable difficulty settings, yet player-tweakable difficulty settings there are none. Clearly, Jo hasn't read 'History or Victory?'!
* There are already plenty of unofficial creations in the Steam workshop.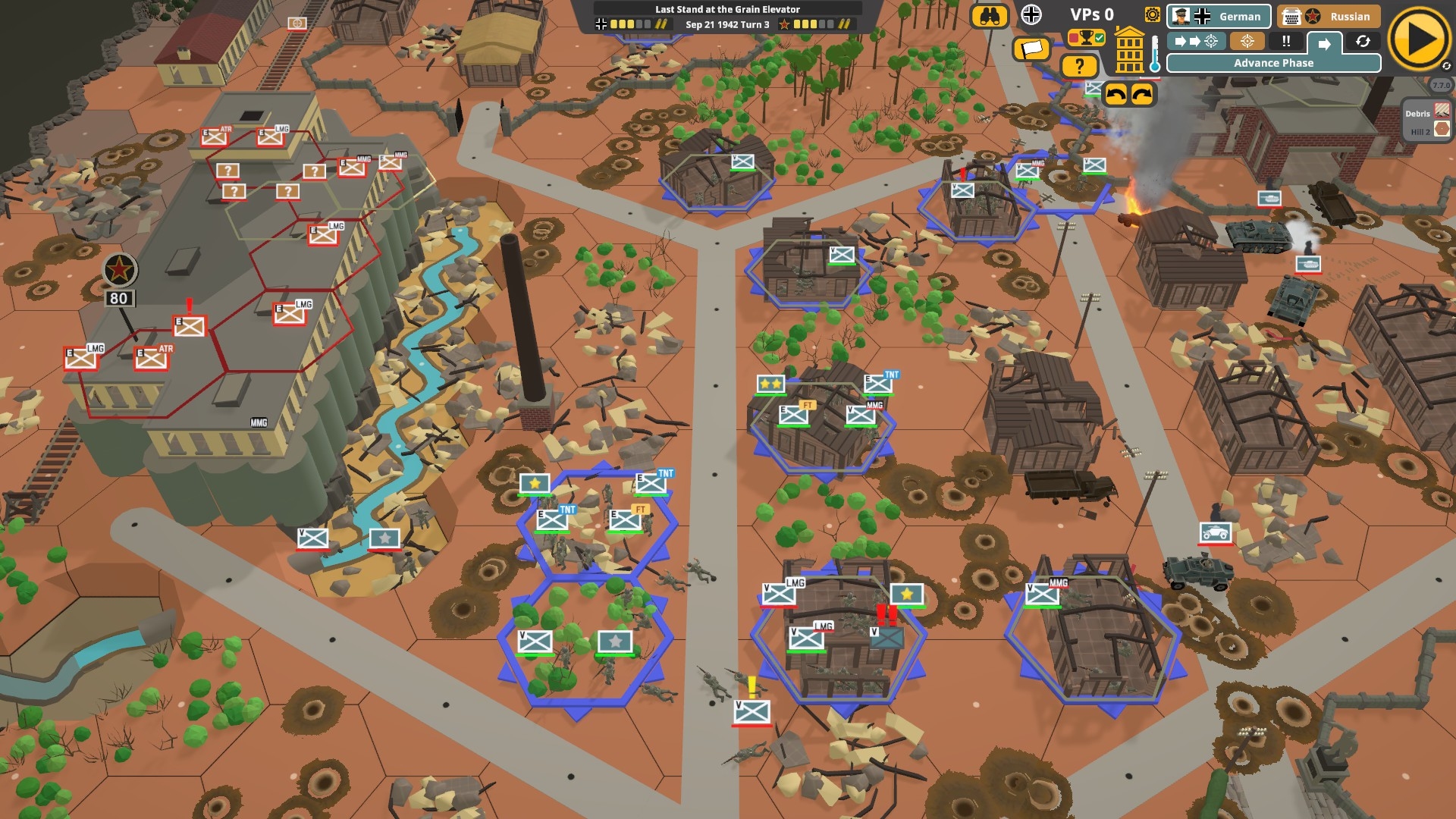 The clock is usually an important factor in single scraps. While, theoretically, you can triumph through unit destruction alone (the force ratio necessary for victory is decided by the scenario designer) more often than not* it's your ability to occupy victory hexes before their value hits zero (VLs lose 10 victory points per turn) that determines the outcome of a battle. Holding the majority of VLs, or the same number as your foe, when the final whistle blows? Don't expect a gentle 'Tactical Victory' or 'Draw' verdict. To SF's uncompromising adjudicator, any player who doesn't sweep the board is a loser.
* Scenarios in which exiting units is the name of the game are also possible.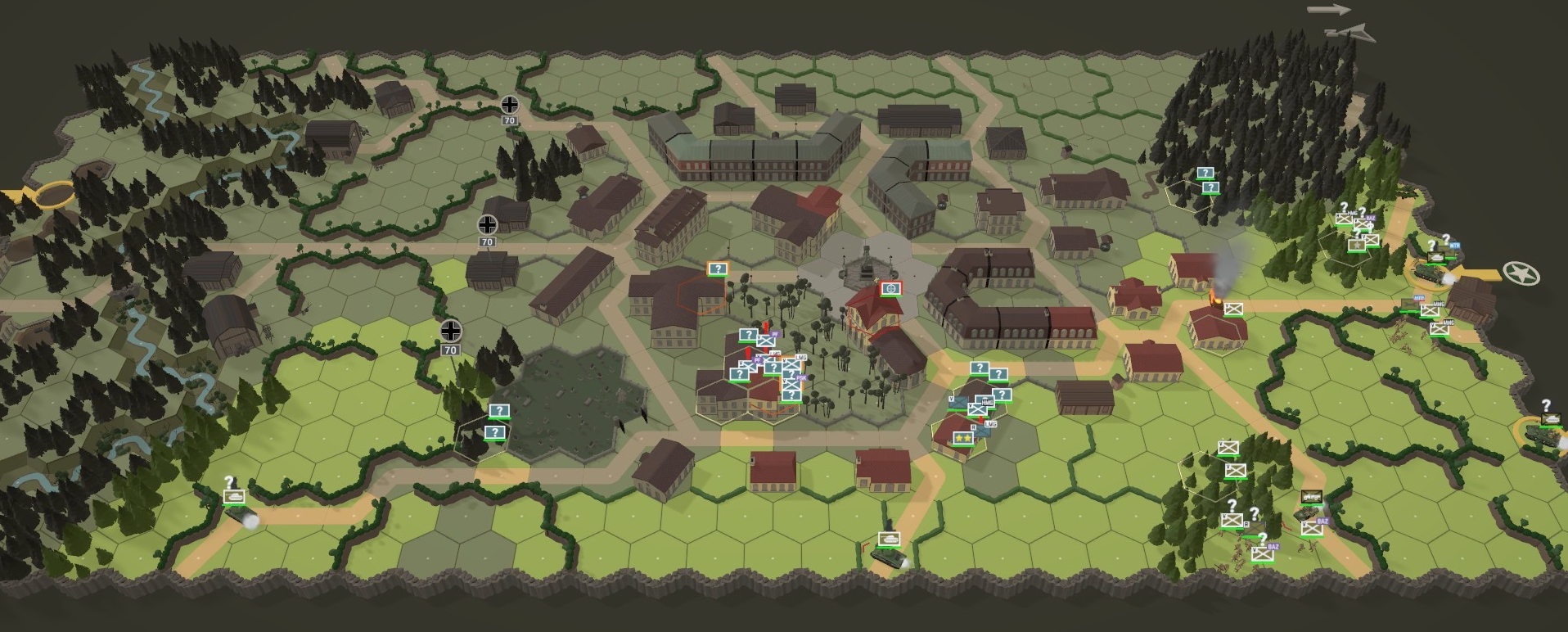 Success and failure in 'campaign' battles is determined in the same crude fashion, but happily has no impact on whether a campaign continues. Whether you took all the VLs in the previous engagement, or none, the next chunk of battlefield is guaranteed to appear (In campaigns you advance across a single persistent master map in stages) with what's left of your assets, complete with any scavenged weapons, huddled on its friendly edge.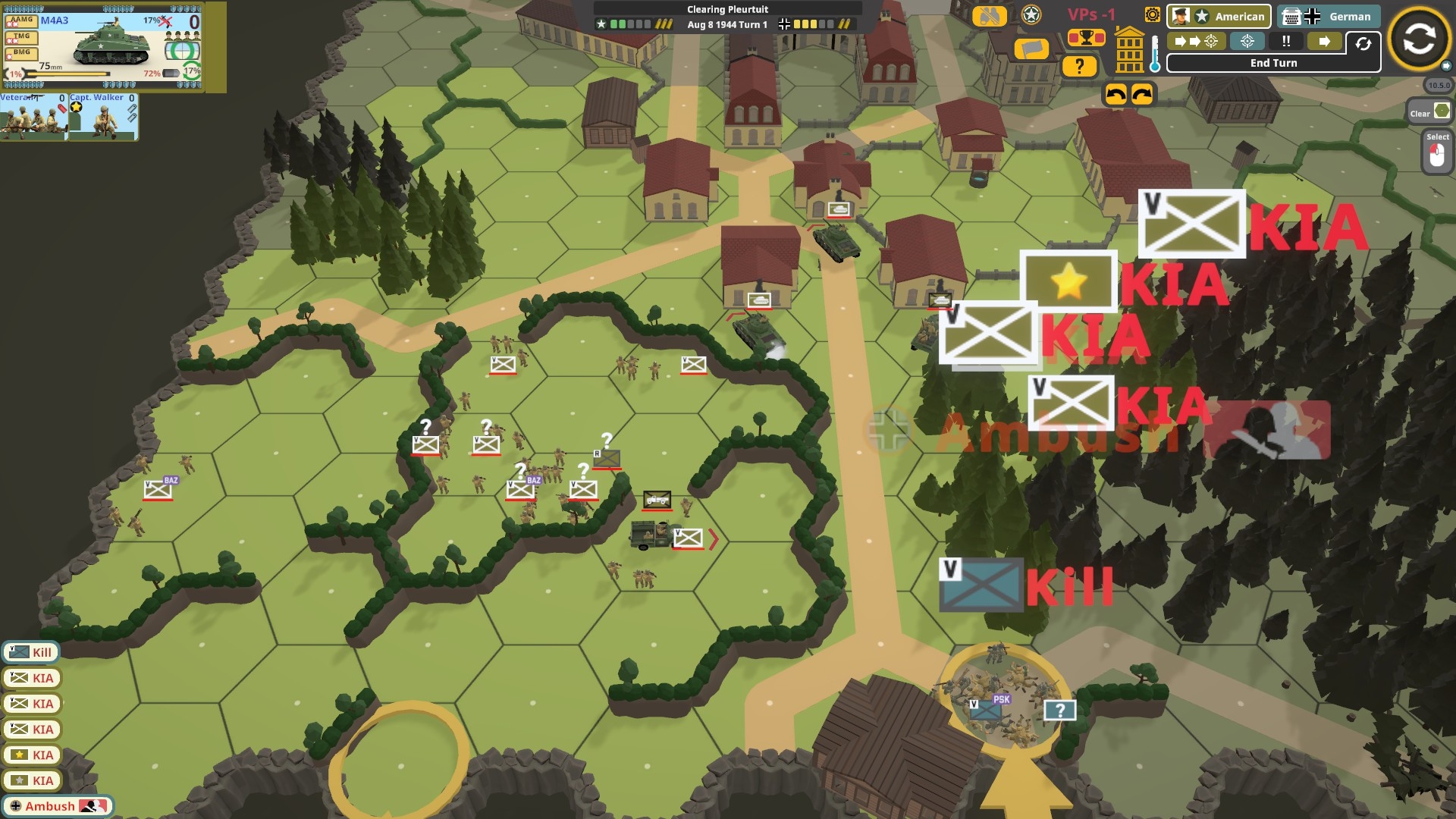 I've completed two of the five available campaigns during the past week. Both were surprisingly brief (3 to 4 battles) and, I regret to report, not entirely bug free (on one occasion, a clutch of my units started a battle in the same hex as enemies). Once the issues are fixed, and the amateur scenario smiths get to know the engine, the appeal of 'campaigning' will, I suspect, greatly increase.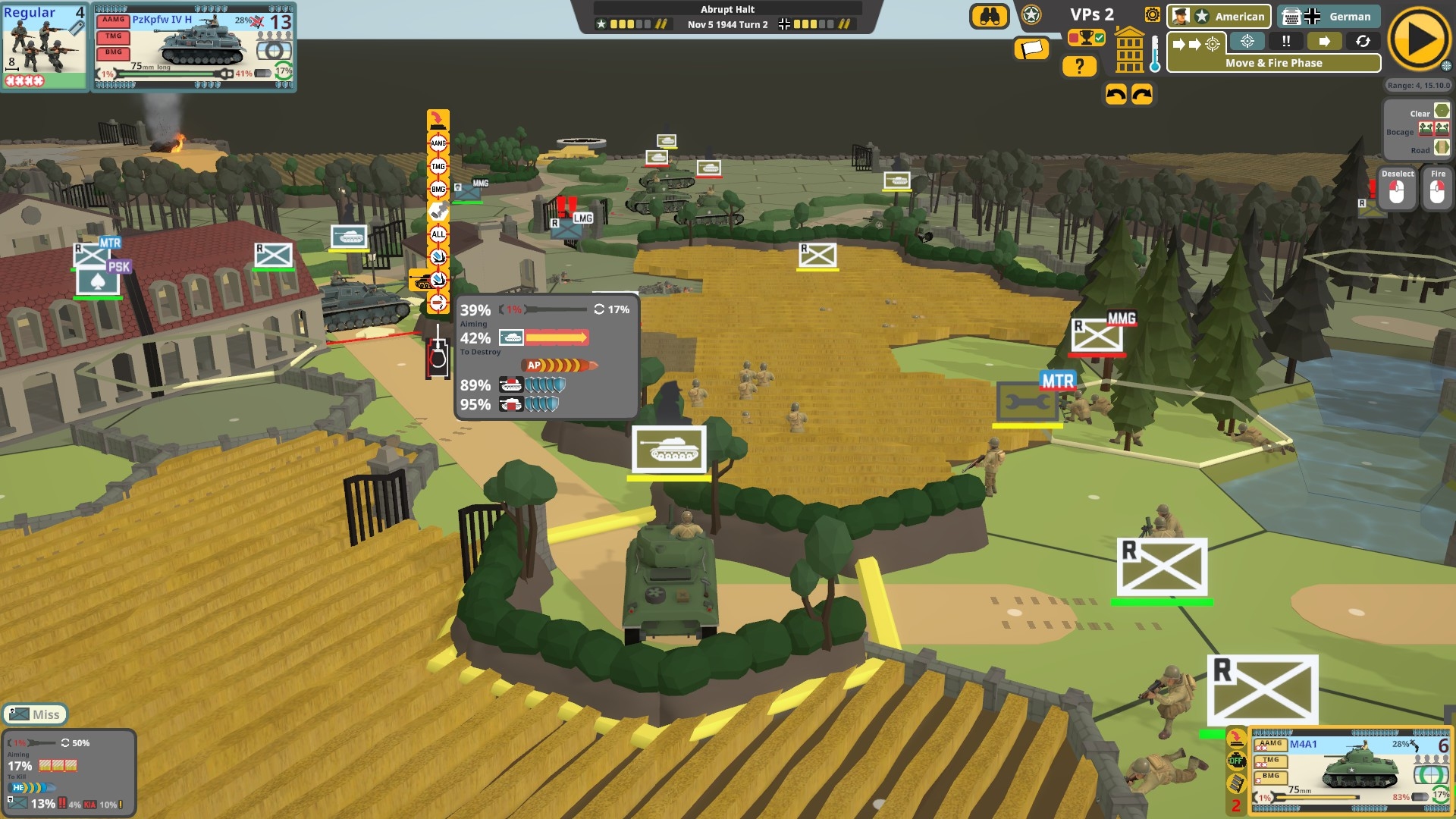 As there's no way to customise challenge, and SF can punish rules ignorance and careless orders pretty harshly, there's a fair chance your first few hours of post-tutorial play will be tinged with frustration*. My feelings towards the game warmed considerably once I'd grasped the finer points of the combat arithmetic. Ah, if I roll my Sherman into the next range band, then turn its engine off, it will get a substantial 'to hit' boost… Hmm, if I move the hopeless First Lieutenant Smith out of the MG team's hex, and replace him with the able Sergeant Baker, the chance of breaking those Schützen with an M1919 burst doubles!
* Fortunately, tenderfeet don't have to wrestle an abstruse interface while learning the ropes. Ignore shortcomings such as slow map rotation, unacceleratable unit animations, no 'next unit' or 'undo' button/hotkey, and a temporarily shackled camera (If the incredibly useful free cam from the preview build doesn't return soon Hexdraw can expect grumbling in the next A2Z) and the command apparatus is excellent.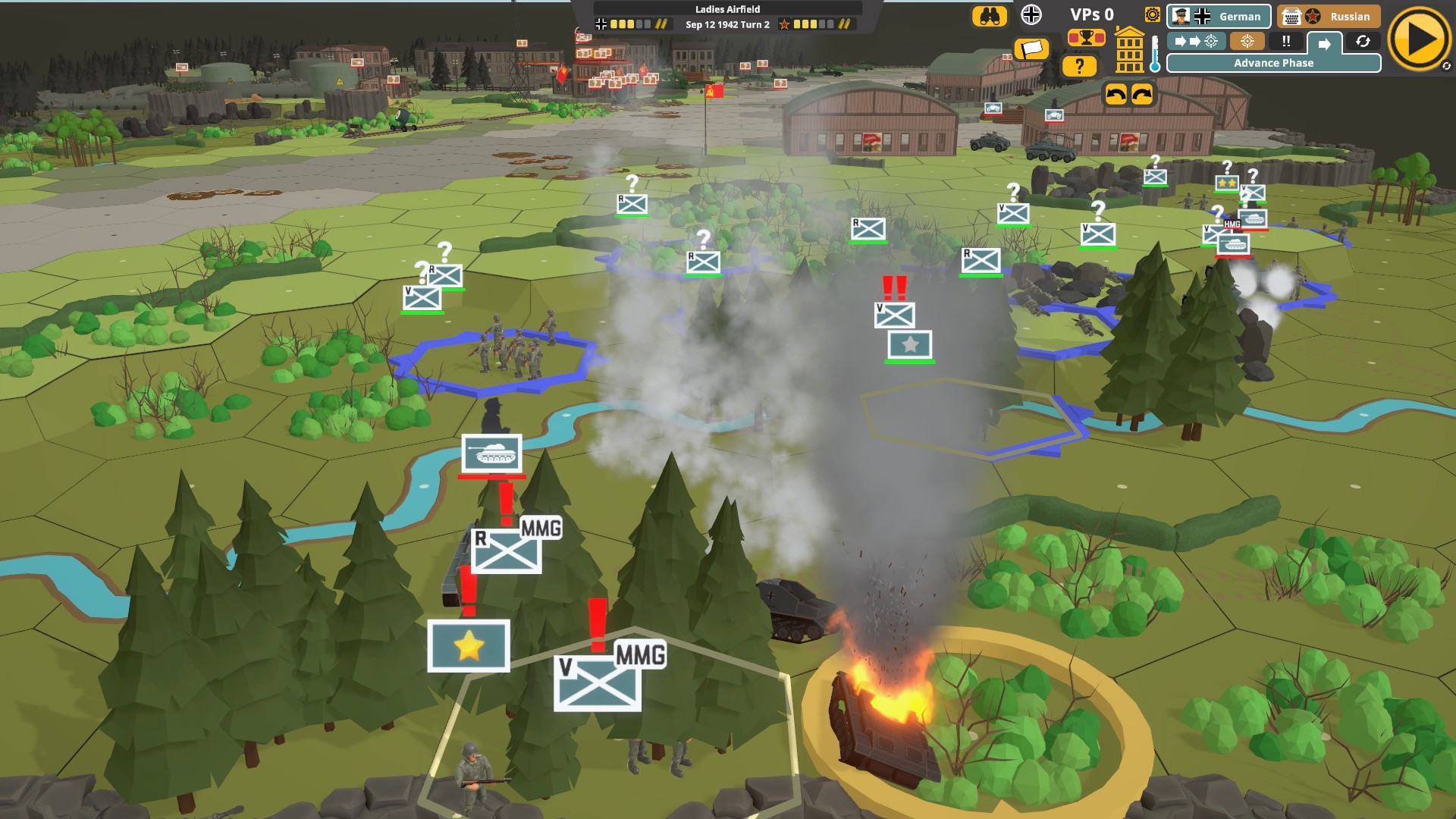 Vital too to frustration-free play is understanding how opportunity fire works. 'Baiting' enemies into squandering their reactive fusillades is one of the most important tricks in a player's tactical toolbox. My verisimilitude-venerating colleague, Roman, insists this is proof SF "gets WW2 wrong". I, on the other hand, prefer to think of my sly 'Shoot me! Shoot me!' manoeuvres as diversions and feints.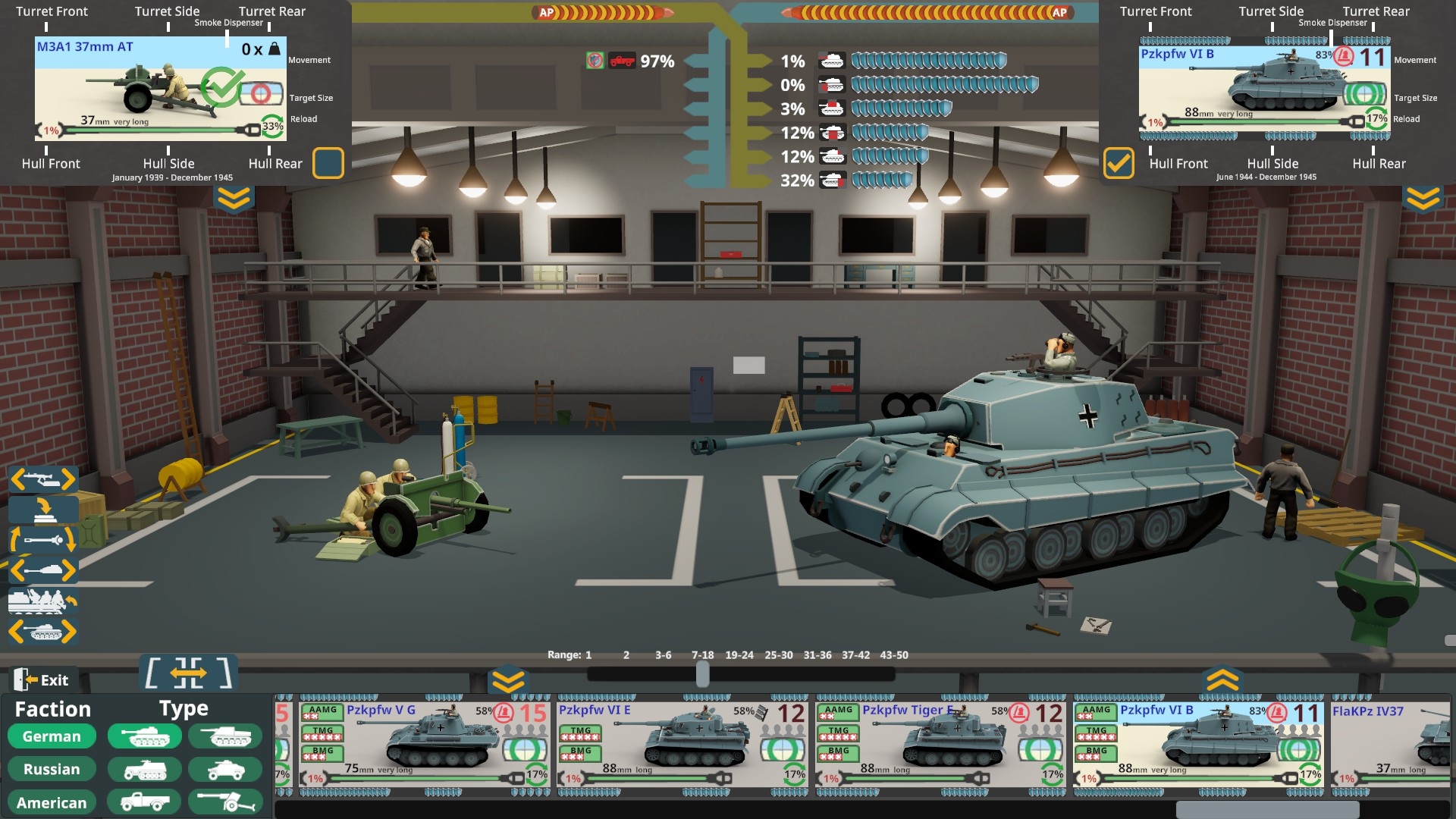 Talking of Roman, last week, I was pretty confident his concerns would melt away if he pressed on. Well, he has pressed on, and truth be told he remains sceptical. In fact, my chum's unease with SF's realism blindspots seems to have increased rather than lessened during the past seven days. Yesterday's bonnet bee was overpowered 37mm AT guns. Today's is suppression. He feels Hexdraw's failure to put suppression at the heart of their infantry combat model is a huge gaffe.
I can see where he's coming from, but I suspect the changes Roman would make to SF if he had the power, would sap colour and excitement from one of the most colourful and exciting WW2 wargames I have played in years. At present, does Second Front deserve to be spoken of in the same reverential tones as Combat Mission, Close Combat, and Graviteam Tactics? Probably not. Is it as perfect a pop wargame as Battle Academy 2? No. Will 2023 furnish us with a smarter, fresher, more thrilling tactical wargame? I doubt it.