To ensure you get a full and rounded picture of 2023's most eagerly awaited computer wargame, THC will be running a series of articles on Second Front rather than one traditional review. In this, the first of those articles, I'll endeavour to explain why, right now, my colleague, Roman, isn't enjoying Hexdraw's four-years-in-the-making debut quite as much as I am (I'm having a ball despite various difficulty, campaign, and AI-related gripes).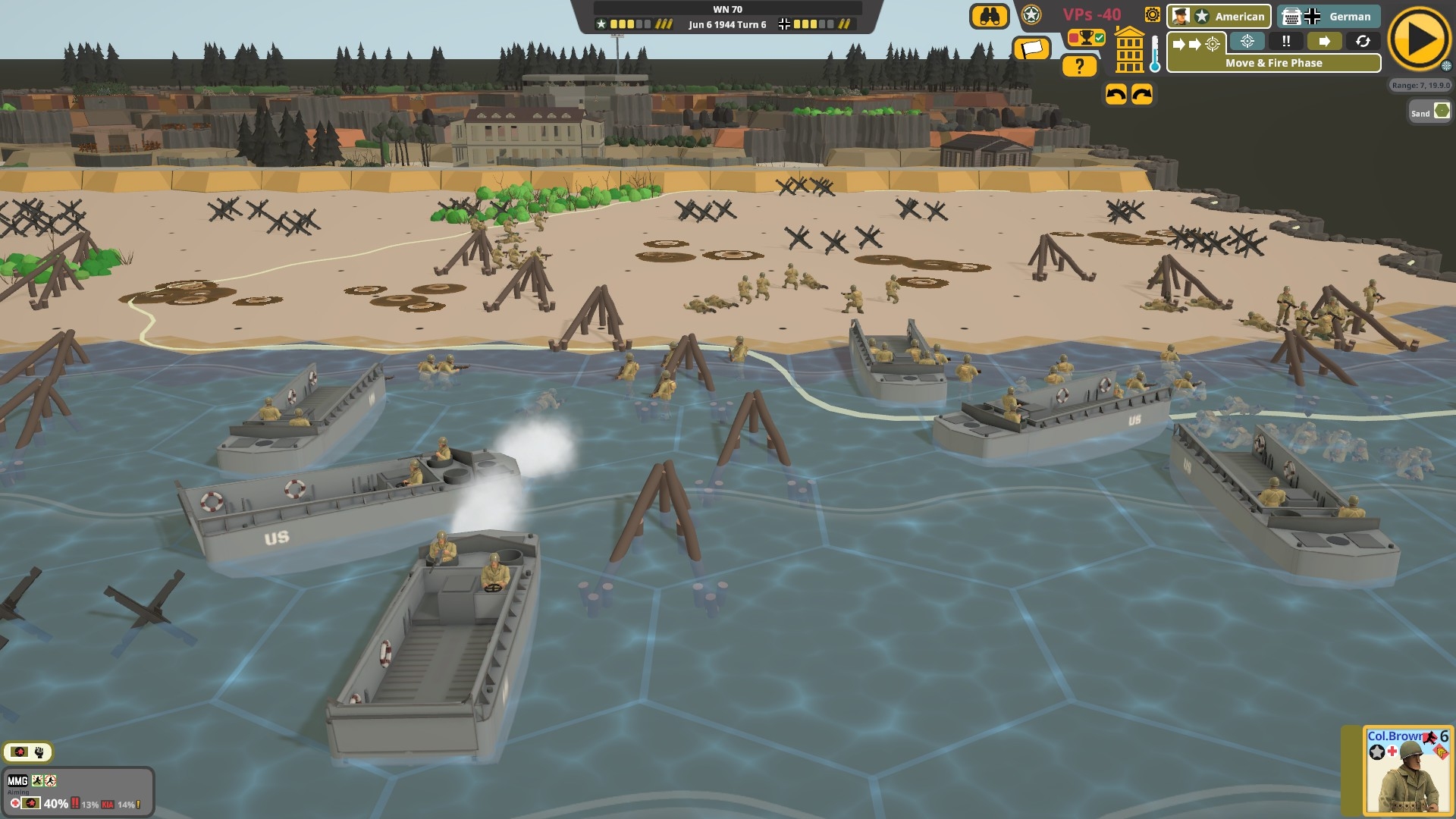 For those who don't know my right-hand man, Roman discovered wargaming relatively late in life. The Close Combats were his gateway drug. From CC he moved onto the Combat Missions and Graviteam Tactics. While he isn't allergic to rulebooks, and does wage war on hexed and squared battlefields from time to time, his approach to command leans towards the instinctive, and he prefers his venues gridless, his aggro naturalistic.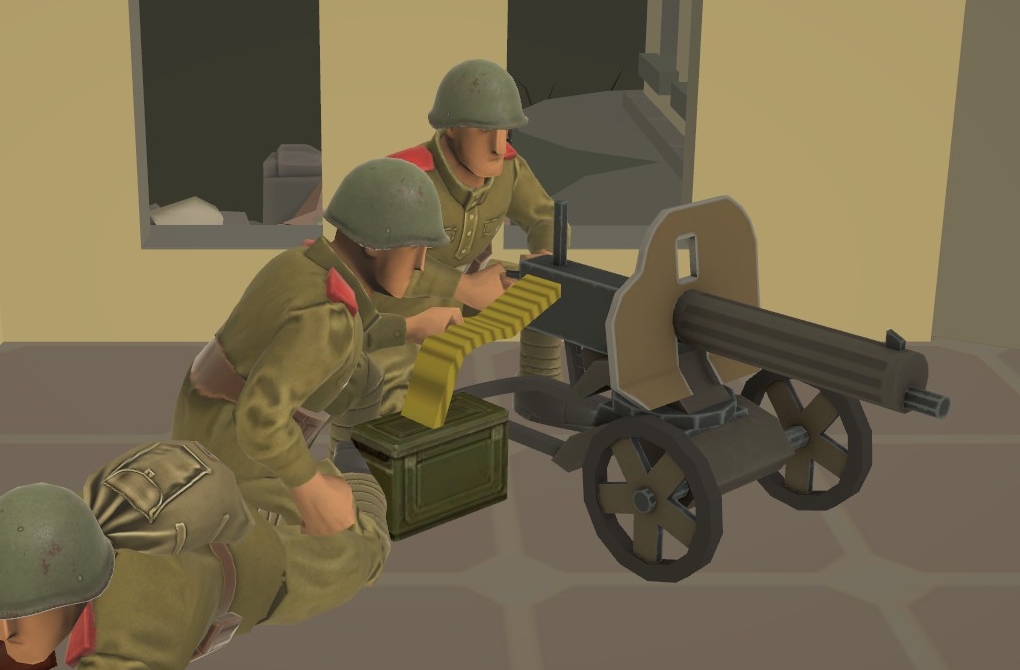 Never having played Advanced Squad Leader – Second Front's cardboard touchstone – before, Roman is struggling with some of the newcomer's inherited shorthand. In a nutshell, he doesn't understand why a contemporary design, so fresh and modern in appearance, borrows, in his words, so many "clumsy realism compromises" from a "forty-year-old museum piece".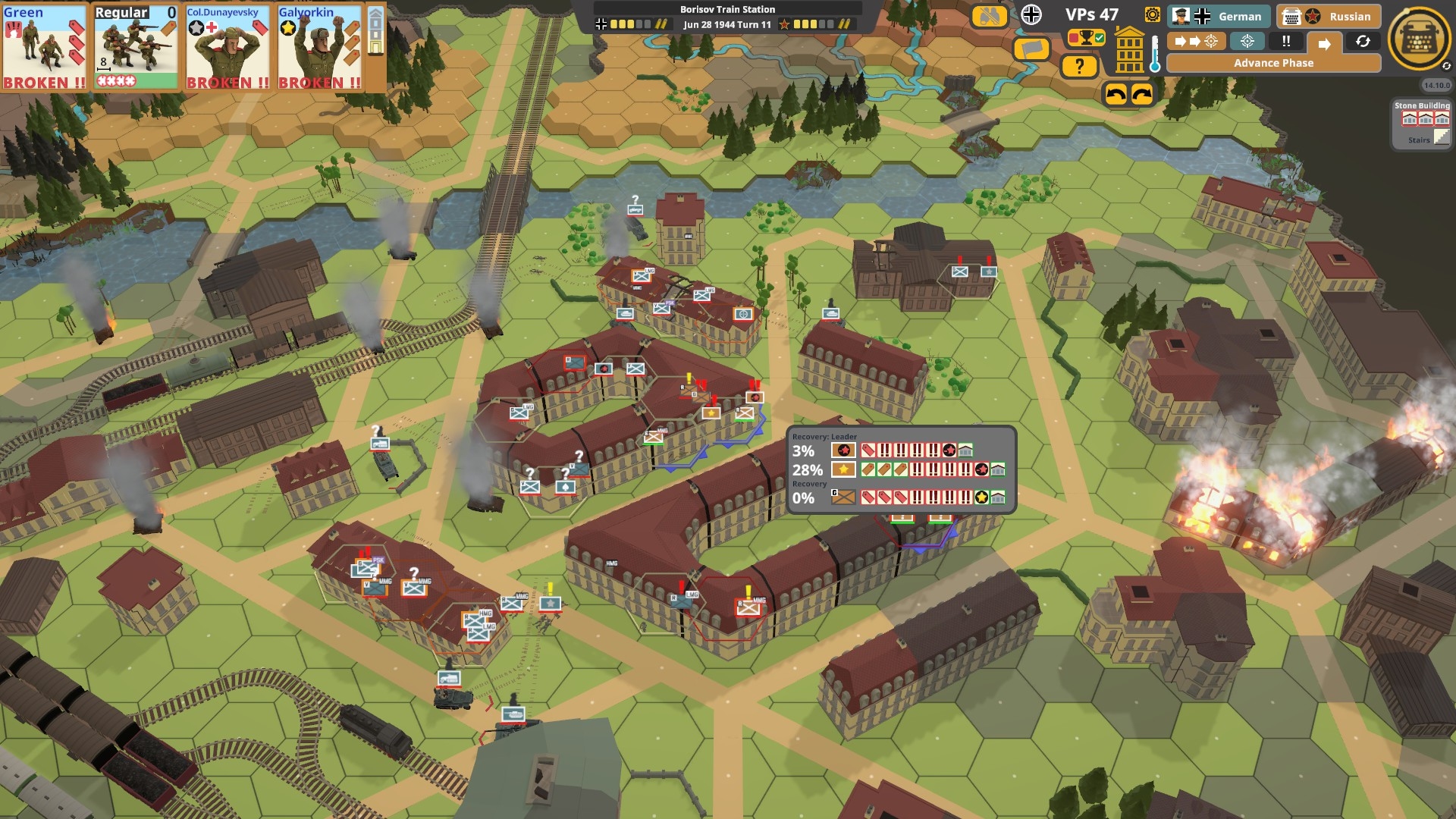 Top of his list of bugbearcubs is the way SF deals with range. Yesterday, I noticed him shaking his head at something on his screen. When I went over to investigate I discovered the cause of his disbelief/dissatisfaction was a situation not unlike the one pictured below.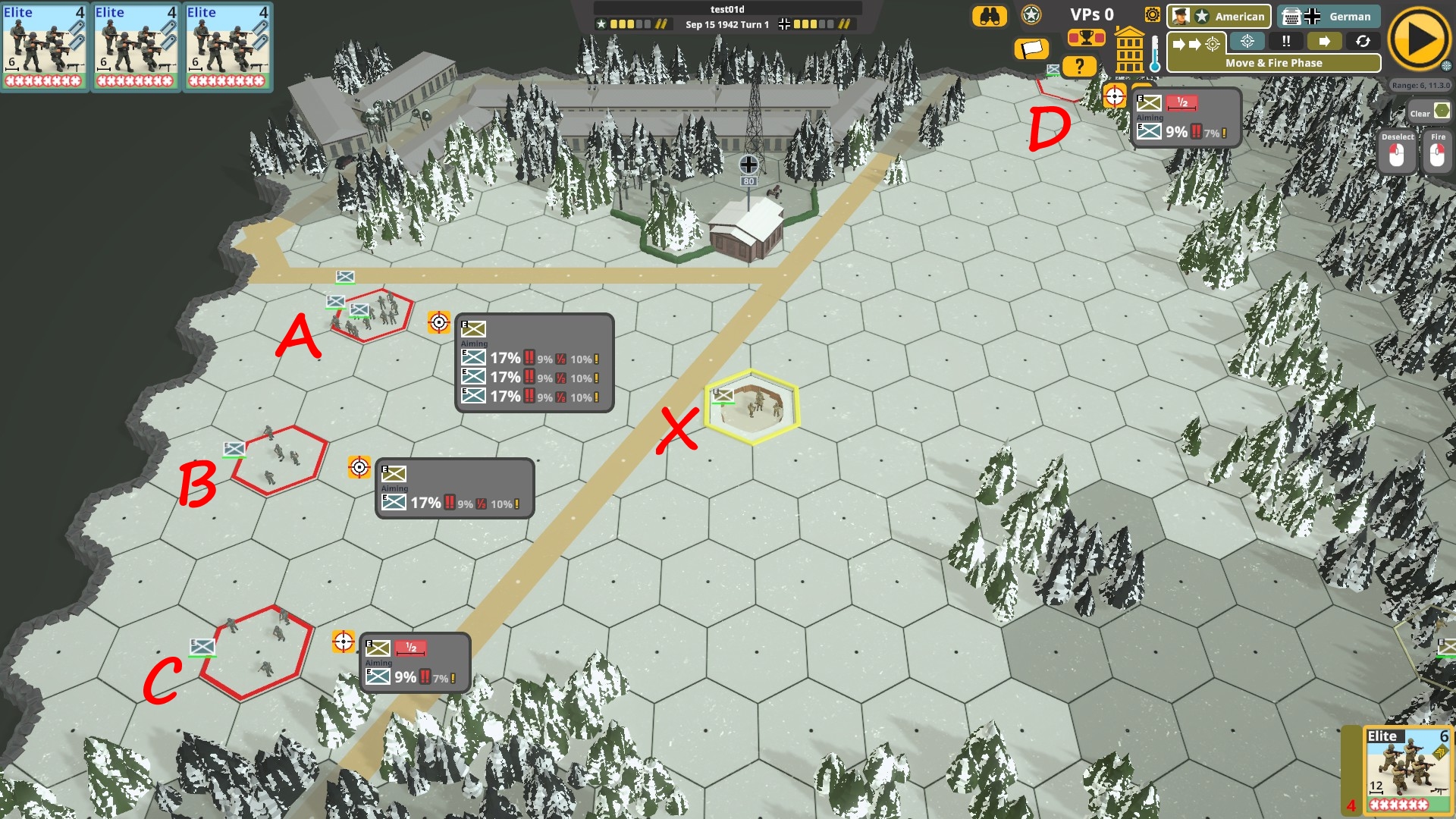 Because, mathematically speaking, SF only recognises four different ranges when it's processing infantry attacks – out of range, long range (over half range), half range and under, and adjacent – one seemingly insignificant hexagon can mean a lot, or absolutely nothing, during a firefight. In the pic above, because targets A and B are only six spaces from unit X (which has a maximum range of 12) the US squad has almost twice as much chance of breaking* them with a fusillade than it has of breaking target C. Additionally, the extra hex of range means there is zero chance C will lose men if fired upon. Counter-intuitively, the most distant potential target, D, is precisely as vulnerable as C.
* Breaking is far more likely than casualties in most situations, and causes units to auto retreat. Broken units can be rallied.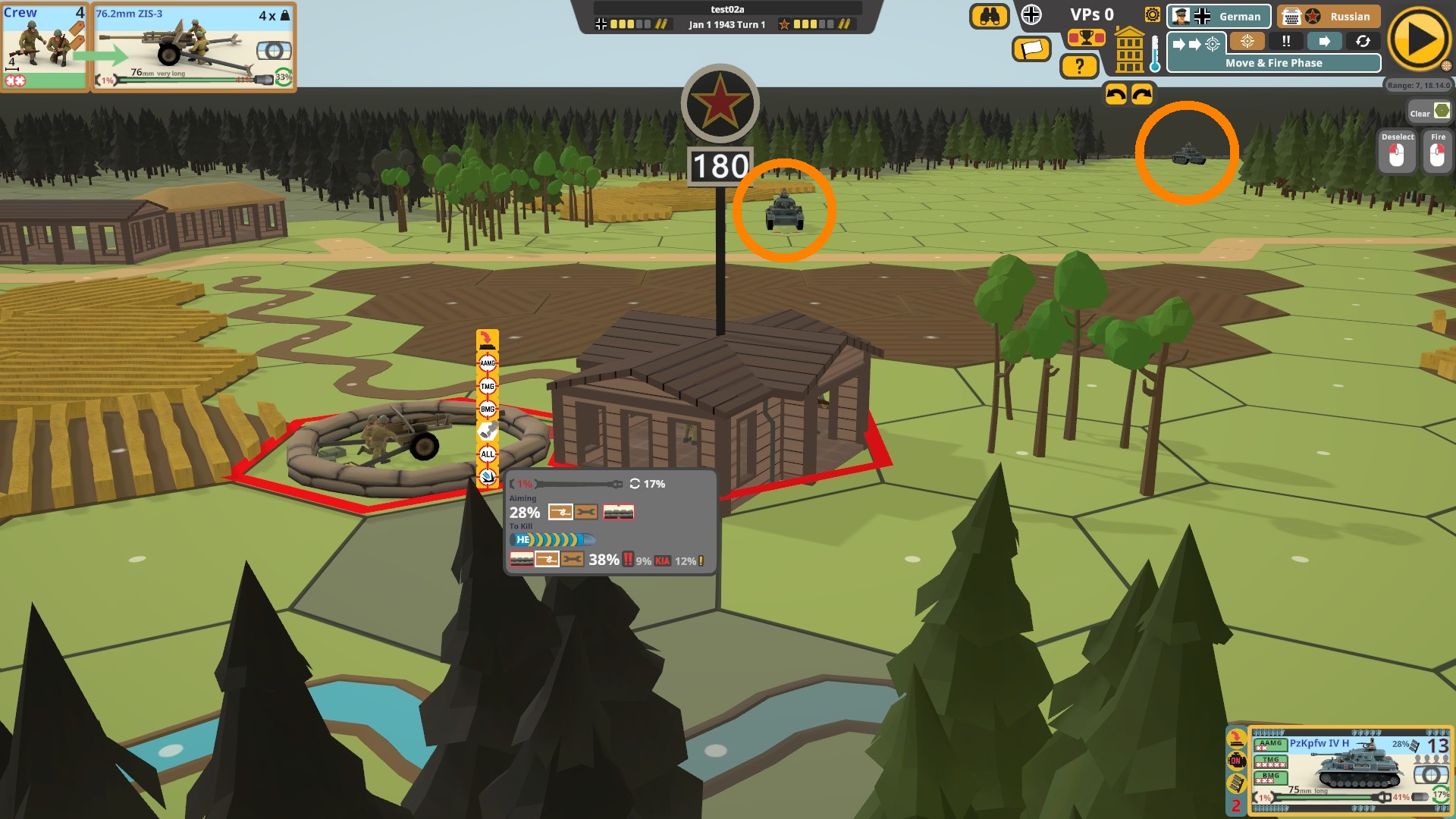 The game treats AFVs and AT guns with greater sensitivity, but realism-ravenous Roman isn't entirely happy with the range-related arithmetic in this area too. Due to the size and configuration of the nine arbitrary range bands (1, 2, 3-6, 7-18, 19-24, 25-30, 31-36, 37-42, 43-50) employed when tanks expectorate, the two Panzer IVs ringed in the above image both have a 9% chance of KOing and a 12% chance of pinning the ZiS-3 with their first shot. Used to titles where every metre betwixt muzzle and aimpoint matters, my colleague doesn't understand why SF doesn't just "acknowledge every hex" when it's working out combat odds. "Because that isn't the way ASL does it" is the best answer I could come up with.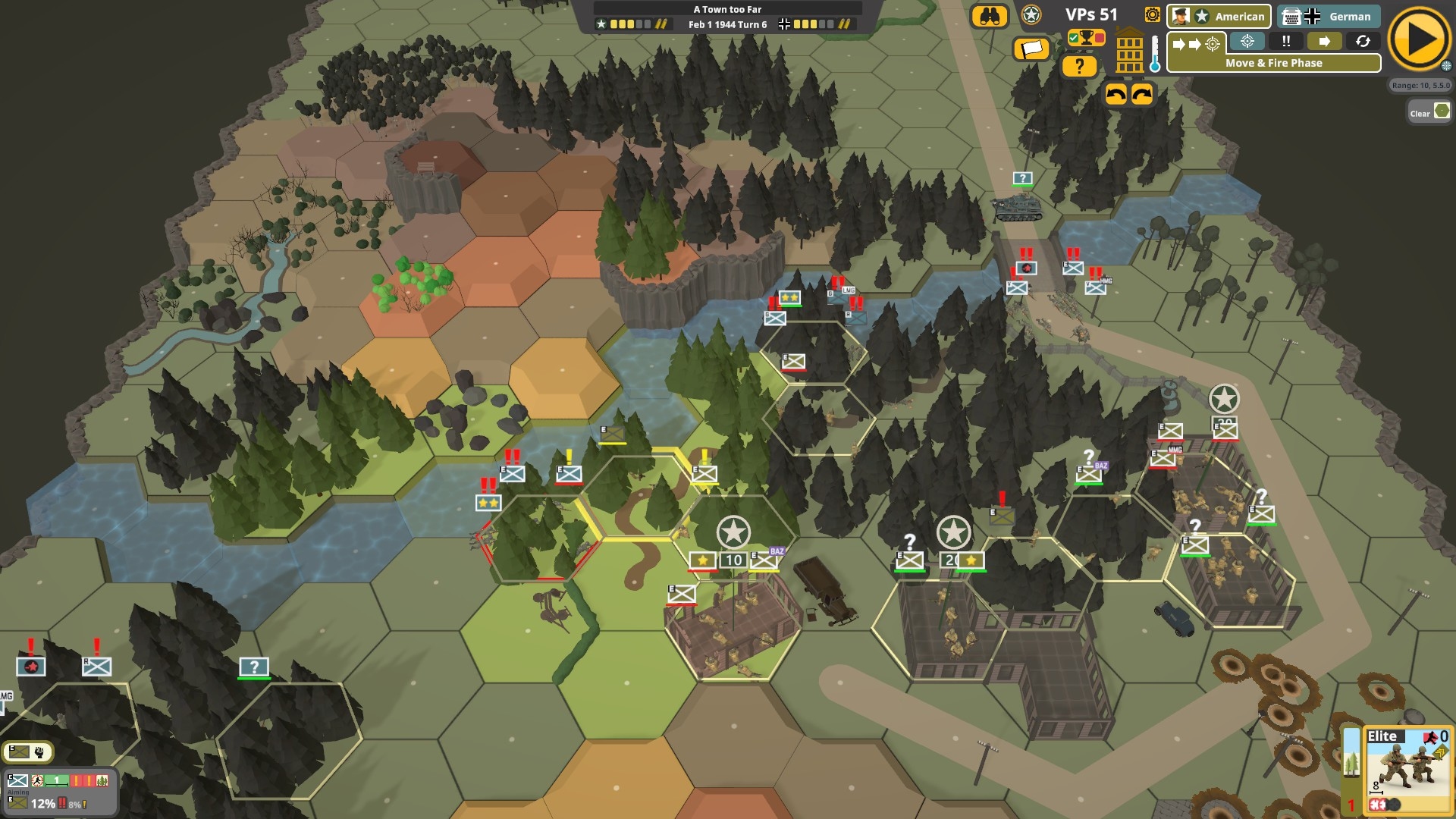 During the past seven days my compadre has also grumbled about 'half squads', "crowd culling", and the "reload lottery". For all intents and purposes SF squads have two hitpoints. If they lose one, they transform into half squads – weaker units with a reduced engagement range and two soldiers on their chits. If they lose two 'strength steps' it's 'Goodnight Vienna'. If you're accustomed to battle sims that meticulously head and bodycount, this level of abstraction may well feel crude.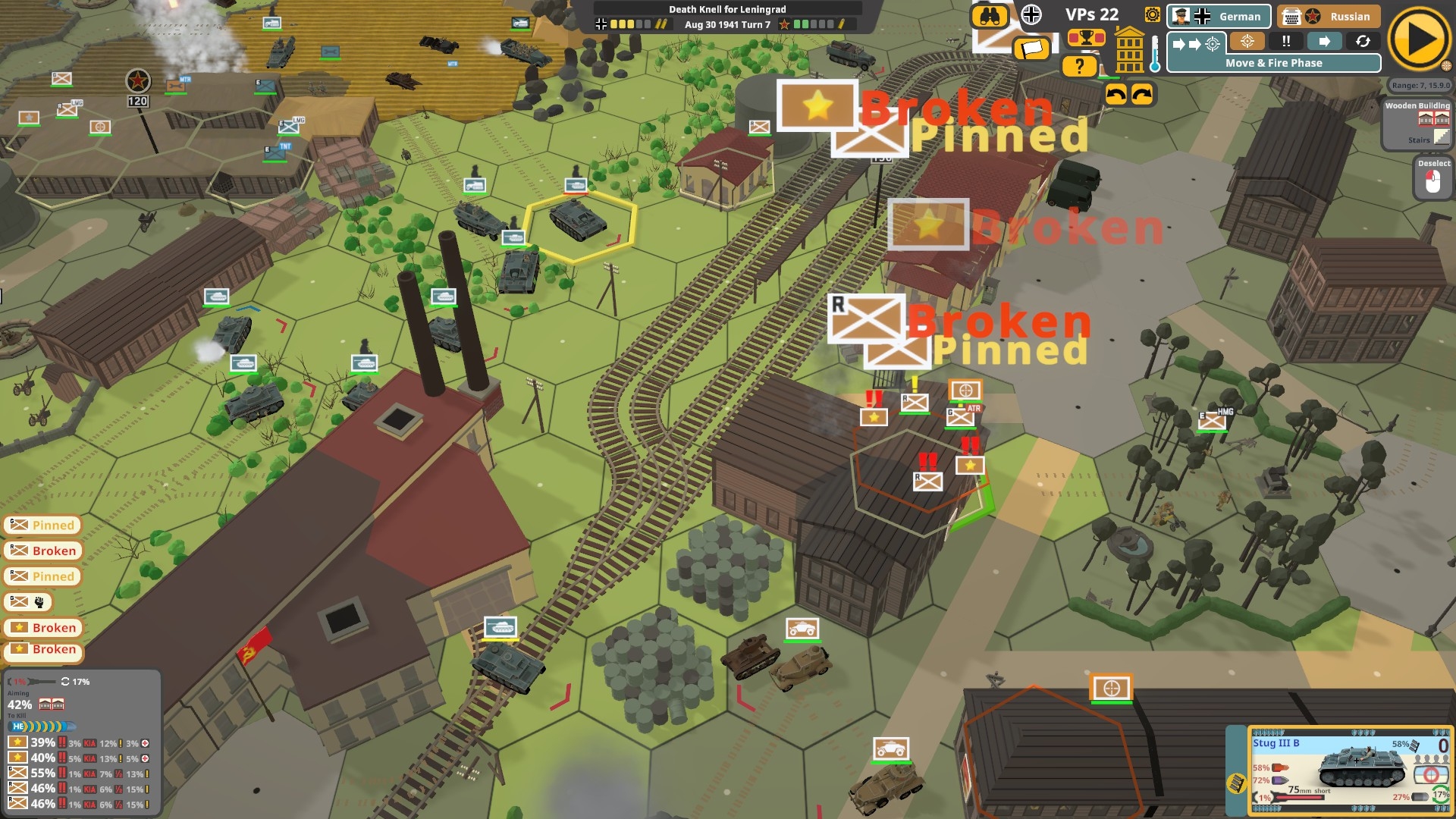 It took me a while to grasp Roman's "crowd culling" complaint, but now I've understood it I must admit the issue bothers me too. In essence he believes SF treats attacks on hexagons occupied by more than one unit far too simplistically. Returning to this situation…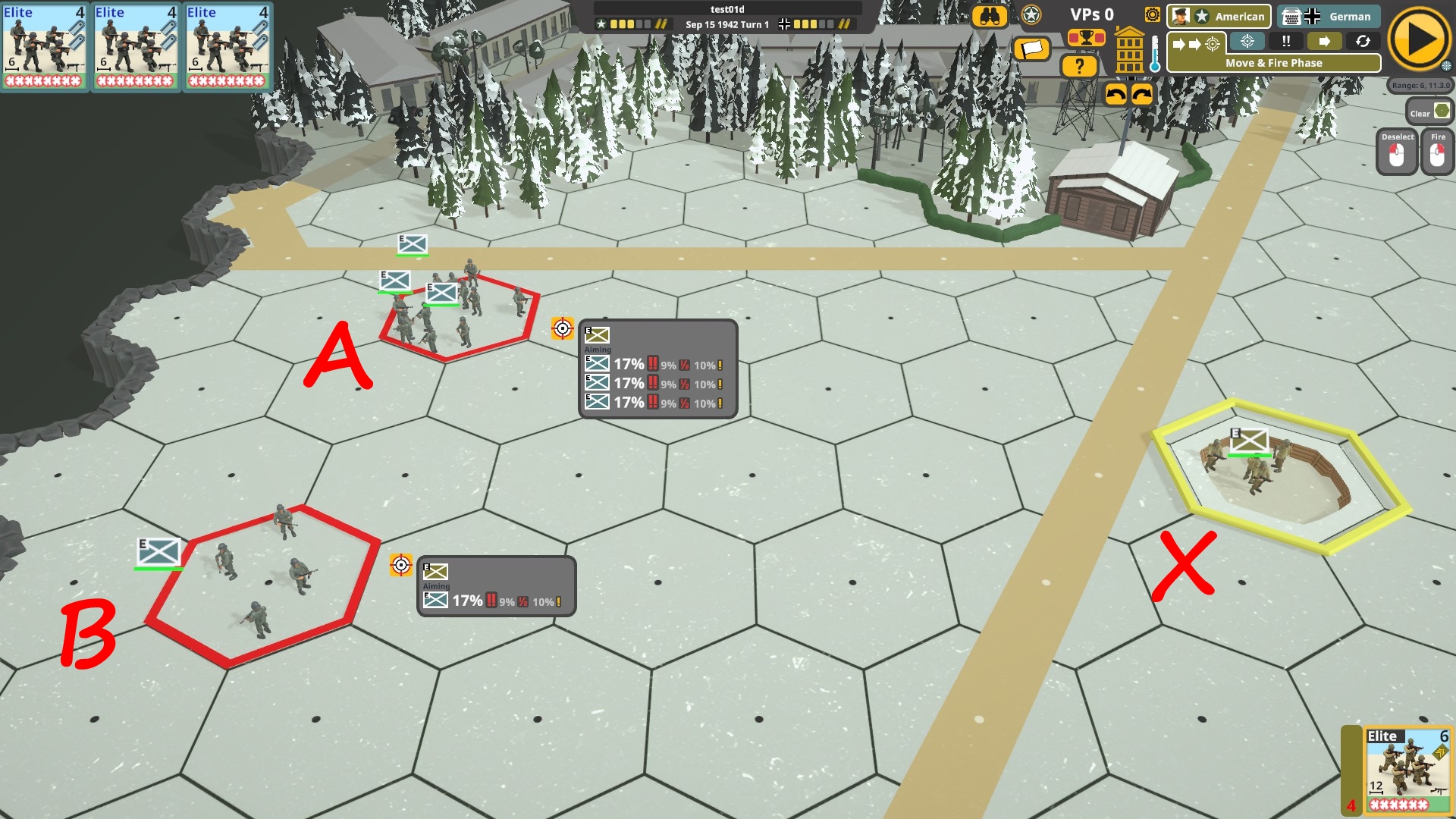 If X fires on B they have a 17% chance of breaking one German unit. However, if they choose to direct their ire at A, they have a 17% chance of breaking three separate enemy units with the same amount of lead. Even if A's location was a building, all three tenants would be equally at risk from X's emissions.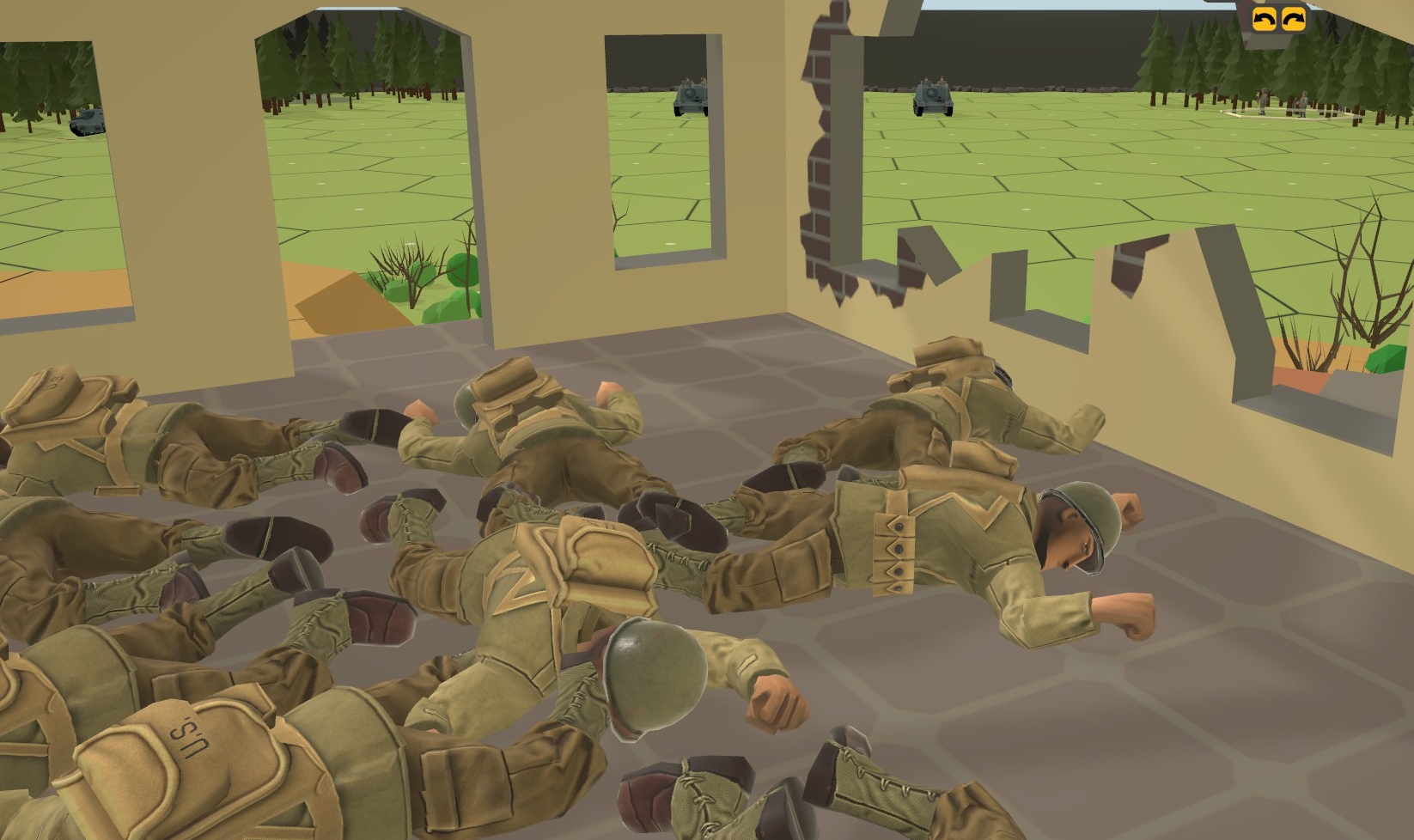 Having witnessed numerous 'crowd culls' – eye-wateringly devastating attacks on busy hexagons – my friend feels that a subtler system in which units rather than hexes were targets, or unit position within a hex was significant, would produce more plausible scraps. I see his point.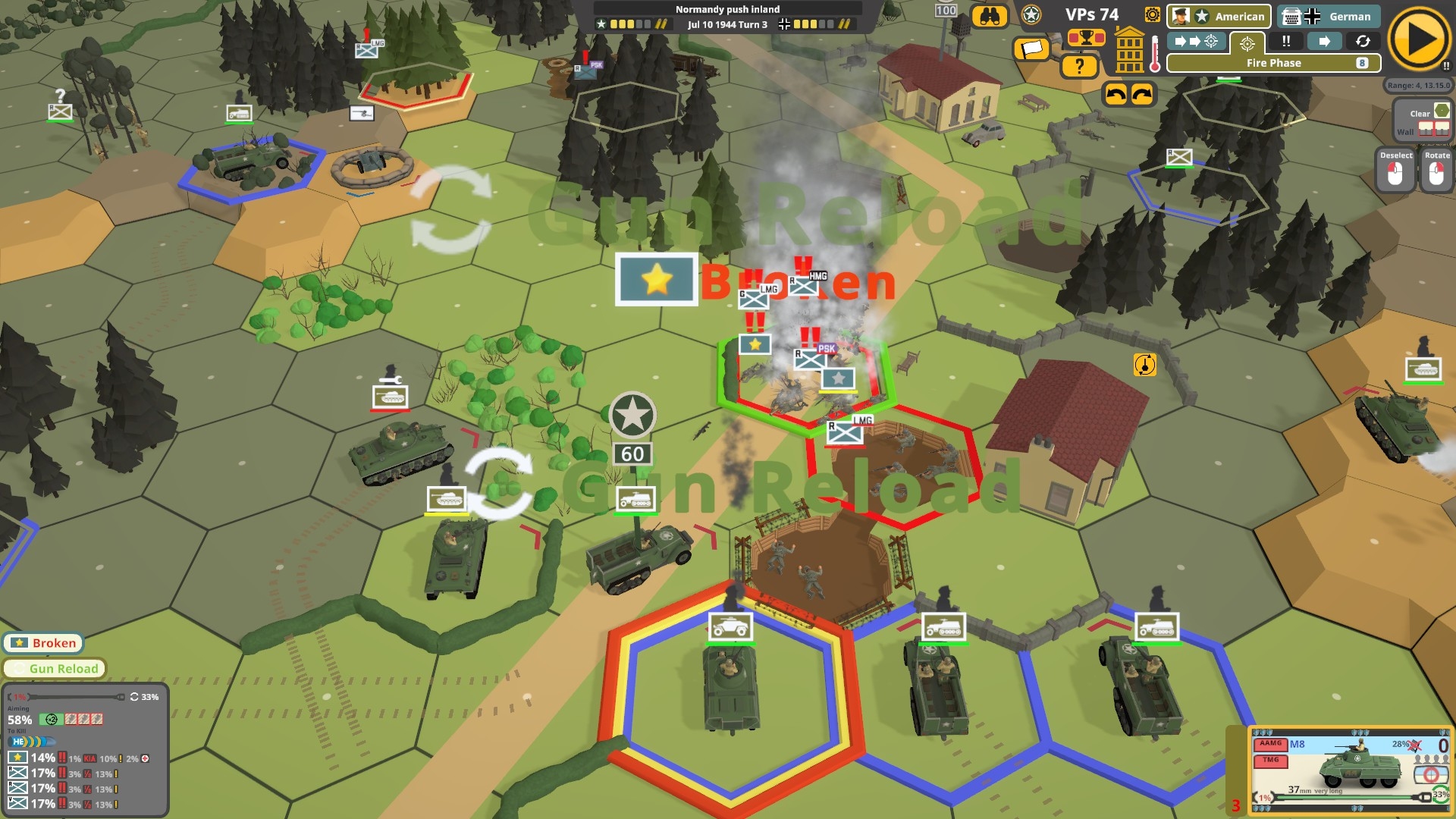 I understand where he's coming from when he bewails the "reload lottery" too. It is indeed strange that the rate at which SF AFVs and artillery pieces sling shells isn't determined by a combination of gun technology and crew quality* – the method used in many peer titles.
* Unlike infantry units which are either Elite, Veteran, Regular, or Green, SF vehicle and gun crews are of uniform quality.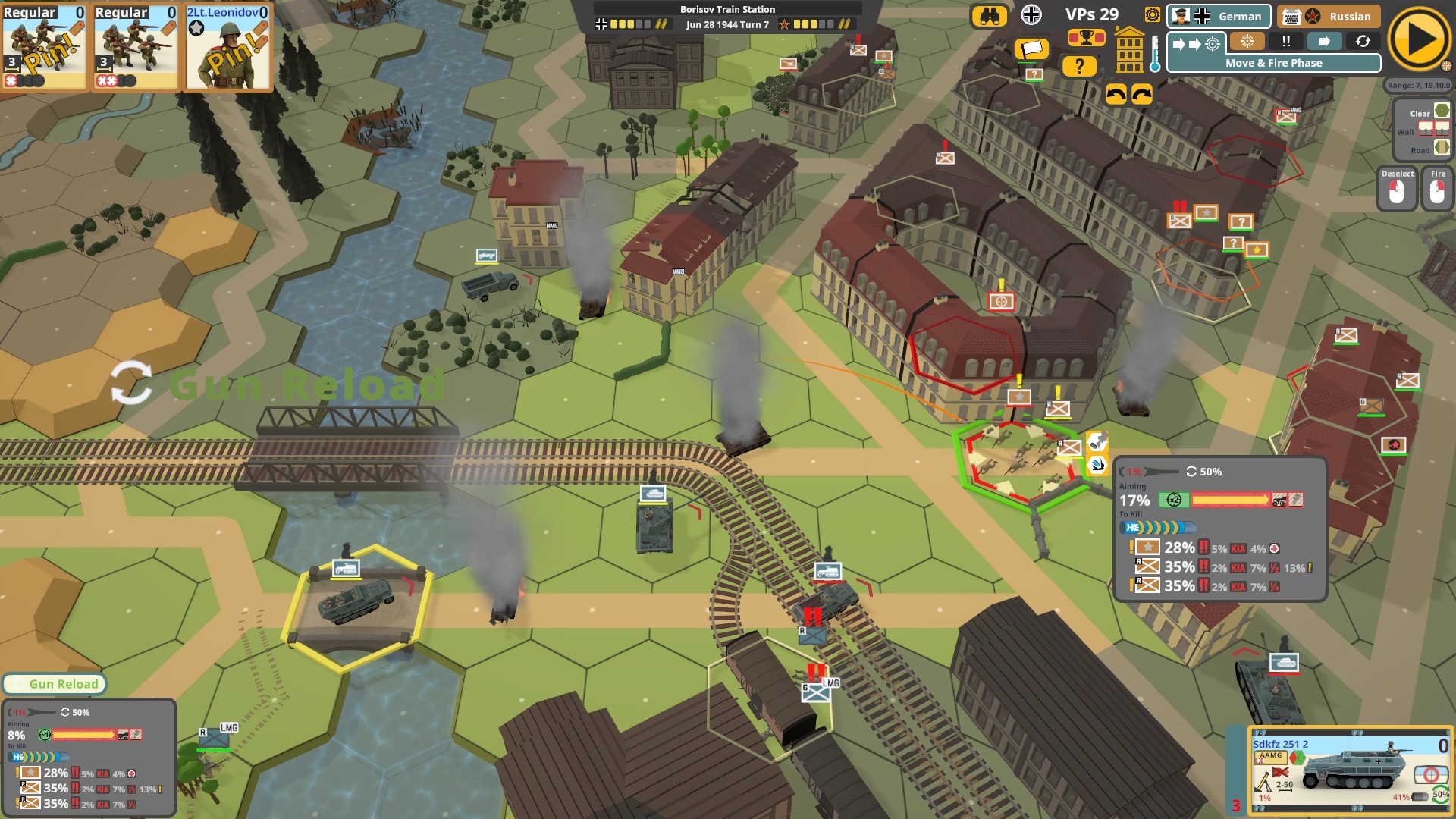 Instead, every reasonably wieldy heavy weapon type has its own 'reload chance' percentage (50% in the case of the mortar halftrack above). If a behind-the-scenes reload dice roll conducted after an attack, turns out well, that unit can fire again even at a new target. The rule means one AT gun, tank, or mortar might get to fire once in a turn while an identical but luckier compatriot gets to fire two… three… maybe even four or more times. For a scientific simulationist like Roman, this level of uncertainty and inconsistency is hard to stomach.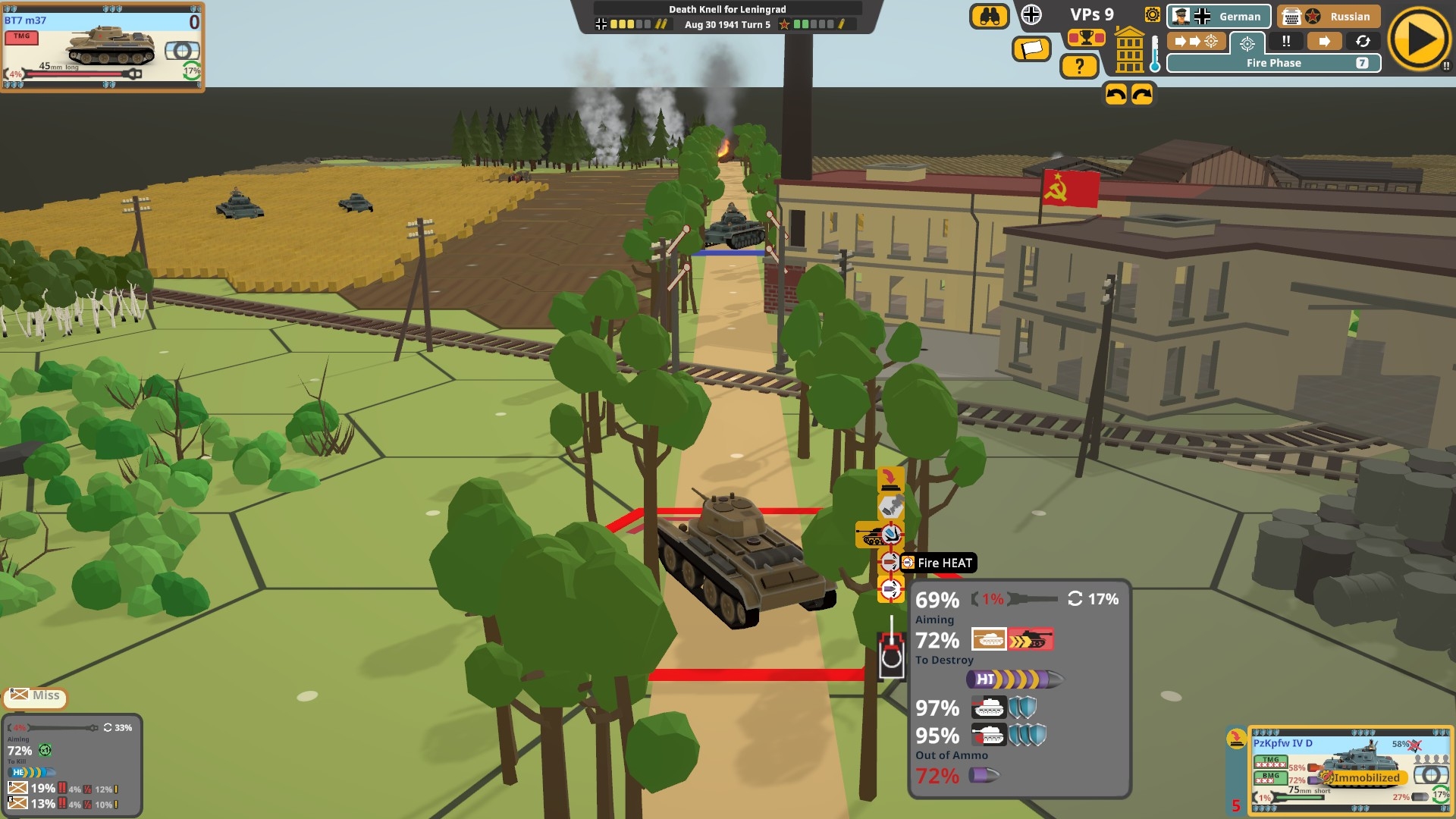 Unsurprisingly, THC's fussy foxer fabricator also isn't keen on the seriously vague way heavy weapon ammo supplies are modelled. In SF a vehicle or gun's reserve of standard shell types such as HE and AP is always inexhaustible while specialist munitions such as HEAT and smoke rounds run out if a post-shot 'out-of-ammo' dice roll is too high. Want to design or play a scenario where an ammo-poor Tiger with a veteran crew is fighting for its life against a troop of ammo-rich but inexperienced Shermans? Choose another wargame.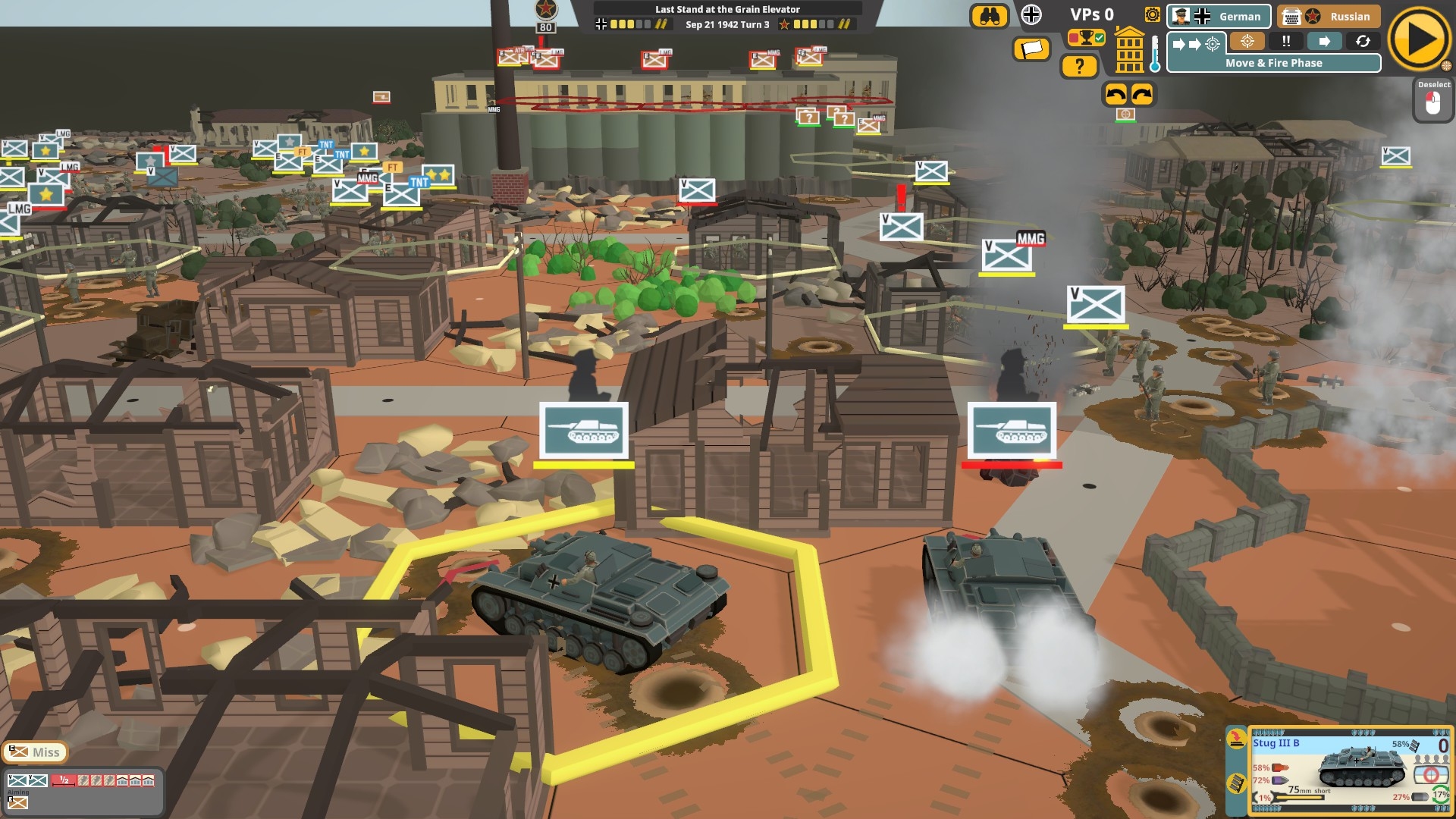 Happily, I think I've managed to persuade Roman that his perfectly understandable concerns will fade into the background if he presses on (Unlike him I've several weeks of intensive SF behind me). Yes, the game has its unrealistic quirks. Yes, you need to understand those quirks and play patiently – studiously even – in order to maximise your victory chances in scenarios that, thanks to disappointingly binary victory conditions and no attempt whatsoever to uphold the Difficulty Compact (more on which next week) can be pretty unforgiving.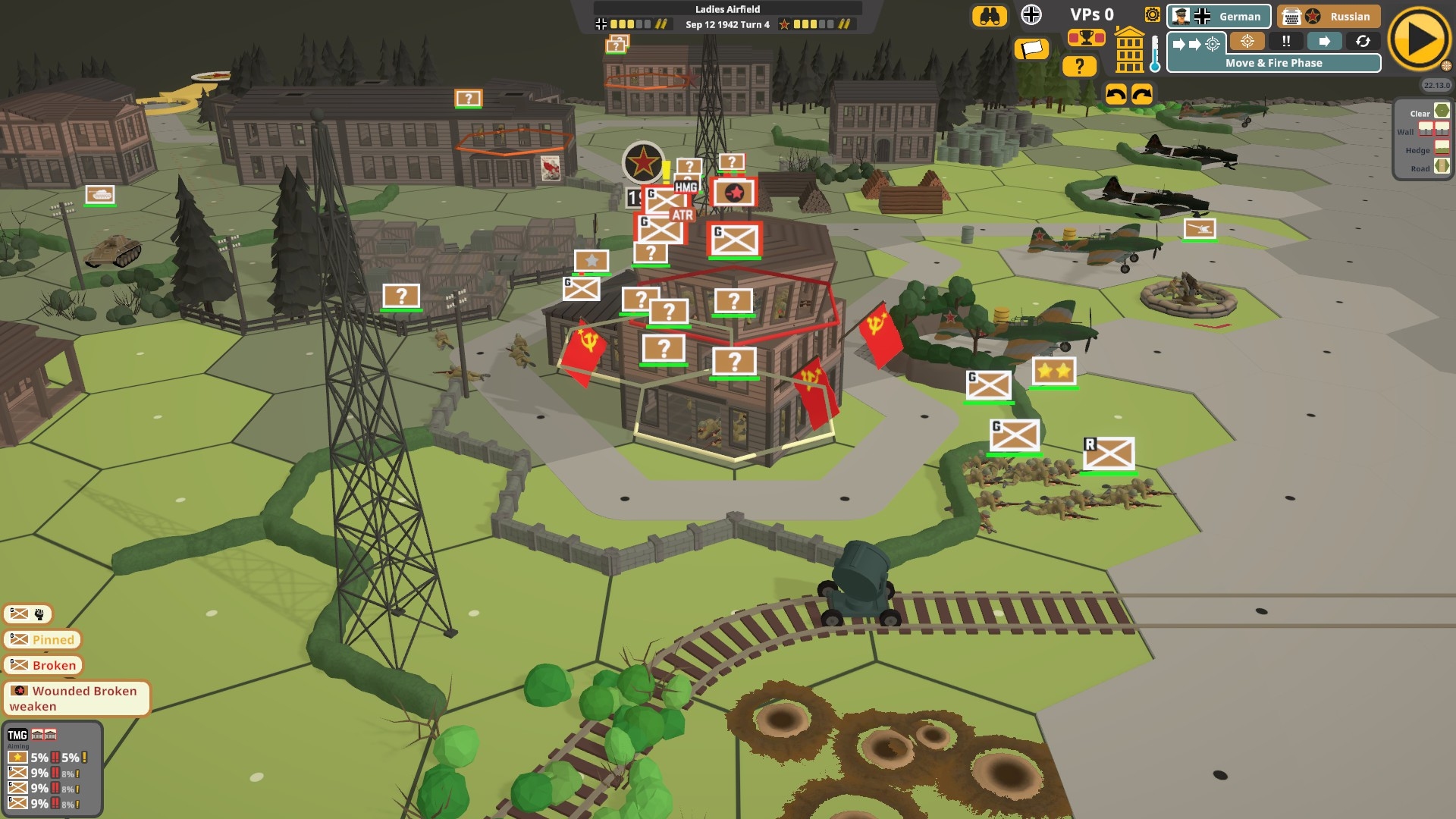 I know from our conversations that he feels Hexdraw have, on the whole, managed to capture the feel and dilemmas of WW2 ground warfare extremely well. I know that, during the past week, he's witnessed the kind of mesmerising tussles-within-tussles that wargames rarely manage to produce. Seriously impressed by the variety and complexity of the battlefields where these micro dramas occur, and pleasantly surprised by the AI's ability to navigate and boss said battlefields, thankfully he's not in any hurry to shun Second Front for being needlessly hidebound.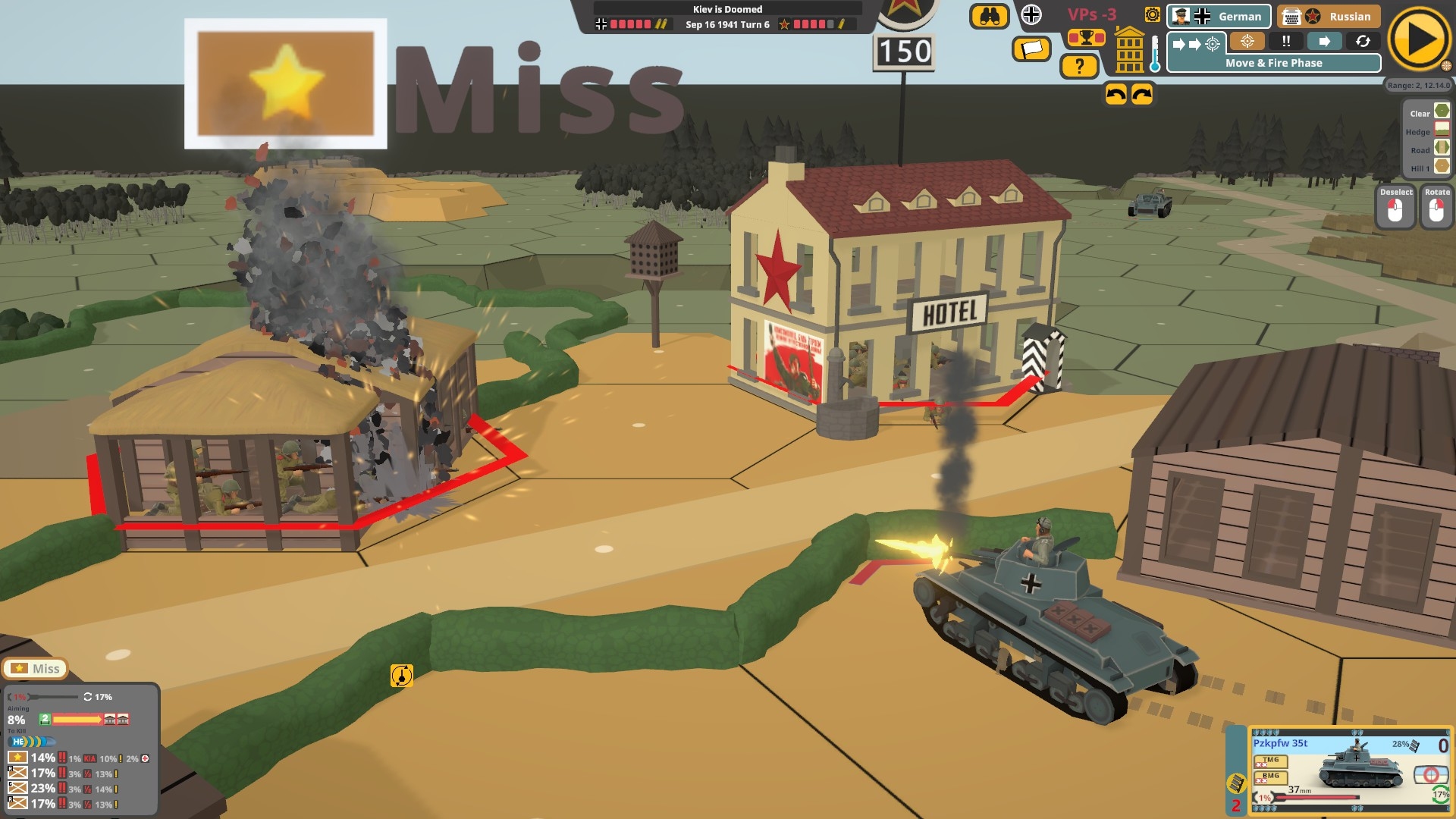 Me? Aware of a campaign bug (now fixed), I've spent most of the last seven days thoroughly engrossed by scraps plucked from the game's substantial selection of single scenarios. My own list of complaints will be aired next Friday alongside a bevy of reasons why Second Front is still, three years on from this hopeful preview-cum-interview, "potentially my game of the year".