Finally! In response to his comrade's excited "Enemy armour approaching!", our patient Dragon tamer kneels, shoulders his drainpipe, and centres the approaching Podrabian tank in his sight.
(Operation Oryx is an open-to-all game of Combat Mission: Cold War set in 1981. The commenter-controlled Zendoran forces are attempting to ambush a column of Podrabian vehicles bound for Zečin, the Zendoran capital. Each turn covers one minute of WeGo action. For a scenario outline and summaries of earlier turns, click here).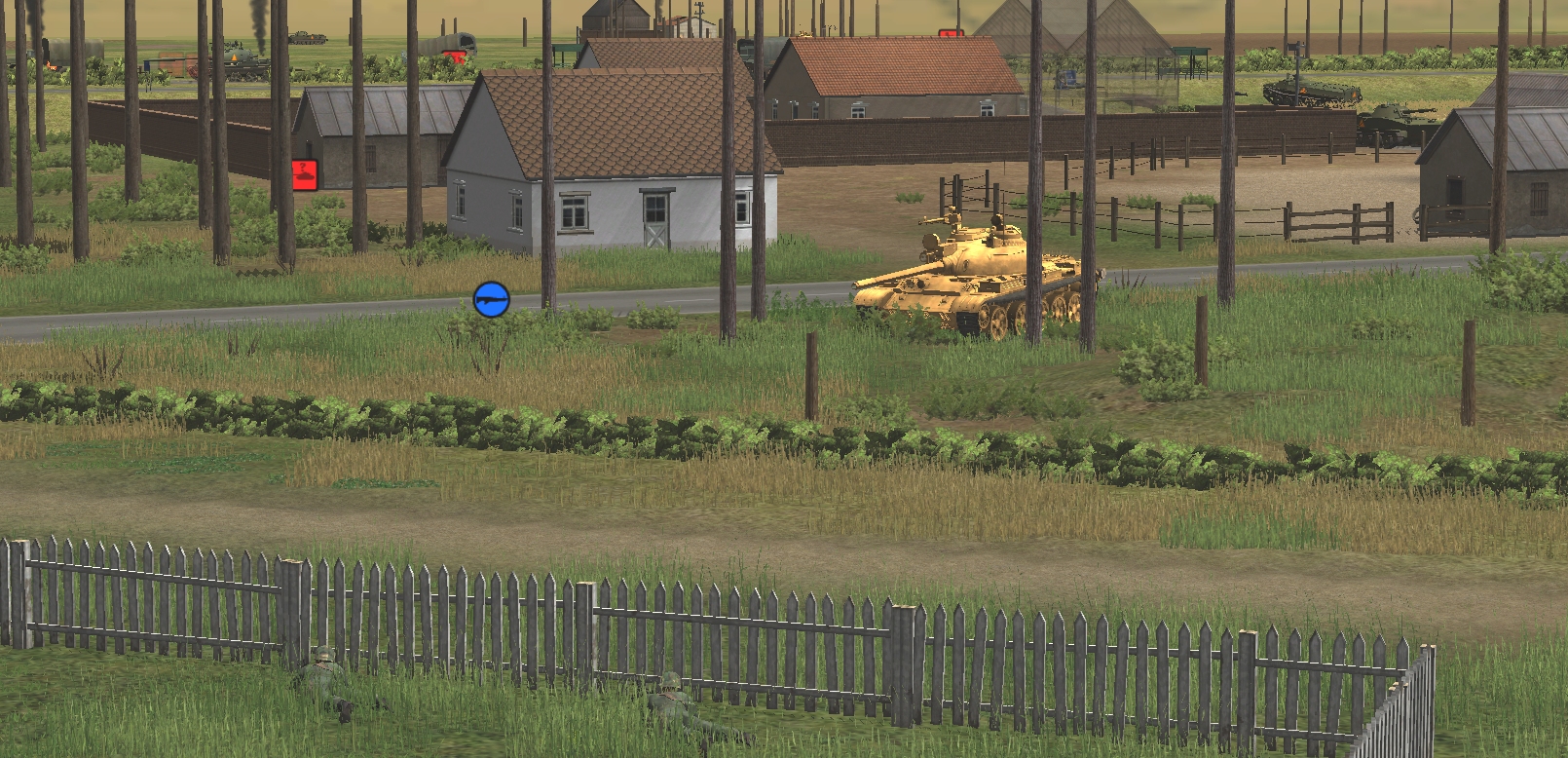 The T-55 that did for Otto Pinkas and Branko Somlac, and pruned Recon Team Charlie, is on the move. Disappearing from view after quitting its position beside the garage, it transforms into a red sound contact icon. The scarlet square sidles past the silent hotel, then lycanthropises back into a tank on entering the LoS of the Dragon men. A moment later the threat lurches left, coming to a halt amongst trees close to our hidden LMG team.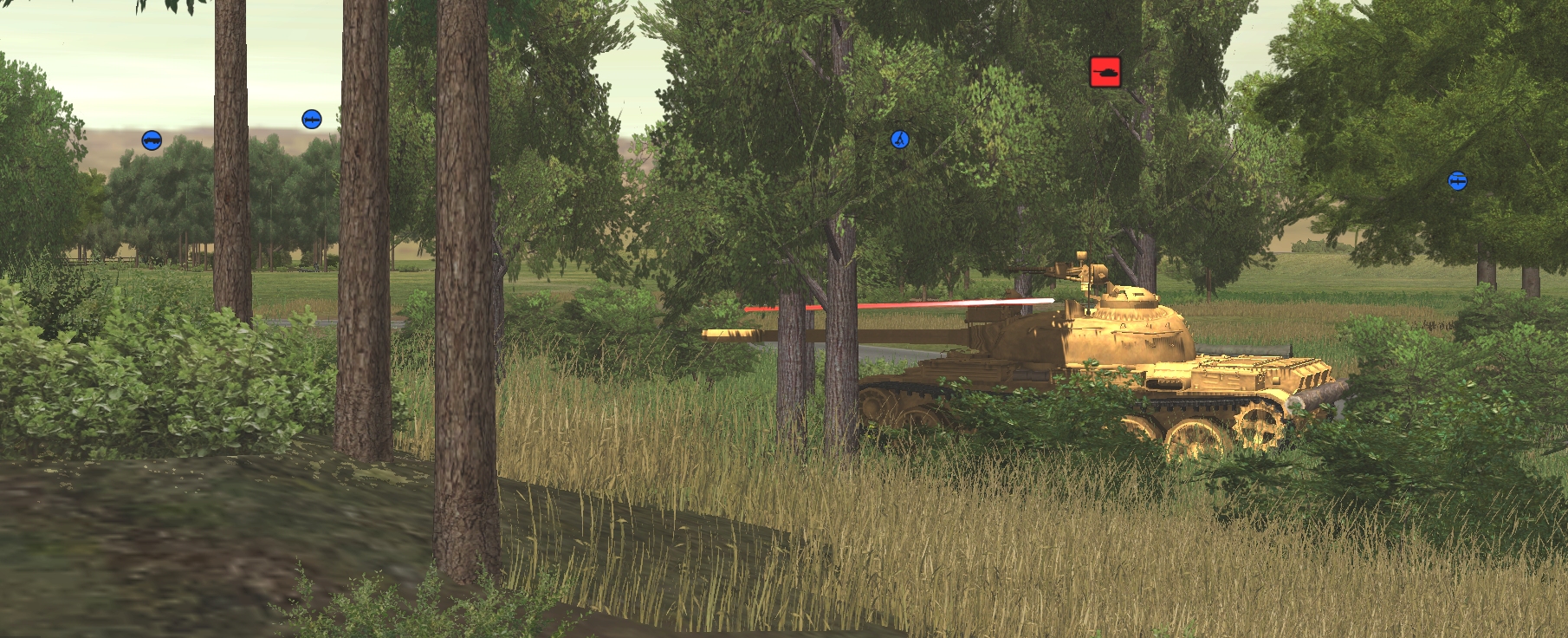 Dragon eyes dinosaur for a few seconds, the Pod AT specialist aware that a miss could prove fatal. He's surely on the verge of squeezing his trigger when tracer begins to fountain from the T-55's turret and that turret starts turning to port.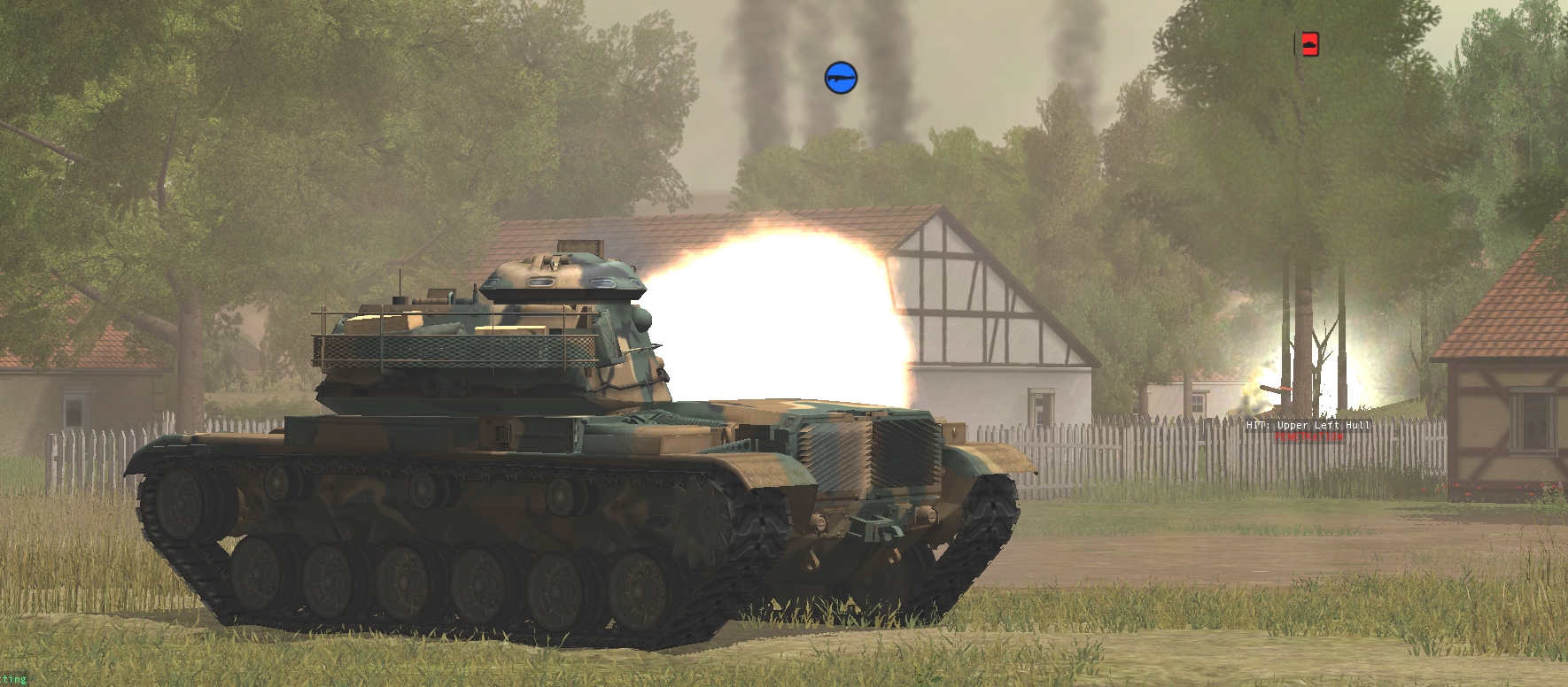 The firework display is brief. It begins at T+39 ending a second or two later with a pane-rattling clap of thunder. Although the T-55 and the Patton noticed one another at roughly the same moment, the Zen MBT is faster on the draw. Opening hatches confirm a one-shot kill. Our Johnny-come-lately M60A1 has opened its account.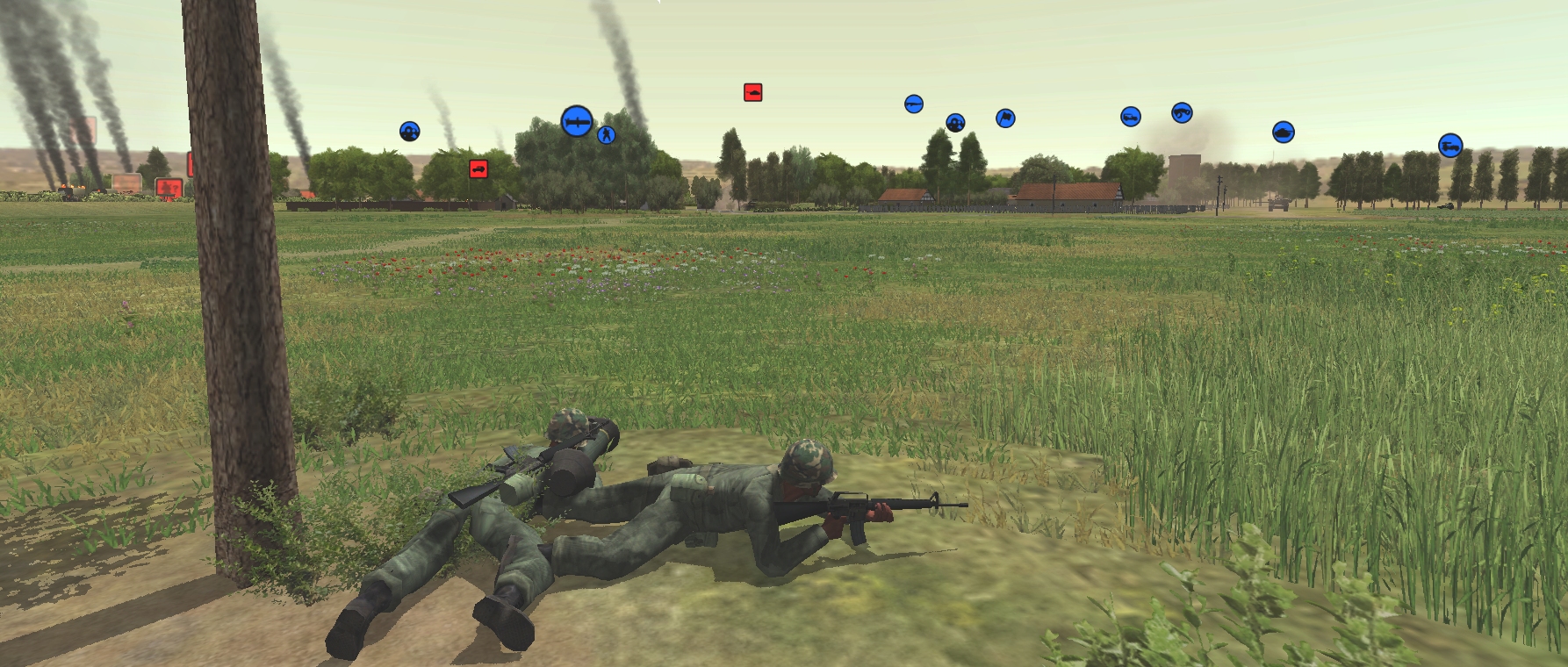 Feeling somewhat cheated, the Dragoneers sink back into the herbage and resume their vigil.
Elsewhere…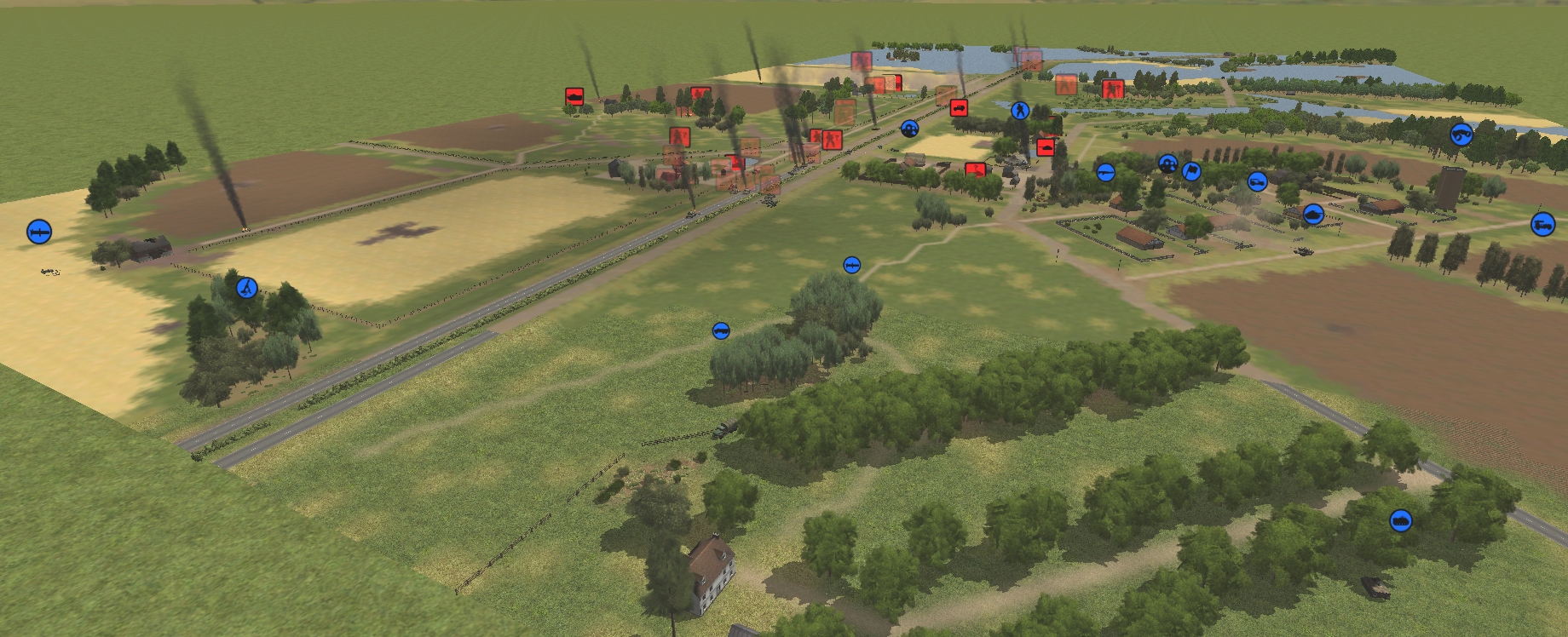 There are no signs of movement from the PT-76 and T-80, and both the northern T-55 (last seen in the vicinity of New Farm) and the 'overwatch' T-55 (last seen heading for the Lesovs' house) vanish during the course of the turn.
Rattled and a man down, Team Droopy make a meal of packing up. They are still fumbling with equipment when the clock stops.
The M113 retreats without incident. Trees and fencing complicate the truck's westward perambulation.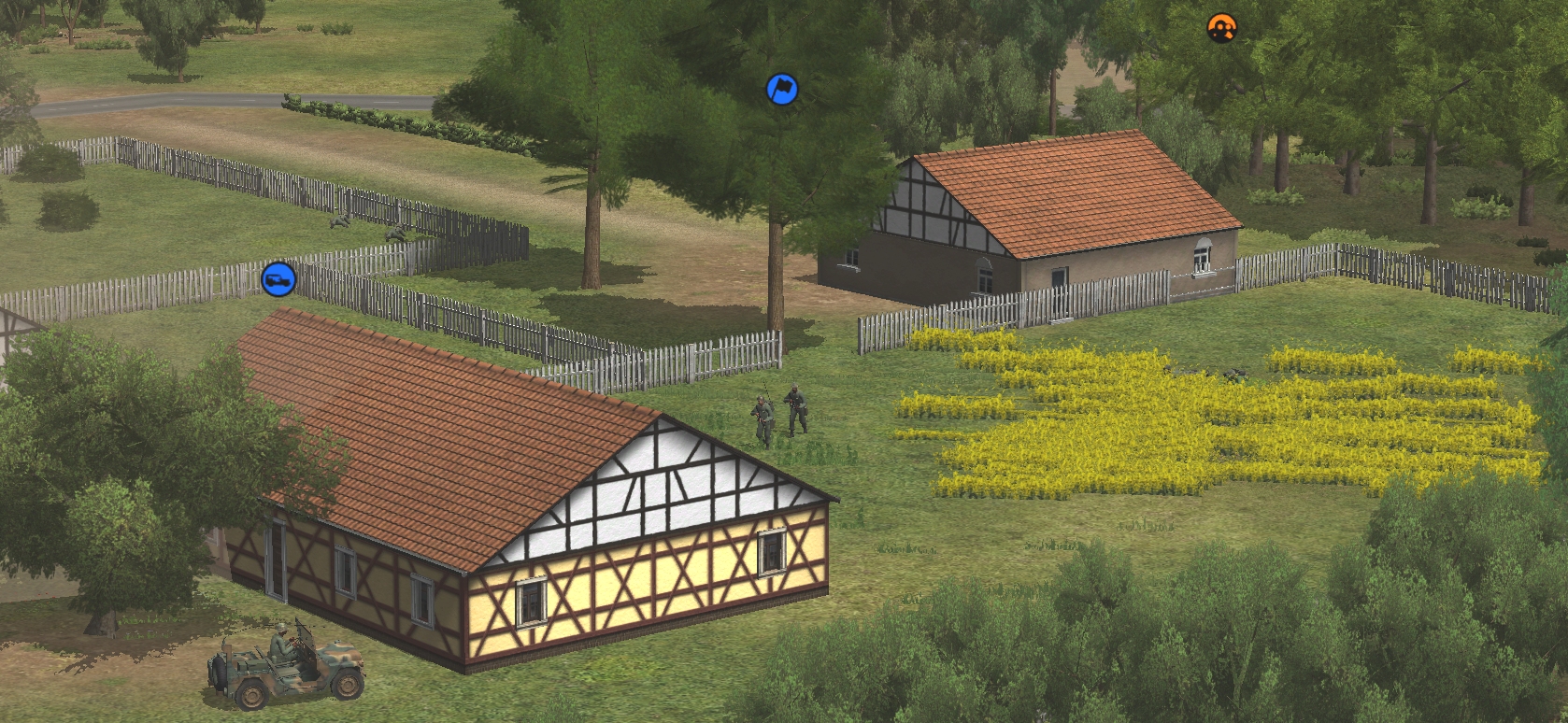 Scrappy and Trajanov pass the panting Recon Team Charlie as they pull back.
The off-map mortar battery lobs the last of its 107mm rounds.