T+4. Fear? Foreboding? Indecision? Whichever phantasmal dire wolf had Lesov Junior firmly pinned to the leaf litter last turn, releases him four seconds into this one. Milan uses his liberty to tweak the trigger of his RPG-7. As a result the truck reversing along the embankment north of the copse comes to an abrupt halt, wreathed in smoke.
(Operation Oryx is an open-to-all game of Combat Mission: Cold War set in 1981. The commenter-controlled Zendoran forces are attempting to ambush a column of Podrabian vehicles bound for Zečin, the Zendoran capital. Each turn covers one minute of WeGo action. For a scenario outline and summaries of earlier turns, click here).

T+5. From Tereza's blood-spattered commander's hatch, Viktor spots the T-55 he suspected was in the vicinity. The miscamouflaged museum piece is stationary, alarmingly close, and has its shell spitter trained on our heading-for-cover T-72.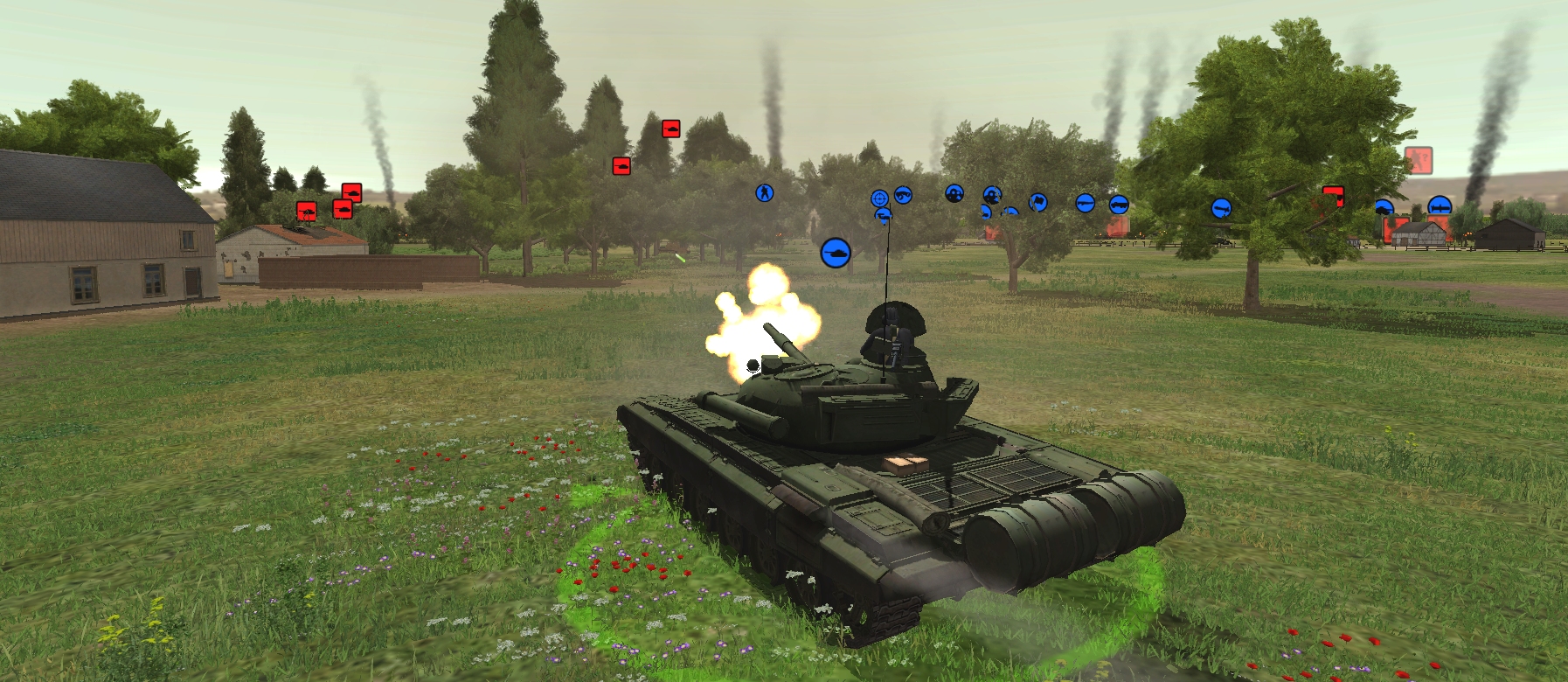 T+6. Thankfully, Georgi, Viktor's gunner, is no slow poke. A 125mm HEAT round flashes SSE. The only smoke that will spill from that T-55's muzzle now is smoke from an ammo carousel inferno.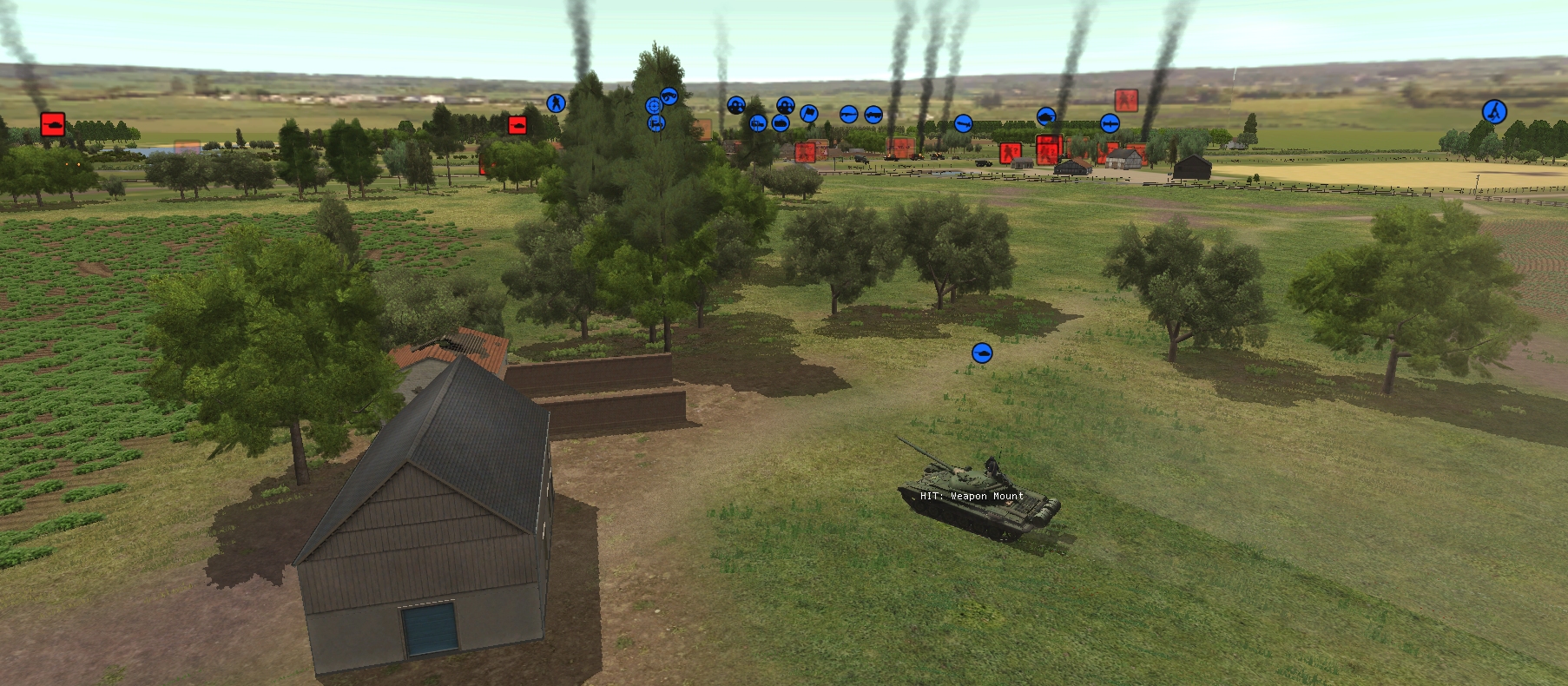 T+13. Tereza has just come to a stop behind the reassuring bulk of the barn when a burst of small arms fire dashes sparks from her turret.
T+16. The rounds seem to be coming from New Farm.
T+17. Assuming Viktor buttons-up promptly, there sh…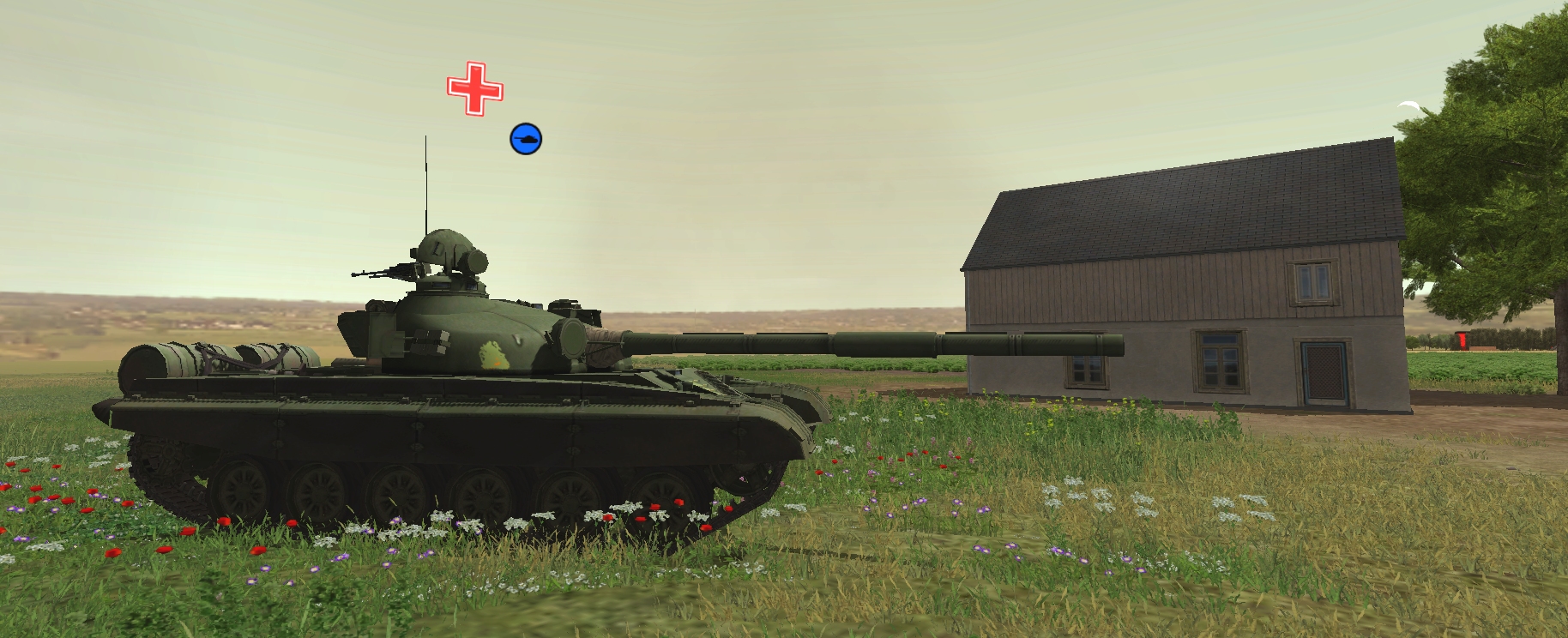 T+18. No! Some jammy Pod AK-artist has just put 27 grains of lead into Viktor Somlac's cranium. Our T-72 commander is no more!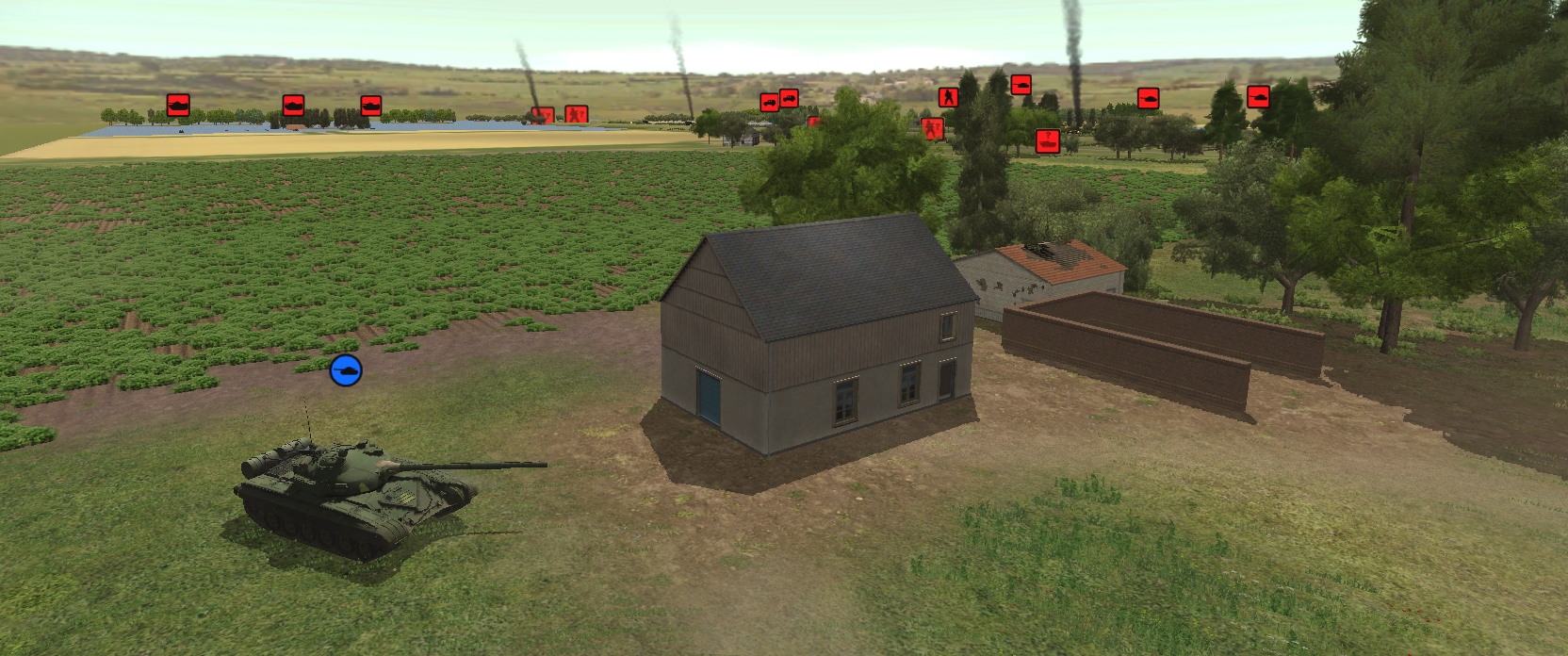 T+30. And, OMG, Viktor's demise seems to have seriously spooked Georgi and Simona. Tereza has started reversing NE! Our out-on-a-limb T-72 is trading a relatively sheltered position behind a building for a cover-free cabbage field in LoS of, at the very least, three PT-76s!
T+46. Having put the barn between herself and the foes who sniped Viktor, Tereza finally brakes. A LoS check reveals that the PT-76s can't, in fact, see her (however that may change when they reach dry land) but she still feels horribly exposed.

T+52. Kurva! RPG!

T+53. Somewhere in the south-eastern corner of box 43 an unseen Pod tank hunter punches the air.
Other noteworthy events in Turn 23: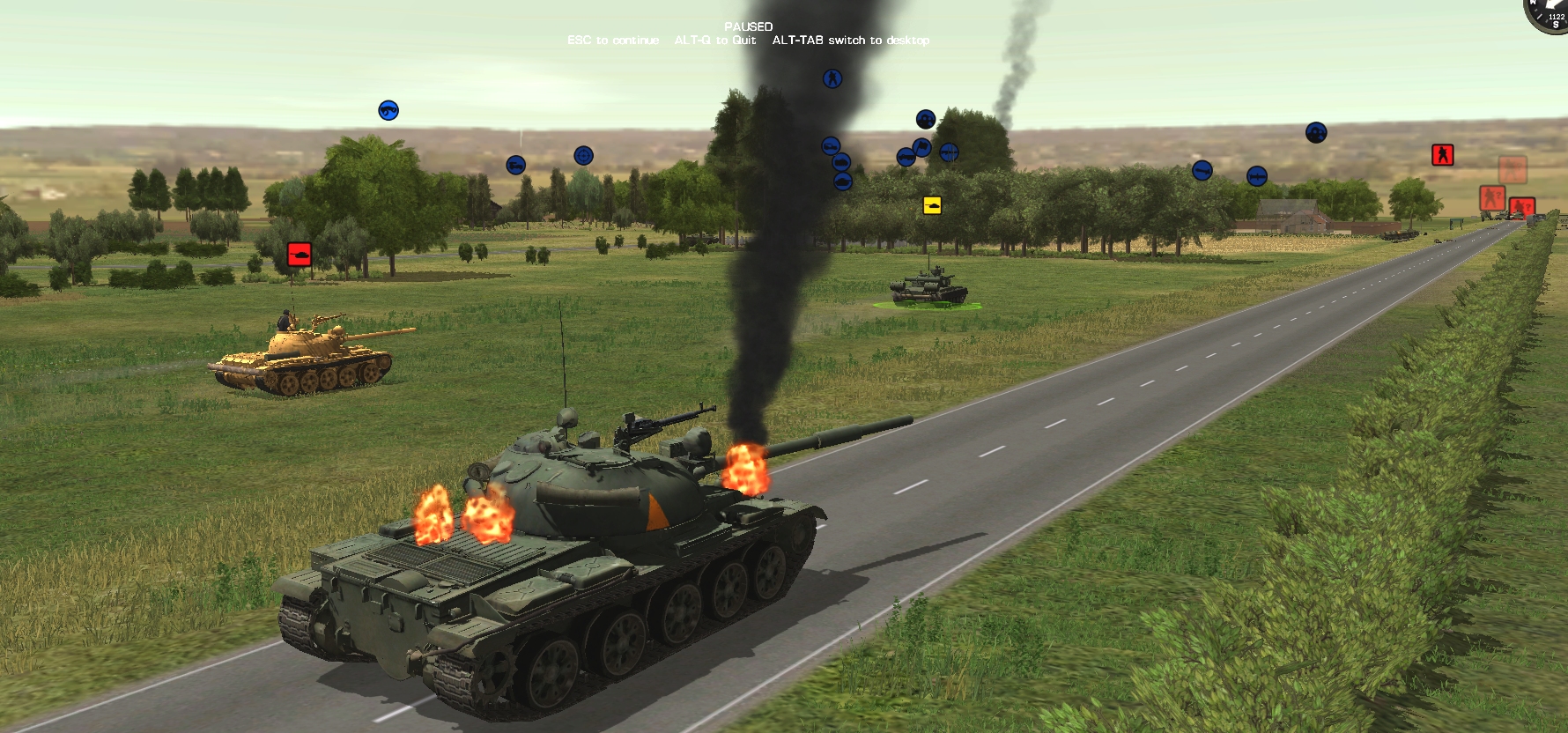 South of the embankment, the T-55 and T-80 managed to advance without drawing fire from any Zen units. They end the turn nestled in the shelter belt close to the Lesov's house.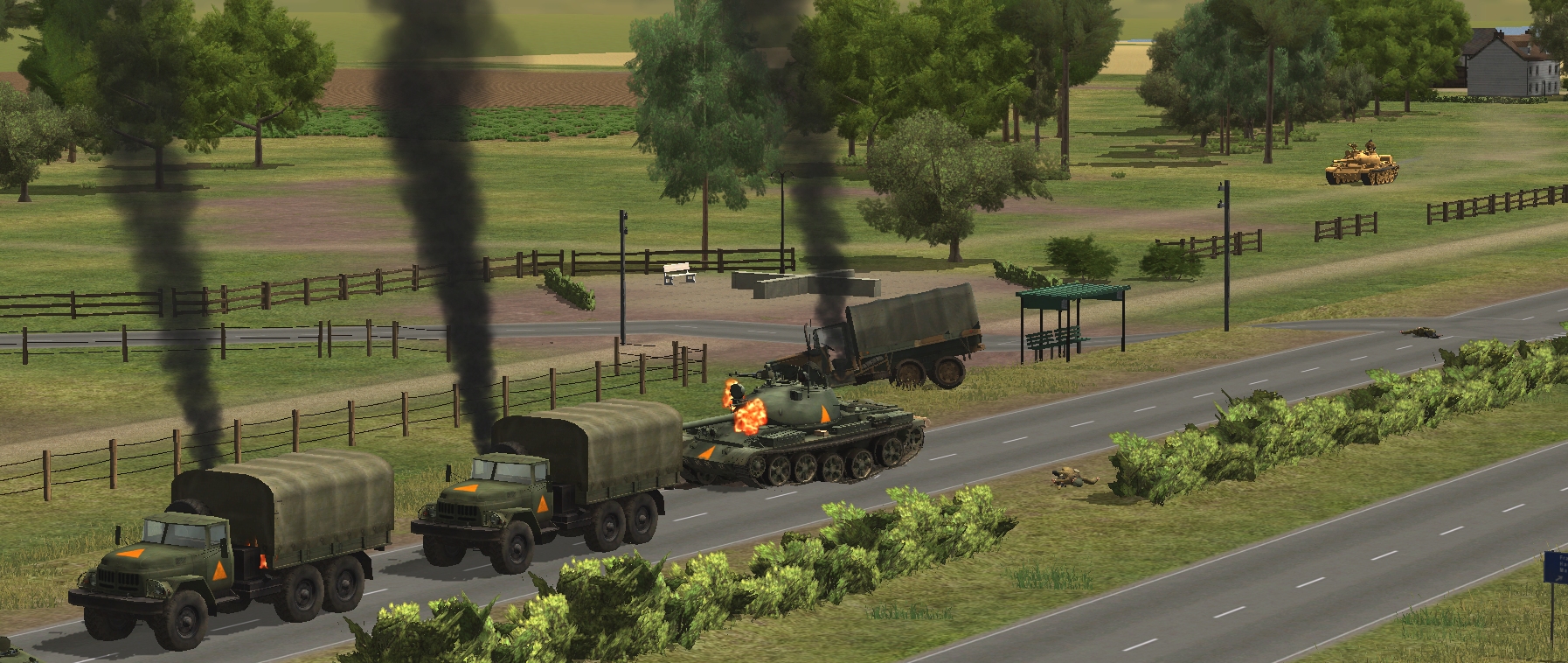 There was also tank movement north of the embankment. The companion of the KOed T-55 appears to have stopped close to the Vostok Memorial.
Droopy might be dead but his disembarked/depleted TOW team is still in the fight.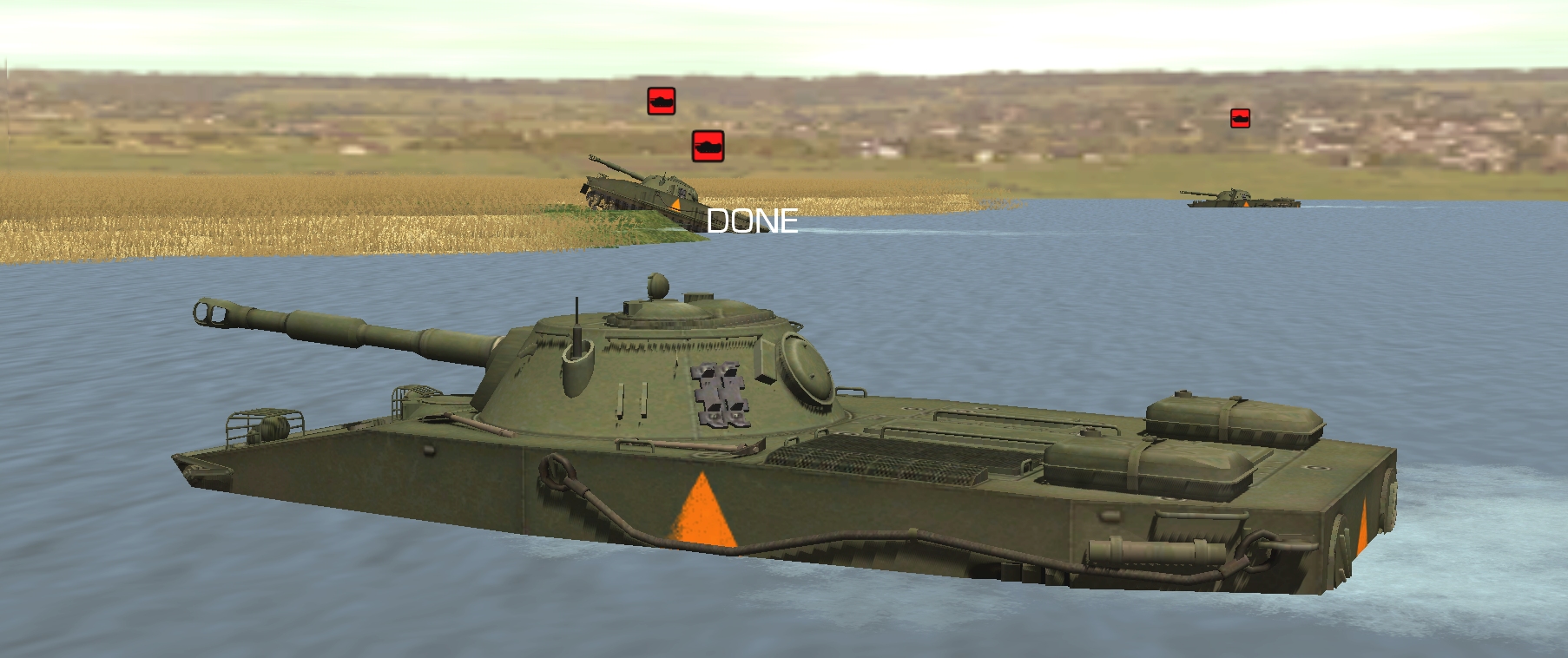 When the clock stops the first PT-76 is scrambling ashore…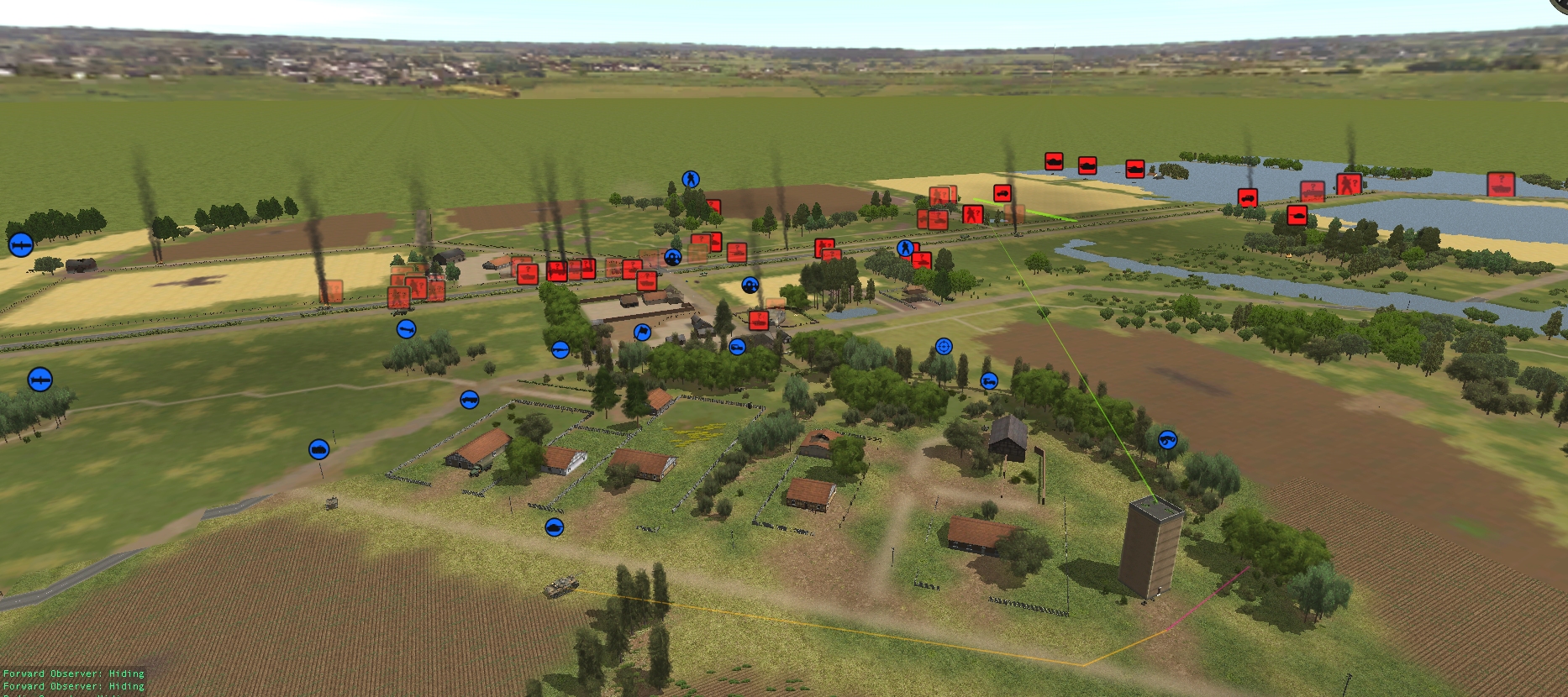 …the off-map mortar barrage is underway (no rounds have landed yet), and the Patton is, I estimate, about thirty seconds from its destination near the dovecot.