During the first seven turns of Operation Oryx the Comment Commanders have eliminated three enemy AFVs and two trucks, and severely mauled two infantry squads. They've lost in the process a single scout. By play-by-comment CM standards, their success has been extraordinary. Will the honeymoon end in Turn 8?
(Operation Oryx is an open-to-all game of Combat Mission: Cold War set in 1981. The commenter-controlled Zendoran forces are attempting to ambush a column of Podrabian vehicles bound for Zečin, the Zendoran capital. Each turn covers one minute of WeGo action. For a scenario outline and summaries of earlier turns, click here).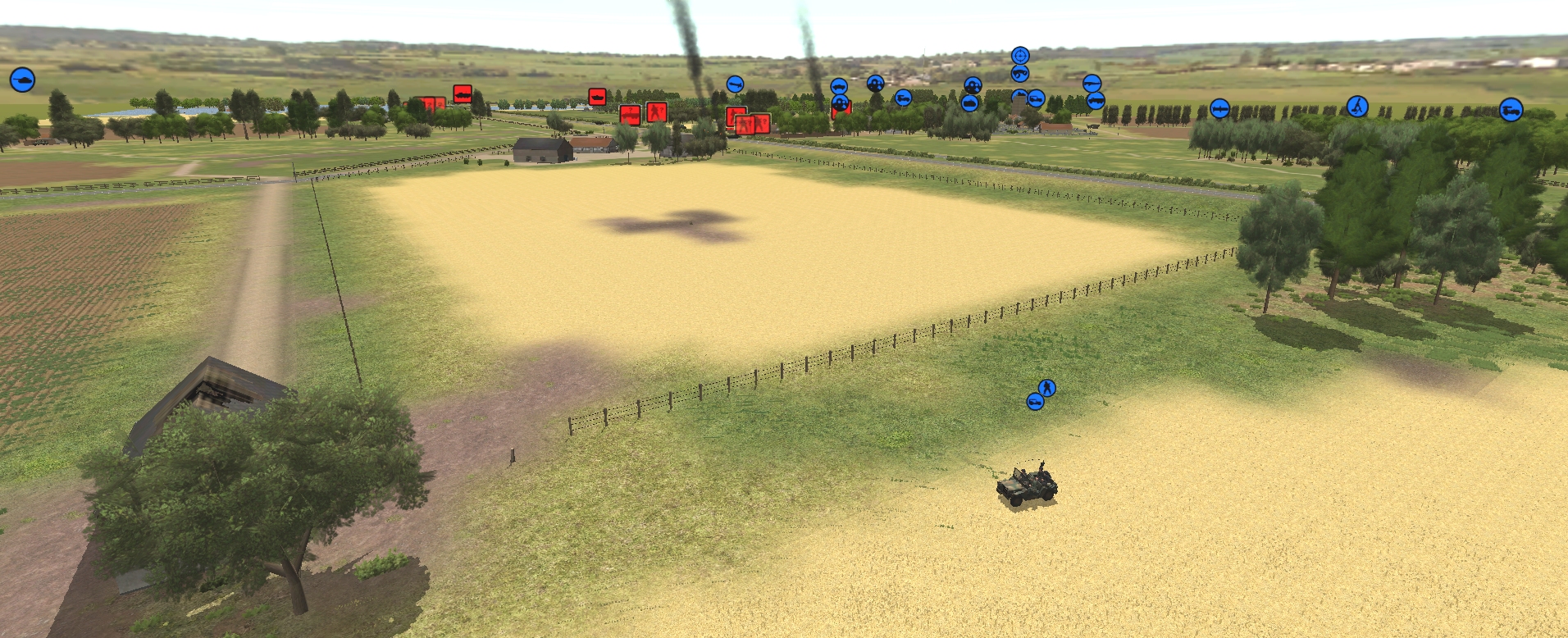 Scooby, the Mutt aiming to taxi Viktor and his two companions to Tereza, the uncrewed T-72 tank hidden near the northern edge of the map, completes the second leg of its journey this turn. The fact that it isn't fired on as it scampers for the cover of an isolated barn suggests the Pods at New Farm are either distracted or in disarray.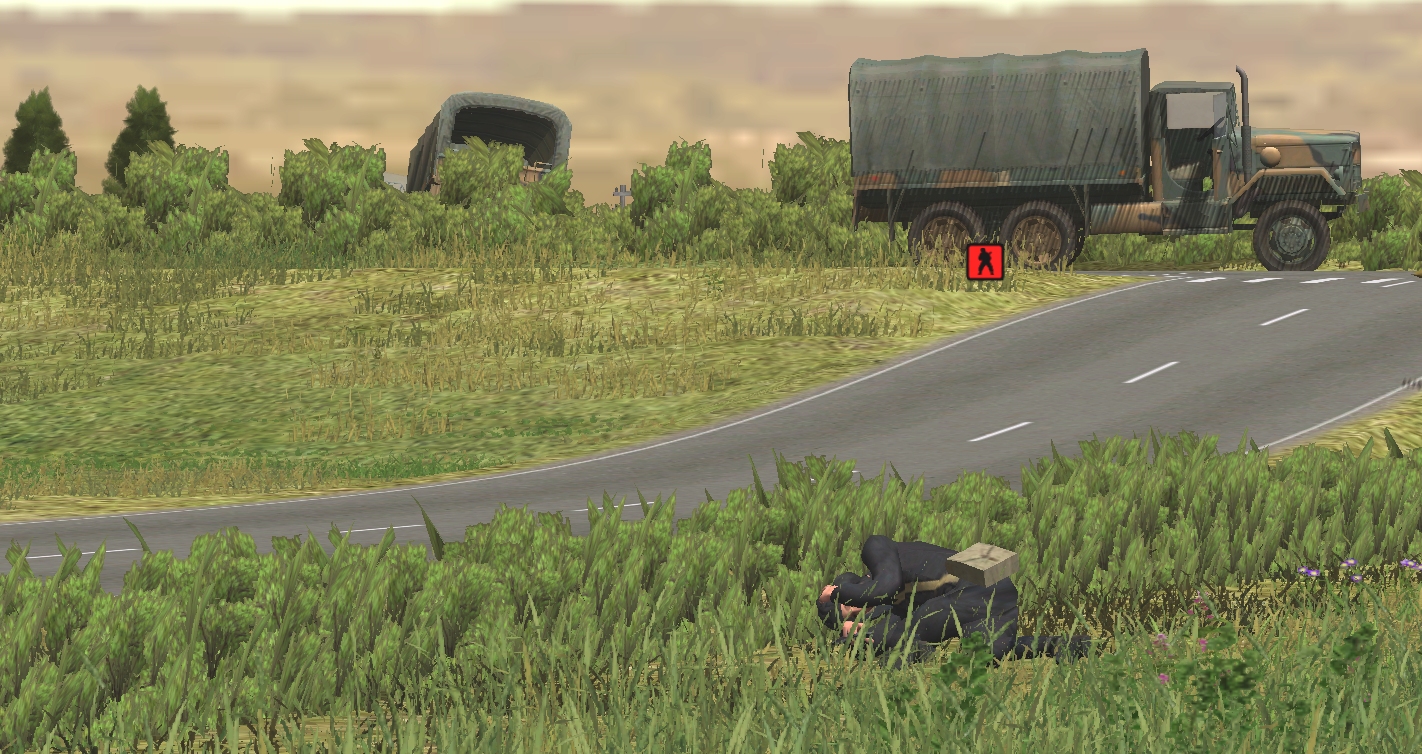 Before quitting their abode and heading south, the cock-a-hoop Lesovs (see last turn) turn their AK-74s on a pistol-armed PT-76 crewman whose main preoccupation seems to be escape. The unfortunate retreater saves himself by diving into a hedge.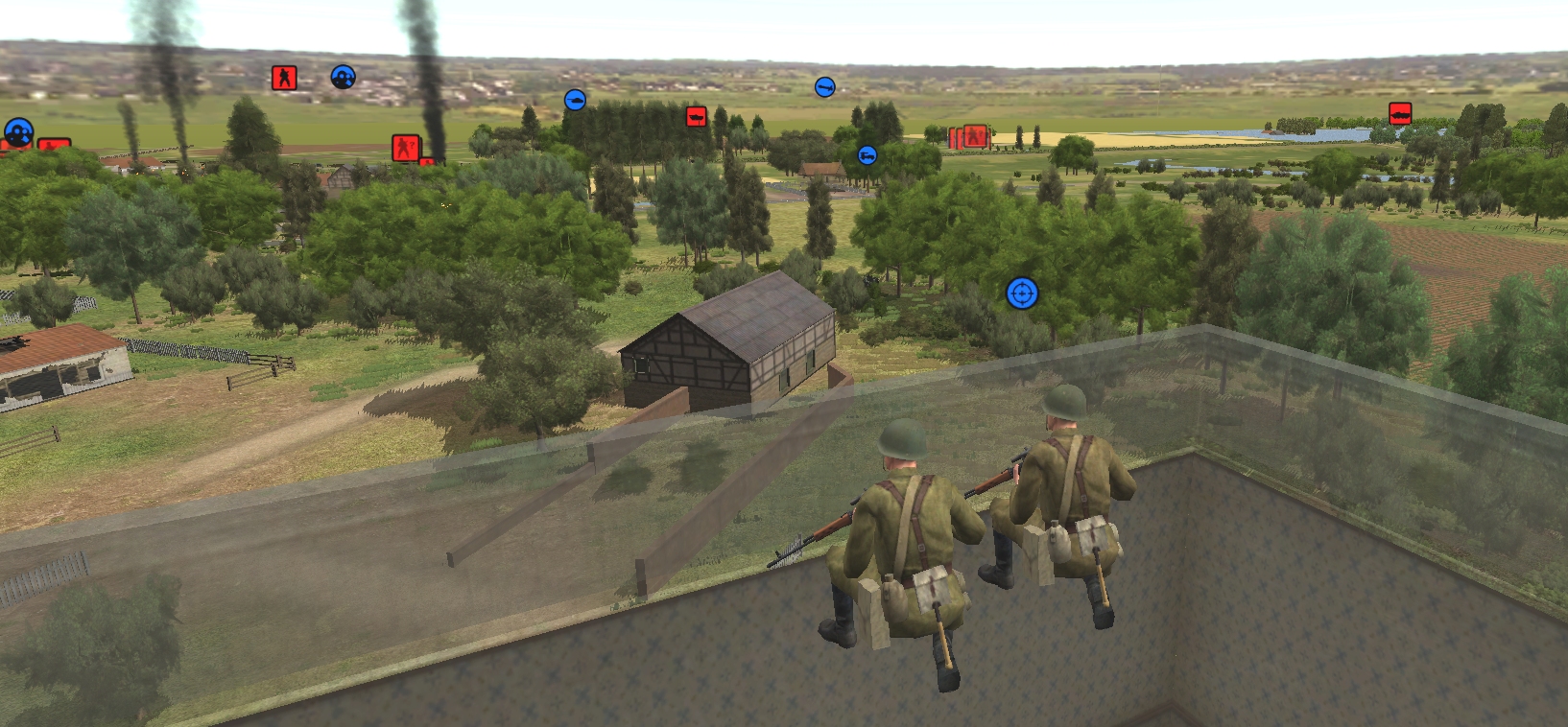 A second or two after he vanishes, a new scarlet icon materialises at the eastern end of the battlefield. Perched atop the dove high-rise, eagle-eyed Otto has spotted a BTR hurrying towards Strupnic!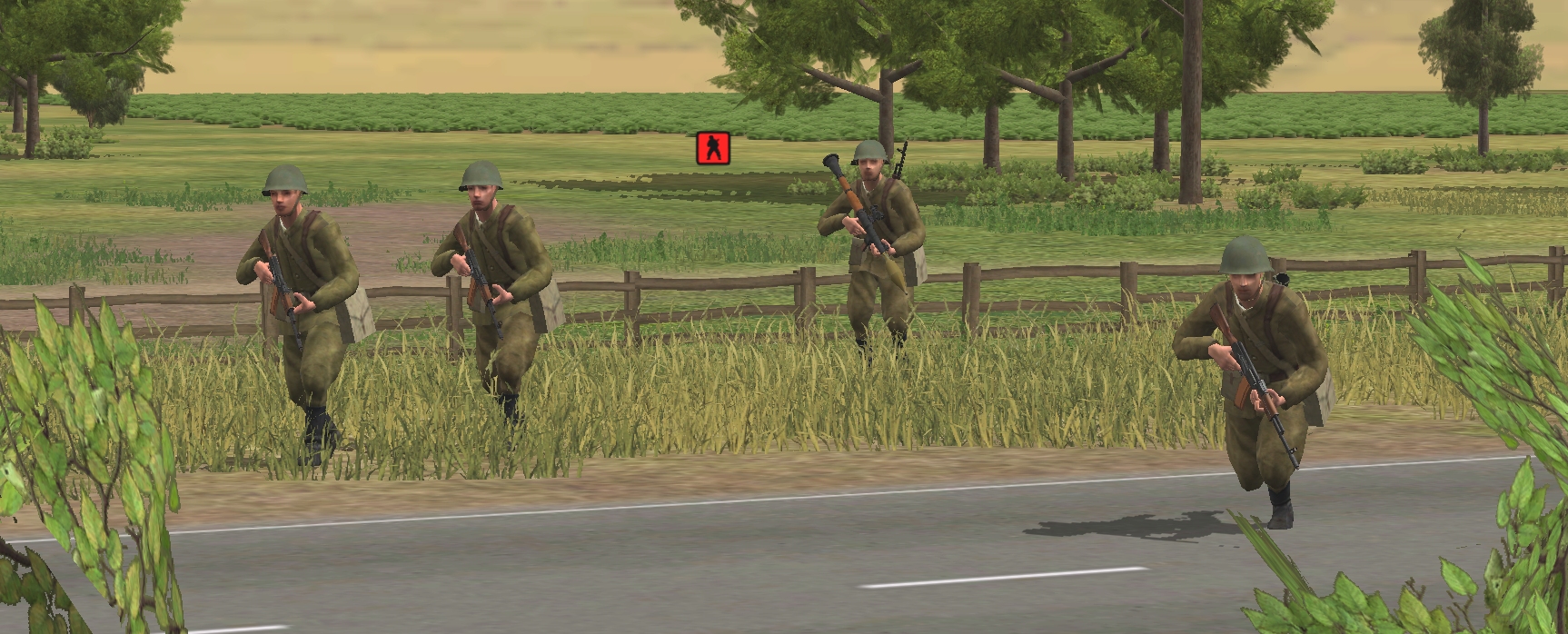 The 'command vehicle' (according to CMCW's GUI) isn't the only Pod unit on the move this turn. At T+40, from their new digs upstairs in the hotel, Recon Team Charlie observe enemy infantry ascending the highway embankment.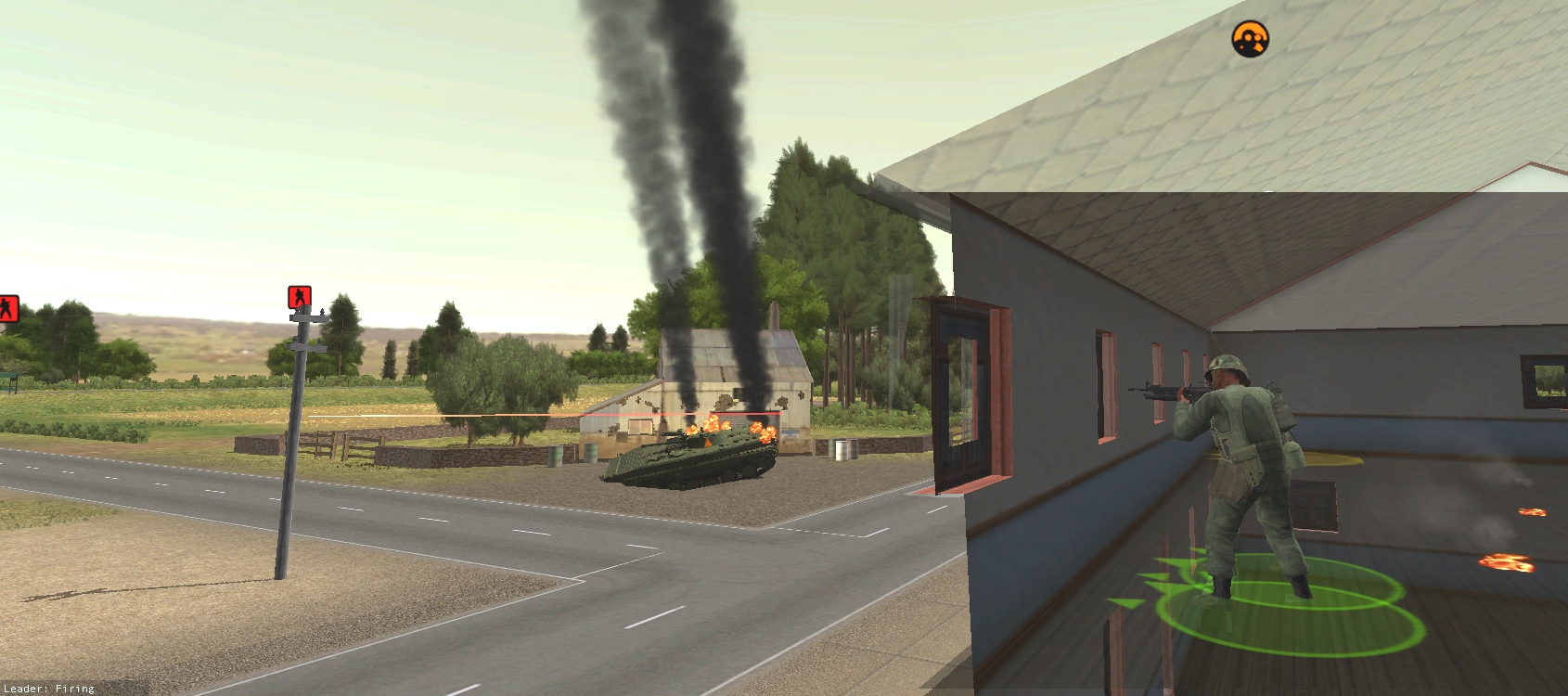 Presumably associates of the BMP halted in box 65, the foes opt to hunker down on the central reservation after taking fire from the Traveller's Rest.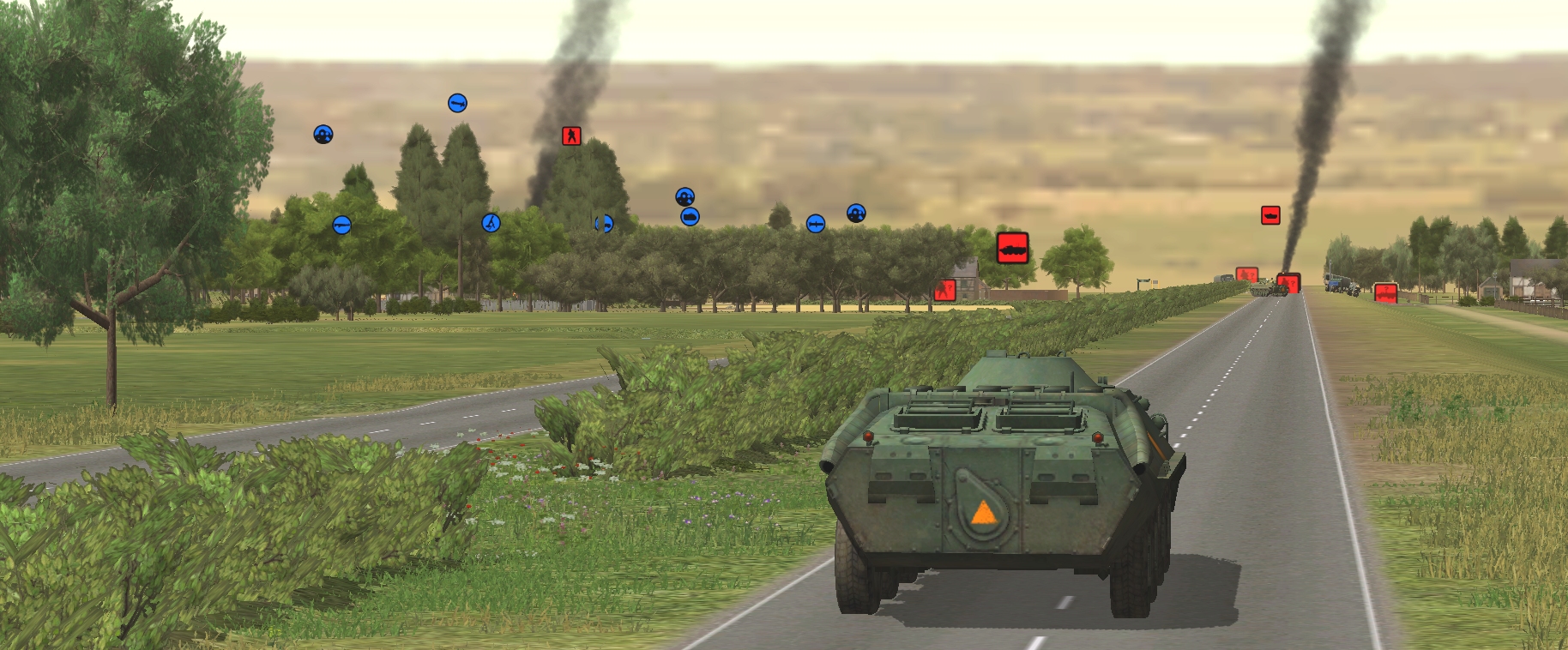 They are taking cover when the turn discloses its most cheering (for the Zendorans) twist. Seven seconds before the clock stops, the speeding BTR enters the FoV of 'Muttley', our easternmost TOW Mutt.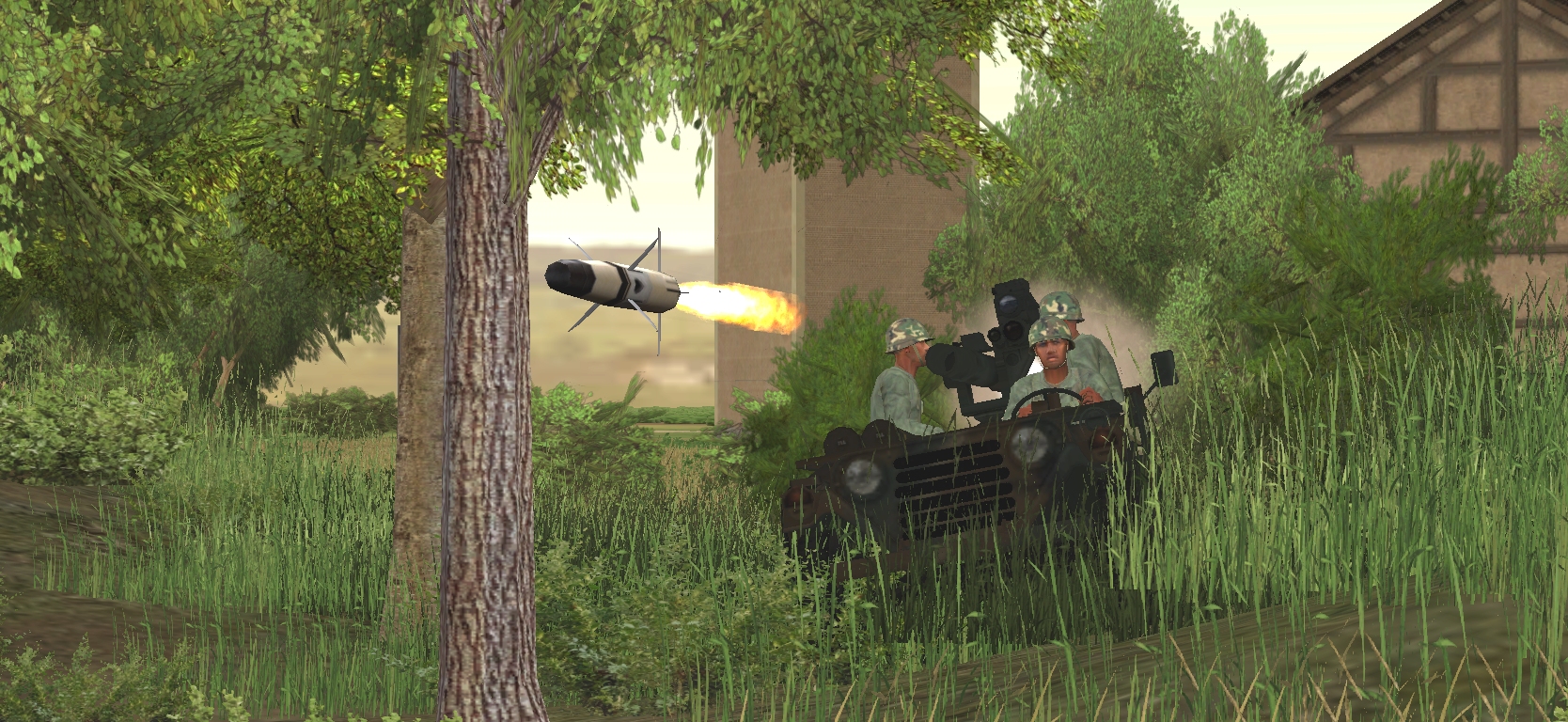 The loader's whispered "Do him!' is somewhat superfluous as the gunner's trigger finger is already in motion.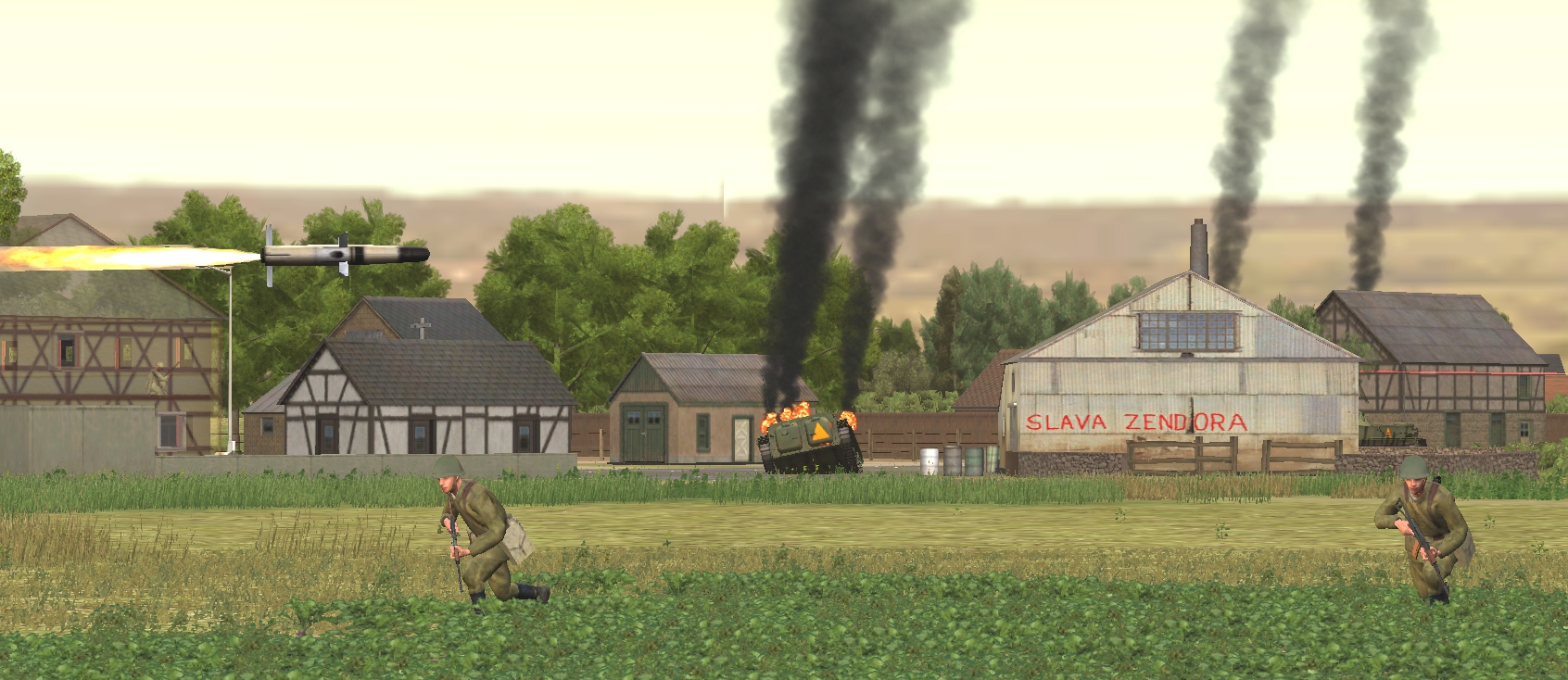 For a horrible moment Lesov Senior thinks the AT missile streaking in his direction is intended for him and his son.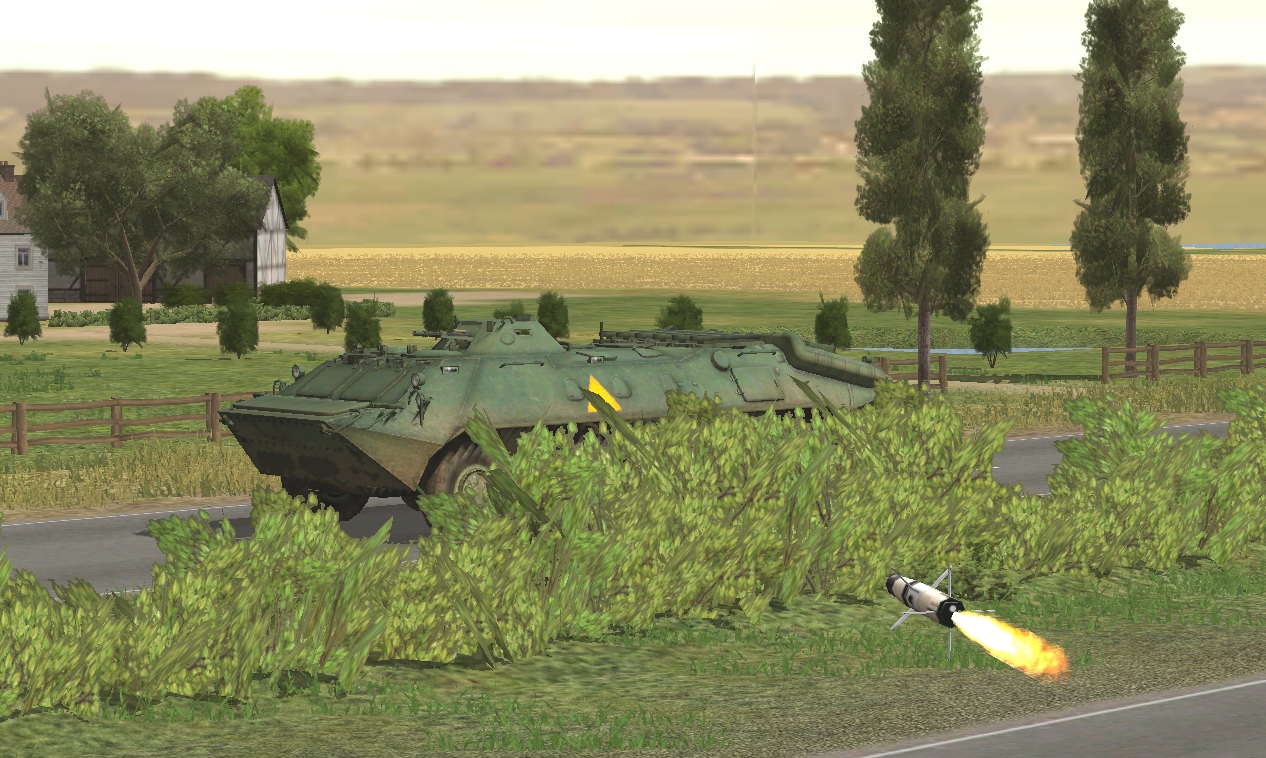 The man who should be worrying – Vasili Simic, a twenty-year-old, quarter-Zendoran BTR driver with three younger sisters, and a talent for fixing unfixable mopeds, lawnmowers, and chainsaws – is totally unaware that death is approaching at 600 mph.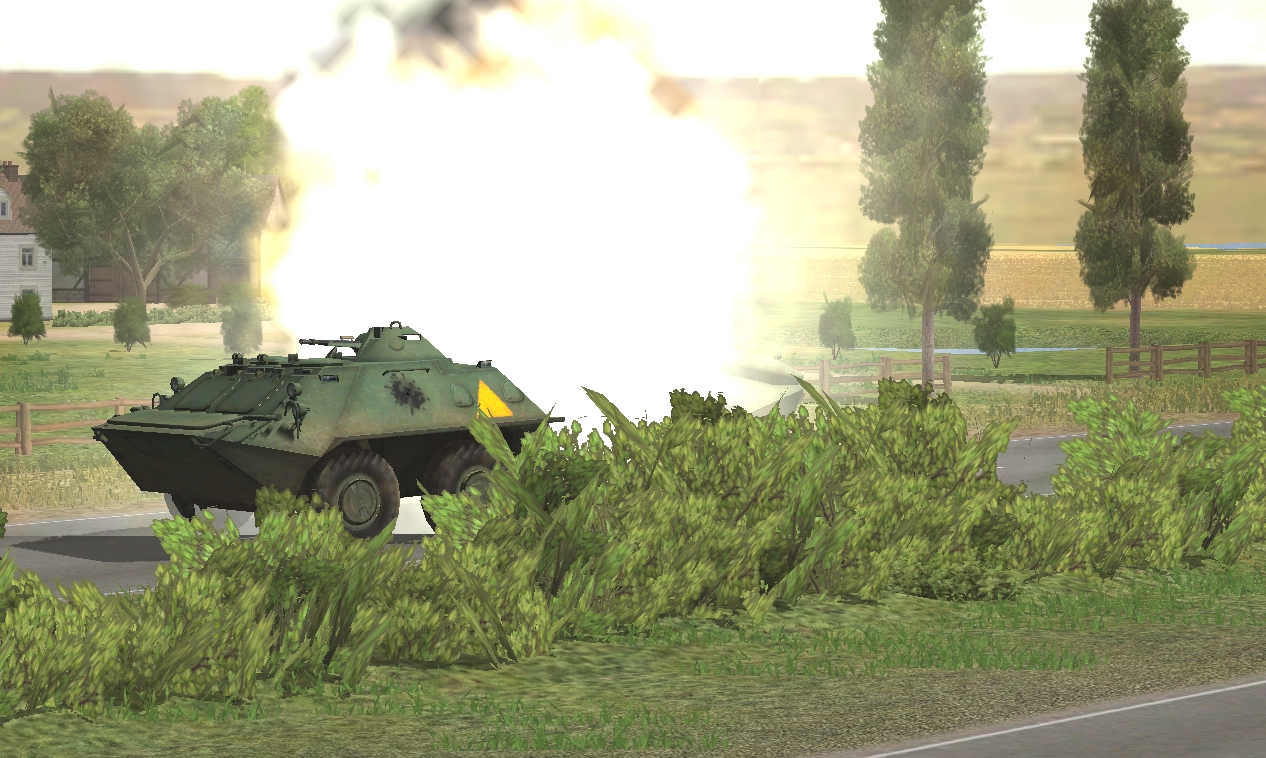 Elsewhere this turn…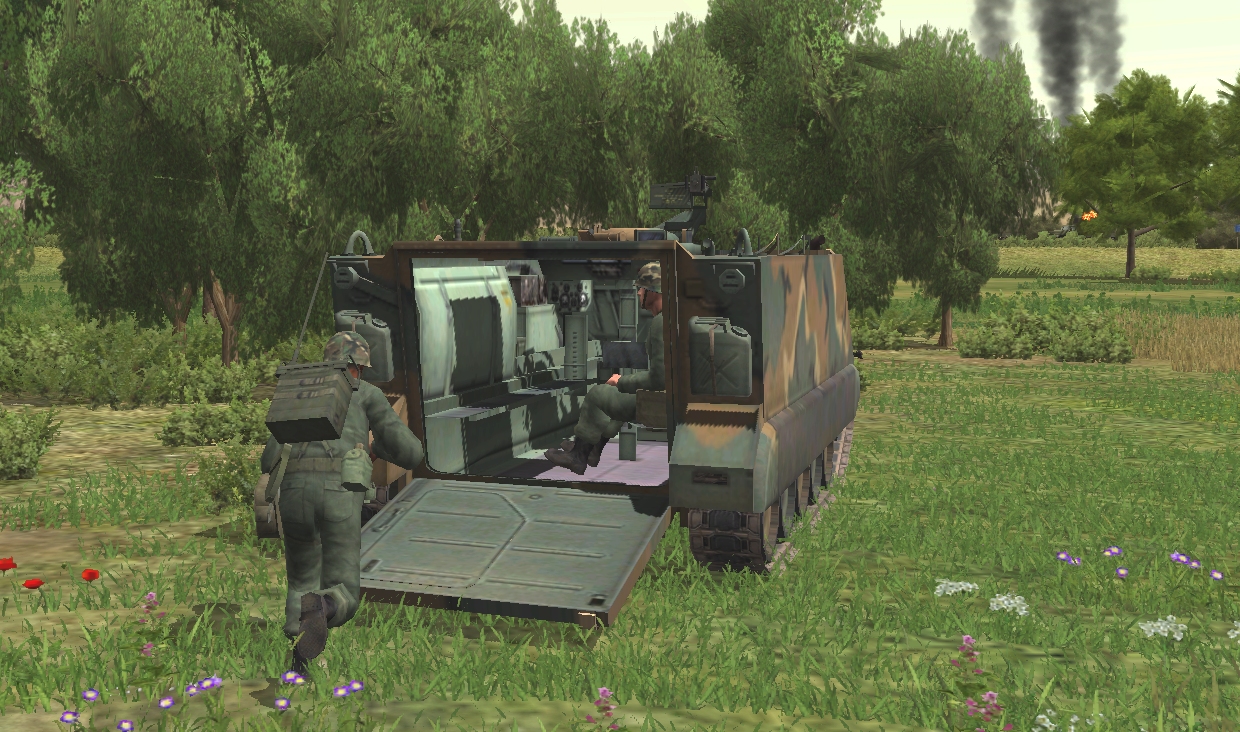 After another LAW, Recon Team Alpha boarded the M113 (Sadly, in CM it's impossible for a team to enter a vehicle, acquire a weapon or ammo, and exit within the space of a single turn.)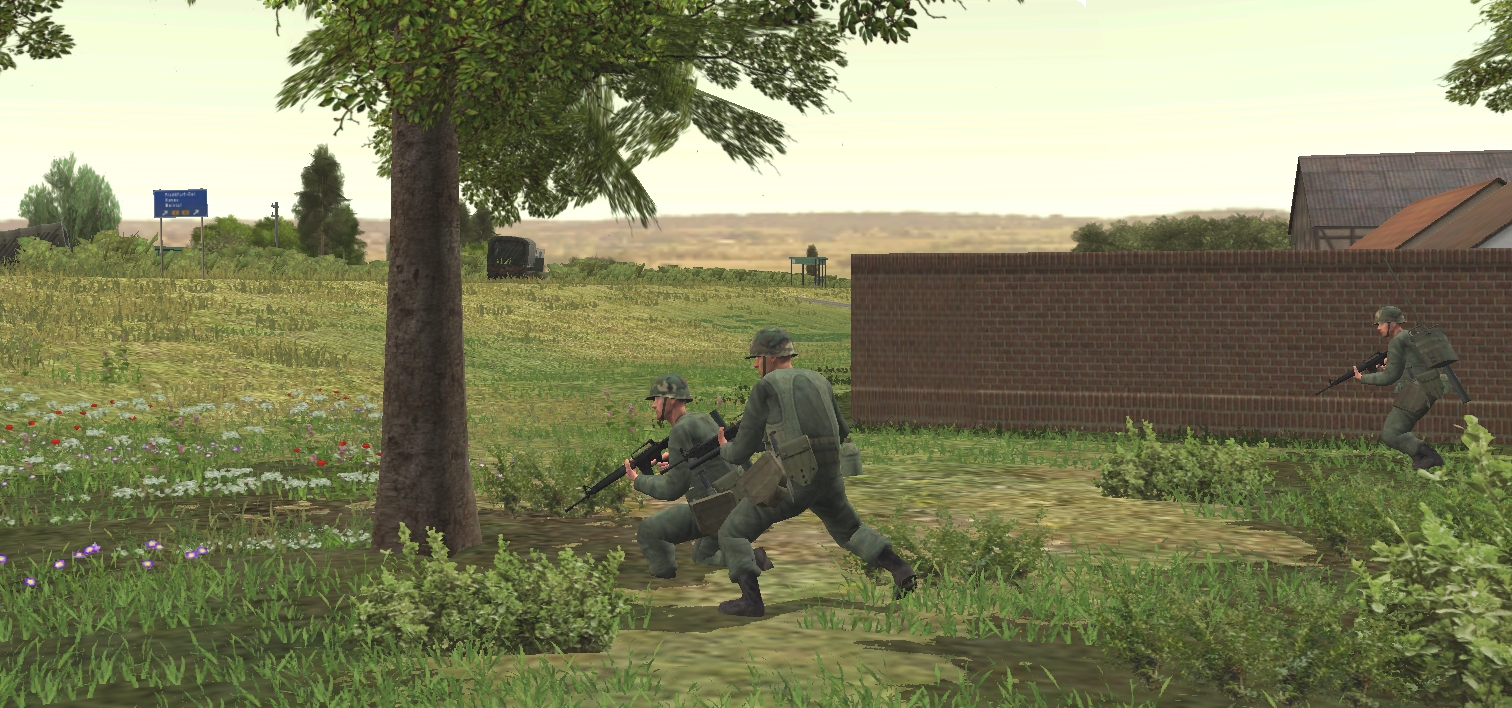 Recon Team Bravo moved closer to the embankment.
The Forward Observers reached the dovecot roof.
Nothing tempted the snipers.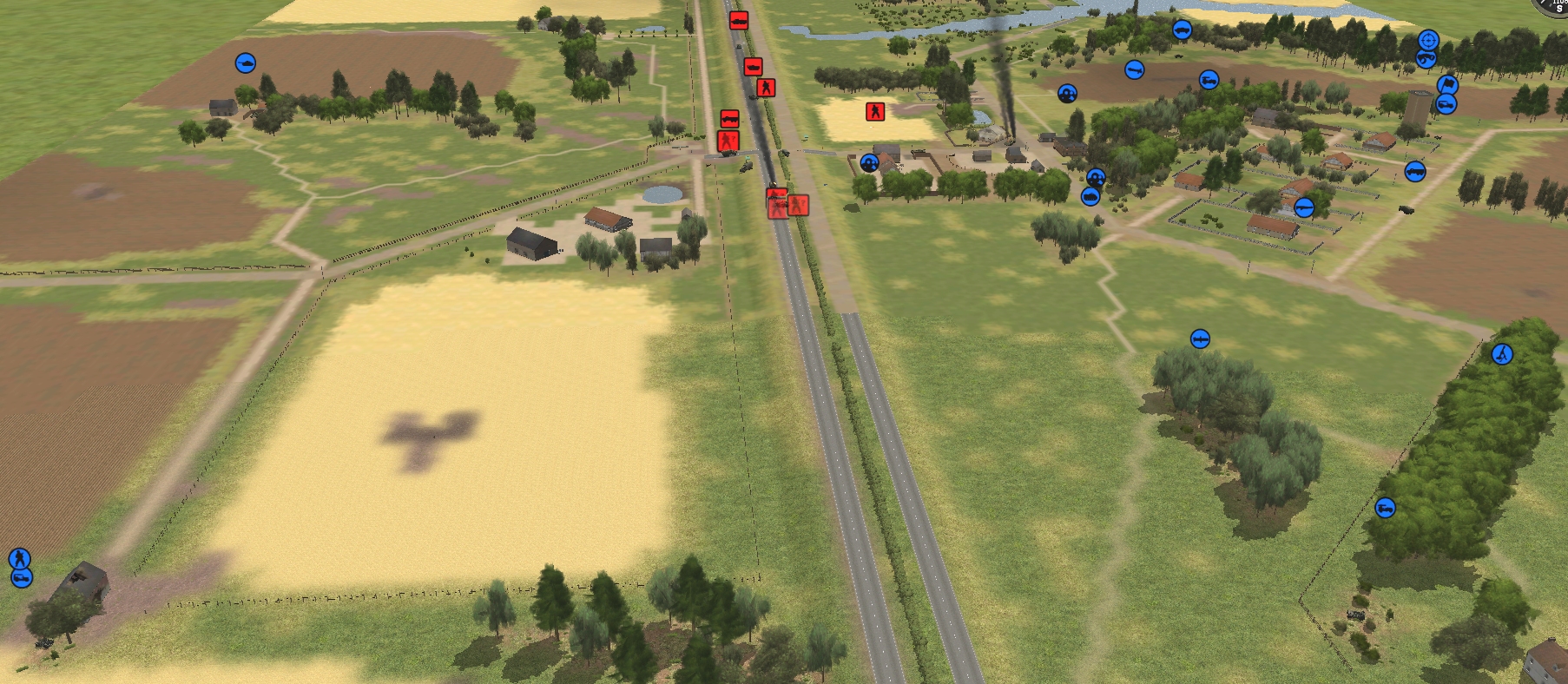 Droopy halted after spotting the Pod infantry in box 64.