Silver-haired, bespectacled, and dressed in sandals, shorts, and a John Lennon t-shirt, Viktor Somlac is an unlikely war hero. Trajanov wonders if he's wasting his time as he shakes the man's hand and downs the shot of eye-watering apricot brandy that's handed to him by another member of the four-strong Strupnic welcoming committee moments after he crosses the threshold of the cottage. It's only when his host directs his attention to a wall map studded with coloured pins, that the Major's cynicism begins to fade.
(Operation Oryx is an open-to-all game of Combat Mission: Cold War set in 1981. The commenter-controlled Zendoran forces are attempting to ambush a column of Podrabian vehicles bound for Zečin, the Zendoran capital. Each turn covers one minute of WeGo action. For a scenario outline and summaries of earlier turns, click here).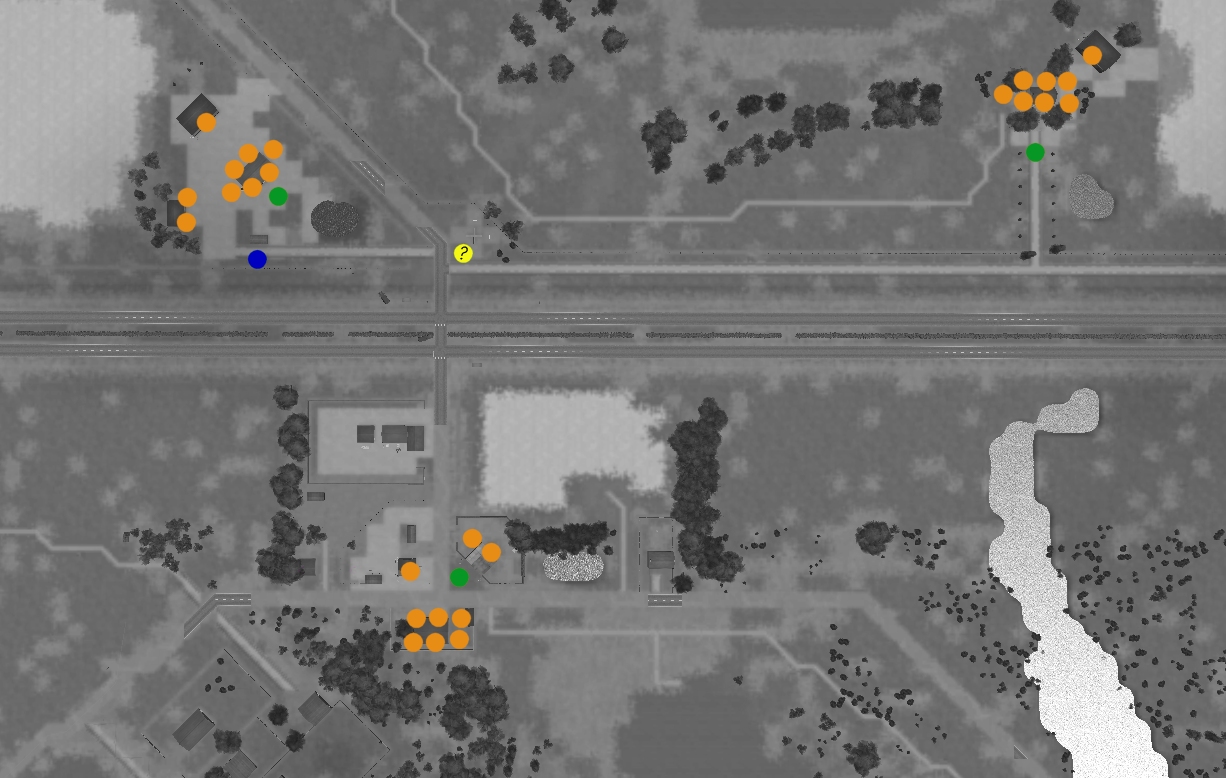 "The orange pins represent Pod infantrymen and the green ones are BMPs. That purple one is a truck. I can't guarantee it's 100% accurate, but it's based on observations made this morning so it should prove useful. I wish I could tell you where their PT-76 currently is" – he pulls a yellow pin from the map frame and wafts it around over the village centre – "but sometime last night the blighter vanished. It's possible it left for Zečin, but I suspect it's still about so watch yourself."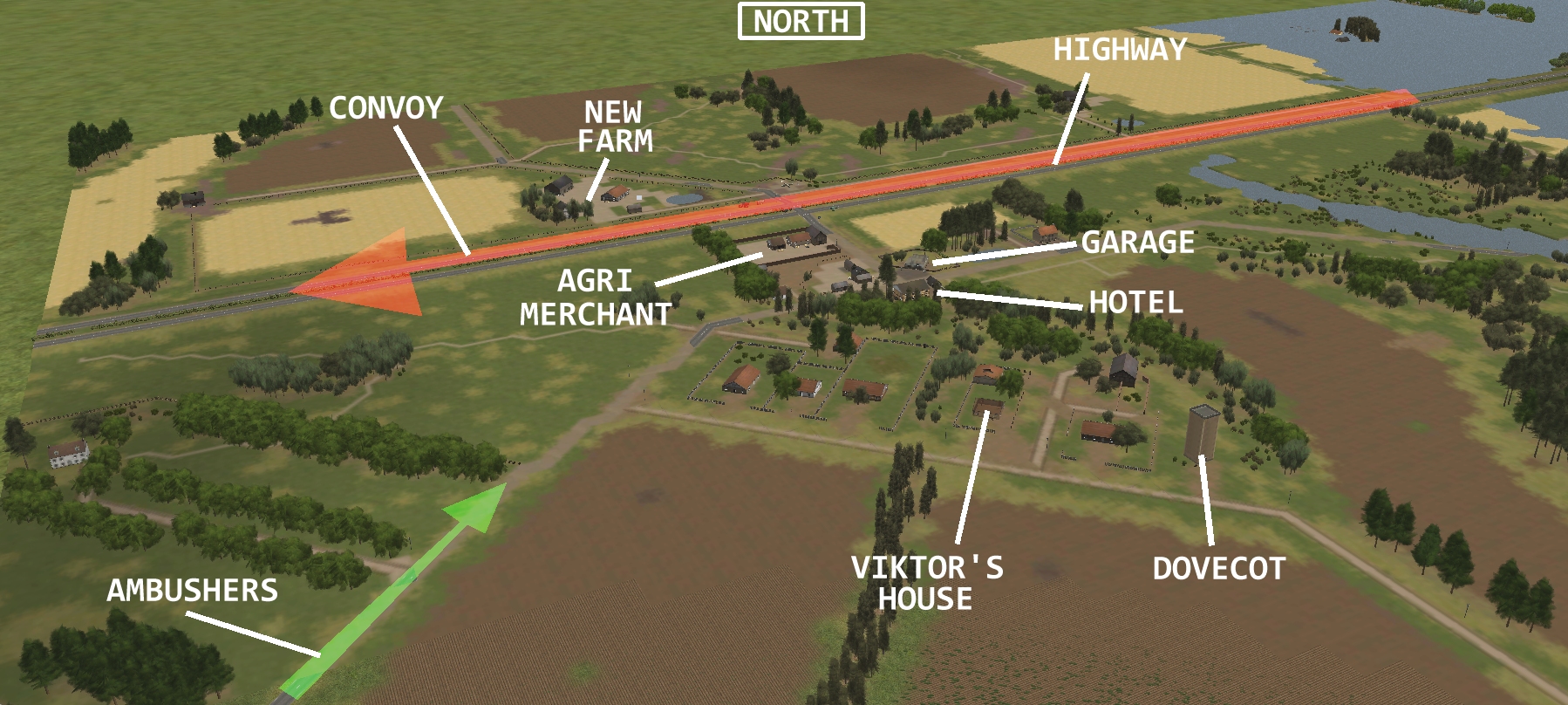 "The Pods here and here" – he points at the hotel and New Farm clusters – "spent yesterday drinking and looting, so hopefully won't present too much of an obstacle. The contingent here…" – he points at the easternmost cluster – "seem more disciplined."
"Your brother mentioned something about a liberated AFV?" Trajanov says, studying the map with great interest.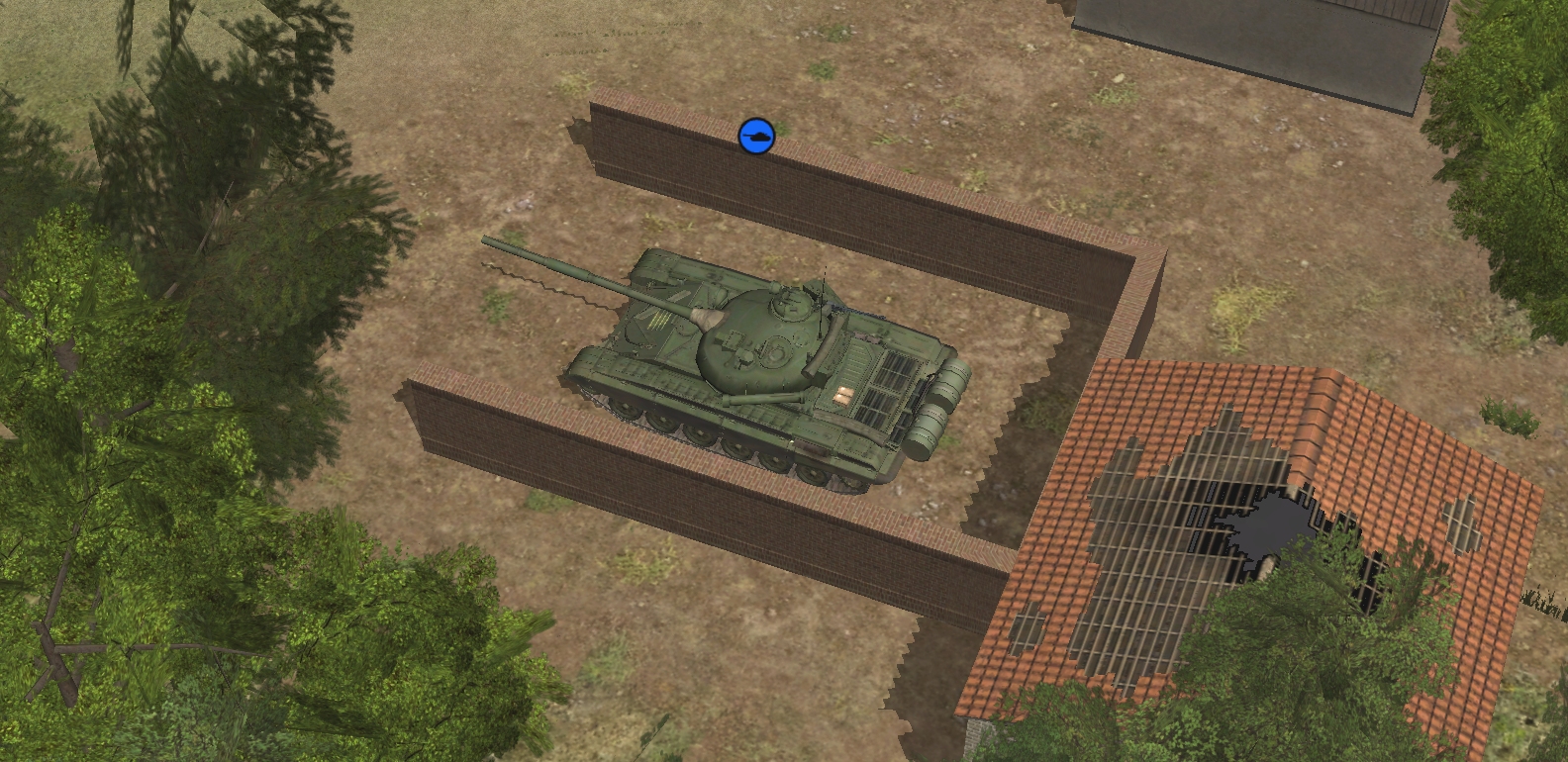 Viktor jabs a blue pin into a building near the northern edge of the map. "The problem with Tereza, my T-72, is that she's hidden in a barn just here. If your men can thin out the Pods in the village, or distract them, then me, Georgi, and Simona will stand a much better chance of reaching her in one piece."*
* Unfortunately, CM's inflexible crewing rules mean only Viktor and his pals can operate Tereza.
"I'd like to make use of your splendid dovecot, if I may".
"Of course, Major. Branko and Otto will show you the way." An elderly man with a Dragunov sniper rifle slung across his back steps from the shadows and joins Branko by the front door. Trajanov has a feeling they've met before but can't quite remember where.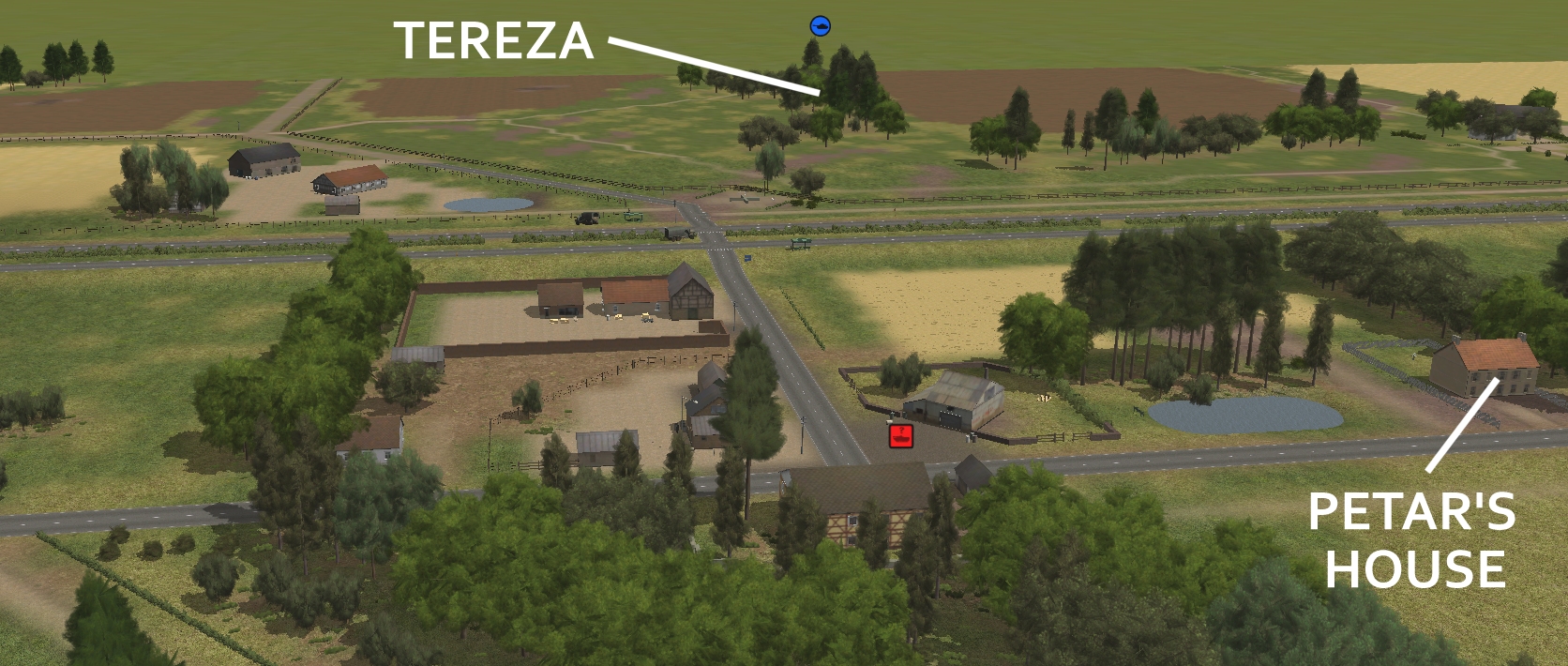 "Oh, before you go, Major. Two others were meant to attend this rendezvous. Petar Lesov and his son live in a house at the east end of the village. They managed to pinch an RPG-7 yesterday, and are raring to use it. If you can spare the men it might be worth finding out what's happened to them."
Trajanov nods, and turning again to the map, begins to formulate a plan.
Elsewhere this turn…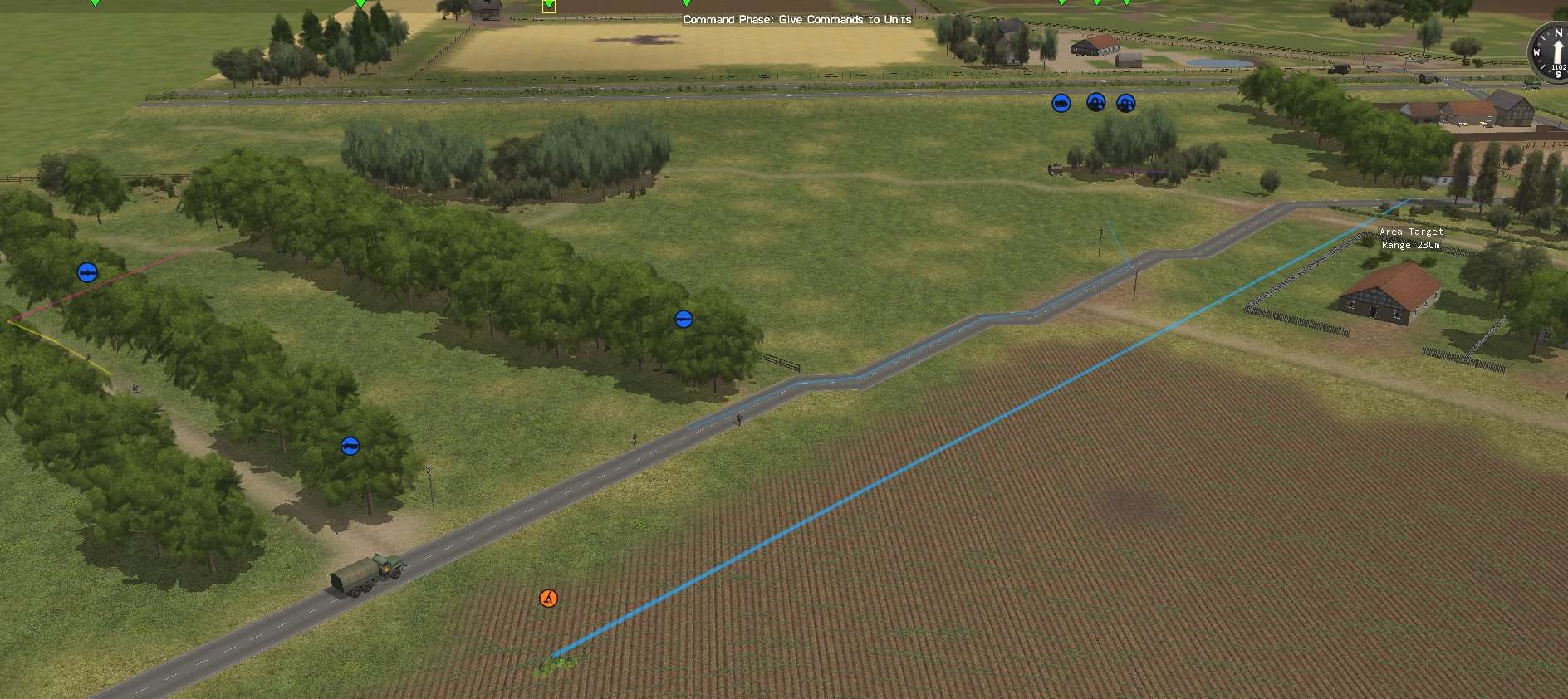 The truck passengers dismounted. (After two attempts to execute the requested two-stage disembarkation failed, I decided to simplify things by leaving the Ural where it was for the duration of the turn). From its current position the now-deployed light mortar has LoS to the highway and can see a small sector of box 75.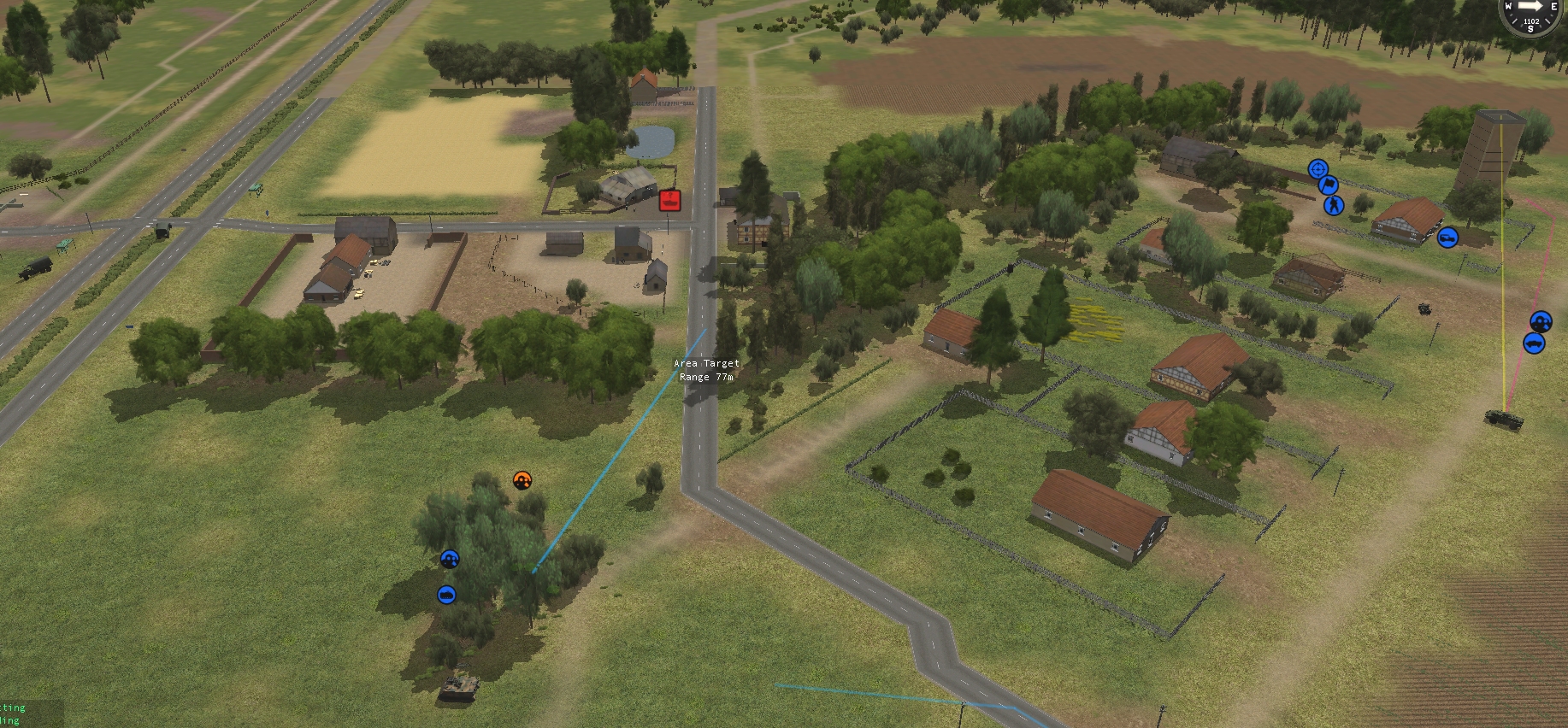 Recon team Alpha moved to the eastern side of the clump of trees in box 74.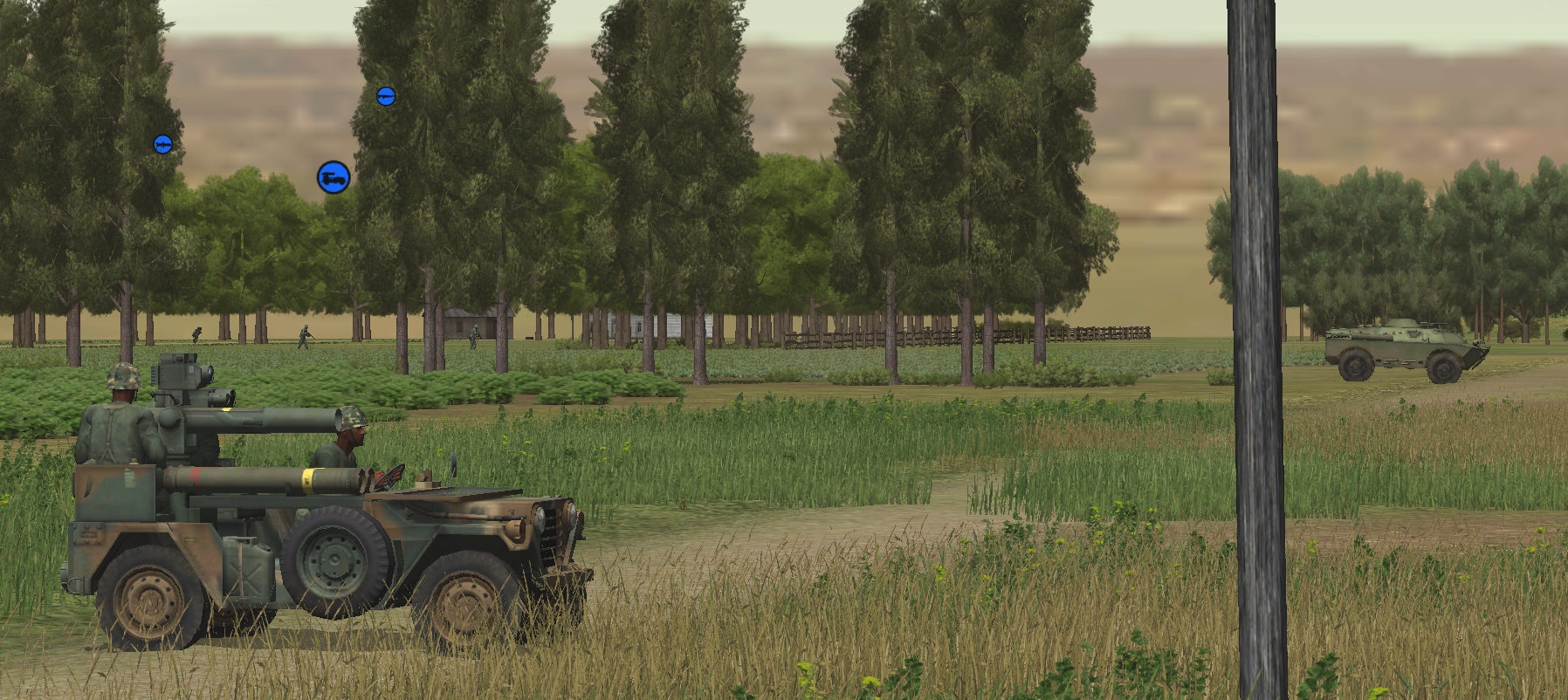 The BRDM reached the village edge.
The TOW Mutt stopped south of the dovecot. Trees in box 112 mean it can't see the highway at present.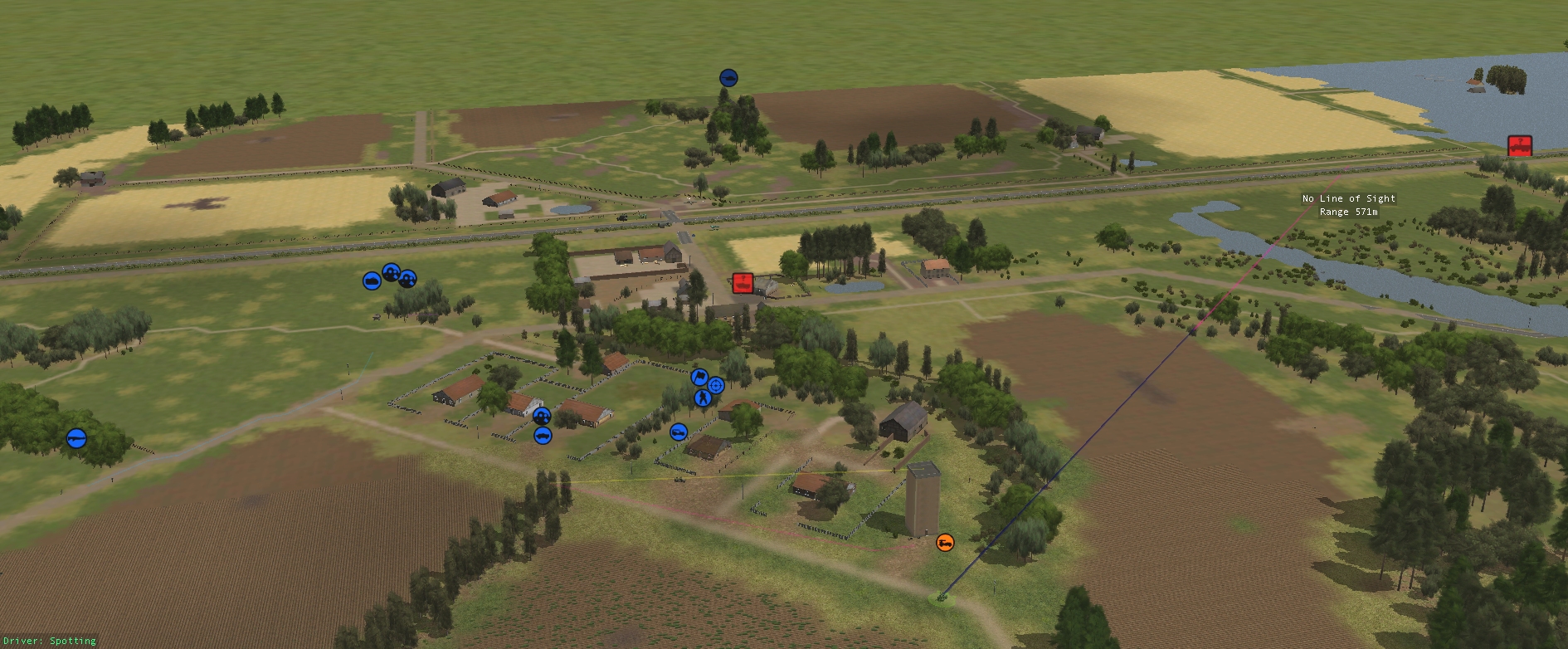 A 'sound contact' icon appeared on the highway circa box 70. If it's the lead vehicle of the convoy then the convoy is ahead of schedule!