Roman is on holiday this week, but thanks to the graft and guile of a volunteer foxer setter there's no interruption to the puzzle supply. Today's co-op brainteaser is the work of veteran defoxer, captaincabinets.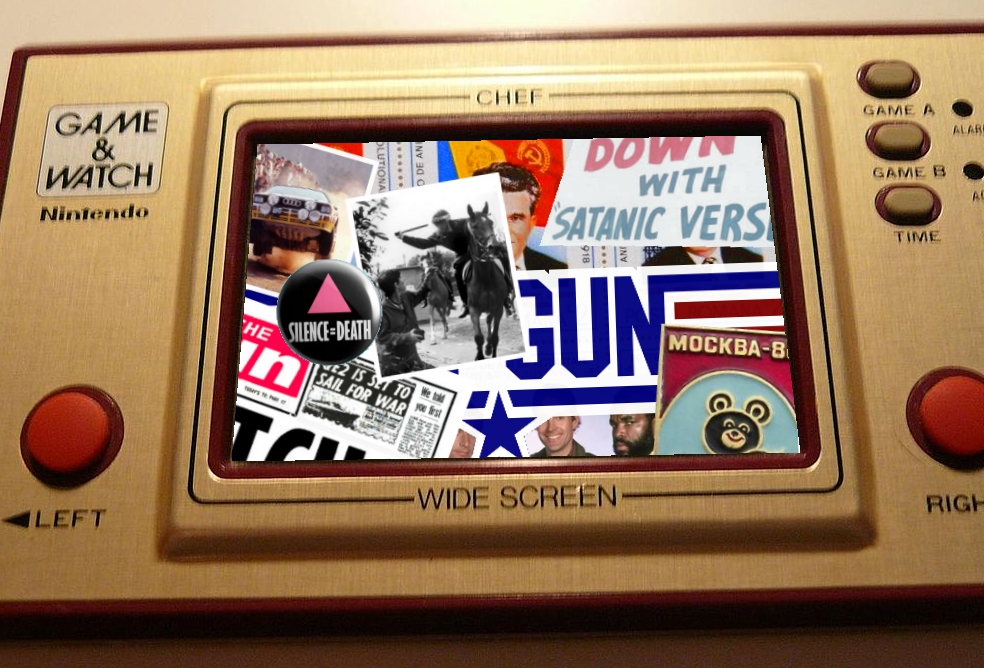 Below is a list of '33 Things Wot You Might Find In The 1980s' ('things' is used in its broadest possible sense). Entries have been stripped of vowels and numbers and have had any inter-word spaces repositioned*. For example, if Indiana Jones was present, he might appear as N DNJNS. Yuppie would be YPP.
*Hyphens are treated as spaces. Apostrophes are ignored.
1. RNL DY
2. ZRSJ CKT
3. JHNZ CHRYDL RN
4. NNHDBN D
5. MRL DGTC MP
6. R NCNT RFFR
7. KR
8. TN KMN
9. GD BYF RWL LNDMN
10. RGNMCS
11. THSC NDD THS TR
12. MRB RS
13. VCT NFPR PYT
14. SCPR N
15. SRTR STRMN DSRG LHD
16. PNRP NPC NC
17. BNNRM
18. P RTNR GNTFRY
19. MMNLGL DSTN
20. NWC K
21. VR YL YLS KNSLS
22. T HLS TGL DNTD
23. RGTR PR
24. JNF NDSWR KT
25. SNBR TS HJNTDCL RTN
26. ZL
27. FM NNT HP
28. JRZYPP LSZK
29. STNMN TG
30. SB RNDSH TL
31. RD NTBBY
32. PP PYDYMS SCR
33. RG RMR SFN LPPR N CS
* * *
SOLUTIONS
Last week's geofoxer theme: 'Hell and its denizens' (defoxed by captaincabinets and Zwack23)

a. Devil's Bridge, Switzerland (ylla)
b. Hellcat (partially obscured by B-29), New England Air Museum (Aergistal)
c. HMAS Cerberus, Australia (Aergistal)
d. Devil heads, Bohemia (Zwack23, Aergistal)
e. Home of 'The Imps', Lincoln (Aergistal, Viscount)
f. Devil's Elbow, Ecuador (captaincabinets)
g. Pont de Caronte France (Colonel_K)
h. Devil's Den, Gettysburg (Aergistal)
i. Teufelsberg, Berlin (gusdownnup)
j. Hell's Kitchen Railway Museum, Ireland (Aergistal)
k. Mephistopheles, Hyderabad (capatincabinets)
l. Tasmanian Devil, Tasmania (Zwack23)