Every Friday at 1300 hours, Tally-Ho Corner's cleverest clogs come together to solve a 'foxer' handcrafted by my sadistic chum and colleague, Roman. A complete 'defoxing' sometimes takes several days and usually involves the little grey cells of many readers. Don't be shy. All are welcome to participate.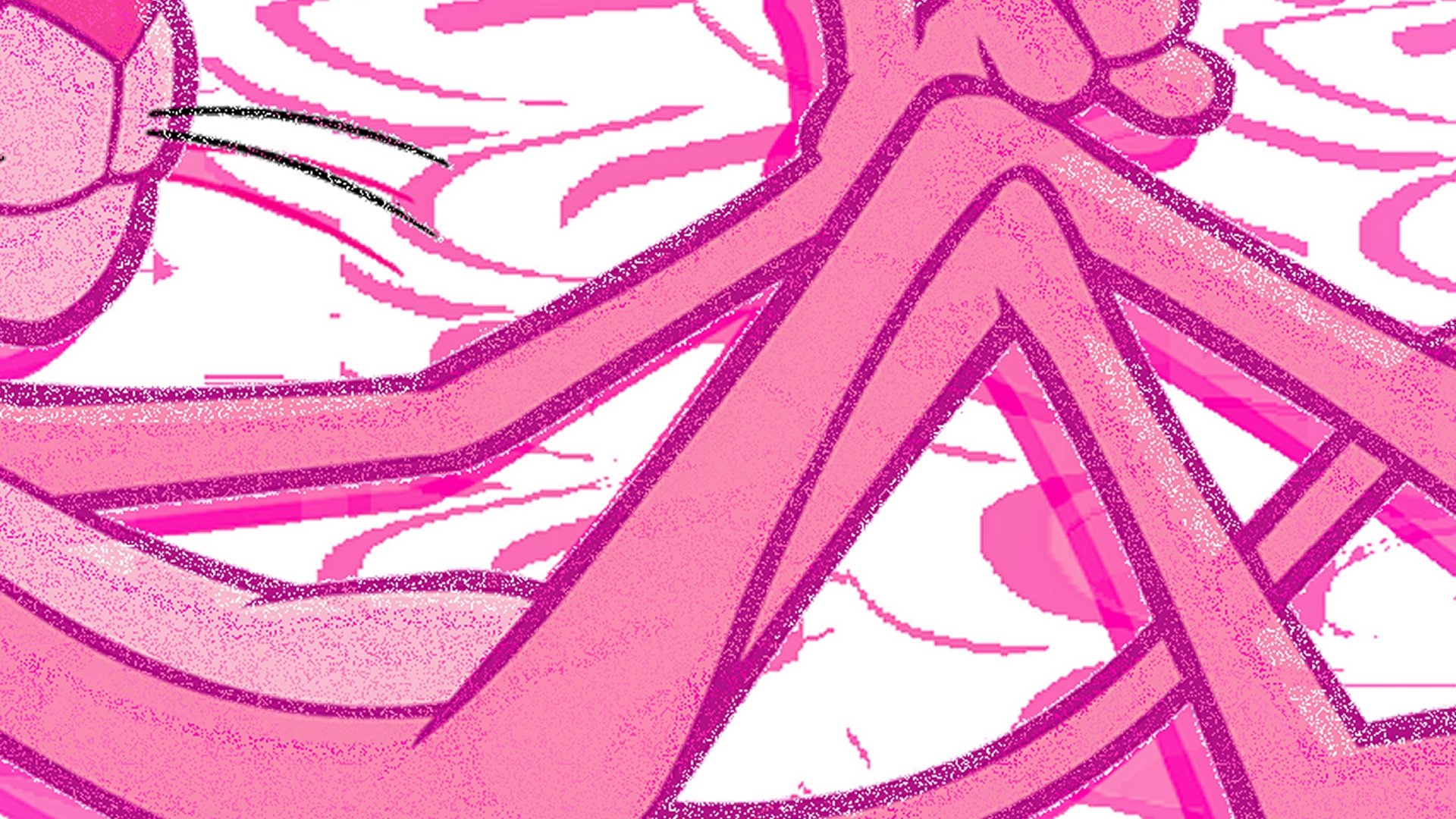 Below is a list of '30 things wot are or were pink' ('things' is used in its broadest possible sense). Entries have been stripped of vowels and numbers and have had any inter-word spaces repositioned*. For example, if rosé wine was present it might appear as RSW N. Flamingo would be FLMNG.
*Hyphens are treated as spaces. Apostrophes are ignored.
1. JPR
2. PPPP G
3. RFTR NDSD RN GT HGL FWR
4. SHF FLDN TDSW YKT
5. T HFNN CLTMS
6. PLRTSD JMR
7. NTHR DFN PLT NCC R M
8. SS TRSR VNT SFTHH LYS PRTFP RP TLD RTN
9. RSCN STNCS PRY
10. SSS TG R
11. N KDM LRT
12. D RN R
13. BRSTCN CRWRNS SR BBN
14. L CBT HMR
15. HMM RSMTHN DCT YLN
16. GLH
17. LDYPN LPCRG HTNW R DSCR
18. CK TLM DFRMG NGRN DNN DG GW HT
19. D NC SRHTL
20. CND YFLSS
21. THB RTSHM PR
22. MN M NTTSV TTNKC R WSNP RG
23. HT TLGN
24. ST VBSC MNRSR VRDG S
25. MZ NRVRDLP HN
26. NHND RDY NBN KNT
27. PCHBLS SM
28. HM SKNY
29. TRMSLT
30. BN DDSP RTWT HSN DNDT WN T YN
31. RTHWRM
32. TRN GLSWR NBYSMCN CNT RTNCM PN MTS
33. BRBRCRTLN D
* * *
SOLUTIONS
Last week's 'Fings wiv Wings' jigsaw foxer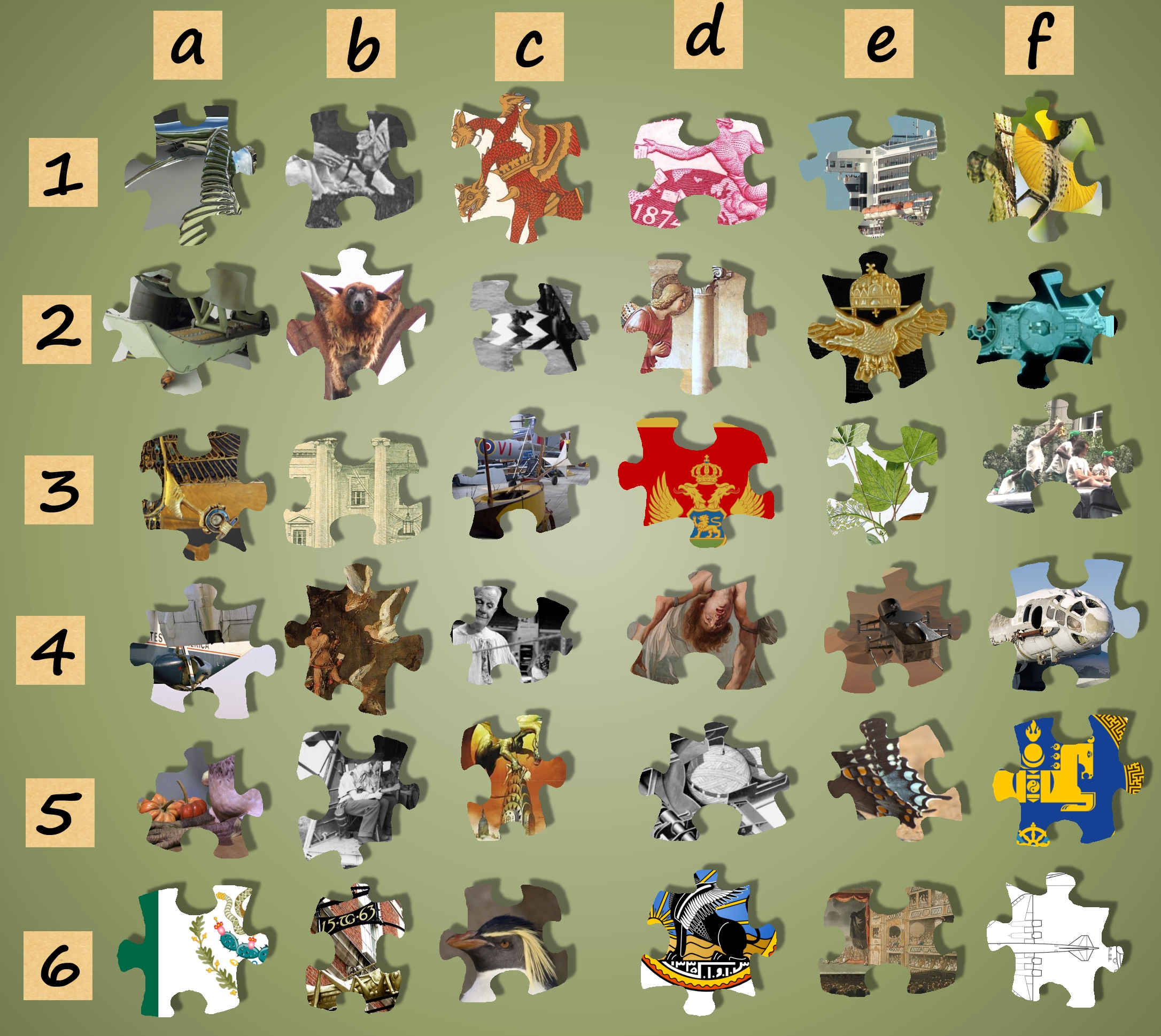 a1. hispano-suiza stork (Nutfield)
a2. me 163 komet (AFKAMC)
a3. horus (Panzerschwein)
a4. ltv xc-142 (Colonel_K)
a5. buckbeak the hippogriff (Whistler)
a6. mexican flag (Viscount)
b1. cottingley fairy/gnome (Colonel_K)
b2. indian flying fox (Nutfield)
b3. the white house (captaincabinets)
b4. stymphalian birds
b5. gotha go 242 (Whistler)
b6. gresham grasshopper (Nutfield)
c1. zmey gorynych (Nutfield)
c2. felixtowe f.2 (AFKAMC)
c3. cayley glider (Colonel_K, AFKAMC)
c4. clarence from it's a wonderful life (Whistler)
c5. q (Nutfield)
c6. northern rockhopper (Viscount, ylla)
d1. mercury on a st. lucian stamp (Phlebas)
d2. angel gabriel (Colonel_K)
d3. montonegrin flag (Viscount)
d4. icarus (Nutfield)
d5. v-1 (Phlebas)
d6. lamassu (Colonel_K)
e1. rms queen mary 2 (AFKAMC)
e2. royal hungarian airforce badge (Colonel_K)
e3. sycamore seed (Viscount)
e4. nasa dragonfly (Whistler)
e5. spicebush swallowtail (Colonel_K)
e6. theatre royal, drury lane (ylla)
f1. draco (Viscount)
f2. tie bomber (chrisol)
f3. south african rugby team, 2019 (Viscount)
f4. bartini beriev vva-14 (AFKAMC)
f5. tulpar (Nutfield)
f6. boeing 2707 (AFKAMC)