Erich Woikin is eleven again, sprinting through an orchard with a satchel of scrumped cherries bumping against his sweat-soaked back and a baying hound snapping at his heels. He's a few strides from the spot in the barbed wire fence where the broken strand makes for easy vaulting when something grabs his satchel straps, pulling him off his feet. "How odd" he thinks to himself as he struggles unsuccessfully to get up "that I should fall on my back yet wind up with so much cherry juice staining my shirt front. How very odd."

(Brinkmann's Bridge is an open-to-all game of Combat Mission: Battle for Normandy in which the commenter-controlled Axis forces are out to recapture a Dutch canal spanner recently snatched by Red Devils. Each turn covers one minute of WeGo action. For a scenario outline, click here).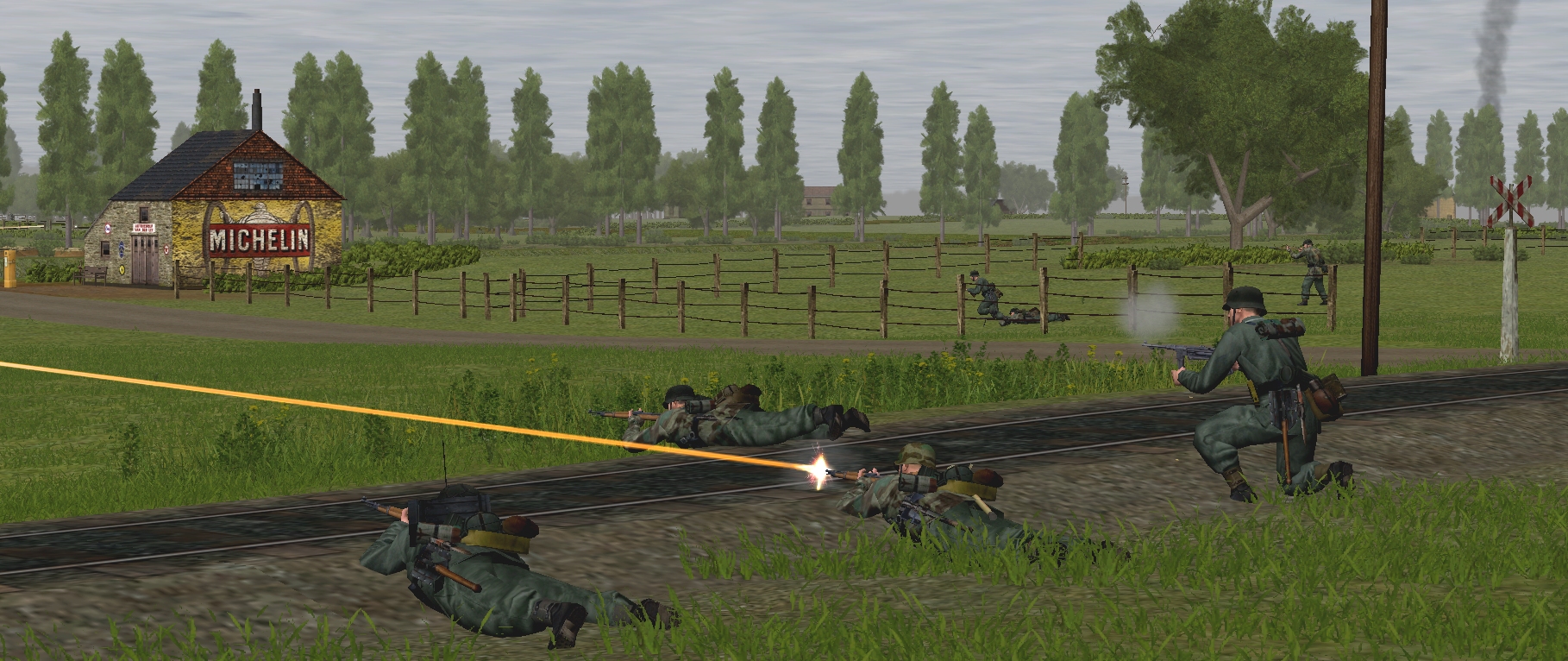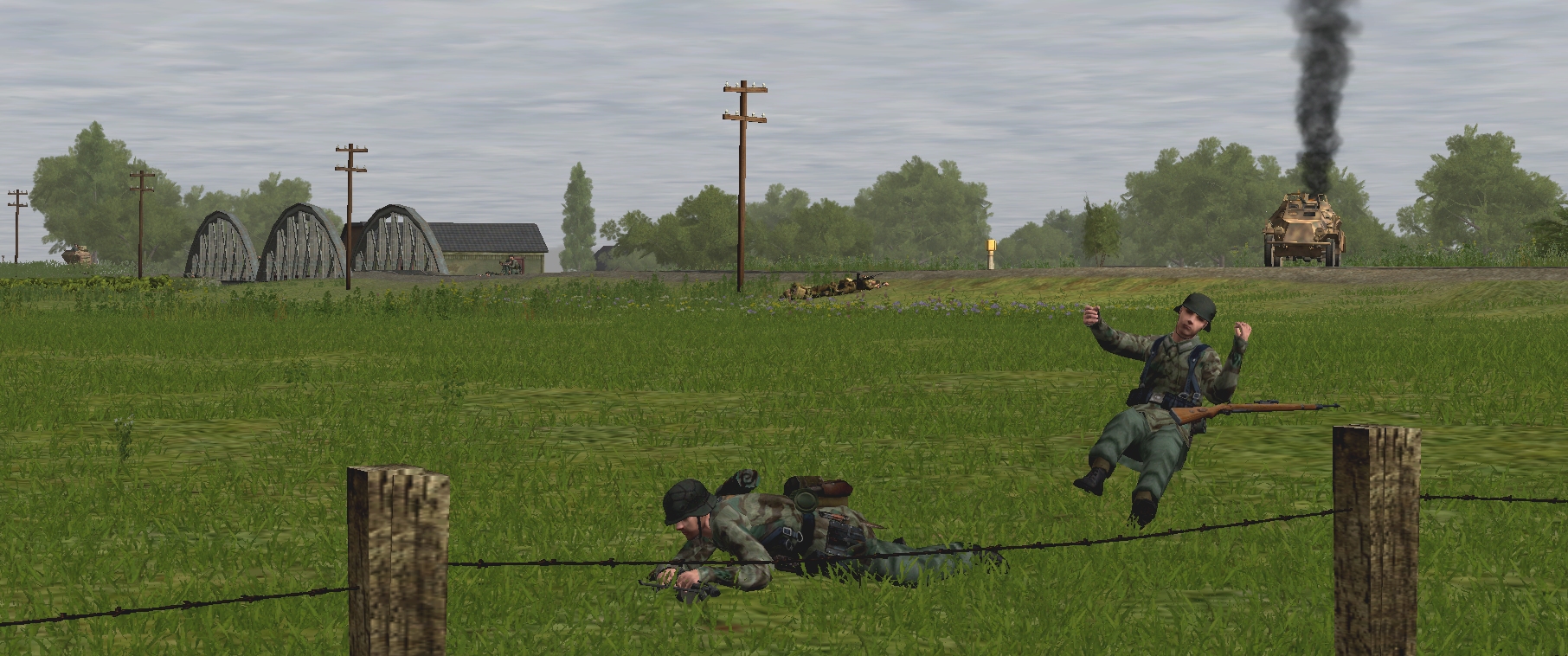 Despite generous covering fire, poor old Woikin doesn't make it to the Autobedrijf Van Der Ley.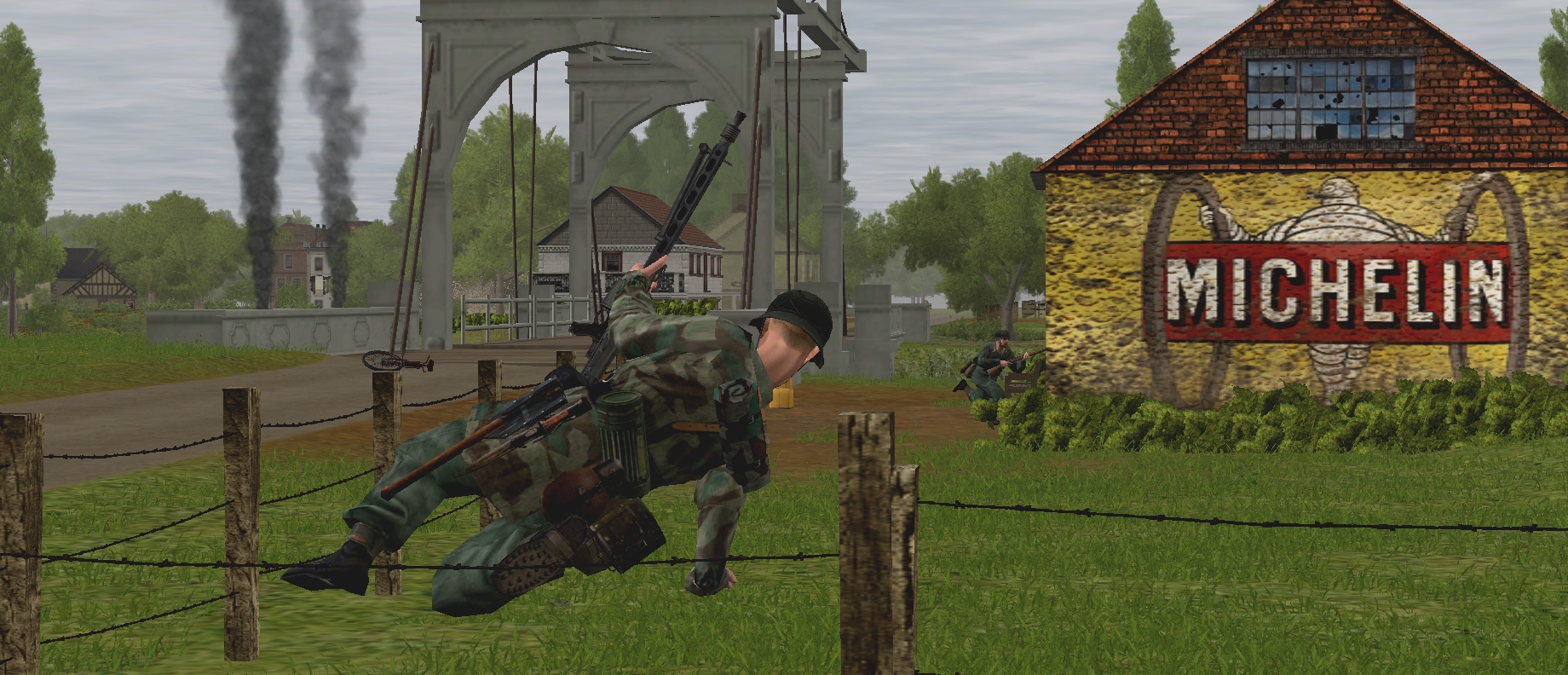 His two comrades are luckier. The Comment Commanders seem certain to start turn 15 within spitting distance of the VL when 2nd Squad's pointman rushes through the door of the garage by the canal bridge and isn't immediately cut down by a flurry of Sten fire.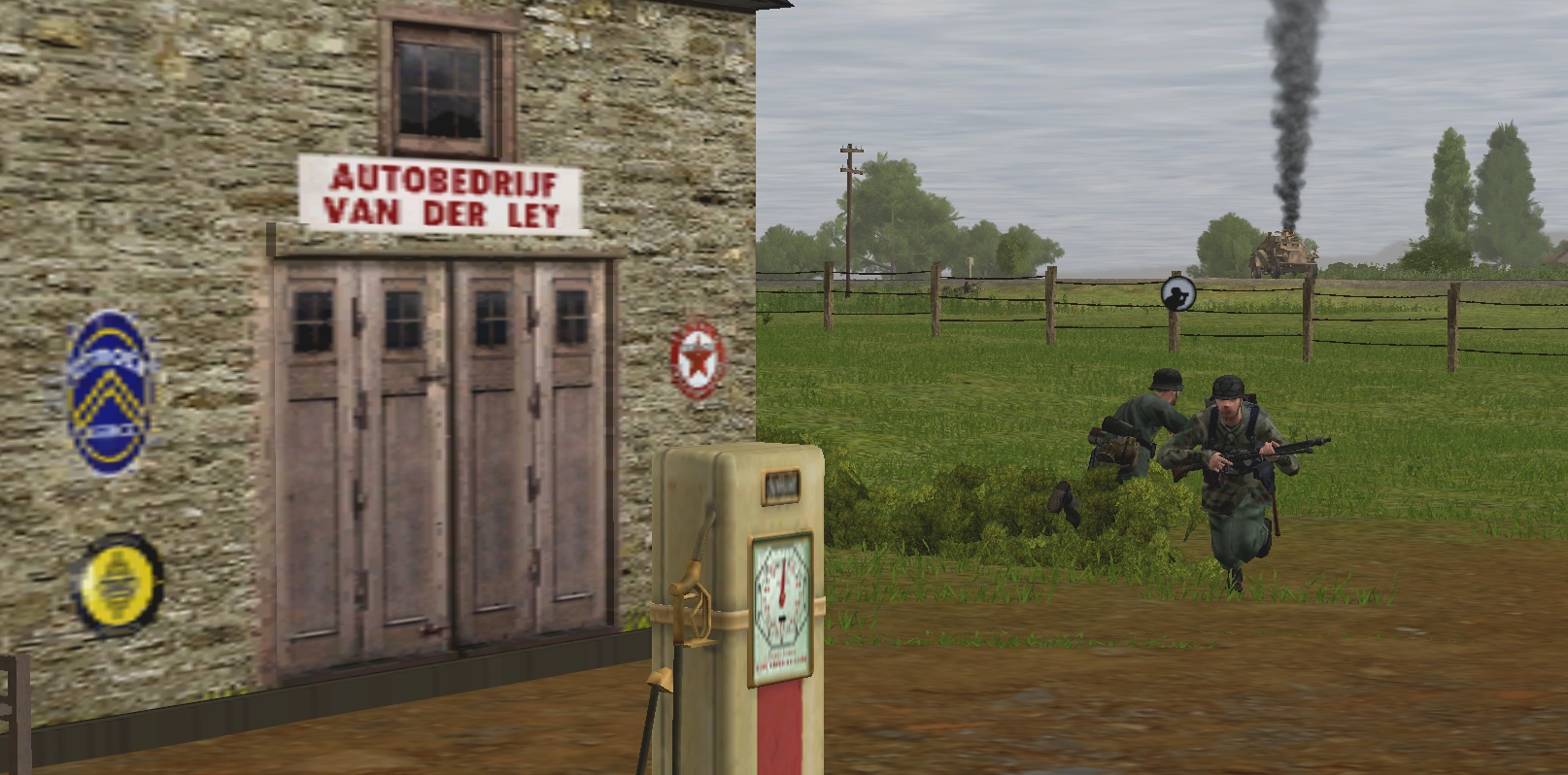 Although the building appears to be deserted, the "tired" and "nervous" German gatecrasher clearly isn't comfortable in his new surroundings. Towards the end of the turn he skedaddles, almost knocking down his panting pal as he does so.

Another Axis warrior that ends up retracing his steps during the sixty is the lone survivor of this pumphouse-bound half-squad. The portion of 5th Squad that assaults the building at black y27 from the north arrives unscathed.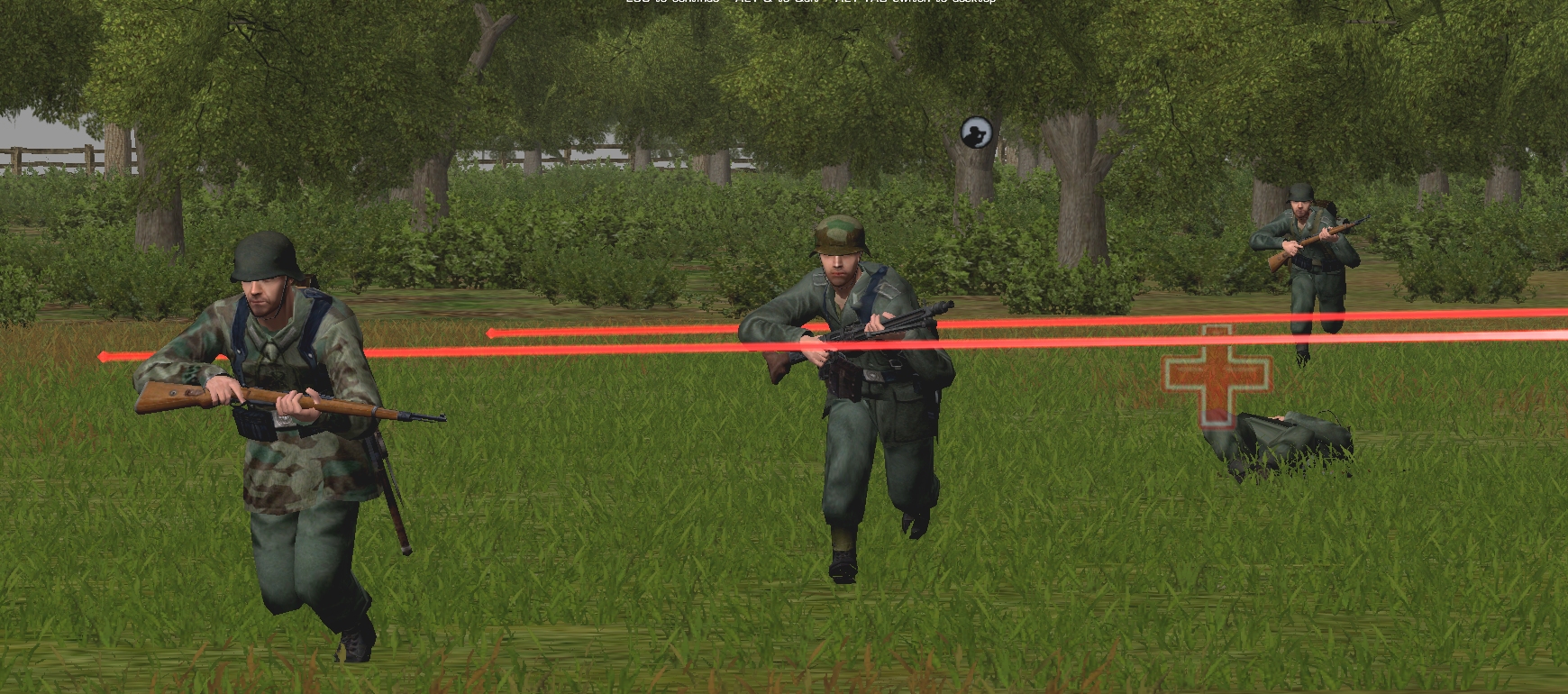 Their squadmates, however, come under fire from both the woods to the SSW (presumably the scout eliminators) and the monastery grounds and are all but wiped out.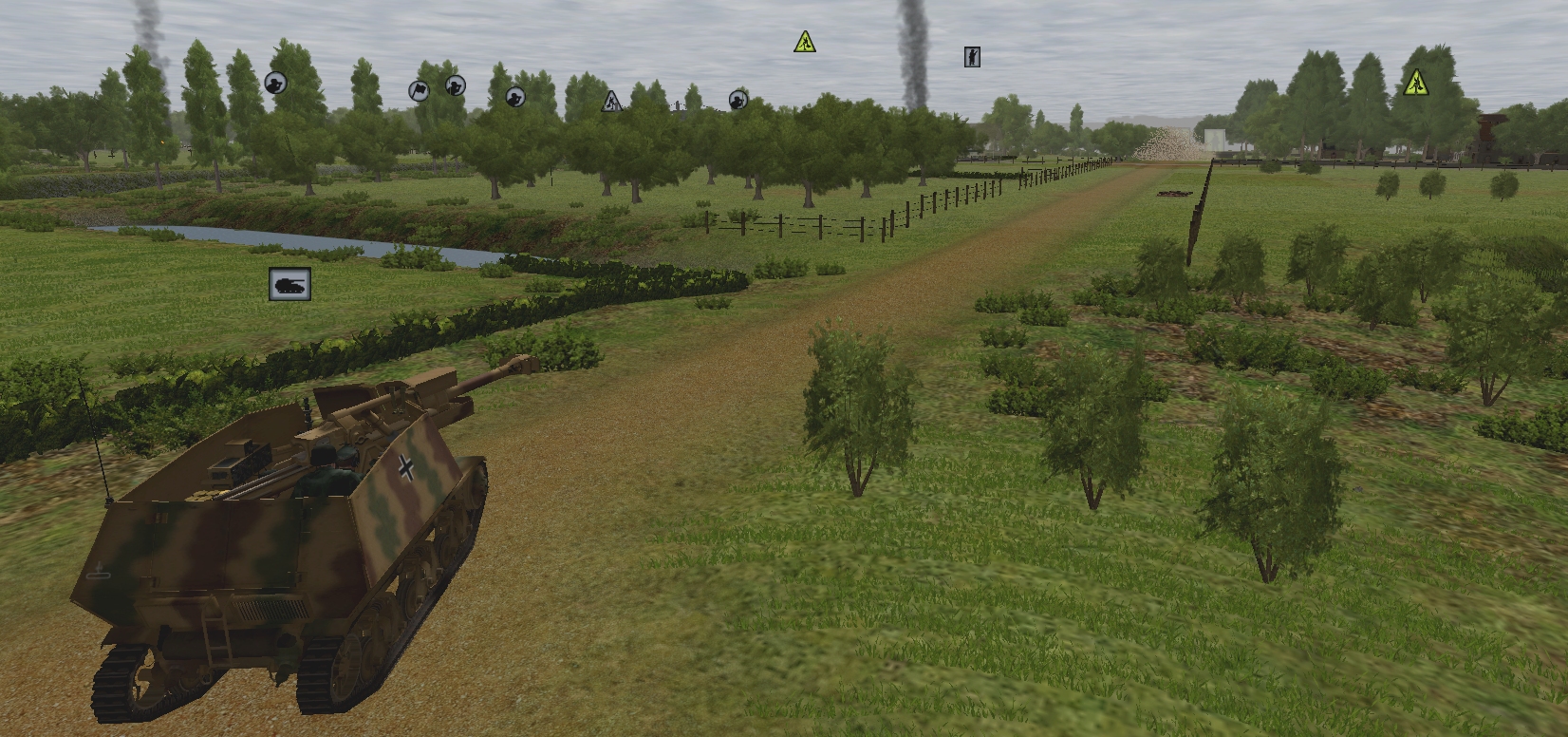 For a terrible moment at the tail end of the turn, the self-propelled howitzer looks like it's history too. Ordered to hunt onto the north-south road west of the canal, our uneasy marriage of German firepower and French mobility fails to spot the 6-pounder despite a slim cover arc.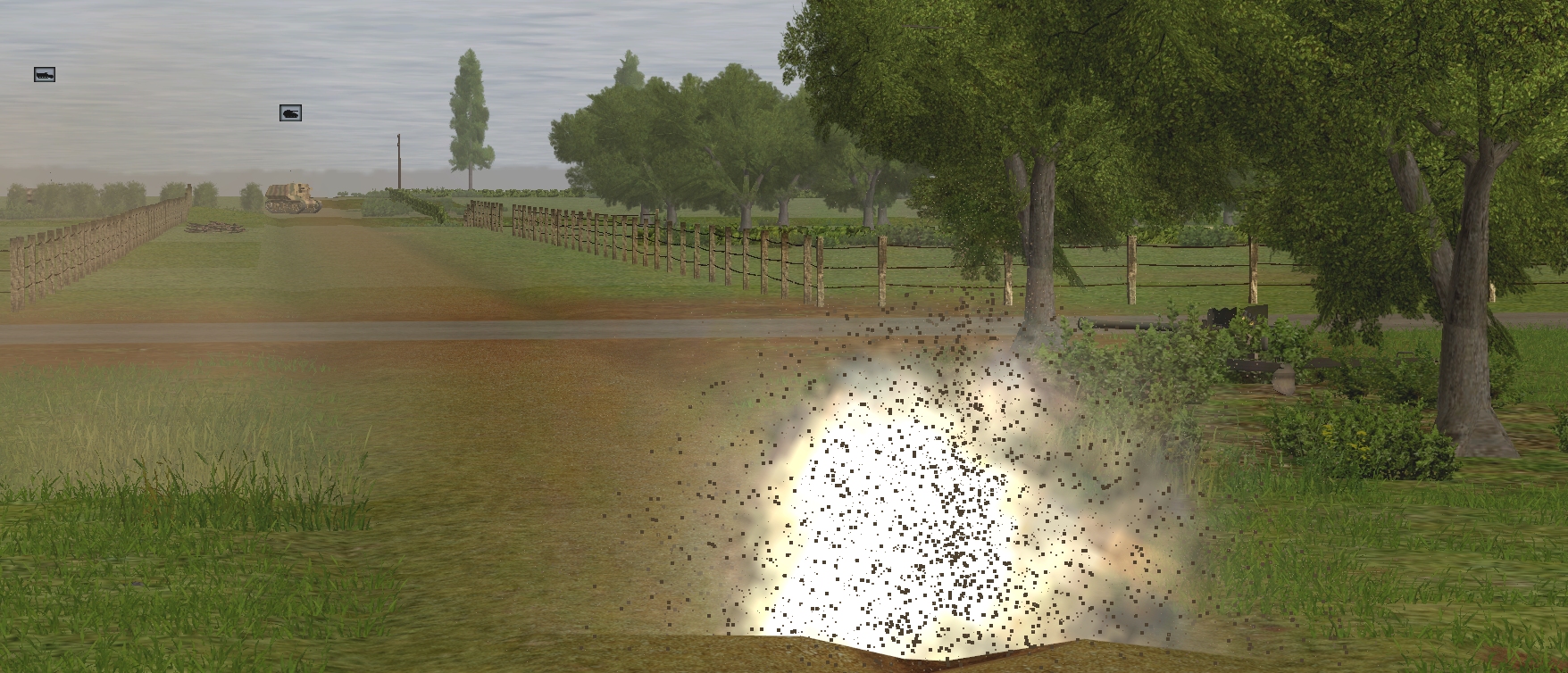 Bulau's mob by the rail bridge and Baumeister on the embankment do their best to pin the AT gun but can't stop the olive barrel sweeping clockwise. The chance of a setback seems high until whirling shrapnel from an 81mm mortar bomb – the third fired by our Granatwerfer 34 – slices British flesh, interrupting the gun laying.
Also this turn…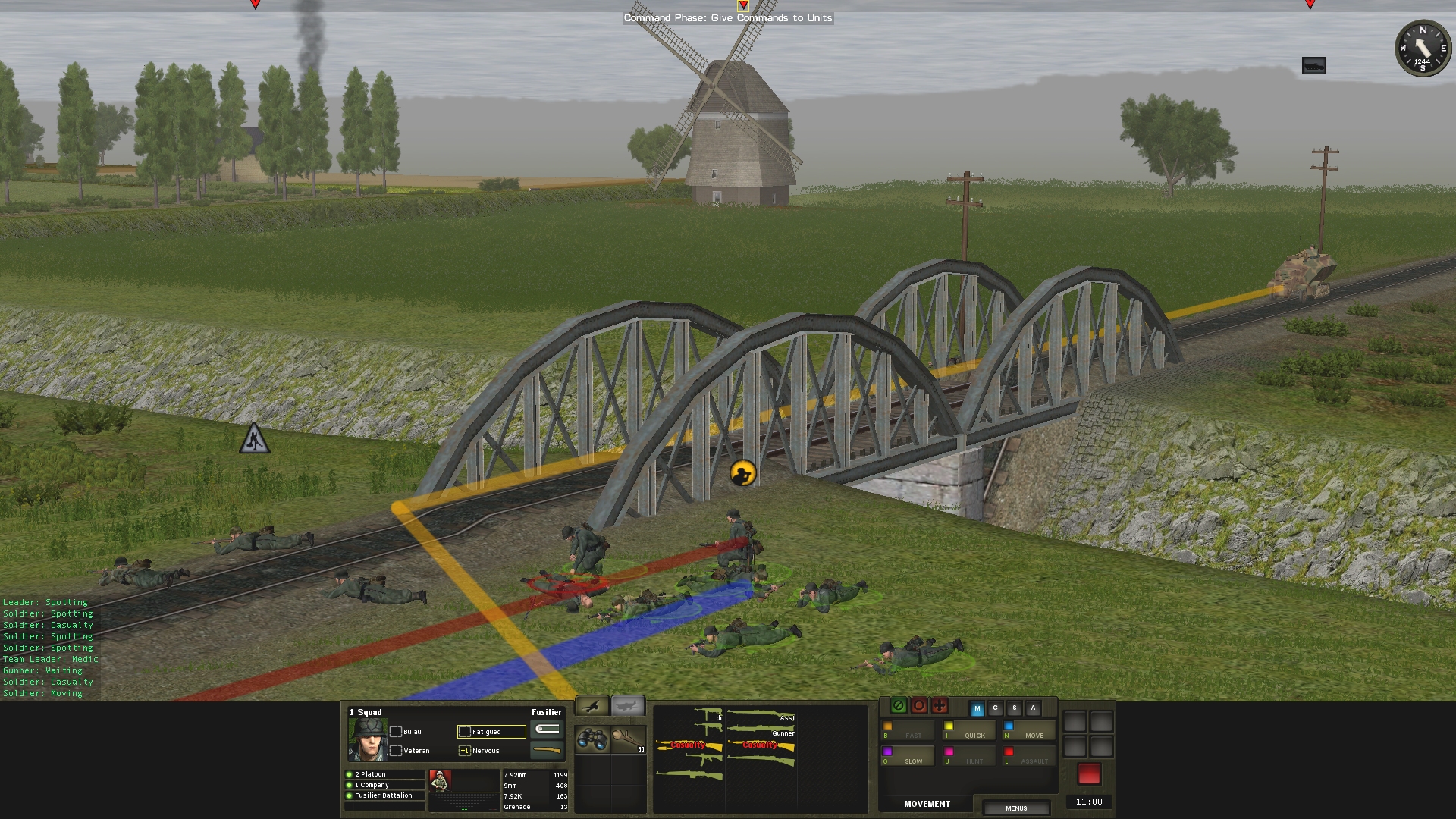 The eastern halftrack dawdled disobediently while Grill's scouts rejoined 1st Squad.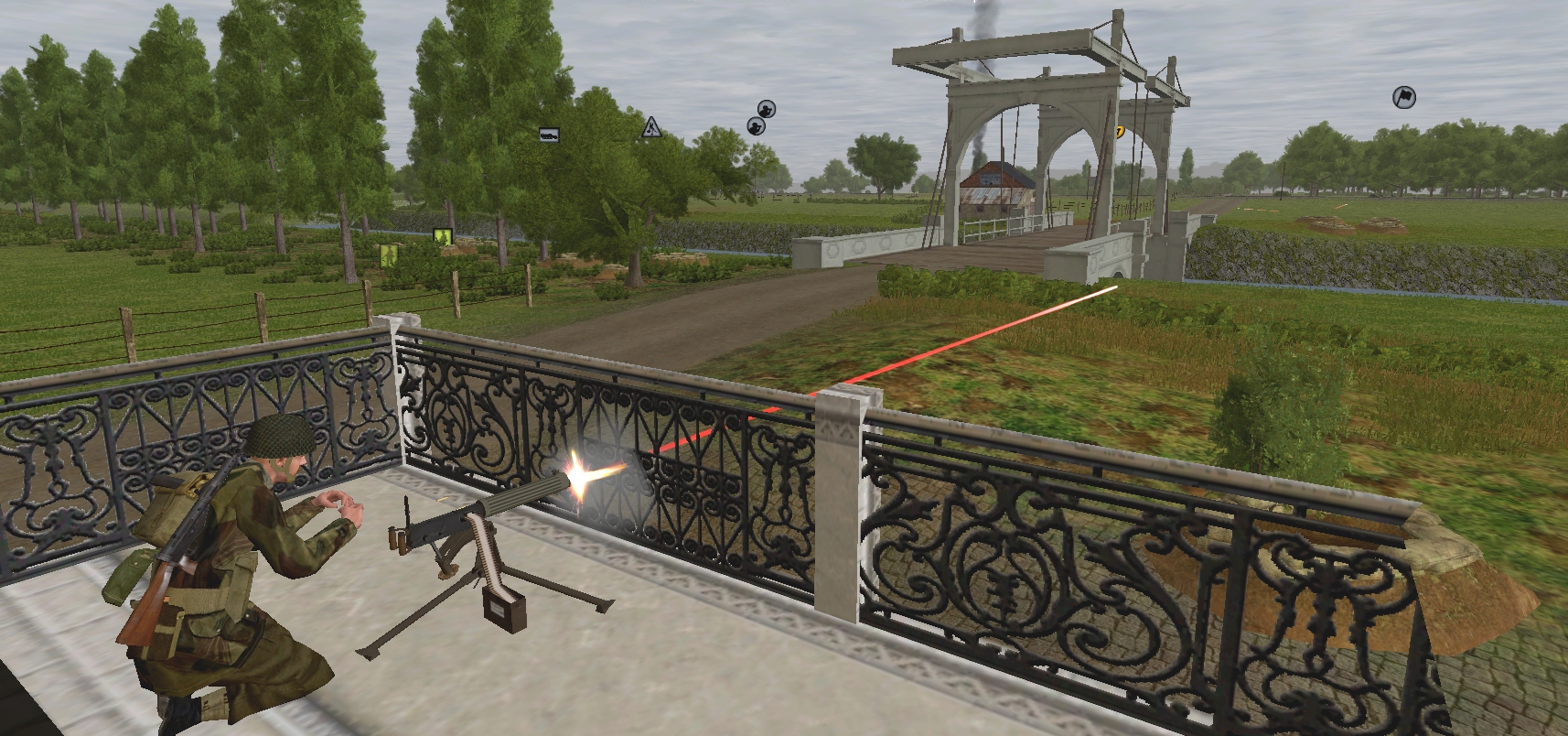 Wilberg ensured the re-crewed Vickers didn't stay re-crewed for long.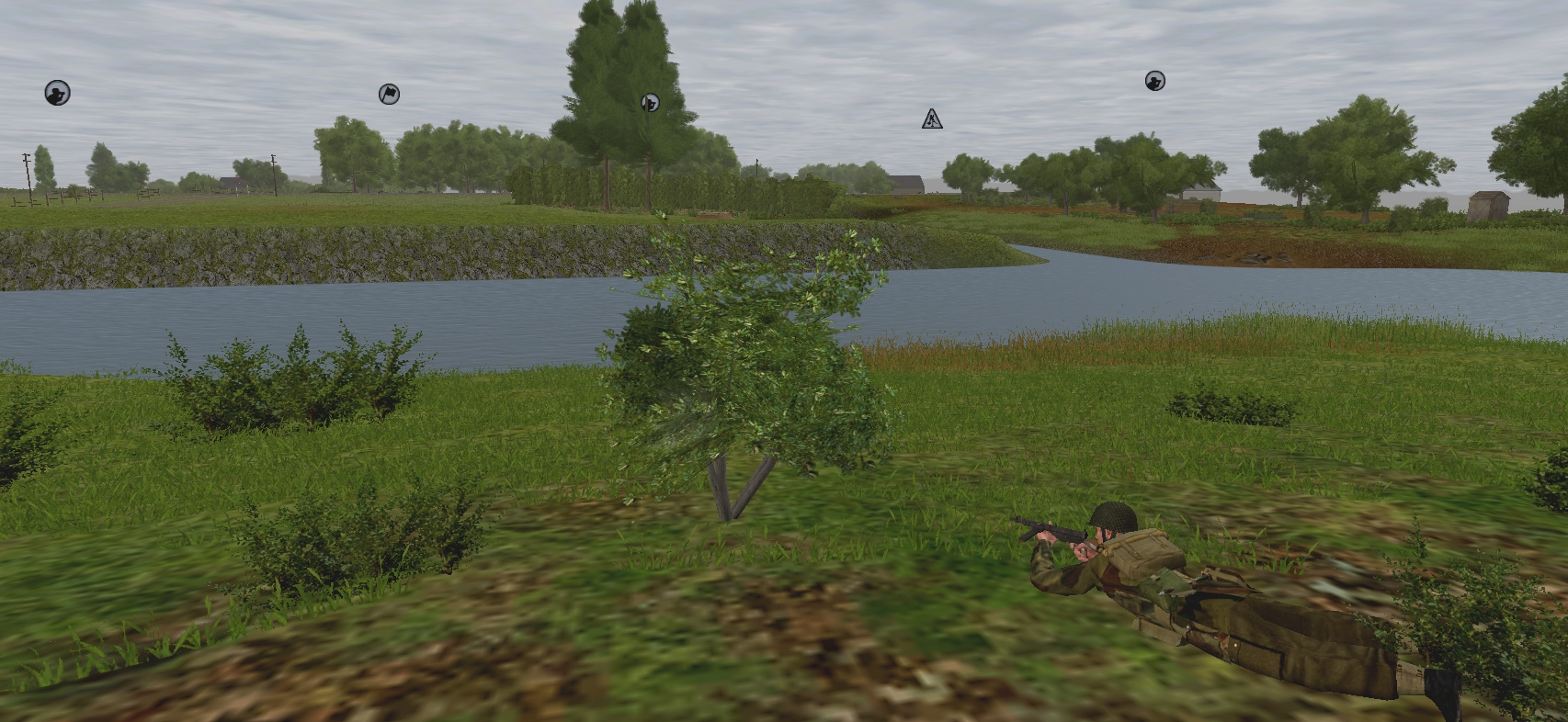 Baumeister silenced the pillbox Stenographer and the troublesome pumphouse one was wounded.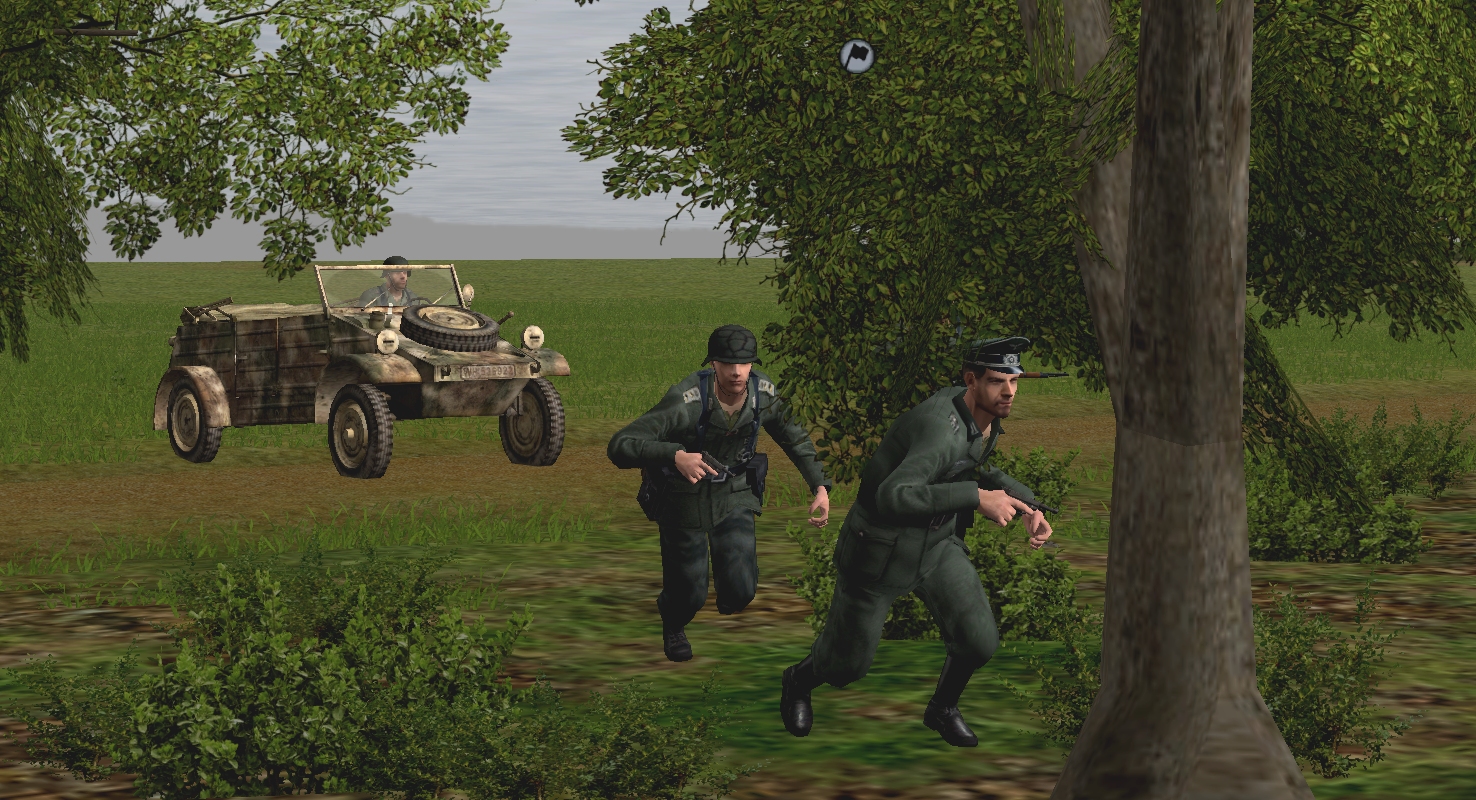 Belin began his medal hunt in earnest.