Last autumn, a month before the lights of The Flare Path blinked out unexpectedly, I asked readers to "Make me a Bismarck game out of code or cardboard". A dozen plucky creatives took up the gauntlet. In bedrooms and home offices across the globe, keyboards chattered like rivet guns and midnight oil burned welding torch bright. By the time the 40-day development window had closed there were twelve very different interpretations of Operation Rheinübung in my inbox. Now these submissions have been playtested and Tally-Ho Corner is finally open for business, there's no reason why the delayed awards ceremony can't proceed.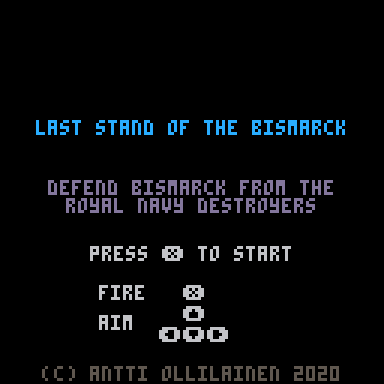 The Frugality award goes to a first-time developer from Finland. Spurning 39 of the 40 available megabytes, apa64 fashioned a single-screen, top-down PICO-8 arcade game in which the pixelated player-controlled Bismarck is the immobile whipping boy for an endless succession of RN destroyers.
Even though DDs and their emissions can be eliminated with deft gunnery, defeat is only a matter of time in the hard-as-nails Last Stand of the Bismarck. When the variable cataloguing German dead matches the historical KIA tally (2200 Kriegsmarine personnel perished when the Bismarck sank) the shell slinging abruptly stops.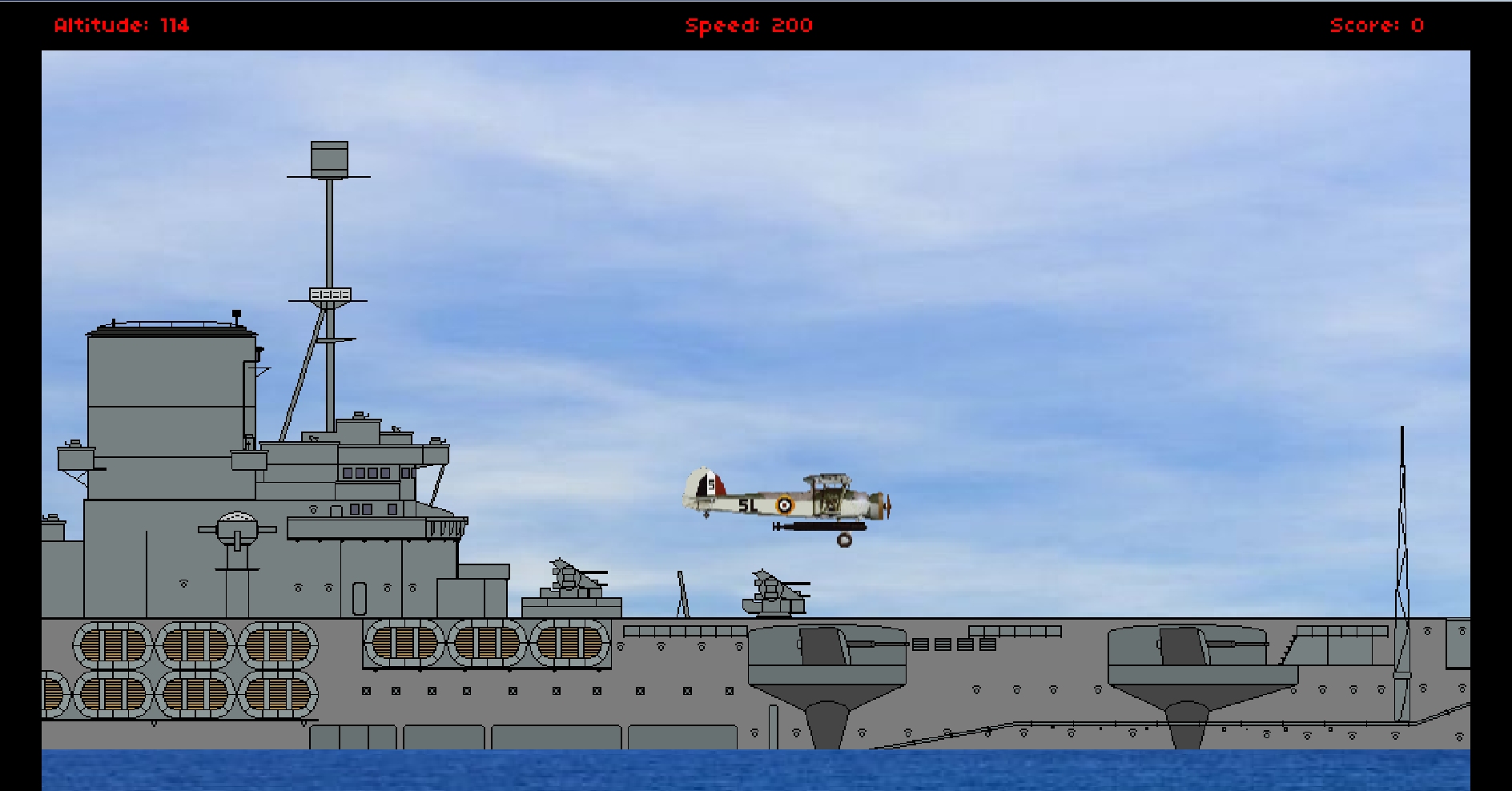 Sink the Bismarck!, another arcade offering from a novice game dev, also encourages reflection by concluding with a stark butcher's bill. Ben Attenborough's brief LÖVE-powered, Swordfish-centred side-scroller would, the judges felt, have benefited from a longer ingress flight, a sprinkling of flak, and a more resilient bogeyman, but does go home with the jam's Spectacular Shipping award.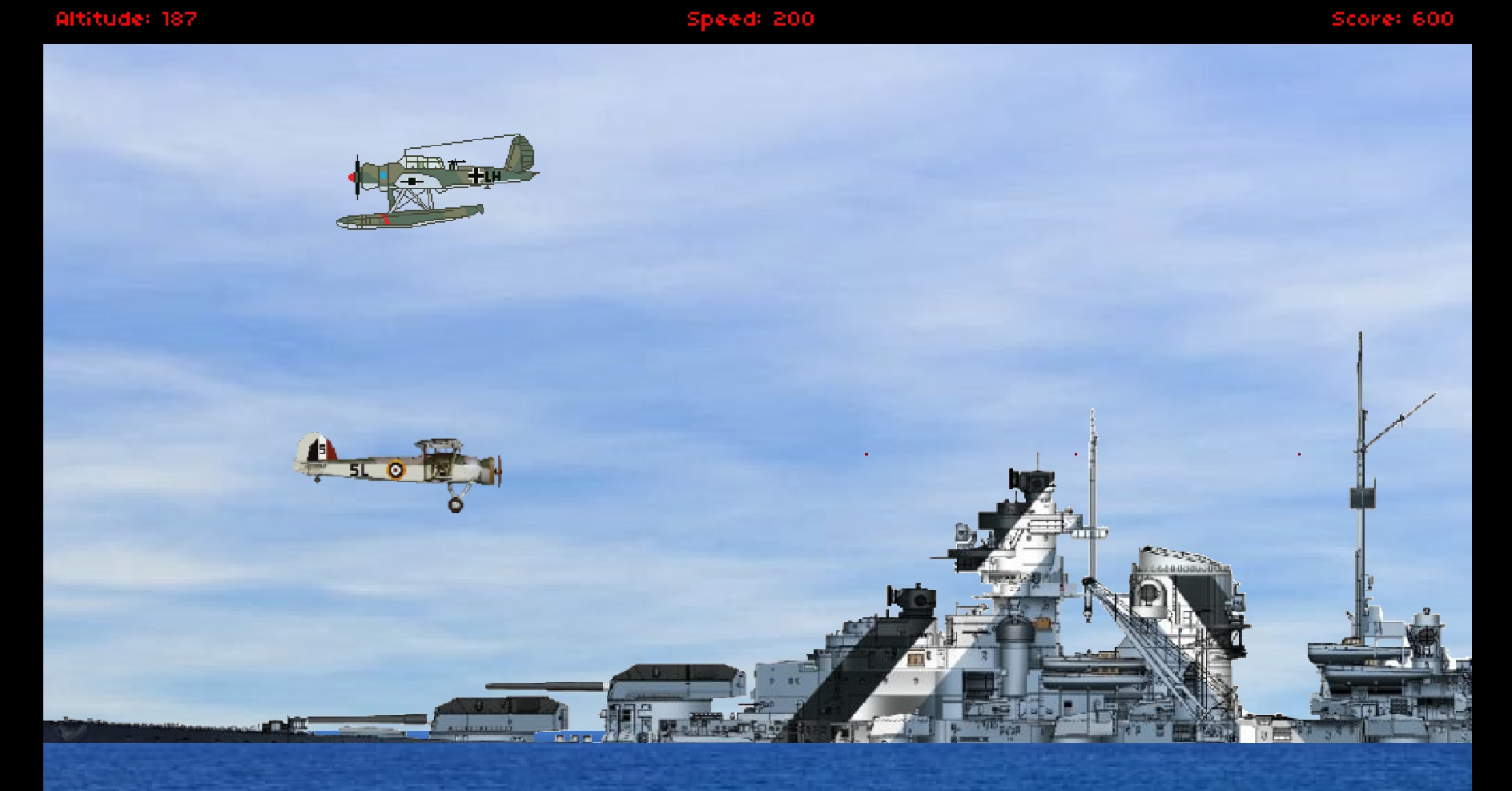 We loved the way its giant screen-straddling Ark Royal and Bismarck dwarfed its dinky but instantly recognisable aerodynes.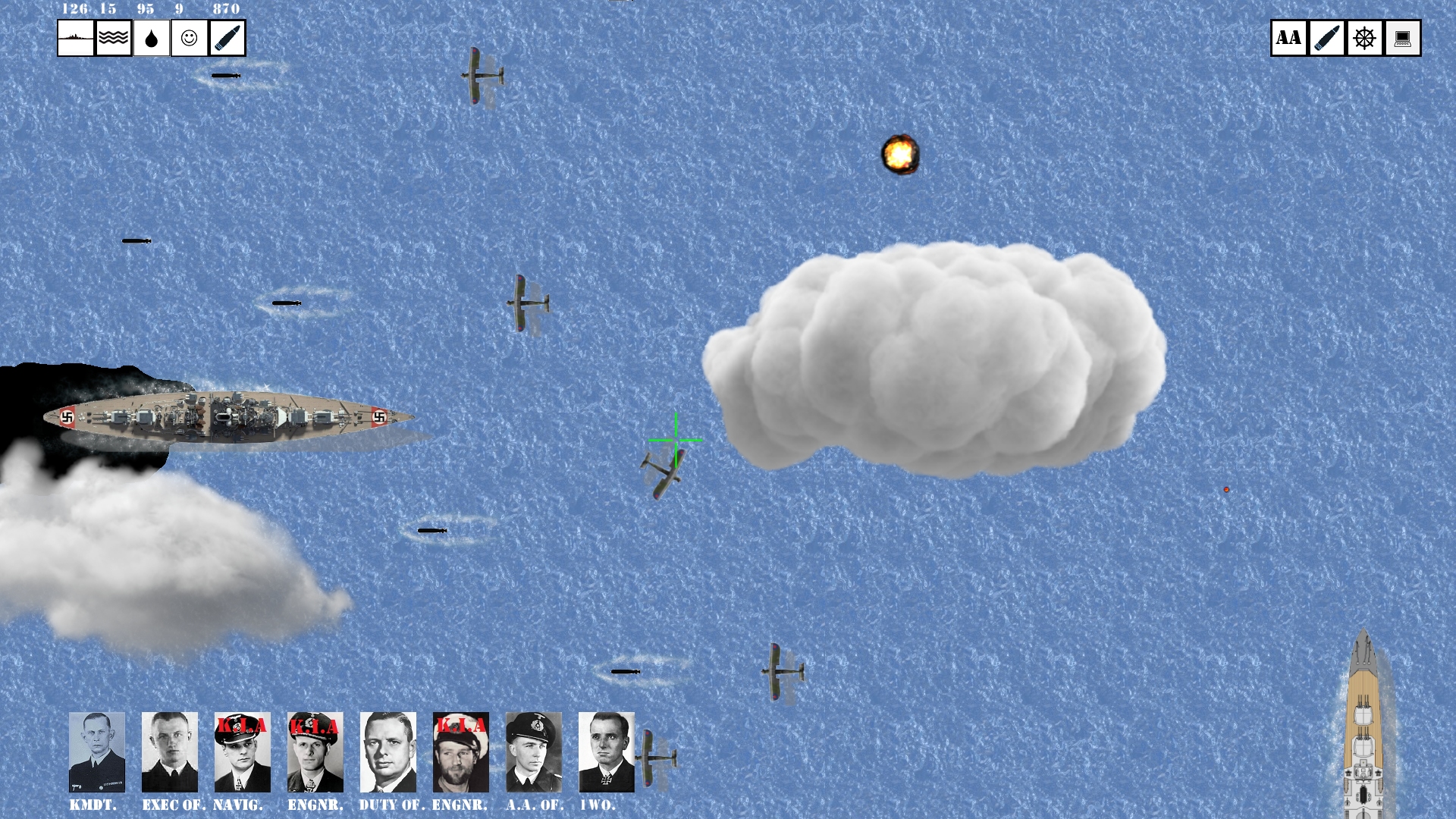 To Red Blood, Blue Water, the last of the trio of reflex testers, go the Best Sound and Best Cutscene statuettes. Ambitious zombiewarrior07 strives to tell the entire story of Operation Rheinübung in his atmospheric multi-level overhead shoot-em-up. That admirable aim is somewhat undermined by the resigned way HMSs Norfolk, Suffolk, Hood and Prince of Wales go to their deaths (swatting Stringbags is harder) but history forcefully reasserts itself in the final act. When, in a nod to the Bismarck's rudder woes, your German wave cleaver stops responding to WASD inputs, you sense that, however expert your marksmanship, the game probably isn't going to let you reach France.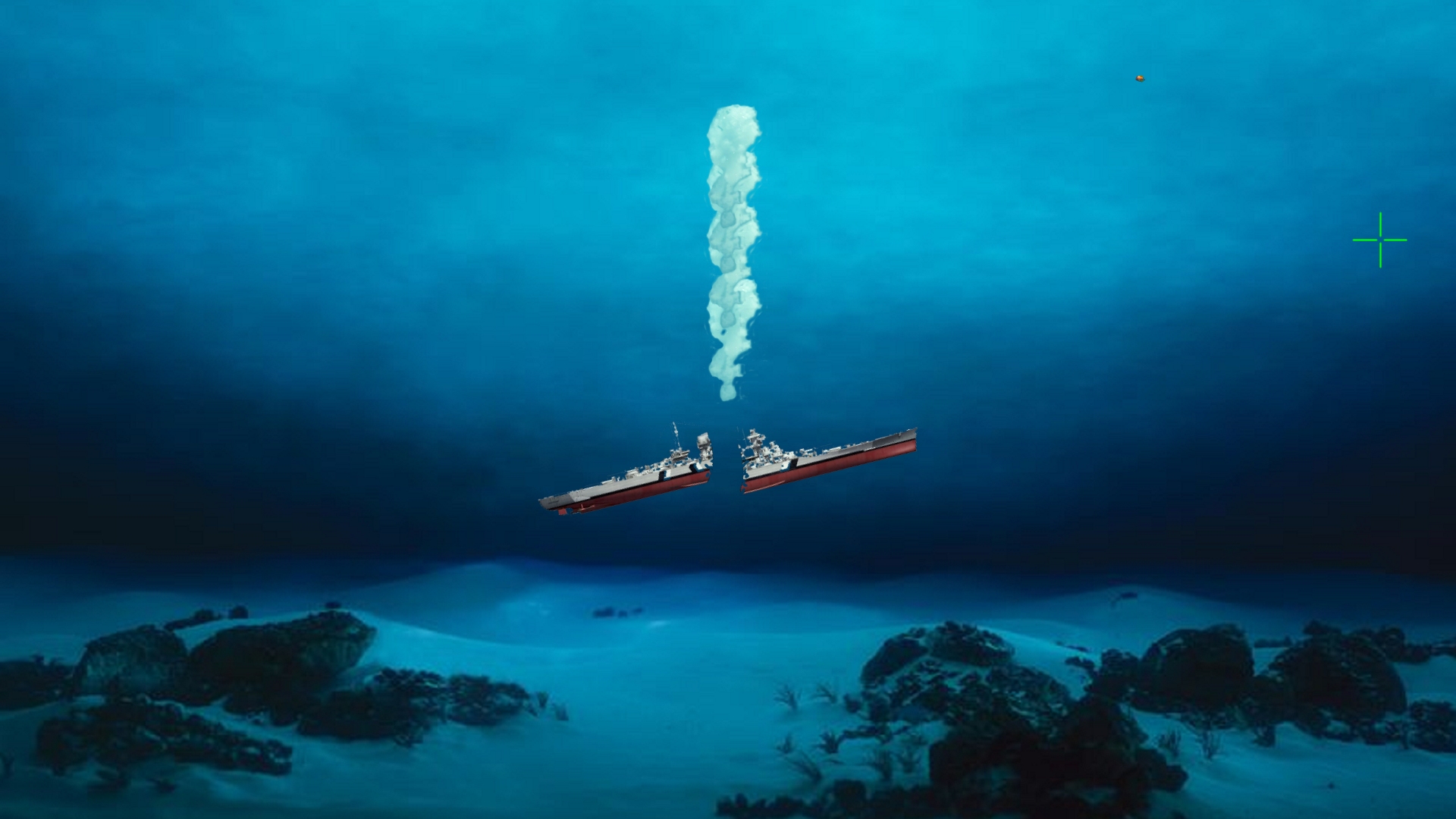 There is a bright side to the rigid determinism. It means there's no chance whatsoever of missing a lovingly crafted outro that feels like it's been plucked from a classic early-Nineties naval sim.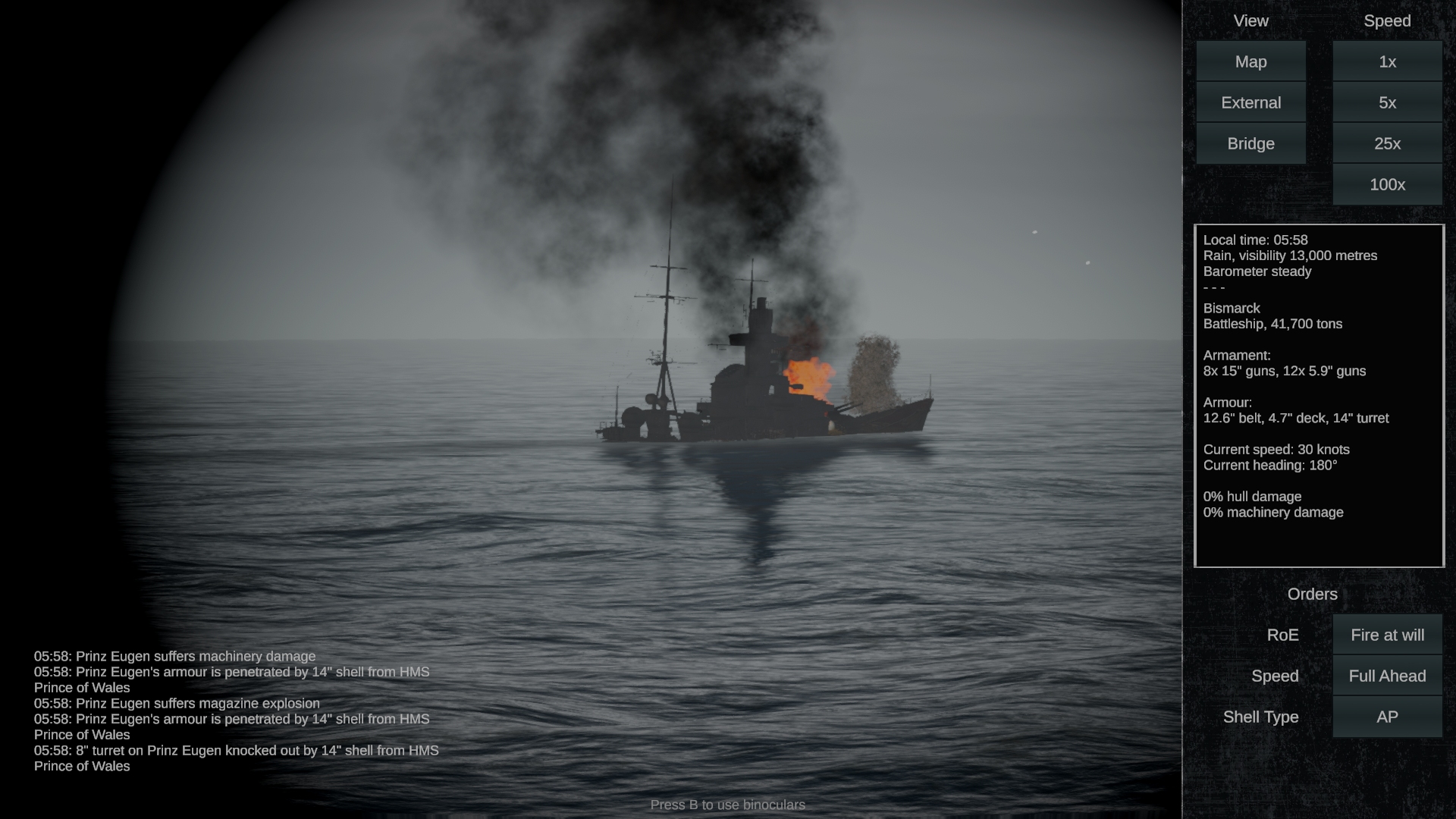 Hailing from the same part of the world as Red Blood, Blue Water, Wirraway Software's Infernal Ocean: Denmark Strait wins the coveted Technical Excellence and Time Machine awards by a country mile. With help from Unity, Geoff "Sub Commander" Ayre somehow manages to squeeze a complete low-complexity 3D naval wargame into a 32mb installer.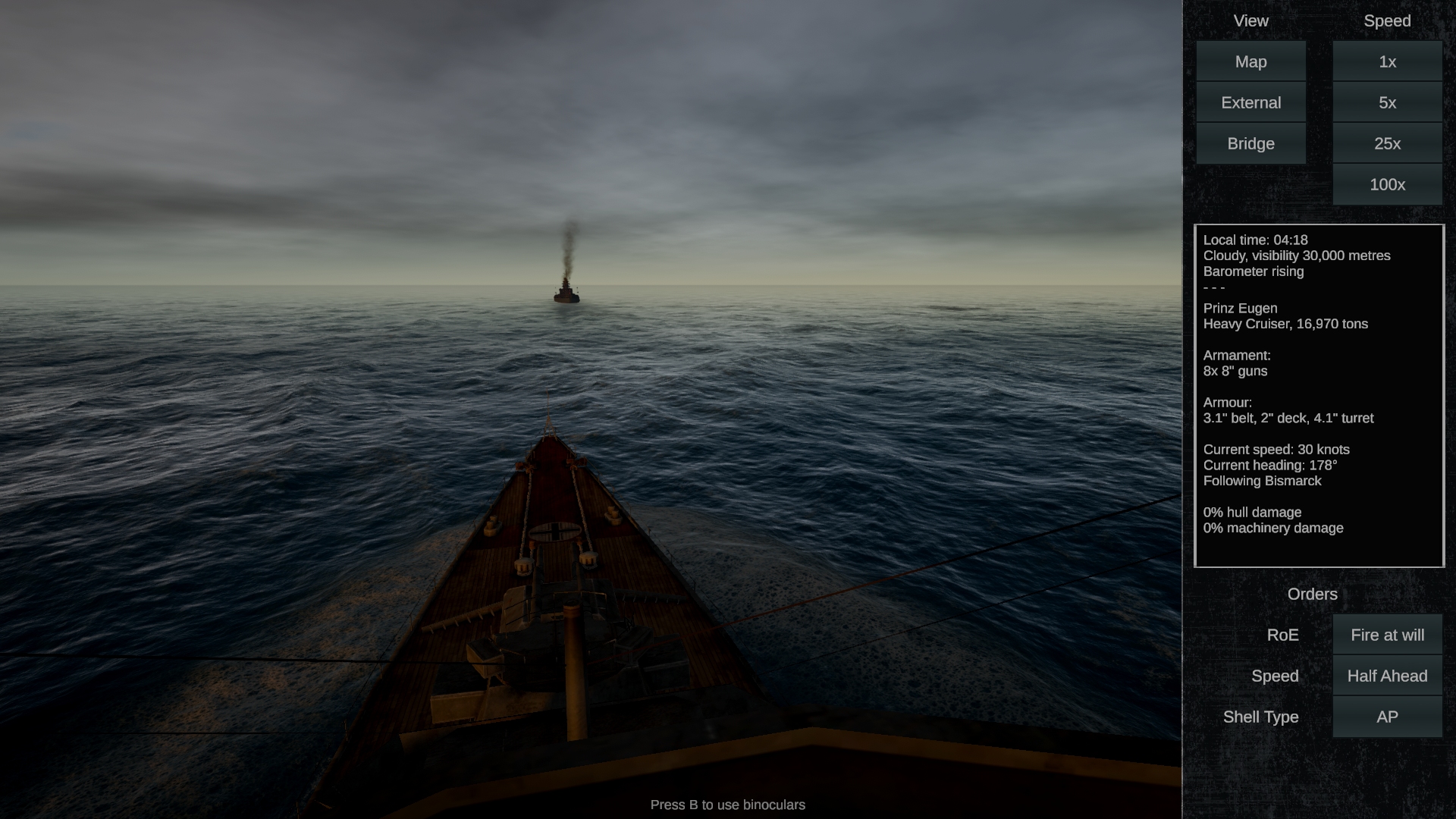 The judges found Geoff's recreation of the dawn duel that cost 1428 sons of Britannia their lives to be exciting, easy on the eye and mouse, and essentially plausible.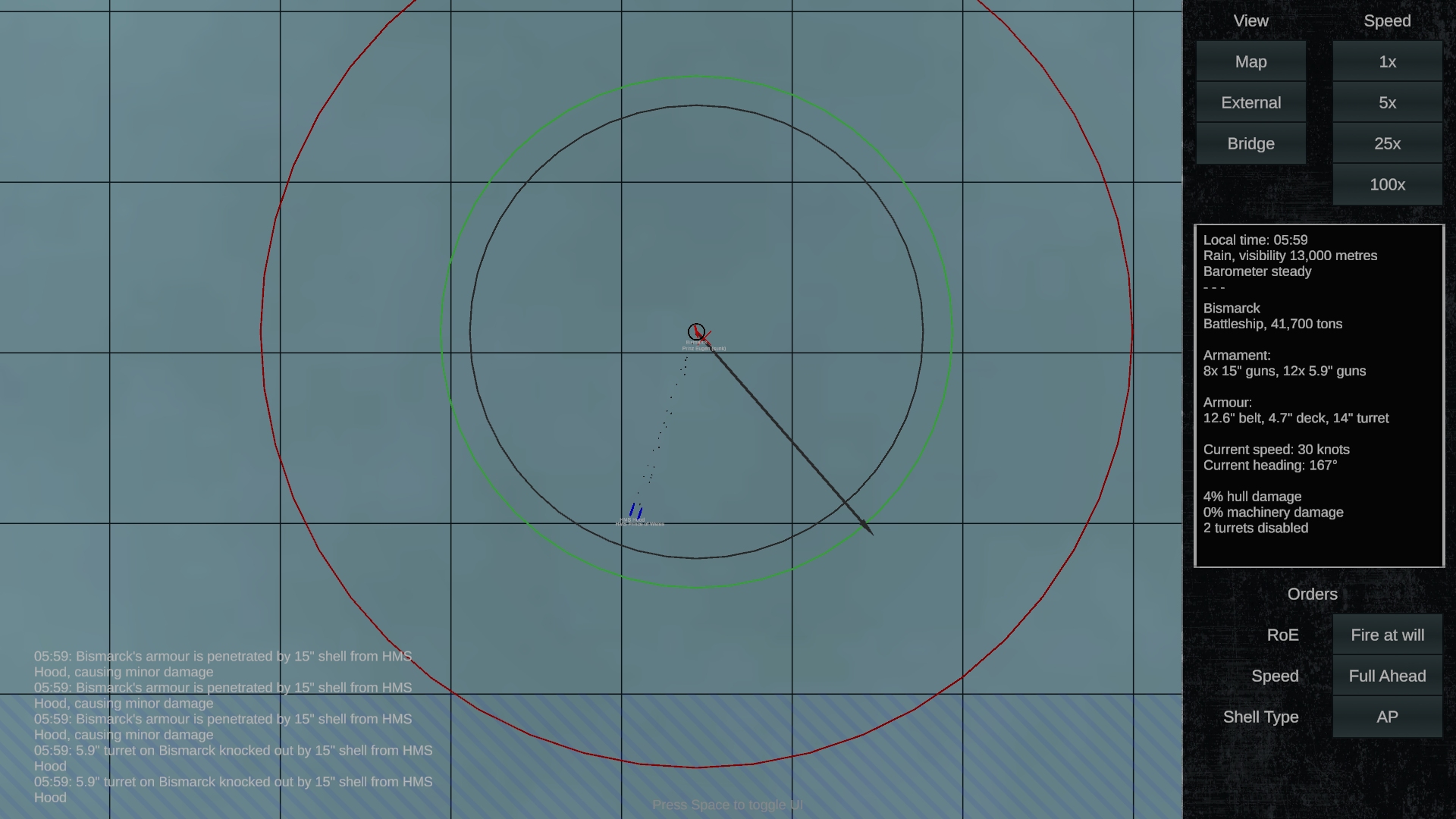 They enthused about the bridge cam, the visible-in-flight munitions, the audio, and the elegant approach to order issuing and station-keeping. Bar a few grumbles about the frequency of catastrophic magazine explosions and the behaviour of damaged vessels, the praise was unalloyed.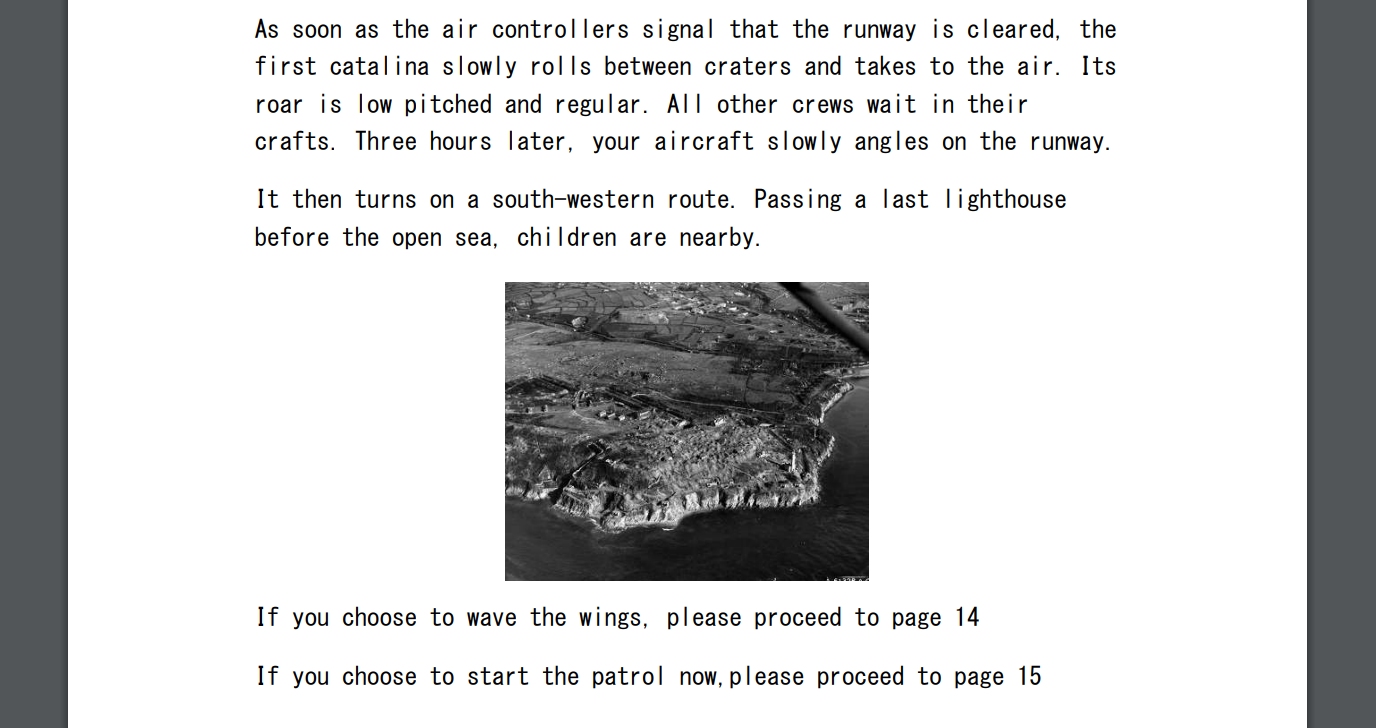 Operation Rheinübung's biggest names and bloodiest phases failed to pique Paperlion's interest. The creator of Finding Otto – The Flying Cats of Cinderella bagged the Most Interesting Angle award by ludologising one of the Bismarck story's bit players. Showing wonderful self-restraint and a commendable commitment to contextualisation, Finding Otto – the jam's only completely analogue entry – spends 66% of its time recreating, with help from a 70-page interactive fiction pdf and a pack of standard playing cards, two patrols in the wartime career of a Coastal Command Catalina pilot. It's in the final third of the book/game that the player is sent out to search for the bound-for-Brest Hood slayer.

While the judges adored the quirky concept and regularly found themselves transported by incidents in the story, the lack of randomness in combat resolution together with some incomplete briefings and knobbly phrasing, ultimately kiboshed Finding Otto's chances of making it onto the shortlist for overall winner.
Stringbags and Behemoths, another air-minded entry with cards and question marks at its core, did make that shortlist.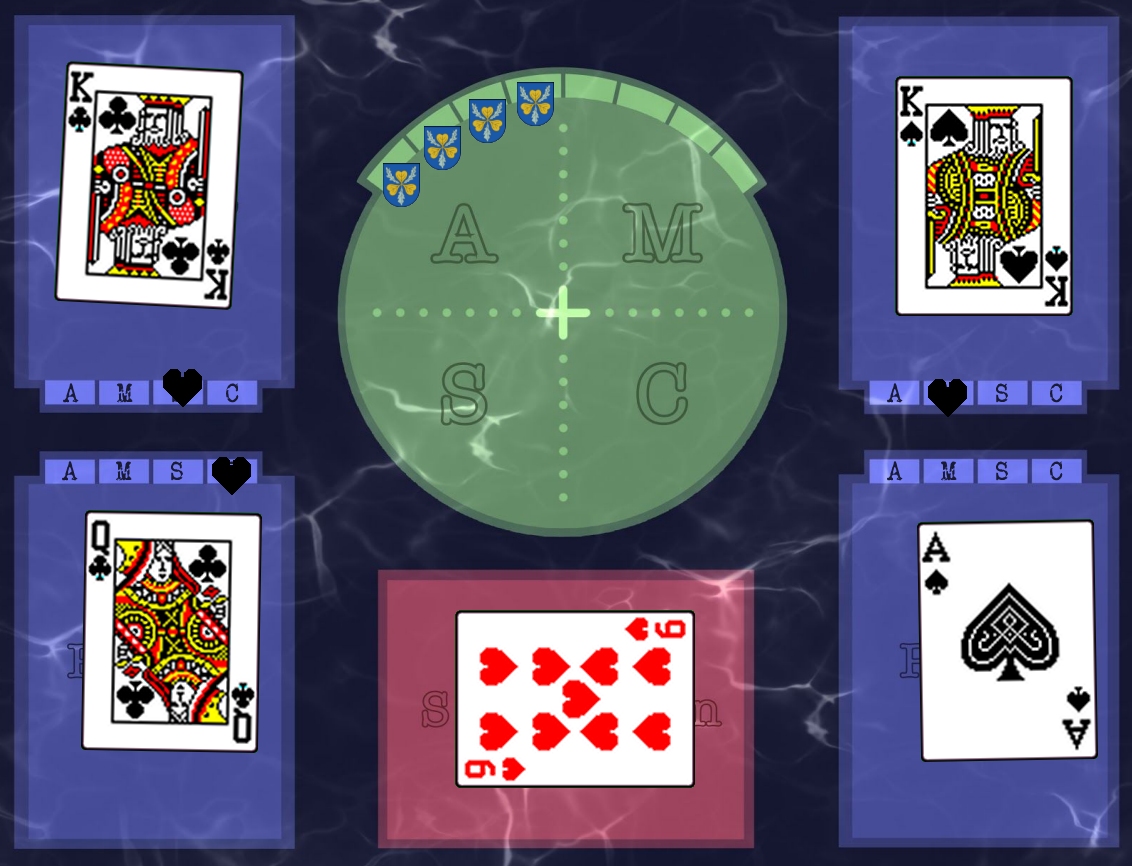 Daniel O'Connor's splendidly titled submission uses playing cards, two dice, a simple board, and Twine-packaged interactive fiction to sim a sortie by four Fairey Swordfish against Lutjens' flagship.

Despite swingeing abstractions (there's no map and play mainly consists of choosing responses to randomly-generated "situations" then performing skill checks with dice) tension builds nicely as you near the last of the game's six rounds. By the time your bimbling biplanes are in a position to begin their runs, factors like bad weather, faulty munitions, pilot inexperience, even blue-on-blue SNAFUs may well have cast their shadows upon the board. Because of pilot wounds and player damage (conflated in S&B) deciding how to tackle the unique final phase – the attack itself – is rarely easy.
UnTwined, delicately edited, and enhanced with a comelier board, the recipient of the Crispest Ruleset and Most Thrilling Denouement awards could have a bright future ahead of it as a DTP wargame engine. Taranto, Operation Cerberus, Midway… the expansion packs aren't hard to picture.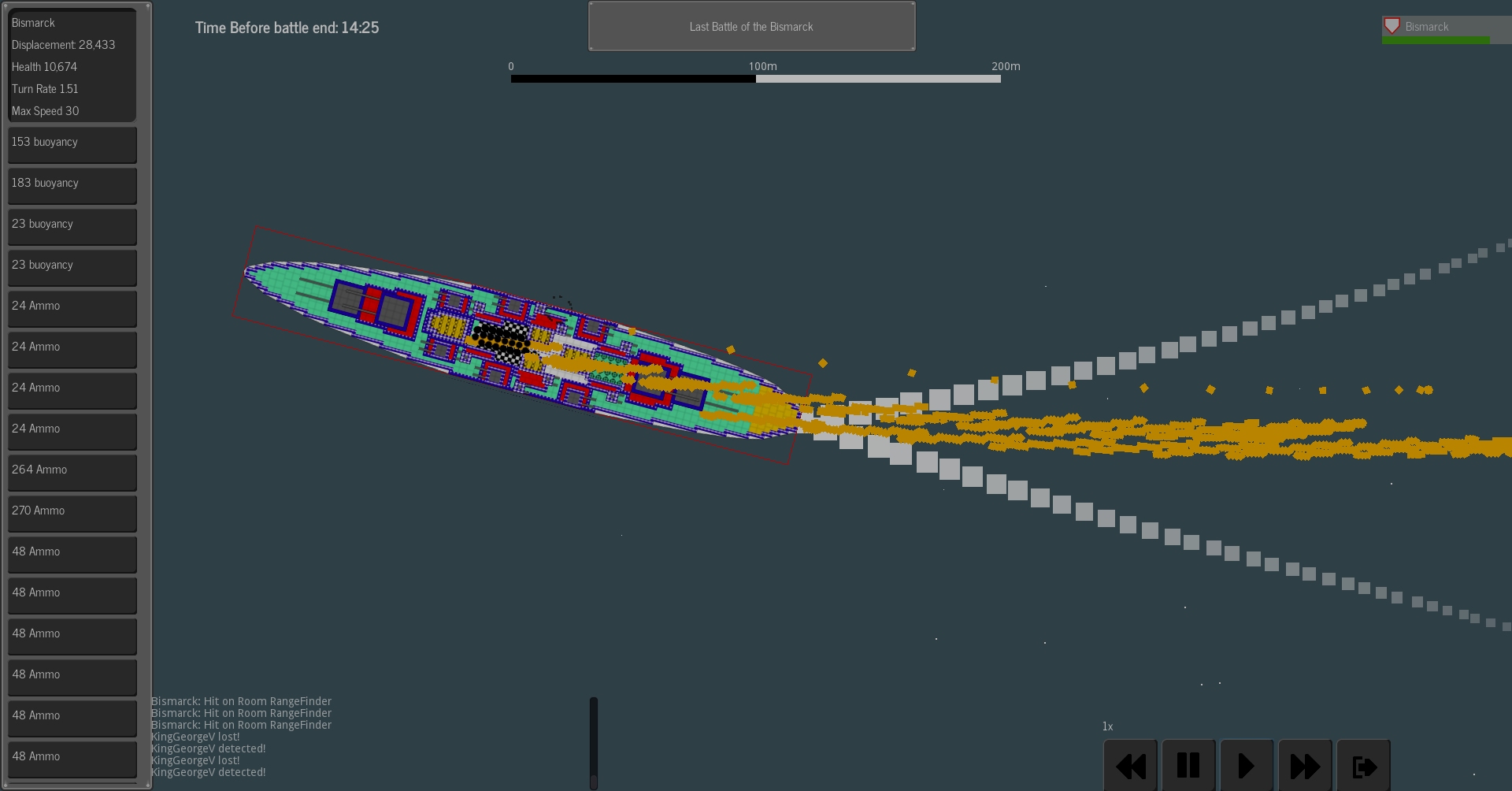 Several jam creations let players remodel the Bismarck with torpedoes and shells. Only one – Dessiné… Coulé! – permitted peaceful modification. Incorporating a ship and skirmish editor, plus two Operation Rheinübung-themed scenarios, the Bossard brothers' entry gained plaudits for its malleability and novelty. Unfortunately, austere presentation, an annoying camera, and an empty audio folder, scuppered any chances it might have had of taking the top prize.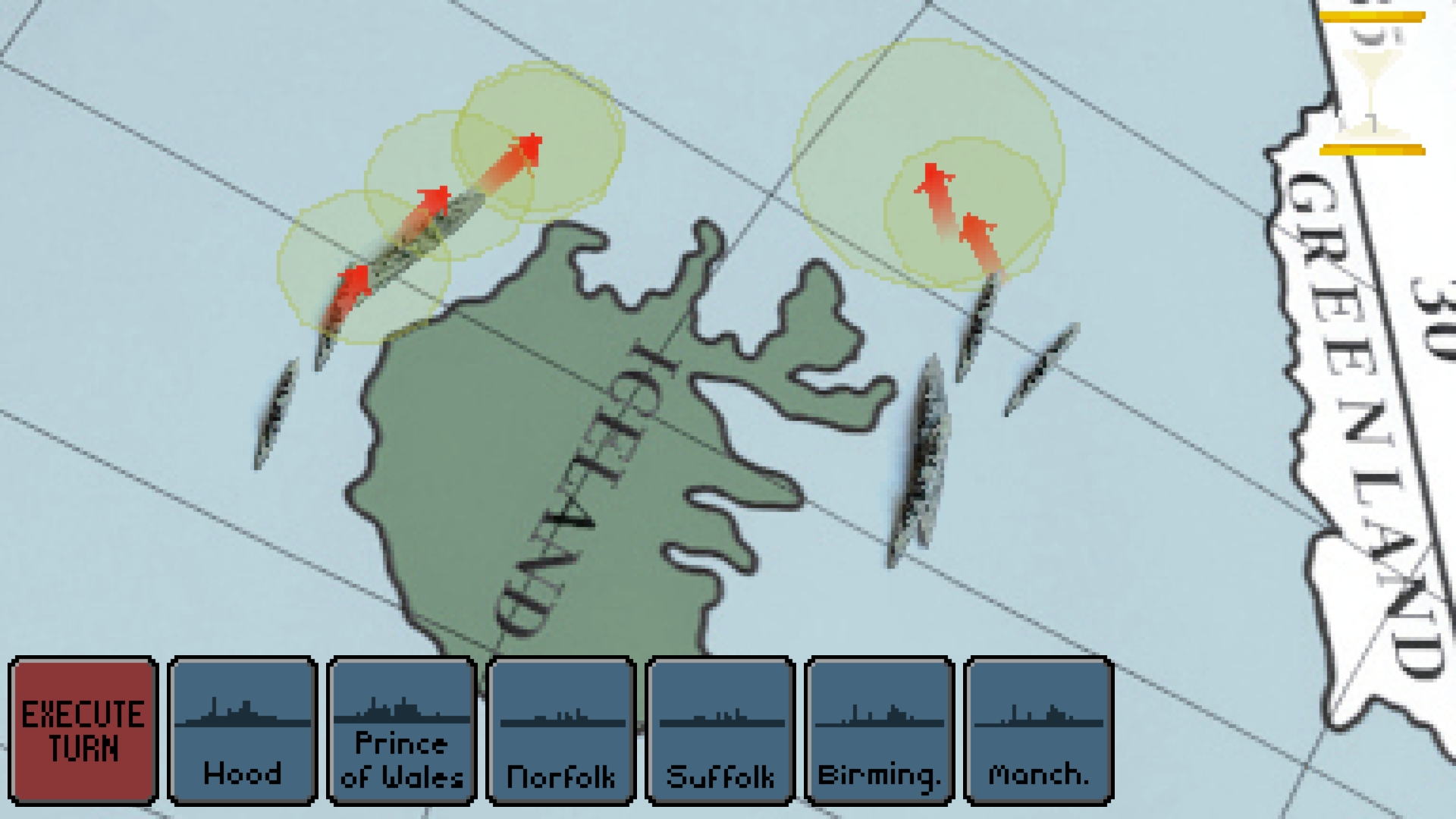 The fact that the judges barely noticed Defenders of the Atlantic's lack of gun reports and gull cries speaks volumes. Speculative Simulations' Fog of War-shrouded TBS casts the player as the alarmed Admiralty. Aware that the Bismarck and Prinz Eugen are heading west, intent on commerce raiding, it's up to you to task your six assets (Hood, Prince of Wales, Norfolk, Suffolk, Birmingham and Manchester) in such a way that the foes are found and, at the very least, delayed before they reach the happy hunting grounds of the North Atlantic.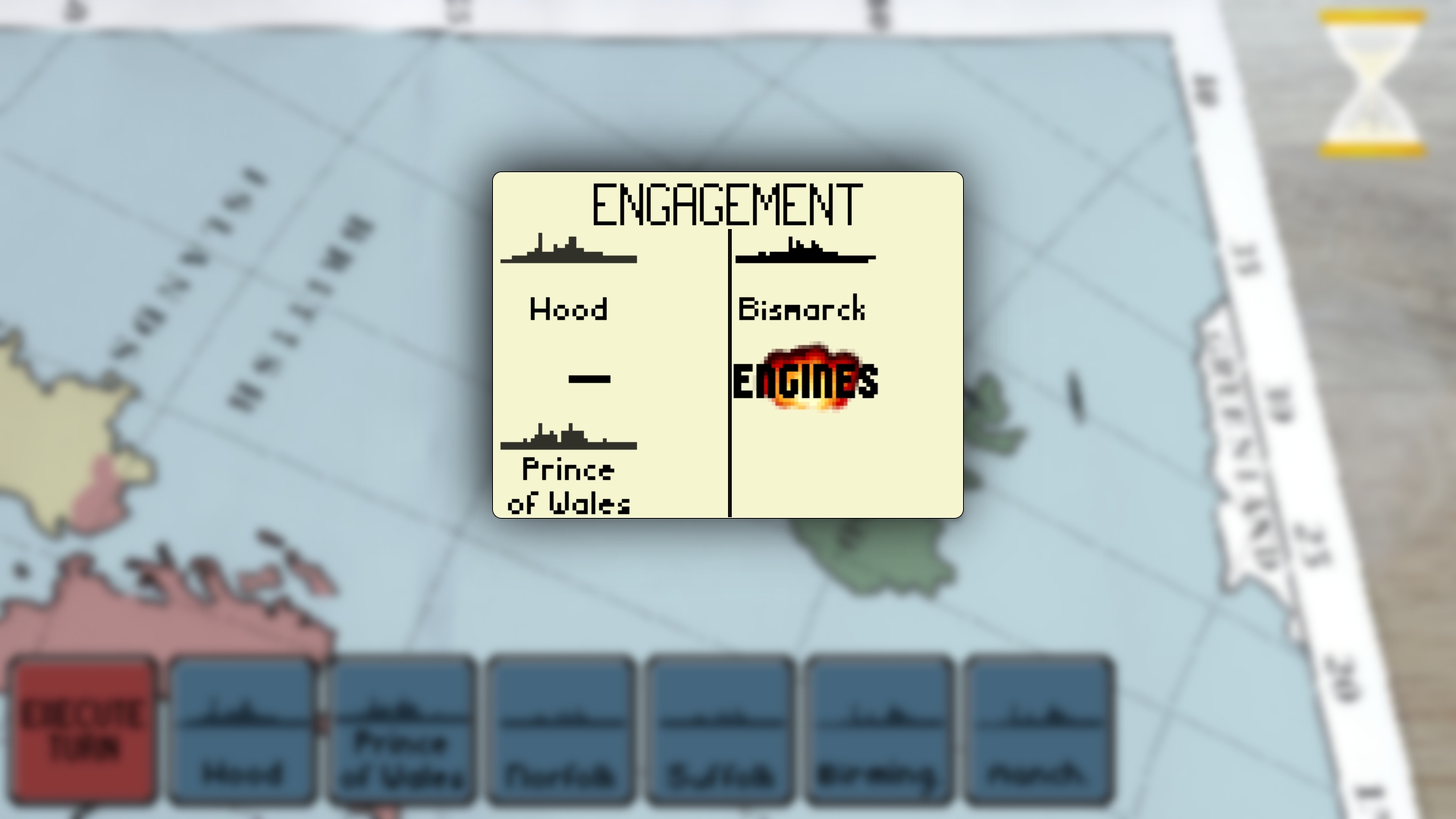 In practice this means investigating scudding cloud icons on a stylish chart and ensuring the Kriegsmarine heavyweights, once located, stay located and get it in the neck from your own leviathans, Hood and PoW.
For capturing the flavour of Operation Rheinübung's tense early phases so superbly, the surprisingly replayable Defenders of the Atlantic takes home the History Master award. For doing it with such visual panache, it also collects the Art of War one. The judges slightly nuanced their positivity by pointing out that a more distinctive Bismarck sprite (Jonathan created his ship sprites by photographing 3D-printed models) would have been nice, as would some less ambiguous encounter cards (I'm 99% certain "unknown ships" never become Bismarcks) before adding DotA to a shortlist that already included Infernal Ocean: Denmark Strait and Stringbags and Behemoths.
Ladies and gentlemen, that premature drum roll you can hear is Roman's oh-so-subtle way of saying "Isn't it about time you thanked all the jamees and revealed the contents of the golden envelope you've been clutching since the first paragraph?"
My impatient assistant may have a point. A huge Thank You to everyone who took the time to craft an entry (without your industry, imagination and enthusiasm this would have been a very short, very dull article). After lengthy deliberations and the odd tantrum and Chinese burn, the judges agreed the overall winner of the first and last Flare Path Game Jam should be…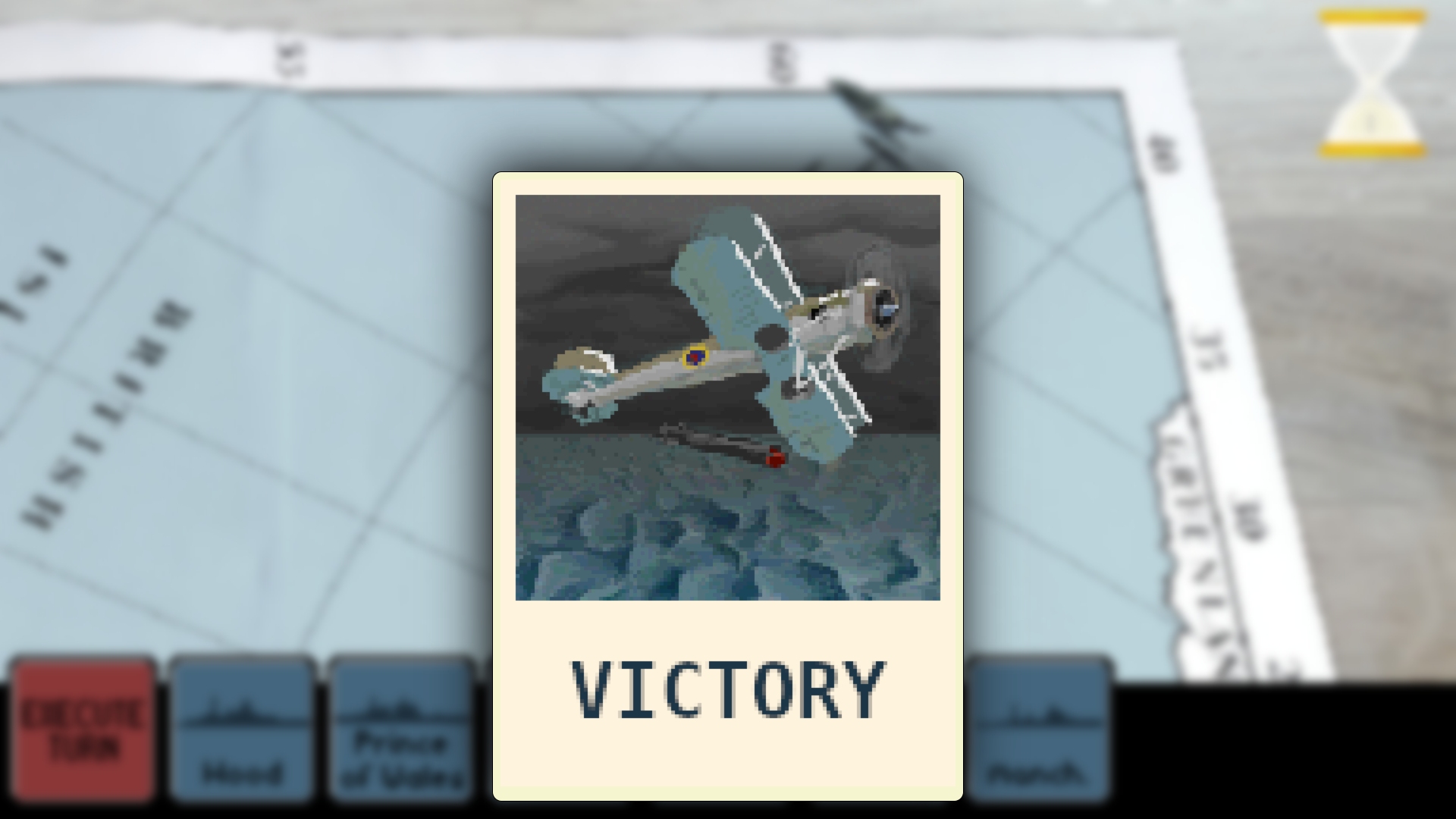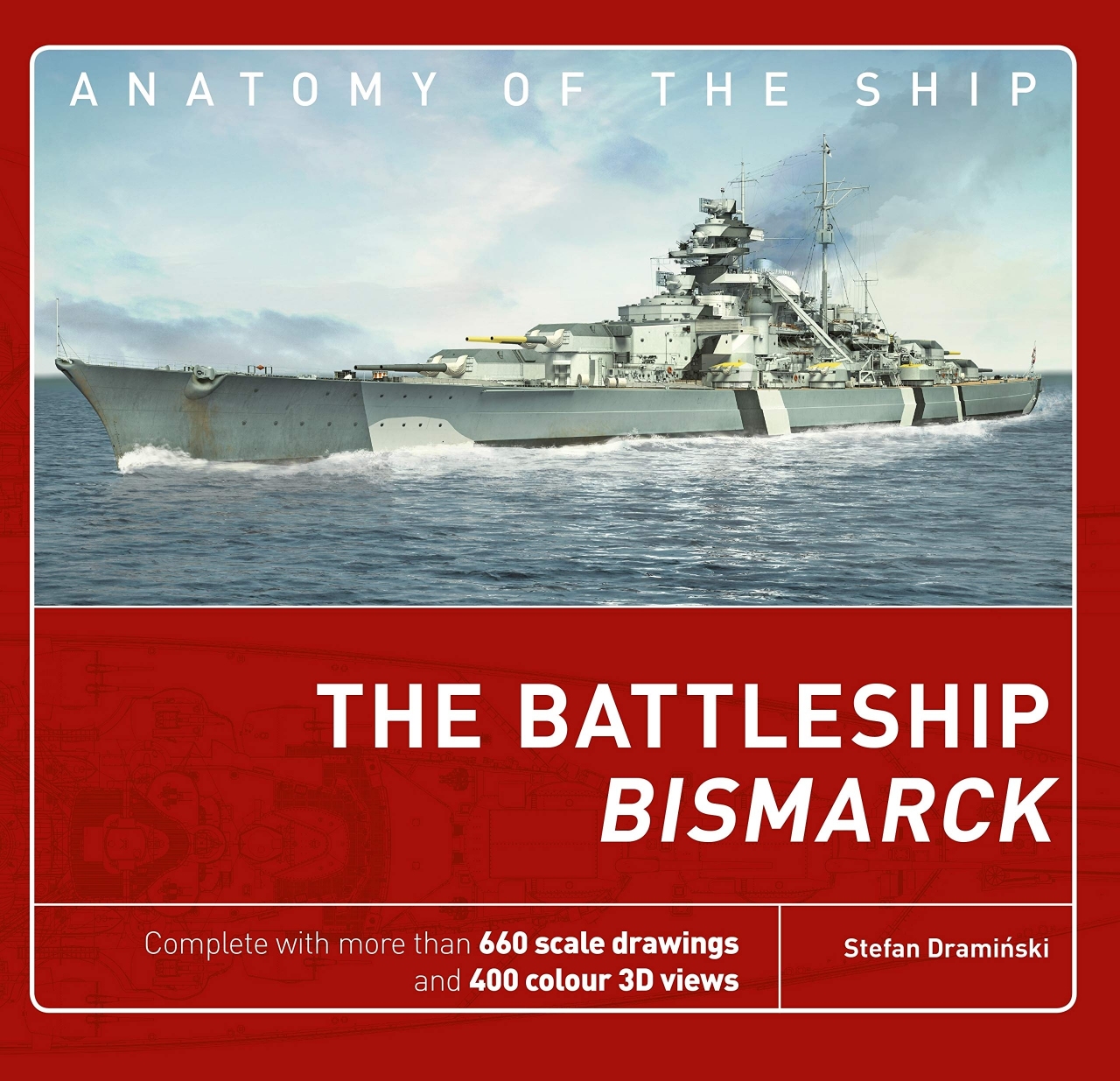 Well done Jonathan. Your lavishly illustrated, coffee table-endangering, Osprey-donated prize will be winging its way to you shortly.