An encyclopedic knowledge of Warsaw Pact AFVs, Bob Dylan songs, Paris landmarks, or species of gibbon won't help you solve today's 'foxer'. The singular co-op puzzle I'm about to describe was created during WW2 and has been steadily increasing in difficulty ever since. But for a chance detour a couple of weeks ago, I might never have stumbled upon it.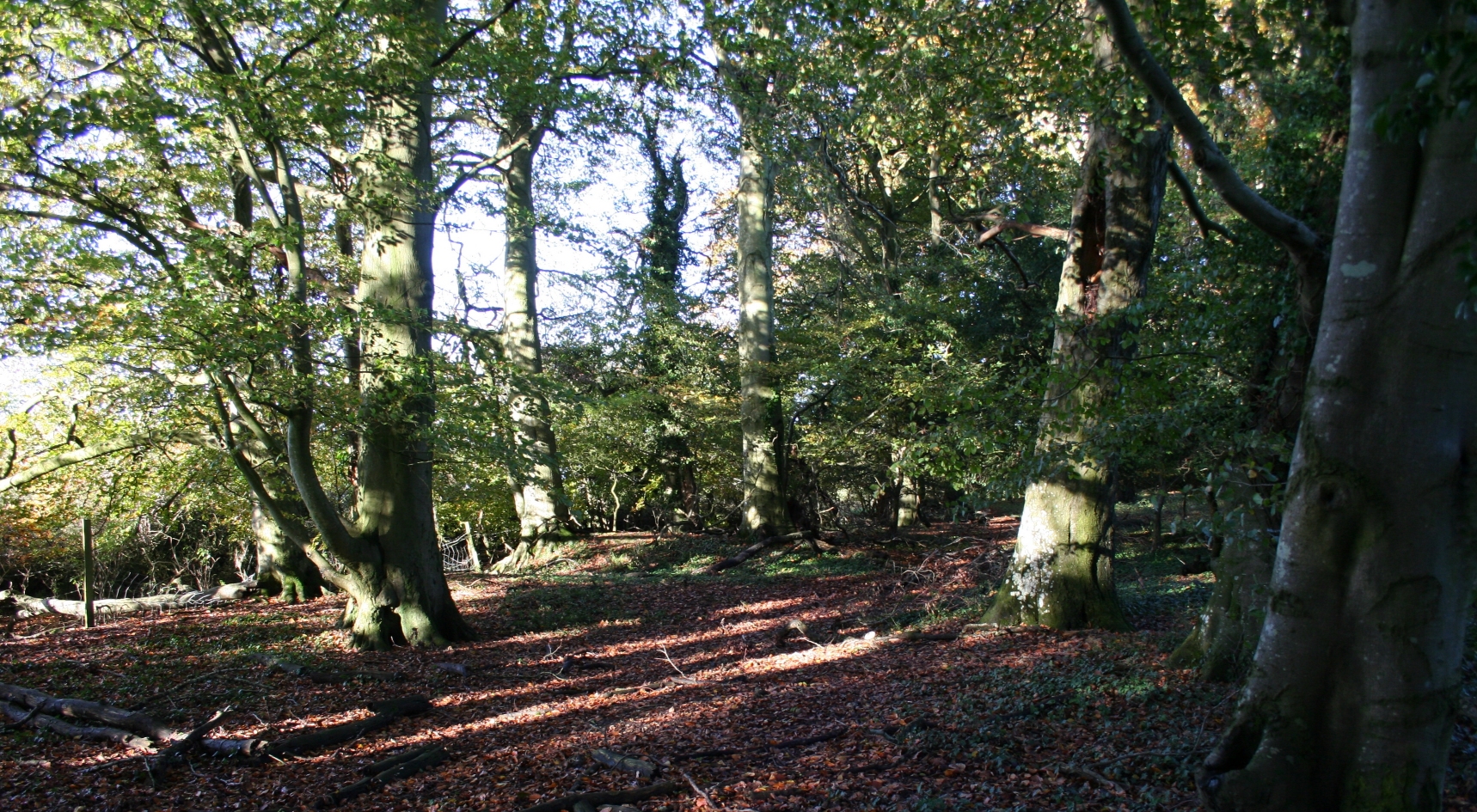 I was walking close to Salisbury Plain recently when the heavens opened. Realising I was going to get soaked to the skin if I stuck to my planned route, I decided to abandon footpaths and bee-line back to the car. My shortcut took me over a barbed wire fence, along the edge of a ploughed field, and into a strip of mature beech woodland that, judging by the dated detritus and tangled undergrowth, hadn't seen human visitors in quite some time.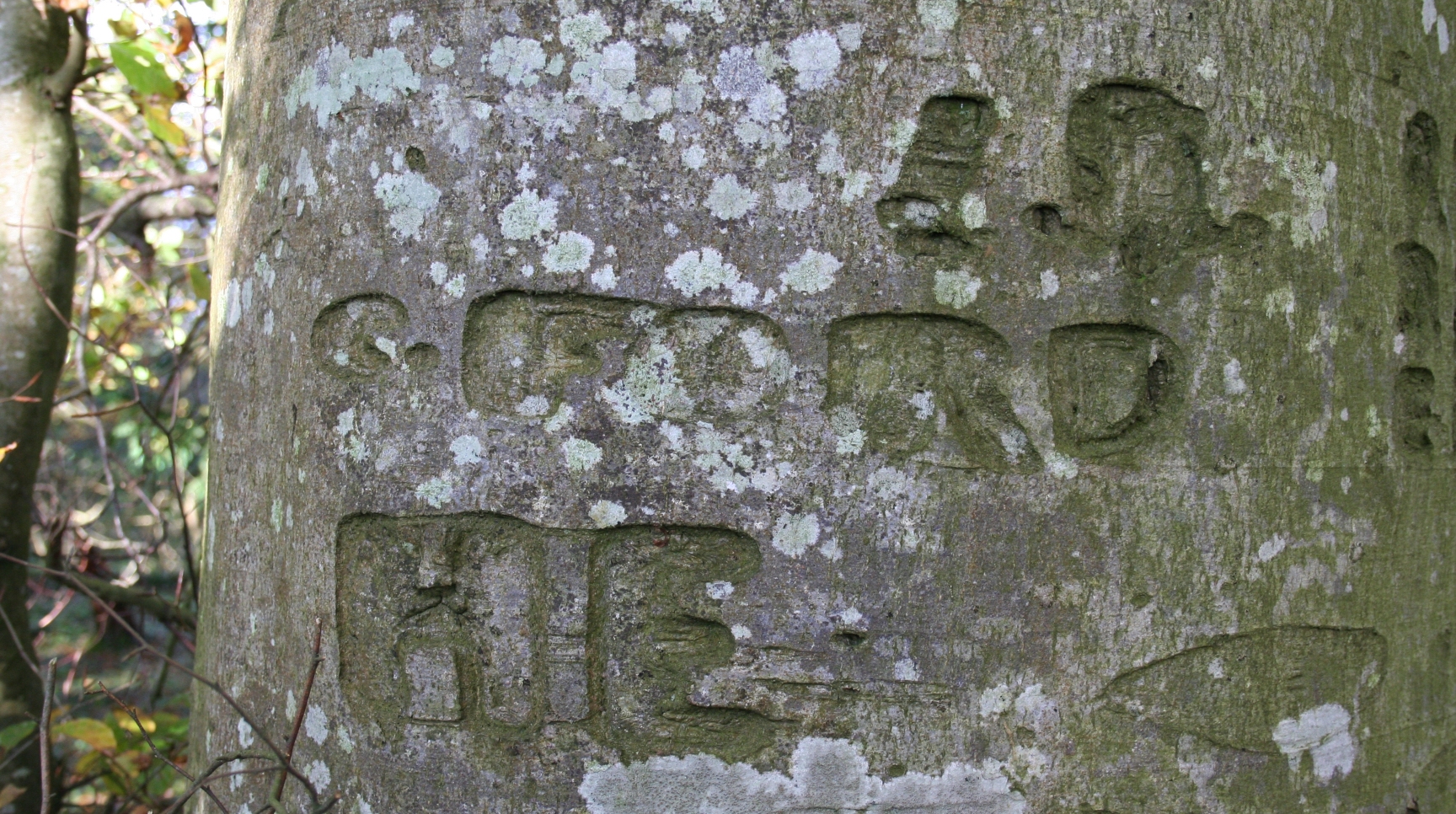 That the local squirrels, rabbits, badgers, and deer hadn't always had this out-of-the-way place to themselves was clear from the graffiti carved into many of the larger trees. As I moved from dripping glade to dripping glade I passed numerous timber tattoos. The passage of time had rendered most of the inscriptions illegible but here and there recognisable words and numbers peeked out from under lichen rosettes and woody wrinkles. Scruting the scrutable, it eventually dawned on me…
I was walking through an accidental memorial arboretum.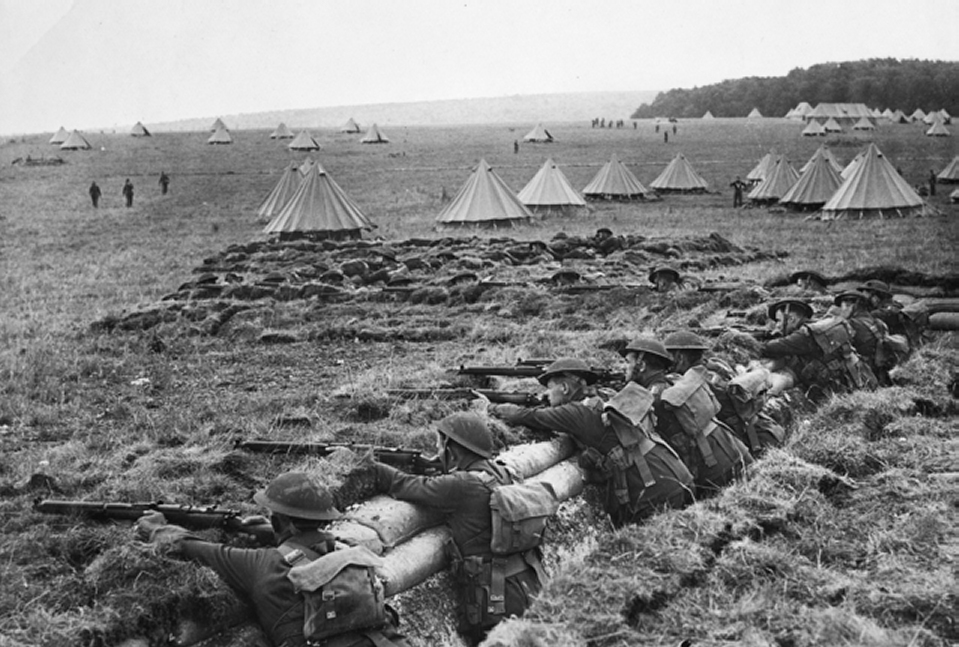 Eighty years ago, in this bosky spot, soldiers from at least two corners of the Commonwealth on their way to fight, and possibly die, in North Africa and Continental Europe, had carved their names, ranks, and nationalities into living wood. As I squelched back to the car I resolved to return with a camera. I'd photograph the clearer trunk texts then attempt to decipher them with help from THC's resident band of cyber sleuths!
Defoxers old and new, your challenge today is to help me confirm the names and unearth the histories of half a dozen beech tree brothers-in-arms.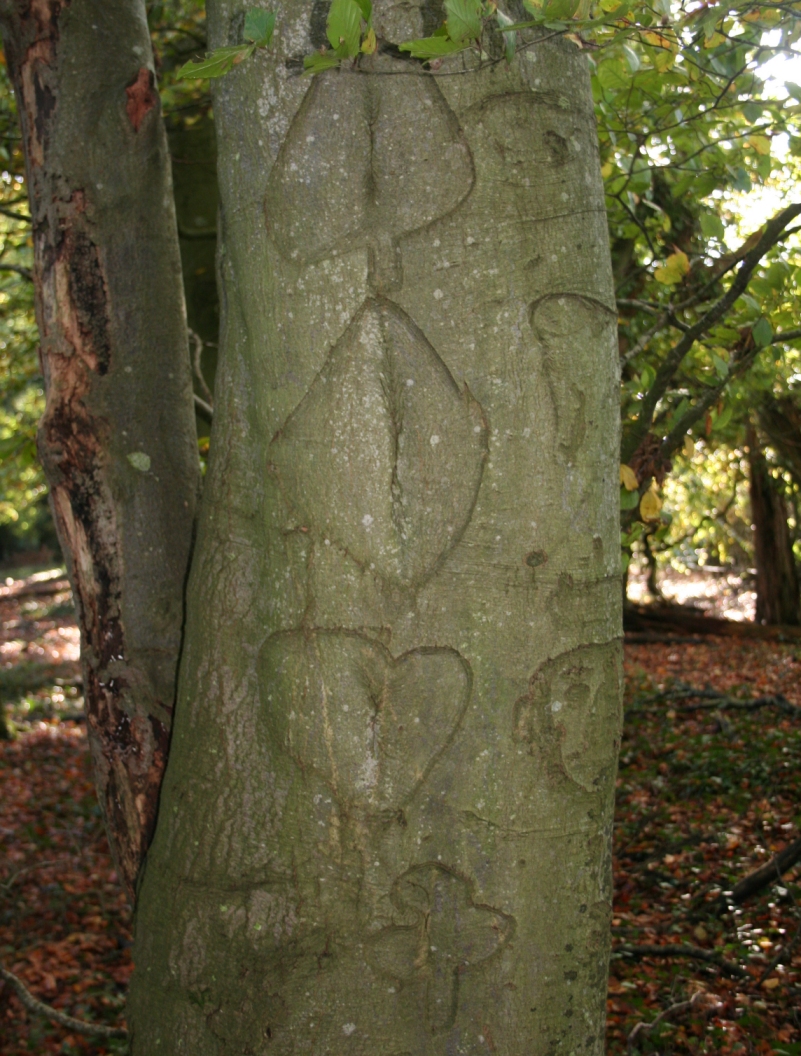 The first bark brand I encountered on entering the wood was one of the most intriguing. Five paces from a trunk emblazoned with all four playing card suits…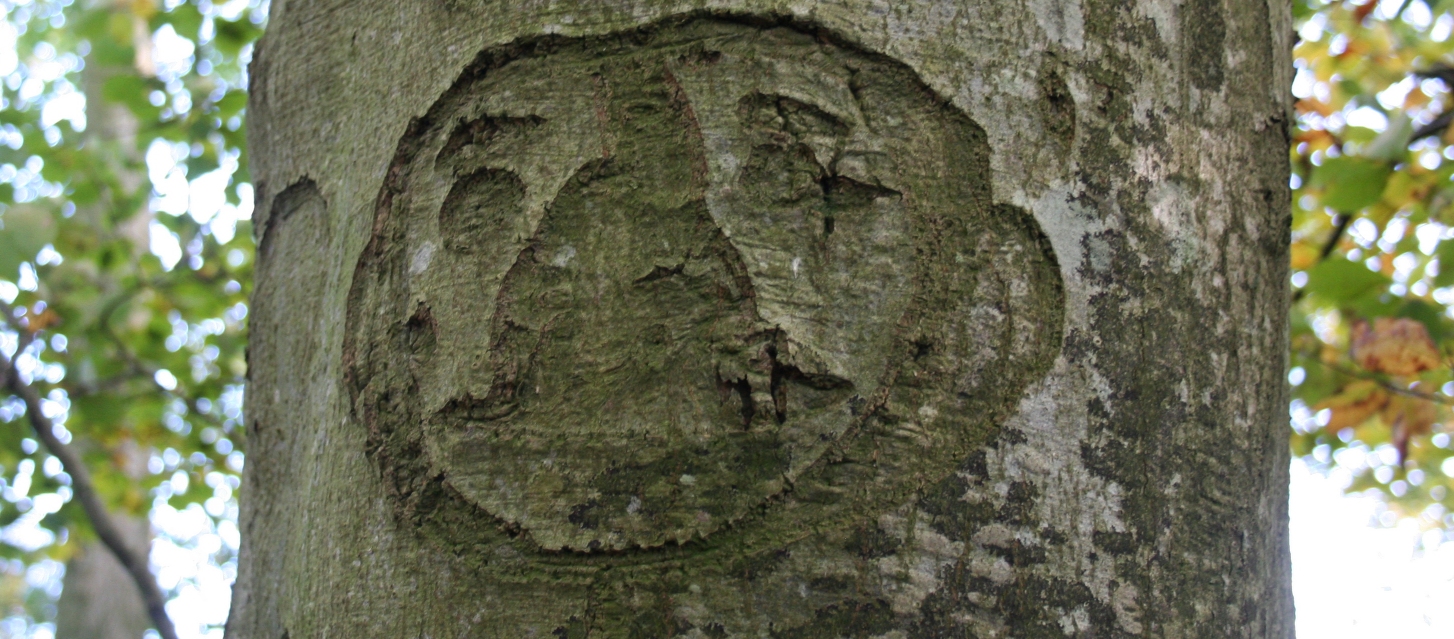 …and a striking visage…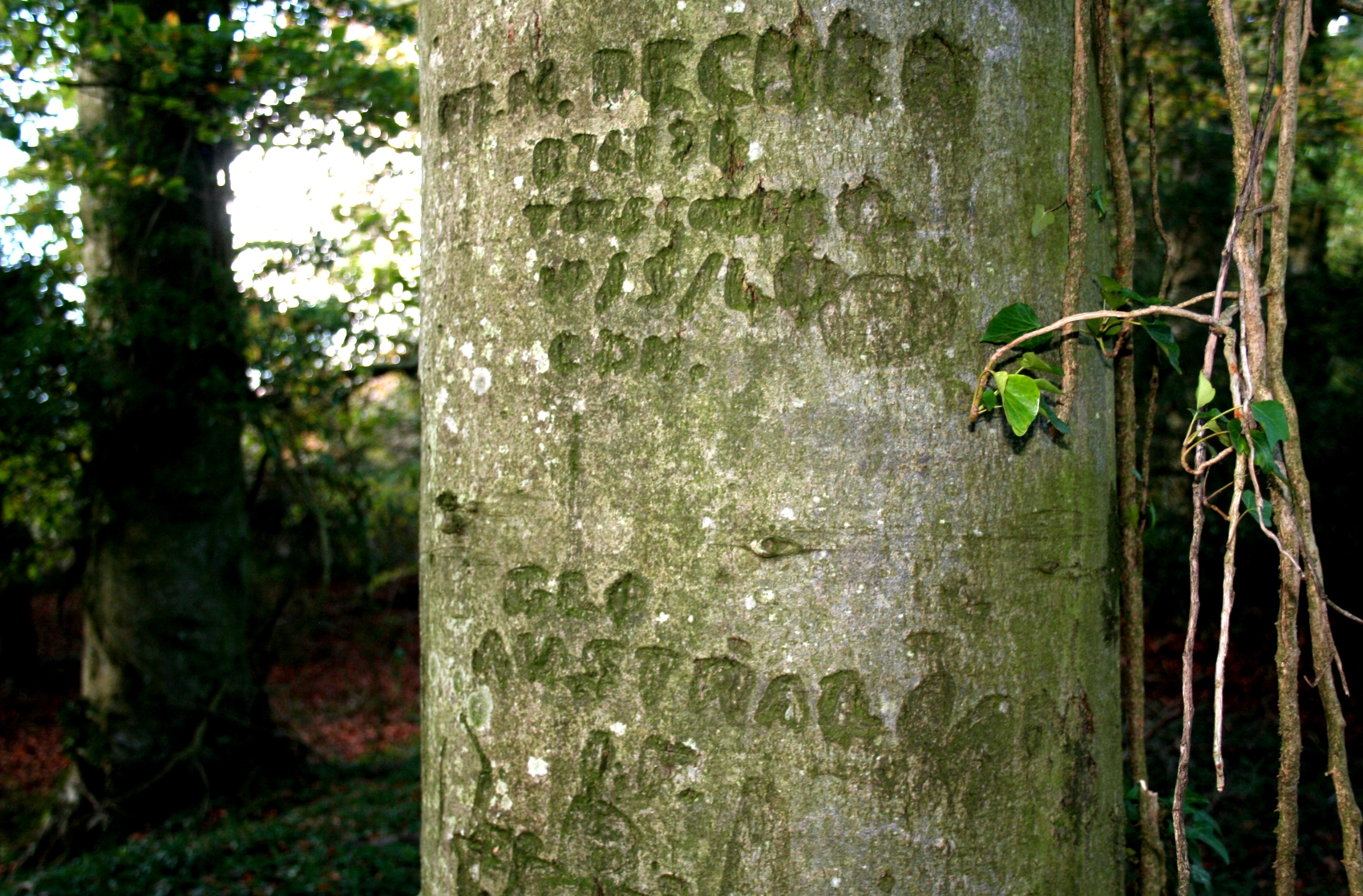 …was the pocket-knife scrimshaw of a PTE. Initially I read Soldier #1's name as 'M. DECHEA', but later realised 'M. DECKER' was much more likely. The date three lines down appears to indicate the tree was defaced in May, 1940. Below the date are three letters – possibly 'GDM' (guardsman?) – above, a badly distorted string of letters that might have once read 'TORSCOT' (see on), and a six-character alpha-numeric sequence (B76134? B74139?) that could well be a regimental number.
Because, further down the same trunk, there's a very clear "AUSTRALIAN I.F." (Australian Imperial Force), 'M Decker' appears at first glance to be an Aussie. However, I'm now of the opinion the lower area of dendroglyphs are the work of a different soldier and 'Decker' was in fact Canadian. The fact that other carvings in the vicinity seem to be the work of Canucks, and the AIF didn't begin arriving in the UK until June, 1940 lends weight to this theory.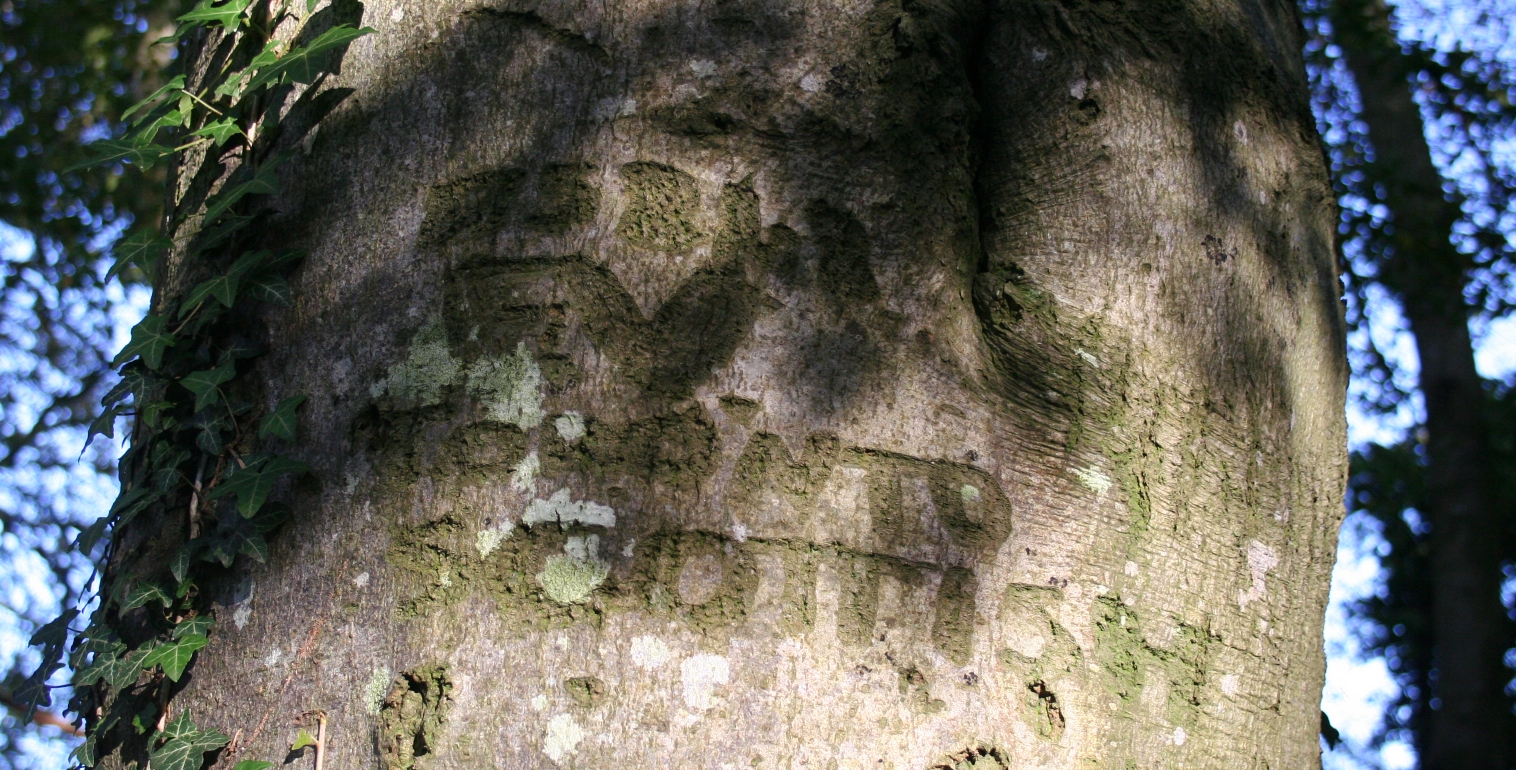 A stone's throw from 'Decker's' handiwork is a terser effort unquestionably produced by a North American. Soldier #2 doesn't seem to provide his name (I guess FV could be his initials) and his regimental number (?) is hard to make out (B53148? B53143?), but there's no ambiguity as to his regiment.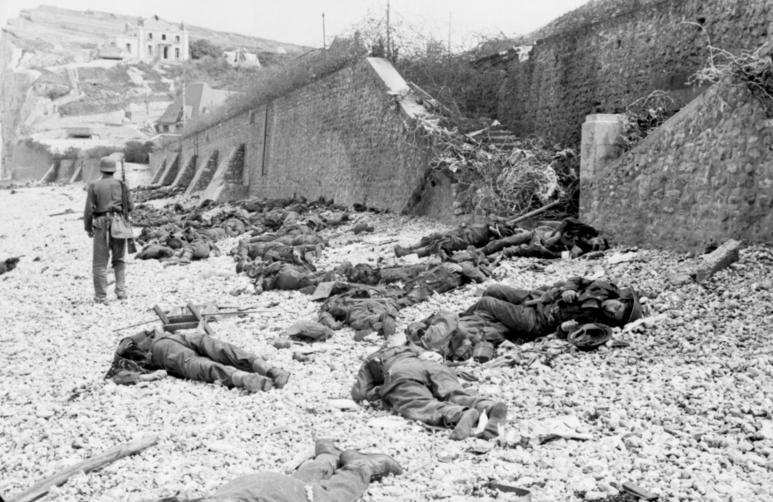 The Toronto Scottish was one of the regiments that participated in the fiasco at Dieppe in August, 1942. Was 'FV' or any of his fellow graffiti artists involved in Operation Jubilee? If he was, did he manage to get off that infamous shingle beach alive?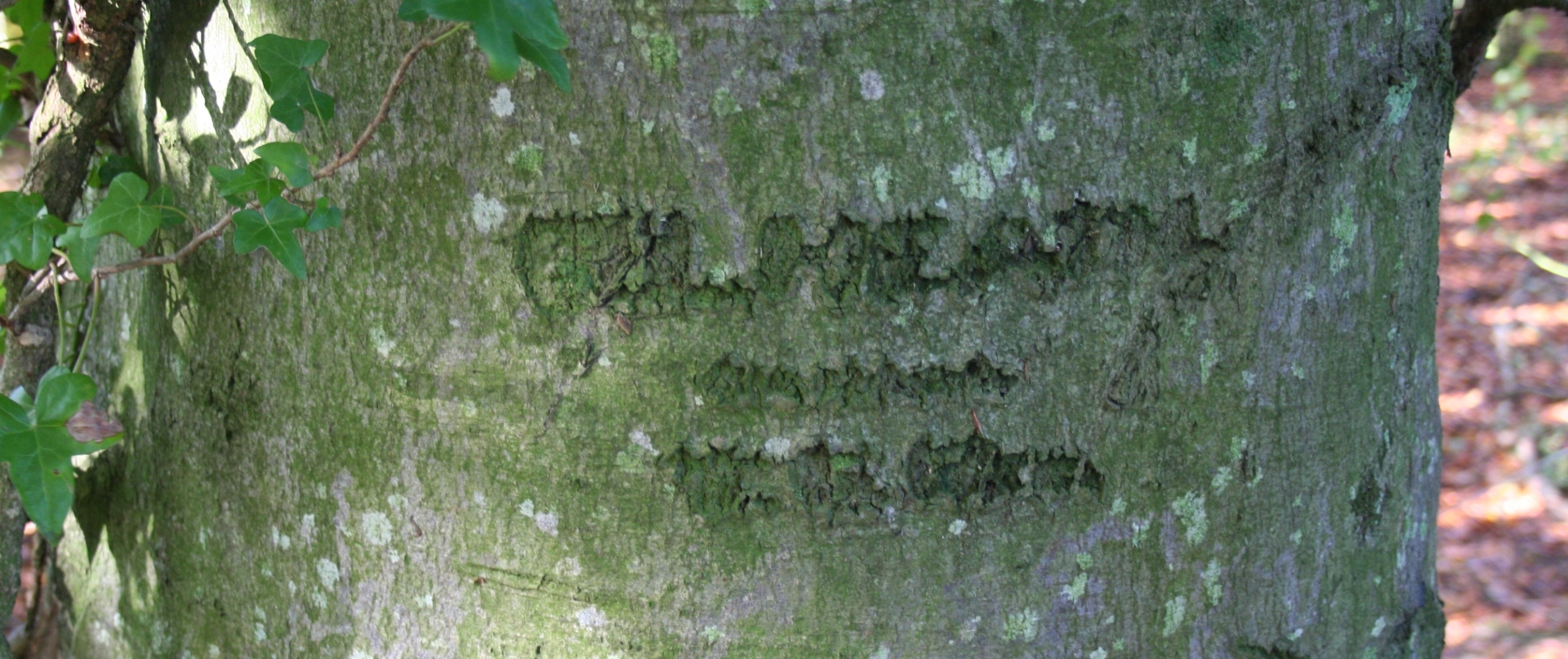 IDing Soldier #3 could be a tall order. Scratched onto the eastern side of an ivy-wreathed shade-giver close to Decker's tree, is a name that looks to me like 'BILL HEATH' or '(Unknown initials). L. HEATH'. I suspect the heavily scabbed scar directly below once read 'CANADA'. Of the handful of letters on the last line, all but an adjacent L and H (?) defy comprehension.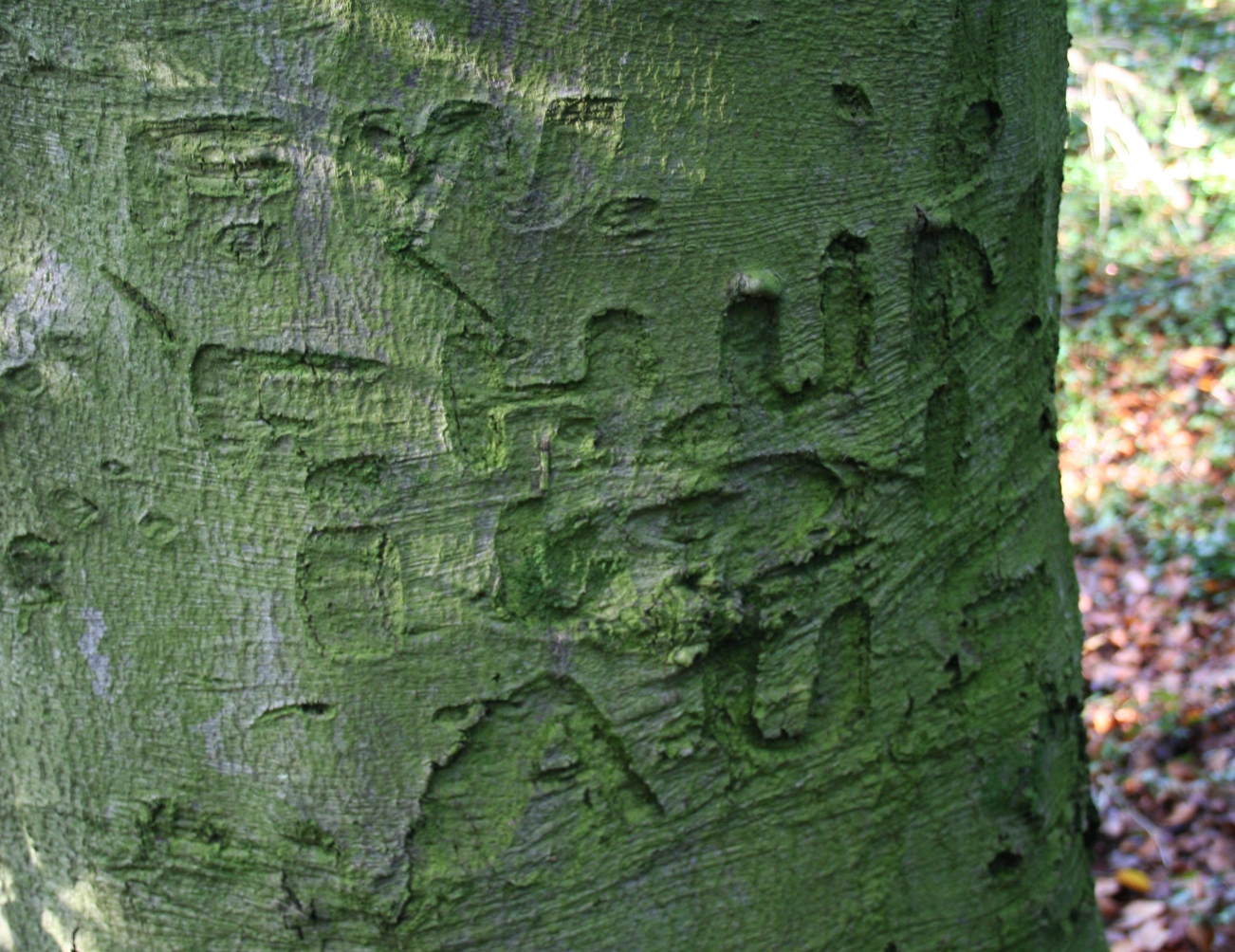 Plump and branchy due to their relatively exposed positions, and sometimes disfigured by embedded barbed wire and shotgun pellets, the beeches on the western fringe of the wood, sport almost no legible inscriptions. One of the few exceptions is a stout specimen a short distance north of Heath's tree. Soldier #4, 'F. HUNT', hails from Down Under – that's obvious from the big 'AUST' at the bottom of his carving. Working out what 'F.W.' (the two letters above the name) means and making sense of the third line (five or six characters possibly beginning with an 'I' and including a sequential 'D' and 'I') will take serious Sherlocking.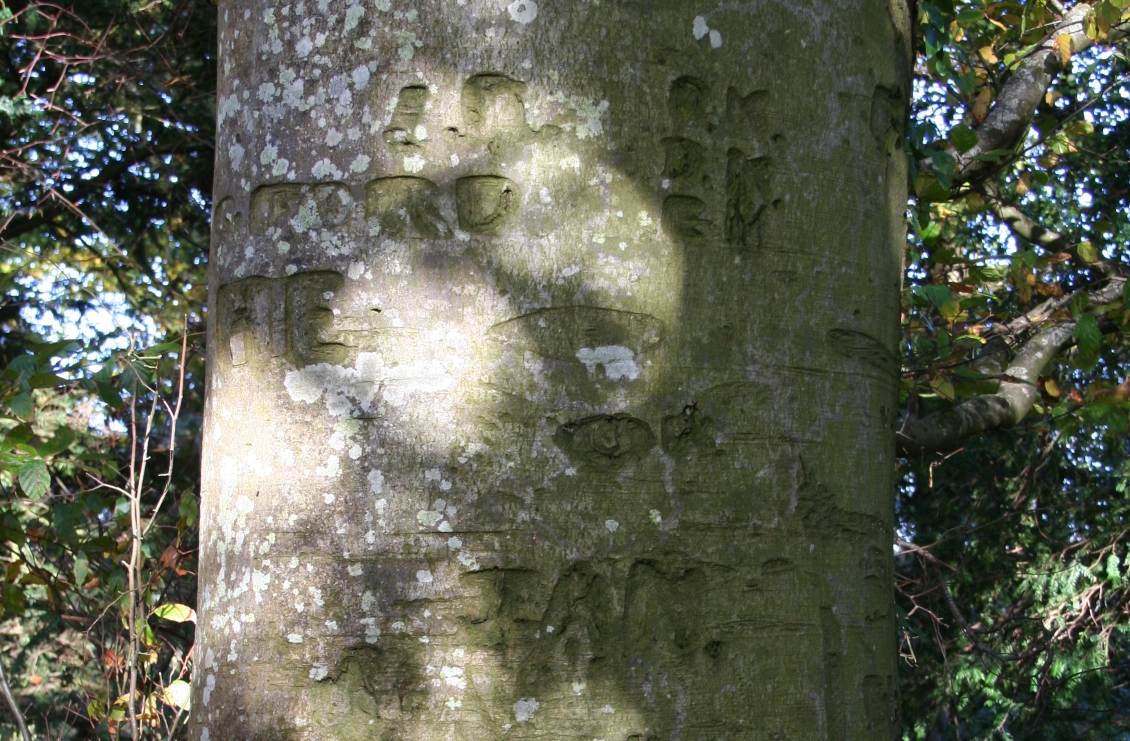 Soldier #5 (C. or G. FORD) shares his woodland pillar with several others including a chap (?) called Jean. Is that a '40' above Ford's name? What does the big 'HE' (or possibly 'ME') signify? Search me.
My heart skipped a beat when, pushing through holly bushes, I descried Soldier #6's eighty-year-old "Hello". As Private Gervais has a pretty unusual surname and thoughtfully provided both his Christian name – Joe – and his country of origin – Canada – his history may be more easily unearthed than some.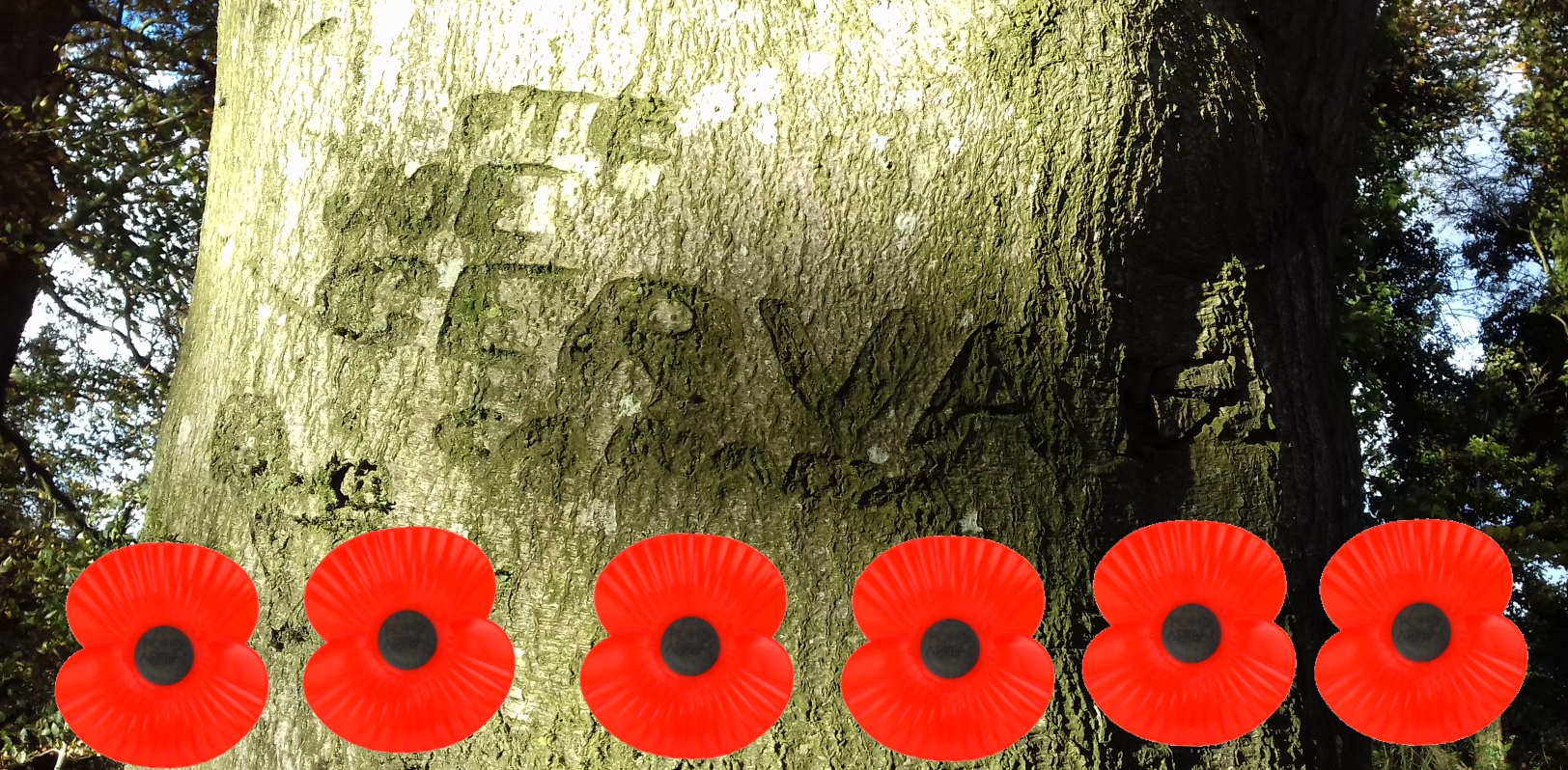 So there's this week's Friday Foxer. Six WW2 warriors calling to us from a neglected strip of Wessex woodland. Come on defoxers, let's remember Joe and his fellow Fagus taggers by researching and telling their stories.