Want to turn a green lane into a brown lane, tow a Gulaschkanone across a snowy field, or roam the Western Desert trashing Axis airfields? Get a 4×4. Want quick introductions to games of interest to realism relishers? Read a 3×3. Prior to penning one of these articles I'll play three tempting titles for at least three hours each. While it would be cavalier to call the reports that result from such brief auditions 'reviews', it's conceivable they might lead to more prolonged playtests, and prompt or prevent the odd purchase.
We. The Refugees: Ticket to Europe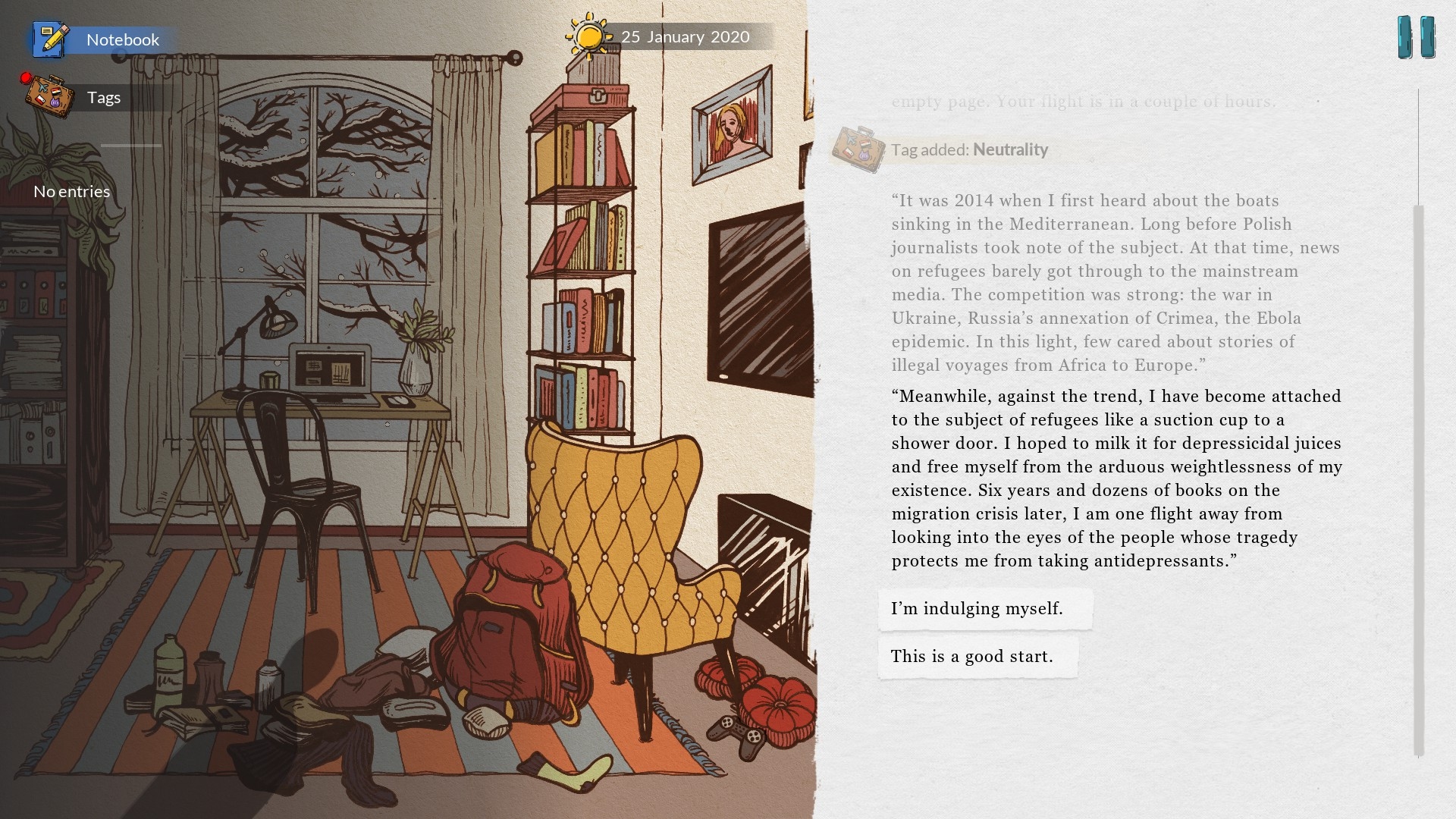 The character who hogs the limelight during the first three hours of this handsomely illustrated £13 interactive novel isn't African or Asian. They aren't fleeing persecution or war in their homeland, or seeking a better life in Europe. Mr. Unnamed Narrator is a Polish thirty-something who, for reasons best known to himself, has decided to try his hand at journalism. Annoyingly inept and a tad too fond of introspection for my liking, he's a hard chap to warm to which is a bit of a problem as developer Act Zero forces us to inhabit his body and read reams of his thoughts.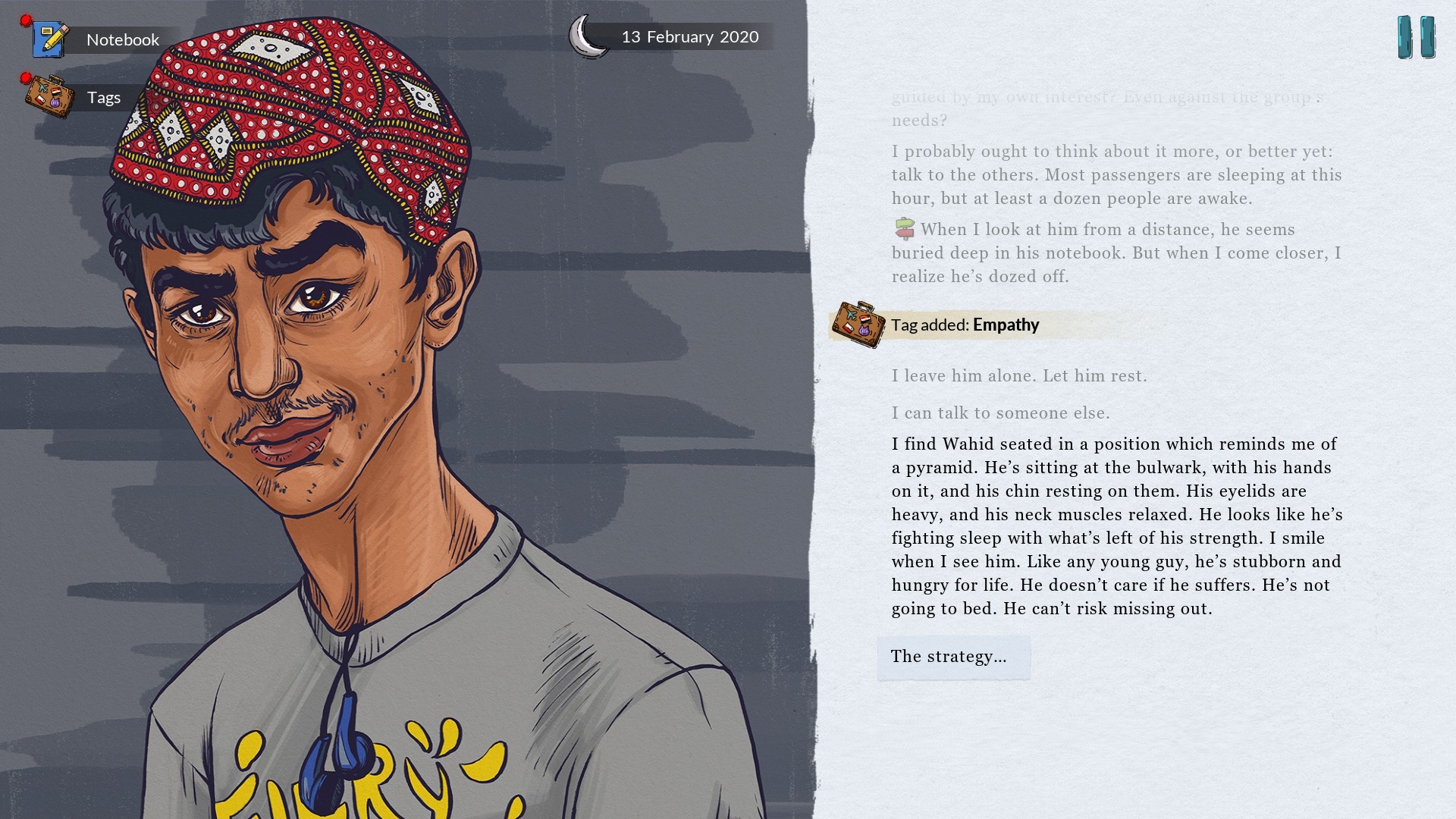 Predictably, We. The Refugees is most engaging when it allows those making the perilous trip to the continent of milk and honey to tell their own stories. When, during the Mediterranean crossing (Eager for a scoop, the man from Warsaw secures himself a seat on a smuggler's boat) Wahid, a teenage Pakistani migrant, talked at length about his background and his motivations, I finally got a glimpse of the illuminating, non-judgemental, truly journalistic game I was hoping WTR was going to be.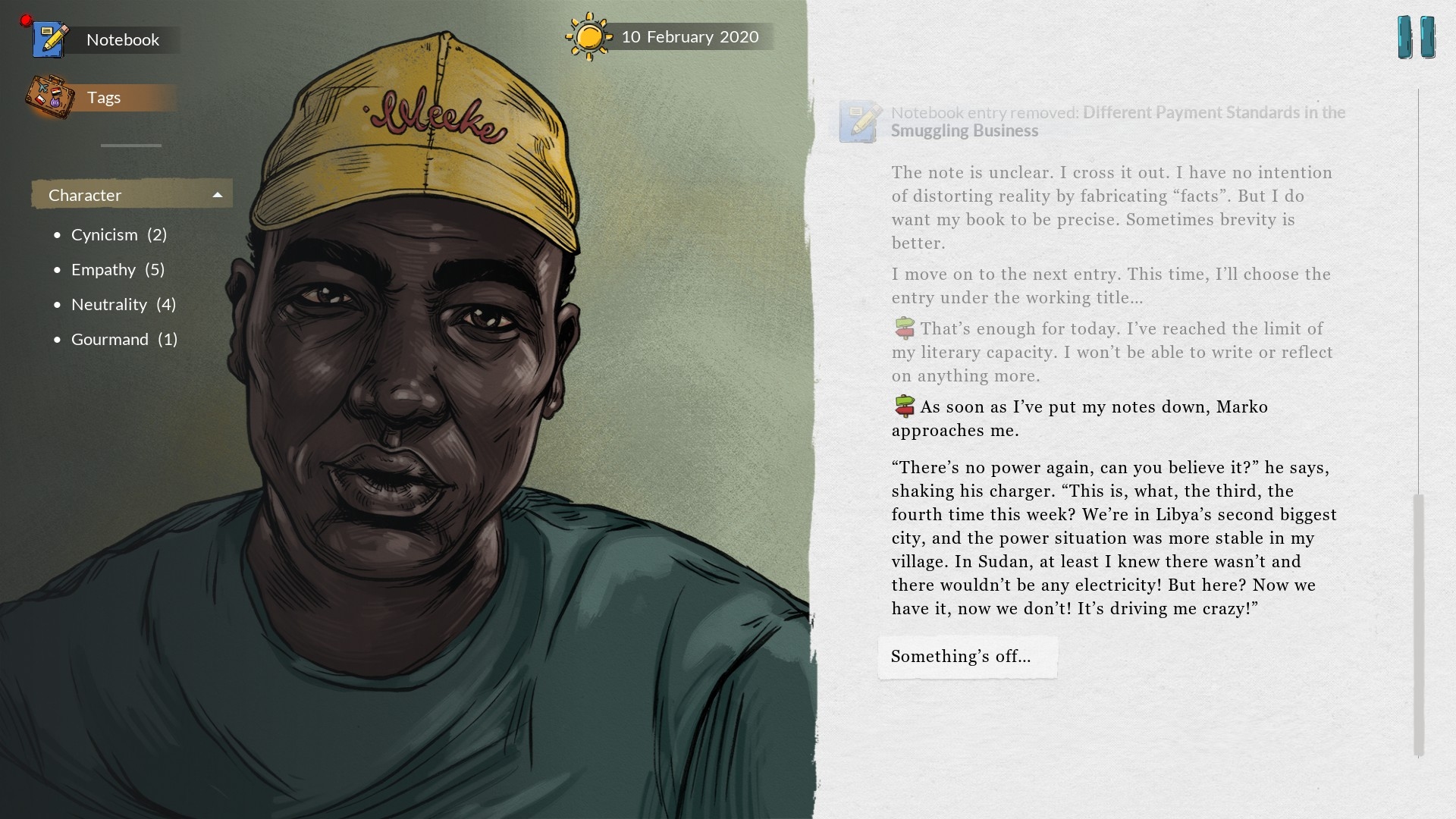 Unfortunately, revealing interviews like these are outnumbered by the protagonist's internal monologues – well-written but wordy tracts that often say more about his literary aspirations, lack of preparation, and emotional fragility than the myriad odysseys unfolding all around him. It's hard to understand why the devs went with such an intrusive and irrelevant 'hero' when there were so many worthier candidates staring them in the face.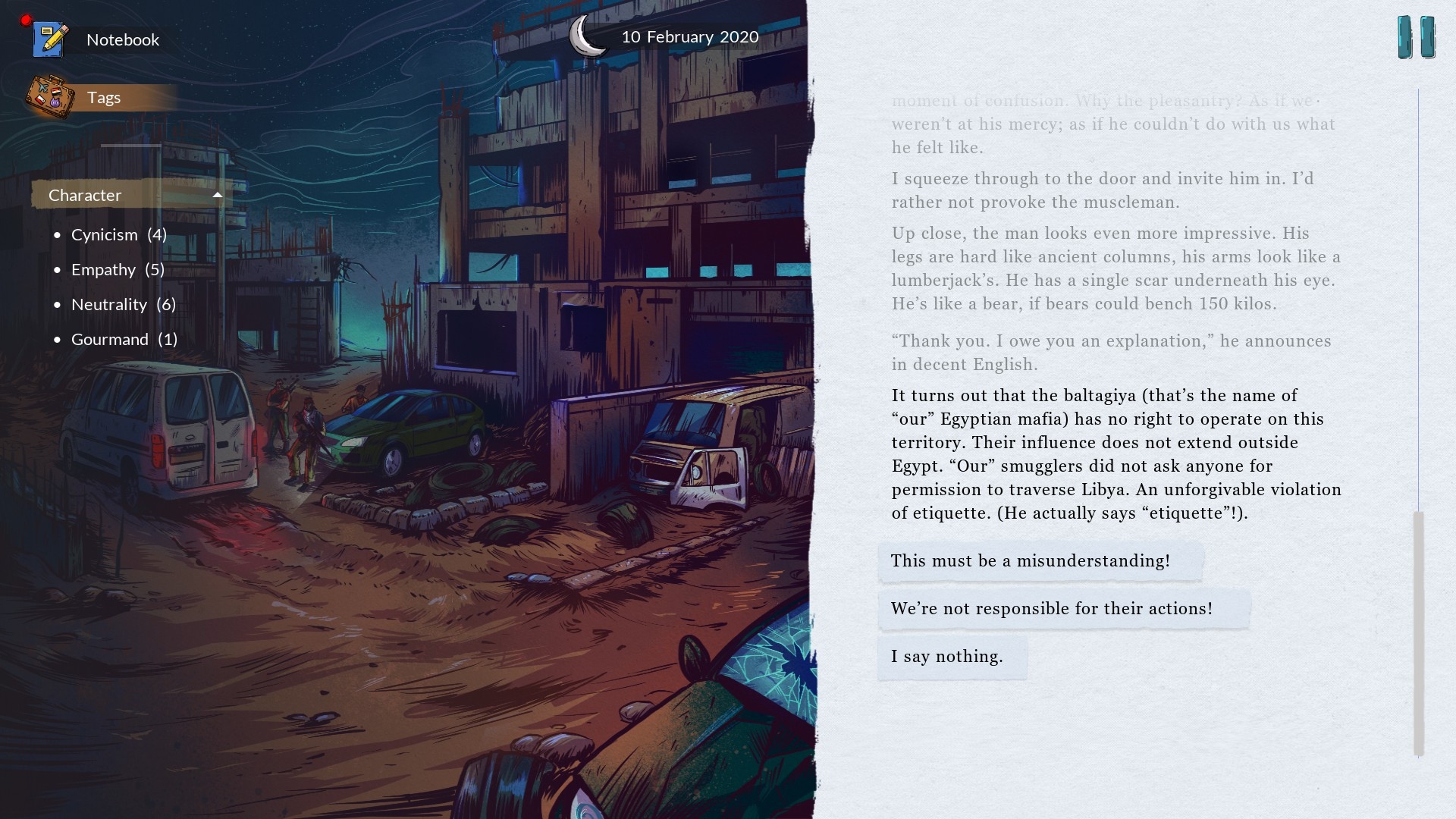 We. The Refugees acquits itself better when it endeavours to shine a light on the people-smuggling industry in North Africa. During a tense stop-start journey from Egypt to Greece* via Libya, the player gets numerous insights into the hazards of entering Europe via the popular Central Mediterranean route. More than once, the travellers at the heart of the story find themselves at the mercy of unaccountable armed men with rocks/wallets for hearts. Refugee trading and kidnapping… sawdust-filled 'life'jackets… the Dunant-Nightingale dilemma… unless you're unusually well versed in the subject matter you're sure to learn something new and thought-provoking.
*Landfall in other locations may be possible.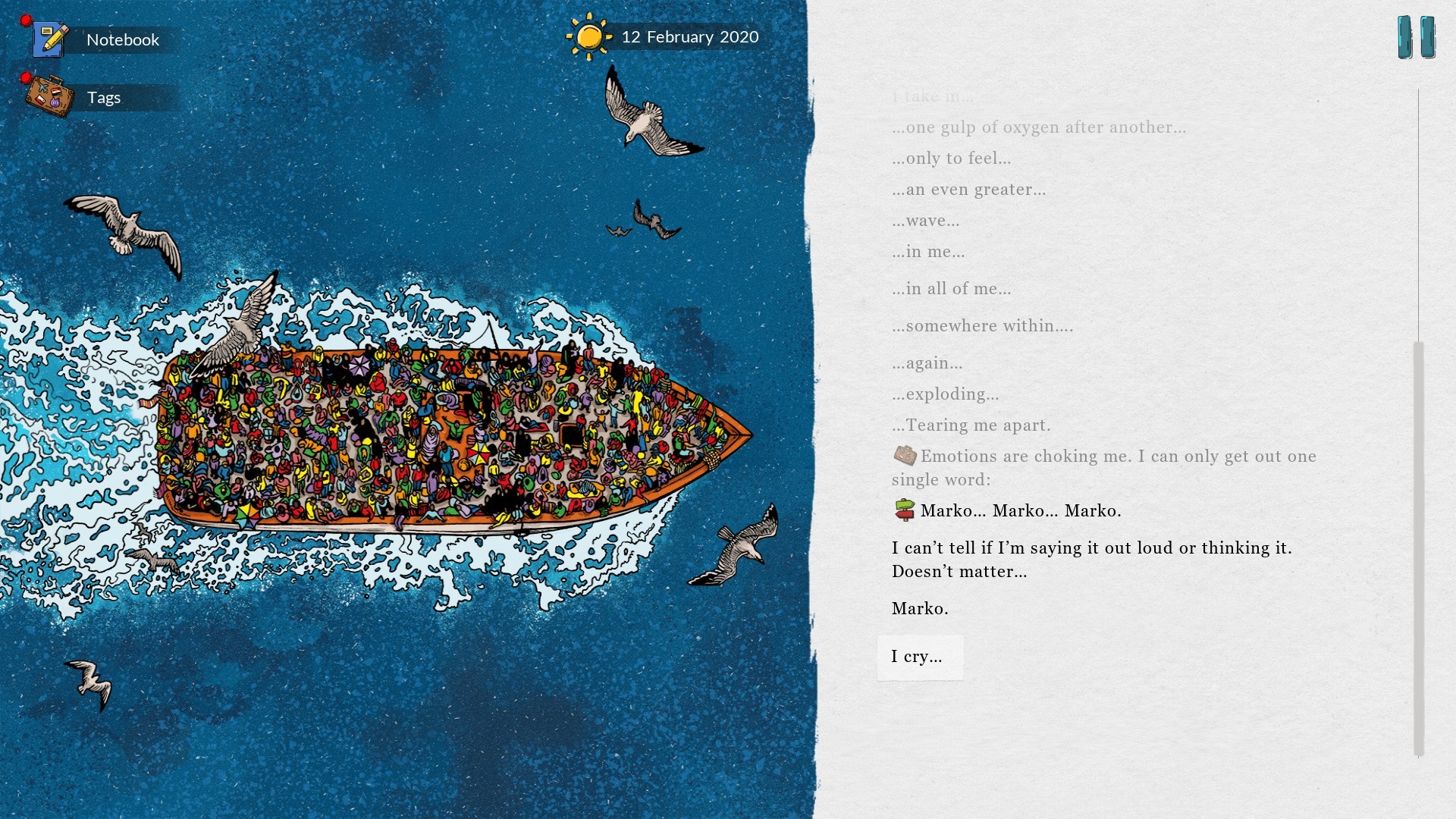 A subtler dev would have illustrated the worst that can happen during the crossing to Europe obliquely. Act Zero decide to whack us over the head with it. A gale, a brawl, engine trouble, drownings, madness, hunger, disorientation… if something can go wrong, it does go wrong during the melodramatic marine chapters. If there had been multiple stories there would have been no need to stretch credulity by cramming all these misfortunes into a single narrative.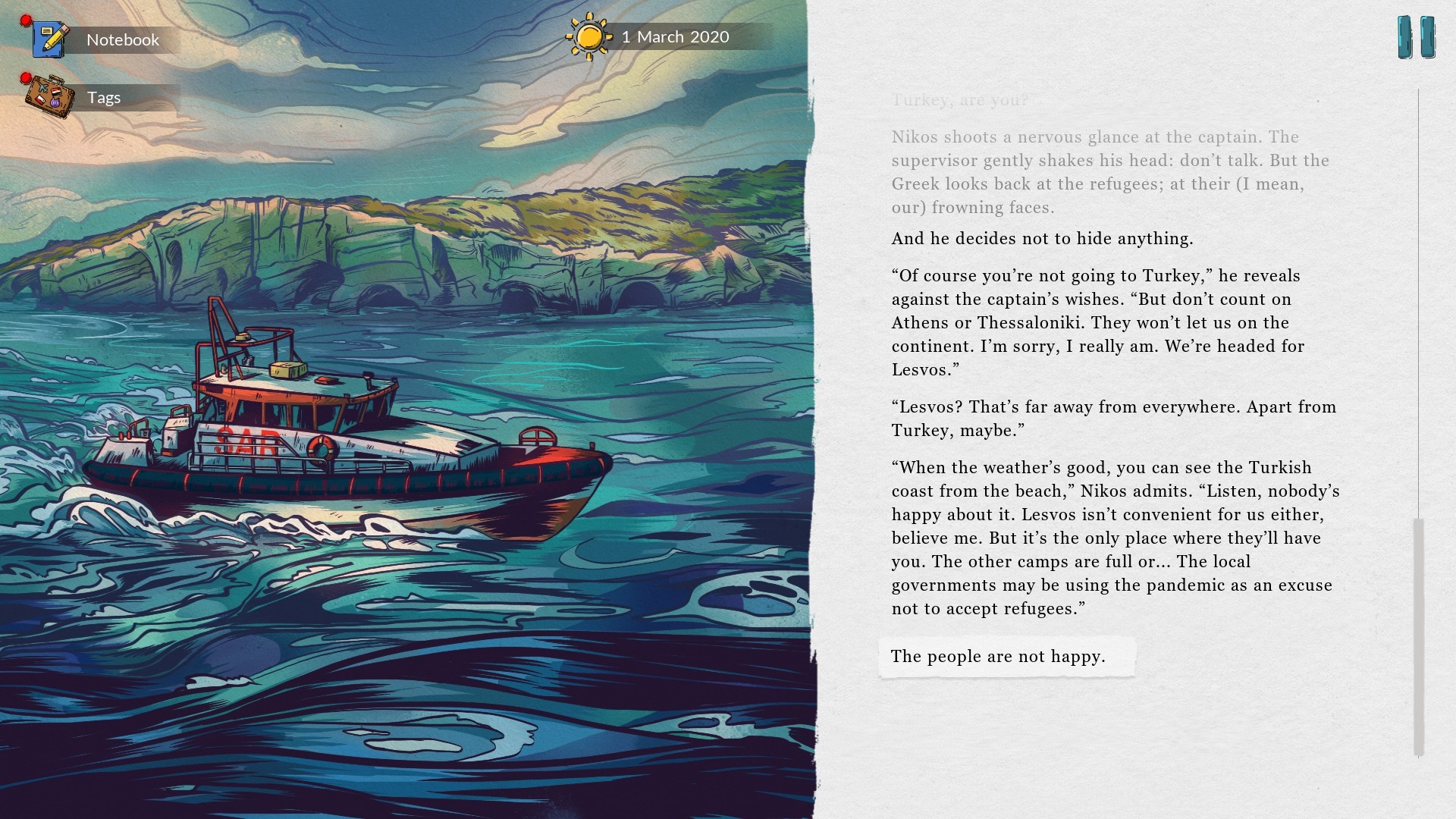 The audition period expired shortly after we arrived on Lesbos. Wearied by the voyage, and a little tired of the prominent player character, I'm hoping said character has gained sufficient maturity during the crossing to take a backseat during what could be a lengthy stay in Moria. If he has further thoughts relating to his aptitude for journalism, troubled business back in Warsaw, ex partner, sick cat, etc. I'm rather hoping he keeps them to himself.
* * *
Virtual Pool 4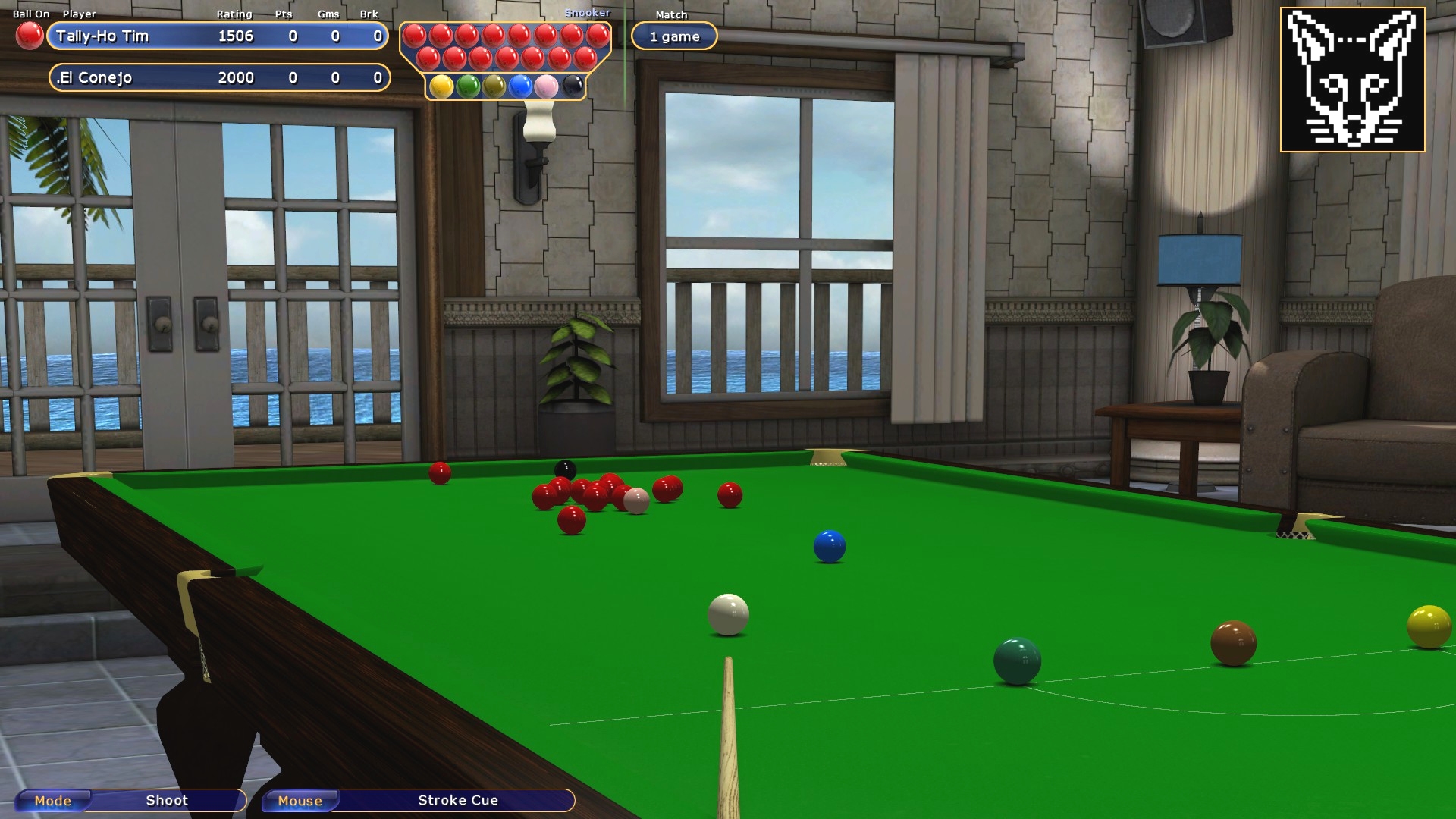 My 'Can anyone recommend a good snooker game?' appeal last Friday elicited two responses. Gombicek's…
"While not specifically snooker, Virtual Pool 4 remains still the best hit balls with a stick sim. It has good physics simulation and still receives odd patch here and there. It has rules for pretty much every game possible from pool to snooker. Also the mouse control is quite simple and feels pretty good and right…. Downside is lack of any kind of license, hence no real players or tournaments, and lacking presentation. Although it still looks quite good graphically."
…appeared first and sowed the seeds of an unexpected infatuation. In short, I can't get enough VP4 at the moment.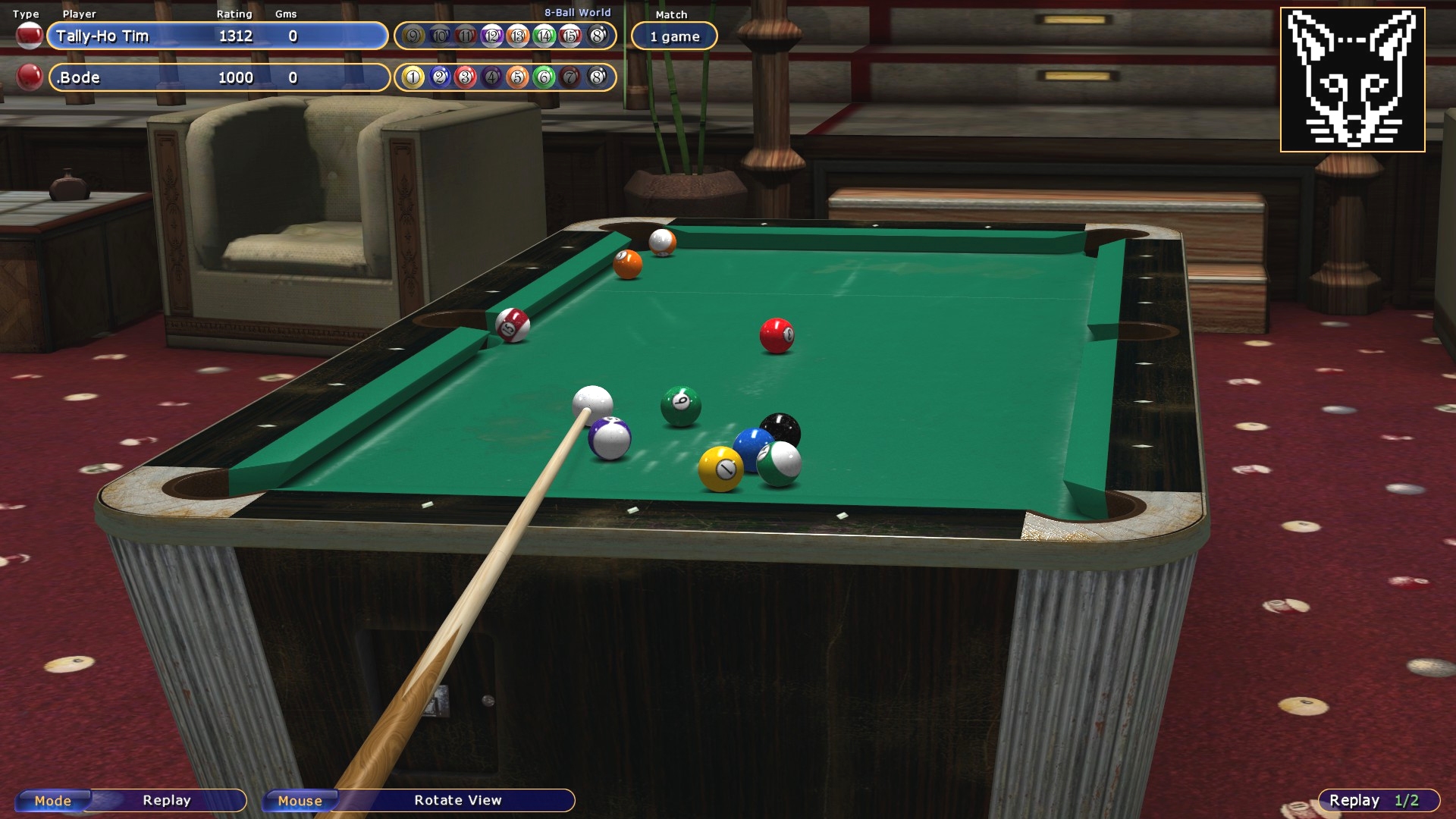 Quickly realising that optional training aids such as ghost balls and ball tracks would probably hamper my development rather than hasten it, I went 'full real' within hour #1. This decision led to some painfully low scoring frames of snooker early on, but once I'd swallowed my pride and decided to switch to pool, things started to click… a love affair began to blossom.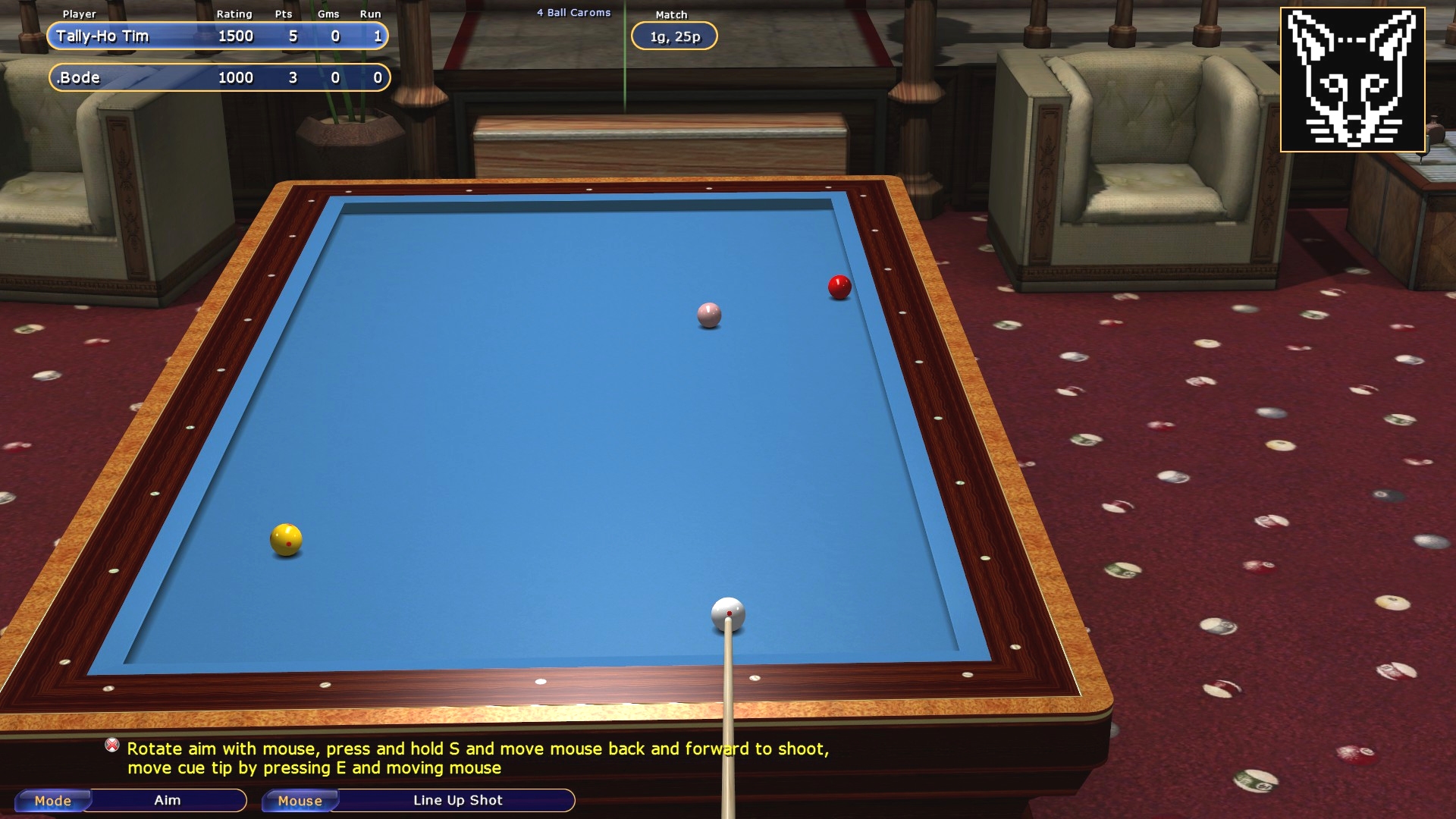 As gombicek points out, the £19 VP4 is positively encyclopedic when it comes to play formats and rules options*. Black Ball, 3-Ball, 6-Ball, 8-Ball, 9-Ball, 10-Ball, 15-Ball, Straight, One Pocket, Bank, Rotation, Cribbage, Cowboy, Honolulu, English Billiards, Bowliards, 3 Cushion Billiards,1 Cushion Billiards, Straight Rail Billiards, 4 Ball Carom, Snooker… assuming you don't hail from the former Soviet Union, whatever flavour of cue-em-up you're in the mood for, this regularly updated 2015 title will recreate.
* It even allows players to sim specific tables by altering things like pocket size, and table and rail speed.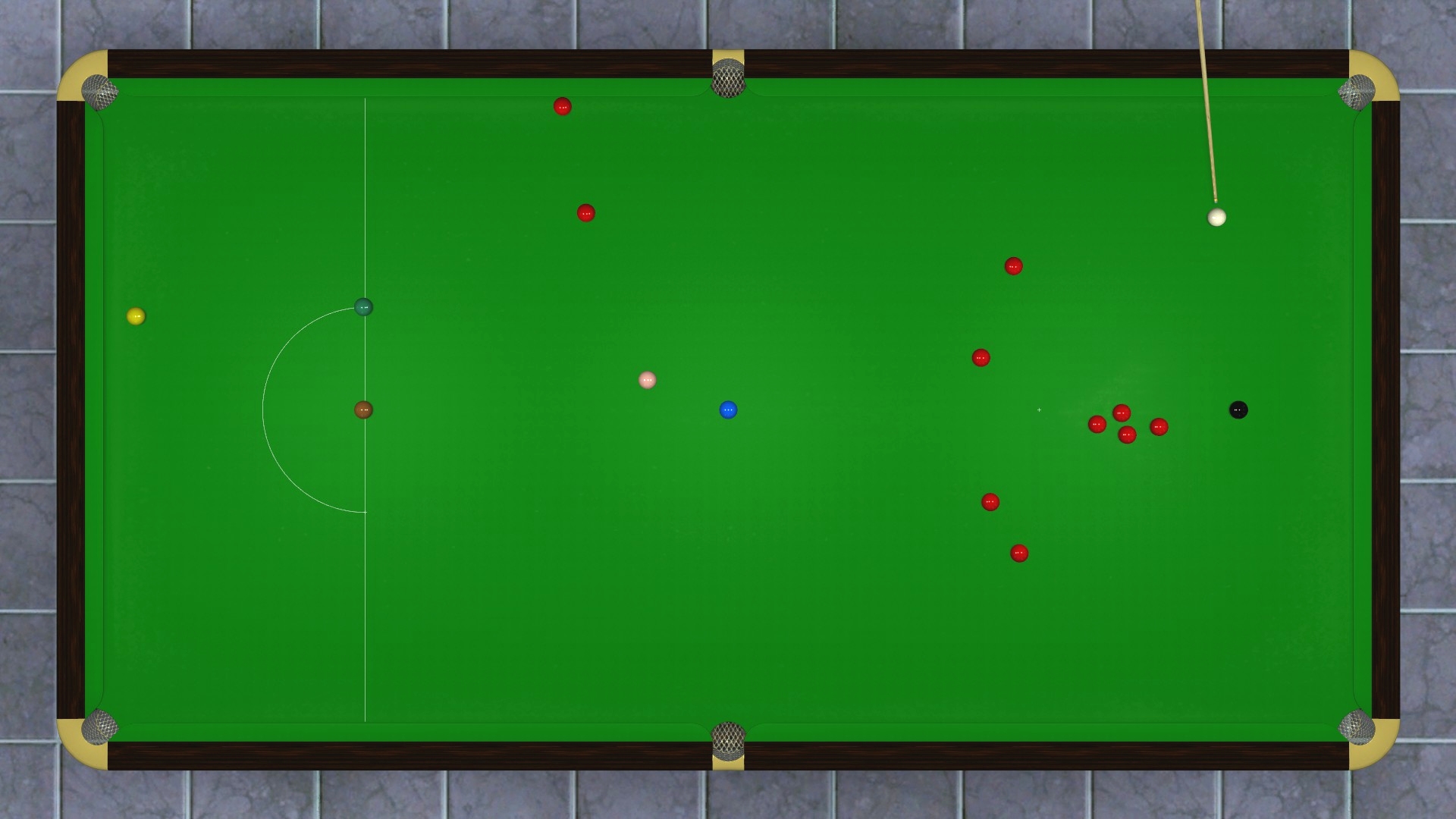 Better still, all of these formats can be enjoyed in the company of AI opponents of similar ability to yourself. By the end of hour #2 I was sufficiently comfortable with the intuitive physics and flexible camera to commence matches with invisible-except-for-their-cues 'novice' bots such as 'Big T' and 'Dano' confident of victory.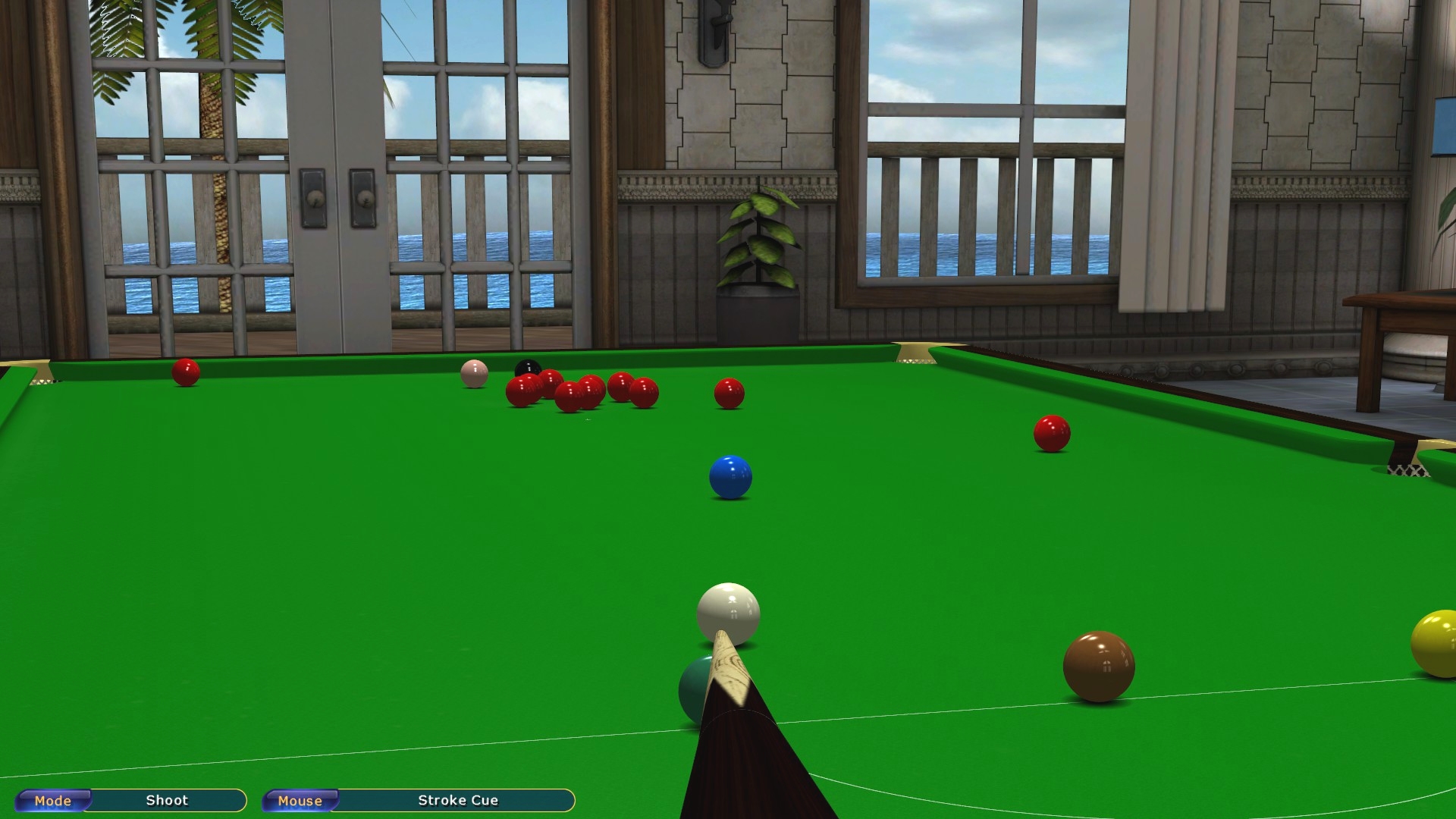 Naturally, the physics accurately replicate what happens when a well-chalked sphere prodder prods a sphere off-centre (you manually adjust the desired hit location prior to taking a shot). The more ambitious your spin aspirations, the more likely it is you'll completely miscue or send a ball flying into the slightly dated surrounding scenery.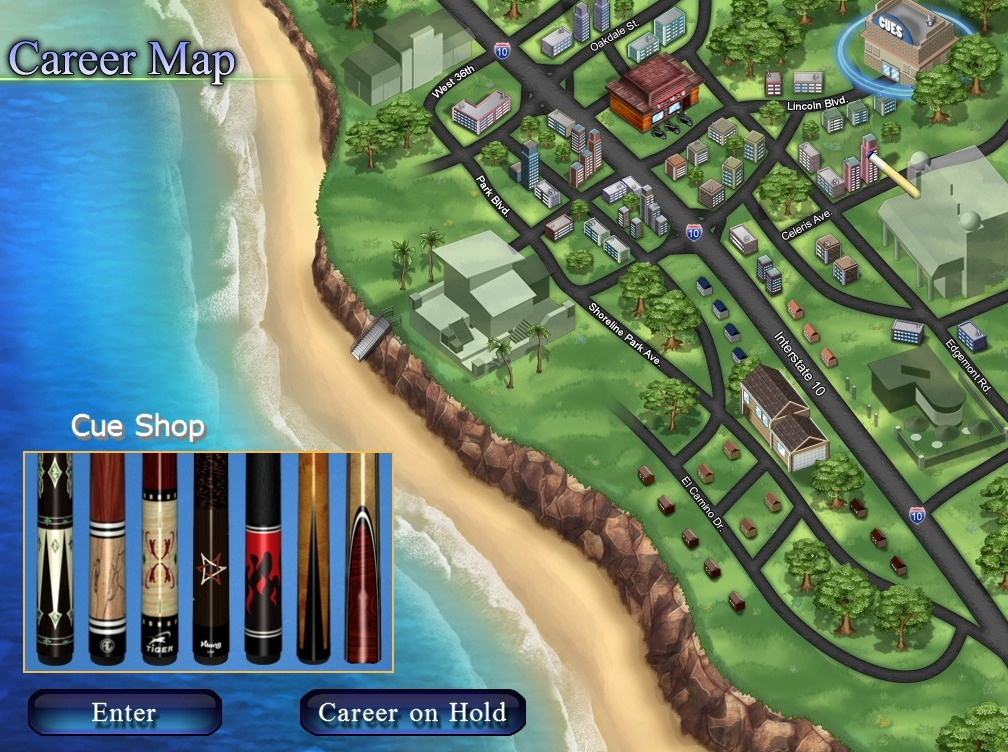 One thing I've yet to get a good feel for is how sophisticated the AI code is. Do the bot ratings (rookie, novice, skilled, shark, pro, and champion) only reflect accuracy or can I expect smarter shot selection – cannier snookers – from the better players? I suspect 'better' does equal 'brighter'. Judging from the player bios within the FMV-sprinkled 'hustler' mode (unlock new venues/opponents and buy better cues by playing matches for money) bots certainly have their own play styles.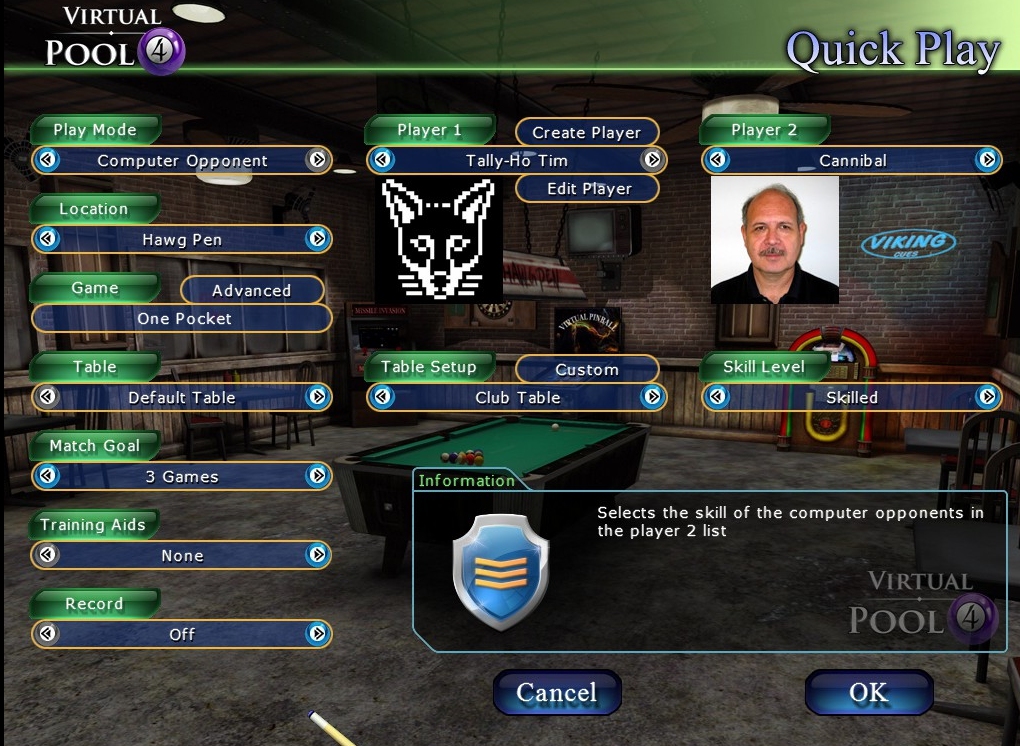 'Hustler' is one of three ways VP4 parcels its fun. Also offered are tournament-based 'pro' careers, and the mode I've spent 90% of my time in thus far, 'Quick Play'. Incredibly customisable, the latter incorporates multiplayer, and allows solo practise and trick shot sessions.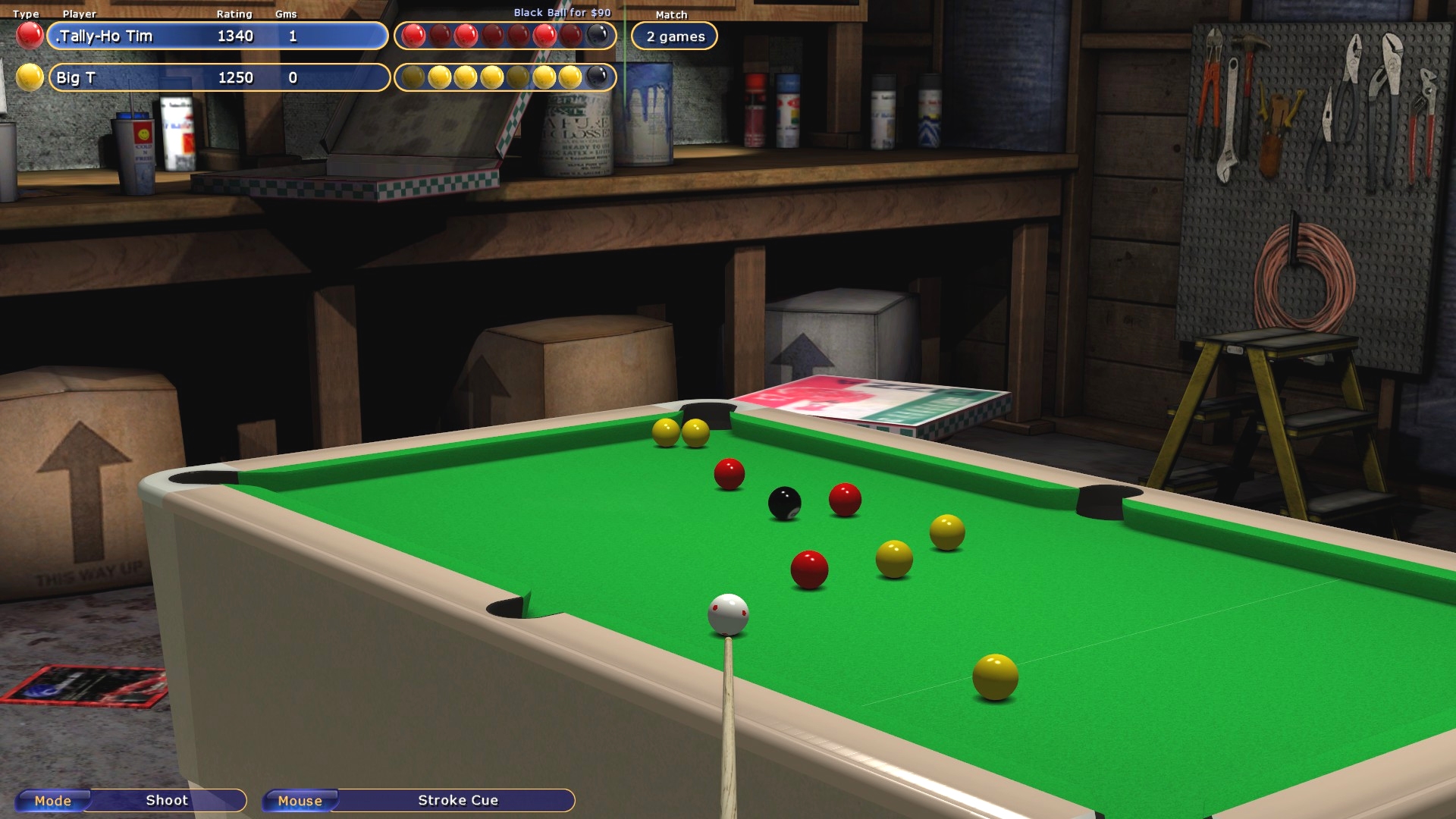 As replay-friendly as the tactics-rich sports it sims so adroitly, Virtual Pool 4 is a title I can see myself playing for years to come. Thanks for the tip, gombicek!
* * *
City Bus Manager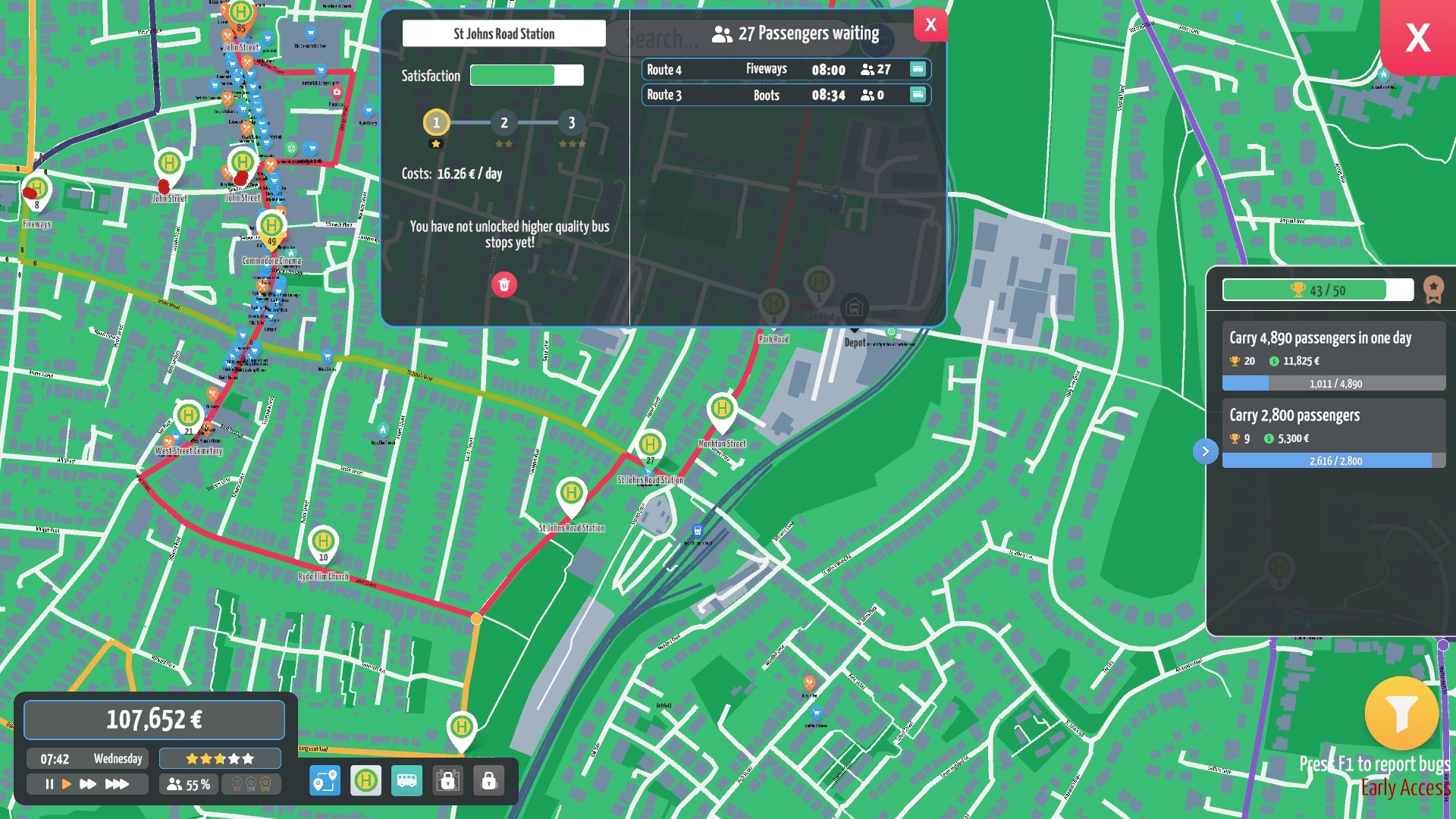 More and more devs seem to be waking up to the fact that OpenStreetMap is a splendid thing to build a modern strategy game around. PeDePe (basically three brothers from southern Germany) employ the open geographic database very cleverly in Early Access City Bus Manager.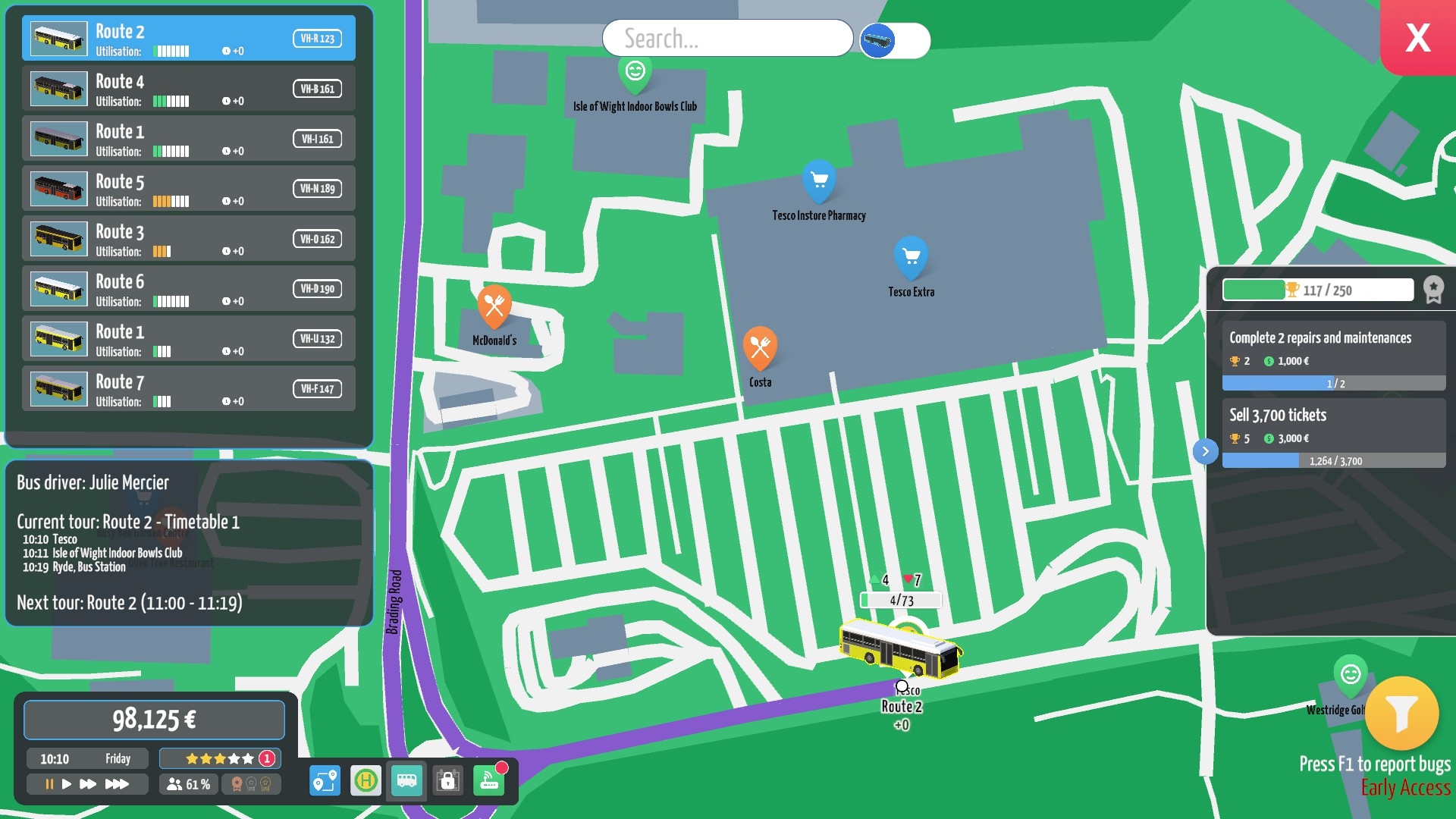 Not only can you found a virtual omnibus company pretty much anywhere in the world in this £25 (£18.50 until May 21) offering, the game's ingenious dynamic 'mission' system encourages you to design lines serving real amenities and communities in your chosen locale.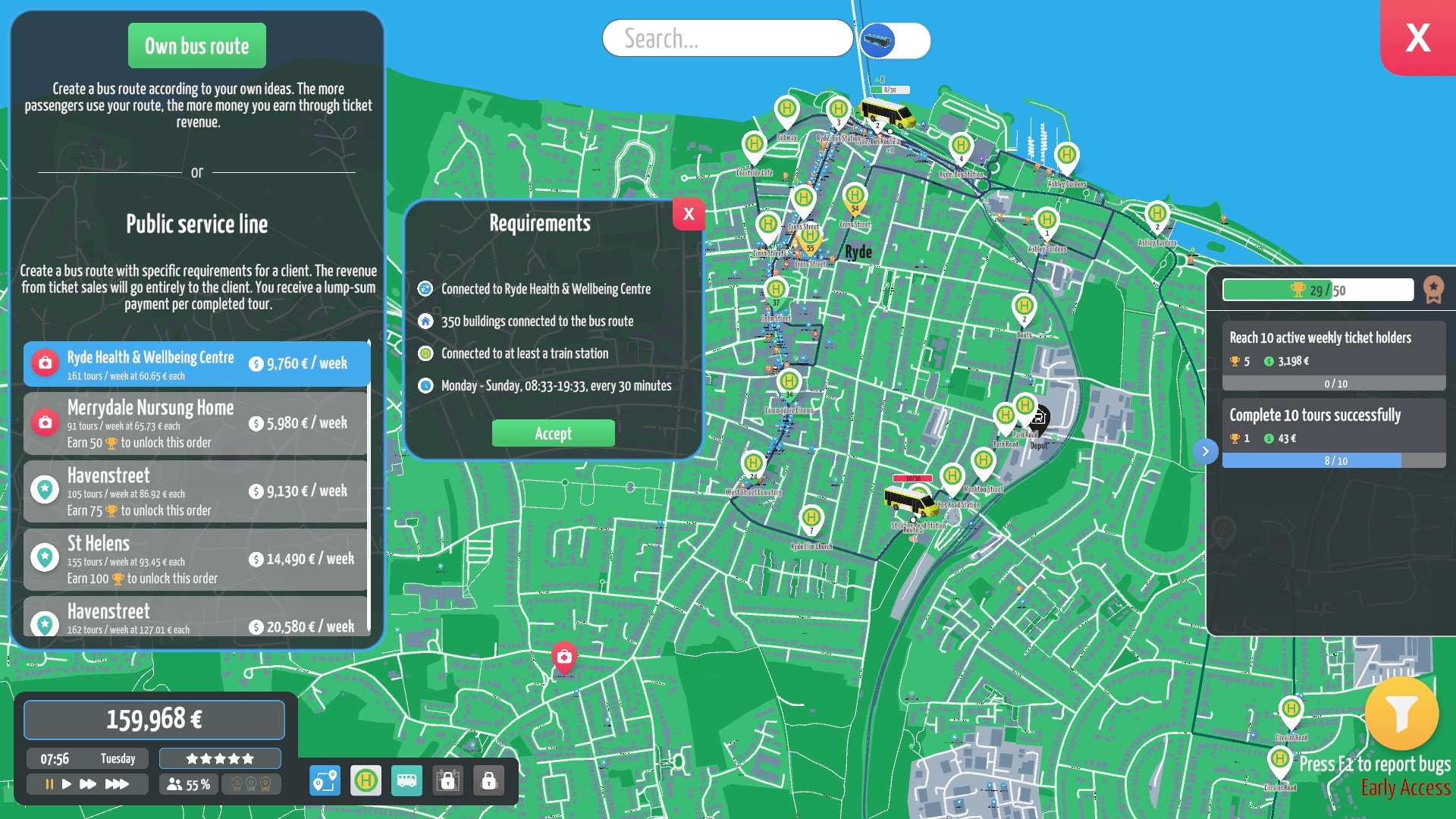 I spent the audition in and around Ryde, a town in the Isle of Wight I know moderately well. My first two routes were up and running within half an hour of installation. Entirely my own concoctions, they snaked through Ryde's busier quarters and, almost instantly, did good business. Route 3 was a tad different. Attracted by the idea of reliable revenue (income based on completed daily 'tours' rather than fickle ticket sales) I decided to take on a 'public service' contract. Twenty or so clicks later, the council had what they wanted – a half-hourly Monday to Sunday service connecting this health centre to "350 buildings" and "a railway station" – and I had a guaranteed income of 10000€ per week.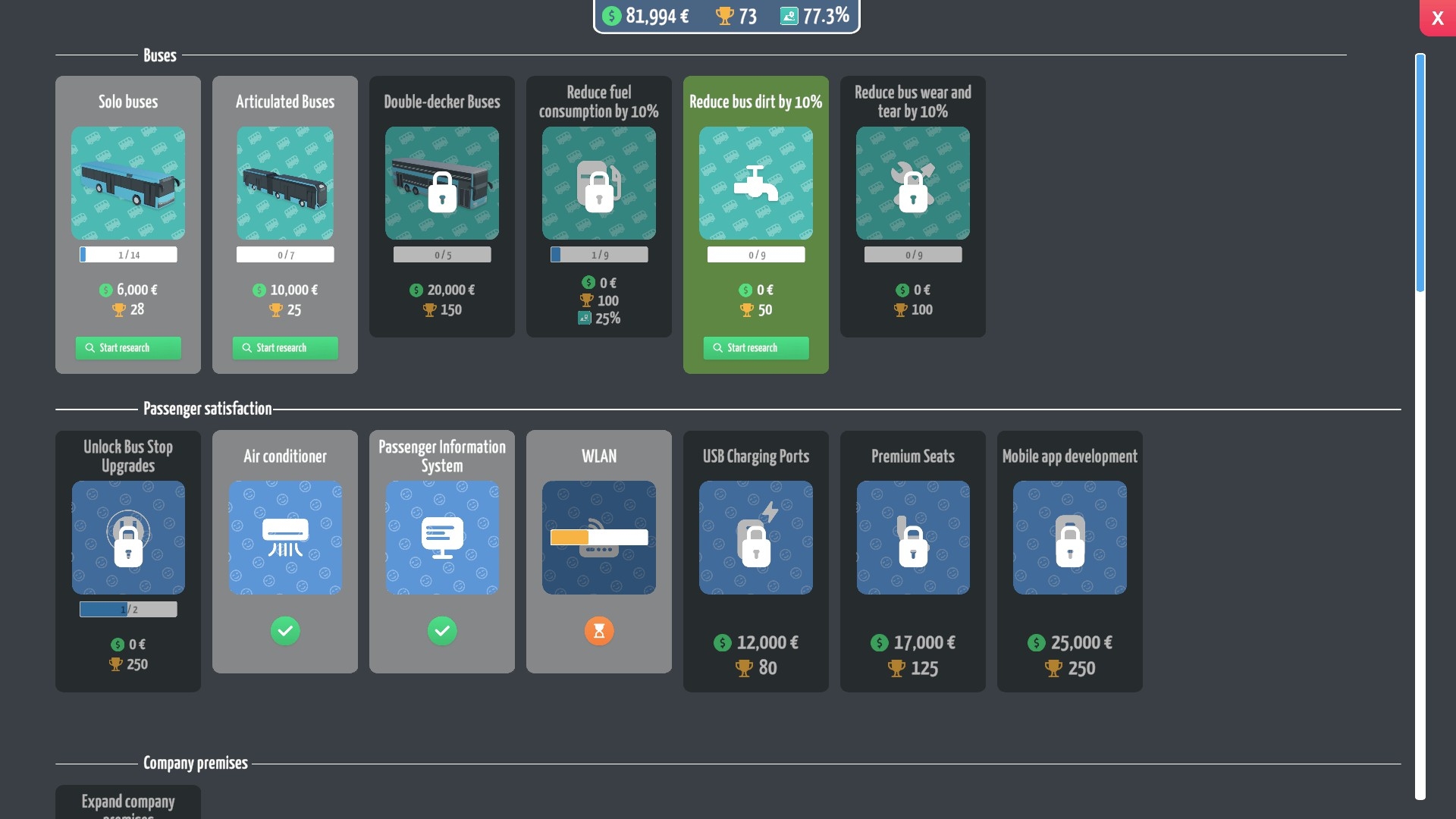 In order to take on new public service contracts, and undertake research into bus improvements, map expansion, and the like, it's necessary to spend 'trophies' – an in-game resource earned by meeting the dynamically generated short-term goals that are one of the secrets of CBM's considerable momentum.
"Carry 5000 passengers in one day to earn 20 trophies and 12000€"… "Improve your company rating to three stars to earn 7 trophies and 4000€"… "Connect 65% of the buildings on the map to your network to earn 5 trophies and 1500€"… there's always an enticing carrot or two influencing your thinking.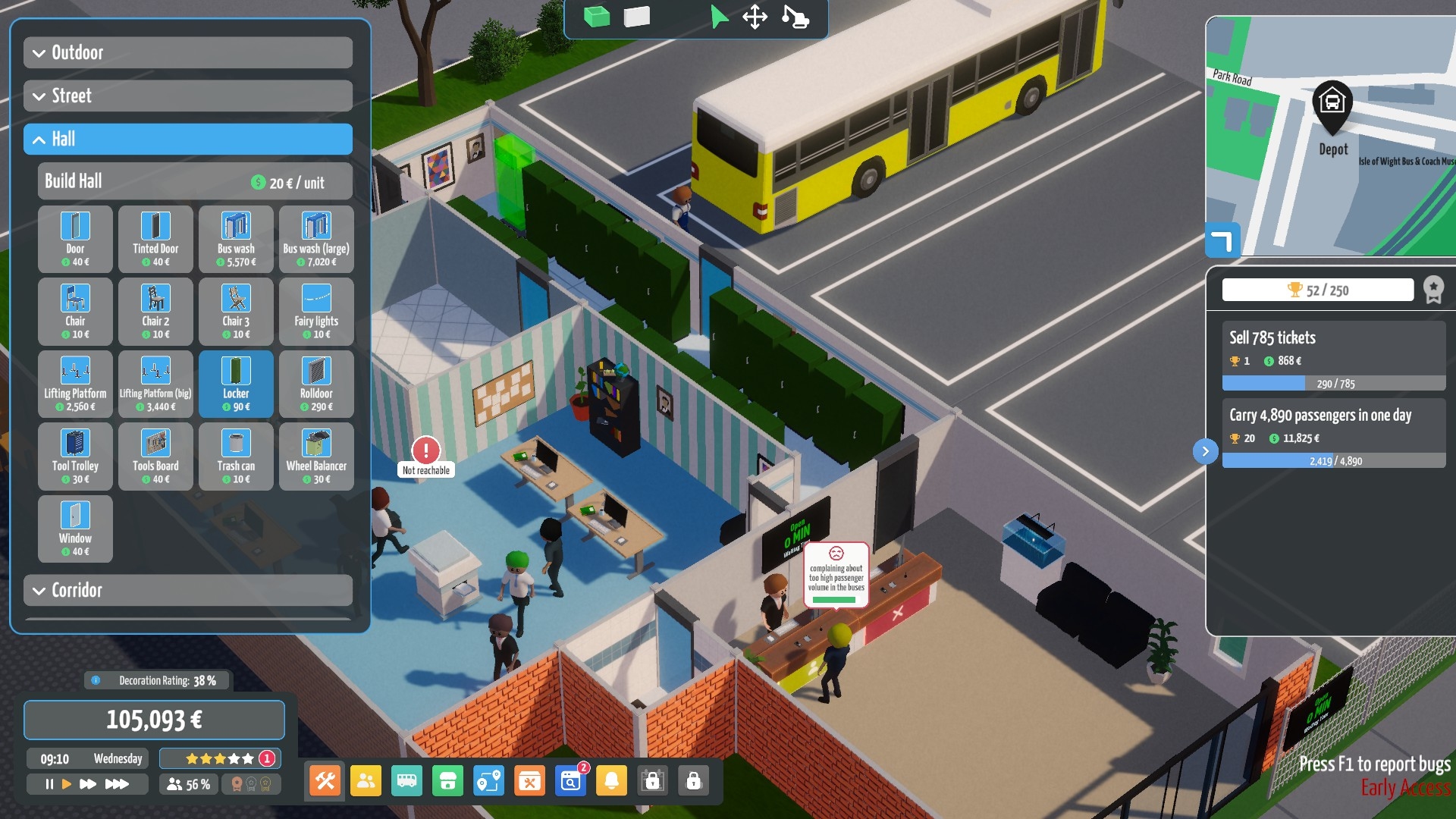 Building, decorating, and altering your 3D depot is child's play, and managing your finances, workforce, and bus fleet almost as straightforward. A clear, well-organised GUI and vocal customers who troop into your ticket office to complain and compliment, mean spotting and fixing problems is seldom hard. Hmm, the buses on Route 2 are overcrowded during rush hour. I should increase the frequency or replace the Sprinters with more capacious commuter carriers… Another bevy of gripes about the lack of on-board Wi-Fi? Time I researched WLANs and chose an ISP… Black smoke pouring from that parked A78? I really need to take on more mechanics and restock my spare parts warehouse.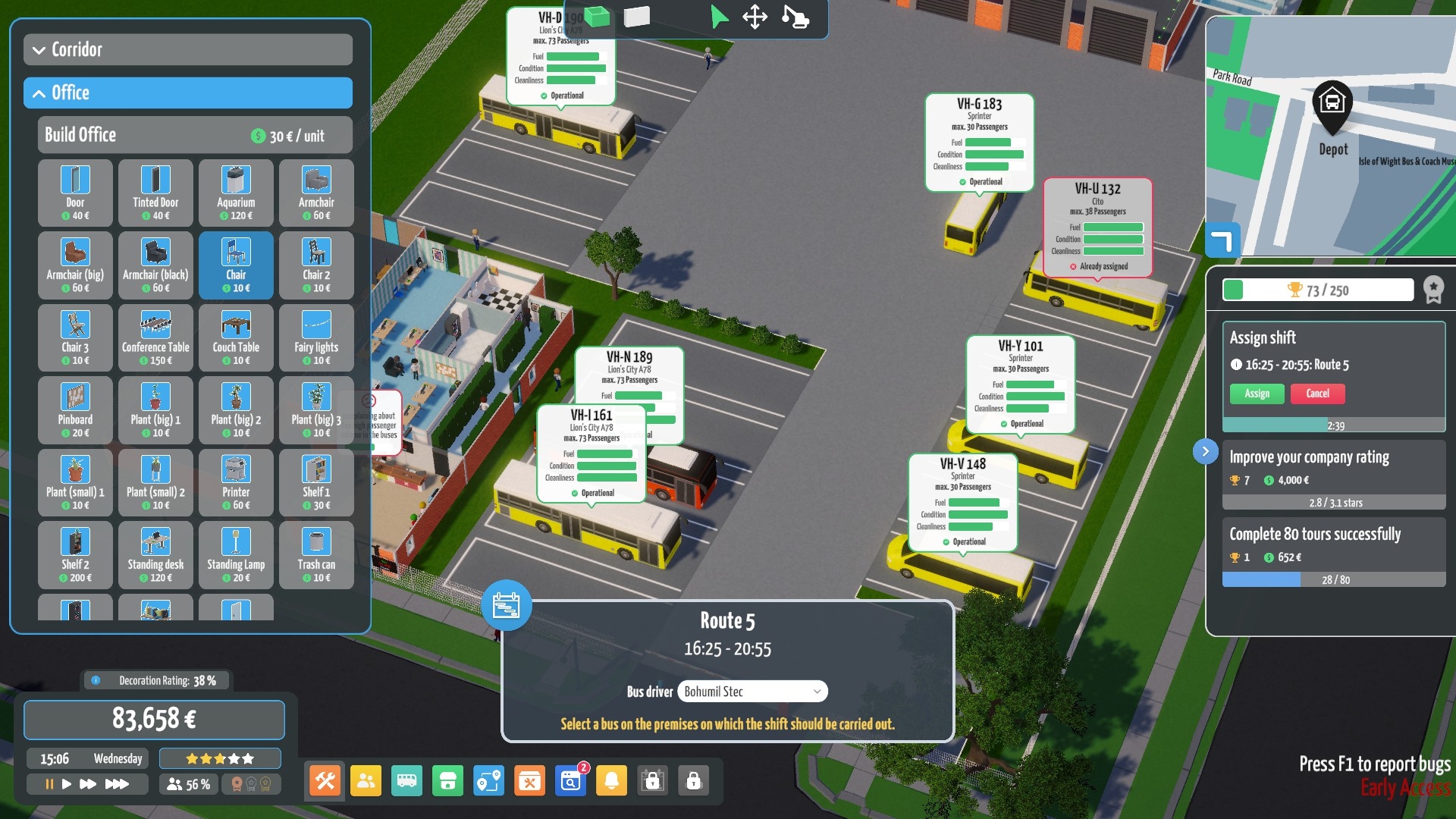 Unsurprisingly given PeDePe's background (they started out making add-ons for OMSI) CBM welcomes mods. There's already over 3000 bus types and liveries available in the Steam workshop. If I had been more organised I'd have downloaded a few of these Southern Vectis beauties before commencing my playtest.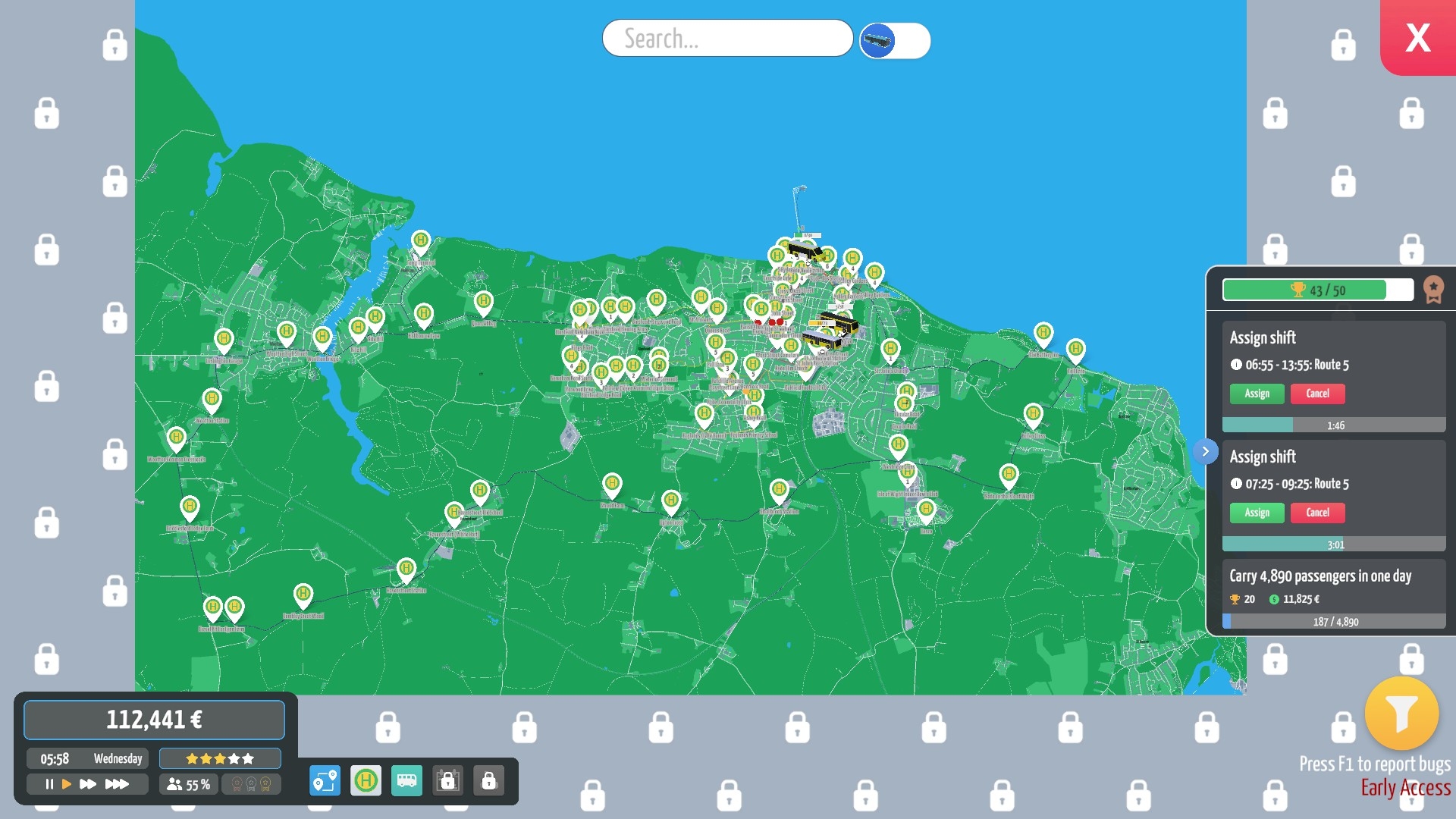 Scanning my notes for anything resembling a complaint, all I can find is "No 3D buses in map mode". Watching PSVs scurrying about a burgeoning network would, I reckon, be more satisfying if the buses appeared the way they appear in the depot instead of as uni-directional icons.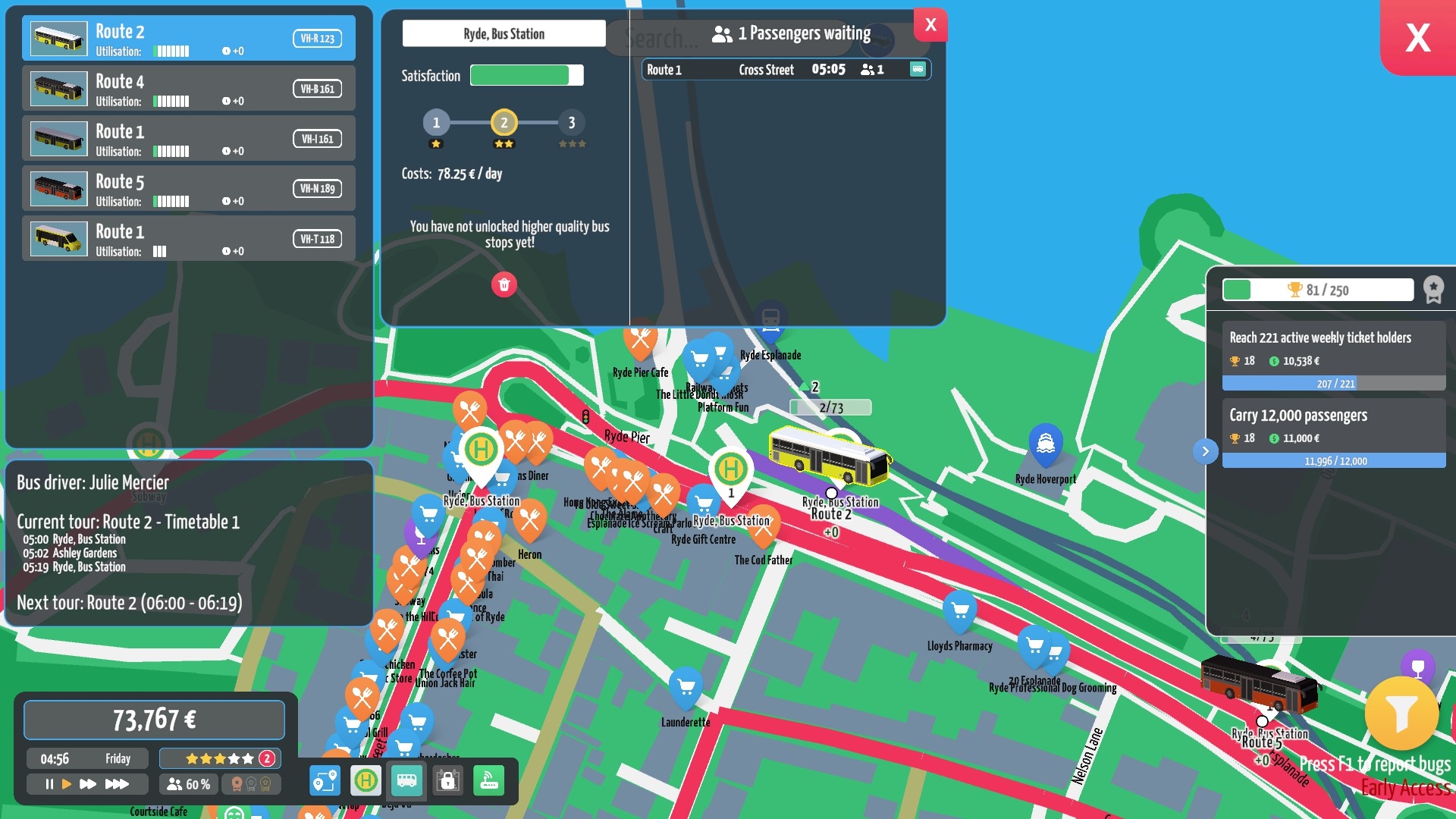 Although there's no sign of a roadmap, based on the updates provided since its November launch, it's hard to imagine the already absorbing/polished City Bus Manager leaving Early Access (ETA: end of the year) with anything less than the "very positive" Steam reception it currently enjoys.