Every Friday at 1300 hours, Tally-Ho Corner's cleverest clogs come together to solve a 'foxer' handcrafted by my sadistic chum and colleague, Roman. A complete 'defoxing' sometimes takes several days and usually involves the little grey cells of many readers. Don't be shy. All are welcome to participate.
To completely defox today's word chain you'll need to provide Roman with the sequence of 24 words suggested by the clues below.

A word can be any length and is linked to the next word in the chain by its last two, three, or four letters. For instance 'honeysuckle' might be followed by 'leviathan'. 'Handel' could come next. Then 'delta'. And so on. Complicating things a tad are the six green italicised clues. These have been shuffled. For example "An Irish village with historic links to video gaming" probably doesn't refer to word #12.
1. There's one in this picture
2. One of Africa's longer rivers
3. An Arkansas town, an Oaks winner, and a WW2 special forces op involving a HP Halifax
4. A foldable religious relic
5. A historic event occurred here during WW2
6. This Nineties album has a British sports car on the cover
7. An RTS engine and a SPAAG
8. Confused sauna rant produces Asian seed capital?
9. The cause of this demonstration
10. No country produces more of this annually than Canada
11. A word you might find on the side of an Airbus A320
12. An Irish village with historic links to video gaming
13. The woman in this picture
14. A WW2 RN rescue tug and one of the nicknames of a single-term 19th Century US president
15. A scifi movie starring one of the world's bestselling music artists
16. The Gunpowder Plot's locus dēlictī
17. A mountain that appeared in a Noughties Tom Cruise movie
18. One of Australia's favourite b***u***
19. During the American Civil War his cavalry caused havoc here
20. This life-saving device comes in open, closed, and portable forms
21. The company that makes this model locomotive
22. A prime minister's moggy, the mount of a future US president, and a city in the southern hemisphere
23. Defeated in a brief 19th Century European conflict
24. This monarch ascended the throne in the year this game was released
* * *
SOLUTIONS
Last week's cluster foxer: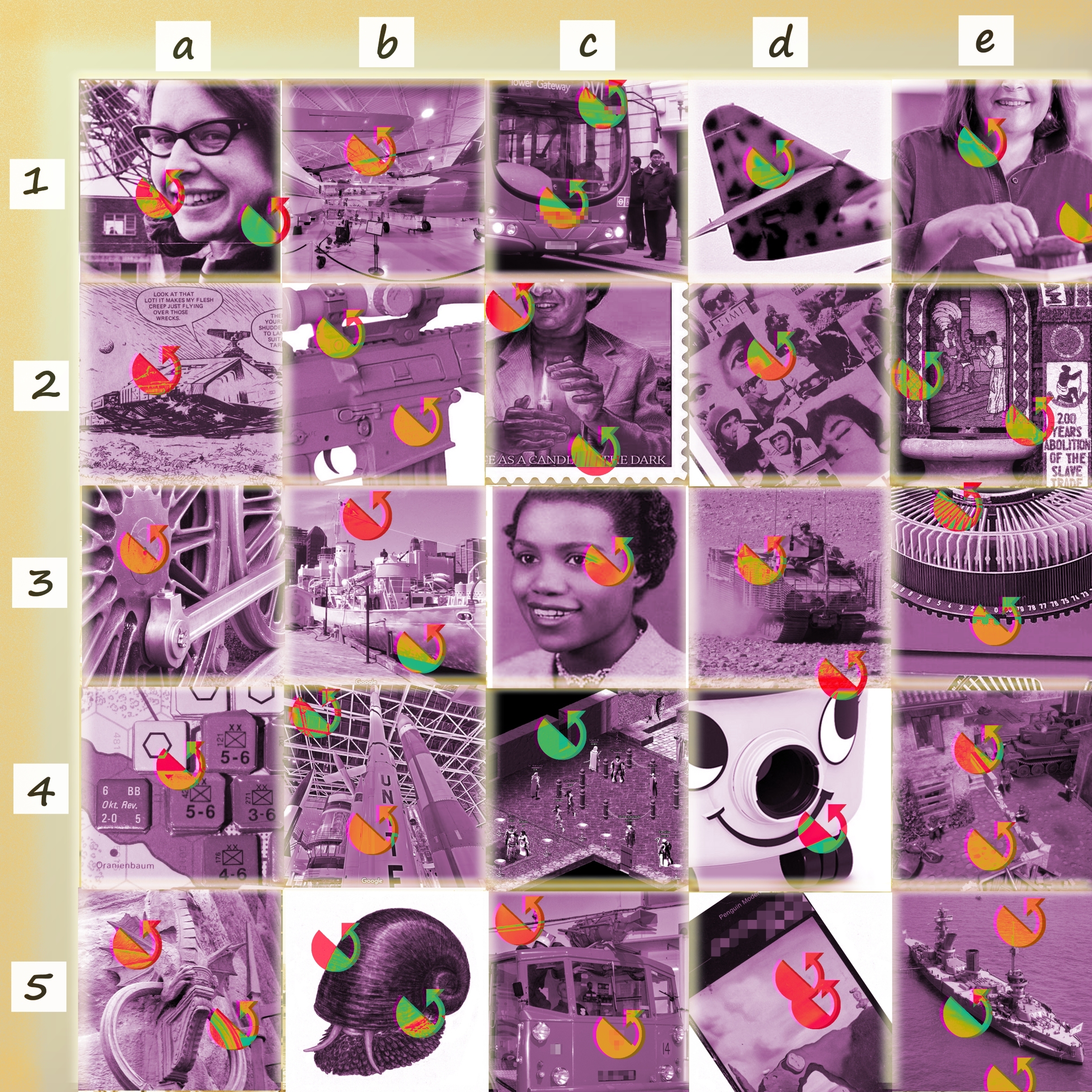 Pioneer plaque (defoxed by Colonel_K)
a1. pulsars (Viscount)
b1. san carlos, california
c1. hydrogen or pulsars (Viscount, Nutfield, ylla)
c2. carl sagan (Nutfield)
d2. a man and a woman (Colonel_K)
Nürburgring corners (defoxed by Colonel_K)
d1. swallow's tail (Zwack23)
e1. planting garden (Nutfield)
e2. small well
e3. carousel (Zwack23)
e4. fox hole (Colonel_K)
Characters in US TV series Ghosts (defoxed by ylla)
b2. sass (Colonel_K)
b3. flower
c3. alberta (Electric Dragon)
d3. viking (Colonel_K)
d4. hetty (Zwack23)
Words beginning 'sco' (defoxed by Electric Dragon and Colonel_K)
a2. scorpio (Colonel_K)
a3. scoa-p (Electric Dragon)
a4. scorched (Colonel_K)
b4. scout (Viscount)
a5. sconce (captaincabinets)
Le Havre (defoxed by Colonel_K)
c4. astonia (Colonel_K)
b5. volcano (Phlebas)
c5. salamander (Colonel_K)
d5. nausea (Nutfield)
e5. marat (Electric Dragon)