We're halfway through THC's second play-by-comment Combat Mission marathon. Having eliminated the majority of the Pod mechanized infantry units occupying Strupnic, the Comment Commanders are about to take on a much more formidable enemy force. The odds of a purloined T-72, two TOW Mutts, a TOW team, and an assortment of mortarmen, grenadiers and LAW toters, stopping around thirty MBTs aren't great, but if the ambushers fail it won't be from lack of courage, belief, or effort.
(Operation Oryx is an open-to-all game of Combat Mission: Cold War set in 1981. The commenter-controlled Zendoran forces are attempting to ambush a column of Podrabian vehicles bound for Zečin, the Zendoran capital. Each turn covers one minute of WeGo action. For a scenario outline and summaries of earlier turns, click here).
Unexpectedly, it's Droopy who opens the ambush.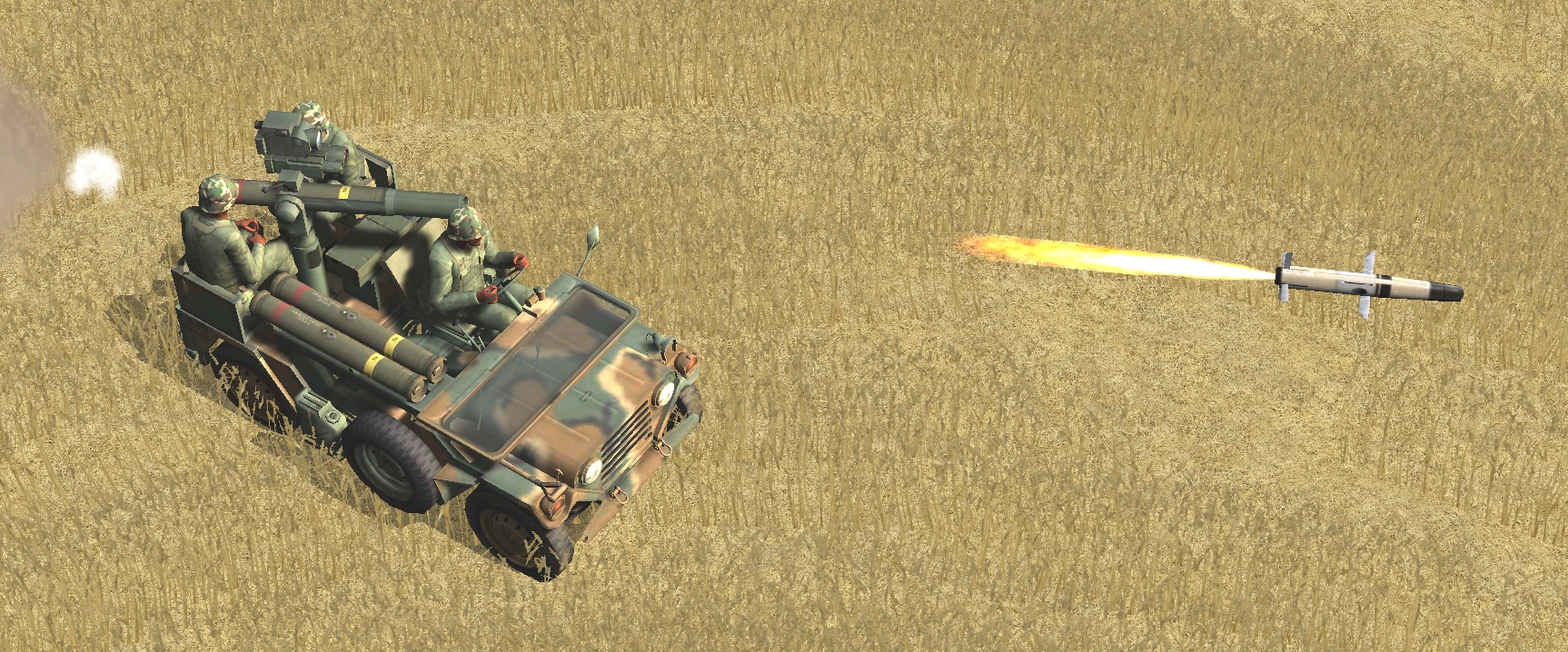 In the first few seconds of the turn, through a gap in the dust and smoke, our northern TOW Mutt spots the lead tank and lets fly.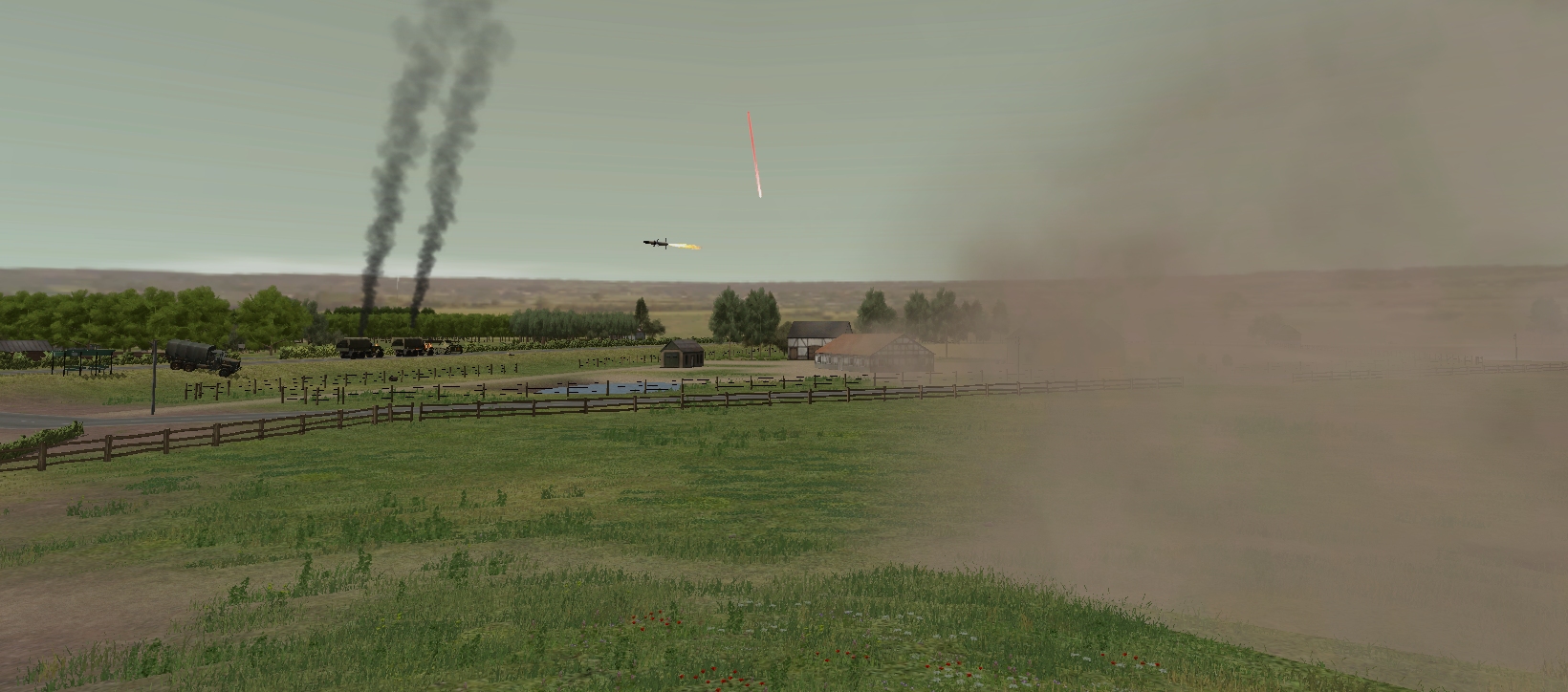 Crossing portions of the battlefield jostled by mortar bomb blasts, the finned HEAT projectile briefly climbs before spearing downwards towards the crowded embankment.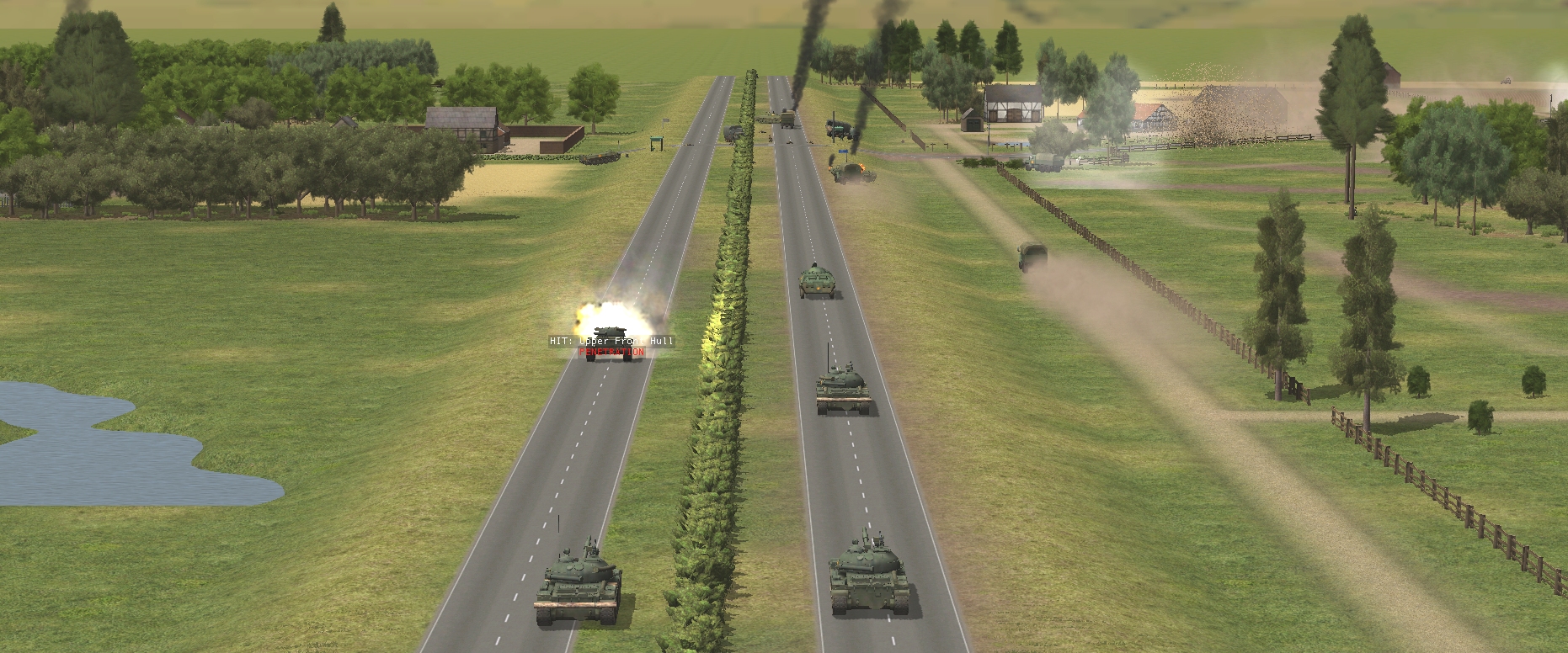 Slava Zendora!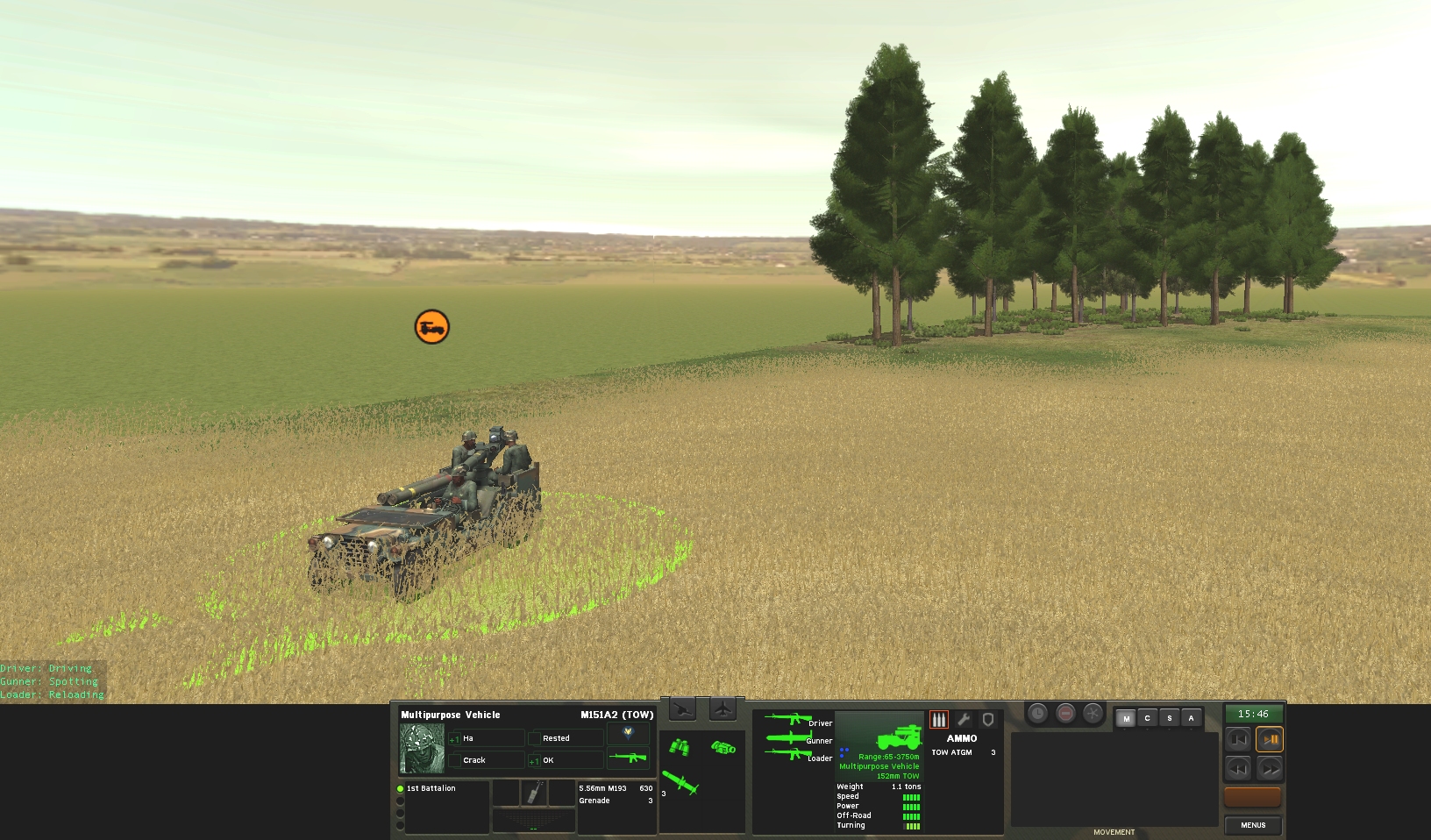 Moments after the KO, Droopy starts reversing in the direction of the small wedge of woodland in the NW corner of the map, reloading as he goes.
The light mortar team also heads north this turn, a movement that probably saves their bacon. Apart from a light wound caused by HE shrapnel, they reach the box 59/47 thicket unscathed.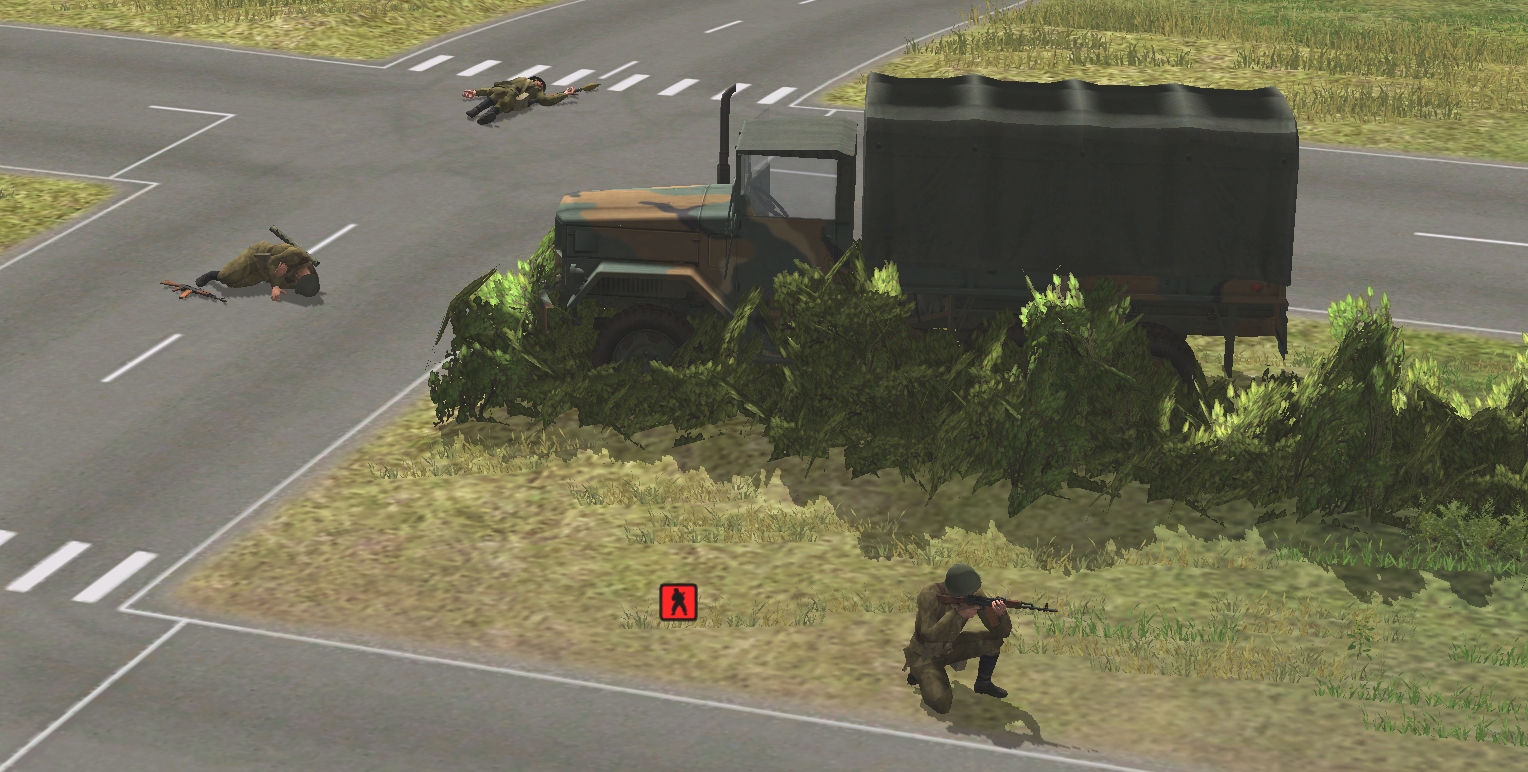 In what might prove to be their final contribution to the battle, the Pod remnants near the crossroads take potshots at our mortarmen as they relocate.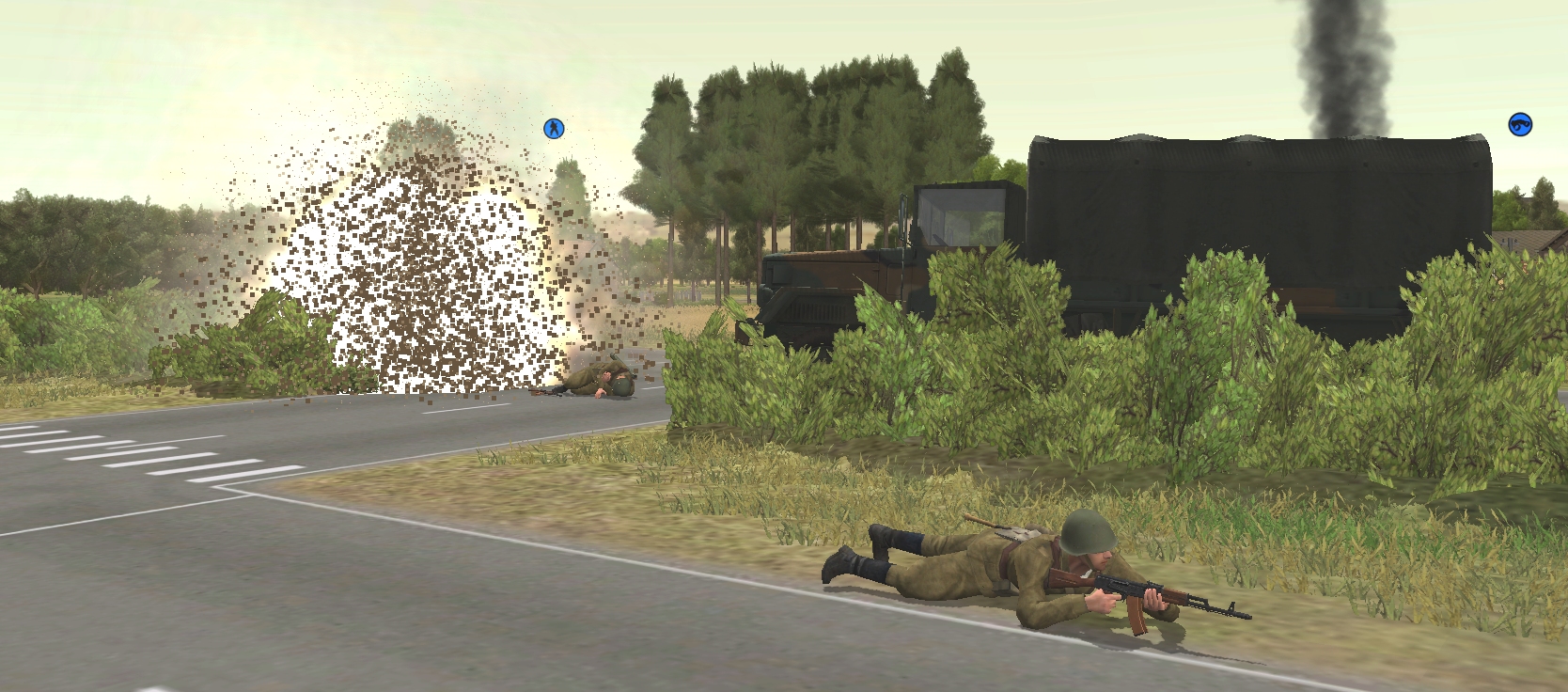 Why are the crossroaders living on borrowed time? About fifteen seconds before the clock stops, the adjusted heavy mortar barrage begins striking the embankment in boxes 63 to 65.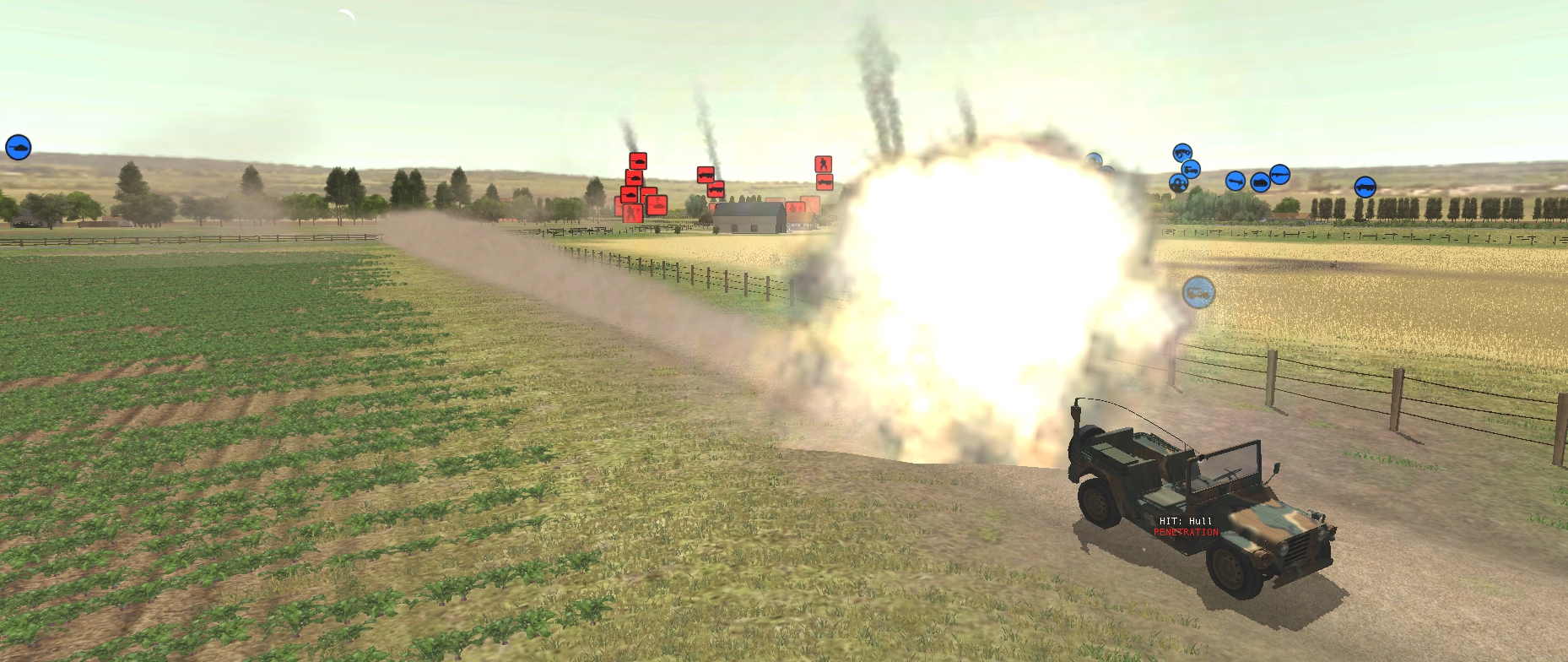 Everything goes swimmingly for the Zens until T+58, the moment when speedy Scooby is struck from behind by something speedier. The daring Mutt that ensured Viktor and Co. were reunited with Tereza, is tantalisingly close to the cover of the box 35 barn when Death, in the shape of a115mm HE round, overtakes it.
Also this turn…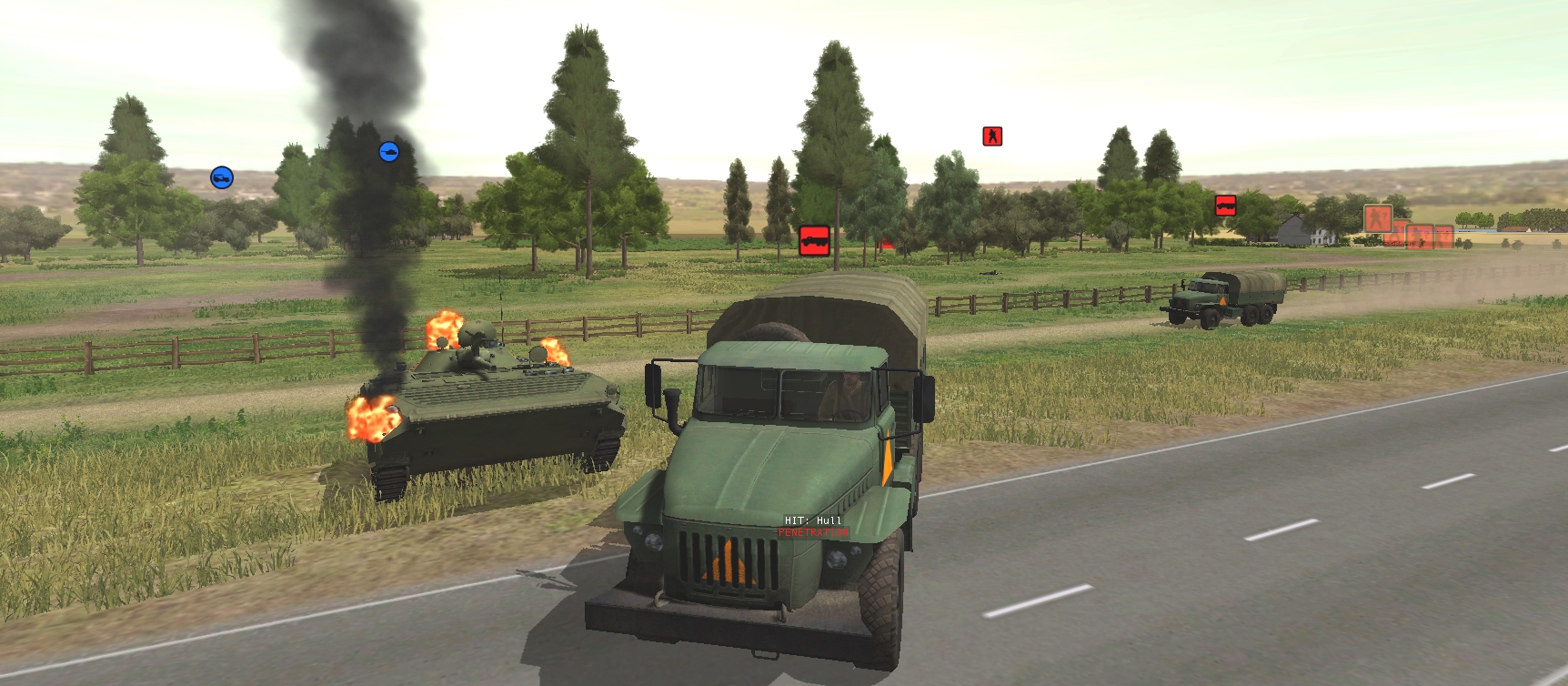 Our machinegunners ventilated the cab of the embankment ZIL. The punctured truck responded by backing in the direction of the Vostock Memorial.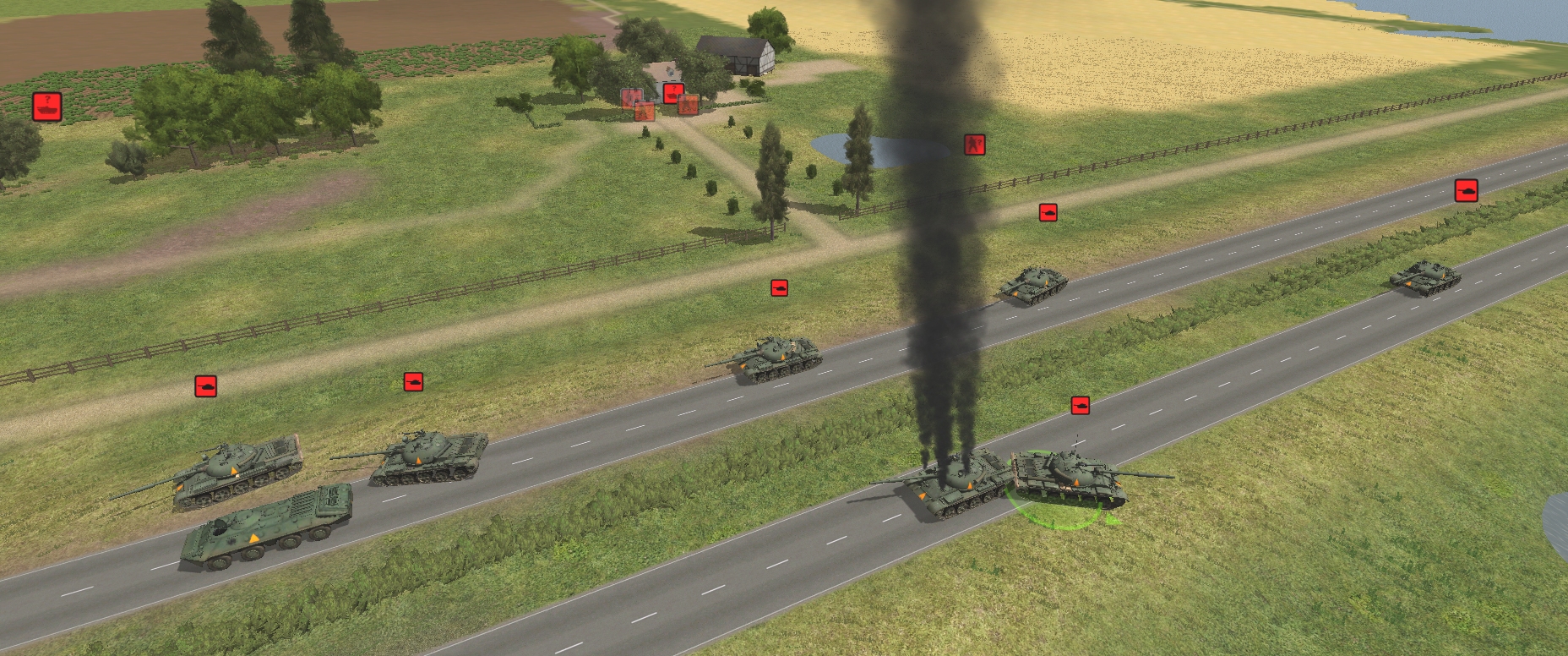 The T-62 closest to Droopy's victim decided to pivot SE. It's not clear whether it has lost its bottle or is trying to bypass the wreck in its path.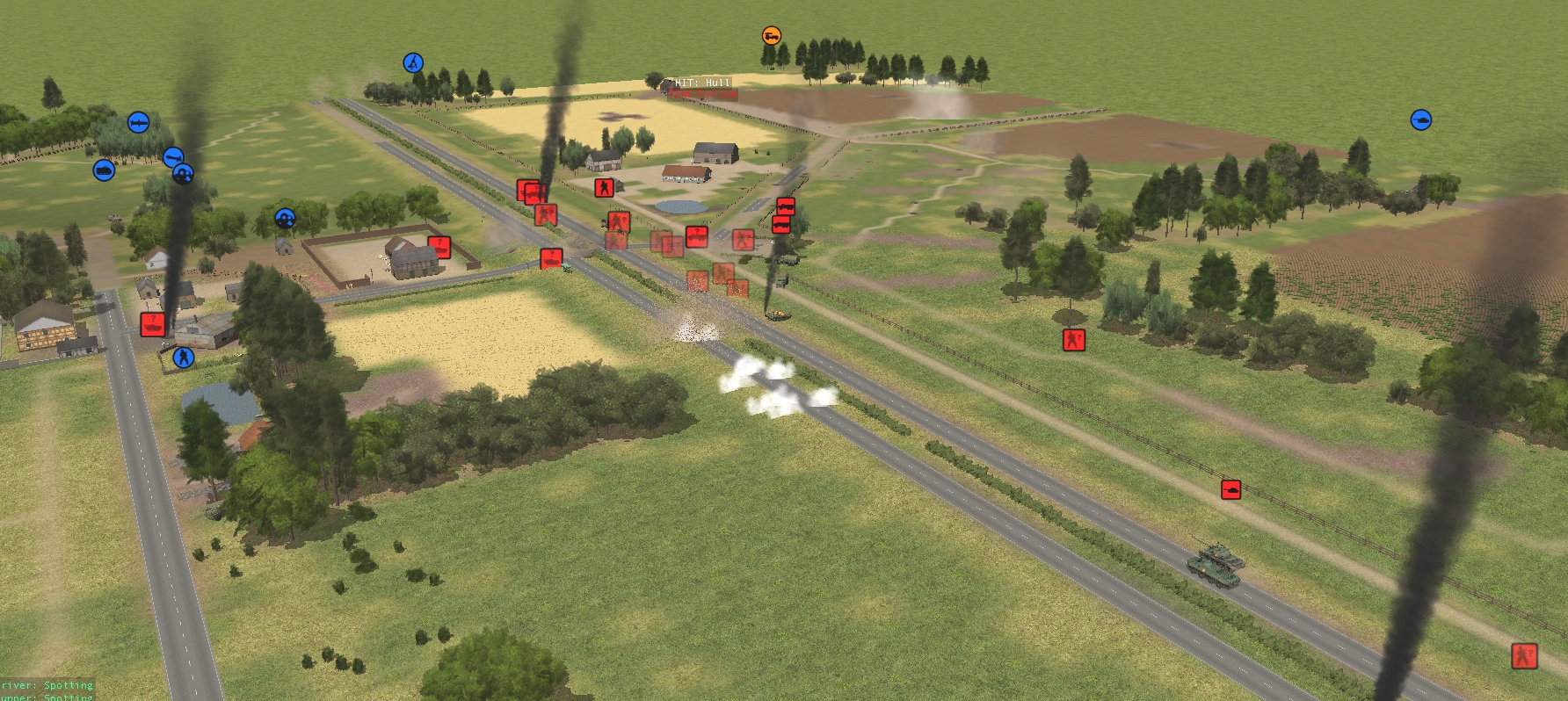 Droopy reloaded. At the start of turn 16 he has LoS to a T-62 close to the KOed BTR.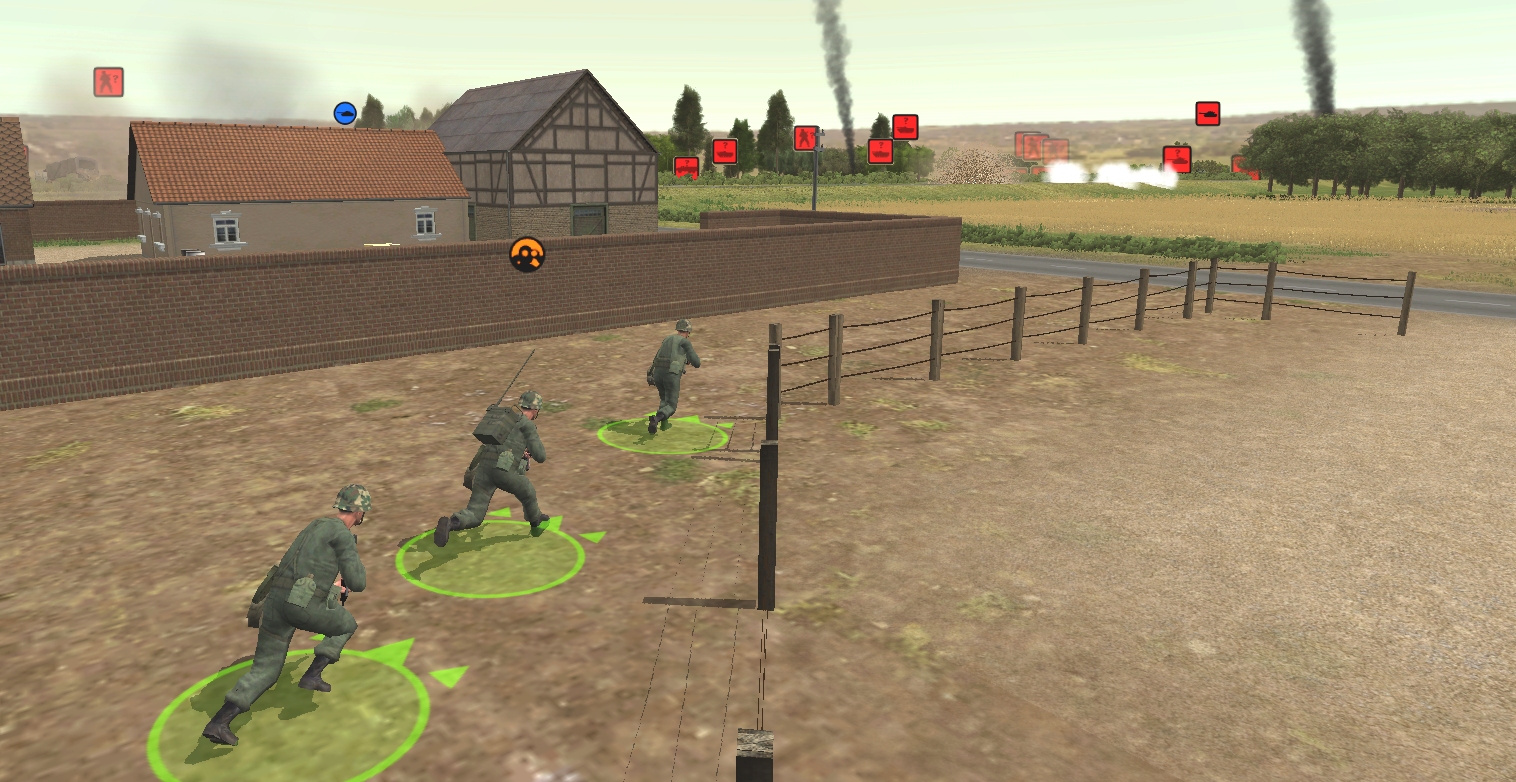 Recon teams Bravo and Charlie advanced – Charlie after acquiring a LAW and replenishing ammo from Scrappy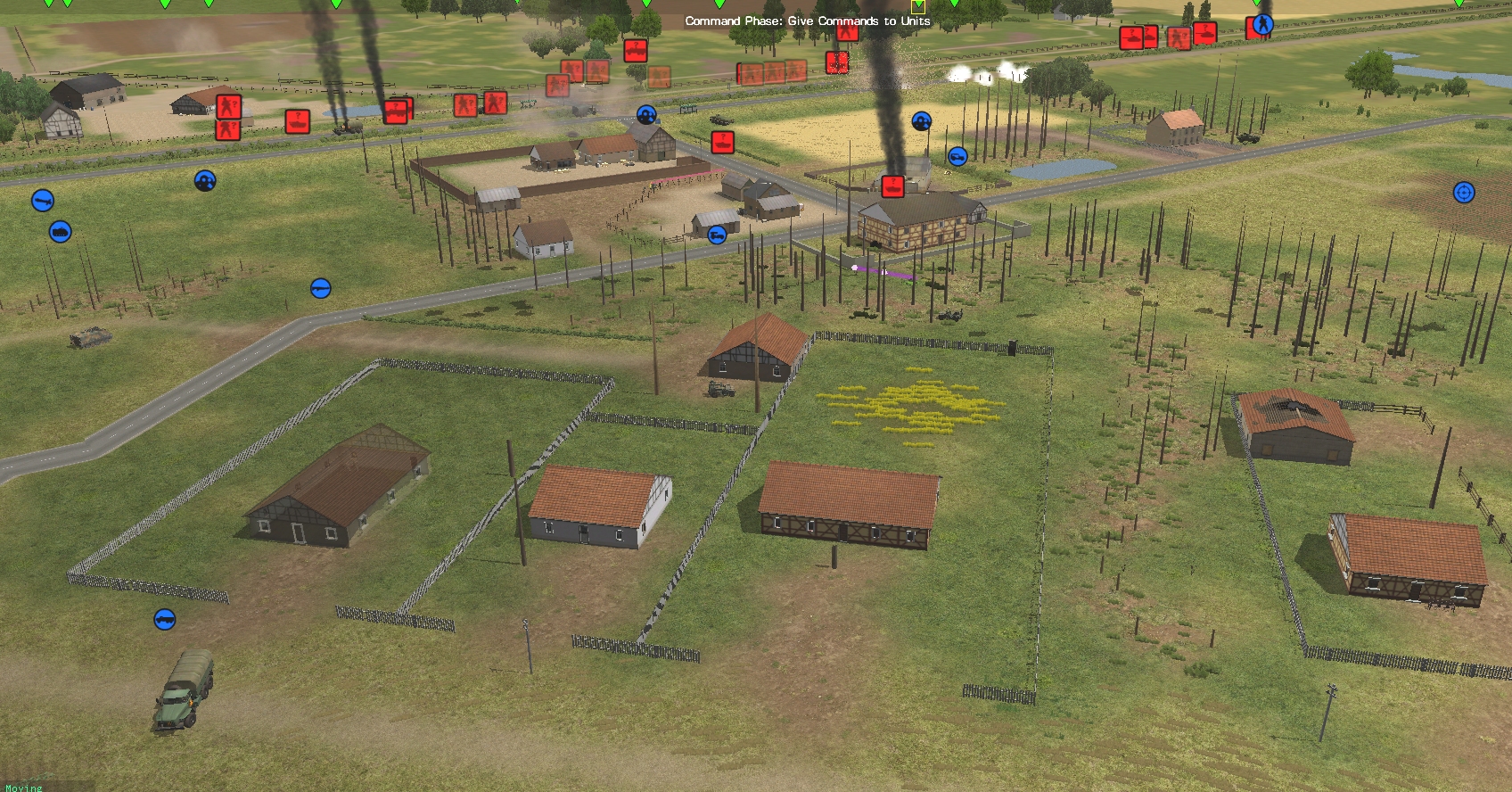 The M113 auto-reversed, probably after glimpsing a T-62 through the trees.