Steam tells me I've played Panzer Division Games' debut for twelve hours and would like to know if I'd recommend it to other players. When, shunning the proffered 'yes' and 'no' options, I reply "That depends", the Great One's speech becomes garbled and smoke starts trickling from its imperial apertures.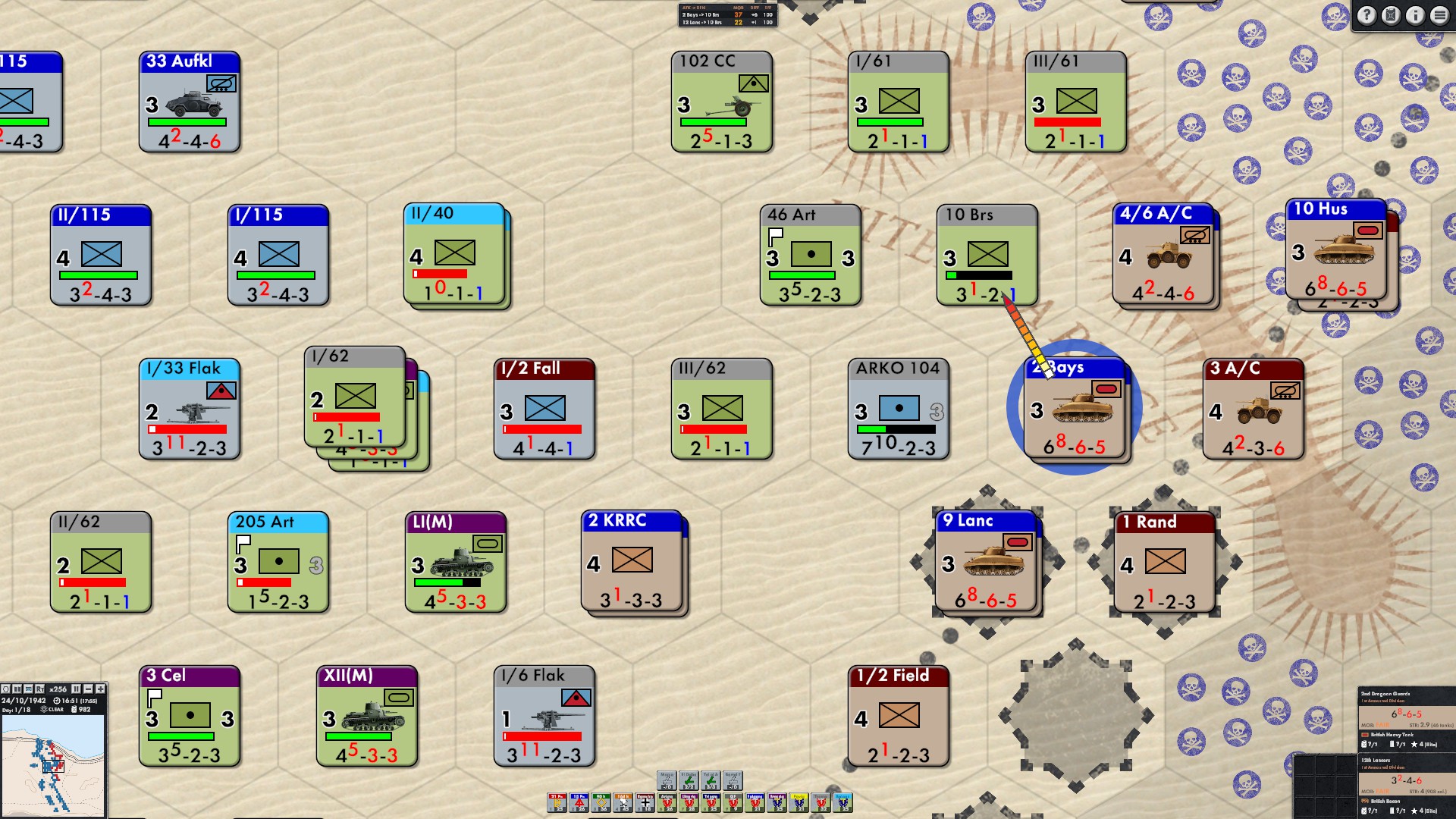 Apologies. As THC's sole war correspondent and election official has had a pretty busy week, this review may end up a tad terse and typo-strewn. I've sufficient time to point out that Attack at Dawn: North Africa is admirably approachable, uncommonly handsome, and, thanks to a button that toggles between real-time and WeGo play, extremely flexible. However, if I wish to hit my usual Friday deadline I probably can't detail every one of the game's numerous likeable traits or properly catalogue its mosquito-swarm of minor flaws.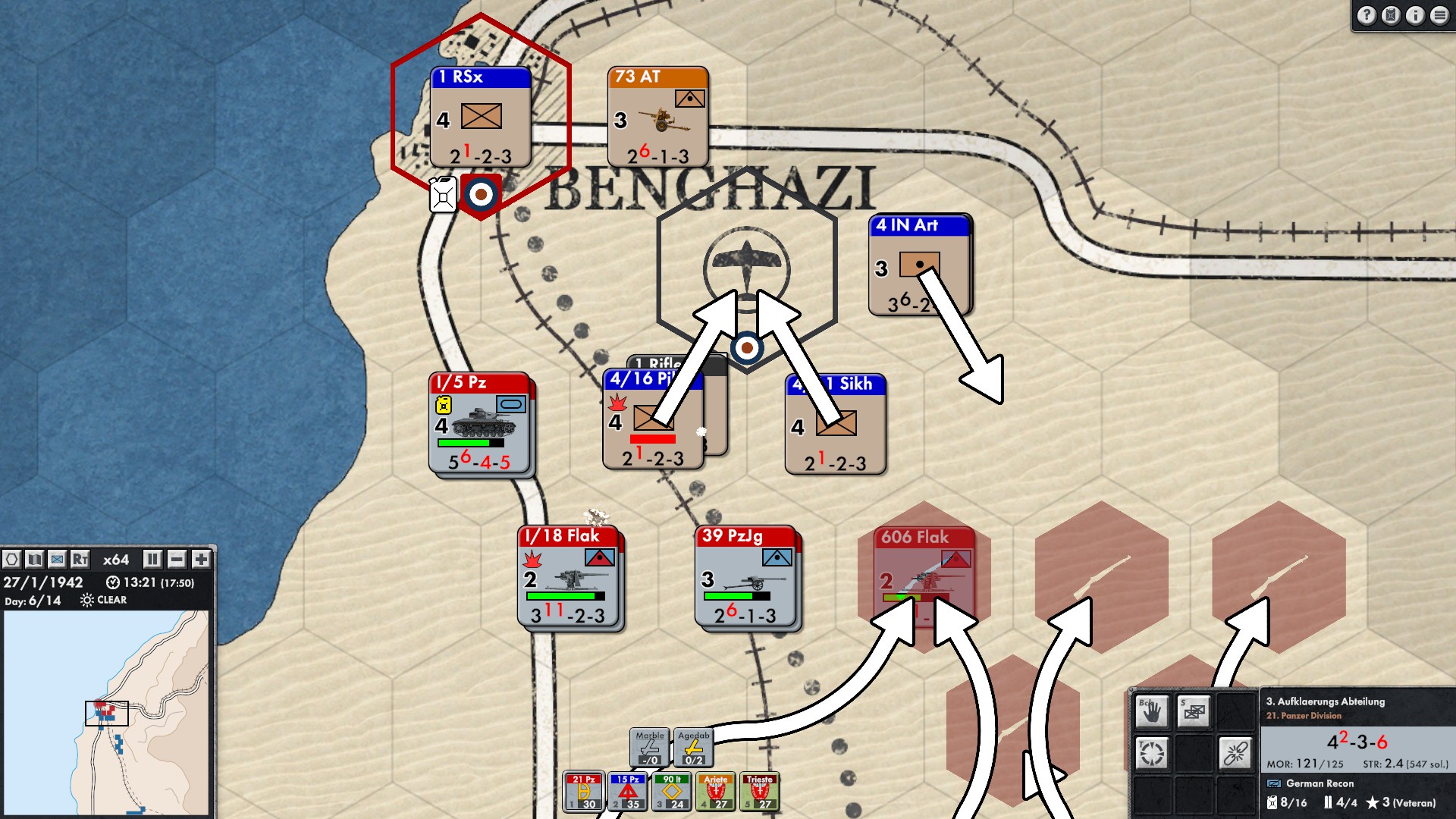 If you're looking for a friendly, pacy, and challenging Western Desert campaign wargame then you could do a lot worse than invest in this £24 newcomer. Because the order palette basically* consists of a single order ('move'), and units automatically engage, and can be orchestrated en masse via formation movement, you don't need huge reserves of patience or a perfect understanding of the board game-reminiscent rules to succeed in AaD. Apply pressure in the right areas of the battlefield at the right time, and the victories are sure to come.
* Bridge-building, mine-clearing, arty bombardments, and air missions are also possible.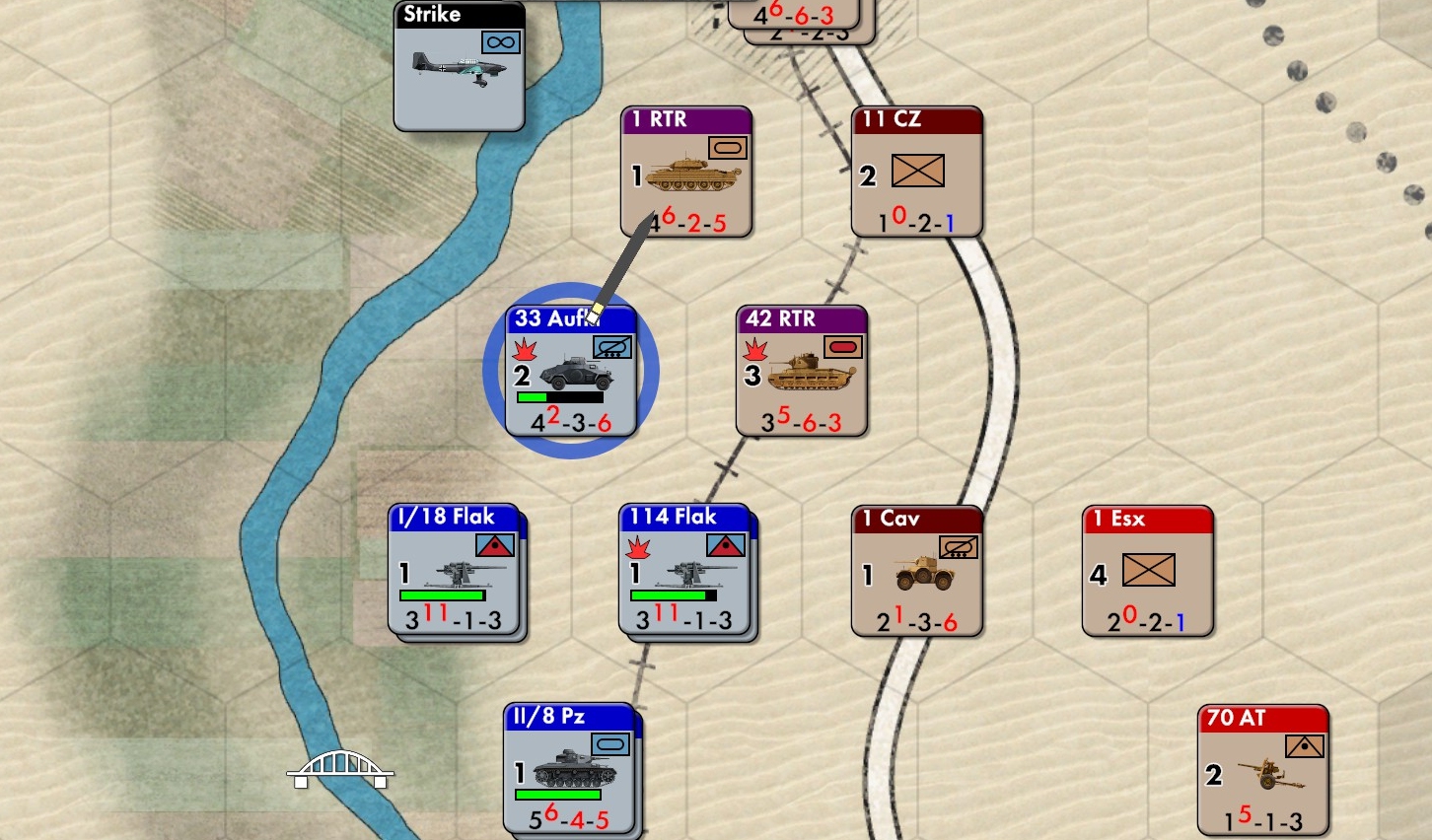 Unfortunately, a title that might have been ideal for micro-management-averse aggro administrators, is rendered sub-optimal by pernickety pathfinding, dodgy retreat AI, and a slightly strange approach to morale. A hex occupied by two friendly units (the maximum number permitted) acts as a roadblock to all but fleeing routers, leading to frustrating tile-puzzle situations in crowded locales. I'd like to withdraw the in-trouble armoured car regiment in the above screenshot, but can't because it's trapped by the 88s and river to its rear.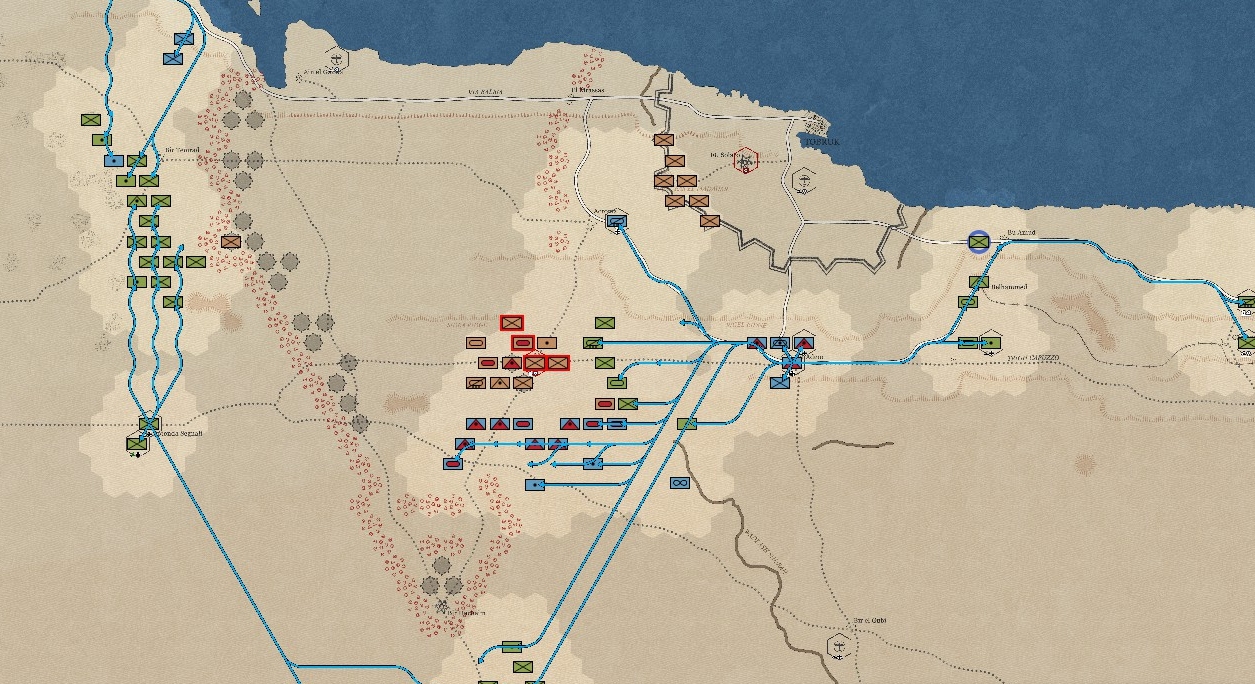 Strangely, you can't issue move orders through or to occupied hexes either, which means the player has to watch clashes closely, ready to take action the second a hex becomes vacant or a tangle of moving units untangle. This limitation is particularly frustrating if you opt to play in one-hour-per-turn WeGo mode rather than pausable real-time.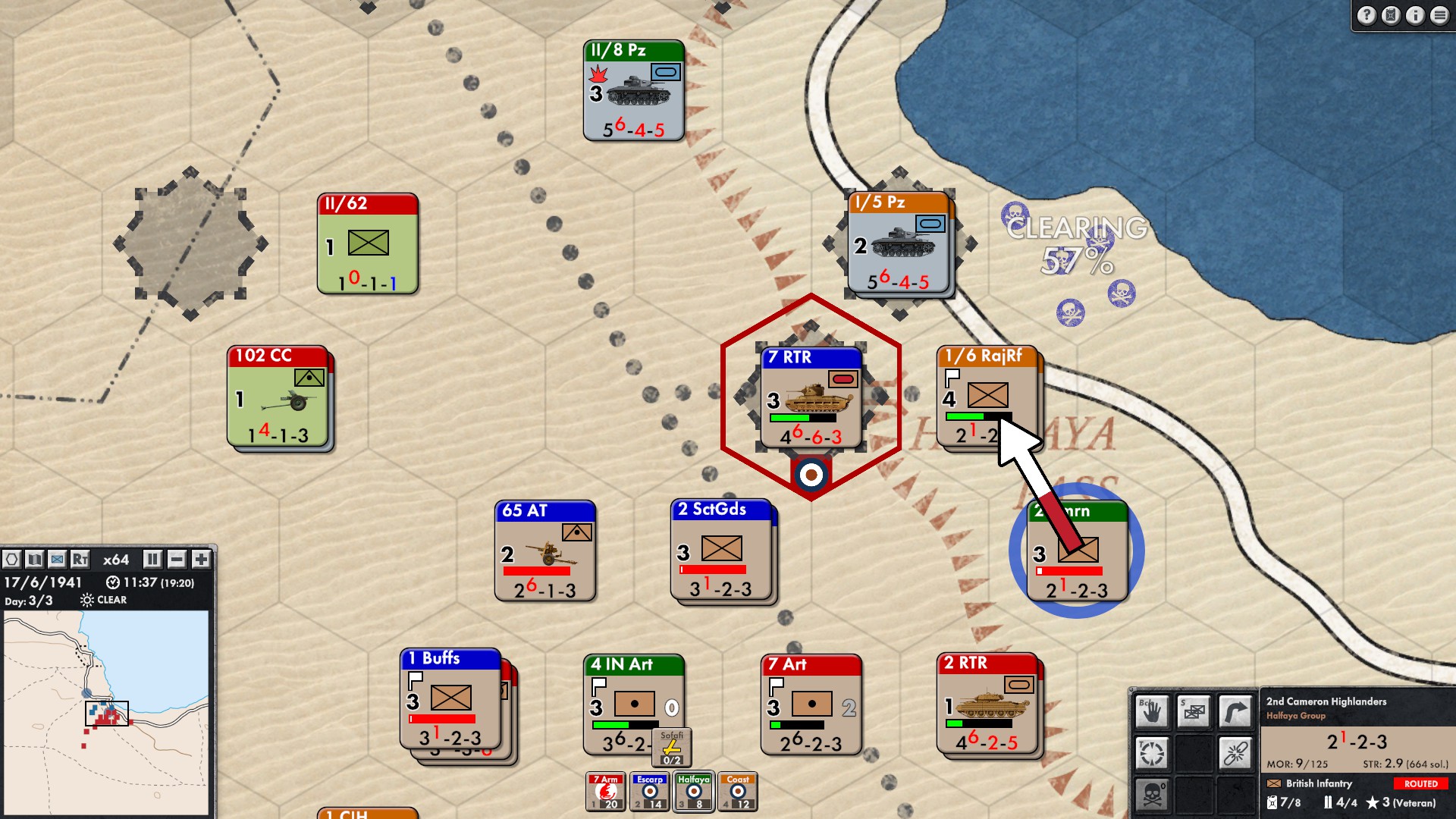 At present AaD's most distracting shortcoming is probably its chaotic retreat code. When ruddy routers aren't shuttling back and forth foolishly, they are often striking out in bizarre directions. Broken units that flee towards your rear echelons rather than away from them, matter because most scenarios are multi-day affairs, and the game automatically rallies routers during the combat-free night intervals. That shattered Panzer unit that inexplicably fled eastward today may well reappear behind your lines tomorrow and start molesting your arty units and gnawing at your supply lines.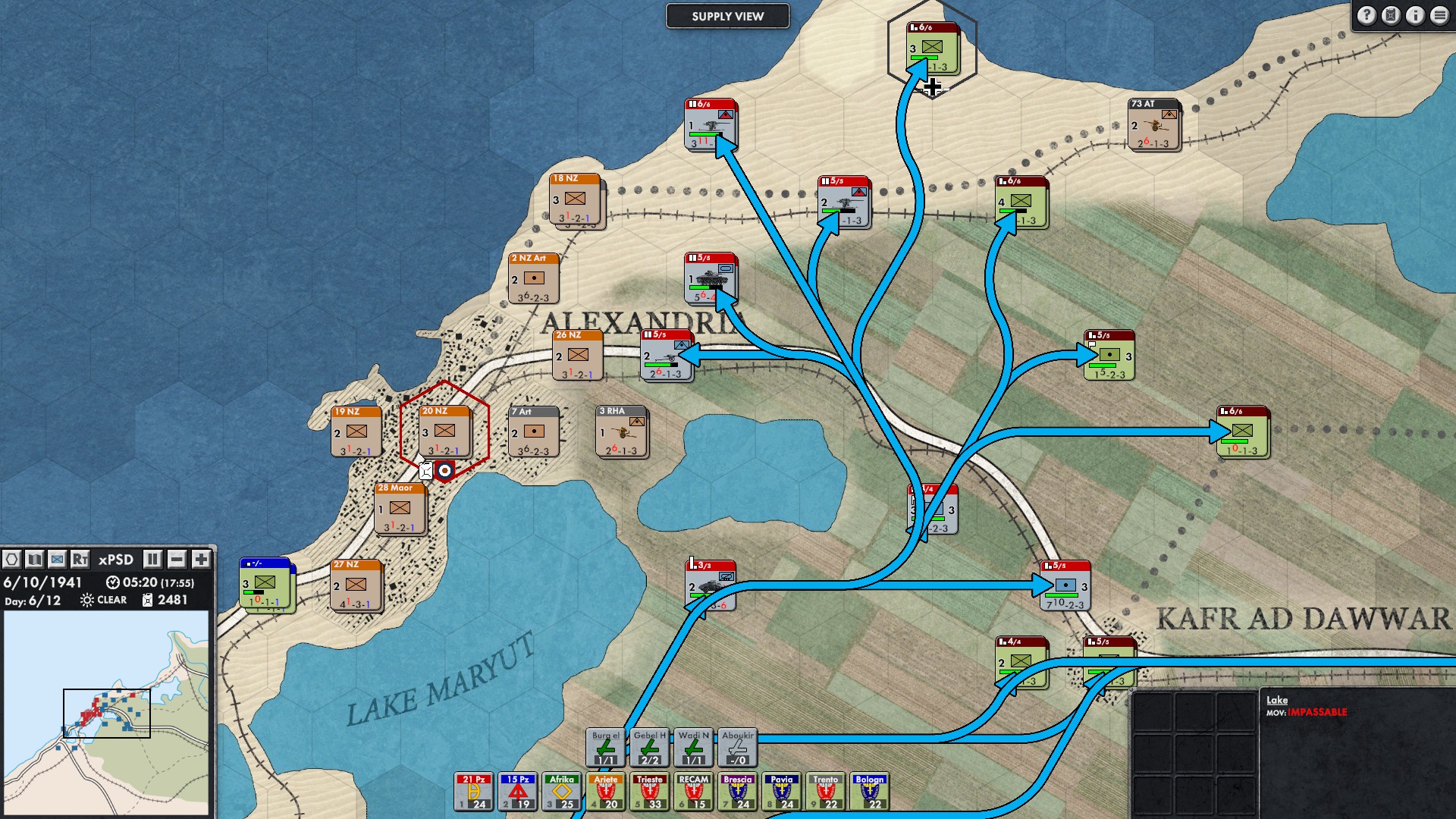 The nightly recovery phases combine with universally fragile morale and slick supply modelling to produce ops that proceed in plausible fits and starts, which I like. What I'm less keen on is the way morale bars also represent other traditional warrior attributes like readiness and fatigue. The green strip that adorns every counter (annoyingly, precise unit strength info isn't prominently displayed) shrinks slightly during movement. Less intuitively, it also withers when a unit is engaging a routed enemy. The idea that a regiment that has just dislodged a counterpart would lose heart as that beaten foe headed for the hills, is, I think you'll agree, somewhat daft. AaD urgently needs 'victory boosts' – instant morale gains that come from witnessing or participating in battlefield successes.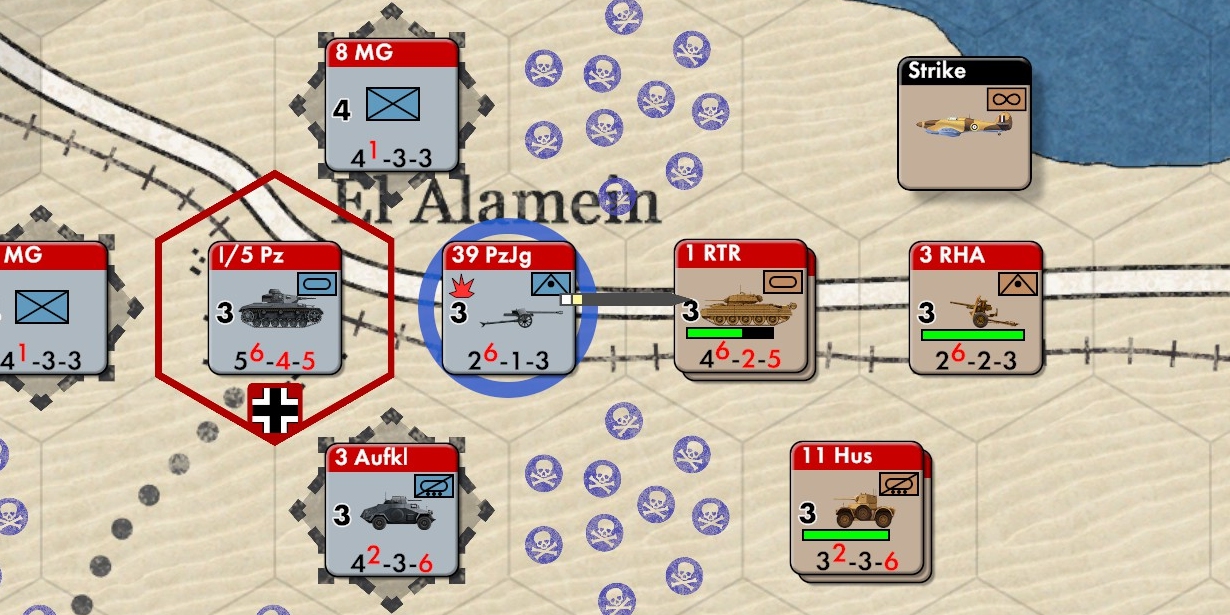 It would also benefit from [checks notes] order modifiers and unit stances (probe, hold at all costs… etc), digging-in, options that would allow the player to automate arty and air asset tasking, and a display mode that shows the morale and strength of every friendly on a map. Currently, if you play with counters rather than unit models, the bottom unit in a stack is as conspicuous as an S-mine in a sandstorm.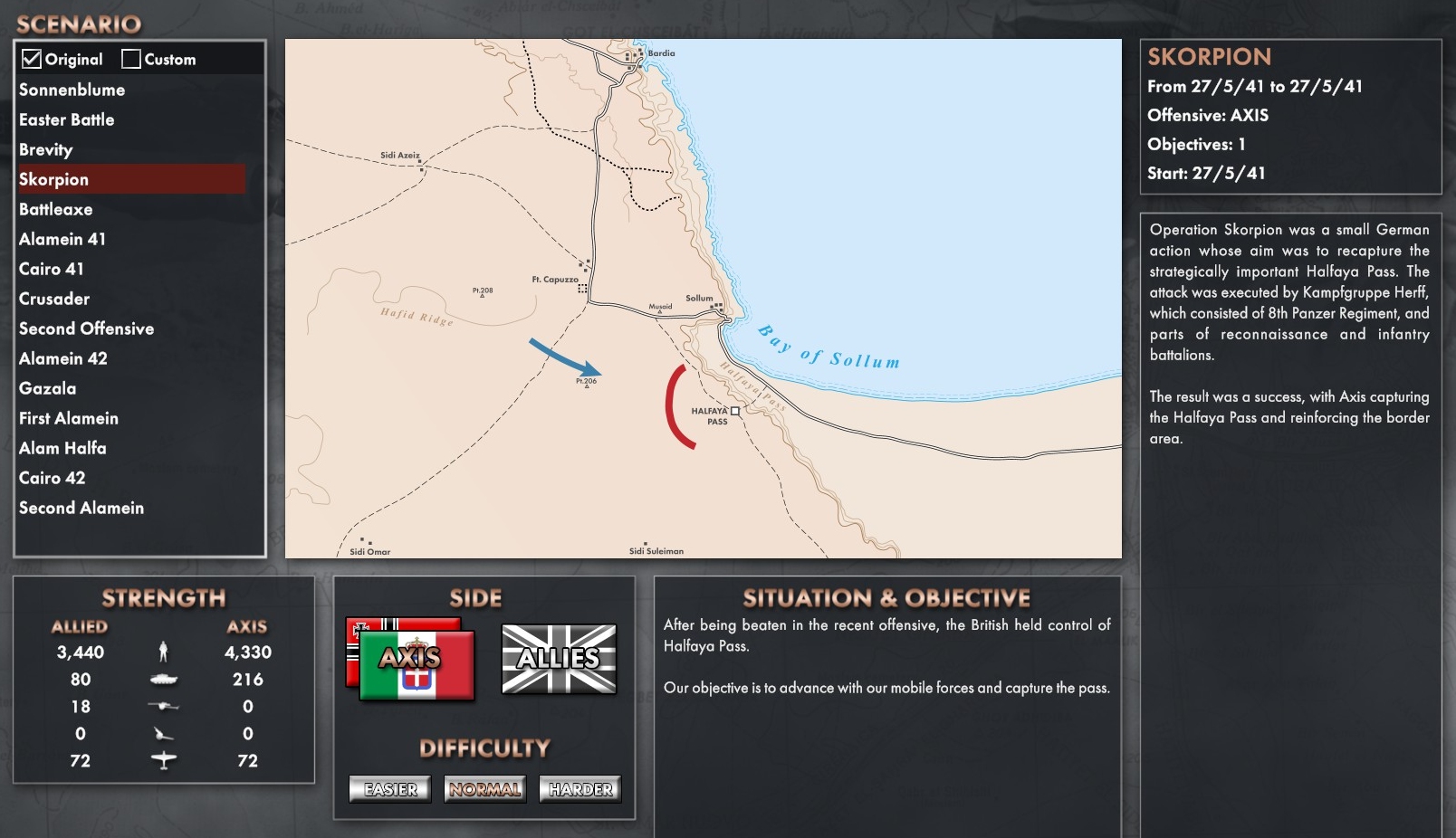 Crikey, 1300 hours is approaching like a dorcas gazelle spooked by a Stuka siren, and I still haven't talked about AI (business-like if a mite unimaginative), the scenario selection (15, ranging from single-day skirmishes to three-week marathons*), the campaign system (unadventurous and linear), the difficulty options (three, unexplained), or multiplayer (in beta).
* Thanks to a scenario editor, this total should grow.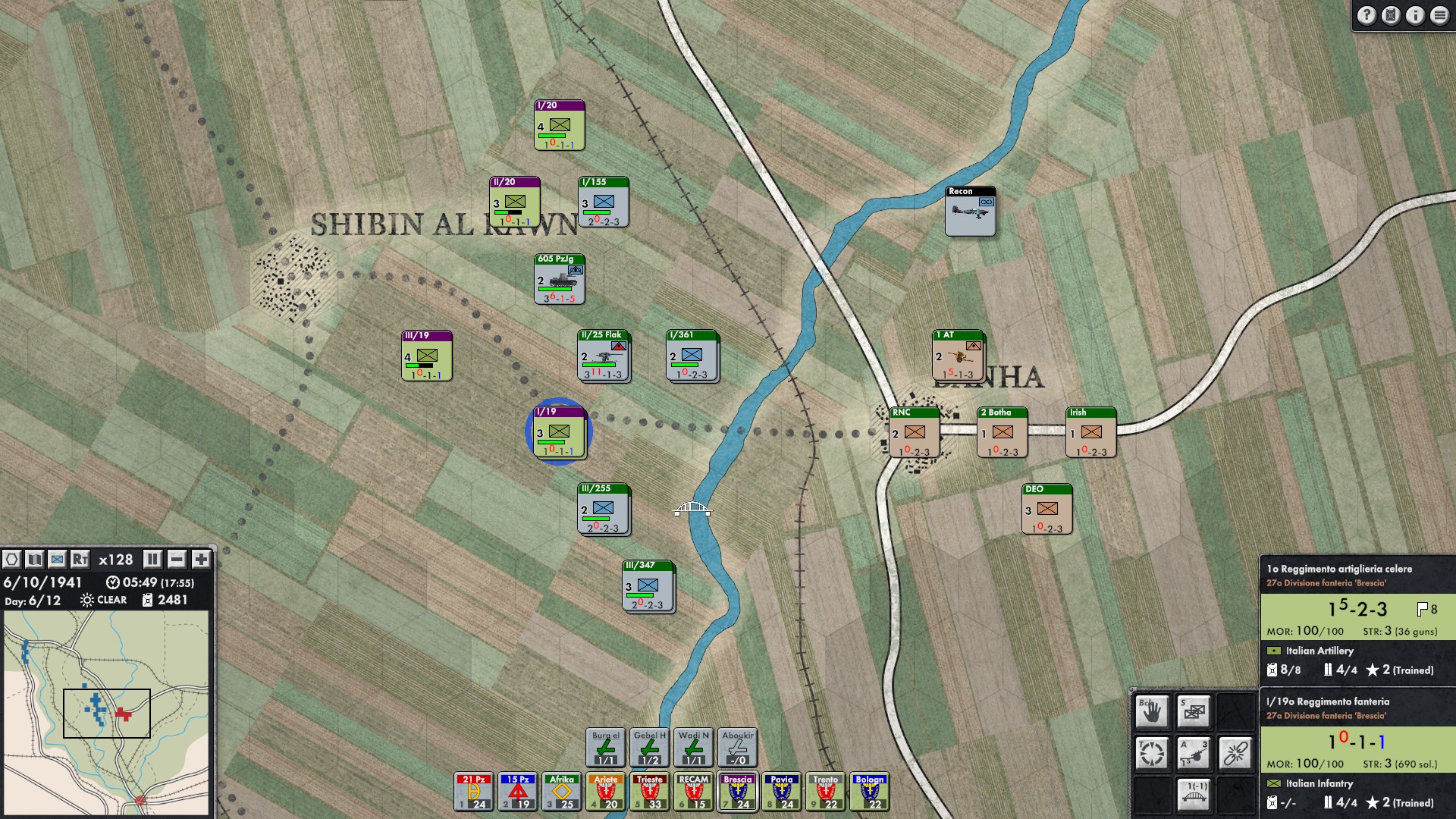 The praise I meant to heap upon the stylish map art and the super day-by-day battle histories remains unheaped, and my aside related to Tomislav Čipčić's other project sits undeployed. Before reaching for the 'PUBLISH' button, do I at least have time to express my firm belief that, sagely improved, the Attack at Dawn engine has a great future ahead of it?
Yes, it appears I do.