How much of my affection for Diesel Railcar Simulator is fondness for a transport sim that puts substance before surface, and how much is nuanced nostalgia for the vanished Britain it artfully evokes, I really can't say. Because DRS is the closest thing in my Steam library to a personal rewind button, I'll never be able to appraise it as clinically as I'd appraise a Napoleonic wargame or U-boat sim.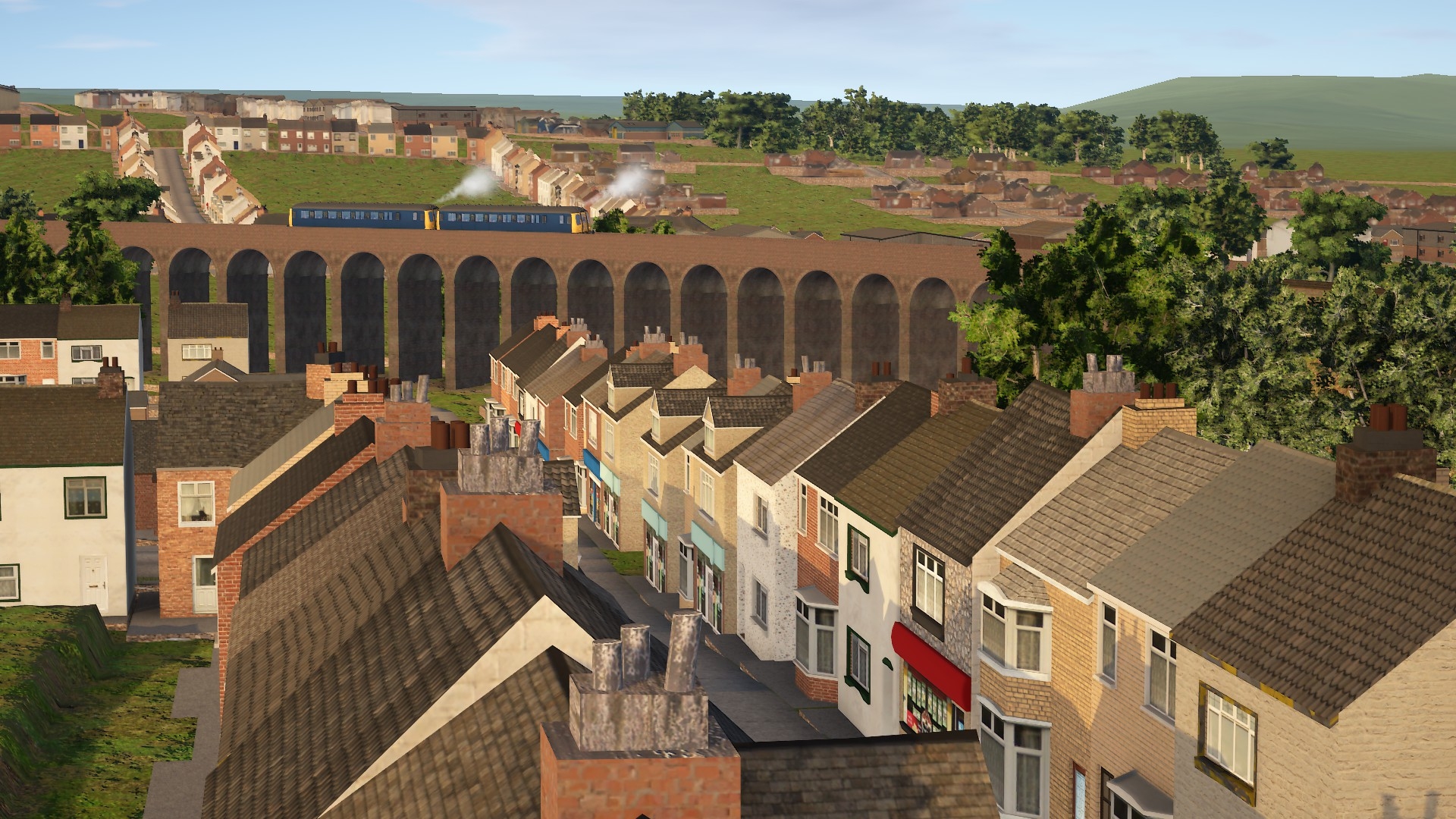 Where a youngster from the Americas or Antipodes might look at the screengrabs that sandwich this paragraph and the ones that follow and see quaint diesel trains doing their thing in landscapes that are half Harry Potter, half Peaky Blinders, I see the Cold War-chilled, pre-internet, pre-mobile phones, pre-reality TV, pre-ask me about my pronouns world I grew up in. My tutorial missions.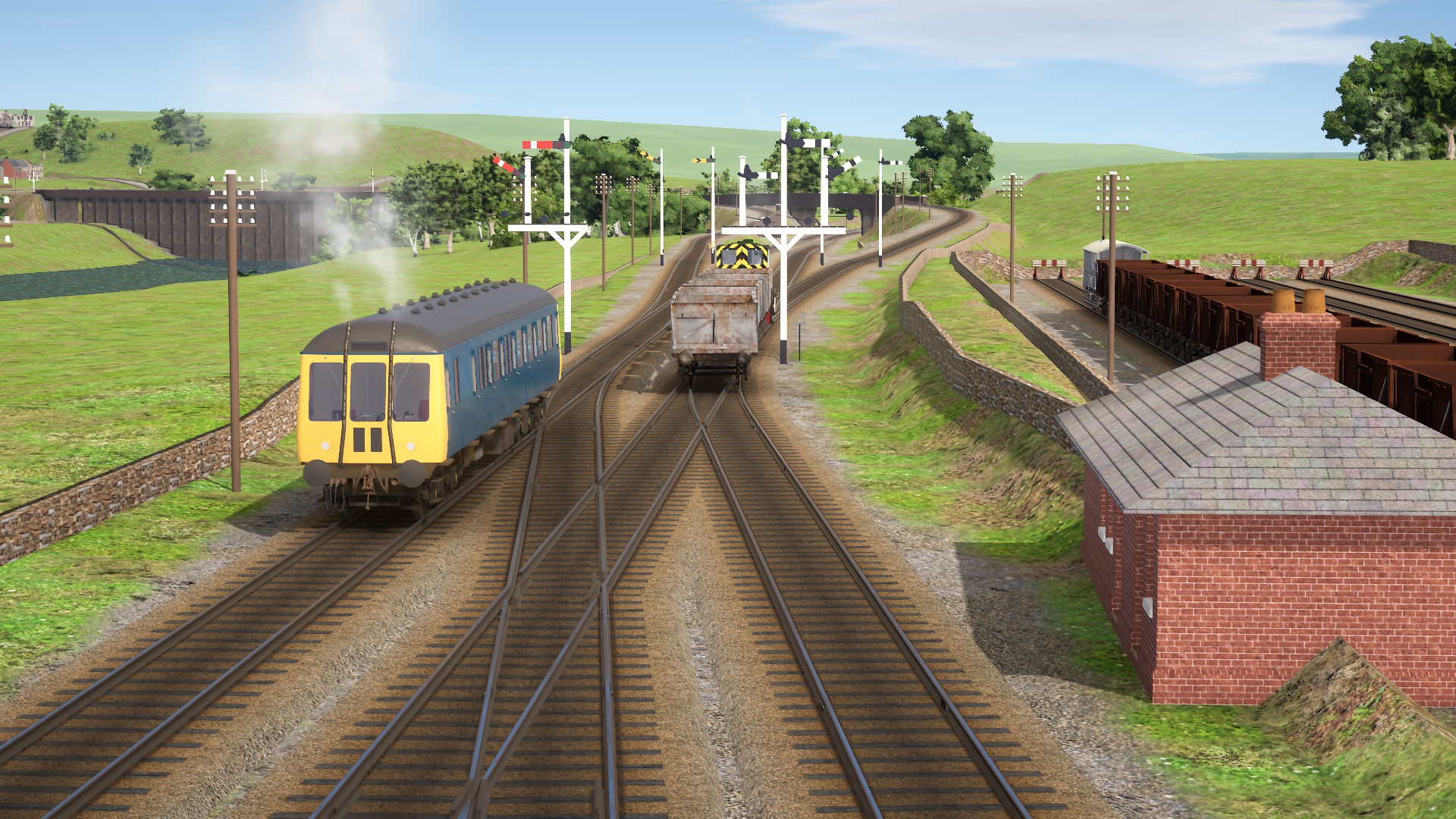 Contemplating moquette patterns in passenger view, the distinctive odour of "blue era" British Rail – cigarette smoke and diesel fumes, cough sweets and crisps, Impulse and Old Spice – wafts from my monitor.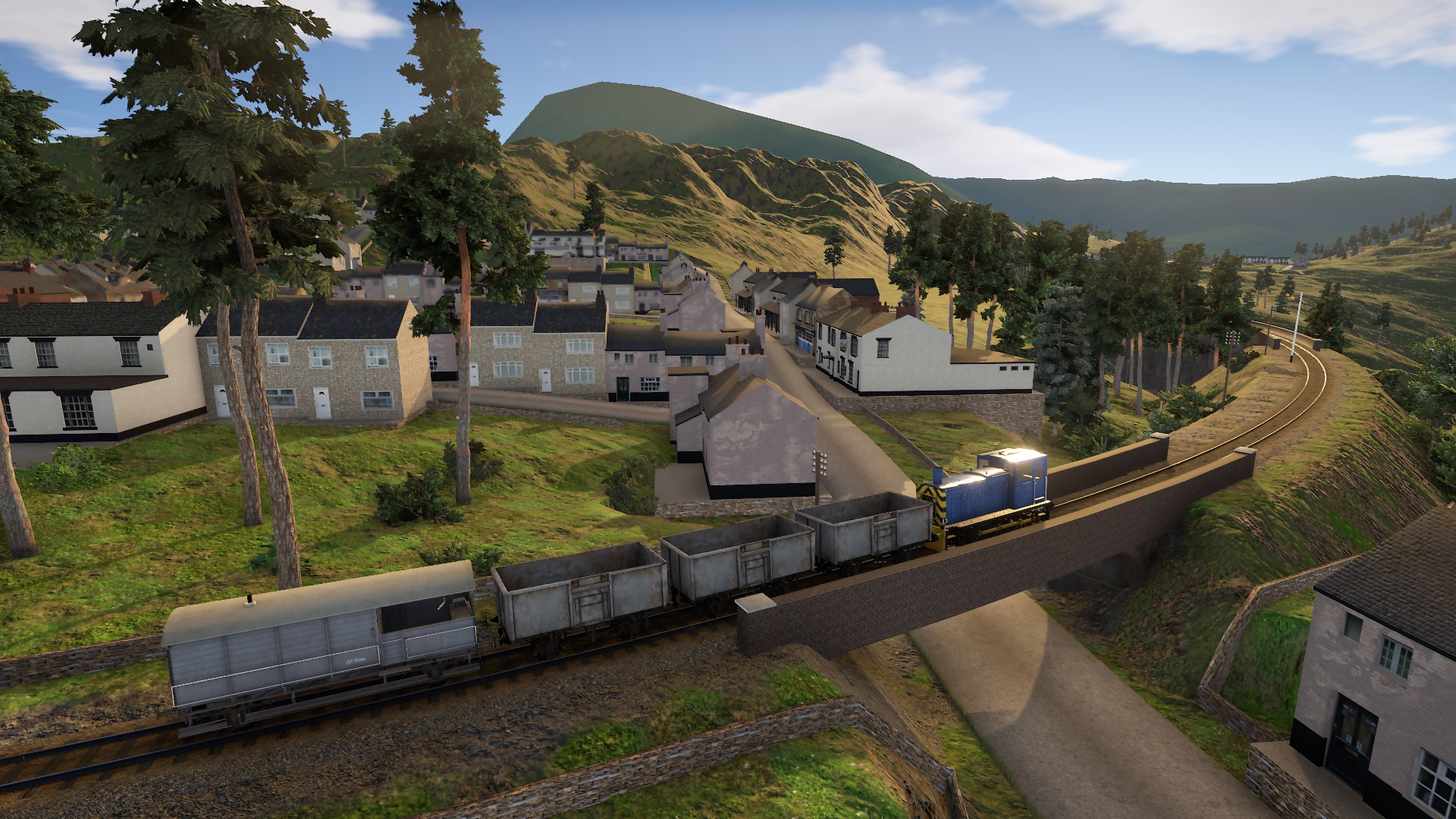 Glancing at trackside villages gilded by the rays of the rising sun, I see my anoraked, yawning self jamming newspapers into expectant letterboxes. The front page stories inking my hands describe industrial discord, IRA bomb blasts, war in the South Atlantic, and the hunt for the Yorkshire Ripper.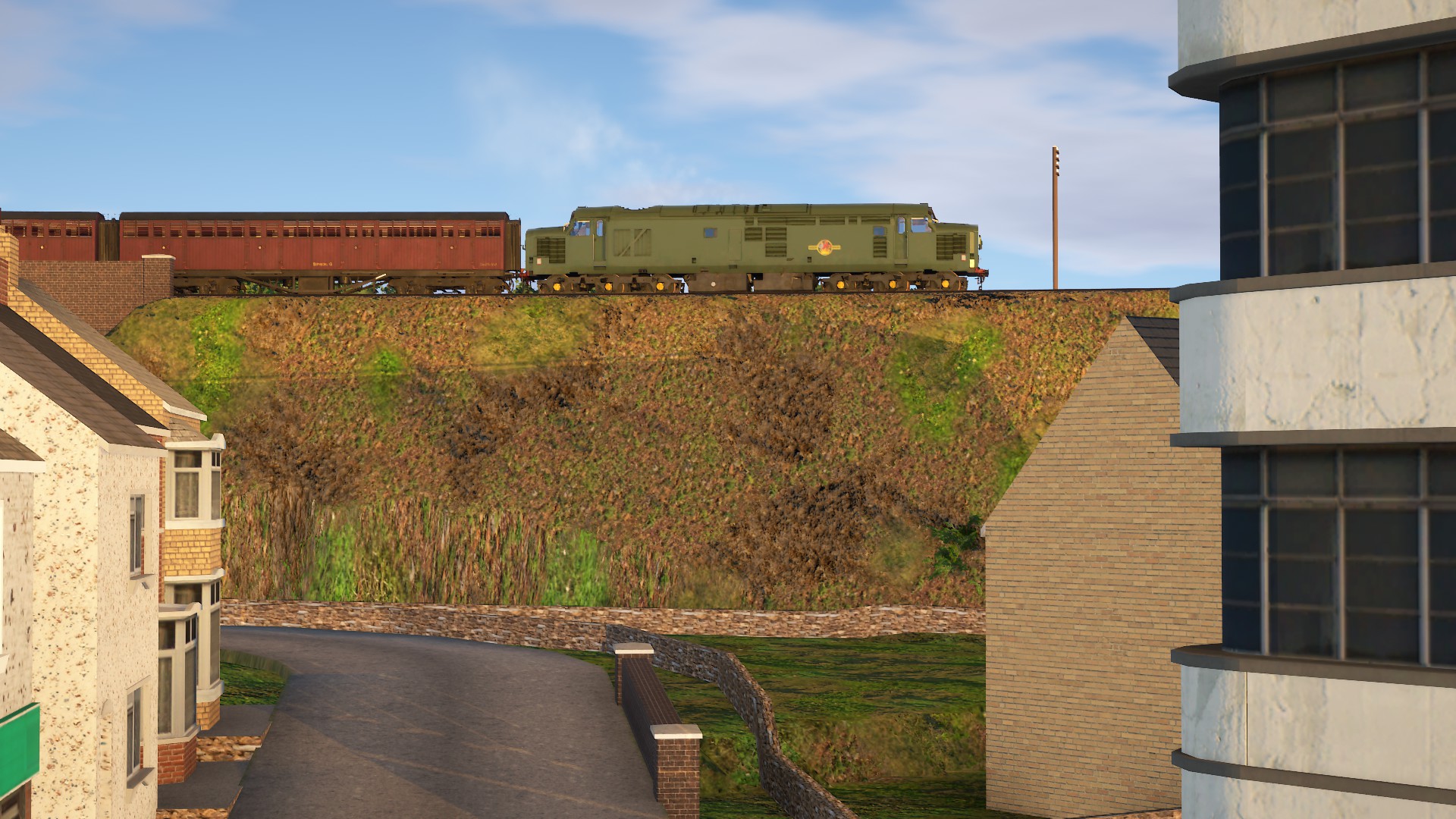 See that little house on the left? Inside, three cash-strapped pre-teen siblings are doing what they always do on a Sunday evening, taping choice tracks from a Radio 1 'Top 40' studded with three-minute masterpieces.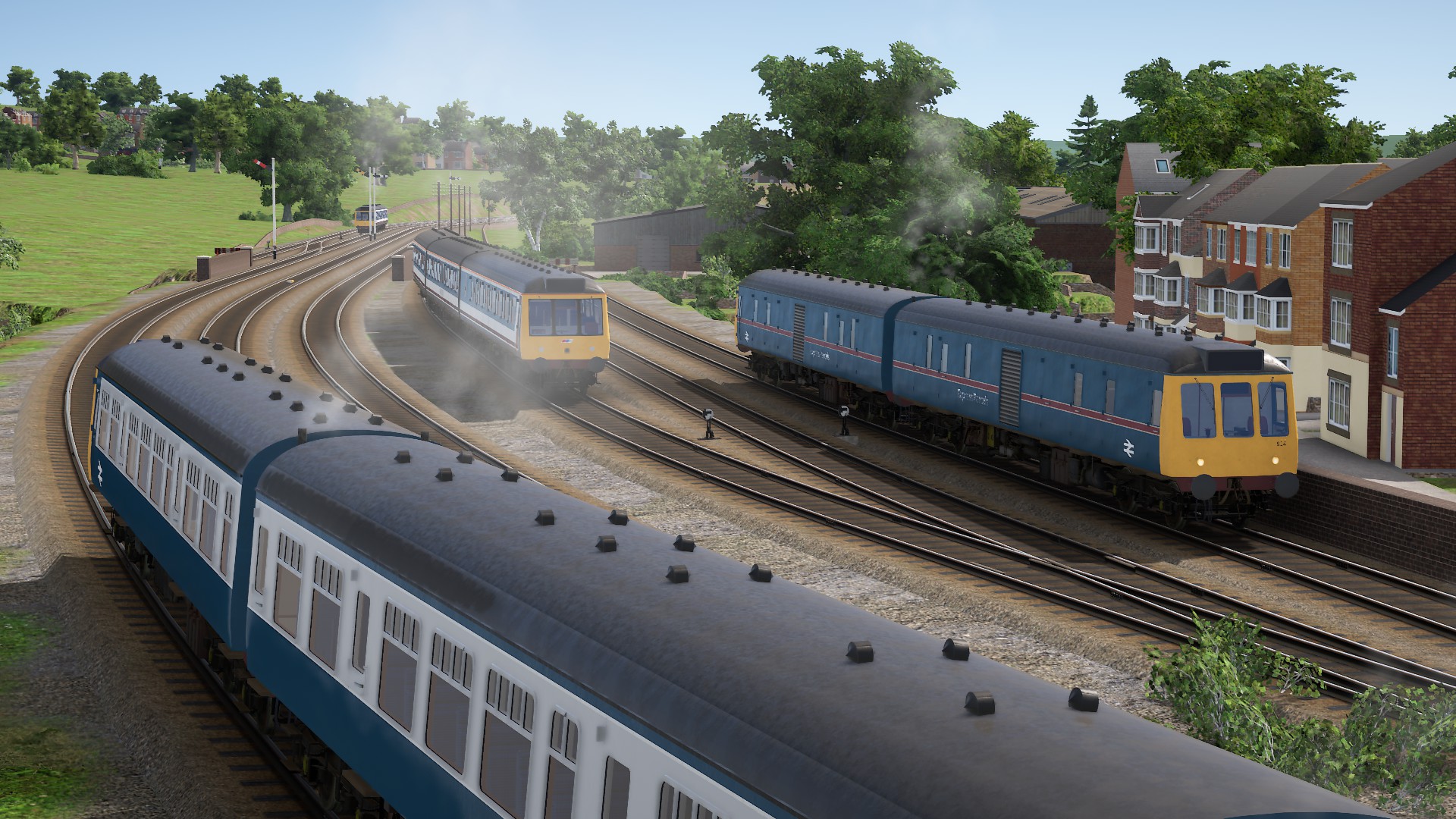 Through my mellifluous, nicotine-steeped land of lost content/concern sped the invariably grimy first generation diesel multiple units that give Diesel Railcar Simulator its name and mojo.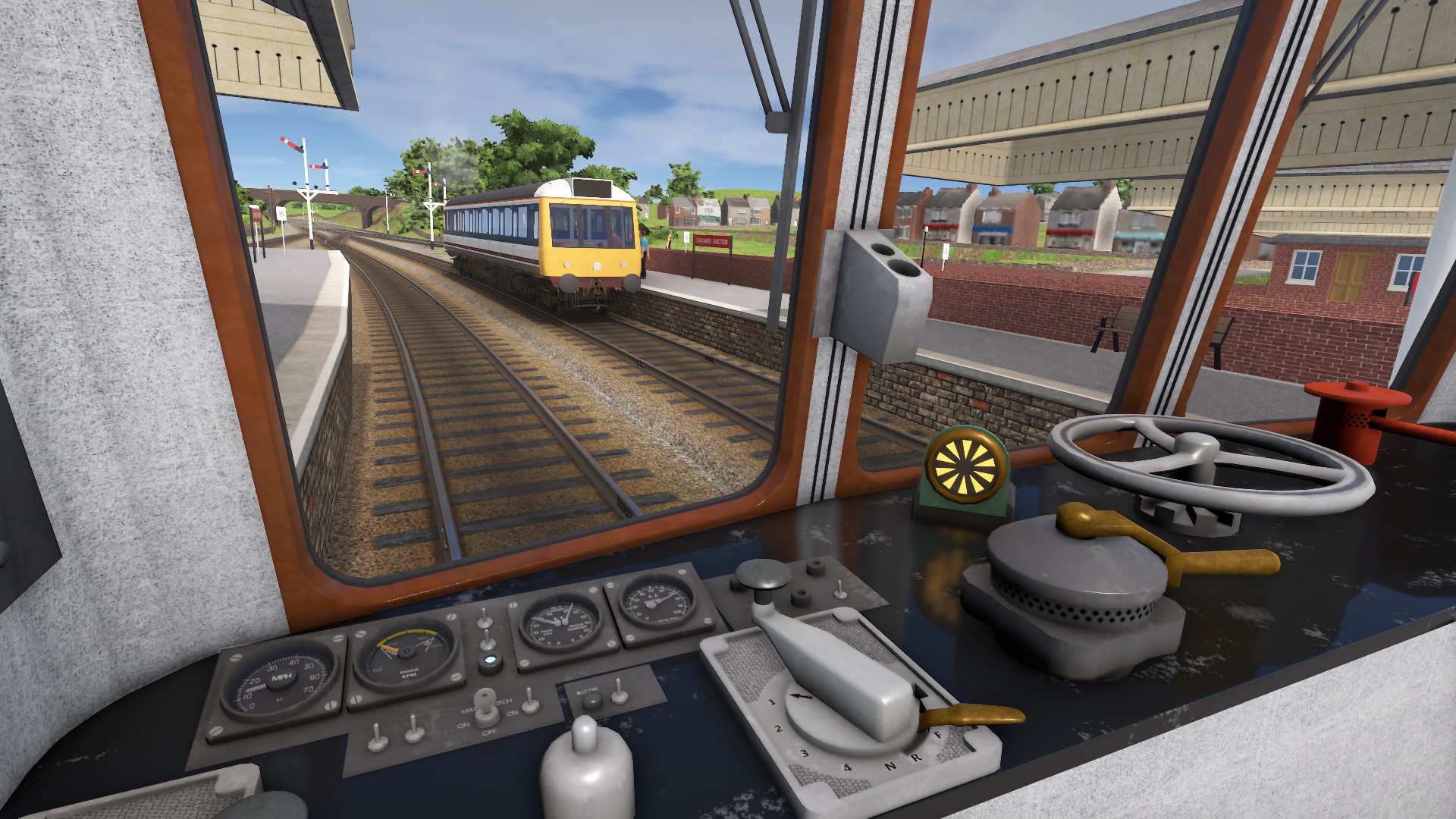 You get five classes – 112, 117, 122, 126, and 127. All but the 127 are diesel-mechanical meaning there are gears to select in addition to brakes and a throttle to operate. In a genre in which the player can feel somewhat under-utilised at times, those gearboxes are a blessing. They give your digits something to do on stretches of line between stations, signals, speed limit signs, and AWS ramps. Not that these stretches are ever long in DRS.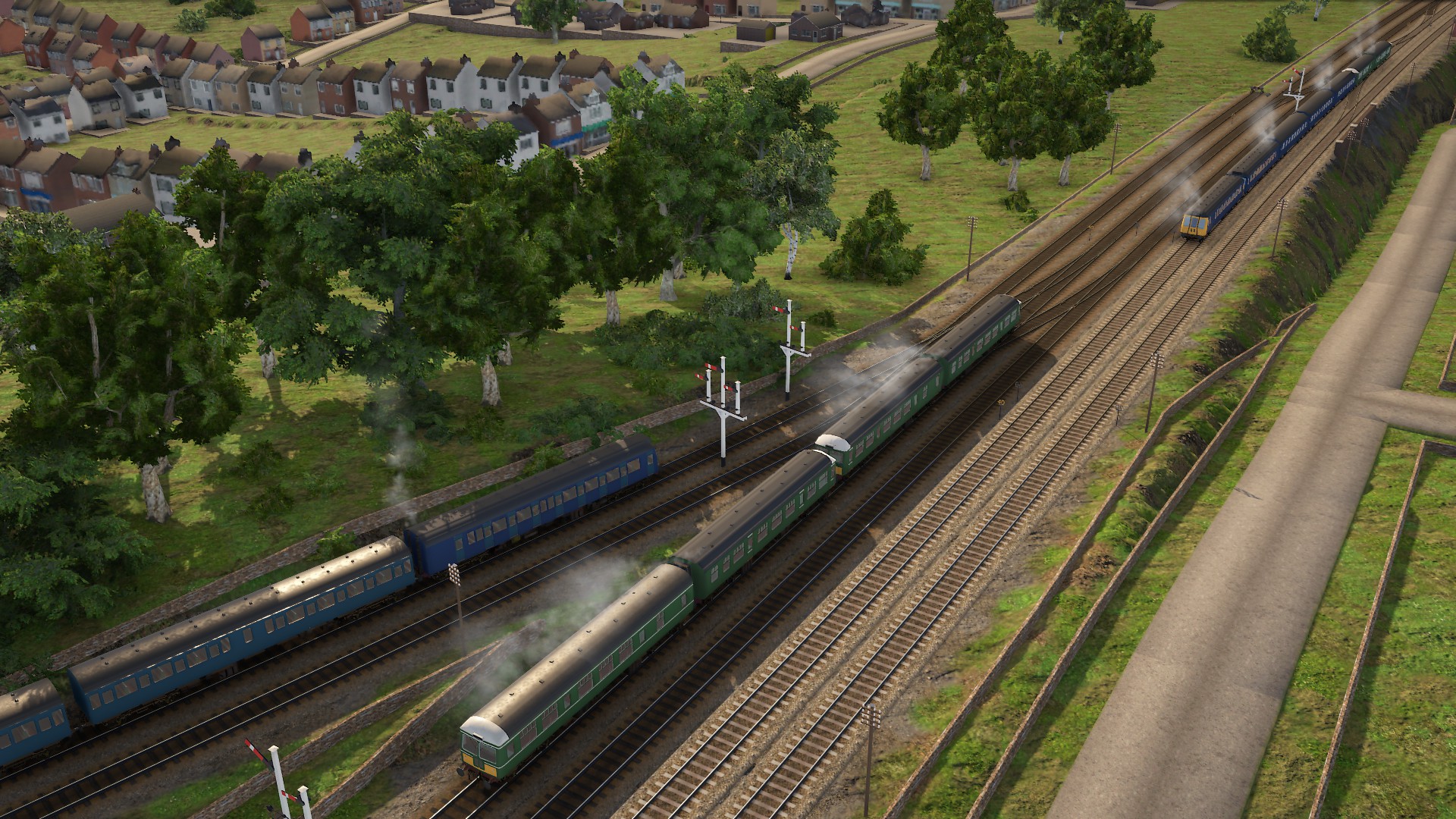 One of the sim's strengths is the way its three default sceneries call to mind the dense, diverse British rail network without slavishly replicating portions of it. Wise Lapioware understand that nowhere can be everywhere.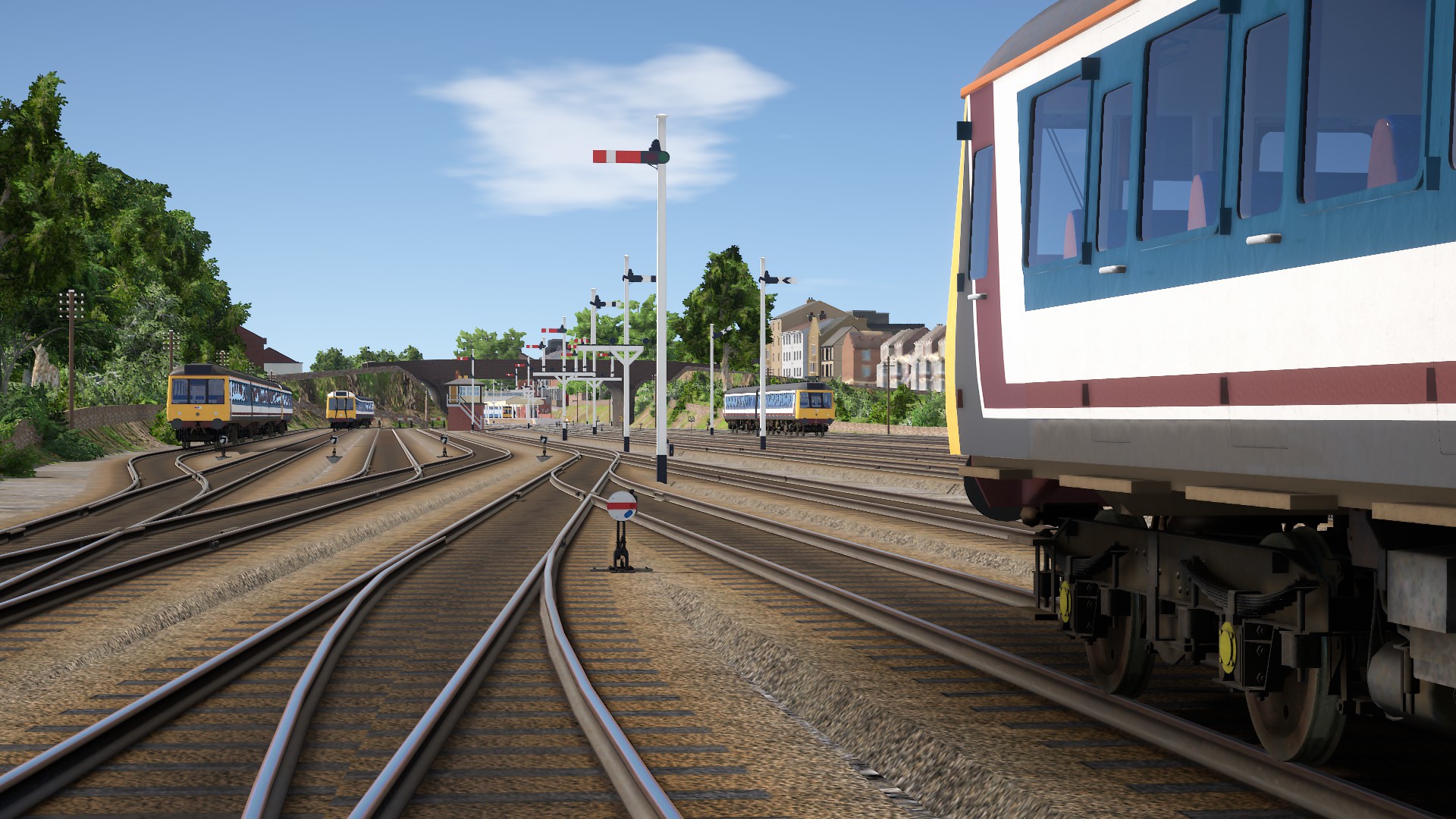 Because the fictional metals twine and branch, undulate and criss-cross like untended honeysuckle, and are kept free of rust by the wheels of numerous timetable-guided-but-not-always-perfectly-on-time AI trains, they are, more often than not, more stimulating environments for rail simming than the photogenic but dull scenic corridors on offer in peer products.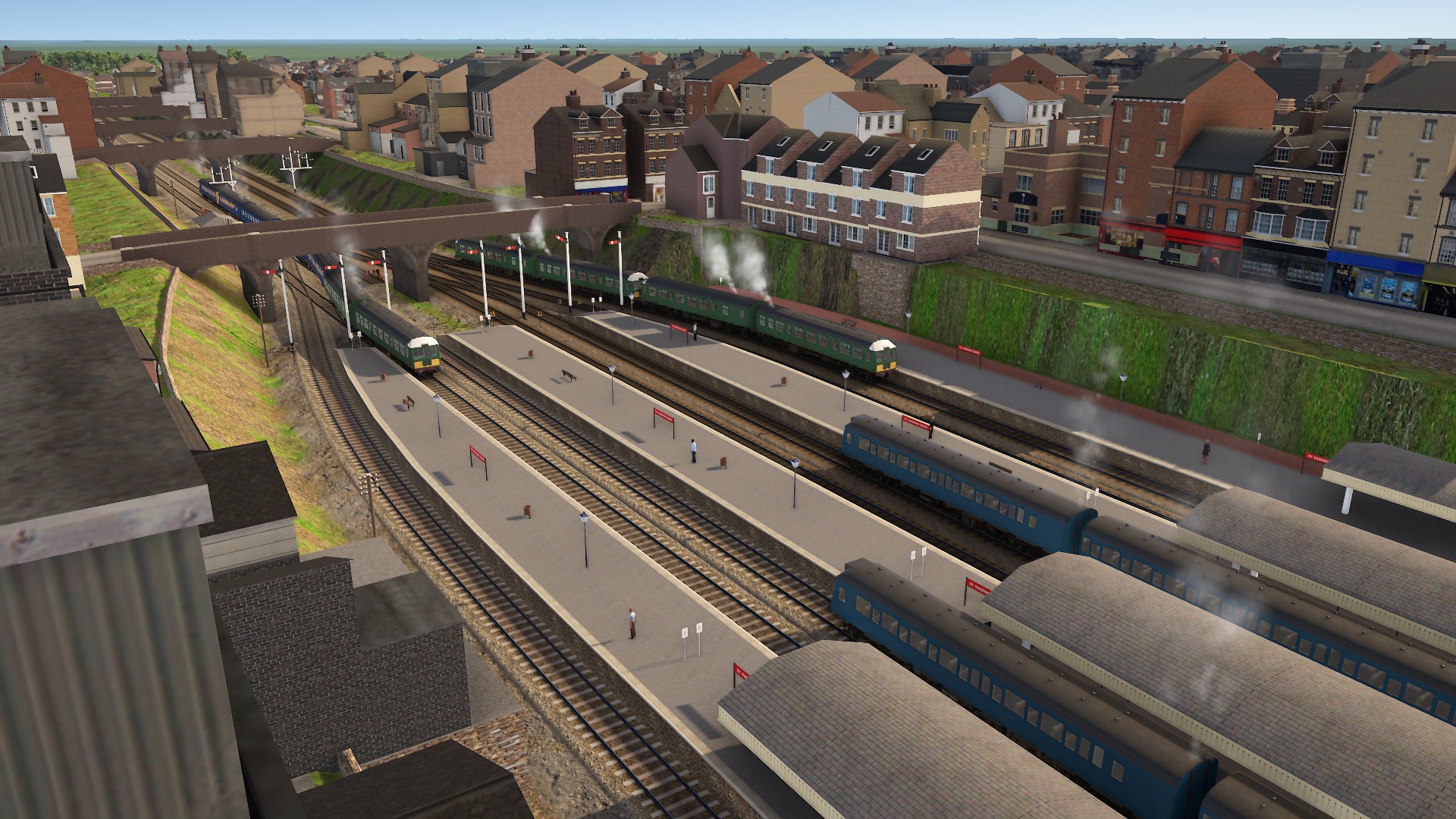 Hectic urban termini, tangled junctions, sleepy branchlines, DMU depots crowded at night and empty at rush-hour… all can be found on North Landen, Westfords, and Mountain Pass. And thanks to restrained set dressing, simple textures and an efficient engine, the busier spots never coagulate frame rates.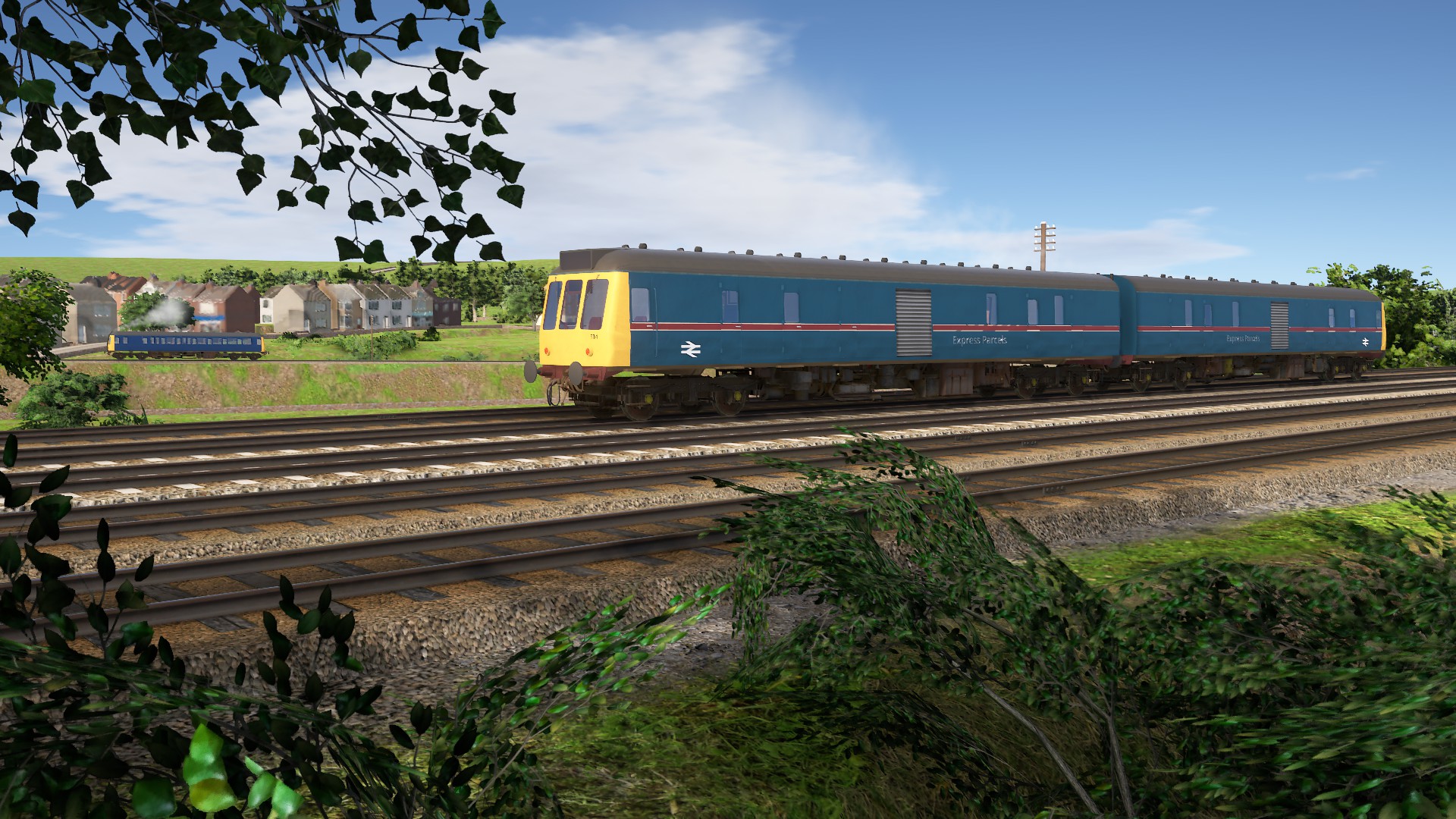 Every one of the AI trains you glimpse while clattering through these bewitching locales, is a scenario-in-waiting. Aping ZUSI, DRS allows players to select any service in a timetable. By my calculation this means there are around 2000 different turns available in the base sim alone.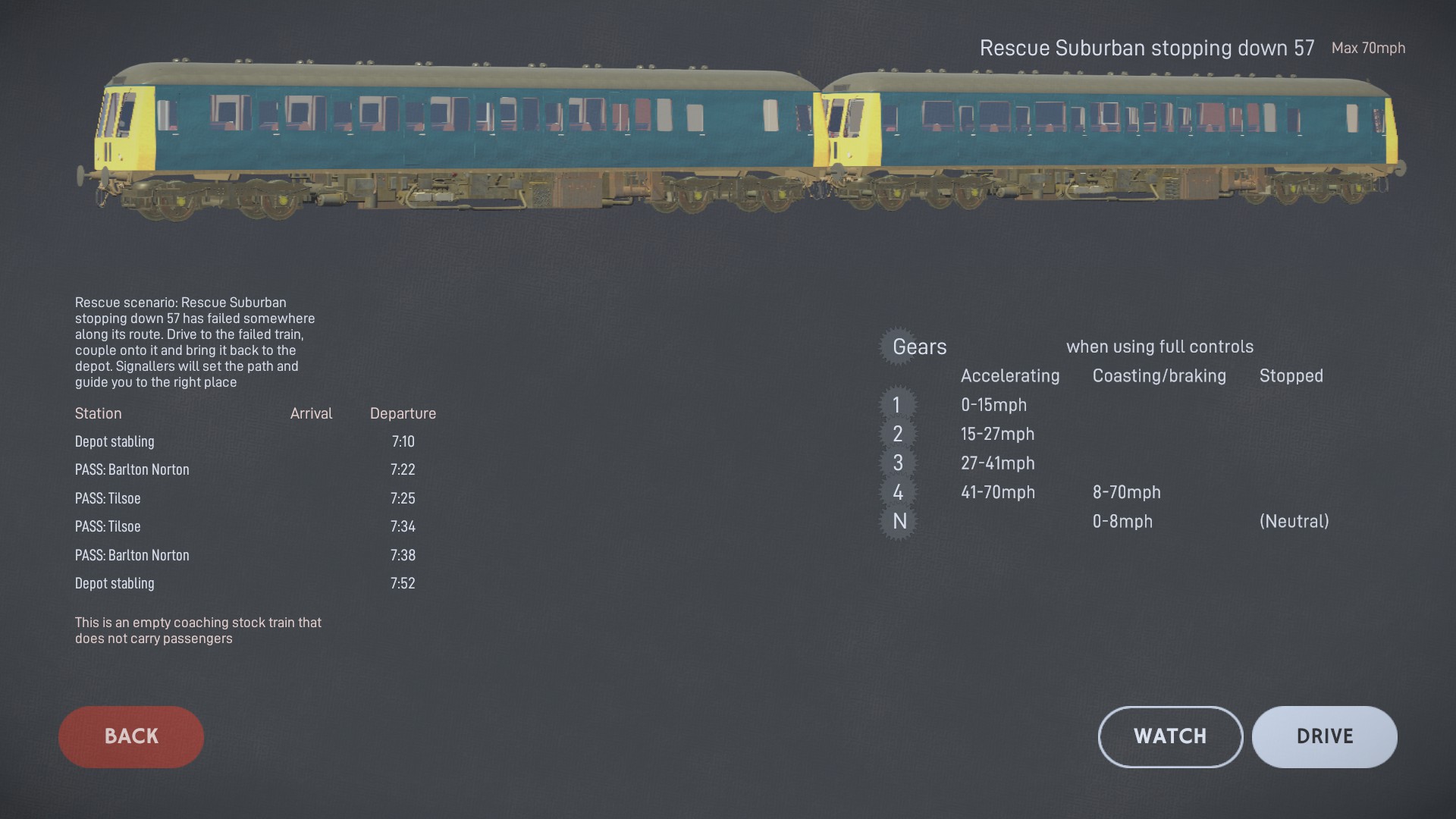 True, half of these are 'rescue' scenarios – variants where your task is to drive to a train that's failed in a random location, couple up, and propel it to its intended destination – but even so, you're getting a staggering number of 'missions' for your fourteen hundred new pence.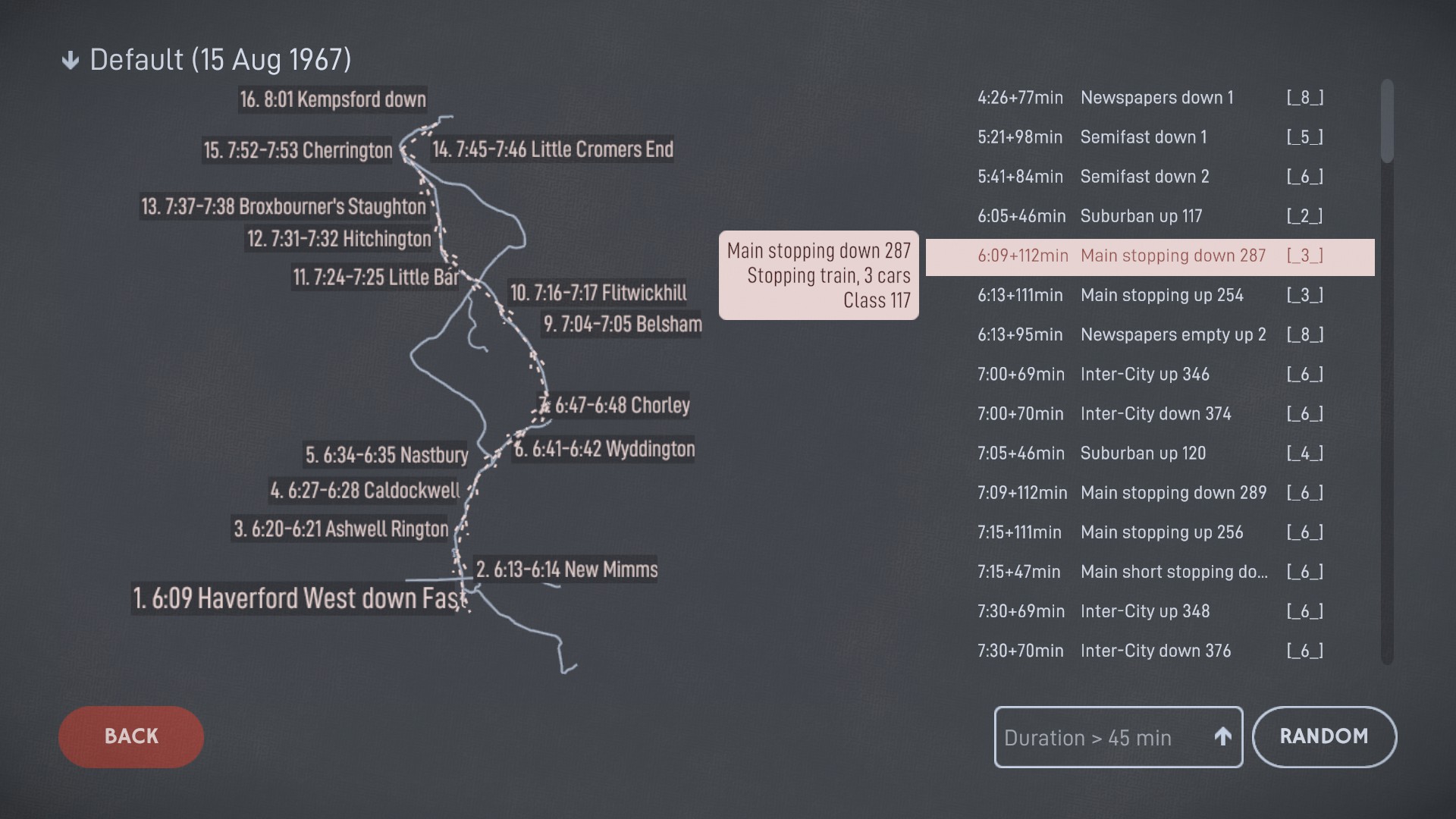 Selecting services from this cornucopia is made easier by filters that narrow the selection by type, duration, motive power, and high score (All runs are rated for punctuality, smooth acceleration, and speed limit and signal adherence).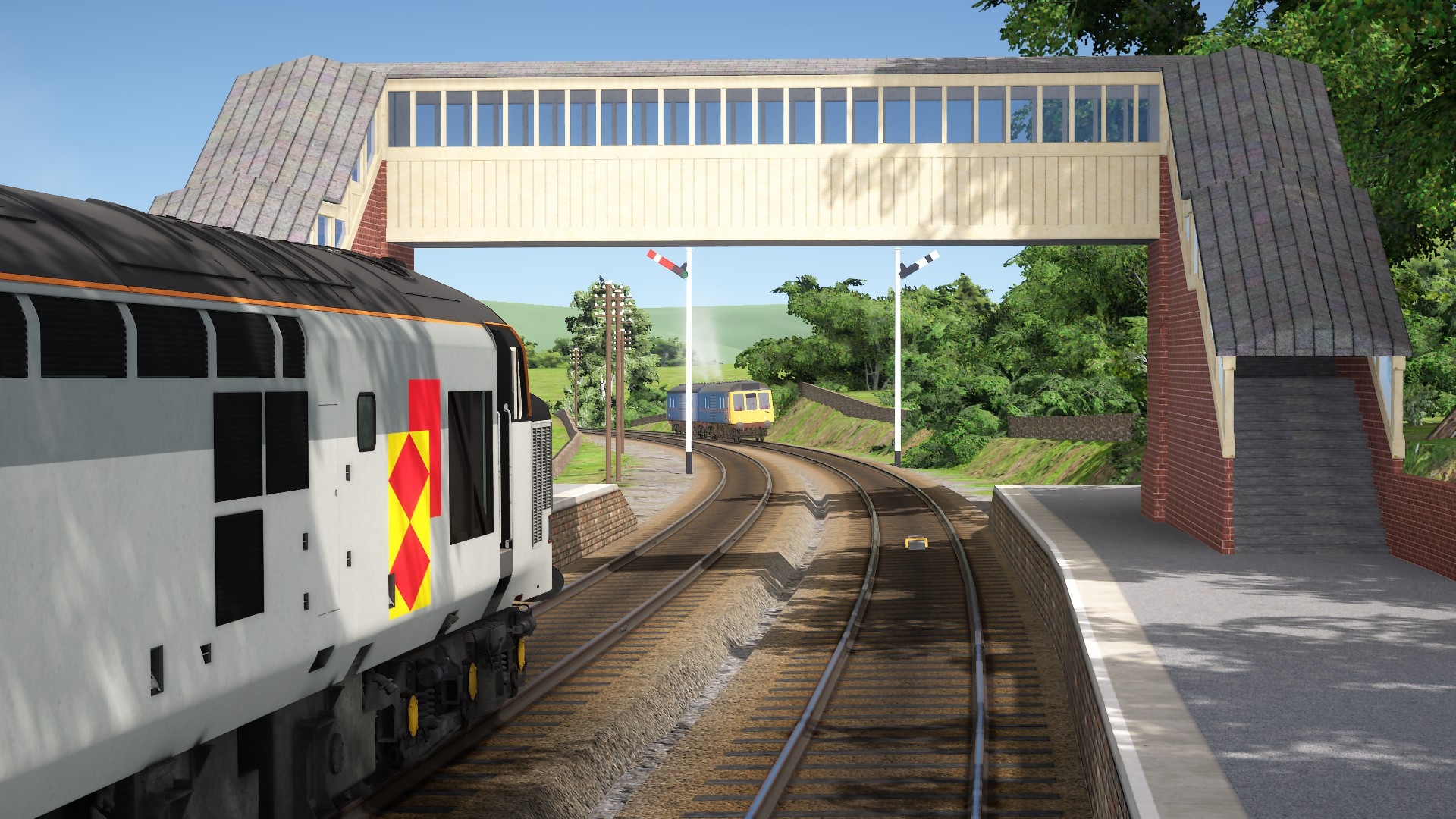 Squeezing in a quick burst of DRS between chores or work commitments? You can complete an early morning empty stock working from depot to terminus in around fifteen minutes. Leisure time unlimited? Crack your knuckles in readiness for the 6.09 from Haverford West to Kempsford – two hours of slow-line bimbling punctuated by stops at New Mimms, Ashwell Rington, Caldockwell, Nastbury, Wyddington, Chorley, Clipstead, Belsham, Flitwickhill etc.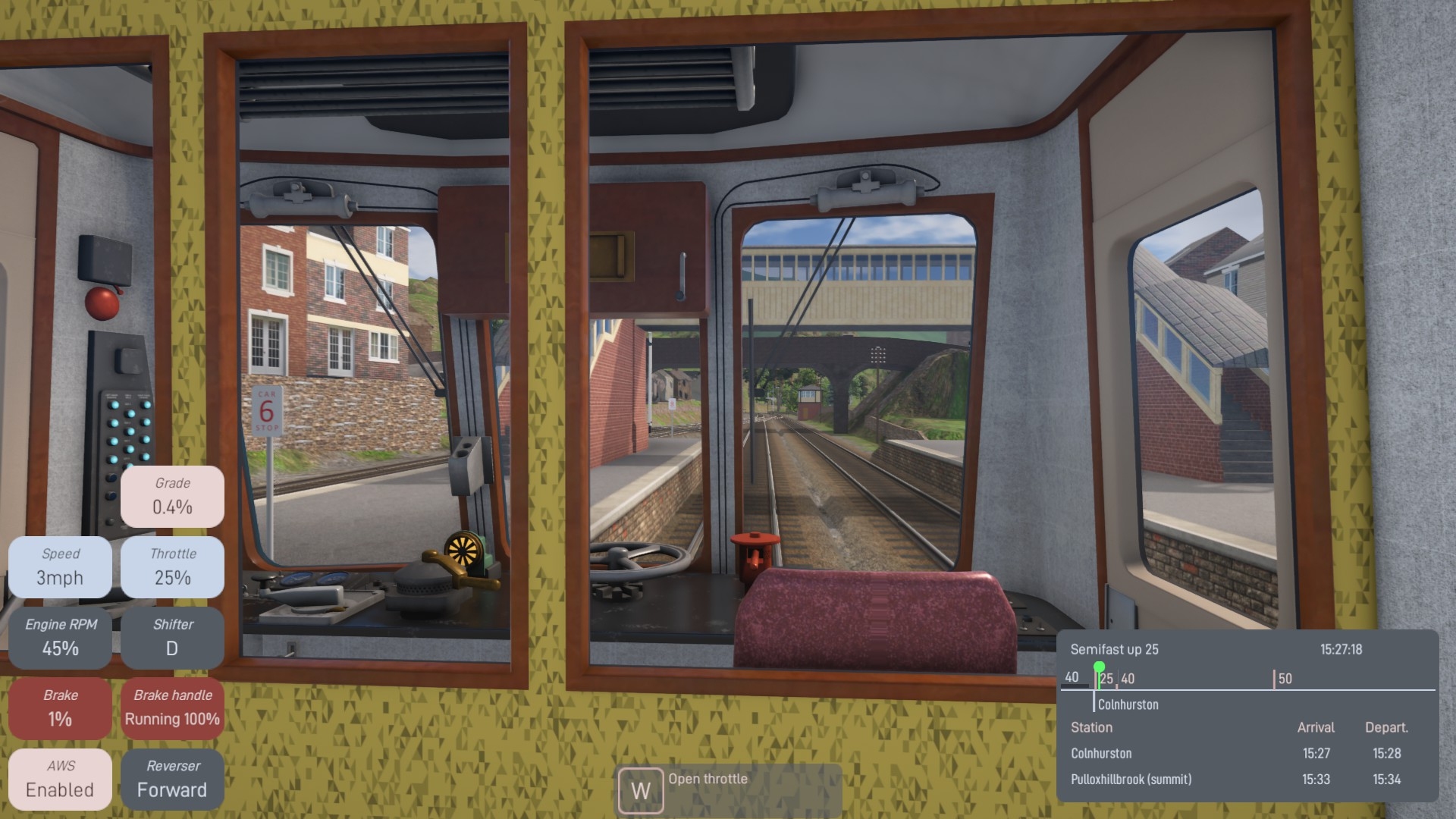 The moderately complex cold start procedures and brake systems (in some cabs there are three different brakes to consider – hand, loco, and train) would qualify as potential stumbling blocks for train sim tenderfoots if it wasn't for the bevy of optional play aids thoughtfully provided. An inspired on-screen key prompter ensures your first hours with the sim aren't spent watching tutorial vids or scouring forums for advice.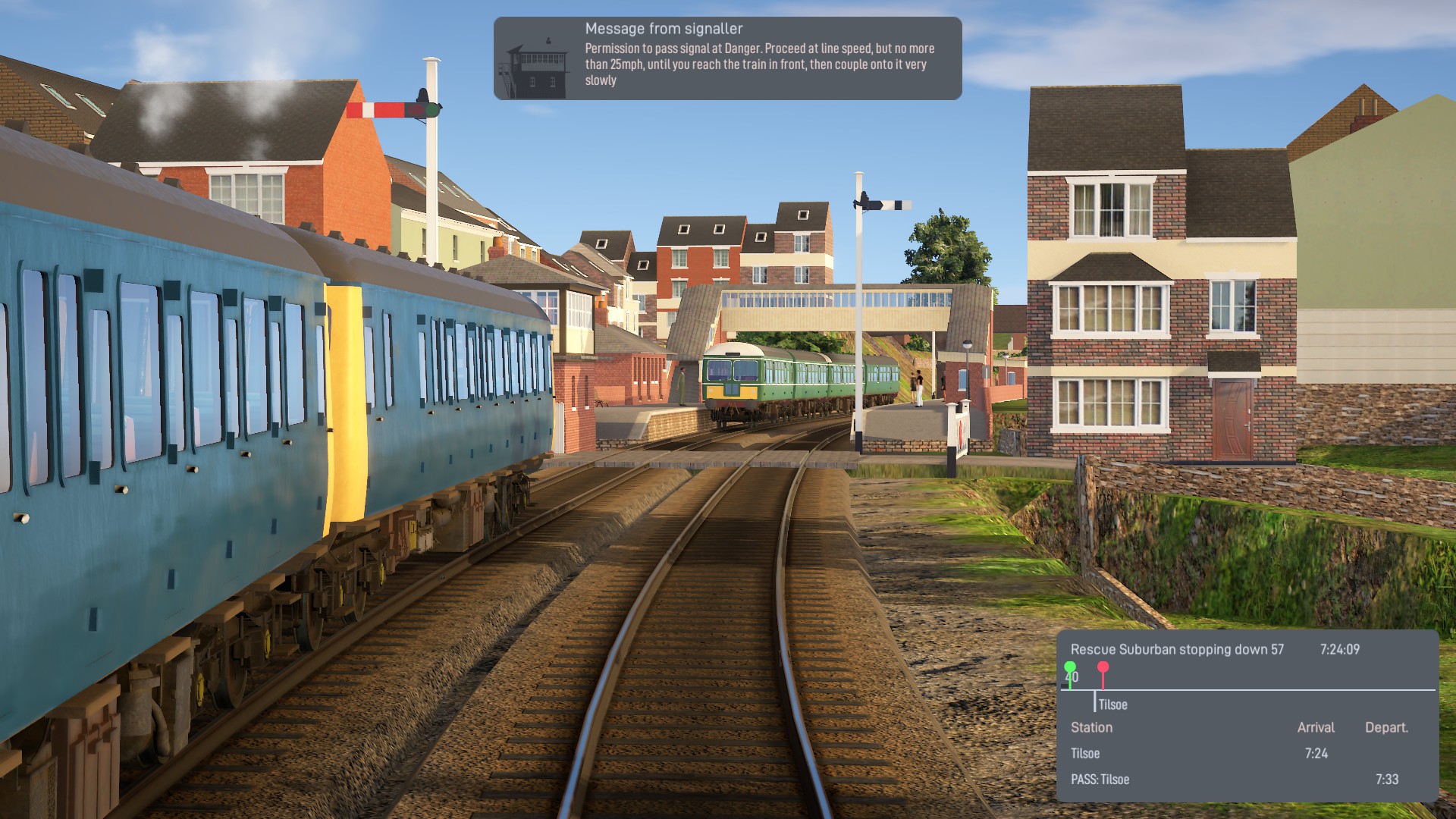 Unsure of where to go or what to do next in a rescue scenario? Just switch from 'drive' to 'watch' mode for a spell. The invisible AI driver who slides into your seat will quickly banish all confusion.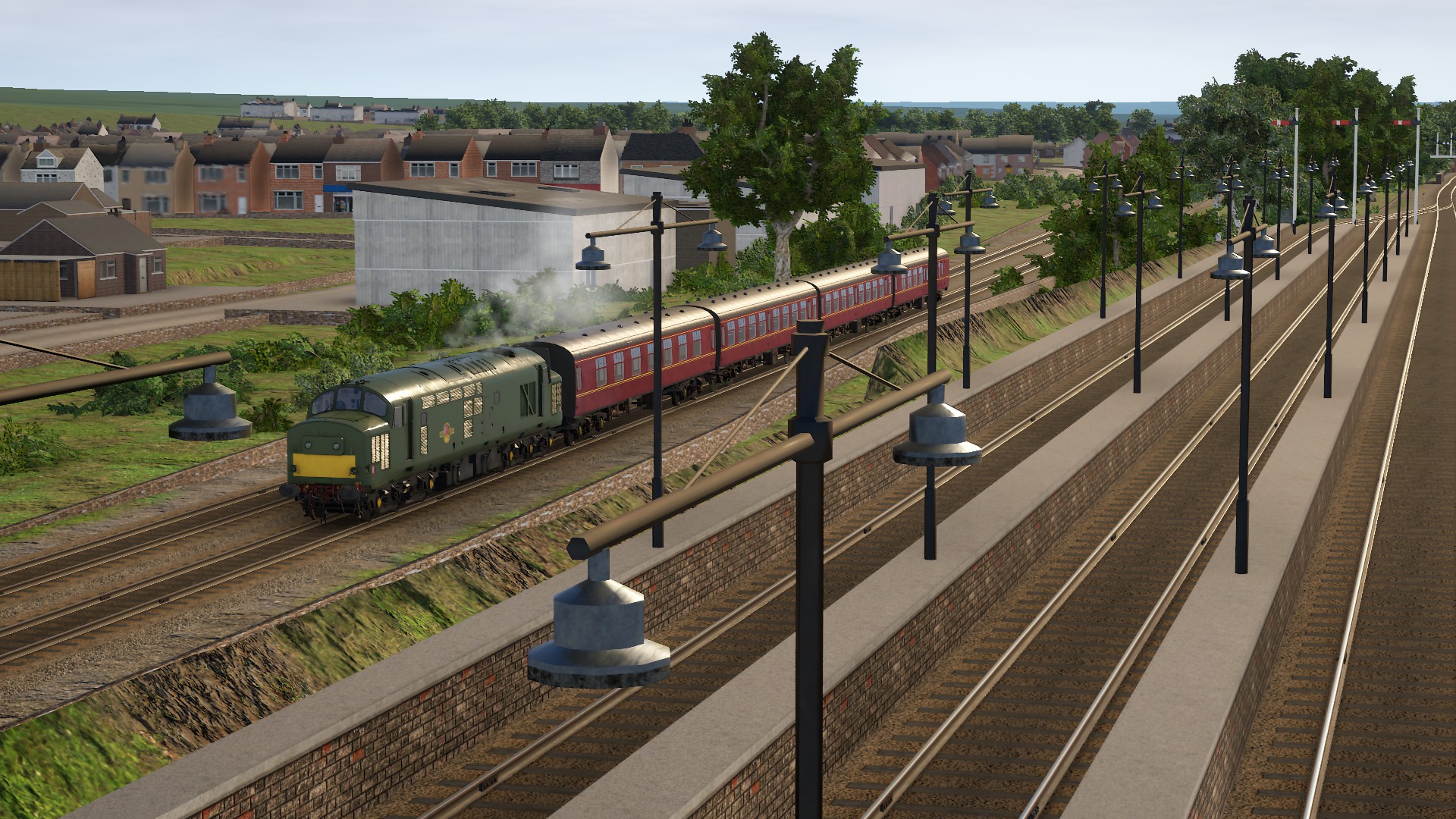 I'd even recommend DRS to rail enthusiasts eligible for free travel on British railways. Because the option is there to control trains with nothing but the up and down cursor keys (left and right sound the two-tone horn), and in-game SPADs (signals passed at danger) prompt "Drive back to the signal and wait for further instructions or for the signal to clear" messages rather than instant fun-curtailing scenario failures, DRS is sure to prove popular with any pint-sized Thomas the Tank Engine fans in your life.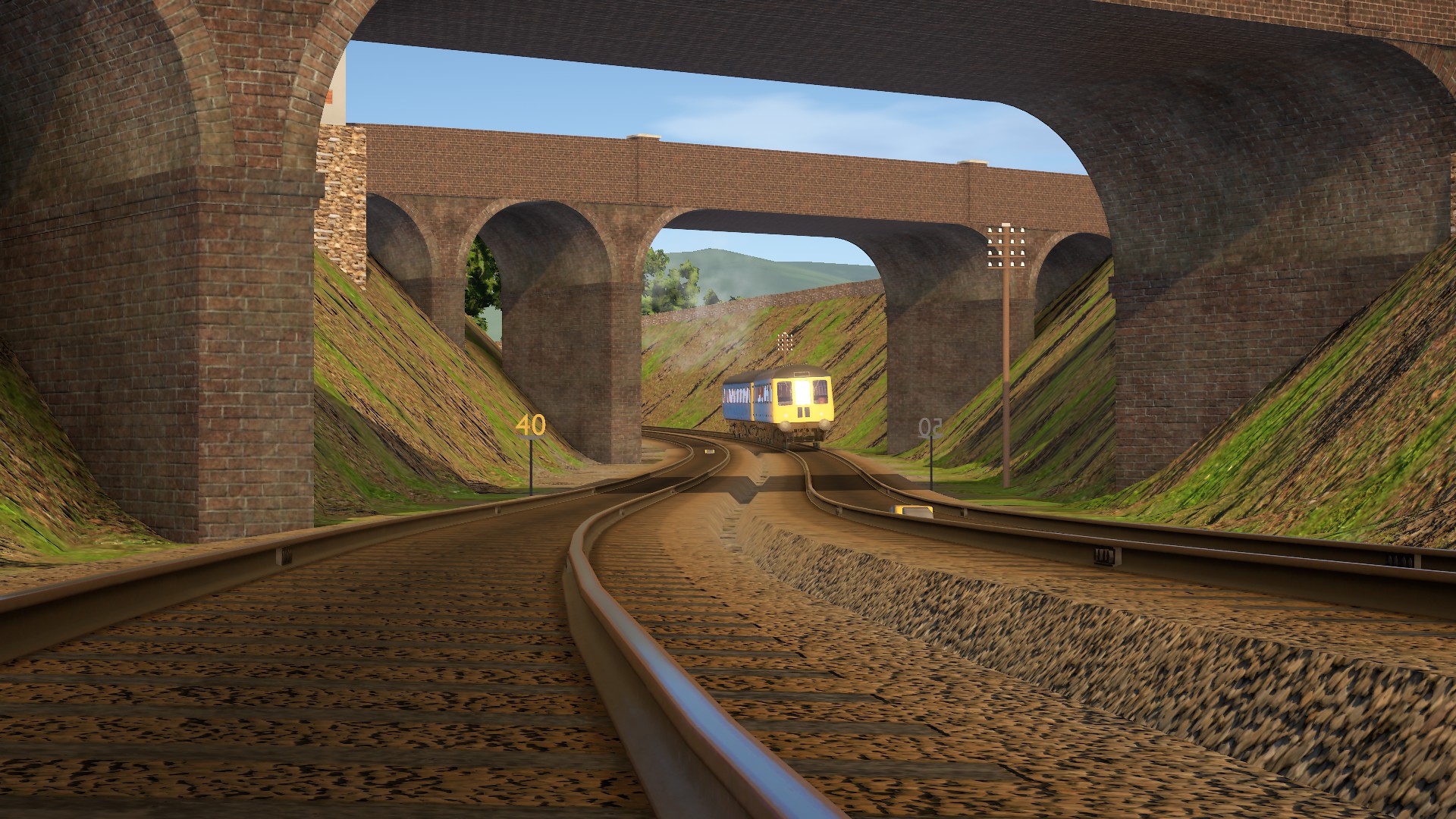 Age is certainly no barrier to appreciating the way Lapioware use sound effects and cab sway to enliven and enchant. I'll take a rolling, rattling, DRS railcar over a smooth, hushed, TSW2 Javelin any day of the week.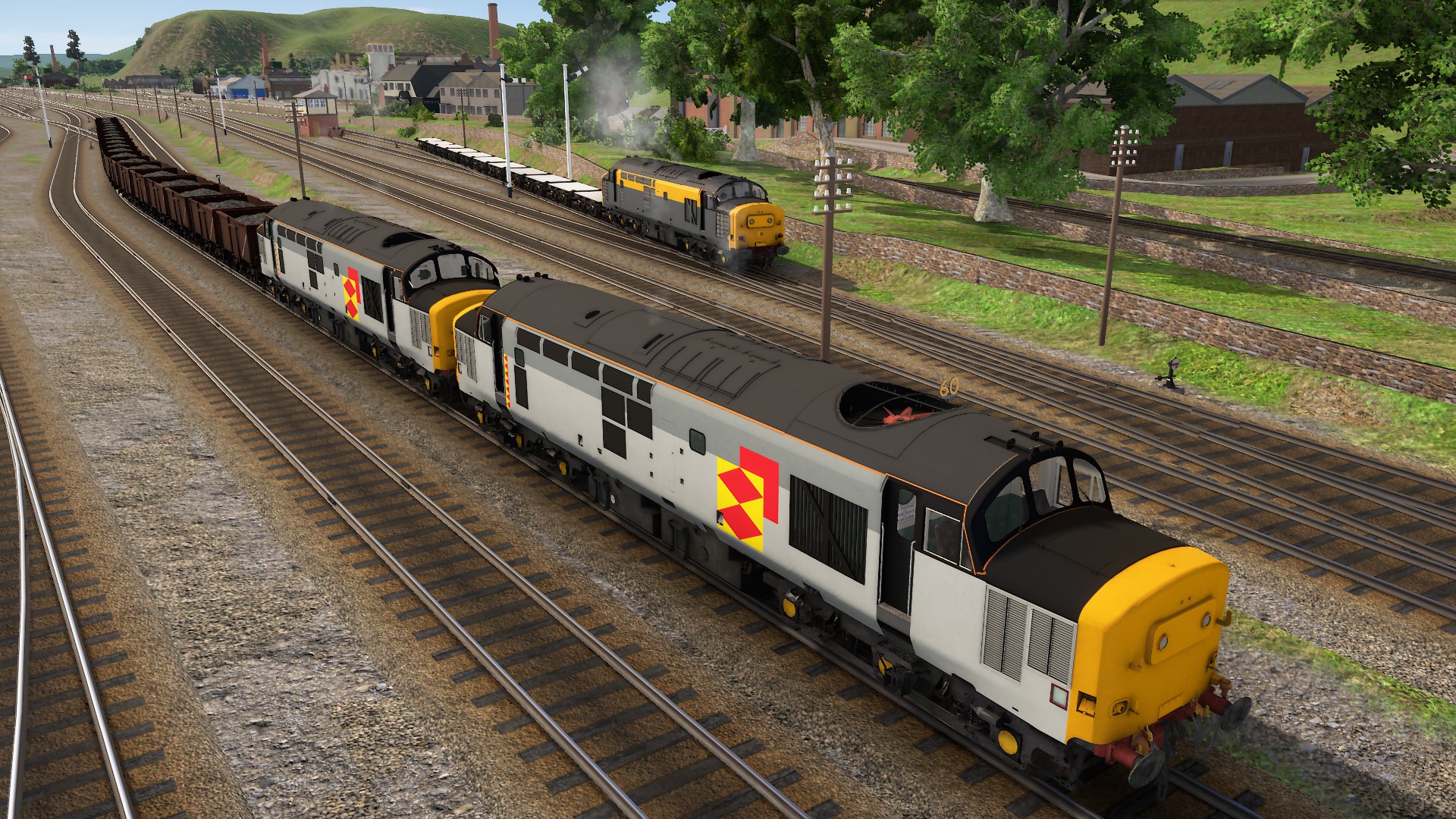 In the four years since DRS snaked into Early Access, it has gained the route, timetable, and rolling stock editors necessary to nurture a lively Steam Workshop. Two charismatic locos have arrived (a Class 37 and Class 03) bringing freight and non-DMU passenger services with them. Users have benefited from graphics and GUI overhauls.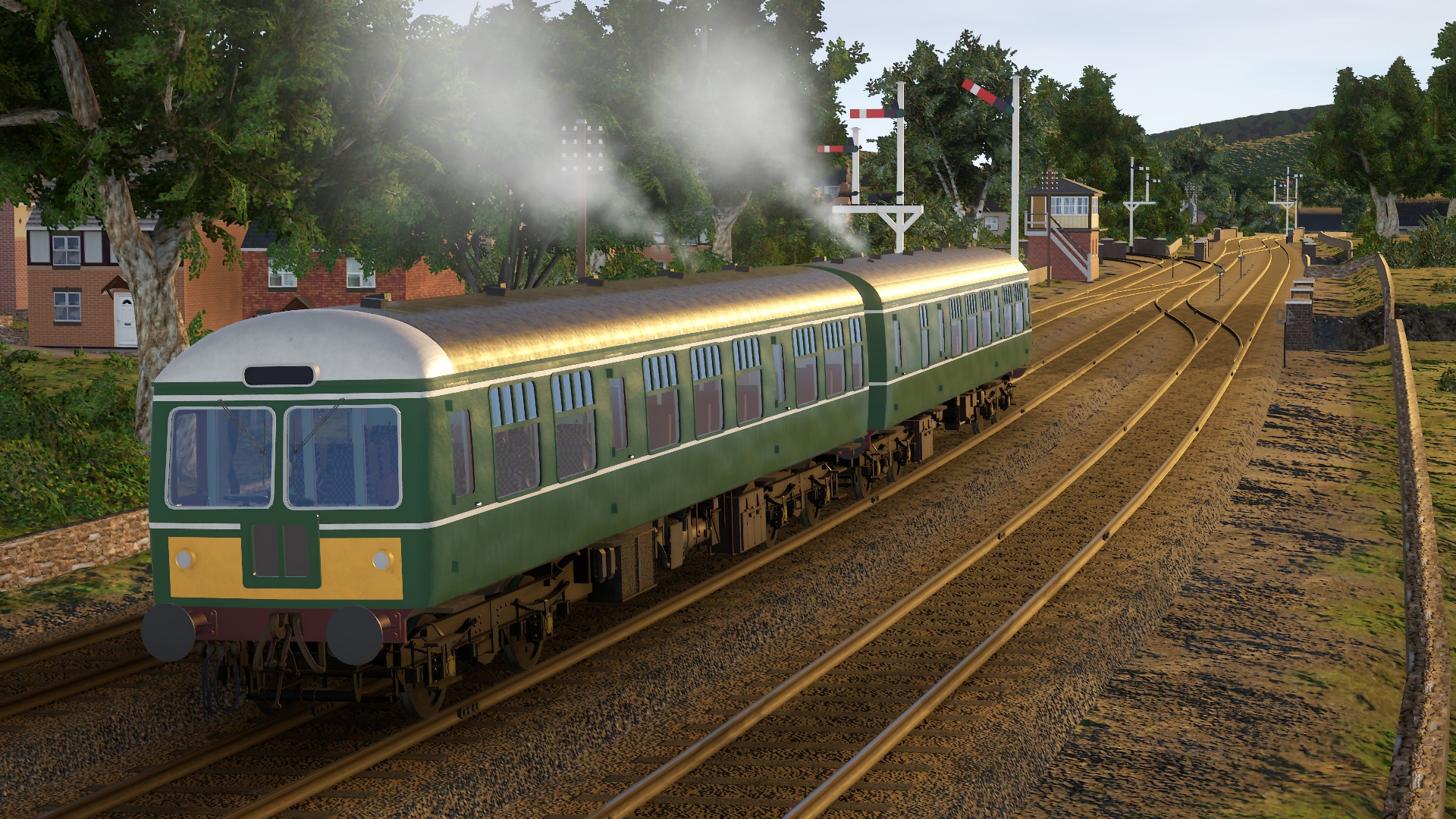 Rebrandings, DLC releases, and price hikes? There have been none.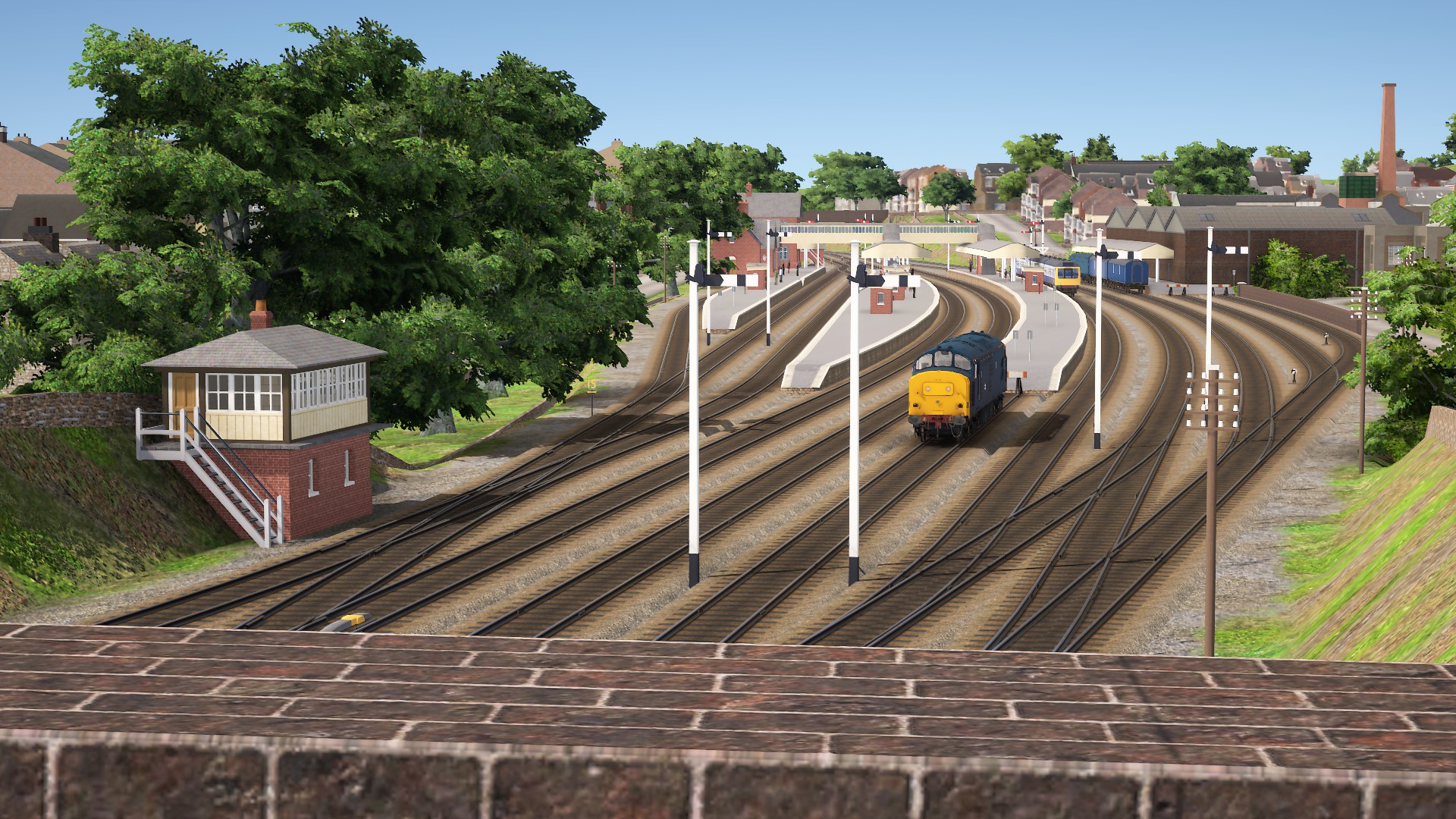 'Oskari', the one-man-band behind Diesel Railcar Simulator, aims to address his creation's long-standing tunnel, coast, forest and hedge blindspot next. How long we'll have to wait before raindrops bejewel bubblecars, headlights shine on bullhead, Class 03 duties include freight train assembly/disassembly, and steam swirls beneath the canopies of St Padding's Cross and Haverford West, is anybody's guess. Whether it's two years or ten, there's no danger devotees like myself will alight before this mesmerising memory-stirrer reaches its destination.